Gym insurance covers a gym's elevated risks where liability increases due to people engage in strenuous cardio and weightlifting programs. Due to higher business risk, many commercial insurance providers offer business property coverage but may refer you to specialty liability providers. Costs start around $1,000 for property and $1,500 for general liability.
There are so many risk categories and exclusions when it comes to gym insurance because of the nature of the business. Sift through your needs and get the right direction with The Hartford for a gym insurance quote.
Top Gym Insurance Providers
Gym insurance provides specialized coverage for the everyday risks that gym owners face in the course of business. These national providers understand the unique needs of gym owners and help navigate policy needs quickly, getting owners to the right policy for the right price.
Consider the size of your gym and what classes, machines, and training aids are utilized with your clientele when shopping for gym insurance. Establish a policy based on your existing revenue but plan on reviewing policies annually to confirm any increases in revenues, client numbers, and new workout programs or equipment.
The Hartford
The Hartford offers very comprehensive business property policies and workers' compensation policies for gyms. On top of the business' property, these policies cover signs, business interruption, and loss of use during a loss. The Hartford will refer you to a trusted partner for general liability.
As one of the largest small business insurance carriers in the nation, The Hartford uses a diligent application process to make sure you are protected with the right policy. No pushy sales with this carrier who will refer companies out to specialized small business experts where appropriate.
K&K Insurance Group
K&K Insurance Group offers dynamic plans for gyms of all sizes. Once the application process is complete, you'll be paired directly with an underwriter to make sure you have the right coverage from day one of the policy.
This carrier is a specialized carrier offering coverage for businesses that often can't find coverage elsewhere. By looking at unusual business categories, K&K Insurance Group is well versed to provide you the insights on the coverage you need for nuances in your business that no one else might be thinking about.
Sports Fitness Insurance Corporation
Sports Fitness Insurance focuses on gyms, fitness trainers, and fitness studios. It serves a niche with affordable policies combined into one easy-to-understand policy. Easy to work with when adding new classes or expanding.
This company has one specialized vision: merging the needs of fitness professionals and businesses with the right insurance. Being hyper-niche focused gives Sports Fitness Insurance an edge in policy coverage options and pricing.
AP Intego
AP Intego serves small service providers like gyms and fitness studios around the county. Their online platform is designed to help gym owners find a policy that meets the business needs with a local partner quickly. The added value is personal attention from a broker you can sit down with.
AP Intego is a leader in online quoting platforms to make the buyer's experience easier and more enjoyable. The simplified application process helps business owners get solutions in expedited timeframes.
Insurance321
Insurance321 is an online insurance marketplace that helps small businesses find proper coverage that's affordable. Insurance321 is a good match for gym owners who want simple, yet comprehensive coverage in a potentially high-risk industry. Receive multiple insurance quotes in as little as four minutes, and get coverage to protect your gym.
What Gym Insurance Is
Gym insurance is a combination of several types of policies that include gym general liability, building tenant insurance, property coverage, and most likely workers' compensation. Gym owners may be required by landlords to get building tenant insurance, but if the gym owner doesn't add on other policies, he or she is exposing his or her own business interests.
There are variations to gym insurance depending on the type of facility you have. A yoga studio is not considered as much of a risk as a Pilates studio, the same as a fitness location with exercise machines is less risk than one with free weights. The more elements your gym offers regarding fitness, the higher your risk. This includes offering massage therapy, youth fitness lessons, martial arts training, and nutritional supplement sales.
What Gym Insurance Covers
Gym liability insurance covers the potential accidents that lead to bodily injury. Gyms owners must realize that not only are trip and fall issues more common with gyms but injuries from clients trying to push beyond their own abilities.
The types of coverage for gyms starts with liability and extends to other policies, including:
General liability insurance: This covers accidental injuries and damage to property. While liability policies may start with $300,000 limits, most gyms should consider at least $1 million in coverage with an aggregate of $2 million, which means the injured party can get up to $1 million and the gym can make payments to various clients up to $2 million annually.
Building property insurance: This is often combined with business property. The building property covers the leased space where your gym is held and protects the landlords building. If one of the bathroom pipes burst and floods the unit or surrounding units, the business property policy pays for repairs. Business property is the exercise equipment, scale, training tools, and office administrative systems used to run the business. Some policies even cover equipment breakdown.
Workers' compensation insurance: This covers employees who get hurt while working for you. If you have front desk clerks who don't train people, these are insured at a less expensive risk class than a trainer who is an employee. If your trainers are not employees but, instead, are independent contractors, require each of them to carry insurance and add the gym as an additional insured to release any liability from the trainer's actions.
Professional liability insurance: This is additional coverage on top of general liability insurance. It protects you from lawsuits where a client says you gave them the wrong advice or training program and that resulted in injury or possibly death. For example, if you pushed someone who has a heart issue too hard and that led to a heart attack, you could be held liable.
There are so many facets to business insurance needs. One gym might not need the same business insurance coverage as another. Others will elect for higher coverage for the once-in-a-lifetime accident. Work with your insurance agent to determine your real risks, ability to withstand them and how insurance will protect you and your business.
What Gym Insurance Doesn't Cover
There are many exclusions to gym insurance. It varies among carriers and is contingent on the policy you purchased. If you have a gym that is already insured and plan on expanding, check with your insurance agent before you do so. You could be violating the terms of your policy that leads to claims denial. Some examples:
Unlawful actions include false statements and guarantees: "You will have a body fat ratio drop to 3% in 30 days ― guaranteed!"
Most supplements and private labeled products: This includes the sale of vitamins and nutritional supplements, including protein shakes and supplements
Limitations on programs for minors: Allowing kids age 18 and younger may have restrictions or exclusions
Additional services like physical therapy and massage: This places you in a different classification like a medical therapy provider for physical therapy programs
Martial arts training facilities: Martial arts have higher injuries due to sparring and the various tumbling and falls required and are in a different class
If your gym offers more than basic fitness, you may need a different policy under the fitness insurance classification. It isn't uncommon when getting a quote to find out your business is not eligible. Dig a little deeper and ask questions about how to get your gym insured properly.
Gym Insurance Costs
The high-risk nature of gym activities makes gym insurance more expensive than many other business insurance classifications. Expect to pay between $3,000 to $5,500 annually for gym insurance for a small gym with less than 2,000 square feet. This average is a comprehensive set of policies with general liability, business property, and workers' compensation.
Gym Insurance Costs & Deductible
| Coverage Amount | Premium Cost | Deductible |
| --- | --- | --- |
| General Liability Insurance | $1,500 | $0 |
| Business Property Insurance | $1,000 | $250-$2,000 |
| Worker's Compensation | $950 | $0 |
Gym insurance costs vary widely from state to state. These are average starting costs of a policy based on a gym of 2,000 square feet with one desk clerk and $100,000 in fitness and business equipment.
Costs for gym insurance are affected by many things. The application process asks about the size of the location, how many employees you have, revenues, and the type of fitness services you provide. It also inquires about additional services that affect eligibility and rates like offering massage therapy and selling supplements.
In many cases, the following will make you ineligible for coverage or put into an even higher-risk rating classification:
Training minors
Private labeling supplements
Having a cafe on-site
Martial arts
Holding fitness competitions on location
If you offer a broad spectrum of fitness services including those often deemed ineligible, don't get frustrated in the process. Be honest in the application to avoid being declined coverage later and spend the time to understand fully what the risks are with each category to properly protect the business.
The Typical Gym Risks & Needs
Gyms and fitness studios are often classified as different risks. The gym has supervised and unsupervised training where fitness studios are individual or group-led facilities. A gym often has a series of fitness trainers who may be independent contractors meeting with clients but aren't necessarily employed by the gym.
Small local gyms could be a franchise but are often mom-and-pop operations without franchise exposure. Many gyms have a similar set up like a cardio section where clients can use treadmills, stationary bikes, elliptical machines, stair climbers, and other cardio exercise machines. There is often a free weight training section and a machine-assisted weight training section using equipment like Cybex machines.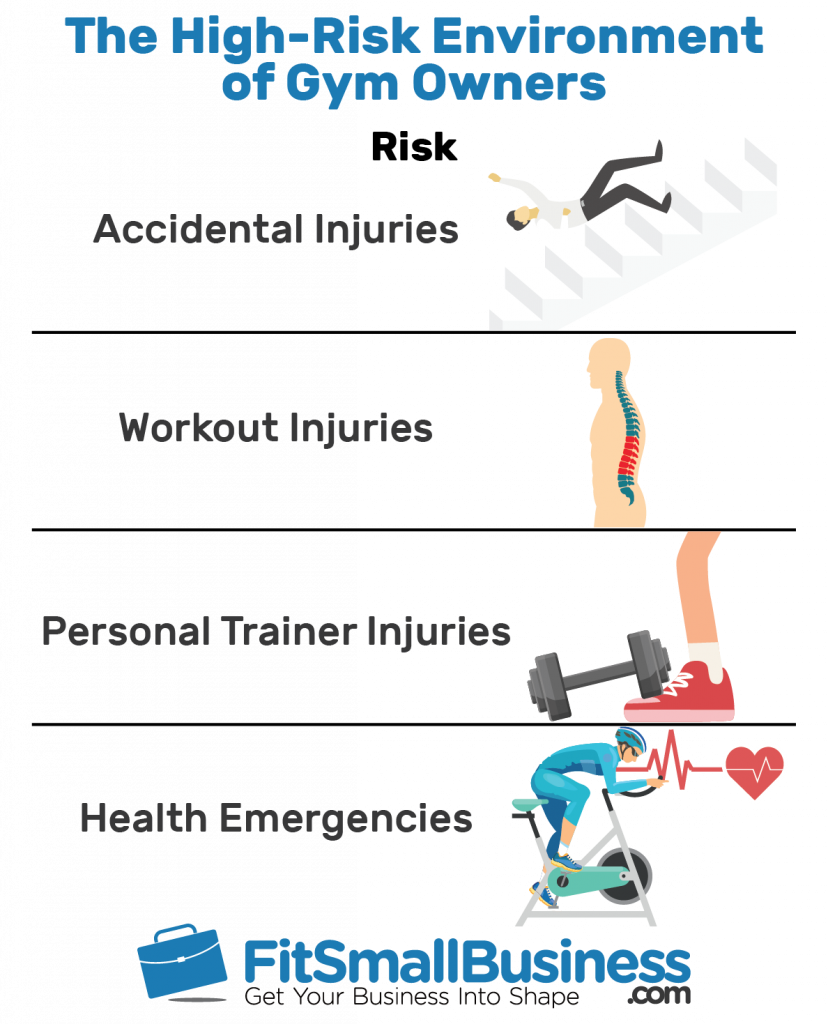 The risks in a gym are extensive:
Trip & fall accidents: Accidents and injuries resulting from tripping over equipment, being bumped by another person, or stumbling over someone else's personal items
Major & minor injuries from working out: This ranges from ankle strains to spinal injuries leading to disability
Major & minor health issues: This ranges from flu outbreaks to contaminated equipment to a client suffering a cardiac arrest while exercising in the facility
Accused of not rendering services as promised: Clients claiming the methods and workout routines did not get the results advertised and promised
Damaged or stolen equipment
Potential shutdown of the gym: Examples include if there is a fire, equipment failure, or water damage
A carrier that offers a business owner's policy (BOP) for gym owners provides a cost-effective solution that covers several potential losses. These include general liability claims like trips and falls, medical payments for workout injuries, and health issues and coverage for business equipment. It also covers lost revenues if the gym is shut down for a period of time after a fire, water damage, or theft.
Tips on Getting & Applying Gym Insurance
As a gym owner, you know that by offering more variety in classes, workouts, and products, you build a stronger client base. However, all the extras can lead to many negative responses when looking for insurance. Here are some other things to think about when talking to insurance carriers about your insurance needs.
Prepare for Gym Insurance Underwriting Requirements
The application process for gym insurance has several questions about what you do. Fitness studio insurance is different than gym insurance. Small locations are different than big gyms or chains. Prepare to answer questions about the types of gym training, classes, and any additional services you offer. The gym insurance provider will also want pictures or send an underwriter to the facility to see what you are doing.
Establish Safety Policies & Procedures
Write safety policies and procedures down and post them where applicable in employee manuals and around the gym. Policies including wiping down equipment after use, following proper cleaning procedures, keeping incident logs, posting warnings about proper form, getting doctor's approval for working out, and obtaining liability waivers from clients.
Have Certificates of Insurance from Independent Contractors
If your gym uses personal trainers who are independent contractors, your gym insurance carrier will require that they have their own insurance and provide you with a certificate of insurance (COI). This reduces risk to your company, thus the insurance company. Personal trainers can get a cost-effective policy to meet their risk needs and company needs through Insurance321.
"The gym owner has to name and list each trainer on their insurance regardless if they are 1099 (contractors) or W2 employees. However, while they are independent contractors, you have to pay for additional coverage throughout your insurance company in most cases since often these 1099 contractors have their own business, and they use your facility. So, to be safe, you must have this in order. Your rate will be better, and you will have a stronger defense if the trainers have their own liability insurance as well, which they can acquire online."

— Daniel Nyiri, Author & Celebrity Fitness Trainer, 4U-Fitness
Additional, Related & Associated Gym Insurance Types
As a gym owner, you may have exclusions to your policy. It may be necessary to combine various policies and get supplemental riders for your gym insurance policy to cover the risks properly. For instance, if your gym sends a team to the annual mud run, you will need to look at additional coverage.
Product Liability Insurance for Gyms
Product liability insurance specifically covers products sold in the gym. This could be supplements, workout clothing, or equipment. If a person buys supplements you recommend or endorse, you could be held liable. Product liability insurance protects you from this risk.
Event Insurance for Gyms
Event insurance is a specialty policy or rider to an existing policy covers you for larger events that may have a bigger risk exposure. If you host a CrossFit challenge, there are more people attending and potentially getting injured during competition. Event insurance specifically covers general liabilities during a special event.
Occurrence Insurance for Gyms
Occurrence insurance is an additional rider that protects you from future claims from clients no longer working with you. If a client says his back surgery two years later is the result of your workout advice, the claim might not be filed until long after an incident occurred. Under most policies, claims must be filed immediately after an injury, but this allows for additional coverage into the future.
Gym Insurance Frequently Asked Questions (FAQ)
Gym insurance doesn't cover every risk but is often confused with different risks. Here are some answers to frequently asked questions. If you are still left with some questions, please visit our forum, where we will answer further questions and provide clarifications.
Is There an Insurance to Cancel Gym Membership Early?
Cancellation of memberships isn't a covered loss. Clients signing an annual contract are often given discounts for the commitment. Consider contract clauses that have a fee to cancel early with notice. This is not considered a qualified claim under a "business interruption" clause on your gym insurance policy.
Is There Health Insurance That Covers Gym Membership?
There are health insurance providers that do cover the costs of joining a gym. This is part of the preventative medicine movement that is associated with the Affordable Care Act. Medicare and Medicaid will pay up to $250 toward a gym membership. There are Aetna Insurance gym discounts, and many other providers offer similar programs.
How Much Does a Million Dollar Bond Cost?
Bonds for gyms are generally calculated at 1% of the bond value. If the bond is $1 million, the cost for a gym bond is approximately $10,000. The bond carrier pays the claim, and then the gym owner pays the bond company back. That is different than insurance where premiums are paid, and claims don't get repaid.
What Obligations Do Gyms Have to Prevent Injuries on Premises?
Gym owners need to make every effort to prevent injuries. Negligence is not acceptable. Consulting with new clients to ensure they have the medical approval to workout, posting safety rules, and educating trainers on protocol and technique are all part of prevention. Keeping workout areas clean and putting equipment away is essential.
The Bottom Line
Every gym owner needs to obtain the right policy that covers supervised and unsupervised workouts with various machines and equipment. Gyms have more risk than a trip and fall where clients may get injured in a workout or even suffer cardiac arrest on an exercise bike or weight machine. Don't run the risk of being under-insured because you bought cheap business insurance.
Getting a gym insurance quote can be frustrating with many companies not covering the business type. Don't get frustrated. Companies like The Hartford have the resources to help you navigate the process quickly.