Hair salon insurance refers to the business policies salon, barbershop, and spa owners typically purchase. The most common hair salon policy is general liability, which covers claims your business caused injury, property damage, or reputational harm. Salon insurance costs around $400 to $3,500 per year, depending on how many policies they need.
Cost isn't the only thing hair salon owners should consider when it's time to buy insurance. They should also look for a financially strong carrier that offers the policies that cover their specific risks like The Hartford. Its team of experts can help you select the right coverage and tailor it to your business and budget. You can get a no-obligation quote in minutes.
Salon Insurance Costs
Beauty salon insurance costs depend largely on the number of policies and coverage amounts you select. Owners who only get a business owner's policy (BOP) pay around $480 to $2,500 annually. However, BOPs don't cover all the risks salons face, so many owners may opt for additional policies. This can raise their total insurance costs to as much as $3,500 per year.
Beauty Salon Insurance Costs & Deductibles by Policy
Policy

Estimated Annual Premium

Coverage Amount

Typical Deductible

General Liability

$400 to $2,000

$1 million per occurrence

$2 million aggregate

$0

Commercial Property

$300 to $700

Varies based on property value

$500 to $1,000

Professional Liability

$600 to $2,000

$1 million per occurrence

$2 million aggregate

$500 to $1,000
The number of policies and amount of coverage you need have a major impact on your salon insurance costs, but top salon insurers consider other factors when setting premiums. These include characteristics of your business, but policy options play into your beauty salon insurance costs too. For example, most insurers want to know about the following:
Operations: How you run your business has a major impact on your costs. For example, salons with tanning beds typically pay higher premiums than those that don't.
Revenue: Salons with more revenue often have higher premiums for hairstylist liability insurance because courts consider income when awarding judgments, which means these salons potentially cost more for insurers to cover.
Employees: Having more staff increases your likelihood of filing workers' comp, general liability, and commercial property claims.
Deductibles: Opting for a higher deductible typically lowers your premium because it means you're taking on greater financial responsibility in the event of a claim.
Coverage amount: You can increase limits on most policies, but that increases your overall salon insurance costs.
Location: Certain locations may face higher risks for crime, extreme weather, and flooding, which can impact your commercial property premium.
While cost is always an important part of selecting salon insurance, owners should also keep value in mind. Getting the bare minimum in coverage can save money in the short term, but you may be underinsured if you have to file a claim.
Common Hair Salon Insurance Policies
| Policy | What It Covers |
| --- | --- |
| General Liability | Third-party claims for bodily injury, property damage, and reputational harm |
| Commercial Property | Damage to business-owned assets like building, equipment, and inventory |
| Workers' Compensation | Employees' medical bills and lost wages after a work-related illness or injury |
| Professional Liability | Lawsuits alleging you or your employee made mistakes, behaved negligently, or failed to meet professional standards |
| Equipment Breakdown | Damage to business-owned equipment caused by internal malfunctions |
General Liability Insurance
General liability insurance covers third-party bodily injury, property damage, and advertising injury. This is a core coverage for salon owners because claims from third parties are a common risk. Also, general liability often is required for business licenses and commercial leases. Instances where general liability applies include:
A customer's medical bills after they slip in your salon
A neighbor's repair bills if a fire in your salon causes smoke damage in their building
Your legal bills if a competitor sues for defamation
General liability usually has products-completed operations coverage to pay for property damage and physical injury caused by defective products or faulty services. For example, if your salon is sued after the shampoo you sell makes customers' hair fall out, then the products-completed operations portion of your general liability policy covers your court costs.
Commercial Property Insurance
Commercial property insurance covers your business' physical assets like your salon and the contents within it. Policies typically pay to repair or replace these assets when they're damaged by certain events, such as fire, theft, vandalism, or windstorm. Salon owners should also look for a sewer backup endorsement. Most commercial property policies exclude damage caused by backup or overflow from sewers and drains, which can be a pretty big risk for hair salons.
Salons usually get commercial property bundled and general liability insurance at a reduced rate by buying BOPs. Most BOPs also include business interruption coverage, which covers your lost income and ongoing expenses if your salon is forced to close because of a covered event.
Workers' Compensation Insurance
Workers' compensation insurance provides benefits to stylists, assistants, receptionists, and other employees of your hair salon when they suffer work-related injuries or illnesses. Coverage includes medical bills and lost wages and is required in most states when a business has one or more employees.
State law determines coverage, but injuries covered by workers' comp typically include:
Occupational injuries like lung disease caused by breathing in hazardous chemicals
Traumatic injuries like a broken wrist after a fall
Repetitive stress injuries like carpal tunnel from cutting hair
Professional Liability Insurance
Professional liability insurance, also called errors and omissions (E&O) insurance, covers your legal fees if a client claims your negligence or mistake caused them financial harm. Whether their costs are your fault or not, professional liability insurance helps pay lawyer's bills, court fees, and judgments or settlements.
For example, let's say you accidentally dye your client's hair the wrong color, and they claim they lost a modeling gig because of it. If that client sues, professional salon liability insurance covers your legal bills.
Equipment Breakdown Coverage
Equipment breakdown coverage pays for losses caused by mechanical failure of nearly any equipment, including tanning beds; computers; and heating, ventilation, and air conditioning (HVAC) systems. It can be purchased as a standalone policy or endorsed onto a property policy. Many salon owners assume their commercial property insurance covers these events, but that policy only pays for damage caused by external sources. Equipment breakdown coverage pays for damage caused by internal sources like power surges and motor burnout.
Salon owners may need equipment breakdown insurance for the machinery housed in buildings they own. That's when they're most likely responsible for repairs to boilers and air conditioning units. However, even owners who rent space often depend on equipment that's expensive to repair and may take out coverage for it.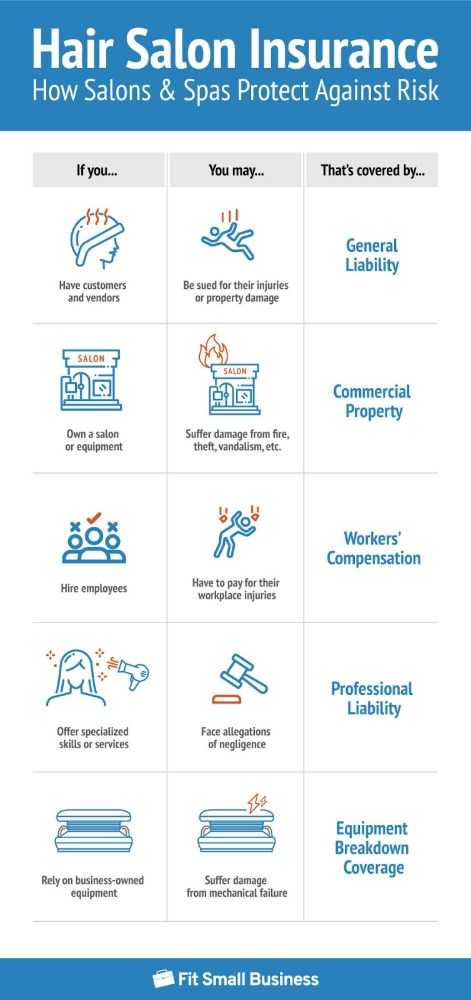 Additional Hair Salon Insurance Policies
Salon owners may need coverage beyond the policies listed above. This mainly depends on your business practices like whether or not you own the building where you work or if you drive to meet clients. Some of the more common additional policies are listed below.
Commercial Auto Insurance
Commercial auto insurance covers repairs and related lawsuits when a vehicle used by your salon business is involved in an accident. Most states require a minimum amount of liability coverage for business-owned vehicles to pay for damage you cause others, but policies can also include coverage for damage to your cars and any vehicles your business rents, hires, or borrows.
Commercial Umbrella Liability Insurance
Unlike other policies, commercial umbrella insurance is not used to protect against a specific risk. Instead, it adds coverage when other liability policies are insufficient. For example, if your general liability limit is $1 million, but a lawsuit over a customer's slip-and-fall costs $1.5 million, an umbrella policy pays the additional $500,000. Buying an umbrella policy is usually more cost-effective than adding coverage to your other liability insurance.
Commercial Crime Insurance
Commercial crime insurance covers financial losses stemming from illegal activities like check fraud, theft, and counterfeit money schemes. Most policies reimburse policyholders whether the criminals are employees or outside actors.
Salon owners often assume these financial losses are covered in commercial property. Unfortunately, property policies often exclude employees' actions and stolen money, so commercial crime insurance is essential for salon owners who have employees or typically have cash on hand.
Hair Salon Insurance Common Exclusions
Insurers exclude operations that make your business too risky for them to insure. In the spa and salon industry, excluded practices are often either new and untested or invasive. Some examples are:
Tanning services
Airbrush services
Electrolysis
Hair implanting and transplanting
Eyelash dye or coloring services
Massage therapist services
Red light therapy services
Offering these services doesn't mean you can't get coverage, but you may have to pay extra or go to a surplus broker for your liability policies.
Hair Salon Insurance for Booth Renters
Salon owners who lease space to independent contractors, often called booth renters in the industry, may have additional insurance concerns. More often than not, neither general liability nor professional liability covers independent contractors working in your salon. This does not, however, mean you can't be caught up in a lawsuit over a booth renter's actions.
To make sure they are fully protected, salon owners have three options:
Look for an insurer that extends coverage to booth renters.
Add their booth renters to their liability policies as additional insured.
Require all booth renters to carry hair stylist liability insurance.
The first two options may cause an owner's hair salon liability insurance costs to go up, but they also ensure that coverage is in place. The third option puts the burden and cost of getting insurance on the contractor, but the salon owner will still need to follow up to make sure the contractor gets and maintains sufficient coverage.
Hair Salon Insurance Frequently Asked Questions (FAQs)
We've tried to cover most of the information you need to choose the appropriate hair salon insurance for your operations. However, every salon operates differently, so we've included the answers to some of the most commonly asked questions about salon insurance here.
Do I need hairdressing insurance if I see clients at my home?
Hairstylists who work out of their homes need hair salon insurance because most homeowner's policies exclude business activities. This means if a client is injured or accuses you of professional negligence, you may have to pay the costs out of your own pocket. BOPs are an easy solution for this predicament.
Is commercial auto necessary if I drive my personal car for business?
Like homeowner's insurance, personal auto policies typically exclude business driving from coverage, so you may need commercial auto for any work-related trips. Occasional trips may be covered, but you probably need a business policy if driving your personal vehicle is a regular part of your operations.
Are booth renters independent contractors or employees?
Booth renters are traditionally independent contractors, or 1099 employees, which means they are technically small business owners in their own right. Salon owners need to be careful that they both treat and classify booth renters as independent contractors, or they can end up owing back pay and employment tax.
Should salon owners get backup of sewer & drain insurance coverage?
As a hair salon owner, it is common to have hair clogged in drains in the course of work, which can cause water damage to the building. Adding an endorsement for backup of sewer and drains to your insurance policy can help cover the resultant water damage and cleanup costs.
Bottom Line
There are many different types of salon businesses, and each has unique exposures that need to be protected with the appropriate insurance policies. To get a better idea of what beauty salon insurance policies you need, speak with an insurance representative who can assess your risk and get you a quote from a top insurance provider.
The Hartford has a team of experts who will work with you to identify your needs and make sure your salon is covered. Get your free, no-obligation quote online in minutes.