While most bloggers use Facebook to support and promote their existing blogs, you can also blog directly on Facebook for free. If you want to learn how to blog on Facebook, it's important to understand the benefits and limitations of blogging on this popular social platform.
The Two Ways to Blog Directly on Facebook
There are two ways to blog on Facebook. The first is through Facebook posts, which works best for short posts. The second way to blog directly on the social channel is through Facebook Notes, which allows you to create simple yet attractive longer blog posts that are easy for your followers to read.
How to Blog Using Facebook Posts
When you think of the term "blogging," you may think of articles that are a bit longer than most social media posts. However, there's also a practice called microblogging, which is when a blogger creates a short piece of relevant and highly focused content to share with an audience. Facebook is just one of many platforms ideal for microblogging—Instagram, Twitter, and Tumblr are other popular microblogging sites.
Many bloggers use Facebook posts for microblogging. Facebook is the ideal platform to share short videos, images, and text-based content. The maximum character count for Facebook is 63,206; however, studies show that Facebook posts with 80 characters or less generate 88% more engagement. When it comes to posting on Facebook, shorter posts with eye-catching visuals or videos tend to work the best.
Just because short posts work well, though, doesn't mean longer posts can't work. For example, author Jeff Foster typically writes posts between 300 and 1,000 words which often produce high volumes of likes, shares, and comments that most bloggers would envy.
To be successful blogging on Facebook, you have to understand your audience and figure out what they want from you. Experiment with different post types and lengths. Then, do more of what works best for your followers.
How to Blog Using Facebook Notes
Facebook Notes is a feature offered on the social channel that probably doesn't get as much attention as it deserves. You can use Facebook Notes to create the same types of blog posts you could host on popular blogging platforms like WordPress and Squarespace.
How to Add Facebook Notes to Your Facebook Page
The Facebook Notes feature is not automatically active on your Facebook page, so you'll need to add it. You'll start this process by clicking on your Page Settings tab on your Facebook page administrator's screen.

Once you've opened your Page Settings screen, navigate to the Templates and Tabs menu option on the left sidebar.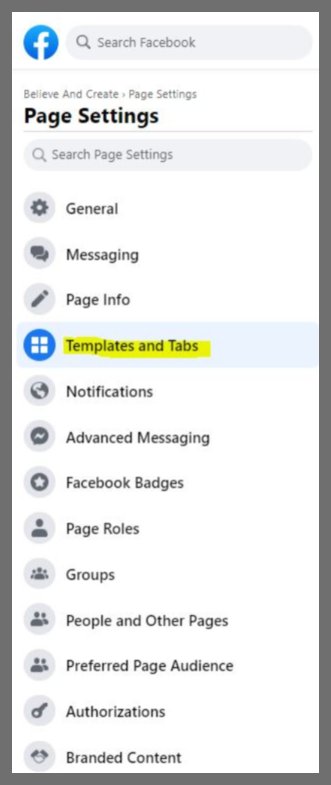 After clicking on the Templates and Tabs menu, several options will appear, and one of them is Notes. Move the slider over to the right to turn the Notes function on for your Facebook page.
Once you've gone through the steps above, Facebook Notes will be active on your page. You're now ready to start blogging.
How to Create a Blog Post Using Facebook Notes
Make sure you're logged in as your page administrator. Navigate to your homepage on Facebook where you'll see your Facebook featured tabs, which could vary a bit from others' pages because you may have different tools loaded. If you don't see Notes in your featured tabs, simply click on the down arrow next to the More tab, and Notes will appear.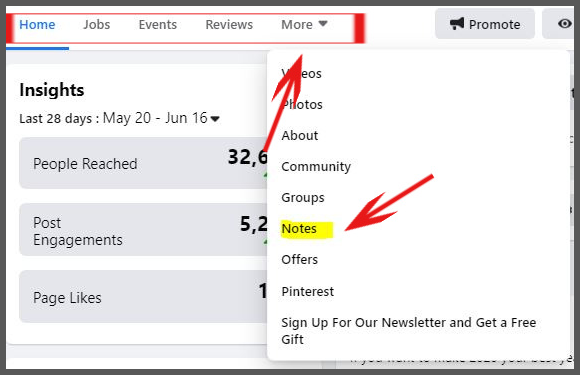 When you click on Notes from your tabs bar you'll see the following:

To add a new blog post via Notes, simply click on the "+Add Note" button in the top right corner. Once you do this, a blank template will appear (see below). You will use this template to create your blog post.
How to Format Your Facebook Note Blog Posts
As you can see from the image above, the Facebook Notes interface is fairly simple. You can add an image, a title, and then your blog post content. The current date is automatically added to your post. You have the choice to delete, save, or publish your Facebook Note. If you choose to save the Note, a draft will be saved but it will not be published. You can save posts and come back and continue writing or editing later, and when you're ready, you can then publish them.
Optimal featured image dimensions for Facebook Notes are 1200 by 445 pixels. Since your featured image will appear in your followers' feeds—and will influence how many will be intrigued enough to read your post—it's important to choose an eye-catching image.
While Facebook Note formatting features could hardly be described as robust, the platform gives you enough tools to create attractive blog posts. Most of the formatting tools are revealed only after you start typing; simply click on the circle plus icon and the paragraph icon to view your formatting options.

Facebook Notes allows you to add images and HTML code into your blog posts. You can also embed videos, gifts, and links to content on other sites to your Facebook Notes.

Blog post text-formatting options are revealed by clicking on the paragraph icon. You can adjust headline sizes or add bulleted lists, numbered lists, and quotes to your blog articles. You can also bold and italicize your text.
Once you've published your blog post using Facebook Notes, this is what it will look like in your followers' Facebook feeds:
As you can see, only a short sample of the text for your blog post will appear in your followers' feeds. Your fans will need to click "See More" to read your full blog post. That's why it's important to ensure your image and your blog post introduction are compelling; if you don't, you won't get your users to click on the "See More" link and your blog will go unviewed.
When your followers click on the "See More" link, they'll see your full blog post without ever having to leave Facebook (see example below).
One Big Note of Caution About Facebook Notes
Facebook Notes is a viable and free way to blog on Facebook. However, while this feature was a little more popular a while back, it really hasn't caught on like wildfire and I'm seeing fewer and fewer people use it today. It appears that even Facebook CEO Mark Zuckerberg is only using Notes sparingly.
While there's been no announcement to date by Facebook about pulling this feature from its platform, Facebook does make service changes from time-to-time. If you plan on blogging on Facebook via Facebook Notes, I strongly recommend you keep a copy of those posts elsewhere. I'd hate to see you lose all your content should Facebook stop supporting its Notes feature.
How Do I Make Money Blogging on Facebook?
You can make money blogging on Facebook by selling products or services or through affiliate marketing or sponsored posts. You can also open a shop on Facebook. If you want to make the most money as a blogger, though, it's best to create an independent blog using a popular blogging platform such as WordPress, Squarespace, or Wix.
The Pros and Cons of Blogging Directly on Facebook
Facebook is the most popular social media channel in the world. In the US alone, Facebook has more than 221 million users. As a blogger, you simply can't afford to ignore this social media giant.
The key question you need to ask is not whether you can start a blog on Facebook—you definitely can—but rather, should you blog directly on Facebook?
To help you make a fully informed decision regarding whether blogging on Facebook is the right strategy for you, let's review the pros and cons.
The top pros of blogging directly on Facebook include:
Free: You don't need to pay a dime to blog on Facebook.
Large user base: Facebook has a huge active base of users that includes nearly all ages.
Easy: It's easy to get started blogging directly on Facebook.
Less reader resistance: Many social "scrollers" prefer to remain on the social channel they're currently on. When you blog directly on Facebook, followers can read your posts without leaving Facebook.
Possible Facebook visibility advantage: Facebook loves for you to keep your followers on the social channel rather than sending them to another site. Facebook may reward you for blogging directly on Facebook by boosting blog post visibility in your followers' Facebook news feeds
The top cons of blogging directly on Facebook include:
No organization tools: There's no way to organize or categorize your Facebook blog posts.
Limited formatting features: Blog post formatting capabilities on Facebook are extremely limited; poor formatting often leads to a subpar reader experience.
Hard to build a brand: You don't get a private domain on Facebook, which makes building a brand and reputation for your blog extremely difficult.
Search disadvantage: You have more control over search engine optimization (SEO) on your own blog than you do on Facebook blog posts.
Monetization is limited: There aren't as many ways to monetize your blog on Facebook as there are on your own website. For example, you can't make money from advertising on your Facebook blog.
Complete blog content is hard for users to find: While new Facebook blog posts show up fine in feeds, it takes a lot of effort for followers to go back and find your other blog posts; that's something visitors to a standalone blog site can do quite easily.
Facebook is not widely used for traditional blogging: While people promote their blogs on Facebook, the platform is not as popular for hosting actual longer-form (over 300 words) blog posts.
Could lose all your work: You're at Facebook's mercy; they could remove your blog content at any time (though you'd likely receive a warning before they did so).
Is Facebook the Right Blogging Platform for You?
Blogging on Facebook makes a lot of sense for some people but whether it's right for you depends on your goals. If you don't already have a website for your blog—and you're not sure you want to commit to starting your own blog yet—blogging on Facebook is an easy way to get started as a blogger.
If you want to make money blogging, I recommend that you create your own blog and use it as your primary blogging platform. This gives you the most control over your site and the best chances of turning a profit. That being said, you can and should still create and use a Facebook page to promote your blog. You also may want to blog directly on Facebook from time to time as it could give you a slight engagement and visibility advantage.
The Best Facebook Blogging Alternative
While you can use Facebook to blog, you're at Facebook's mercy on who'll see your posts and when they'll see them. For example, say you build a Facebook follower base of 100,000. Not all those people will see all your blog posts. In fact, on average, you can count on less than 5% of your fans seeing every post unless you support all that content through paid advertising—which would get very pricey, very fast.
Don't get me wrong; Facebook is a marvelous marketing and promotional tool for bloggers; it's just not an ideal blogging platform. If you are serious about building a successful blog, I recommend you create your own website using a top blogging platform. Then, use Facebook as a social channel to spread the news about your blog, engage followers, build a community, and promote your products or services.
In my opinion, the best alternative to creating a Facebook blog is to set up a self-hosted WordPress blog using Bluehost as your hosting provider. This gives you the opportunity to have your own domain, brand your blog, scale it as your business grows, and design your blog the way you want it to look. It also lets you fully tap into the power of search engine optimization (SEO) so your blog content has a better chance of being visible in Google searches.
You can get started with a self-hosted WordPress blog for as low as $2.95 per month using Bluehost as your hosting provider.
How to Use Facebook to Promote Your Blog
As a blogger and blogging consultant, I understand firsthand the tremendous value of using Facebook as a marketing and promotional tool. Every time I publish a new blog post on my self-hosted WordPress blog, I always add that post to my Facebook page to make sure it gets in front my large base of Facebook fans as well as to create a sense of community for my blog audience.
I also use Facebook ads from time to time to target my ideal target market and introduce them to products and services that I think they might like. I even have a Facebook group for my blog where I build a sense of community and host special online learning events and challenges.
There are so many ways to use Facebook to make more money as a blogger. You can extend your blog monetization efforts by posting sponsored posts on Facebook. And, you can even sell products directly on Facebook.
Use Facebook to Promote Your Blog Posts
You can add Facebook posts to your page manually or through a social media management tool like Hootsuite or Buffer (I personally use Buffer). All you need to do to link an article from your personal or business blog to Facebook is to click on "Create Post" from your Facebook homepage. Then, write a short intro and add the URL of the post you're discussing. Facebook lets you choose to publish your post immediately or at a later date.
Facebook also gives you the opportunity to add other features to your post. Those options vary a bit, but here are the options offered at the time this article was written: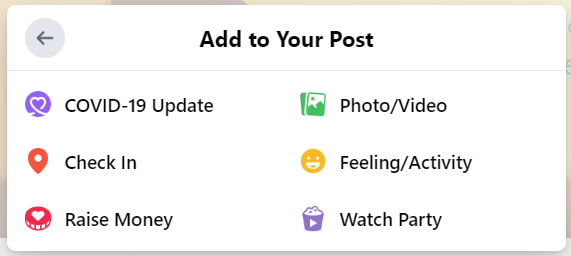 You can also Boost your Facebook post—starting as low as $1 a day—so more people will see and engage with your post. A Boost is a form of Facebook advertising, but in my opinion, is typically not as effective as other advertising options available through Facebook
Here's what your new Facebook post looks like after you've added your blog content and link but before you've hit the Post button:
Posts to your blog on your own website look a little different in your follower's feeds than blog posts created in Facebook Note. The side-by-side images below best illustrate the subtle differences.
Examples of Popular Facebook Post Formats From Bloggers
They say variety is the spice of life and adding variety to your blog's Facebook page is a good way to achieve better engagement and overall results. Adding different types of content, including videos and questions in addition to links to your blog posts, is a wise strategy for maximizing exposure for your blog on Facebook.
Example One: Add Video on Facebook to Promote Your Blog
Videos get about 59% or more engagement on Facebook than any other type of post. You can post live videos to Facebook or link to existing videos on your blog or YouTube channel. According to HubSpot, Facebook users spend three times longer watching live videos compared to non-live videos.
Since 85% of videos on Facebook are watched without sound, be sure to add captions to your videos that depend on sound to convey important messages. Some videos, like some "how to videos," don't depend that heavily on sound to work well.
Example Two: Create a Personal Connection on Your Facebook Page
Remember that Facebook is a social platform and it pays to get personal from time to time. Try posting audience questions, personal stories, and anecdotes on your blog's Facebook page. Then, ask your followers to join in the conversation. This is a terrific way to come across as more authentic to your followers and to show them you care. People love doing business with those they can relate to and trust.
Adding candid images of yourself can also make you more relatable to your audience.
Example Three: Add Amazing Photos to Your Facebook Page
While all blog niches can benefit from incorporating attention-grabbing images on the Facebook pages, there are some niches where amazing visuals are imperative. For example, travel, fashion, food, and home interior and design blogs absolutely must add amazing visuals to their pages.
One of the top benefits to compelling visuals is that they're frequently shared—often by a lot of people. This can yield more exposure for your blog.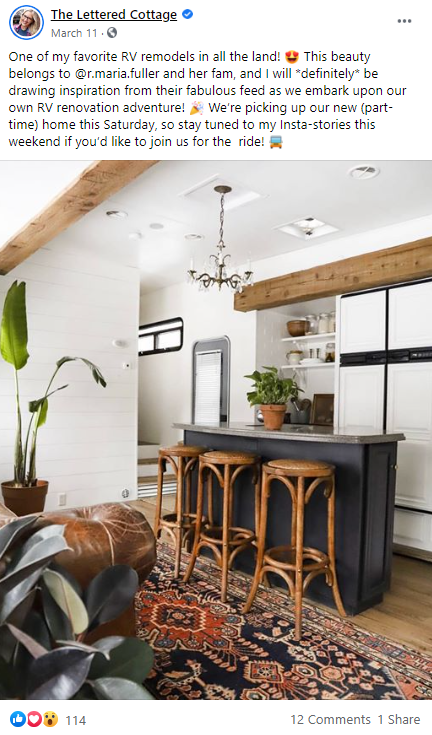 Bottom Line
You can blog on Facebook for free using either the social channel's post or Facebook Notes features. For peak blogging results though—especially if you want to make the most money from your blogging efforts—it's best to build your own blog and use Facebook to promote that blog.
You can build a self-hosted WordPress blog with Bluehost as your hosting provider for as little as $2.95 per month. WordPress is the most popular blogging platform in the world, and Bluehost offers secure, flexible, affordable hosting solutions and extensive customer support. Bluehost even comes with a free custom domain for your first year.