How to Set Up WooCommerce & Sell on WordPress in 8 Steps
Learning how to sell on WordPress starts with setting up a domain and choosing a web host, installing the WooCommerce shopping cart plugin, listing products to sell, and managing orders and shipments. Once set up, grow your WordPress ecommerce business with plugins and marketing tools.
Although the WooCommerce plugin is free, expect to spend several hundred dollars upfront on hosting and other plugins to get your WordPress store up and running.
If you don't already have a WordPress site, you may want to consider building your ecommerce site on an ecommerce platform or website builder. They are generally easier to use and maintain, especially if your site will be product-focused, instead of content-focused.
Step 1: Choose a Domain Name & Website Hosting
Before you can start selling on a WordPress website, you need to choose a domain name (such as YourBusiness.com) and website hosting. Your website host is where your business website will live—it's also where you purchase the domain name. Bluehost is one of the most popular options for WordPress websites, especially ecommerce sites.
When choosing a domain name and WordPress hosting:
Try to use a .com domain name instead of something like .net, as the latter can seem low quality.
Use a host that allows one-click installation (such as Bluehost) for easy setup.
Pick a host that will grow with you. By anticipating your future needs, you'll save yourself the hassle of switching hosts later on.
Select your name carefully. You can change your domain name down the road, but it can be difficult to learn how to redirect traffic to your new name.
You can read our guide on registering a domain name and learn more about our top picks for web hosting.
Step 2: Install WordPress & the WooCommerce Plugin
After you have your domain and WordPress hosting, install WordPress. If you use a hosting service like Bluehost with one-click installation, log in through your hosting provider, and add a new WordPress site. For example, in Bluehost, click "Add a website" under the Marketplace tab. Then, enter your site name and select the domain you already purchased. And that's it—you've installed WordPress.
If you are using a different hosting service that does not have a one-click installation, you will need to download WordPress (from WordPress.org, not WordPress.com) and install the bundle on your site.
Install WooCommerce to Add Shopping Cart Functionality
With WordPress installed on your domain, it's time to add ecommerce functionality with the WooCommerce shopping cart plugin. Shopping cart plugins can list products for sale, accept orders, apply taxes and shipping charges, and communicate with customers, all on your WordPress site.
WooCommerce is the best and most popular ecommerce solution for WordPress, so this tutorial focuses on WooCommerce. Read our WooCommerce review to see if it's right for you.
To install WooCommerce, go to your WordPress dashboard and navigate to Plugins > Add New. Type in the plugin name in the search bar (in this case, WooCommerce) and click on Install Now.
Once installed, the button will change from Install Now to Activate. Just click on the Activate button and the plugin will be ready to use on your website.
Configure the Setup Wizard
Once installed, WooCommerce will direct you to the setup wizard. We recommend going through it so that you can configure some key settings. However, you can quickly edit your settings anytime from your WooCommerce dashboard (in your WordPress navigation).
Once you've gone through the setup wizard, you'll see a store checklist. Use this as a template for setting up the rest of your store. You'll be taken directly to the appropriate settings page if you click on any item on the list. Once a setting is configured, you will see a check mark on the item.
Not sure WooCommerce is best for you? Here are some alternative WordPress shopping cart plugins:
Easy Digital Downloads: This is best for digital goods like e-books, music, and courses. It's free to get started, but prices go up to $499 per year with additional extensions.
WP Simple PayPal Shopping Cart: This offers a free and simple "buy button" for bloggers and affiliate sites.
Ecwid: This is the leading user-friendly shopping cart plugin. This close-sourced shopping cart software has free and paid plans that allow you to sell across multiple sites, social channels, and in-store.
Step 3: Set Up Payment Processing & Store Settings
After installing your shopping cart plugin, set up the back-end procedures, including payment processing, shipping, and sales tax settings. Many states also require specific customer service, privacy, and shipping pages outlining policies and procedures.
Online payment services process online payments for your store, and they include merchant accounts and all-in-one payment processors. The payment processor you should choose depends on your business' needs.
Here are your online payment service options:
All-in-one payment processors: All-in-one payment processors like PayPal and Stripe combine a payment gateway and processing in one service. Most startups opt for these since they are secure and easy to use and work with most shopping cart plugins.
Merchant accounts: If you already have a credit card processor or process more than $10,000 in payments each month, you may get better rates using a traditional merchant services account and payment gateway.
Tip: Regardless of how you accept credit cards, you need to make sure your business is Payment Card Industry (PCI) PCI compliant—including filling out the required annual self-assessment questionnaire and attestation of compliance.
Once you've decided on your payment provider, you'll set up payment methods in the ecommerce plugin setting. Most payment methods require a "key" or "token," which creates the connection between your store and the merchant processor. The plugin has fields for you to enter this information in the payment setting, and you'll get these keys, or tokens, from your provider. After setup, you can run test payments by enabling the test, or "sandbox" mode, in your provider's settings before going live.
In addition to accepting traditional credit and debit card payments, adding more user-friendly options can increase your online store's conversion rate.
PayPal: A PayPal study showed a 28% higher conversion on sites that accepted PayPal, as many shoppers already have a PayPal account. In addition to being a 1-click checkout, many shoppers view PayPal as a more secure payment option than typing in card information.
eWallet checkouts: These 1-click checkout options, like Apple Pay and Google Pay, make it easy for customers to purchase without having to type in card numbers or shipping addresses. Most online payment processors, including Stripe and Square, have options to enable e-wallet payments.
Installment options: Payment plans allow customers to pay for goods over time, which typically translates to higher average orders and increased conversion rates. WooCommerce has a Deposits plugin for creating custom plans. Other plugins like Splitit let retailers collect the total sale amount upfront.
WooCommerce comes with WooCommerce Payments. However, you are not tied to using its default method as it supports PayPal and Stripe.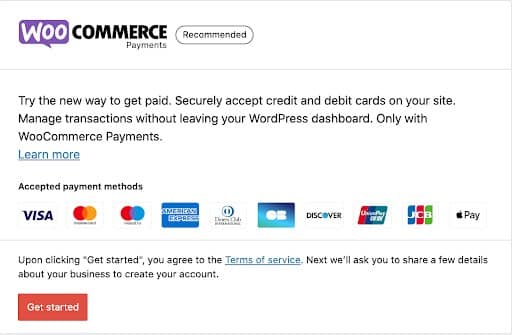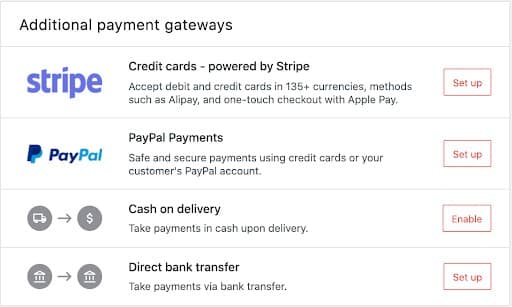 Step 4: Establish Shipping Policies
After payment processing, set up shipping functions. Navigate to your ecommerce plugin, and there should be a tab or option for "shipping" under general settings or order management. The best method of shipping depends on your particular business needs and what your competition is doing.
Shipping charges apply to orders in one of three ways:
Flat-fee shipping: The same shipping fee applies to every order or is added on a per-item basis.
Table-based shipping rates: Shipping rates apply based on the total order value. Free Shipping can easily apply for orders over a specific value using table rates.
Actual or real-time shipping rates: Shipping rates are calculated in real time using UPS, FedEx, and USPS rates.
Shipping Rates & Sales
If you're in a highly competitive market and shipping bulky or heavy items, charging customers the actual shipping rates may hurt sales. Shipping is expensive, and many customers have no idea of the actual costs. Flat-fee or table-based rates are the most customer-friendly choice if your profit margin can absorb the shipping costs. You can also learn how to offer free shipping. However, charging actual rates can still be a good choice if you sell unique, one-of-a-kind, or upscale items with little competition.

---

---

---

---
Step 5: Enter Product Data Into Your WordPress Store
Once you've completed your WordPress store setup, you will enter your product information. Most shopping cart plugins include basic fields in the product entry screen. These fields include product ID, stock-keeping unit (SKU), item name, price, product variables (color and size), description, and images.
Product entry can be time-consuming, so it's helpful to get organized before tackling this task. Assembling product information in a spreadsheet or Word document beforehand is useful, as is having product images sized, cropped, and organized in files for easy upload.
There are a few considerations to keep in mind when inputting product data:
Product data importing: You can use an import function if you need to add many products to your site. Most WordPress shopping cart plugins have an import feature that allows you to bulk import product data from a comma-separated values (CSV) file, which you can create in most spreadsheet programs.
Product weights and inventory: Many shopping cart plugins include optional product data fields such as item weight and size for shipping purposes and product counts for inventory tracking. Your business may or may not need to use these fields. If you charge shoppers flat-rate shipping fees or offer free shipping, then these fields probably won't matter to you. If you use actual or real-time shipping rates to determine shipping charges, you need to fill in weight and size data for accurate shipping charges to apply.
Inventory: Make sure to turn on stock tracking so your inventory counts are automatically updated as products sell. Automated stock tracking helps prevent out-of-stock sales and know when to re-order or make new products.
If you run a larger store, we recommend importing your products all at once via a CSV file. Most ecommerce plugins provide a format you can use to map out your products to their existing product fields.
If you run a small store, you can add products manually to set up shipping and pricing options separately.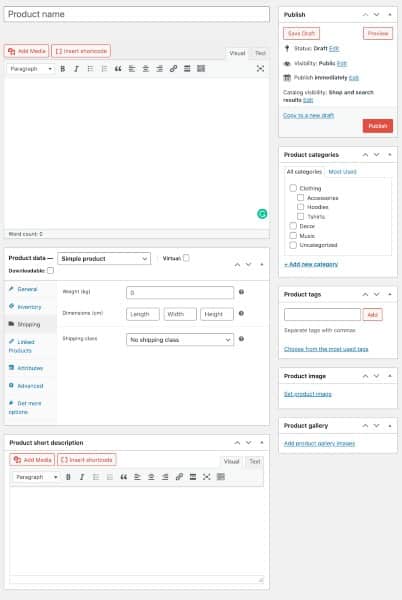 Standard product fields you need to fill out include:
Name: This is what your customers will see in your store.
Description: This is your product's main body of content—describe your product in detail. Learn how to write product descriptions that sell.
Type

Simple: Most suitable for most physical goods and services (default)
Variable: Ideal for more complex products such as t-shirts with multiple sizes
Grouped products: Suited for bundles or packages—grouping several simple products into one
Virtual: If you are selling a non-physical item, such as a service, and will not need to ship items
Downloadable: If you are selling products that gives a customer access to a downloadable file, such as an e-book or software

Price: Set a product price. Learn how to price competitively.
Short description: A quick summary for your product and appears on the product page under the product name
Images: Upload multiple images and use high-quality images as much as possible. Learn how to take better product photos.
Tags: Tags are used as product labels so that customers easily find them in your online store.
Categories: Group products into categories so customers can browse similar items in your store easily.
Step 6: Personalize Your Store & Select a Theme
A WordPress theme or template sets the overall look and functionality of your small business website. WooCommerce works and looks best with a compatible theme like Storefront. It also offers themes, which makes setting up a new store quick and easy. Or you can find a vast selection of themes on ThemeForest, the largest marketplace for WordPress themes.
A popular theme that works with WooCommerce is Divi by Elegant Themes. It's not free, but Divi offers unlimited customization opportunities through both a drag-and-drop builder and CSS control. So, it's great for businesses looking for an attractive ecommerce store no matter what their team's programming skills are.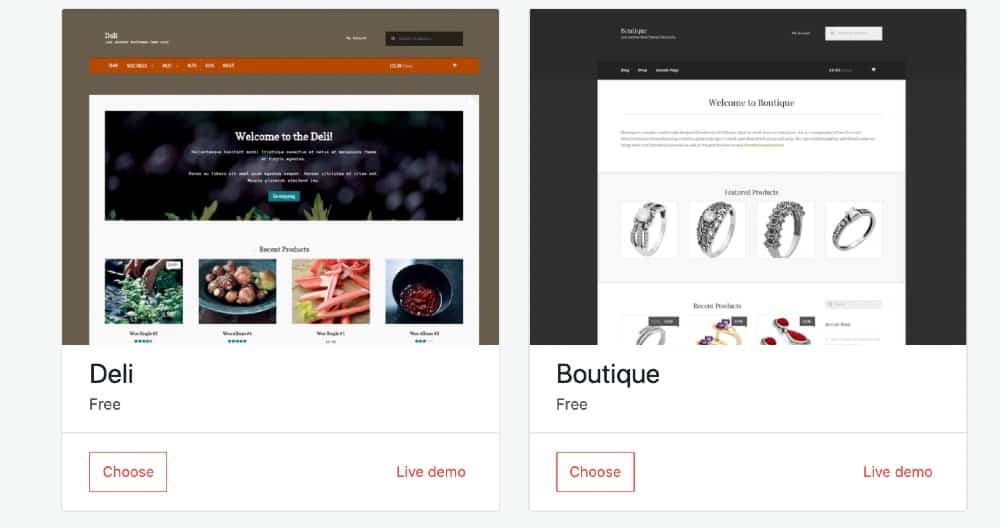 ---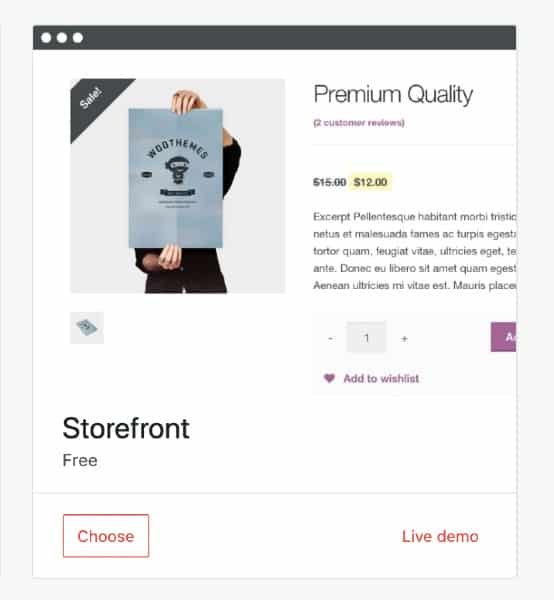 ---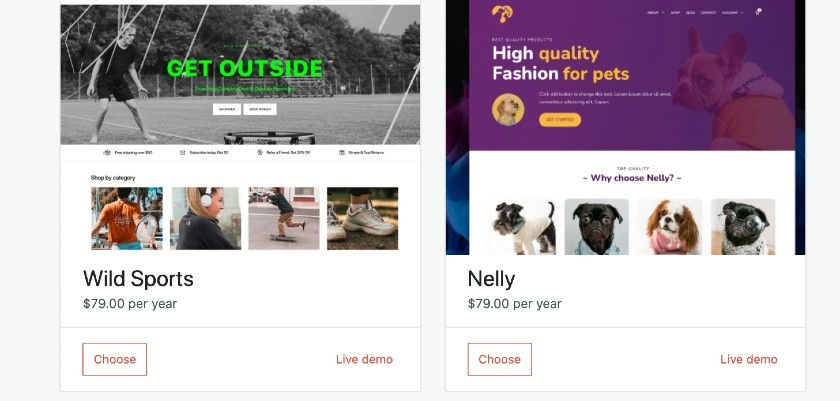 ---
Step 7: Process & Ship Orders
WooCommerce collects and stores your customer order information. You can easily see the status of orders such as "Processing," "Completed," or "Refunded." All orders marked as "Processing" or "In Progress" need to be fulfilled.
Fulfilling an order includes:
WooCommerce Shipping lets you print shipping labels straight from your dashboard and provides discounts on USPS and DHL shipping labels. You can also install a shipping plugin like ShipStation that streamlines operations with auto-generated shipping labels, deep USPS discounts, tools to set up email notifications for customers, and a branded tracking system.
Step 8: Grow Your Ecommerce Store With Plugins
To grow an ecommerce site, you need a multipronged approach to marketing that includes search engine optimization (SEO) strategies, email marketing, excellent customer service, a social media presence, and a snappy website.
Achieve a multipronged marketing and growth strategy with help from free and inexpensive plugins.
Store features: Improve the shopping experience for your customers with features like product search, wish lists, waitlists, and photo reviews. WooCommerce offers many of these add-ons for one-time fees ranging from $29 to $129.
Performance boosters: Add plugins such as Yoast to manage your site's SEO so customers can find your store more efficiently. Cache static elements of your site using plugins like WP Super Cache for faster load times and compress images to boost site performance.
Analytics: Use a Google Analytics plugin like MonsterInsights to see how customers find your ecommerce site, what they click on, and other helpful insights.
Email marketing: Mailchimp is a free plugin for WooCommerce and WordPress that lets you set up automated campaigns for abandoned carts, product recommendations, and post-purchase follow-ups.
Live chat: Add plugins like LiveChat or Freshdesk to connect with customers via live chat on your website to engage shoppers and provide faster service.
WordPress Ecommerce Frequently Asked Questions (FAQs)
Building any business website—more so, an online store—requires excellent attention to detail, and if you are new to WordPress, you are willing to learn some technical skills. Here are some of the most frequently asked questions around selling on WordPress.
How should I market my WordPress ecommerce site?
Here are a few tips for marketing your WordPress store.
Send newsletters: Capture customers' email addresses and send out regular newsletters with product updates, referral incentives, and links to blog posts.
Create landing pages: When visitors come to your WordPress site, you want them to go to a landing page. These pages have no other links or information—it strictly talks about the product or service you're promoting.
Promote through email: One of the first things you should do is create an email list to update your clients and potential clients about new offerings. Social media platforms come and go while your email list stays with you.
Use social media: Share your products and services on social media, but don't make that all you do there. Give followers a look behind-the-scenes so that they know you're not a robot behind a computer.
Hold contests: One of the best ways to go viral is through holding contests. Be sure to follow the rules of each social media platform if you have your contest on one—some prohibit you from requiring them to like or share your post.
---
What are the benefits of using WordPress for ecommerce?
WordPress is one of the most popular platforms for ecommerce sites because its open-source software allows third parties to create helpful extensions and add-ons. Many beginners enjoy using all of the free options for starting a store with WordPress and the ability to scale their store with additional integrations as their business and profits allow. Starting small and scaling later creates a lower barrier of entry for these new ecommerce businesses.
Similarly, those seasoned in the art of ecommerce stores prefer WordPress because of its ability to serve many purposes. For example, WordPress can host your blog, videos, corporate website, and portfolio. With the right skills, your WordPress website and ecommerce store can evolve into just about anything.
---
How do I select products to sell?
Start by considering your niche, what you're passionate about, and if you want to have physical or digital products. Then, gauge customer interest with surveys, polls, or focus groups.
Products with the following specifications are a good place to start:
Evergreen items, meaning they're not holiday-specific
Lightweight, easy, and cheap to ship—2 to 3 pounds maximum, including packing materials and box
Simple, unbreakable items that won't break during shipping or in use
Sales price between $10 and $50
Wholesale cost is anywhere from 25% to 35% of your sale price
Expansion opportunities into complementary products so that they can bundle later on
You can make the products yourself or source them using a marketplace like Alibaba. Factor your expenses, time, and storage in when deciding on a price for your product. Learning how to sell on WordPress profitably is important. Your products can help fund your store's expansion, so it's essential to plan for profit instead of it being an afterthought. Learn how to source products and find a wholesaler for your retail business.
---
Bottom Line
Establishing an online store is a part of one's growth path when starting a retail business, and WordPress ecommerce stores offer a versatile and low-cost online selling solution for businesses. WooCommerce is a free ecommerce plugin that is very customizable and scalable. It is easy enough to integrate into your WordPress site to start accepting payments and be scalable as your online store grows. You can quickly expand functionality using plugin extensions from its marketplace.