A Facebook business page is a free opportunity for businesses to increase brand awareness, generate sales, and even drive sales through Facebook. With over 2.7 billion Facebook users, and thousands of active users in your target market (or local area), it's a way to connect with potential customers and engage with existing customers.
Facebook is constantly developing and businesses are being offered more and more unique and helpful features. And while these features are advanced, it's incredibly easy to create a Facebook Page. All you have to do is simply log into your personal Facebook page, click the "+" icon, select "Page," and follow the prompts.
However, you can also follow these five steps to learn more about how to create a Facebook business page and best practices:
1. Log In to Facebook & Create a New Page
Shortcut: Log in to Facebook > Create > Page
Facebook business pages are created using a personal Facebook account, so you'll need to first log in to your Facebook account. Then, on the right-hand side of the blue toolbar, find and click the "Create" button.
Select "Page" From the Menu
A drop-down list will appear after clicking "Create." Select the first option, "Page," to create your Facebook business page.
2. Enter Your Business Information
Shortcut: Input Page Name > Category > Description > Click "Create Page"
On the following screen, input your basic business information, such as your page name or business name, category, and a description of your business. When done, click the "Create Page" button at the bottom of the screen.
3. Upload Your Profile Picture & Cover Photo
Shortcut: Upload Profile Picture > Upload Cover Photo
Next, upload your business page profile picture and cover photo. Businesses commonly use their logo as a profile picture, but you may use any photo that represents your business and your business' branding. When done, click the "Save" button at the bottom.
Try to ensure your cover photo is visually appealing and representative of your business. To avoid sizing issues, use Canva to create your Facebook business page cover photo. It's free to use and has dozens of predesigned templates you can use to easily make your own cover photo.
For Facebook business page design ideas and inspiration, check out our list of Facebook page templates.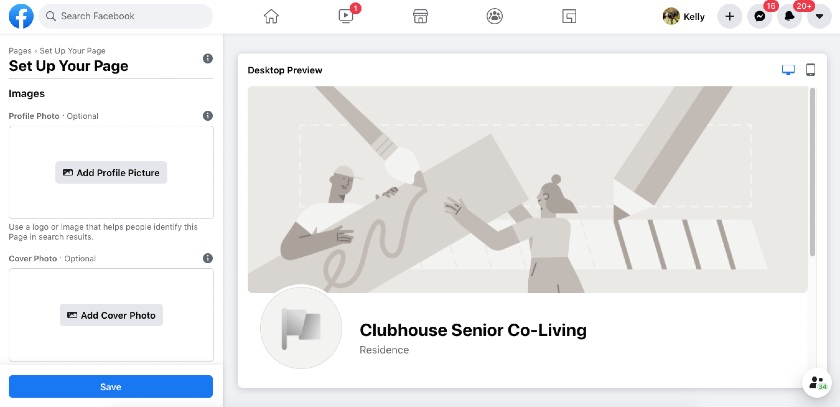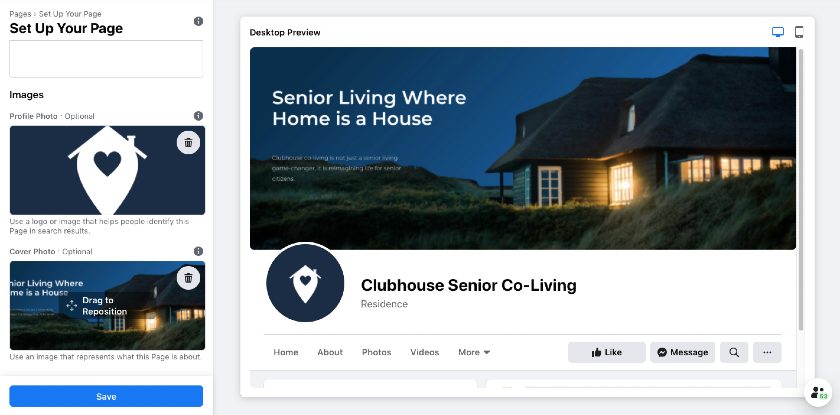 For more design-specific information on creating a Facebook business page, check out our guide on how to design a Facebook business page.
4. Add Relevant Info & Customize Your Business Page
Next, build out your Facebook business page with more information about your business and what it offers, and give page visitors a way to connect with you by using relevant call-to-action (CTA) buttons and integrations.
To start, scroll down and find the section labeled "Add More Information" and click the corresponding "Get Started" button. This is where you will input information that tells readers about your business, from ways to contact you to your products or menu. Enter all relevant information, such as your website, hours, and contact information. Be sure to complete all sections, as it may be a potential customer's first point of reference for your business.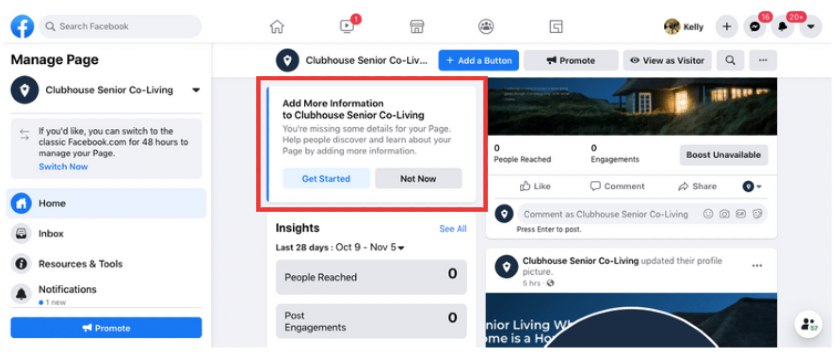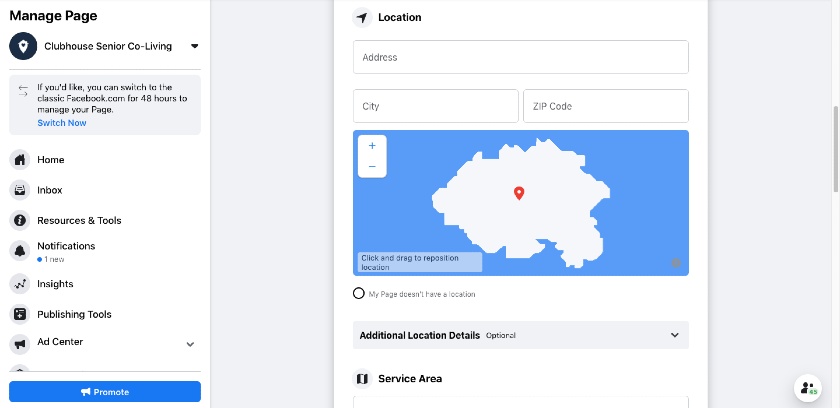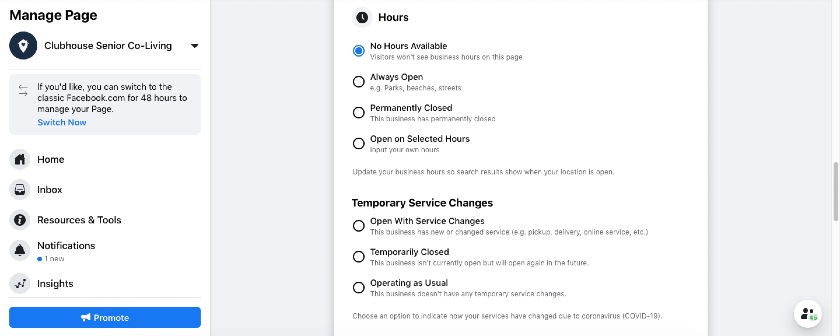 Add a Button to Your Page
After you have input all of your important information into your Facebook business page, add a CTA button to the page. This will be displayed to page visitors in the top right-hand of your page below your cover photo, and it gives visitors a way to easily take a specific action, such as follow, order food, shop now, book now, call now, learn more, or send email. In return, a relevant CTA button can help generate more leads, and, subsequently, increase sales.
To do this, click the blue "+ Add a Button" option on the left-hand side of your page below your cover image. Then, select which action you want your visitors to take, and follow the prompts to complete the setup.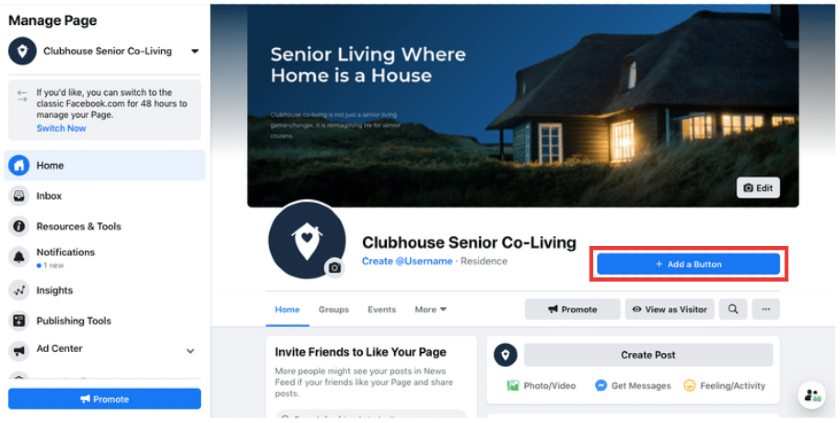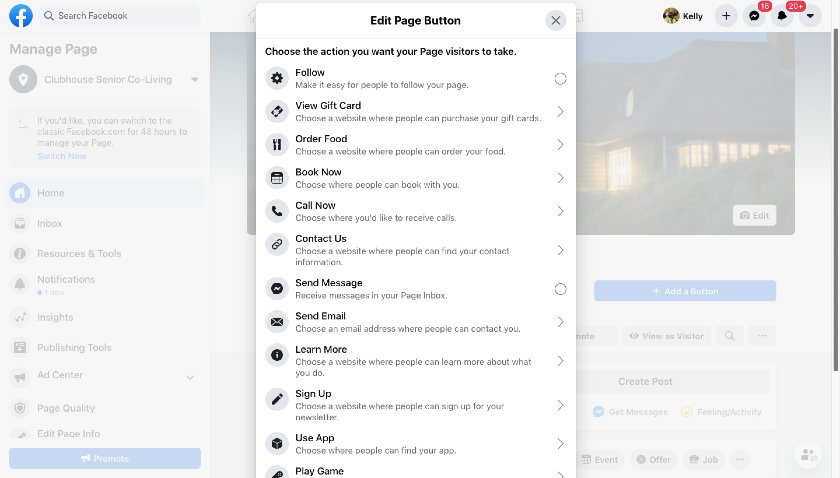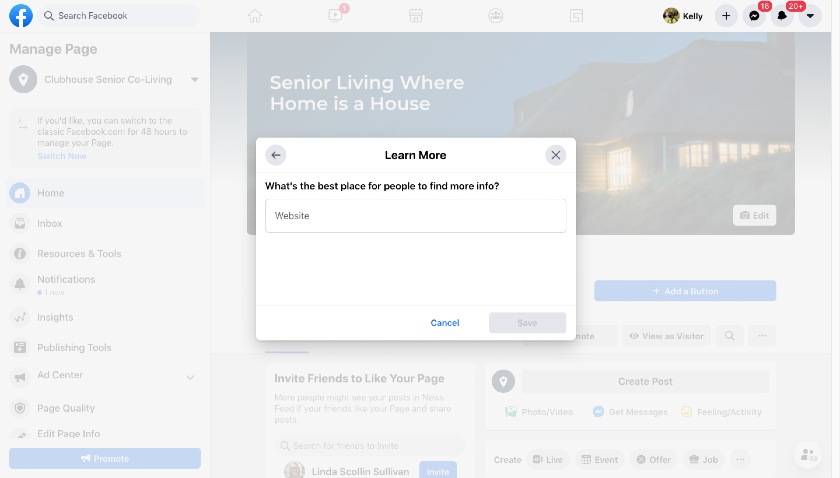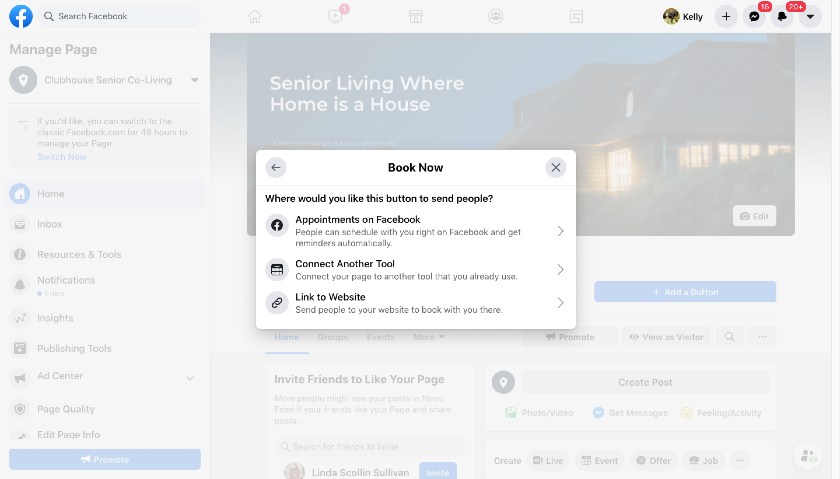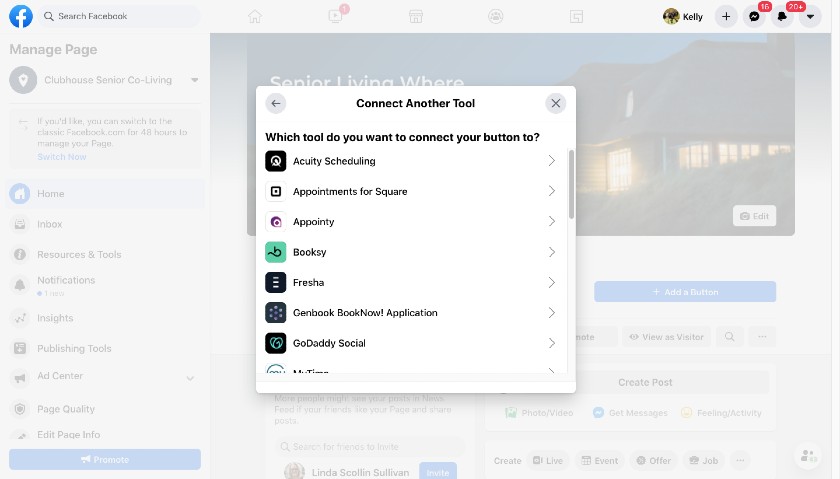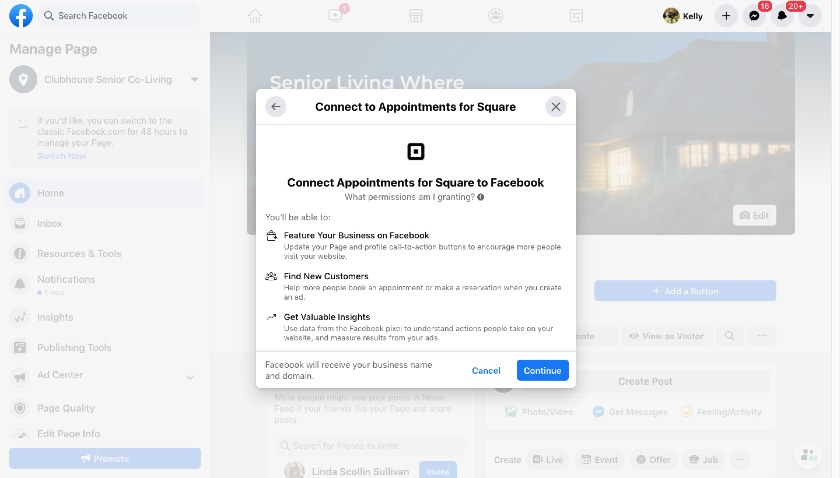 Change Your Template & Update Tabs
Shortcut: More > Edit Tabs
Facebook business pages can be customized to include different tabs, or menu options, on the left-hand side of the page. You can configure which tabs display by changing your business page template or editing tabs individually.
To do this, click on the "More" button from your business page, and then select "Edit Tabs" from the options. On the following screen, you can change your template and choose which tabs you want to use and display on your page using the on/off toggle. You can also reorder the tabs by dragging and dropping them.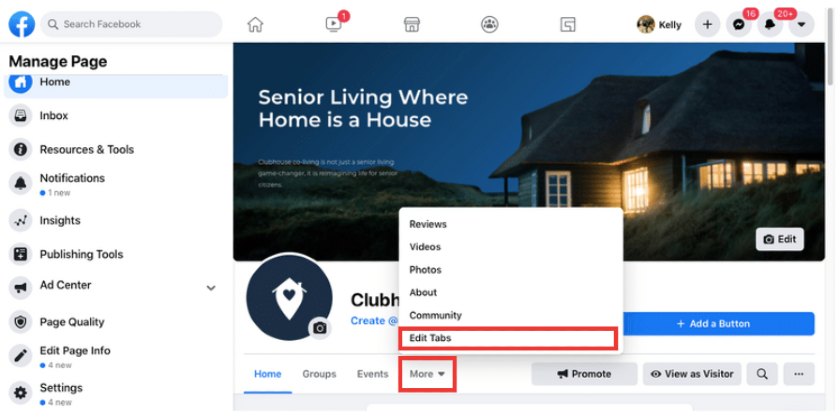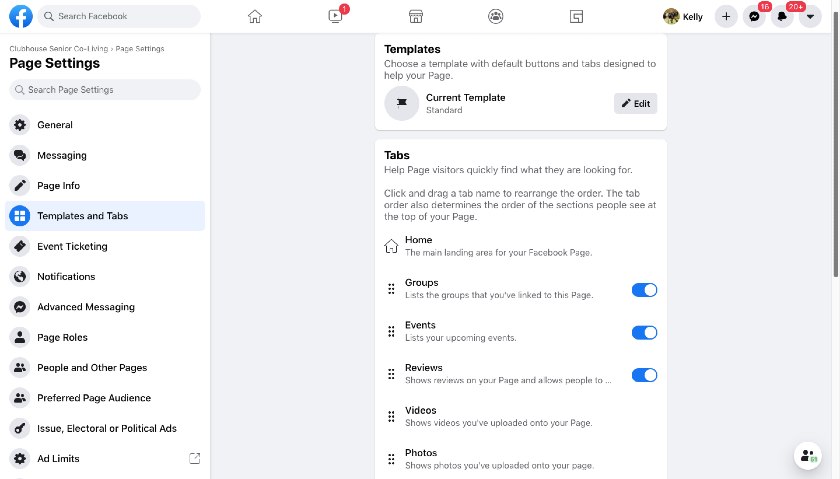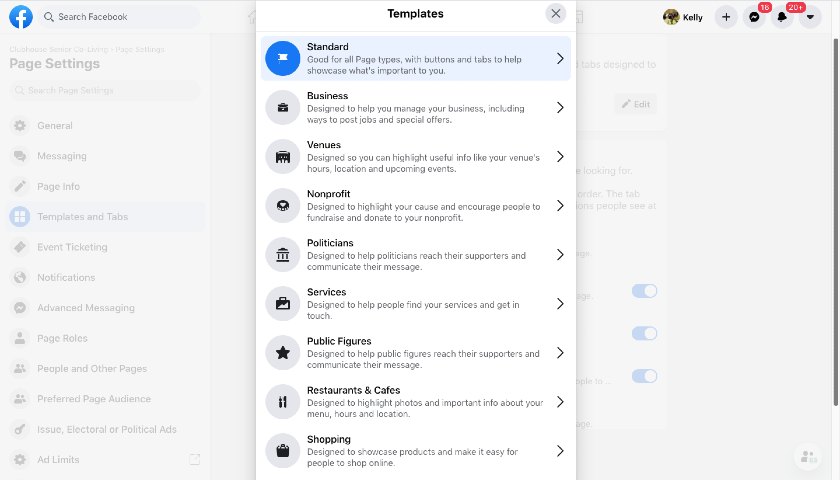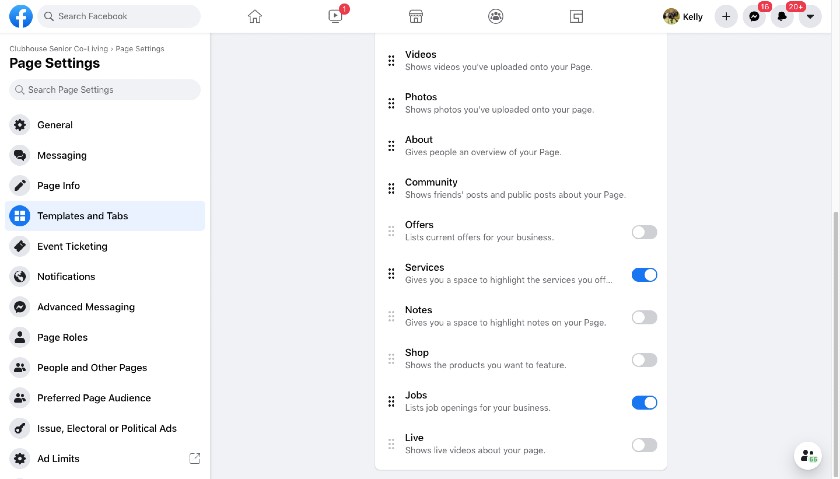 Configure Advanced Settings
On the left-hand side of the screen, you can see that there are a lot of additional options you have in terms of customizing your Facebook business page. While not all options will suit every business (and their goal of using Facebook), it's worth familiarizing yourself with the available options to see if any suit your business, your goals, and your audience.
For example, if you have multiple people who need access to your Business Page, say a social media coordinator who is responsible for publishing social posts and a community manager who is responsible for moderating your Facebook group, you can create new users with different roles under "Page Roles." You can also do things like configure messaging settings, connect WhatsApp, or even sell event tickets.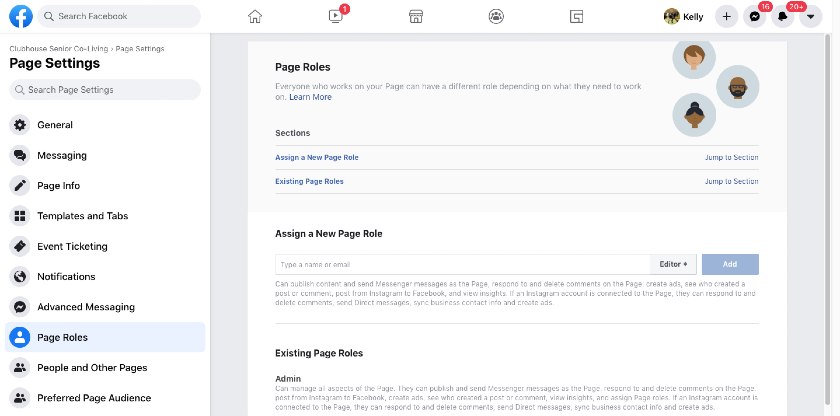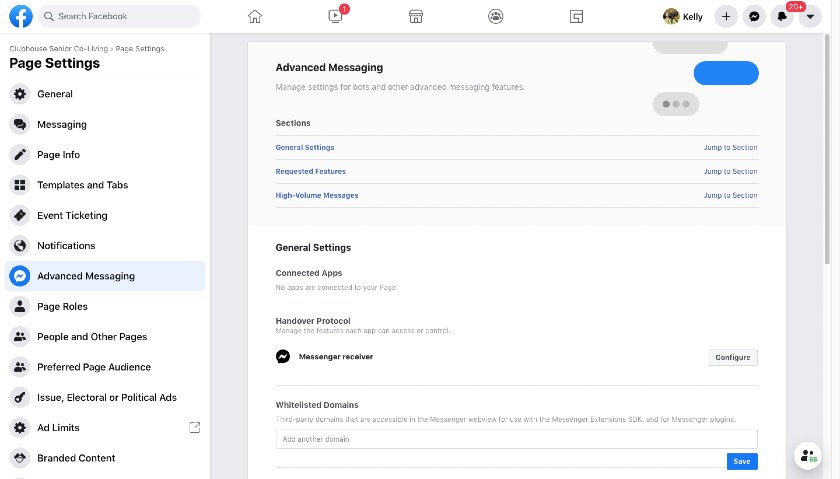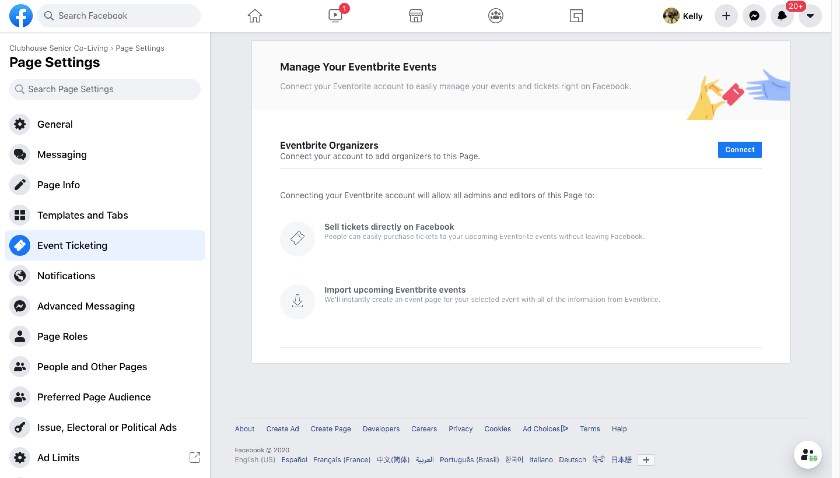 5. Promote Your Business Page
After you've created your new Facebook Business, it's time to get to work and put it to work. To do this, you'll need to promote it. There are a number of ways to get your business page out there and visible online. To start, invite your friends to your new business page. This will help you immediately acquire an audience.
Then, depending on your business, you can promote your business page a number of ways, from adding the link to your business page to your website or email signature to adding a link to it on online lists such as Yelp and Google My Business.
Ways to promote your Facebook business page:
Share it on your other social accounts (e.g., Twitter, Instagram, Pinterest, and so on).
Link to it on your business website.
Add it as a social link in your professional email signature.
Link your Facebook business page to your Google My Business Page.
Add a link to your Facebook business page to your online directory profiles (e.g., Yelp)
Join and engage with relevant groups and individuals on Facebook.
Create and post share-worthy content so your friends share your posts.
Creating a Facebook business page is only the first step to using Facebook marketing for your business. You will need to be active on Facebook in order to market your page and grow an audience. For example, you will not only want to be consistent in posting on your page, but you will also want to actively participate in relevant groups where your target audience is likely spending their time.
Therefore, while it's easy to create a Facebook business page, it can be a challenge for small businesses to use it effectively as a marketing tool. Businesses that use Facebook well invest time and effort into using it strategically.
If you don't have the time (or if you're like many, the interest) to manage it yourself, consider leaving it to the experts. You may be surprised to learn that you can hire a pro to manage your social account on your behalf on Fiverr for as little as $5.
Next Steps: How to Utilize Facebook for Business
To get the most out of your Facebook business page, you will need to ensure people know about it. If you intend to market your Facebook business page yourself, you can do this by taking advantage of tools like Facebook Ads or by participating in relevant Facebook groups. Of course, you should also plan an optimization strategy to ensure you're constantly working to further improve your page and better reach your target audience.
Here are several way you can get started promoting your Facebook business page:
Link your Facebook business page to your website: Be sure your Facebook business page links to your website. Most commonly, businesses include a link to their Facebook business page in their footer so that it's accessible from any web page.
Advertise on Facebook: Facebook advertising is not only an affordable advertising platform where you only pay for the clicks your ad receives, but it is also unique because you can target an extremely specific audience through sophisticated ad targeting. Your ads are shown to precisely the people you need to reach, giving you the opportunity to land in front of the right people. Alternatively, consider Facebook sponsored posts.
Get listed in Google's organic results: Ranking on the first page of Google search results can be difficult for small businesses, but having your business listed on Facebook (and other online directories like Yelp and Google My Business) increases your chance of your business ranking high in search results. Learn more about how to rank on Google.
Market your business online for free: If done right, you can also see results from marketing your Facebook page without having to pay a dime. You can do this by sharing content like videos, blog posts, and images that will garner your audience's attention.
Connect with your customers: When people like your page, you can tell them what's new with your business, share interesting articles you think they would enjoy, and respond to their posts on your page. Remember to regularly respond to comments and questions from your followers and build a relationship with them.
Build awareness through Facebook groups: Facebook groups can be a great opportunity for businesses to increase their exposure and build brand awareness. Find relevant Facebook groups and actively participate in them.
Finally, plan to continuously optimize your Facebook business page. Optimization involves changing one element of your Facebook page at a time to test the performance of the change. For example, you may change different aspects of your business page from your profile picture or cover photo to the type of call-to-action button you use. It's beneficial to optimize this way because it leads to higher engagement, following, and ultimately, sales.
You can also optimize your content by taking advantage of heatmap software, like Hotjar, which allows you to track how and where users engage on webpages. The tool is also a great solution for businesses looking to do more with their Facebook business page, as Hotjar also offers a free forever plan.
Frequently Asked Questions (FAQs)
How do I get my Facebook business page verified?
Getting a Facebook business page verified is simple. Go to "Settings" and click "General." Select "Page Visibility" and click "Edit." Choose the option to "Verify This Page." Enter a publicly listed phone number for the business, as well as your country and language. Choose "Call Me Now" and Facebook will call your business' public number with a verification code. Enter that code into the screen and click "Continue" to complete the verification process.
How do I engage my Facebook followers?
To start, make sure you are putting out consistently good content that is timely and relevant to your audience, and replying to comments and messages quickly. From there, hone in on the best time to post, looking at engagement levels by days and times. Encourage comments by asking your audience questions in your posts, and incentivize post shares. Get started by learning how to engage followers and get more Facebook likes.
How much does Facebook advertising cost?
Facebook advertising costs vary greatly from advertiser to advertiser, as it's an ad auction where ads essentially go to the highest bidder. So, the more competition for a particular audience, the more it will cost. In general, cost-per-clicks (CPCs) range from under $1 to 10 and higher. However, the average CPC is $1.86. Facebook is typically regarded as an affordable advertising platform that can fit nearly any business' budget. Get more details on how much Facebook advertising costs.
Bottom Line
A Facebook business page gives businesses a professional presence on Facebook that allows them to connect with customers on a personal level as well as reach new ones. It is free to create and is very easy to set up. Once you complete the steps in this guide, your Facebook business should be ready to start bringing more business in.
If you find that your business page isn't looking or functioning quite how you'd like, consider leaving it to the pros. You can find a marketing and graphic design expert for as little as $5 on Fiverr.
You Might Also Like…
Get the most out of your Facebook business page by learning how to sell products on Facebook.
A Facebook business page should never be used in lieu of a business website—only as a supplement to a website. If you haven't built yours yet, learn how surprisingly easy (and affordable) it is to build a small business website.
Maximize your marketing budget and generate the most online visibility by determining which is right for your business: Facebook Ads vs Google Ads.