In this article, we walk you through the process of how to create a Facebook business page that will increase brand awareness, generate leads, and drive sales with your target market. First, create a new page, enter your business information, and upload images for your cover and profile pictures. Then, optimize and customize your page, publish it, and promote it. Follow along step-by-step to create your Facebook business account and learn tips to set your page up for success.
Note: The steps below explain how to create a Facebook business account using the New Pages Experience instructions. To access Classic instructions, refer to Facebook's documentation for creating business pages.
1. Log In to Facebook & Create a New Page
Desktop shortcut: Log in to Facebook > Menu > Create > Page
Mobile shortcut: Log into Facebook > Click on your profile > Pages > +Create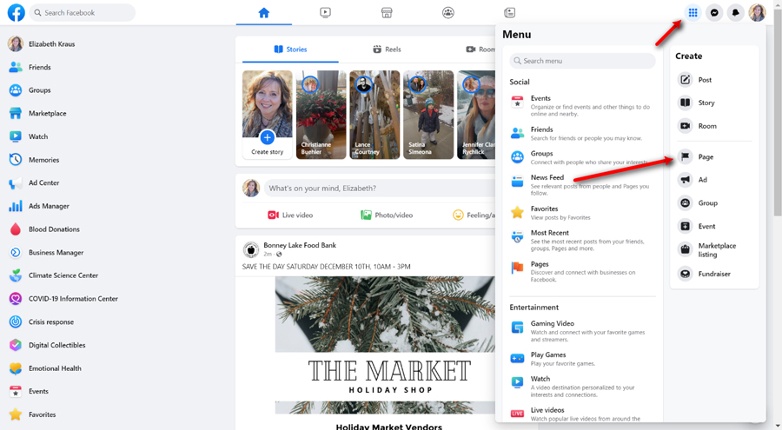 ---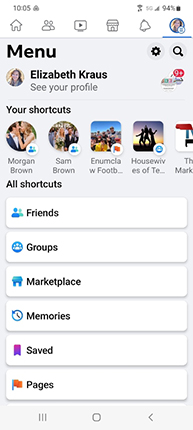 ---
Facebook business pages are created using your personal Facebook account, so you'll need to first log in to your Facebook account (or create one if you don't already have one). In the Facebook interface on a desktop device, choose the nine-dot icon at the top right. Then, under Create, choose Page. Alternatively, if on a mobile device, click on your profile icon at the top of your page, scroll down to Pages, and then click the Create button.
2. Enter Basic Business Information
Shortcut: Input Page Name, Category, Description > Click "Next" > Input Contact Info, Location, and Hours
On the following screen, input your basic business information, including your page name (usually your business name), category, and a brief description of your business. When done, click the "Next" button at the bottom of the screen.
The next page of the Page builder will then ask you to input additional information. Although this is optional, it is best to complete these fields to make your business more accessible. Adding the location will also help people find your business page when searching on Facebook.
3. Upload a Profile Picture & Cover Photo
Shortcut: Upload Profile Picture > Upload Cover Photo
Next, upload a profile photo and a cover photo. When done, click the "Save" button at the bottom. For Facebook business page design ideas and more inspiration about what to use for your profile and cover images, check out our list of Facebook page templates.
Businesses commonly use logos as profile pictures for social media marketing, but you may use any photo that represents your business and brand well. For instance, a realtor will often use their professional headshot as their profile cover, rather than the logo of their brokerage. On the other hand, an author might use the cover of their latest or best-selling book as the profile picture for the Facebook business page.
To grow a strong brand presence, make sure your cover photo is visually appealing and representative of your business. To avoid sizing issues, use Canva to create or edit your cover photo. It's free to use and has dozens of predesigned templates you can use to easily make your cover photo.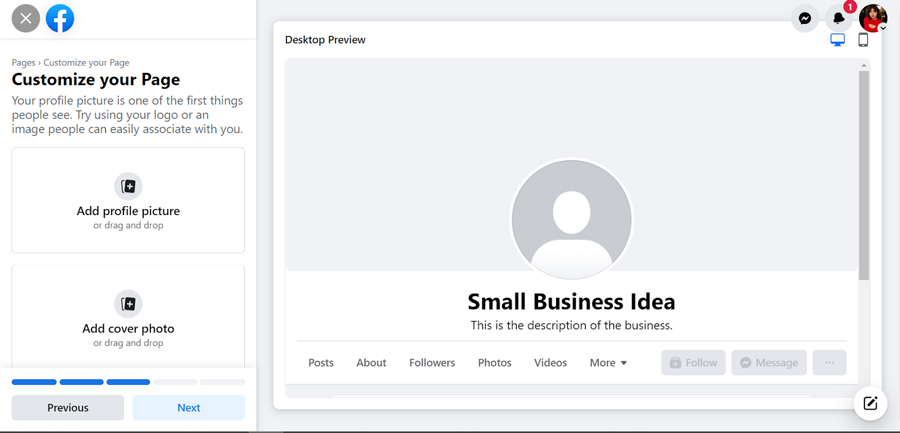 ---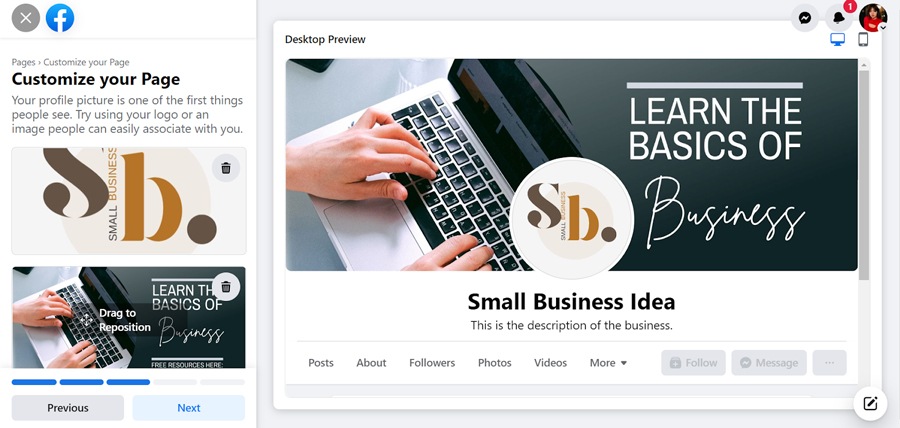 ---
Pro tip: Click the Mobile icon on the top right corner of the Page builder to see what your business page looks like on a phone screen. Adjust your media accordingly.
4. Add More Info & Optimize Your Page's Content
Shortcut: Go to "About" > Add new information from the tabs
After you've completed the steps above, you have successfully created a Facebook business account, but the process isn't yet complete, especially if you want your page to support your business goals. From your new Facebook business page, right below your profile icon, choose the About tab. Input additional information such as price range, services, language, or interests, and add a link to your small business website. You can also add privacy and legal information if necessary.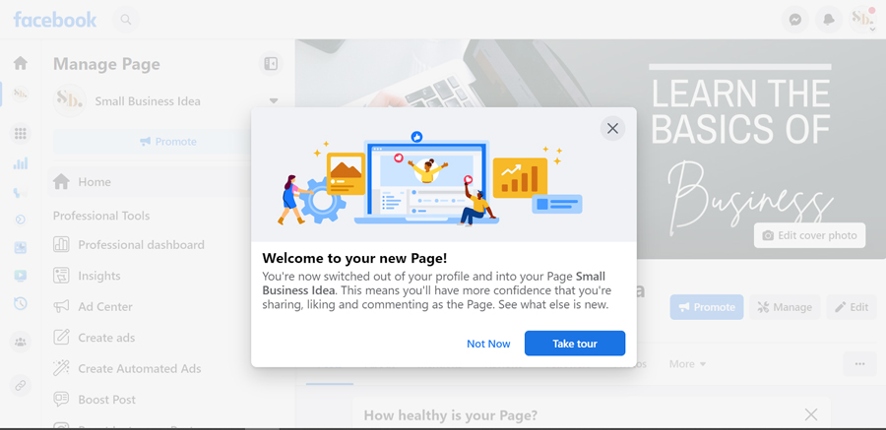 ---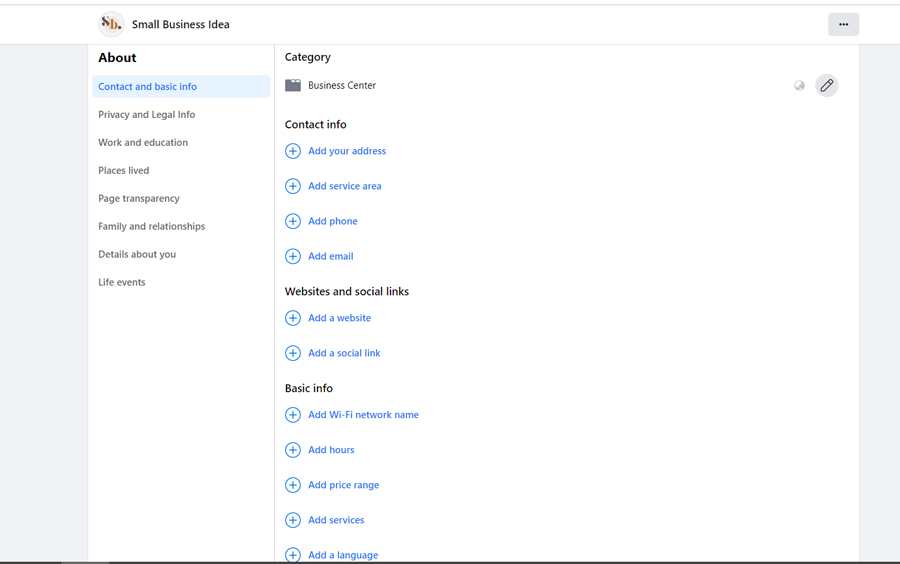 ---
The more information you add to your page, the more searchable content your Facebook business page has. In turn, this makes it more likely that your page will be found when someone searches for related content, such as services, products, or businesses like yours on Facebook. As such, it's also smart to use keywords that someone would use when searching for a company like yours throughout your Facebook business page's input fields, and going forward, in posts as well.
Adding keywords is a crucial way to optimize your page for search, and you can find good words and phrases to include using low-cost and free keyword research tools, like Semrush. To optimize your page for viewers, your page should tell readers what they want to know about your business, including ways to contact you and your products, services, or menu. Complete the sections applicable to your business, as it may be a potential customer's first point of reference for your company.
5. Customize Your Facebook Business Page
Customizing your Facebook page makes it easier for interested people to do business with you. For example, adding a button can drive your audience to the first or next step of your sales pipeline by taking them to a dedicated landing page, your online store, or integrating email marketing software to build your contact list. Likewise, tabs and advanced settings provide more ways to align your Facebook business account to your customer's journey and operations.
Open the tabs below to learn more about different ways you can customize your Facebook Business Page to increase engagement:
---
Shortcut: Go to Manage > Select "Business Apps" from the Left Side Menu
Give page visitors more ways to engage with your business through integrations. This could be anything from connecting your customer relationship management system (CRM) for lead generation, email marketing list-building through platforms like Mailchimp, or setting up social shopping by integrating your online store using Shopify, Magento, or BigCommerce.
An easy way to integrate apps is to click on Manage, then Business Apps in the left side menu. There, you'll find quick integrations for appointment scheduling tools, eCommerce platforms, reservations, online ordering, and more. To see which apps are integrated with your page, click on Linked Accounts in the left-side menu.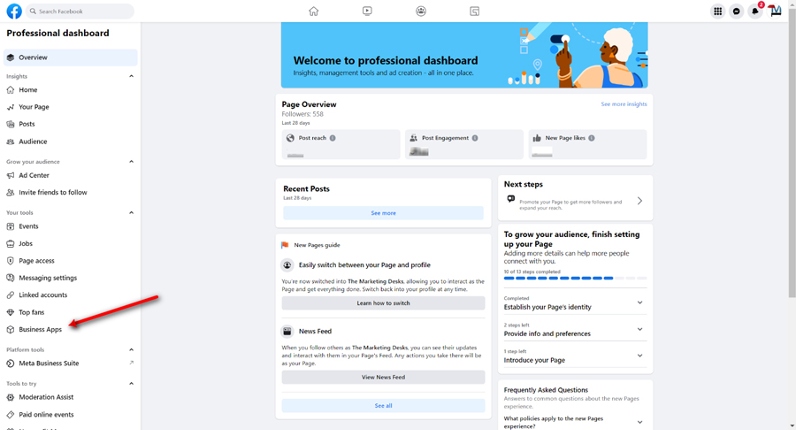 ---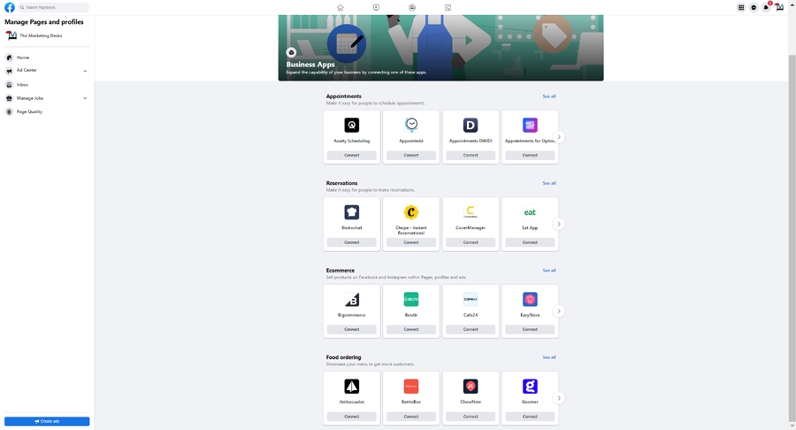 ---
Check out the full list of Facebook business partner integrations to learn how to install these business tools on your business page.
---
Shortcut: Click on "Linked Accounts" > Connect account
Facebook's Meta Business Suite allows business page managers to centralize Facebook, Instagram, and other messaging tools in one place for free. To link your Instagram account to your Facebook business page, click "Manage" and then select Linked Accounts from the left side menu.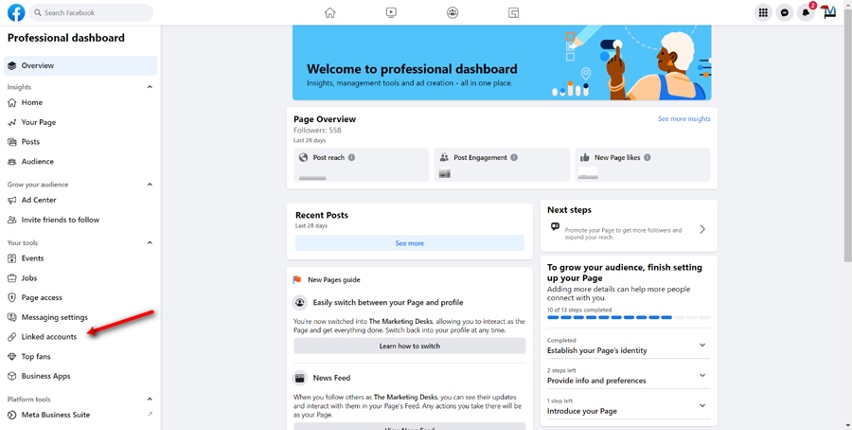 ---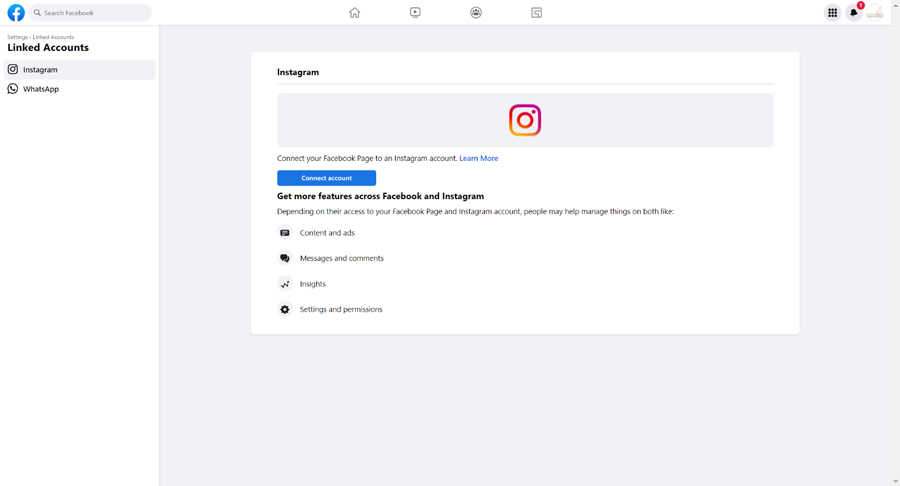 ---
From there, click on the blue Connect account button and follow the prompts to link your pages. Once that's done, you'll be able to automatically post to Instagram every time you post to Facebook or post to Instagram manually from the interface.
---
Shortcut: Click "More" > "Manage Sections"
Facebook business pages can be customized to include different sections (formerly referred to as tabs). You can change tabs in bulk by switching to a different Facebook page template. You can configure which tabs are displayed by changing your business page's template or editing tabs individually.
To edit the sections displayed on your page, from your Facebook business page, click on "More" and then on "Manage sections." Note that you can uncheck or check many options but that some cannot be de-selected as Facebook has deemed them universal to business pages.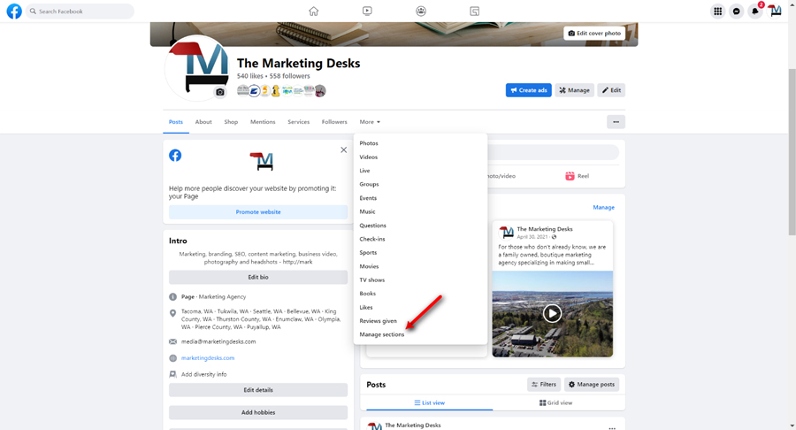 ---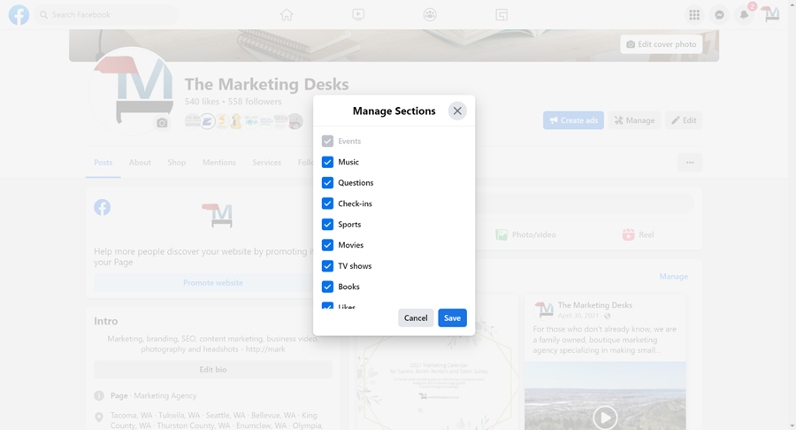 ---
Tabs are the sections on a page that allow you to organize and share photos, videos, announcements, and other engaging content about your business. They also give page visitors more ways to engage with your business, such as leaving a rave review or joining a group. For detailed information and the latest templates and tabs, refer to Facebook's instructions for managing tabs.
---
To access Facebook's more advanced settings for businesses, you have to use the Meta Business Suite tool. For example, multiple people may need access to your page, such as a social media coordinator responsible for publishing posts and a community manager who moderates your Facebook group. Advanced settings will allow you to give other Facebook profiles access to the page.
You can also do other things like configure messaging settings, connect WhatsApp, or even sell event tickets. While not all options will be relevant to every business (and their goal of using Facebook), it's worth familiarizing yourself with the available options to find those that suit your business, goals, and audience.
---
6. Publish & Promote Your Business Page
Once you've created your new Facebook business page, it's time to publish and promote it. To publish your page, you'll first need to confirm your Facebook business account via email or mobile phone number.
Once published, there are several ways to get your business page visible online. To start, invite the people in your personal Facebook friend list to "Like" your new page. This will help you immediately acquire an audience. You also need to be consistently active on Facebook to effectively promote your page, grow an audience, and market your business.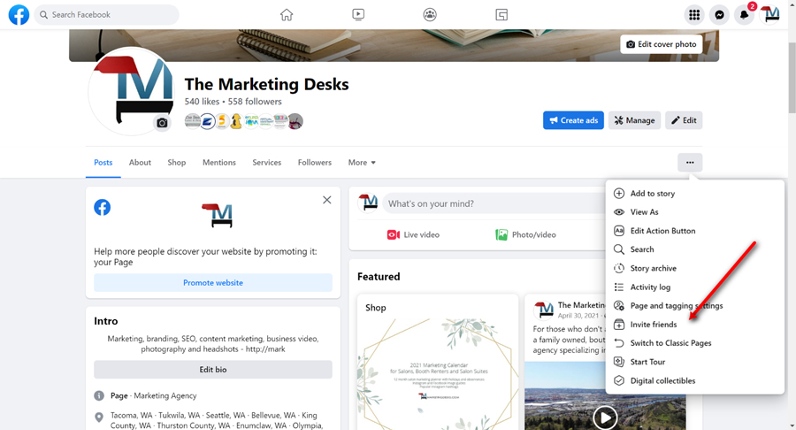 ---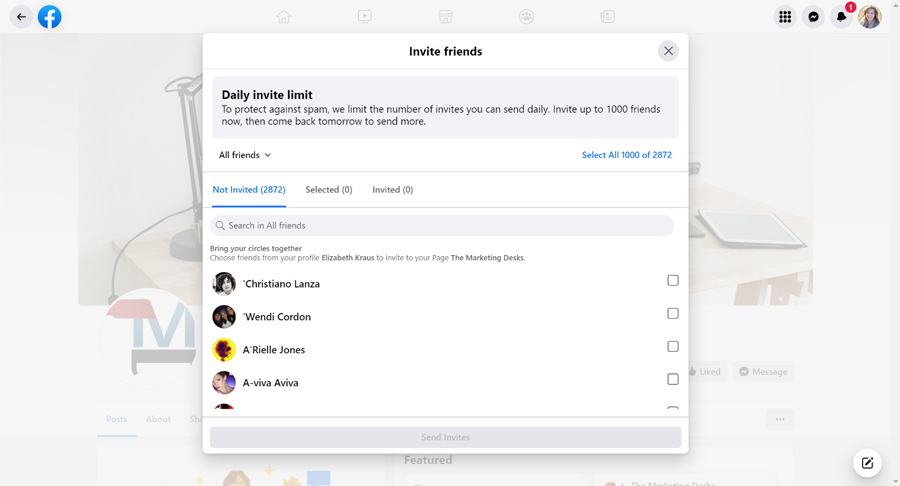 ---
You can promote your page in a number of different ways, and for maximum benefit, you'll want to use them in combination:
Invite followers of your other social accounts (e.g., Twitter, Instagram, Pinterest, and so on) to "Like" your Facebook page
Send an email inviting your contact list to "Like" your page
Publish a new post on a regular basis, such as once a day or at least once a week
For every overtly promotional post, share three to four non-promotional posts with share-worthy content or content that invites engagement, such as questions, polls, or contests
Link to your social profiles on your business website
Add it as a social link in your professional email signature
Connect your Instagram account (or create one and link them)
Link it to your Google Business Page
Add a link to your Facebook business page on all of your online business directory profiles (e.g., Yelp, Angi, industry directories, trade show listings, and more)
Join and engage with relevant groups and individuals on Facebook
While it's easy to learn how to create a Facebook business account, it can be a challenge to use it effectively as a marketing tool. For more ways to promote your business on this platform, read our list of Facebook marketing strategies for small businesses. Or, for affordable expert help, turn to a social media marketing company like Hibu. From strategy to implementation, they have the expertise to help you set up a business page on Facebook and use it to grow your business.
Frequently Asked Questions (FAQs)
Is creating a Facebook business page free?
Yes—creating a business Facebook page is totally free, except for the investment of your time. However, there are potential costs involved. For example, while there are great sites for free logo design, you might want to pay for a professional logo, profile picture, or cover image design services. Likewise, you can set up a business page on Facebook for free or pay as little as $5 to hire a professional graphic designer or copywriter on Fiverr to take your profile to the next level. Setting up a Facebook Ad campaign will also cost money.
How do I engage my Facebook followers?
To engage your Facebook followers, post quality content that is interesting, timely, visually oriented, and relevant to your audience, and always reply to comments, questions, and messages quickly. From there, hone in on the best times to post by looking at engagement levels by days and times in your page's Insights.
You can generate page activity and encourage followers to leave comments by asking questions in your posts or posting surveys and polls. Incentivize page likes and post shares with contests or special offers. Check out more tips about how to engage followers with our article on Facebook marketing strategies.
How do I create a Facebook business account without a personal account?
Unfortunately, you can't create a business account on Facebook without having a personal account, as all business profiles are managed by Facebook users (called admins). However, you can create a personal account with only a minimal amount of contact information and set it to private to set up a business account and profile page. You'll need a personal account to log in to Facebook, set up a business account, and manage it.
Bottom Line
Facebook business pages can be a great way for your business to build its professional presence online, enabling you to connect with customers on a more personal level and to reach new ones. It is free to create and very easy to set up. However, if you find that your business page isn't looking or functioning quite how you'd like, consider leaving it to the pros. You can find a freelance Facebook marketing or graphic design expert for as little as $5 on Fiverr.