How to Advertise Your Business on Facebook (Beginners Guide)
Facebook Ads allow you to reach your audience with ads targeted based on interests, web activity, psychographics, and demographics. You can set up your Facebook Ad Manager account and then run the ads from there. Explore different ad formats to advertise your business effectively, like telling a story with video ads or boosting engagement with story ads. To guide you further, below are 10 options to consider, which you can leverage separately or in tandem, depending on your budget and business growth goals.
Facebook Ads is a platform for advertising on Meta channels (e.g., Facebook, Instagram, and Messenger) in the form of images, videos, and other media formats. It allows extensive targeting and can be strategically placed across various locations.
1. Create a Persuasive Facebook Business Page
To run ads on Facebook, you first need a business page (and to create a business page, you'll first need a personal profile). Creating a page is essentially how to advertise on Facebook for free since there's no cost to make a profile for your business.
Paid ads in the newsfeed appear as if they're posted from your business page. This makes your advertisement feel more organic and creates opportunities to engage with your audience on the platform.
Make sure your business page is optimized and aligned to your business' brand, as many who see your ad will check out your profile before deciding whether to visit your website or store. Your profile needs to include elements such as:
Business information: Details about what your business offers, where potential customers can find you online and in-person, and what sets your business apart. Your operating hours and how long you've been in business are also helpful information.
Profile picture and cover photo: Upload professional photos that reflect your brand, the products or services you sell, promotions, team members, and so on.
Objectives: Create your Facebook business page with an objective in mind, then create content that serves your objective. For example, your objective may be increasing the brand presence of your company online. To meet that objective, you may choose to publish new content daily or launch a new poll every week.
Other than that, you can make your business page more persuasive by making it look credible and professional. Use consistent branding, high-quality visuals, and a clear value proposition to achieve this. For more guidance, check out our step-by-step article on how to create a Facebook business page.
2. Boost Content You're Proud Of
One of the main types of Facebook advertising is boosted posts. Because of social media algorithms, not everyone who follows you or can benefit from your products/services will see your content. It can get frustrating, especially if you're seeing an exponentially lower post reach (the number of accounts that see your post) despite having a solid number of followers.
Boosted posts are a way of getting your post in front of an audience of your choosing. Although it does not have as many targeting or customization options as Facebook Ads, boosted posts allow you to target an audience by age, gender, interests/behaviors, location, and whether or not they follow/interact with your page.
Boosting Facebook posts is generally more affordable than Facebook Ads, plus they're a breeze to set up since you can just use any existing post on your timeline—just click on the "Boost Post" button. Use it to get the content that you think would capture people's attention in front of them.
3. Run Eye-catching Story Ads
There's something about Facebook and Messenger stories that make it feel more immersive—it may be due to the full-screen display or a stronger sense of authenticity since it lacks the sales talk in the caption. Whatever it is, more than half of survey respondents say they're making more online purchases because of Facebook stories.
Although story ads seamlessly blend into the user experience since it shows up while users actively go through stories of their friends. The challenge is that a Facebook story can only last for up to 20 seconds and is only up for 24 hours. In that short period of time, you should be able to communicate your brand and provide content that supports your advertising goal.
For example, if you have a bakery business and want to use ads to get more orders, focus on showcasing your most eye-catching products. If you want to boost your brand awareness, use a short clip of you touring the most aesthetic parts of your bakery.
Some social media tools, like Buffer, offer story makers to help create engaging story ads. Check out more of these tools in our 2023 list of free social media schedulers.
You can run story ads straight from the Ad Manager, the same as other types of Facebook Ads. Scroll down below to learn how to run ads on Facebook.
4. Tell Your Brand Story With Video Ads
Facebook videos have grown massively over the past few years—in fact, 8 billion video views happen every day on the platform. If a picture can say a thousand words, imagine how much you can say with a video. Use it to tell your story, introduce your brand, or talk about what you can offer.
You might wonder, why tell your brand story? Why not just show your products through a video to get your money's worth? Of course, there's nothing wrong with doing that. But it's important to remember that, unlike images that show the message front and center, people can simply stop a video a few seconds in by scrolling down. They could miss the whole message of the ad just because there's nothing compelling them to spend the extra time to watch your video.
By using a narrative, you are actively giving your audience a reason to stay watching. When you're listening to a story, you tend to ask—what happens next? Additionally, if you're using a story for your video ad, make sure to add captions. Not only does it help make your story easier to understand, it also keeps it effective even if people are playing it on mute.
For example, this Facebook video ad by Noom tells the story of a person's weight loss journey. Instead of just showing the app upfront or a description of its features, Noom uses the story of one of their users in achieving their weight loss goal.
Monitor your video ads to see what works or doesn't work and use this as a guide for future content. On the other hand, you can also entrust your campaigns to top Facebook Ad management services to do all of those for you.
5. Showcase Your Products With Dynamic Ads
Dynamic ads are a perfect fit for ecommerce businesses since it helps them promote the best products for their ad viewers. The way this works is that you upload your product catalog and set up your ad campaign. Facebook will then automatically show products from your catalog that match the intent signals that people show on websites and apps. This allows advertisers to have personalized ads for each person.
A simplified example of this is that you can have a single dynamic ads campaign featuring all the products on your clothing line. If a person who sees your ad often searches or clicks on active wear, they see activewear products from your line. On the other hand, if someone searches or purchases more dresses, that's what they see on the ad instead.
Creating dynamic ads is not too difficult when you already know how to run Facebook Ads, which we have detailed instructions for below. Just don't forget to create your product catalog as you're setting up the campaign on the ad manager. Meta also has a free guide for dynamic ads on their site for more information.
6. Advertise Sales & Special Offers
Sales and discounts are marketing strategies on their own since it helps increase online followers and customers. In fact, 77% of online shoppers follow their favorite brands on their social media channels to be aware of upcoming sales and offers. A good approach to any sort of advertising is to put your best foot forward. In this case, it's showing the content that you think people would find most valuable.
You don't have to be a professional graphic designer to come up with striking Facebook Ad creatives. Canva offers thousands of free templates that you can use to promote your business on Facebook.
7. Build a Community With a User-generated Content Campaign
A user-generated content (UGC) campaign focuses on content from users rather than the brand. Involving your customers in your content is a surefire way to create a sense of community. This helps build customer loyalty and can help attract new customers because of its positive impact on brand credibility.
You can create a UGC by encouraging users to use your business hashtag or tag your Facebook page when posting with your product. Increase the content you get by providing incentives, such as a special giveaway.
A UGC campaign on its own can already help your business page by increasing the reach of your content. You can also take it a step further by using user-generated content as your advertising material. It may not have the same polished feel, but the authenticity can give your ads a more personal and authentic touch.
8. Start a Paid Partnership With Influencers
Influencer marketing has skyrocketed in the past few years and as of 2023, 83% of marketers still find influencer marketing to be effective. Instead of spending your advertising budget on running Facebook Ads, you can use it to connect and work out a deal with influencers in your niche to help you reach more people and build credibility.
Another advantage of doing a paid partnership with an influencer is that, more often than not, influencers already have a solid and engaged following base. When you work with them, you can tap into their network and reach a highly engaged audience that can become your potential customers.
9. Host & Promote Events
By hosting an event, you can highlight your products and services, create a more positive view of your brand by creating a good experience for your audience, and ultimately improve your brand presence. You can create an event directly on Facebook, which will give you the option to run event ads.
Creating an event on Facebook is also a free way to promote your event. However, you can reach a much larger audience by using ads to promote it. Depending on your budget and business, you can either host an in-person or online event. In-person events don't have to be too extravagant, especially for small businesses. In fact, holding a small event or watch party is an excellent way to market a bar business locally.
To create an event, go to your business profile and click the Events tab. On the events page, click the blue button to "Create Event." You can also promote your events from this page through paid Facebook Ads.
10. Follow Up With Retargeting Ads
If you began your Facebook advertising for small business with ads intended to increase brand awareness, follow up with this audience through retargeting ads. Retargeting users who clicked on your ad is a great way to move them to the next stage of the sales funnel all the way to conversion (e.g., becoming a client or making a purchase).
The Ads Manager makes it easy to set up retargeting ads. Simply navigate to the Audience section of your ad set and choose "Retarget ads to people who interacted with your products on and off Facebook."
In addition, for users who clicked on your ad and visited your website, you can run Google retargeting ads that keep your brand top of mind through display ads on any website monetized with Google Ads. Learn more about Facebook vs Google ads and which is better for your small business marketing strategy.
How to Run Ads on Facebook
If you're feeling inspired by the Facebook advertising ideas above but don't know how to execute them, the steps below walk you through setting up a Facebook Ad campaign step-by-step. You can get started as long as you have already created a Facebook business account.
1. Embed the Meta Tracking Pixel on Your Website
Adding the Meta tracking pixel to the code of your website is a key step prior to executing your Facebook advertising strategy. This improves ad performance tracking and allows you to run retargeting ads (ads displayed to people who have visited your site when they are on other sites in the Meta advertising network).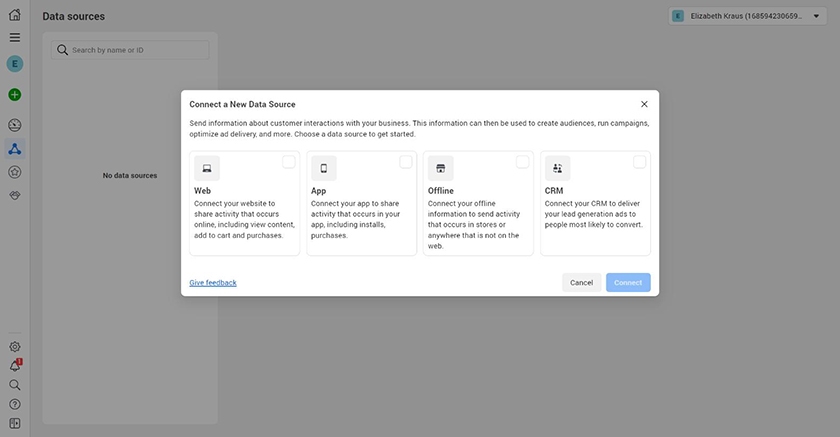 ---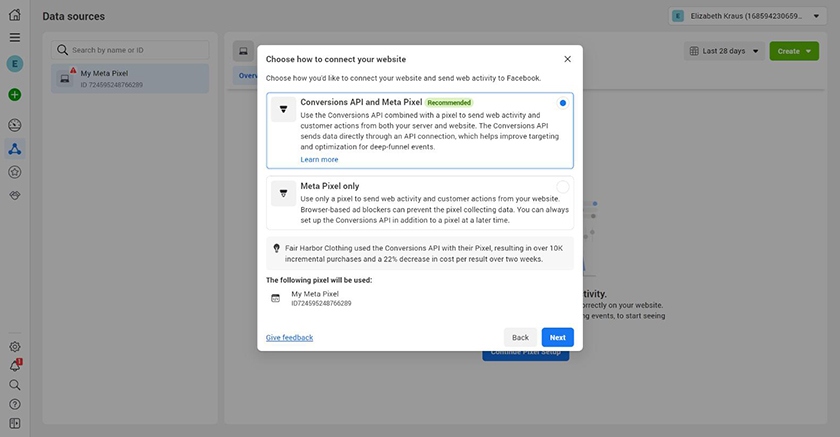 ---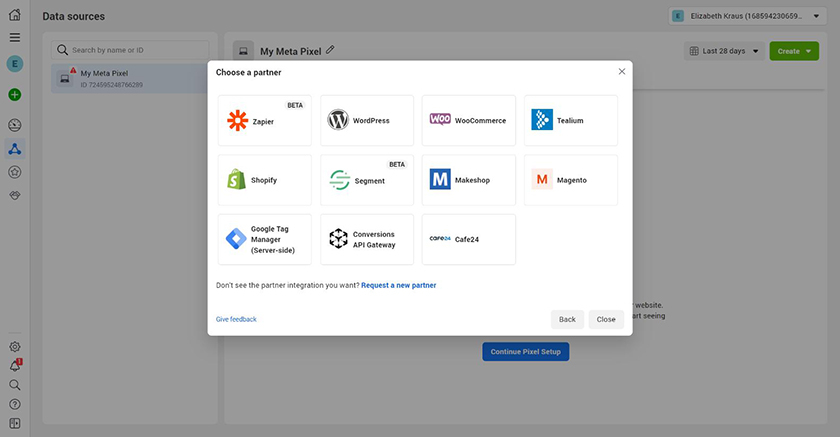 ---
Create and set up your Meta Pixel by going to the Ad Center and following the prompts for completing the Pixel setup.
In your Ad Center Dashboard, select settings by clicking on the Gear icon found at the bottom left of your screen. Scroll through the panel on the left to find Pixels under Data Sources and simply click on the Add button to create your Pixel.
Once you've added a new Pixel, input the Pixel Name and URL (optional). You can exit the next pop-up window to set up the Pixel on a different tab to give you time to prepare your setup. Another immediate task is to add People and Assets to your Pixel by clicking on the Add buttons on top of your Pixel screen. Give your account full access and add your Facebook Ad account as an Asset.
---
To set up your Pixel, click on All Tools, which has a three-line icon in the top right corner of the left panel. Choose Events Manager from the tools and select "Continue Pixel Setup." Use the Meta Pixel option and connect the code manually unless your website is integrated with a partner like Weebly, Shopify, WordPress, or other service.
From there, you will be guided through a prompt that will accomplish the Pixel setup. If you choose the Partner Integration option, there are numerous resources for setting up your Pixel. YouTube demos are available for how to add a Facebook Pixel to a Wix website or to a WordPress website. If your website is hosted using a different service, find a tutorial by visiting your hosting provider's website.
However, if your website is not hosted on a partner service, you will have to code your Pixel manually. You can do this by copying and pasting the Pixel code at the bottom of your header section. You can do this by either finding the JavaScript option or the "Add Code" button on your website builder. Apply this code to all pages.
---
Click on the Install Events Using Code option so you can do it manually. Facebook adjusts the types of events that trigger the Facebook Pixel based on your industry and then lets you track specific types of user behavior. For example, a store owner can direct the Pixel to track when users visit a particular webpage, initiate checkout, or start a free trial.
Identify which events are relevant to your business and copy the corresponding code into the back-end of your website header, just below the </head> tag. Each event code has an activity monitor so you can test the Pixel by triggering the event on your website.
---
The last two Pixel setup steps are verifying your website domains and configuring web events. To verify your website domain, add your website and select the "Update the DNS TXT record with your domain registrar" option from the drop-down menu. Simply add the TXT record on the screen to your DNS configuration. If you have any problem finding these on your website, you can contact the support team of your domain registrar.
The Web Events setup is used to prioritize events for your business and other partners' businesses for collaborative ads. If this doesn't apply to your business, simply continue by clicking on the Go to Pixel Overview.
---
Successfully completing all of these steps can be overwhelming. Thankfully, the Facebook Pixel Helper makes adding the Facebook Pixel to your website even easier. It will check whether the Pixels are embedded correctly and confirm they are active.
Want the benefits of Facebook Ads but need help setting it up? Reach out to an expert at Straight North. As Meta Partners and advertising experts, Straight North can help you install the Pixel or run your Facebook advertising campaign.
2. Establish Your Ad Objectives

---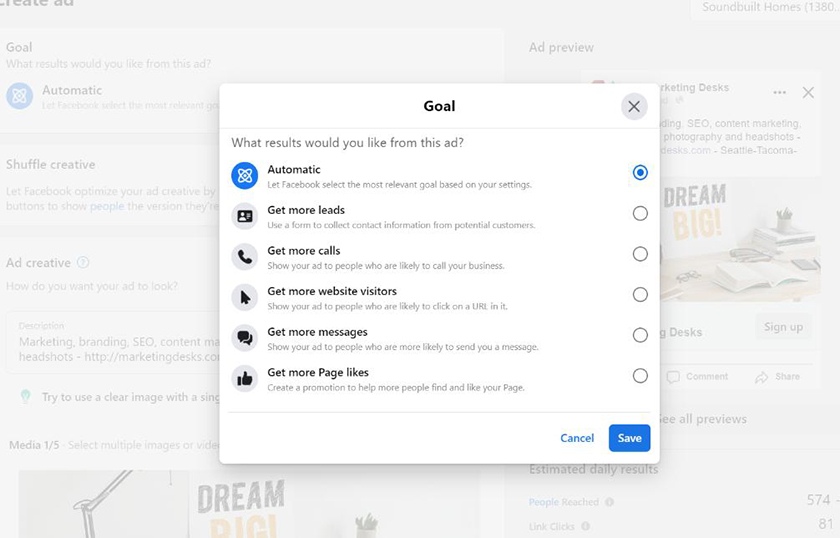 ---
After installing the Facebook Pixel, click the option to create a new Facebook Ad. You'll have choices for automated ads, manually creating ads, and boosting posts. If your Instagram account is connected, you'll also have the option to boost an Instagram post.
Boosted posts are organic posts that you have published. You "boost" their reach by paying to have Facebook place your posts in the news feed of individuals who match your target audience.
If you choose automated ads, Facebook will ask a series of questions to set up your ad. Examples include whether people visit your business' physical location, if you have a website, and whether people can buy from your website or book appointments there. It will also ask whether you get leads through your website and whether you want people to contact you (and how). Based on your answers and selection of ad creatives, it will build an ad campaign for you.
Most often, though, you will want to build your Facebook Ads from scratch. To manually create ads, follow the remaining steps below.
3. Create a Targeted Audience for Your Ads
After you have selected your ad objective, create a targeted audience for your ad campaign. Create customer personas that describe your ideal customers and choose a target audience around those elements. This is critical to your Facebook Ad campaign success as far as your ability to effectively reach your target audience, bring them to your website, and convert them into paying customers.
Create a targeted audience based on the characteristics of your ideal customer types. These could include demographics like age, education level, industries, and marital status, or psychographics like hobbies, spending habits, and personal values. If you're unsure who your ideal customer is, use our customer profile template to create profiles for your preferred clientele.
Once you have this information, tailor your Facebook advertising campaign's audience around that person. To do so, use the editing dashboard to choose locations, limit demographics, and isolate Facebook users with relevant interests. As you modify your audience, you can track the current audience size using the meter on the right side of the page.
Audience targeting options include:
Demographics: This option lets you target your Facebook Ads based on demographics like age, gender, relationship status, education, industry, workplace, and job titles.
Location: If you have a brick-and-mortar business or provide services in certain geographic regions, choose the geographic areas you want your ads to target. Depending on the type of business you have, you may want to limit your audience to people who live in the area, were recently in the area, or people traveling in the area.
Interests: Narrow your Facebook Ad audience by targeting people based on their hobbies, favorite movies and bands, sports teams, and other interests that align with your brand.
Connections: You can also limit your ad's audience based on how Facebook users interact with your page, app, or events. This drop-down menu allows you to include or exclude people who already interact with parts of your Facebook presence; you can also target friends of people who like your page or use your app.
Behaviors: Make sure your ads are visible to people with purchase behaviors, device usage, and other activities that make them more likely to become paying customers.
---
To help you determine your ideal Facebook audience, we created examples of possible ad audiences for various business types. Here are three examples of ideal Facebook target audiences for different businesses:
Men's clothing store: If you have a men's clothing store that specializes in business casual dress, target your Facebook Ads to show only to college-educated, single men between the ages of 35 and 40. You can also specify that they live within 10 miles of your store.
Yoga studio: If you want to advertise to college-age women who might visit your yoga studio, you can target your Facebook Ads to show only to females who attend the university near your studio. You can also specify an interest in yoga based on Facebook's knowledge of their interests and activity on social media.
Italian restaurant: If you want to advertise your Italian restaurant to busy moms, target your Facebook Ads to display only to working females between the ages of 20 and 45 who have children. You can also specify they live or work within 10 miles of your restaurant to capture customers who might stop at the restaurant on the way home from work.
---
Once you enter your audience criteria, Facebook calculates the "potential reach" of your ad, displayed on the right-hand side of the audience selection screen. Potential reach is the estimated number of monthly active people on Facebook who match the audience you defined through the audience targeting selections. When using an awareness ad, cast a wide net to have a better chance of getting people who are interested enough to click on your link.
Facebook offers an abundance of audience criteria, including location, friends, interests, online behavior, and purchasing history. If you choose too many criteria, you'll limit your ad reach and inundate the same small audience with your ads. If you don't include enough criteria, the ad will display for people with no interest in your business. A potential reach of around 250,000 is a good starting number.
---
4. Set Ad Placement, Budget & Schedule
After choosing your ad's audience, select "Edit Placements" to determine where and when you want your ad to display and how much to pay for that placement. Choose whether your ad displays on mobile, desktop, or both and whether it's posted to Facebook, Instagram, or other social media marketing platforms and networks. Then, pick a budget and determine how long your ad will be and how many people see it daily.
Once you select "Edit Placements," you can choose to have your ad show on mobile, desktop, or both. If you choose for your ad to show on both types (recommended), Facebook will allocate your ad budget automatically based on where they think the ad will perform best. If, for example, you are planning to promote your new app and are only interested in marketing to smartphone users, select "Mobile" only.
After tracking ad performance, you may find that one device converts better than the other. In this case, adjust future ads accordingly. Just remember most people use Facebook on their smartphones, so confirm your ad and website look good on a mobile device.
---
There are three platforms where you can display your ad: Facebook, Instagram, and Audience Network, which consists of third-party apps and mobile websites. Under the "Platforms" section of Ad Manager, choose a platform based on your target audience or experiment with platforms to see which ones yield the most valuable engagement. Note, however, that this article focuses on Facebook-specific ads because we're optimizing the ad based on how people use Facebook.
---
Your daily budget for Facebook Ads has a minimum budget of just $5 per day. Increasing your daily budget increases the number of people who see your ad. For example, a $10 per-day budget could expose between 940 and 2,500 people to the content each day, depending on the preferred audience characteristics. Read more in our article on Facebook advertising costs.
---
Scheduling is the answer to how to run ads on Facebook. You can run your ad continuously until your budget runs out or set a start and end date for the ad. Choose a schedule that fits your budget and ensures enough people have time to click on the ad before starting the next phase of your campaign.
In the screenshot below, the ad is set to run from Thursday to Sunday. It also limits the weekly budget to $35 and allows the re-evaluation of the budget based on ad performance on Monday.
---
5. Choose a Facebook Advertising Format
After setting a budget and ad schedule, you will be prompted to pick your ad format. Facebook Ads can be published as a single image, a carousel of several images, a video, or a slideshow. Choose an ad format that will blend in and display like a post from a friend. If your ad looks like the content your audience is used to seeing on their timeline, they are less likely to be turned off by it.
The four Facebook advertisement formats are:
Single image: This ad type is the simplest of all of the ones offered by Facebook, featuring a single image. Given its simplicity, it's ideal for showcasing website posts or straightforward, brand-promoting articles. We'll be using this example in the steps below.
Single video: Videos are an extremely engaging way to share your brand with Facebook users, especially content like behind-the-scenes footage, employee interviews, or demos. If you have time to create video content, test video ads to see how your audience responds.
Carousel: This is an ad with between two and 10 scrollable images or videos. When this type of ad appears in your news feed, it's pretty obvious it's an ad and not a post from a friend. Carousel ads work for promoting products but are not ideal for sharing an interesting article with your followers.
Slideshow: Facebook slideshow ads feature a looping video of up to seven images. Try this format if you want to highlight many products and create an immersive experience for your followers.
6. Create & Upload Your Ad Content
Once you choose an ad format, add your advertisement copy and images/videos. You can either create these ad creative elements yourself or outsource them to an expert on Fiverr. Also, don't forget to add compelling ad copy and a dynamic call to action (CTA).
For single-image ads, Facebook requires the image to be 1200 x 628 pixels. If you don't have an image you know you want to use, consider sourcing one from a free stock image site like Pixabay or creating graphics for your ads with royalty-free images (and videos) and online editing tools on VistaCreate. You can also add text to your image, but remember that Facebook doesn't allow ad images that are more than 30% covered with text.
---
---
---
For more guidance, discover the best Facebook ad agencies to help you create your campaign.
7. Run Your Facebook Ad & Check Performance
Once you complete your ad, click "Confirm" to submit your ad for review. The Facebook team will check your ad content to ensure it meets all advertising guidelines. Typically, ads are reviewed and pushed live within 24 hours. Check to be sure your ad is live by visiting your Facebook Ad Manager dashboard—the status of all ads will be included there.
Pro tip: Test a variety of ad formats to see which one your users interact with the most. Also consider experimenting with photos, videos, and carousels as you develop your Facebook advertising strategy.
Check back every few days to make sure you received enough clicks to start running the next phase of your advertising campaign—a consideration ad. You need at least 20 people in your audience who interact with your awareness ad to successfully employ a consideration Facebook Ad through retargeting.
How to Measure Facebook Advertising Success
Use Facebook core metrics like click-through rate (CTR) and cost-per-click (CPC) to determine ad success rates. Afterward, examine tracking and promotional codes to further determine ad conversion success. If you're trying to increase sales, include a tracking number or promotional code or use Facebook's conversion pixel to track user activity.
Core Metrics of Facebook Advertising for Small Business
To evaluate how well your Facebook Ads are working, go to the right-hand side of your business page and click "Manage Ads." From there, you can access the Ad Manager and view ad performance based on CTR, conversion rate, and CPC.
Facebook metrics to consider when evaluating the effectiveness of an ad include:
Click-through-rate (CTR): This is the number of people who clicked on your ad divided by the number of people who saw your ad. Focus on the CTR for ads meant to drive traffic to your website.
Conversion rate: The conversion rate of your Facebook Ad is the percentage of your audience that engages with your ad. This includes liking your page, contacting you through the ad, or clicking on your ad's call to action.
Cost-per-click (CPC): This is how much you paid to get someone to click on your ad. For example, if 15 people click on your ad and your total ad cost was $15, your CPC is $1.
Conversion pixel: If you have an ecommerce website, set up the Facebook Pixel to track sales made on your site. This lets you see where your paying customers are coming from and whether the Facebook Ad successfully converted your audience to sales.
According to Wordstream, the average CTR across all industries is 0.89%, with an average CPC of $1.68. If you're not close to achieving results like these, switch up your content until you figure out what kind of ads your audience engages with more consistently.
Review Tracking Code Data
In addition to tracking the CTR and CPC for your Facebook Ads, you should incorporate a tracking method into your conversion ads. If you have a real estate office or other business where you're communicating with every customer directly, you can ask whether they learned about you through a specific ad. Alternatively, if you have an ecommerce website, you can use tools like tracking phone numbers and promotion codes to evaluate ad performance.
Methods to help determine conversion rates include:
Tracking phone numbers: Use a phone number specific to your Facebook Ads to determine whether someone called your business after seeing an ad. For example, if you own a restaurant, you can purchase a unique phone number from a virtual phone service like Grasshopper to track how many people who call in to make a reservation are calling because they saw your ad on Facebook.
Promotion codes: If you are advertising a promotion in your conversion ad, provide a unique code for Facebook users to apply at checkout.
Google-tracked events: You can create unique links and set event parameters in Google Analytics to track specific activities, including ads.
Tracking ad performance is extremely important because it lets you know whether your investment is paying off. Without monitoring CTR, CPC, and tracking conversion rates, you won't know what ads work best for your business. Use tracking data to tweak your strategy or overhaul it completely to ensure maximum return on investment (ROI).
Who Facebook Advertising Is Right For
Facebook has over 3 billion people using it monthly, making it the largest social media channel in the world. More than 200 million businesses use Facebook for marketing and advertising, most of them being small businesses.
That being said, here are the top businesses that can benefit the most from Facebook advertising:
New businesses: Facebook Ads are an affordable pay-per-click form of advertising, meaning you only need to pay for the people who clicked on your ads. This makes the cost reasonable for startups to establish their brand presence online and attract their target audience from the early stages.
Small and medium businesses (SMBs): Small businesses make up the bulk of advertisers on Facebook because it allows them to reach a large audience with a relatively easier campaign setup. Not to mention, there are plenty of free tools such as smart features or video templates that make it easier to create ads.
Ecommerce businesses: Facebook is feature-rich for ecommerce businesses, with product catalogs, dynamic ads, and Shop Now call-to-action buttons. This helps drive traffic to their websites, showcase their products, and, ultimately, increase sales.
Local businesses: Facebook's geo-targeting capabilities make it effective for local advertising. Restaurants, cafes, boutiques, and service providers are just some of the local businesses that can benefit from targeting users within their specific geographic area.
Facebook Advertising Do's & Don'ts
Creating successful Facebook Ads is both a science and an art. Granted, there are certain technical aspects to keep in mind, like core metrics, ad specs, and more. It's also important to know that it takes some intuition to determine what type of ads and content will resonate the best with your target audience.
In general, here are some Facebook advertising do's and don'ts to keep in mind:
Facebook Advertising Do's

Facebook Advertising Don'ts

Define your objectives at the very beginning
Don't use irrelevant media
Only use high-quality photos and videos
Don't write exaggerated or misleading ad copy
Read up on Facebook Ad policies before posting
Don't ignore user feedback on your ads
Test different ad variations to get the best results
Don't use an audience that is too broad
Frequently Asked Questions (FAQs)
How much does it cost to advertise using Facebook?
The cost of Facebook Ads depends on the budget you set for an individual campaign or across all of the campaigns you're running. The cost of individual campaigns will vary based on factors like the size of your audience and the length of the campaign. In general, the current average CPC is 50 cents, while the cost-per-thousand-views (CPM) is at an average of $14.40.
Are Facebook Ads worth it?
Simply put, yes, Facebook Ads are worth it, even for small business owners. In fact, it is our top pick for best paid social media advertising platforms. It is the biggest social media network, with audiences ranging from different backgrounds. You can reach your target audience affordably with powerful targeting features and create effective ads with Meta's built-in ad tools.
Is advertising on Facebook free?
Facebook's ad platform is a paid service that can't be used for free. However, you can market your business on Facebook for free with your Facebook business page. For example, you can use the Facebook CTA buttons to link back to your website or landing page to get more conversions.
Bottom Line
Mastering Facebook advertising for small businesses is essential to growing your business. Used correctly, Facebook Ads attract potential clients, earn their trust and loyalty, and convert them into paying customers. Advertise your business on Facebook by exploring different ad formats, focusing on building customer relationships, and staying true to your brand even when advertising on social media.
If you're intimidated by this guide on how to advertise your business on Facebook, check out Straight North's full-service digital marketing and advertising services for small businesses. Straight North offers a range of advertising solutions that can be specifically tailored to meet your advertising goals and budget.