How to Claim a Listing on Zillow in 3 Simple Steps
Claim your listings on Zillow to build brand awareness and generate leads for your real estate business with minimal effort. The process of how to claim a listing on Zillow is easy: sign up for a free account on the Zillow website, create a profile, and submit a form to claim your listings. Zillow automatically syncs with the multiple listing service (MLS), so claiming your Zillow listings for free increases your return on investment (ROI) exponentially. In this article, you'll learn how to maximize your agent profile and generate leads using Zillow.
To take full advantage of Zillow's potential for real estate lead generation, advertise as a Zillow Premier Agent (ZPA). The Zillow Premier Agent platform offers realty professionals a free profile, customer relationship management (CRM) tools, lead generation opportunities, and the ability to claim listings easily. What's more, if you sign up for ZPA, you can also pay to have your contact information placed on listings that aren't yours.
Here are the three steps outlining how to claim a listing on Zillow as an agent, plus an optional fourth step you can take to ensure you have exclusive placement on your listings:
1. Sign Up for a Free Zillow Account & Create a Zillow Agent Profile
Signing up for an account on Zillow is not only free, but it's also easy to upload all the pertinent information you need to showcase your skills, value, and experience as a real estate professional. Think of your Zillow profile as a mini-resume for leads to learn more about you and your services, as well as a landing page that leads prospective clients to your other platforms.

---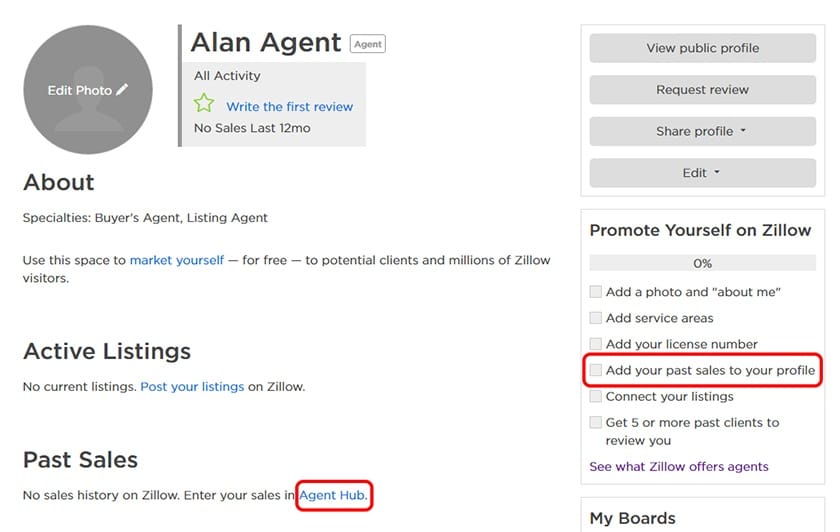 ---
Here are a few items you want to make sure are included in your profile.
Professional Information: Let your clients know about you by adding your professional information, such as your business name, contact information, and service areas, on the "Edit Profile" page. This will allow buyers and sellers to immediately reach out to you.
Headshot: While you can upload your company logo on your profile photo, a professional headshot of you is more personable and conveys trustworthiness and confidence. Don't take a selfie; hire a professional photographer and wear the right clothing, attitude, and smile in your photo. Learn more realtor headshot tips to attract more clients.
Bio: Your "about me" section is where you promote your brand and emphasize your background, skills, and expertise in real estate, as well as your niche and specializations. To make your realtor bio crisp and concise, read our 15 tips to maximize your bio.
Credentials: Your real estate license is a significant credential that will immediately convey trustworthiness. To stand out among your competition, include your certifications and designations that could ramp up your reputation.
Past sales transactions: Your sales history will show your prospective clients how active you are as an agent in your local area. If you have past sales transactions, just click "Add your past sales to your profile" and type in the home's full address, sold date, price, and which side you represented in the transaction.
Link to websites & social media platforms: According to the National Association of Realtors (NAR), 41% of recent buyers searched for properties online as the first step in their homebuying process. This is why it's important to add links to your website and social media platforms to communicate your brand philosophy.
Languages spoken: Being multicultural allows you to communicate effectively with clients and partners from different countries and better serve their needs in global markets. If you know how to speak several languages, you should include them in your agent profile.
Video: Videos are engaging and effective in selling a listing, educating prospective clients, and marketing services. Include real estate marketing videos like introductions, testimonials, neighborhood tours, and educational videos in your agent profile.
2. Find Your Listing & Access the Zillow Listing Claim Form
Before we get further into how to claim a property listing on Zillow, you might ask, "what does 'claimed' mean on Zillow?" This simply indicates you confirm that you are the property's representative. Doing so gives you access to the home's information on the platform. Claiming a listing on Zillow enables you to make changes to the listing and link the listing to your Zillow agent profile. In addition, it allows the listing to appear on your profile.
Listings on Zillow are automatically propagated from the multiple listing service (MLS). To claim a home on Zillow, navigate to your listings on Zillow and complete the process for claiming each one. When you take the time to claim Zillow listings, you ensure your agent information appears on each listing you represent, which greatly increases the likelihood of securing new leads among interested homebuyers.
Search Zillow for the address of your listing by going to the homepage and inputting the address of your listing. Once you find the listing, click on it to open the listing page. Then, look in the upper right side for a link with three dots and the word "More." Click that link and select "Claim this listing" from the drop-down box. You will be directed to a form to claim the listing.
Zillow doesn't charge for creating an agent profile or claiming a listing. However, you do have to pay for exclusive placement on your own listings and placement on other agents' listings. Learn more about how Zillow Premier Agent works and if the leads are worth paying for.
3. Complete the Claim Form
The last step on how to claim a home on Zillow is to fill out a claim form. Once you select "Claim this listing," you will see a form that asks for your name and phone number. You will be asked to verify that this is your listing. Confirm this by inputting the requested details and then selecting "Continue." Your contact details and agent profile will be added to that listing automatically—and now your listing is claimed on Zillow.
If you no longer want to claim a Zillow listing because you are no longer the agent (or for another reason), "unclaim" the listing by logging into your Zillow account and going to the property's listing page. You will see a button that says, "Release ownership claim." Click this button, and Zillow will ask you to confirm your release of ownership. After confirmation, Zillow will send you an email confirming your release of the listing.
Zillow syncs with the MLS and automatically adds listings about 48 hours after an agent puts them into the MLS. Once listed, claim it using the process above. But Zillow is the only one advertising option that can generate leads. Find out more about how to use real estate ads effectively on all your marketing channels.
4. Advertise on ZPA to Make Your Listings Exclusive (Optional)
While any real estate agent can set up a free profile and claim a home on Zillow, they can only add their contact information to listings they successfully claim. Additionally, they won't be the only agent listed. Real estate agents who pay to advertise on Zillow may also appear on their listings along with the primary listing agent.
To avoid this, invest in advertising as a Zillow Premier Agent. While costs range from $20 to $60 per lead, depending on your location and agent competition in the market, you will enjoy exclusive placement on the Zillow listings you claim. Moreover, you'll be placed on other agents' listings for added exposure. This can greatly improve your real estate lead generation efforts and, consequently, your overall revenue.
Top Reasons to Claim Zillow Listings
Should you claim your home on Zillow? The short answer is "yes." Zillow is far and away the most-visited real estate website in the world, with 297 million visits in August 2022 alone according to the Semrush analytics tool. It allows agents to claim Zillow listings and display their contact details on the property's listing page. The best reasons to claim your listing are to show up in property searches, promote your brand, enjoy free placement on your listing pages, and, ultimately, get more leads to grow your real estate business.
Here are the top four benefits of claiming your Zillow listings:
Claiming a Zillow listing gives you the opportunity to connect with property buyers while they are in the process of actively searching for properties—often before they've spoken to another agent. Your listings and your name as the associated agent are displayed in the buyer's Zillow search results, increasing the likelihood of contact.
---
Buyers who see your name and your agency's name on listings can click through to your profile page, giving them in-depth information about your strengths and specialties as an agent, as well as your brokerage or agency. If you position yourself well in your profile and past clients leave good reviews, buyers will be more compelled to reach out and work with you.
---
If your contact details aren't connected to the property listing because you have not claimed it, potential buyers interested in your listing are very likely to call another agent. Claiming your listing puts your contact details out in front of buyers in a prominent way, increasing the likelihood of securing leads.
---
Claiming a Zillow listing is free and can be completed quickly and easily in just a few steps. You should take advantage of the platform's traffic and claim every listing to increase leads and boost sales—especially since it's free.
---
You must have a Zillow account, but you do not need an agent profile to claim a listing. However, an agent profile is a free opportunity to start a conversation with a prospective homebuyer or seller by telling them more about you and sharing past sales details, experience, and client reviews. Find out other ways to get real estate leads with no upfront costs.
Zillow Alternatives
While Zillow is one of the best real estate sites that could bring a lot of traffic to your listing, other website alternatives can also help increase your target niche audiences. In addition, these real estate platforms provide additional features that Zillow cannot. Check out these alternative listing websites, or use them in addition to Zillow, to promote and sell your property fast.
Listing Websites

Best For

Agents looking to market listings on social media and multiple listing sites

Most affordable pricing structure for advertising

Realtors managing rental properties

Key Features

Customized ads displayed on search results
Detailed reporting on listing performance
Listing presentation tools
Listing exposure on over 750 real estate website

Agents can upload listing videos
Trulia provides email scripts
Customer relationship management (CRM) integration
Available social media integrations

Multiple virtual experience, including 3D tours, HD video, hi-res photos, and drone video
Multifamily and capital market analytics and insights
Tiered ad packages
Listing exposure to 11 network websites

Pricing

Free to join

Free to list

Free to list

Learn More
Bottom Line
The process of how to claim a listing on Zillow is easy and free. If you're still contemplating, "should I claim my home on Zillow?" know that claiming your Zillow listings gives you valuable exposure on property listing pages by showcasing you as the agent interested buyers should contact. While claiming a listing does not ensure you get the first spot on the contact sidebar, it gives you placement and the opportunity to generate more leads. Plus, you can become the exclusive agent on your listings when you advertise as a Zillow Premier Agent.