How to Advertise on Zillow in 10 Steps (+ Free Checklist)
Zillow is the largest online real estate listing platform, with over 291 million unique monthly visits. With Zillow advertising, agents can leverage their exposure and gain high-quality leads. To help you capture those leads and promote your brand effectively, we explore 10 simple steps on how to advertise on Zillow—from setting up your Zillow Premier Agent account to claiming your listings, creating a video walk-through, and tracking your leads.
Take full advantage of Zillow's potential for real estate lead generation by advertising as a Zillow Premier Agent (ZPA). The ZPA platform provides agents with a free profile, customer relationship management (CRM) tools, lead generation opportunities, and the ability to easily claim listings. Furthermore, you can pay to have your contact information placed on listings that aren't yours so prospective clients can easily contact you.
So, how do you advertise on Zillow? Read along with our 10-step guide and download our visual checklist to guide you through the process.
1. Sign Up for Zillow Premier Agent & Advertising
First, sign up for a Zillow Premier Agent (ZPA) account by visiting the Zillow agent homepage and clicking "Join" in the upper right-hand corner. You will then be redirected to a sign-up page where you need to enter all your personal and contact information to create a free profile.
This will give you access to a free website, customer relationship management (CRM), the 3D Home Tour app, and a dashboard for tracking advertising results. Once this is set up, you can request advertising details and start maximizing real estate ads on Zillow.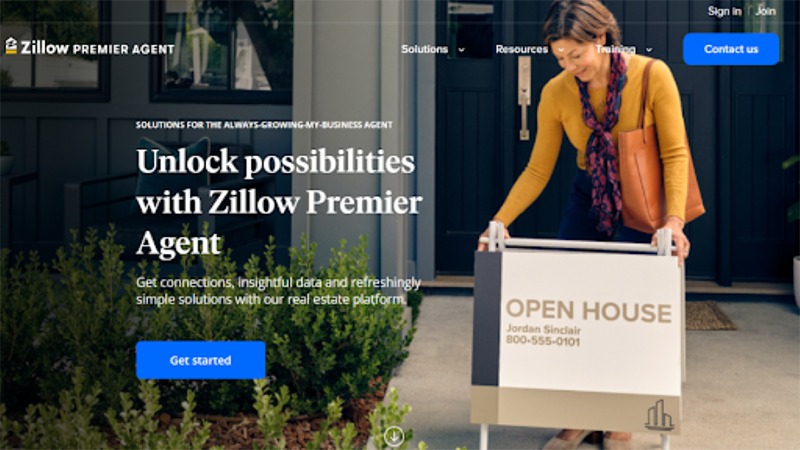 ---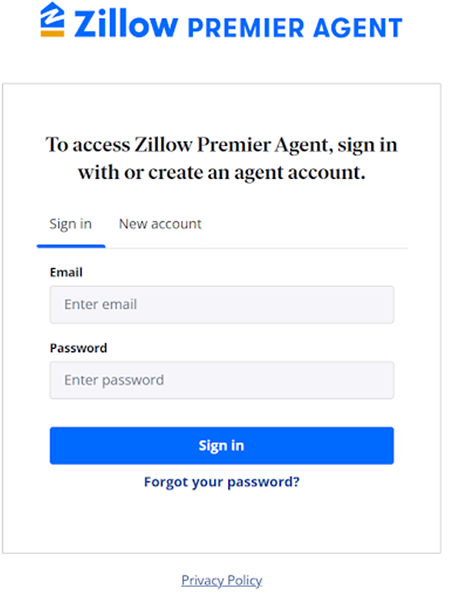 ---
2. Create an Agent Profile
After creating an account as a Zillow Premier Agent and setting up advertising, build your profile page so new leads can learn more about you. To do so, click on "Profile" at the top of your dashboard. Then, add your headshot and a compelling "About Me" section, which includes your experience, education, specialties, and any relevant professional information you'd like your leads to know.
3. Claim Your Listings
After setting up your agent profile, you can now claim your listings. Simply navigate to the Zillow homepage while signed in to your ZPA account and search your listings by address. Click on each one individually. At the top of each property page, click "More" and then "Claim Your Listing." This will automatically link the listing to your profile page and display it on a map below your "About Me" section.
Claiming your listing on Zillow is free. Doing so helps you show up in property searches, promote your brand, enjoy free placement on your listing pages, and get more leads. Learn more about how you can claim a listing on Zillow without any advertising.
Setting an Additional ZPA Advertising Budget (Optional)
While setting up a ZPA profile and claiming a listing is free, there are two additional paid services provided by Zillow for real estate agents to generate leads. These services include the following:
Cost of advertising with Zillow Premier Agent: Leads cost between $20 and $60, depending on ZIP code sales, competition, and ad spend.
Cost of Zillow Flex: At no upfront cost, Zillow Flex will connect you with homebuyer leads. You nurture the lead and pay a percentage-based success fee when you close a transaction. At the moment, Zillow Flex is only by invitation only.
Paid Zillow ads enable you to connect with targeted customers looking to buy or sell a home across Zillow, Trulia, and StreetEasy. Once you've signed up for Zillow advertising, leads can contact you directly from property pages via a simple contact form. Zillow verifies each lead before sending them to you, so ZPA leads are generally highly motivated and allow you to greatly increase sales.
However, the exact price of Zillow leads is based on the average home cost in your ZIP code, area competition, and your budget. These three things are referred to as "share of voice" (SOV) by Zillow. For example, high-demand ZIP codes, such as Malibu, CA, are more expensive than ZIP codes with low demand, like Naples, FL. However, you can claim a listing for free as a Zillow Premier Agent.
In terms of competition, imagine three agents want to advertise in 90263 for $100. The new showcase advertising page has space for three Zillow Premier Agents, which gives each agent 100% SOV. If one agent decides to increase their budget to $300, this agent will have 180% SOV based on this calculation:
$300 (agent 1 new budget) / $500 (total budget of 3 agents) x 300% (the total share of voice pool)
The other two agents will have 50% of the remaining SOV. Check the sample table* below to see how much SOV each agent has when using ZPA advertising based on the scenario above.
| Agent | Old Budget | Old SOV | New Budget | New SOV |
| --- | --- | --- | --- | --- |
| #1 | $100 | 100% | $400 | 180% |
| #2 | $100 | 100% | $100 | 60% |
| #3 | $100 | 100% | $100 | 60% |
*Disclaimer: This table is only a sample to show how SOV works for Zillow Premier Agent. Contact Zillow to register and request up-to-date pricing.
4. Ensure All Listing Information Is Accurate
When linking your listings to your agent profile, make sure that all of your listings have up-to-date information. This is usually done through your local MLS, but you can also do this via Zillow. To edit your listing, just click on "My Listings" on your ZPA dashboard. For each active listing, there should be a link that says, "Edit this listing." Alternatively, you can navigate to a property page and click "Edit Listing Info" from the top menu.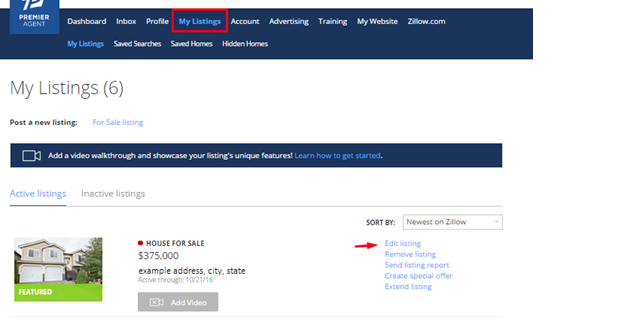 ---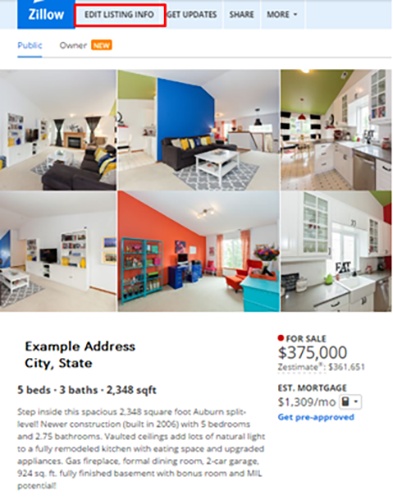 On the editing page, make sure all basic listing information is accurate, including price, square footage, the age of the home, number of bedrooms and bathrooms, and other pertinent details. To optimize your listing, fill out all listing sections as instructed in the steps below.
5. Fill Out the Home Description & Features Sections
It's critical to include all relevant details and write a description that tells the story of the home when completing the listing information. To do this, use ample (but accurate) adjectives and make sure to list major features in the "Home Details" section of the listing page.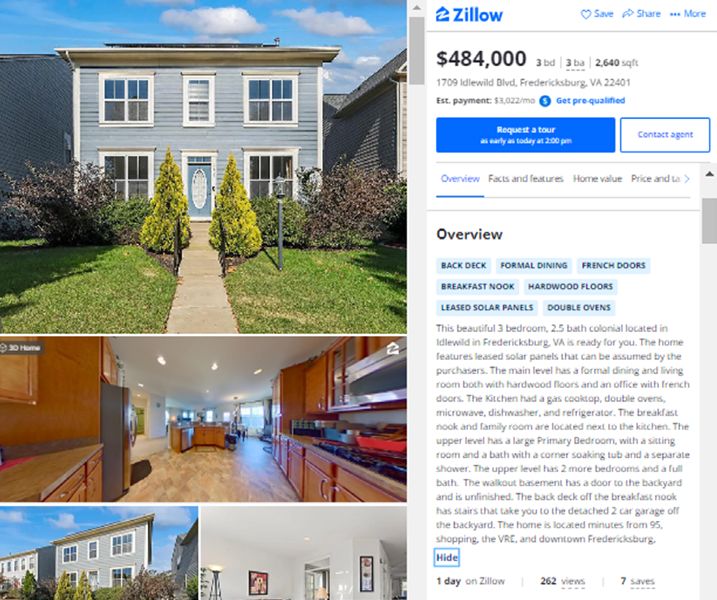 ---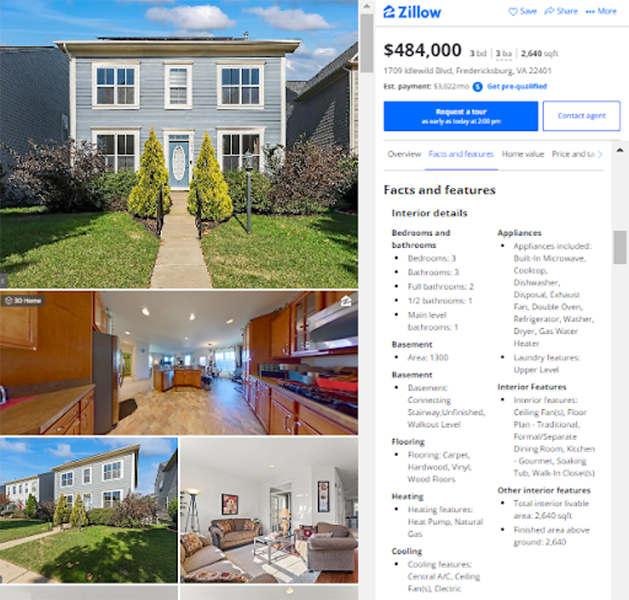 To write listing descriptions that sell, use effective real estate words that accurately paint a picture of your property and capture buyers' interest.
6. Add Compelling Professional Photography
Using high-quality pictures is an effective marketing tool to captivate home searchers as they scroll through the search results page. According to a survey, 84% of homebuyers found photos to be very useful, while 89% of younger boomers and other younger homebuyers place the highest value on photos when looking at properties for sale.
To secure high-quality photos that meet Zillow's guidelines, review the platform's photography policies, learn best practices, and consider hiring a professional photographer. Once your photos are ready, upload them to your MLS and Zillow.
Review Zillow's Photography Policies
Before using any real estate photography on Zillow, you need to understand the rules for listing photography. These ensure that individuals' information is protected and unsearchable, and overlaid text is not added to bolster advertising. Here are the three primary photography policies of Zillow:
Brokerage or team watermarks are not allowed on listing pictures. The only watermark allowed on Zillow is from your MLS.
Name, phone numbers, emails, logos, websites, taglines, etc., are not allowed on listing pictures.
Descriptive text is not allowed on listing pictures.
Understand Best Practices for Listing Photography
The two primary guidelines for listing photos on Zillow are simple: Don't include too many photos on a single listing, and make sure that each image is properly sized. Following these best practices leads to more engagement and exceptional user experience without the buyers being overwhelmed.
Here are some of the best practices for using photos on Zillow listings:
Stick to one great shot for each room in the house.
Use a "hero" shot of the exterior and backyard.
Add a drone picture of the entire property if needed.
If you have a historic or unique home, add detailed shots of woodwork, cornices, or other enticing features.
Keep an aspect ratio of 4:3, and try to upload images that are 2048×1526 pixels.
Consider Hiring a Professional Photographer
Though hiring a professional real estate photographer might cost you $150 to $350, it is one of the best investments you can make as you build brand awareness. In research done by Redfin, homes priced between $200,000 and $499,999 sold three weeks faster when listing photos were taken with a professional camera. Listings with high-quality photos were also sold at a higher price, with an average of $3,400 more.
If you must take your own photos, there are ways to make your photos look more professional. Our article on the top real estate photography tips and mistakes to avoid can help improve your listing photos dramatically.
7. Create a Video Walk-through
If you want to know how to get more views, consider Zillow's 3D home tour feature. According to Zillow, listings with a Zillow 3D Home tour got 68% more views than listings without virtual tours. Adding video content can help your listing rank higher. Furthermore, 66% of buyers agreed that 3D tours give them a better view of the home than static photos.
Download the Zillow 3D Home Tour app for free to create your own walk-through. You can capture videos and panoramas using your smartphone and then easily upload them to your listings and profile from the app. Craft engaging listing videos by following our step-by-step guide to creating virtual tours.
8. Leverage Open Houses for More Zillow Views
To increase buyer interest, post open houses on Zillow at least a few days before they're scheduled. Just navigate to the listing for which you will be holding an open house. Click the "More" button in the top right, then select "Add/edit open house dates." Once you add this information, your open house details will appear on listing images, as showcased in the example below.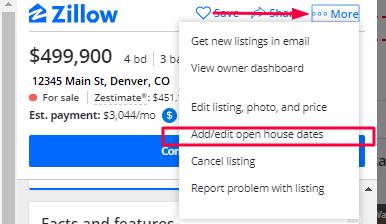 ---

9. Adjust the Asking Price to Increase Zillow Views
If you are not getting as much engagement as you like on your Zillow listing, consider lowering the price of the property to increase views. While you don't want to drop the price regularly or too dramatically, small adjustments may help your listing rank higher on Zillow search results pages.
For example, if your listing has been on the market for two months, you might decrease the price by $99 just to get the listing back to a more favorable listing position. Keep in mind, you should never adjust the price of a property without first communicating with the owner. You can explain the benefits of changing the price and the importance of maintaining the listing on Zillow.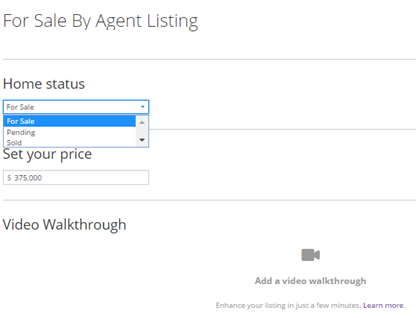 ---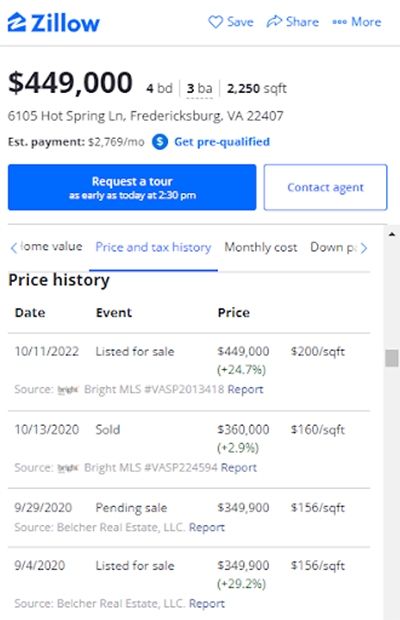 ---
10. Follow Up With Leads Quickly
Follow up on your leads quickly to maximize your return on advertising spend (ROAS). You can do so either via email, text message, or phone call using the Zillow CRM to discuss your buyers' needs and interests. The best part about Zillow CRM is that it includes a mobile app so agents on the go can follow up with their leads in a timely manner and stay connected with them anywhere.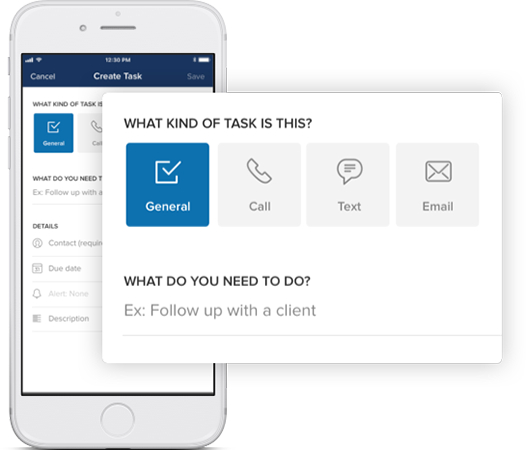 ---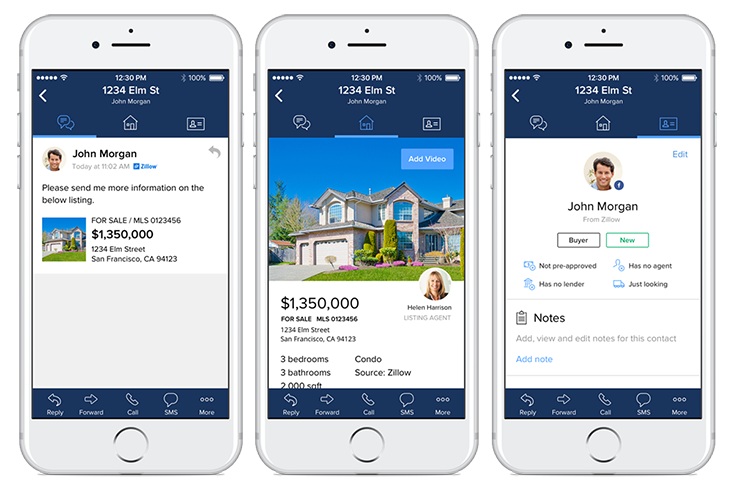 The Zillow CRM tool is included in the free agent account and does not cost extra to use. Zillow understands that tracking leads through the pipeline is important to increase sales and closure rates, so this tool is available to all agents.
Aside from the Zillow CRM tool, you can use other real estate CRM software to streamline your lead generation. These platforms have tools to manage listings, track leads, and market your services through email, phone, text, and social media campaigns. The good news is you can integrate CRM apps, like LionDesk, into your Zillow account through Zillow Tech Connect or third-party integration software like Zapier.
CRM Software

Best For

Easy-to-use CRM with a free plan

Comprehensive built-in marketing and content management tools

Low-cost CRM with a mix of essential features

CRM software with multichannel communication system

Key Features

Drag-and-drop email editing
Telephonic tool in the free version can use local phone numbers
Multiple built-in contact communication channel options, including phone, email, live chat, WhatsApp
Mobile app
Can be integrated into Zillow via third-party integration tools

Free blog idea generation tool
Built-in sales email automation capabilities
Free built-in appointment scheduler
Built-in content management system (CMS) that integrates with the CRM platform
Can be integrated into Zillow via third-party integration tools

Built-in digital signature and document tracking capabilities
Emails are automatically linked to contacts, deals, and opportunities in the pipeline
Smart contact data feature provides valuable insight into prospective buyers
Mobile app
Can be integrated into Zillow via third-party integration tools

Facebook Ad portal for ad generation within the LionDesk platform
Transaction management tools for tracking properties and closings
Lead importing capabilities through third-party sites
Drip campaign tools
Can be directly integrated into Zillow through Tech Connect

Starting Price

Free up to 3 users

Free

$14.90 per user, per month (billed annually)

$99 per month (billed annually)

Learn More
Pros & Cons of Zillow Premier Agent Advertising
While Zillow is widely used and offers free services and tools for agents—including a website, CRM, and home tour app—there are some downsides to using this platform. Here's a breakdown of the pros and cons of Zillow advertising:
PROS

CONS

Excellent exposure to motivated leads
Leads are non-exclusive
Free website
Variable cost
Free CRM
Highly competitive
3D Home Tour app
Zillow remains unbeatable in terms of monthly visitors; however, you can also market your listings on other online real estate marketplaces like Trulia, Apartments.com, and Homes.com. Check out the six best Zillow alternatives that can help you reach more target niche audiences.
Bottom Line
Advertising on Zillow gives your listing exposure to millions of potential buyers and high-quality leads. With a free agent profile, you can claim listings and add compelling home descriptions, virtual tours, and professional photos to your listings to increase buyer interest. If you want exclusive placement on a listing, take advantage of Zillow ads. By following the 10 steps on how to advertise on Zillow, you can establish a stronger online presence, build brand awareness, and be successful among your target niche.