OnPay is a full-service payroll solution that lets you manage payroll including tax filings for wage-earning employees and contractors. It also has some HR features and costs $36 monthly plus $4 per employee per month. It has a clear interface with large, colorful tabs, making it an easy-to-use solution for processing payroll.
In this article, we go over the basic steps of how to do payroll with OnPay—setting up an account and running your first payroll. If you need help paying your employees and payroll taxes, consider signing up with OnPay. It automates your payroll and even offers benefits in all 50 states. Sign up for a free trial today.
Please note: Depending on where you are in the process and how you initially access OnPay's software, some of the screenshots we provide to help guide you may differ from what you actually see. Overall, the process should be the same and will ask for the same information.
If you want to set up your payroll account and run your first payroll with more than just screenshots as support, follow along with our video on how to set up payroll with OnPay.
How To Set up OnPay Payroll
1. Create Your Account
Getting started is easy. Sign up for an account. There's only one plan, and the first month is free. OnPay provides an onboarding checklist so you can gather all the information you need before starting so that you can complete your account registration quickly.
2. Add Company Information
Once you've applied and verified your email, you'll be sent a link to Pending Enrollments. Click the launch button beside your company name. Then, it will lead you through the information you need to add:
Employer Identification Number (EIN)
Type of business
First check date (the trial begins as of the first check date)
Name, Social Security Number (SSN), and address of the owner or officer who can sign legal documents for the company
Form 8655 to allow OnPay to report and file payroll taxes on your behalf
Pay schedule
Bank account and routing numbers; OnPay will verify the account with token credit and debit transactions you'll need to verify
Work locations
Add Owner or Officer Information
You'll need to enter basic information about the owner or at least one officer who represents the company. OnPay requires you to provide an email address, Social Security number, and address. And if you want to add more than one person, you can select the plus sign on the page to create another record. When you're done adding owners and/or officers, select "Continue."
Reporting Agent Authorization
Now you're ready to review Form 8655, which essentially gives OnPay authorization to file and pay your payroll taxes. The system automatically fills the form with your company's information, so all you have to do is select your title and click "Sign." You also have the option to skip this section and save it for later.
If you're completing your account setup as you progress through the article, take a look at our video on how to set up payroll with OnPay to ensure you're on the right track.
3. Add Bank Account Information
OnPay needs your bank routing number and account number. When you enter your routing number, your bank name should populate. If it doesn't, double-check that you entered it correctly. Click "Save and Continue" when you're done, and you'll see a message that states Onpay is provisioning your account. When it's done, select "Continue."
4. Create a Pay Schedule
You can name each schedule, which comes in handy if you're paying different groups of employees on contrasting pay cycles. There are four pay schedules to choose from—weekly, biweekly, semimonthly, and monthly. A specific number of pay period selections will populate, depending on which option you select. For bimonthly pay schedules, you'll see two periods that need detail. You'll enter the starting and ending dates of the period along with the pay date. Select "Create" when you're done and then, "Continue."
5. Create Worksites
Although you've already entered the company address, OnPay wants detail on the physical location of your worksite. This may be the same address, but you can reenter it. You'll need to name the worksite, i.e., Main Office or Dallas Office. Select "Create" when you're done. You'll have the option to select "Add Another" or you can click "Continue" if you're done.
6. Verify Bank Account Information
OnPay uses a company called Plaid to verify your account. You'll need to enter your bank name again (it doesn't pull from the previous entry), and the bank's online banking login page will populate. Once you enter your credentials (username and password) and select the account you're planning to use for payroll, Plaid will be able to verify it.
You can also opt to verify your account manually—if for instance, you don't use online banking. It may take a few days to complete.
When you're done on this page, you'll be taken to OnPay's dashboard where you'll be able to enter employee information.
7. Employees
Note: OnPay will add employees for you. You'll need to contact a representative and have the following information handy:
Legal Name
Social Security Numbers (SSNs) or Employer ID Numbers (EINs)
Date of birth
Home address
Job title
Worksite (if different from the main company location)
Date of Hire
Pay rates
Work Department
W2 employees' choices for tax withholdings (federal and state, if applicable)
To add an employee yourself, go to "Workers" and select "Employees." Then, you'll click "Hire Workers" and select "Add an employee." You can also add a contractor on this page, if needed. It will lead you through the steps of providing basic information, withholding details, banking data, and personal information. You'll need the same information as you provided OnPay if you had it to load employees. Click "Continue" when you're done.
Self-Onboarding
Finally, you can invite employees to load this information themselves, by clicking "Invite Employee" after you've entered the basic information of name and job details.
8. Add Federal and State Tax Details
You need a Federal Employer Identification Number (FEIN) and a State Tax ID (STI) for each state you file in. Enter these through the Settings tab in the left sidebar.
State tax laws vary. OnPay's help section has a state map with links for registering with state agencies and getting the information it needs to file on your behalf.
Click "Continue" when you're done entering tax information.
9. Apply for Direct Deposit
You can apply for direct deposit when you put in your account information. Simply reply to the ACH verification email you receive during your enrollment. After that, the OnPay ACH team will run a risk assessment on the company to check the likelihood that you will have the liquid capital to cover the direct deposit withdrawals.
To enable employees to use direct deposit, go to "Workers" in the left sidebar. Select the employee profile and click on "Accounts." They will, of course, have to have their accounts already registered in the system. From there, you can enable direct deposit. You can split checks between multiple accounts by percentage, dollar amount, or a mix of the two. Select "Continue" when you're ready to move to the next step.
10. Add Personnel Items
Employee Onboarding Documents
You can store documents on OnPay. If you are manually onboarding employees, you will click "Workers," select the employee, then go to the Personal Items Page. Select "Checklist." These folders will include checklists, W-4, I-9, handbook sign-off, and other acknowledgments. Upload these documents from your computer. Click Add Task if you need to send a request to the employee to sign the forms electronically.
Alternatively, you can create documents in the HR section of the program. This includes smart documents that can have signatures and acknowledgments.
11. Add Workers' Compensation Insurance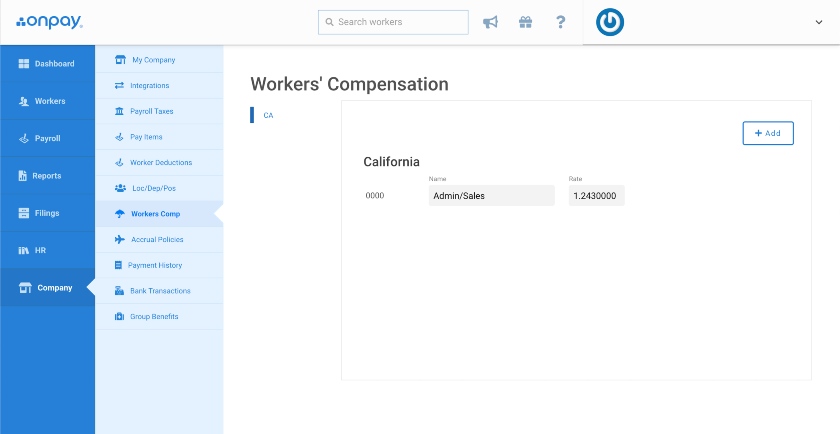 The Worker's comp section under the "Company" tab in the left sidebar lets you add or modify workers' comp codes for any state where you have employees. You can also give these a name for easier identification. To add a code, click the "Add" button and fill in the state, the name you choose to define the compensation, the class code, and rate. Then, go to the individual employee's "Pay" section under "Workers" and add the state and class from the drop-down list.
How to Run Payroll With OnPay
12. Select Pay Run and Employees
Start by clicking Payroll in the left sidebar menu. It then allows you to make changes to any payroll setting if needed. If you don't need to make changes, you can move to the Select Employees tab, which lets you filter by location, search names, or simply check all.
13. Input the Hours the Employee Worked and PTO
You can add hours manually, import hours with a CSV, or import hours from an integrated software. PTO is also added on this screen.
The payroll page also lets you add bonuses and add or change deductions or withholdings. Click on the box below the hours to open up the area for inputting these items.
14. Review Payroll & Submit
Once you've put in all the information, click on the Review tab. It will alert you to any errors, which are flagged with a yellow warning. You can click on that entry to get a more detailed explanation of the error, sometimes with evidence such as a previous check. You can then go back to fix the error or approve the payroll. Alternatively, you can print it as a PDF for review.
Once you have reviewed and fixed any issues, you click the Approve tab. It will show you the taxes and ACH debits being taken as well as pay run and employee deposit dates. From there you can select to notify employees. Click Approve to complete the pay run. You can delete the run at any time before the funds are drafted if necessary.
Submit Payroll
Congratulations! You just ran your first payroll with OnPay! From here, you can download the checks for printing, or go back to the sidebar menu for reports or to complete another pay run.
For additional payroll provider options, check out our best payroll service buyer's guide. You may also be interested in our top tips on how to get the best payroll training.