NTG (FreightPros) Review 2023: Services & Pricing Compared
Nolan Transportation Group or NTG (formerly FreightPros) is a full-service freight brokerage firm that provides access to its database of recommended carriers with discounted rates.
Its multimodal services include less-than-truckload (LTL) freight shipping and strategic full truckload shipping, as well as refrigerated, expedited, drayage, and intermodal solutions. NTG's pricing is customized, and it's recommended for small to enterprise-level businesses.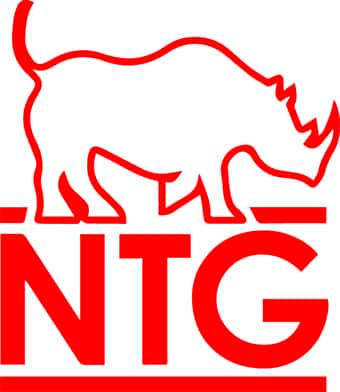 Pros
Provides a range of discounted quotes for multiple freight-shipping carriers
Helpful and responsive account managers
Informative, cloud-based transportation management system (TMS)
Cheaper than competing freight brokers
Cons
No third-party order fulfillment services
Reported overcharges
Difficult dispute process
Many concerning 1-star NTG / FreightPros reviews
Supported Shippers

One-time shippers, startups, small to midsize businesses, enterprise-level businesses
No frequency or volume required

Deciding factors

Services:

Shipping: LTL, strategic full truckload, final mile, dry van, flatbed, refrigerated, and drayage shipping, plus power-only and drop trailer capacity
Warehousing: 5,000+ warehouses, vetted providers, short- and long-term storage, on-site drop trailer solutions, container transloading, cross-docking, palletizing, and labeling services

Standout Features:

Discounts: Save on freight costs through volume discounts and pre-negotiated carrier rates
Carrier Network: Receive fast quotes and compare rates from NTG's network of 80,000+ providers
Expert Resources: Access demos, online tools, and on-demand consulting for smarter shipping
Management Systems: Centralize logistics data, including pickups, quotes, and tracking via NTG's advanced TMS
Proprietary Digital Logistics Platform: Use the company's 'Beon' app to match shippers and carriers through machine learning, plus online payment portal
Reporting: View shipping data and create customized reports with online analysis tools

Discounts

Users get access to significant savings from carriers thanks to volume discounts and negotiated partnerships

Online Resources

Blog, videos, demos, state guides

Average Rating in NTG Reviews

3.2 out of 5

Customer Service

Via phone, email, and online ticketing system, Mon–Thurs 7 a.m.–6 p.m., Fri 7 a.m.–5 p.m. Central time
How NTG Compares to 3PL Alternatives
| | | | |
| --- | --- | --- | --- |
| | NTG (formerly FreightPros) | Redhawk Logistics | uShip |
| | $344 | $505 | $428 |
| Billing Options | Credit card or Net 15 with approved credit | Credit card or Net 15 with approved credit | Credit card |
| Website Ease of Use | Medium—lots of features | Medium—lots of glossaries and FAQ sections | Easy—simple for shipping beginners |
| Number of Carriers | 80,000 national and regional carriers | 70+ national and regional carriers | 788,000 major, independent, and specialty providers |
| Freight Types | LTL, FTL, rail, and various specialty freight | LTL, FTL, rail, and various specialty freight | LTL, FTL, specialty freight, and small transport |
| Online Resources Available | Blog, videos, demos, state guides | FAQs, state regulations, calculators, shipping guides | How-to videos, blog, mobile app |
| Customer Support | Phone, email, and online form | Phone, email, Facebook messenger | Phone and online form |
| Support Hours | Mon–Thurs 7 a.m.–6 p.m., Fri 7 a.m.–5 p.m. Central time | Mon–Fri 8 a.m.–6 p.m. Eastern time | Mon–Thurs 7 a.m.–7 p.m., Fri 7 a.m.–5 p.m., Sat 10 a.m.–4 p.m. Central time |
When to Use NTG
NTG's brokerage services save shippers a good amount of time and money—making it an excellent choice for small businesses. It has options that appeal to owners on a tight budget and busy entrepreneurs needing to save time.
NTG is one of the top-ranking providers in our 3PL buyer's guide. Its platform can accommodate startups, young businesses, and new freight shippers (especially in regard to client support and service options), securing the company's role as our top recommendation.
In particular, we recommend NTG for:
Varying freight needs: NTG offers a wide range of freight services, including both LTL (less-than-truckload) and FTL (full-truckload) services to accommodate different shipping needs.
Developing young businesses: NTG provides tailored advice to optimize shipping and expenses, helping startups and small businesses scale efficiently.
Manufacturers and B2B sellers: NTG supports bulk distribution via trucking, rail, and custom freight solutions.
Food, medical products, and other perishables: NTG offers temperature-controlled shipping for cold chain compliance.
Shippers on a budget: NTG provides discounted rates through volume and partner relationships, with a "No Hidden Costs" policy.
When to Use an Alternative
Well-established businesses: If your business has its own shipping department, building direct relationships with carriers is a better choice than using NTG.
Parcel shipping: NTG specializes in freight, not general parcel shipping, which is better handled by companies like FedEx, UPS, or USPS.
Ecommerce order fulfillment: Although NTG can help with bulk distribution, it's not equipped for merchants needing order fulfillment. We recommend ShipBob, the No. 1 pick in our third-party fulfillment buyer's guide.
NTG Pricing
NTG (formerly FreightPros) pricing varies based on origin, destination, weight of the shipment, and freight class. Most rates for similar providers are also customized. However, estimated freight fees range from $6.55 to $21.98 per pound.
For standard brokerage services, NTG charges the shipper for helping it source customers—so there are no added service fees or upcharges when you use it. Plus, opening an NTG account is completely free. Additional services, such as freight spend analysis, are available and generally free for regular clients as well, but other services may incur a cost.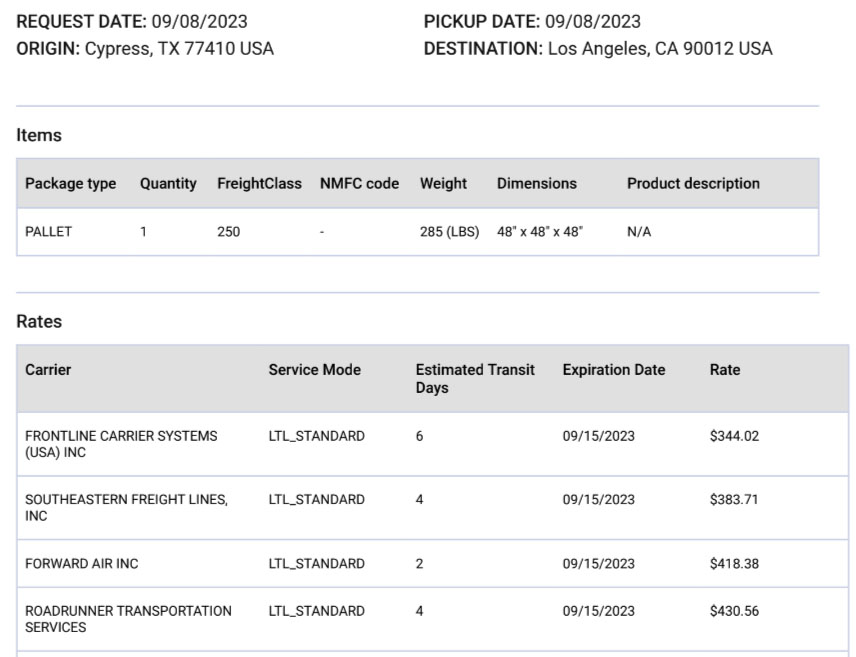 Freight prices are commodity-based and fluctuate daily, factoring in variables like the carrier's open truck capacity, fuel prices, shipping lanes, and weather.
To learn more about how freight 3PL and broker fees work, visit our freight brokers buyers guide.
NTG Features
NTG's features are designed to make freight shipping run smoothly—from choosing a freight carrier and getting the most cost-effective pricing to coordinating shipping operations.
Here is a deeper look at NTG's most important features:
Personalized Solutions
The NTG team is trained to spot opportunities for making your freight shipping more efficient. Staff members are skilled at finding ways to improve your shipping processes and suggesting methods to help you save on shipping costs.
Digital Logistics Platform
NTG and its sister company, Transportation Insight, offer a mobile app (called Beon), which is designed to connect shippers and carriers.
Similar to uShip, the platform provides on-demand access to load capacity from a wide network of providers. But unlike uShip, Beon uses machine learning algorithms to match each sender's needs with compatible carriers and offers the same high-level customer service of NTG.
Cloud-based Transportation Management System (TMS)
NTG's advanced TMS provides information about freight pickups, shipment tracking, GPS truck tracking, easy freight quotes, and more.
Cloud-based Freight Hub
The company's freight hub serves as a central repository for freight information, load history, freight quotes, bill payment, and more. Its online-based system gives insight into previous, pending, and future loads, and gives users the ability to access information at any time and place.
Insurance
NTG only works with truckload operators that offer a minimum of $100,000 in insurance coverage. This coverage is included in the freight rate.
If a client needs additional coverage, third-party insurance is also available as an additional cost separate from the carrier's freight quote. A $500 deductible typically applies.
NTG strongly recommends using third-party insurance if shipping valuable or fragile material. Payouts are faster with third-party insurance than with carrier freight insurance.
NTG Ease of Use
Support: NTG's support team is available via phone, email, and ticketing system on its online portal.
We reached out to multiple freight brokers—including NTG, uShip, and Redhawk Logistics—as businesses requesting quotes. NTG was the most responsive and attentive company.
Each client is assigned a dedicated account manager, who is available by phone and email. The role of NTG's support staff is to answer shipping queries, aid in the booking process, and act as a resource to help customers make well-informed decisions.
Full-service Solutions: NTG offers the option to outsource booking, tracking, and managing your freight loads to its staff. This feature allows you to be as hands-on or hands-off as you want.
Accuracy: Since NTG acts as a broker between shippers and carriers, the carrier's performance mainly influences shipment accuracy and timeliness. To reduce delays, you can buy a shipment guarantee from the carrier; NTG can help match you with carriers offering guarantees that meet your needs.
Vendor Management: NTG offers inbound vendor management solutions to help clients manage their inbound freight processes, such as shipment tracking, bills settling, and more.
Transparency and Tracking: Customers can easily track their shipments with NTG's web-based system. It provides updated information, such as freight quotations, shipment and truck tracking data, and more.
What Users Say in NTG / FreightPros Reviews
The majority of NTG / FreightPros reviews you'll find online were left by company employees, and they reflect the company's working environment rather than its services. That being said, the available user ratings contain many 1-star reviews.
Negative NTG reviews frequently cite issues with the company's honesty, particularly concerning delivery times and financial agreements. Customers also complain about poor communication, inaccurate shipment info, and a general lack of accountability.
Positive reviews mention NTG's helpful customer support, competitive rates, and timely deliveries. Users also describe the service as efficient and reliable.
FreightPros reviews were generally positive before it was acquired by NTG, since then have significantly dropped.
Google Business Listing: 3.4-star rating from 325+ user reviews
BBB 1-star rating from about 20 user reviews
Yelp: 1.2-star rating from about 25 user reviews
Users Like

Users Don't Like

Responsive and effective client support
Hidden fees and overcharges
Ease of use
Shipment classification errors
Fast and consistent shipping
Difficult dispute process
Competitive prices
Shipment cancellations
Bottom Line
Freight shipping is a complex task that involves many moving parts. Large organizations often have the advantage of a dedicated, in-house shipping department to manage it—but small and midsize businesses can accomplish similar efficiency by outsourcing to a broker like NTG.
NTG offers competitive pricing with deeply discounted rates—plus helpful resources, technology, and accessible client support. However, the abundance of negative NTG reviews suggests that users should proceed with caution.
For other 3PL services (like warehousing and fulfillment), WarehousingAndFulfillment.com can compare your specific needs to 500+ pre-screened companies to find the best fit for your business. Plus, the service is completely free to use.