Foreclosure and real estate-owned (REO) properties mean owners are in unfortunate financial situations and can no longer afford their properties. This presents an opportunity for real estate agents to get new listings, help people in need, and improve their community by finding the right buyer or investor. To learn how to get foreclosure listings, you must become educated on the different types of foreclosure and the processes involved, use the right tools, and build relationships that help you engage with distressed homeowners.
An efficient way to find foreclosure leads is with REDX, a lead generation tool with specific preforeclosure and foreclosure packages. Its program identifies leads faster than other sources by automatically searching public, court, and tax records. It also provides accurate contact information in the built-in client relationship manager (CRM), which organizes and prioritizes each lead. REDX can make the difference between becoming a foreclosure specialist and struggling for each new lead.
What Is a Foreclosure & What Is an REO Listing?
Foreclosure is a legal procedure in which a homeowner's rights to their property are forfeited due to an inability to pay monthly mortgage fees. If a homeowner fails to pay their agreed-upon monthly mortgage payments, the foreclosure procedure allows lenders to recoup their money by seizing control of and selling the mortgaged property.
Only after the lender has explored loss mitigation options with the borrower, such as looking into short-term repayment plans, loan modifications, forbearance, short sales, or refinancing alternatives to foreclosure, does the lender take possession of the property during a foreclosure. That's what enables your lender to start foreclosure processes if you fall behind on multiple payments—typically more than 120 days.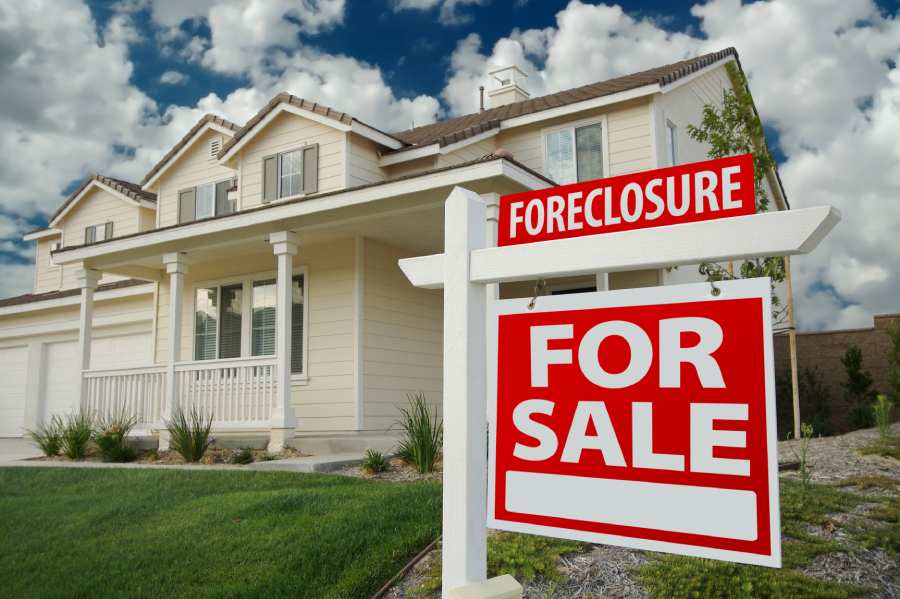 On the other hand, a typical REO listing is one that a mortgage lender, bank, or mortgage investor now owns after failing to sell during the foreclosure process. An REO property is purchased through an REO agent or auction site. The property is sold "as is" and is frequently discounted to sell quickly.
The main advantage of buying a foreclosed and/or REO property is that lenders and mortgage investors are attempting to extract value from a home that has been foreclosed on but has not been sold at auction. This could imply that they are often considerably more flexible on pricing, and you might get a terrific offer.
Differences Between Foreclosure & REO Listings
Before you start learning how to get foreclosure listings as a realtor, ensure you understand the similarities and differences between foreclosure and REO listings. Take a look at the diagram below.
The slight difference between the two is that foreclosure listings are in the process of being returned to the mortgage lender, whereas the lender or a government agency already owns REO listings. The agency may be the Department of Housing and Urban Development (HUD), the Department of Veterans Affairs (VA), or the Federal Housing Administration (FHA).
The approach to gaining either of these listings is similar because you are dealing with similar agencies that seize homes because of unpaid debts, but it's vital to understand exactly where the property is in the process.
Types of Foreclosure
Identifying a foreclosed home depends on where it is in the foreclosure process. The original owner, a bank, or the government may still hold title to a property in the early phase of the foreclosure process or properties offered in a short sale. Additionally, there are several kinds of preforeclosure homes or properties that would be seen similarly in terms of price and chance. They fit into the following categories:
Preforeclosure: This is a situation in which the borrower, or homeowner, has been told by the lender that they are in default, but the property has not yet been put up for auction.
Short sales: Typically, these properties are underwater, meaning that the amount owed to the bank or other lending organization exceeds the property's value. When a short sale is initiated, the borrower is either in default or experiencing financial difficulties that could lead to bankruptcy.
Bank-owned property or REO property: If a property is up for auction but cannot be sold, the mortgage lender, usually a bank, assumes ownership. Banks are sometimes slow to sell houses, but they typically offer less than the property is worth.
Government-owned property: This type of property is comparable to one owned by a bank, except if it was acquired with a loan that the U.S. Housing and Urban Development Department guaranteed.
Sheriff's auction: These properties are put up for sale on the city's courthouse steps if a borrower defaults and is informed without attempting to make things right. This often occurs before either of the aforementioned bank or government-owned scenarios.
In addition to these categories, foreclosures also fall into types based on whether courts are involved in the process:
Judicial foreclosure, also known as "foreclosure by judicial sale," refers to foreclosure proceedings that occur in a court of law. This happens when a mortgage note lacks the power of sale clause, which would legally allow the mortgage lender to sell the property in case of a default. The borrower can avoid foreclosure by repaying the amount owed up to the point of sale. The process can take four to eight months if no legal objections are raised to foreclosure.
Here are the two types of judicial foreclosures:
Foreclosure by sale: This necessitates auctioning the home to the highest bidder, with the lender placing the first or opening bid. Sheriff sales are the common name for these auctions.
Strict foreclosure: The court sets a deadline for the owner to pay the mortgage, and if the owner fails to do so, the court grants the lender ownership of the home without holding an auction.
---
Non-judicial foreclosure is when the court does not intervene or is not required to intervene. The borrower must have agreed to the non-judicial foreclosure process when they took out the loan. If the borrower fails to make payments, a power of sale clause is added to the mortgage or deed of trust, giving a third-party trustee the right to sell the property. Because of this provision, non-judicial foreclosures are sometimes referred to as a power of sale.
Lenders typically file a Notice of Default (NOD) with the county clerk where the property is located in non-judicial foreclosure states. This document serves as notice of an impending foreclosure and gives the borrower time to object to the lender's claim or pay what he owes. Following the expiration of a set period of time, which varies by state, the trustee files a Notice of Trustee's Sale (NTS) with the county clerk. The date, time, and location of the foreclosure auction are specified in this notice.
---
How Does Foreclosure Work?
When considering purchasing a foreclosed home, a potential buyer must understand the different stages of foreclosure. Here are the most essential foreclosure stages:
Payment default by borrower: A homeowner misses payments on their mortgage.
NOD: After the homeowner has missed about three mortgage payments (90 days), an NOD is sent, which initiates the preforeclosure stage of the foreclosure process. Lenders might contact homeowners to learn more about their circumstances and see whether they can help.
Notice of asset or trustee sale: The lender must publish information in the local newspaper and register the upcoming sale with the county. This is one method of finding a foreclosed home to purchase, but an online search will typically be more effective.
Public auction: The property has now been put up for public sale. The property will be given to the highest bidder who satisfies all requirements.
Real estate-owned (REO): The bank will become the property owner if it does not sell at auction. After that, they'll try to sell the house. This is the stage of foreclosure that most buyers interested in purchasing a foreclosed home, particularly those using a VA loan, will buy.
Pros & Cons of Getting a Foreclosure or REO Listing
There are many different niche markets that real estate agents and brokers can choose to specialize in, each with its own pros and cons. Foreclosures and REO listings are no exceptions, so ensure you are aware of the potential benefits and drawbacks of becoming a foreclosure specialist.
One benefit of being a foreclosure real estate agent is the limited competition for listings since few agents specialize in it, simplifying the process of getting listings. On the other hand, finding and contacting foreclosure leads can be challenging, and forming relationships with banks and lenders doesn't happen overnight.
This means that foreclosure niches aren't suitable for every agent, but they can be profitable and meaningful if you have determination, the skill set, and the right connections. Here are a few other pros and cons:
PROS

CONS

Less competition
Requires specialized expertise
Help homeowners in need
Homes often in poor condition
Great for fix-and-flip
Unhappy homeowners can be difficult to contact
7 Tips on How to Get Foreclosure & REO Listings
Experienced investors know where to get foreclosure listings. However, many dubious companies have created subscription websites with ads to entice you, often containing inaccurate or outdated listings. Here are the top seven tips for agents to get foreclosure and REO listings:
1. Know the Market
Understanding the real estate market is the key for every successful real estate agent, but even more important when learning how to get foreclosure and REO listings from banks. The housing market is constantly in flux, which affects the number and availability of REO foreclosure listings. Varying trends can help you identify when there is an opportunity to obtain listings and increase your success rate by using data-driven information.
During the COVID-19 pandemic, foreclosure rates were at an all-time low, partially due to a government moratorium stopping most foreclosure activities. At this time, it was discouraging for agents and investors to find foreclosure and REO listings. However, the Foreclosure Activity Report shows 95,712 U.S. properties with foreclosure filings during the Q1 of 2023, up 6% from the previous quarter and 22% from 2022.
To further educate yourself on the local market, find foreclosure and REO lists on websites like Foreclosure.com. The property listing website includes active foreclosure property listings for consumers to purchase and is a handy tool for real estate agents to learn from.
Search Foreclosure.com's nationwide database by state to see the properties available in your area and other locations. Compare prices, home conditions, and locations using its property widget to gain knowledge about the foreclosure market.
2. Become Educated on Foreclosure & REO Processes
In addition to building your understanding of the real estate market, getting educated about how to list REO properties and how to market yourself will support you in gaining success. Look for continuing education (CE) courses on foreclosures, lending, and marketing, or take a more in-depth course to get a certification. Most state real estate industry trade associations offer certifications and designations where you can learn new specialties and gain relevant credentials.
These professional credentials can then be used in marketing, business cards, and email signatures, designating you as an expert resource to your clients, lenders, and government agencies.
There are a variety of online real estate schools that offer continuing education courses that can fit perfectly into an agent's busy schedule. For example, Kaplan has foreclosure and REO-specific courses in most states to educate agents on the distressed marketplace, including connecting with lenders, participating in auctions, and understanding typical notices. Check out its website to learn more.
3. Utilize Lead Generation Companies
Once you've brushed up on the market and educated yourself on how to get bank foreclosure listings, it's time to create a reliable lead generation strategy. There are many ways to do this, like nurturing your sphere of influence to get referrals or running online ads, but the most direct strategy is to use real estate lead generation companies. The right lead generation tool can guide you in finding new leads, building nurturing campaigns, and automating marketing efforts.
REDX gives you more than just phone numbers. It connects you with homeowners looking to sell, including For Sale By Owner (FSBO), For Rent By Owner (FRBO), and preforeclosure leads. Also, REDX is a real estate prospecting platform that notifies agents of newly expired listings, so you can reach them before your competition. Its Power Dialer reduces the time required to prospect by contacting on your behalf.
4. Connect With Asset Management Companies
Asset management companies are hired by banks, lenders, and property investors to manage assets on their behalf. This typically includes maintaining the property, participating in the eviction, and handling the marketing and sale of the property. Many asset management firms specialize in foreclosures and REO properties, intending to minimize loss to the lender or owner.
Developing relationships with asset managers gives you opportunities to provide a broker price opinion (BPO), which is most beneficial when acquiring a list of foreclosures and REO listings. BPOs offer an estimation of the property's price based on its characteristics. Getting to the final pricing suggestion is fairly complex, similar to a comparative market analysis, which is commonplace for the traditional sales process. There are a few things to understand before finalizing and submitting a BPO:
Costs: Potential costs associated with getting the property ready for sale
Real estate market: Market trends that may affect pricing at the given moment
Neighborhood: Current neighborhood quality and characteristics
Comparables: Sold comparable properties in the area to estimate possible pricing
Besides connecting with asset management companies, agents can find opportunities to produce BPOs by working with companies that have deep connections with lenders, servicers, and investors. For example, Clear Capital is a broker network that provides agents with BPO opportunities, enabling them to acquire foreclosure and REO listings. By completing a three-minute sign-up process, you'll be a part of the Clear Capital Broker Network and can be paid to provide BPOs to local companies.
5. Apply Directly With Government Agencies
When looking for a way to get a list of foreclosed homes, consider government agencies like the Department of Housing and Urban Development (HUD) and Fannie Mae. HUD acquires properties related to Federal Housing Administration (FHA) mortgages that are unpaid, and Fannie Mae is a government-sponsored agency originally created to stimulate homeownership. While Fannie Mae does not originate loans, it purchases and guarantees mortgages on a secondary market.
The process of working with either of these agencies is fairly simple. For HUD, you must join the Single Family Acquired Asset Management System (SAMS) and become a certified SAMS real estate broker. This only requires two forms: the SAMS 111 Broker Application and the SAMS 1111A Selling Broker Certification. Once these forms have been submitted, you'll receive a HUD-issued name and address identification number (NAID), which permits you to show, advertise, and submit offers on HUD homes.
Fannie Mae has a similar program that requires you to sign up to be a Fannie Mae Supplier by creating an account on ProcureOne. When Fannie Mae cannot meet the housing demands internally, it will distribute foreclosure leads to agents within the required location.
6. Apply Directly With Banks or Other Lenders
In the past, connecting with banks and lenders was a lucrative way to get foreclosure listings directly. With current foreclosure trends, most lenders outsource the work to asset managers, so finding banks looking for REO agents is more challenging. However, most prominent nationwide bank websites list their available properties online. Here are a few common bank-owned REO listing sites:
Another possible way to generate real estate leads from banks is by offering updated BPOs to local mortgage lenders to see if they would be willing to give you these types of listings. It is worthwhile to develop relationships with locally based banks and credit unions that may be more interested in working with a neighborhood expert on foreclosure and REO properties than larger nationwide lenders would be.
7. Find a Mentor
Many successful agents and brokers build their businesses within a real estate niche like foreclosures and REOs. Instead of thinking of these experienced professionals as your competition, reach out to them and ask them to mentor you or become part of their brokerage. Having a mentor or a group of experienced agents will assist you in learning how to get REO listings more efficiently.
This is especially beneficial if a solid regional demand for foreclosure listings exists. Aligning yourself with like-minded brokers further opens opportunities to participate in foreclosure and REO listings and make valuable connections. Experience is the best teacher, so learning from others with experience and putting yourself in transactions will support you in learning how to get foreclosure listings and selling them with maximum efficiency.
Frequently Asked Questions (FAQs)
Foreclosed homes are less expensive because they are typically sold "as is." If there is damage, repairs by the owner are excluded—but, as used-car and vintage furniture enthusiasts know, "as is" translates into a discount. In addition, if the house is in the preforeclosure or short-sale stage, its owners are in a financial jam, and time isn't on their side. They have to dispose of the property and take what they can while still owning it.
---
To entice customers, property sellers and agents now provide easy access to their databases of foreclosures, preforeclosures, distressed homes, and REOs, including these sites:
Realtor.com: Provides free access to its property search engine. In the communities you search, predefined filters bring up foreclosures, houses with price reductions, and affordable homes. You'll also get up-to-date information and insights about distressed properties.
Trulia: It has a well-designed search system with a specific filter for identifying foreclosures in the communities you search. To find foreclosures on Trulia, start with a standard search by town, then switch to the "More" search filter and select Foreclosures as the type of sales listing.
Zillow: You'll find a foreclosure center with access to advanced search capabilities using several criteria, including cost (or cost estimates), neighborhood, property status, square feet, and layout.
---
Yes, real estate agents usually know about nearby houses ready to go into foreclosure because they network with other agents, are familiar with the neighborhood, and frequently work directly with banks and lenders. Additionally, an agent may guide you toward MLS listings for foreclosed homes since individuals cannot access this database directly. So, getting acquainted with an agent will enable you to learn about new foreclosures quickly.
---
Bottom Line
Agents who successfully learn how to get REO and foreclosure listings can create steady opportunities in high and low markets. To get foreclosure listings consistently, start by educating yourself on foreclosures, REO listings, real estate market trends, and lead generation strategies. Make sure to use tools like Placester and Zoho CRM and connect with local professionals and companies who can refer you to homeowners in foreclosure.