How to Buy a Pre-foreclosure Home in 7 Steps
A pre-foreclosure occurs when a borrower defaults on their mortgage prior to their bank foreclosing and selling the property at auction. During pre-foreclosure, the homeowner can either sell the property or pay the outstanding balance on the loan. An investor can typically buy a pre-foreclosure below market value.
Finding pre-foreclosures is tricky. You'll need to scour newspaper notices, call lenders, and reach out to distressed homeowners. Even then, knowing a property is in pre-foreclosure isn't enough. You'll also need the homeowner's current mailing address and phone number. REDX, a real estate lead gen software, easily gathers this data for you. You can sign up in minutes on its website and get $149 off the set up price when you click the button below.
1. Understand the Pre-foreclosure Process
Pre-foreclosures vary by state and lender. If the homeowner misses three mortgage payments, the bank issues a notice of default and pre-foreclosure begins. Once the lender issues the default notice, the homeowner generally has two or three months to "reinstate" the loan and stop the foreclosure by making an acceptable payment arrangement or bringing the outstanding balance current and paying any late fees.
If the homeowner can't do either, she can attempt to sell the property. Not all pre-foreclosures are in distressed conditions or undesirable neighborhoods. Financial setbacks can happen anywhere. Investors often find pre-foreclosures in neighborhoods they may otherwise not be able to afford. However, if the homeowner didn't keep up with mortgage payments, it's likely she couldn't afford to keep up with repairs.
Who Pre-foreclosures Are Right for
Homeowners in pre-foreclosure are usually going through financial hardship and may prefer to sell the property rather than having a foreclosure on their credit report. Investors can often purchase pre-foreclosures below market value.
Fix-and-flippers purchase pre-foreclosures that need substantial repairs with a hard money loan and flip the property for a profit, paying off the loan. Long-term investors buy pre-foreclosures, make necessary repairs and stabilize the rehabbed property, later refinancing to a long term loan.

2. Find Pre-foreclosure Leads
The available pre-foreclosure leads will dictate which neighborhoods to look in since there are fewer pre-foreclosures than normal listings. While pre-foreclosure leads may be few, it's more convenient to try to find a property that is not far from your current residence for when you make site visits and meet contractors.
Off-Market Pre-foreclosure Leads
Pre-foreclosure leads can be found through public records at your local county clerk's or recorder's office. You can also search public notices in local newspapers, contact real estate attorneys, or ask real estate wholesalers for referrals.
Pre-foreclosure leads that are off the market are a bit more difficult to find but not impossible when you know where to look. If you buy a pre-foreclosure before it hits the market, you may be able to get a better deal since there's typically no real estate commission and less competition from other buyers.
Online Pre-foreclosure Listings
Some pre-foreclosures are listed for sale on the multiple listing service (MLS) and accessed through real estate agents. These often include terms like "short sale," "third-party approval required," and "motivated sellers." In addition to working with a real estate agent, you can find pre-foreclosure leads at sites like REDX, Zillow, and Foreclosure.com.
Zillow provides data on how many homes are in varying stages of foreclosure and a map with the pinned locations. When you search through homes for sale on the menu, click on foreclosures. In this image, you can see the map with pinned locations on the left and, on the right, it shows properties currently in pre-foreclosure.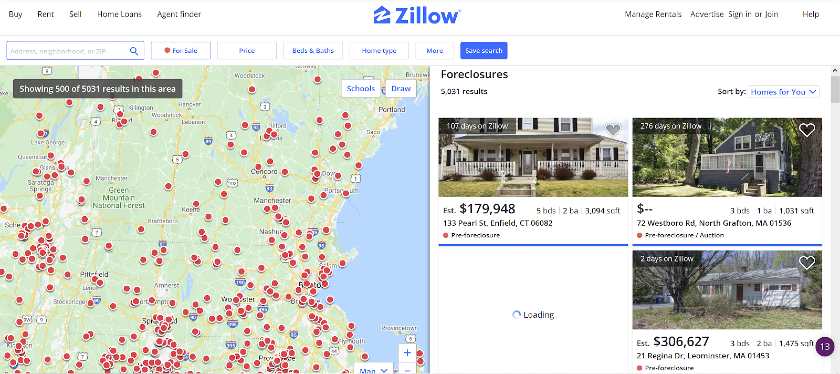 3. Research Neighborhoods
You can fix up a house, but you can't change the neighborhood, so it's important to research where you plan to buy. It's easiest if you can drive through the neighborhood and look around.
Look at comparable homes for sale, search online for crime data, and check the national sex offender registry. Preview online maps to see if it is urban, suburban, or rural and how accessible public transportation and major routes are. If you plan to rent the property, look online for available rentals to determine market rents.
What to Look for in a Neighborhood
Some things to consider are the overall market conditions, affordability, availability of public transportation or parking, and the strength of the school system. Additionally, locations that have the following characteristics are more appealing to renters and buyers:
Parks, shopping, restaurants, and accessible businesses
Walkability
Sidewalks, street lamps, and roads in good repair
Buildings and homes in good condition
How long properties sit on the market before being sold
After you've selected a few properties to evaluate and do your real estate due diligence, you can narrow your search to a handful of good prospects.
4. Find a Lender & Get a Preapproval Letter
To buy a pre-foreclosure home, it's in your best interest to find a lender and get a preapproval letter before making an offer on a property. This shows the seller you're serious and reduces the concern you won't be able to get financing to purchase the property. A preapproval doesn't mean you're guaranteed a loan. It means the lender did a preliminary evaluation of your creditworthiness for a loan and determined how much you can borrow.
The lender you choose depends on the condition and type of property. Hard money lenders may finance pre-foreclosures in nearly any condition while traditional lenders generally expect properties to be in good repair or only needing minor upgrades. Properties with more than five units typically require an apartment building loan issued by a lender offering commercial financing.
5. Make an Offer
Your offer to buy the pre-foreclosure home needs to be contingent upon your obtaining a financing commitment. This covers you if your financing falls through so that you won't lose your deposit.
It's helpful to work with a real estate agent when making an offer since they're familiar with the purchase contracts and contingency deadlines. If the bank is agreeable to a short sale, you or your real estate agent will be working directly with the bank.
6. Get a Financing Commitment
To get a bank commitment, the lender will require more detailed documentation than the preapproval documents you submitted. They'll need your purchase contract and additional information about the property. You'll need to fill out a complete mortgage application, if you haven't already, pay any applicable fees, and show proof of down payment and any additional cash reserves they require. They'll order an appraisal to determine the property's current market value.
7. Close on the Property
When the buyer and property pass the lender's underwriting approval, you'll receive a commitment letter. The closing attorney or title company will schedule a closing date. The timeline from acceptance of an offer to closing varies with each property. At the closing, you'll take ownership of the pre-foreclosure property. If you're planning to close in your limited liability company's (LLC) name and not your personal name, make sure before applying for loans that the lender allows you to close in an LLC.
Post-closing Action Steps
After closing on the property, there are a few additional steps to secure the property and start repairs:
Change the locks since you don't know who may have keys.
Transfer the utilities into your name or have them turned back on.
Start fixing the property right away if it needs repairs.
This will reduce your overall carrying costs. Once it's move-in ready, you can advertise it for sale or rent.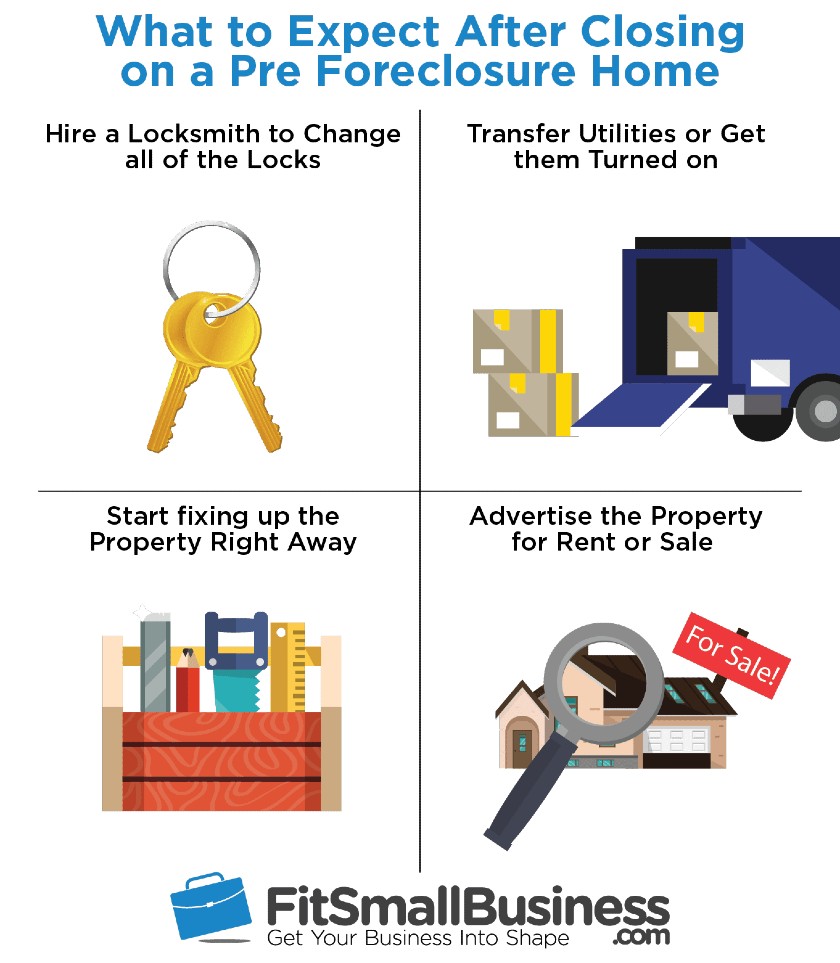 Pros and Cons of Buying a Pre-foreclosure
Buying a pre-foreclosure is different than buying a home the traditional way. There are advantages to buying a pre-foreclosure like less competition since the property may not be listed on the market yet. However, there are disadvantages too, including dealing with uncooperative homeowners and a lengthy timeline to get to closing.

| Advantages of Online Rent Payment | Disadvantages of Online Rent Payment |
| --- | --- |
| Less buyer competition | Risk of deferred maintenance and property damage |
| Purchase properties below market value | More challenging to find properties |
| You can often finance the property | Dealing with emotional homeowners |
| Buy a property in higher cost areas for less | Lengthy lender negotiations |
Frequently Asked Questions (FAQs)
Can a pre-foreclosure be stopped?
Generally, the answer is yes ― you can stop a pre-foreclosure up until the sale date if the owner either pays the outstanding balance and any late fees and/or attorney fees or sells the property. However, it does vary from state to state.
Where do I find pre-foreclosure leads?
You can find pre-foreclosure leads online on sites like the REDX. You can also find leads with the help of local real estate agents, attorneys, and wholesalers, as well as in the public notices section of local newspapers.
What's the difference between a foreclosure and a pre-foreclosure?
Foreclosure is the process a property goes through from the time the owner defaults on the mortgage until it is sold at auction or listed as real estate owned (REO) property. The actual foreclosure is when the lender has taken back ownership of the property. A pre-foreclosure happens when the borrower defaults on the mortgage by falling behind on payments. It's the first step in the foreclosure process.
Bottom Line
You can learn how to buy a pre-foreclosure home by following the seven steps we outlined in this guide. Keep in mind that a pre-foreclosure may not be listed for sale, so you will need to know where to find the pre-foreclosure leads. A pre-foreclosure can be a good deal, but it may be a long process until you close on the property.