How to Start a House Flipping Business in 7 Steps (+ Free Download)
If you're considering becoming a house flipper, there are several essential details to evaluate and set up before buying your first property. Setting up a house flipping business boils down to proper preparation and planning, including setting up operations, hiring the right team, learning how to find and evaluate properties, and actually flipping houses. The first and most crucial step is to create a house flipping business plan, so start by reading what your strategy should include and download our free template.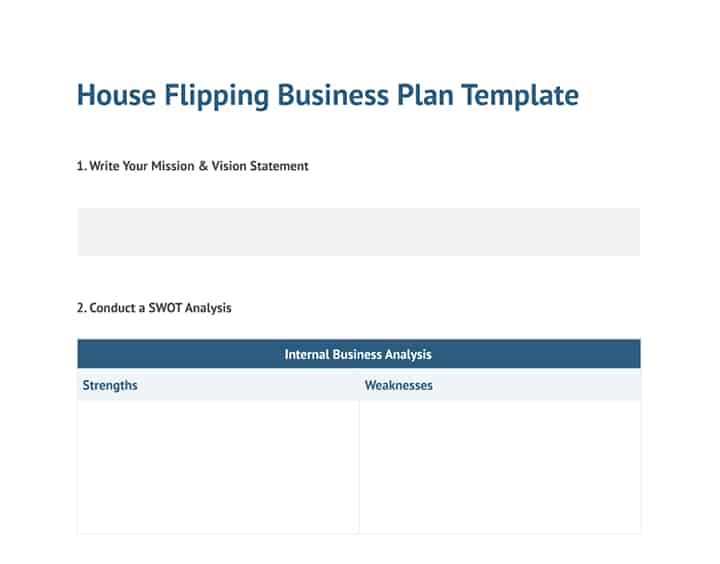 Thank you for downloading!
💡 Quick tip:
House flippers can make lucrative profits from fixing and flipping distressed homes. Check out Foreclosure.com to review foreclosure listings in your area that can be flipped to maximize your profits.
Visit Foreclosure.com
Baselane is a new banking platform built specifically for independent landlords. In addition to its high-yield 4.25% APY on all deposits, Baselane offers an array of rent collection features like automated payments, fees, and reminders.

---

Free banking
Free rent collection
Free bookkeeping and reports 
Here is how to start a house flipping business in seven steps:
1. Prepare a Real Estate Investing Business Plan
Every successful business is built on a strong business plan. When starting your own house flipping business, you need a business plan that defines your goals, vision, company summary, and specific strategies that pertain to the fix-and-flip business model.
Creating this business plan gives you a clear picture of how many projects you'll need to take on, how much profit you need to generate, and funding details that will keep you on track to meet your goals. A clear plan will also show your professionalism to lenders and investors and encourage them to be a part of your growing business.
Start by using our real estate investment business plan template and complete the following information:
Write your mission statement and vision: A mission statement isn't just a catchy quote to hang on your wall. It will serve as your business' North Star to keep you focused and accountable and give you direction.
Conduct a SWOT analysis: "SWOT" stands for strengths, weaknesses, opportunities, and threats. Performing a SWOT analysis brings awareness of both positive and negative features of your unique business and the house flipping model, which can prevent problems and help you be prepared for inevitable challenges.
Set specific and measurable goals: Most house flippers have a generalized goal of "making money," but it's absolutely necessary to set more specific and measurable goals for your finances and business direction. With specific goals, you'll be able to make more strategic decisions and grow your business more efficiently and confidently.
Write a company summary: This summary is a brief overview of your company, mission, and business plan. This is usually viewed by investors or potential partners, so it should be written to appeal to the correct audience.
Conduct a market analysis: This should include comparable properties, demographic data, real estate price trends in the area, details on upcoming development in the area, and the average number of days properties are listed on the market before selling.
In addition, a strong house flipping business plan includes more specific information about this unique business model. Make sure your business plan also includes the following:
Types of properties: Define the properties you'll focus on flipping, such as single-family homes, duplexes, or multifamily properties.
Geographic area: The specific locations and neighborhoods where you'll be searching for homes, and purchasing and flipping the properties.
Who'll do the work: State whether the work will be done by a contractor, a team of specialists, or if you're doing the work yourself.
Project timeline: Clearly define the projected timeline to complete the flip and include a margin for any delays or issues that may arise.
Number of projects: State how many projects you plan to take on and complete during the course of one year and how many you will manage at one time.
Financial plan and sources: One of the most important parts of your business plan is defining your financing sources. The source affects your carrying costs and timeline, so all estimations and calculations must be included.
Expected return on investment (ROI): This figure should include calculations, not just a goal. It's common for flippers to aim for an ROI of 20%, although average returns currently range from 12.5% in Oregon to 62.3% in Louisiana.
2. Set Up Your House Flipping Business Operations
Although most aspiring house flippers think only about buying, fixing, and selling properties, there are many other factors to consider. Even the most accomplished flipper will not have a sustainable or profitable business if the operations aren't set up correctly. This includes choosing an entity, such as an LLC, registering your business, opening separate bank accounts, and creating branding assets.
Most of these business operations should be set up with the help of professionals, like an attorney and an accountant. Ensuring these pieces are set up correctly keeps your business organized, efficient, and legal.
When starting your own house flipping business, choose the right structure and register your business with your state. This entity separates your personal finances from your business, protecting your personal assets if something risks your business. For example, if someone slips and falls during demolition, they won't be able to sue you personally.
A few common business entity types for fix-and-flip homes are business "Doing Business As" (DBA), "Subchapter" or "Small Business" Corporation (S-corp), Limited Liability Company (LLC), or a sole proprietor. Start with a clear understanding of the differences between an LLC vs S-corp vs C-corp, and consult your accountant or attorney to help you choose the right structure.
For more details, learn how to start a real estate holding company.
---
Apart from your legal business entity, you also need to register your business with the Internal Revenue Service (IRS) and get your business an employee identification number (EIN). An EIN identifies it as a business entity. Make sure to also check with your state and local municipality for any other business licenses and permits you may need.
---
With your EIN number, you're ready to open a business bank account. This is another element when running a business—keeping your personal and business money separate and protecting your livelihood. It's essential to have this account up and running when starting a house flipping business.
For example, you'll be spending money on gas when looking for properties, and all business expenses should be coming from the same account. You also need to pay your newly hired attorney and accountant. Managing your business account and expenses will eliminate auditing from the IRS and complications when your accountant does your taxes.
Pro tip: After you establish a business bank account, it's also recommended that you apply for a business credit card. Use the business credit card to purchase building materials and buy office furniture and appliances. They don't have any upfront expenses, and some of them offer advantages like cash back on select purchases or airline mileage points. Many credit cards can also float expenses for 30 days without paying any interest.
---
Setting up your business legally and financially is the first priority, but establishing marketing and branding assets is a close second. You don't need to create a complex marketing funnel before looking for houses to flip, but you should have a few marketing elements ready so you can professionally market yourself and build your reputation as a quality home flipper.
Consider starting your business with these marketing elements prepared:
Logo: A high-quality logo sets you apart from other investors or buyers for decades. By starting with a logo, you can easily brand every other marketing material you create in the future.
Business cards: These are affordable and convenient to have on hand. You can even print business cards with QR codes to direct people to your business website.
Website: Your business website can be simple, with as little as one page that clearly describes who you are, what you do, and how people can get in contact with you.
Business email address: Using an email address with your website name instantly shows your professionalism.
---
3. Find Financing Sources for Your House Flipping Business
One of the most common questions about fix and flips is how to start flipping houses with no money. Of course, you will need a certain amount of money to buy any kind of investment property, but most home flippers don't use cash to buy, fix, and sell their properties. Instead, they get funding through hard money lenders or loans made for house flipping business owners.
The two most common ways to get into the house flipping business are:
Hard money loans: Hard money loans offer faster approval times and faster funding times than traditional mortgages. The borrower qualifications are more lenient than traditional loans, but loan terms are for shorter time periods and often have higher interest rates.
Rehab loans: Rehab loans include home equity lines of credit (HELOCs), HomeStyle renovation mortgages, 203(k) rehab loans, and CHOICERenovation loans. They often require a lower down payment than other investment loans, but also have more extensive requirements and paperwork.
Another way to find financing sources is through investment groups. If you have experience in construction or real estate, you can join investment groups and find investors willing to put up some cash for your deals. It's easy to find local events and groups for investors by searching on Google and Meetup.com.
Keep in mind that the costs to flip a house vary drastically depending on the individual property, its condition, cost of repairs, and the real estate market. Learning how much money you need to flip a house and how much money you can make by flipping houses can be complex, but it's a necessary skill to get the right financing and maximize your profits. Creating a budget and calculating each project is an important part of your house flipping checklist.
4. Hire the Right House Flipping Professionals
When you're learning how to become a house flipper, it's essential to realize how important your professional network will be to your house flipping business plan. Running a house flipping business is not something anyone can do independently; you'll need to work with attorneys, accountants, real estate agents, and contractors. Having the right professionals helps you learn tips and best practices for flipping houses and can be the difference between a smooth and profitable flip and a nightmare investment.
Some important house flipping pros you may want to hire include:
Attorney: An attorney who specializes in real estate writes your contracts and manages the legalities of property transactions. As a real estate business owner, the right attorney will also ensure your business is always operating in compliance with local ordinances.
Accountant: Professional accountants help set up your business structure, file taxes for your fix-and-flip business, track your expenses, and advise you on write-offs.
Real estate agent: Active agents have extensive industry knowledge, community connections, and more accurate information than any real estate website can offer. They are also a key resource for gathering accurate market data in neighborhoods to invest in.
General contractor (GC): Make sure you choose a GC who is licensed in the city you are working in so they can oversee your rehabs. Without a GC, you have to oversee the job site yourself. This increases your timeline and allows room for errors, which can drastically decrease or even eliminate profits.
Administrative assistant: After you have a network of the right professionals and a few rehab projects under your belt, you may want to hire an assistant to help with your flipping a house checklist and ongoing administrative tasks. An assistant is ideal for house flippers doing five or more flips per year and running a house flipping business.
Handyperson: In contrast to a licensed contractor, a handyperson is hired for simpler jobs like painting walls and patching holes. This person doesn't need to be licensed, but saves you time from doing the project yourself and money from paying a higher-priced contractor.
Landscaper: Landscapers are typically hired on an as-needed basis, but are key for making sure your properties have strong curb appeal, which is essential for selling houses for the highest ROI.
Architect: These professionals are only needed for larger projects like adding on rooms and changing the home's structure, but it's important to find one who's reliable. If an architect isn't used in these cases, the structural integrity of the house could become compromised, which can end up costing you thousands of dollars.
When you start searching for professionals to hire, the most trusted way to find experts is through referrals. If other real estate investors in your network had success with a professional in the past, it's more likely that you'll also have a smooth experience with them. However, you should still do your homework on specific qualities you need and conduct an interview or meeting to make sure you're choosing the right professionals. In the long run, spending time and effort to choose an expert saves you time, money, and stress.
5. Identify the Right Properties to Fix & Flip
With a business plan, operations, and financing in place, start searching, visiting, and evaluating potential properties to flip. Run a comparative market analysis (CMA) or have a real estate agent run one on potential properties to gain insight into a home's value and the return on investment (ROI) it could generate. It's essential to not only evaluate each individual property, but to assess it within the context of its neighborhood, location, and real estate market. Keep in mind that you can change most things about a property, but you can't change its location.
When learning how to find houses to flip, some of the most important factors to evaluate include:
Location and proximity: For your first few flips, it's ideal for the property to be close to where you live and work so you can make frequent site visits.
Desirable neighborhood: Think about how the neighborhood appeals to future homebuyers. You can change the curb appeal of your house, but not of the neighborhood, so make sure you find a property in a safe, growing, well-maintained area.
Nearby amenities: Houses near amenities like parks, libraries, schools, restaurants, and shopping centers tend to attract more buyers.
Structural issues: Although most problems in houses can be fixed, structural issues can be particularly expensive and time-consuming. Choosing a house with unknown structural issues can cost thousands of dollars more than anticipated and lead to an unprofitable flip.
Potential value-add repairs: Research home features buyers value the most, like large closets, open floor plans, renovated kitchens, and updated bathrooms. Consider how these strategic repairs and upgrades can be added to a fix-and-flip project, and evaluate the potential profit increases accordingly.
Property size: The square footage of the property is more important than the floor plan. Non-load-bearing walls can be removed, but it's significantly more intensive to add square footage to a house.
Outdoor space: The vast majority of homebuyers want to have some type of outdoor space, so this is a key feature to look for in a flip. Even if the outdoor space is in dire need of professional landscaping, it may still end up generating a higher return than a property with no outdoor space.
6. Create a Lead Generation Plan
Lead generation refers to your strategy of consistently finding new properties that are good candidates to flip. Most people who are learning how to start a business flipping homes use free online listing sites to successfully find properties.
For example, Zillow makes it easy to search for flip candidates with a variety of search filters like price, the number of bedrooms and bathrooms, type of property, square footage, amenities, or keywords. If you do enough market research to determine the best areas and neighborhoods for a property, Zillow is a perfect tool to search and notify you as soon as new listings are published.
In addition to Zillow, there are a number of other free or low-cost online listing sites that help aspiring flippers easily find great deals on houses. Some of the best fix-and-flip deals come from FSBO (for sale by owner) homes and foreclosed homes, which may or may not show up on traditional listing sites.
Homeowners who want to sell their homes without a real estate agent often don't know how to get their listing on the MLS or Zillow. Instead, they'll list their home on public sites like For Sale By Owner, FSBO.com, Craigslist, and even Facebook Marketplace.
On the other hand, homes that have been foreclosed on or are bank-owned can be found through other specialty sites like Foreclosure.com or the government's HUD Homes website. To generate leads and learn how to find cheap houses to flip, start with the following resources:
Sites

Best For

Investors looking for specific types of properties or features

Flippers wanting to buy deals directly from homeowners to save on agent fees

House flippers looking for deals from preforeclosures and foreclosures

Investors searching for foreclosed or bank-owned homes to buy via auction

Key Features

Most popular real estate listing website with the highest number of listings
Detailed search filters
Listings include important property details

Most popular FSBO site
Includes important property details for evaluations
Closing assistance allows you to make an official offer online

Largest database of homes in preforeclosure or foreclosure
Includes estimations on home value with renovations
Detailed property information

Online auctions with a streamlined bidding process
Due diligence documents and reports available before the auction date
Search for vacant, bank-owned, or foreclosure properties

Starting Price

Free to browse

Free to browse

$39.80 per month

Free to sign up

Learn More
These lead generation sources help house flippers of all experience levels find their next deal. However, as your flipping business grows, it's wise to implement some additional strategies to find and attract great deals. Once you have a team of professionals and an assistant helping you with day-to-day operations, you can start scaling your lead generation strategies with the right real estate marketing materials like mailers, a website, signs, and online ads.
With the right marketing strategy for your house flipping business, you can make sure you're never without a new project to flip.
With Vistaprint, it's easy to create and order customized print materials that help you stand out from the competition. If you want to attract distressed homeowners with signs or postcards, VistaPrint can help you design, print, and even mail them. On the other hand, if you want to build brand awareness, you can print custom designs on a wide variety of products, like water bottles, calendars, T-shirts, and labels.
7. Buy, Rehab, Market & Sell Properties
Once you have all the right business strategies and structures in place, the bulk of your work as a house flipper comes down to buying, renovating, and selling properties. As soon as you close on your property, you'll have monthly carrying costs that can add to your planned expenses. Therefore, the more efficiently you can complete the flip, the higher the profits you'll generate.
In order to make money flipping houses, the process will look like this:
Close on the investment property: The process of buying an investment property is different than purchasing a primary home, so make sure you know how to determine a budget, evaluate properties, and choose the right lender. Depending on your financing, it can take from 15 to 45 days to close on the property.
Make all repairs, renovations, and upgrades: Repairing a fix-and-flip property is what will take the most amount of time. The timeline should be managed by you or your general contractor, remembering that delays increase your carrying costs. The faster you can start marketing the property, the faster you'll make a profit.
Market the property for sale: There are an endless number of ways to generate excitement about your property and increase the sale price. For some ideas, read 21 Real Estate Marketing Ideas & Strategies. Although these strategies are aimed at agents, they are equally effective for home flippers.
Sell the property: Working with a real estate agent is often the most efficient way for flippers to sell their properties, since they manage communications with the buyer's agent and the lender, and often schedule the necessary appointments. However, many flippers choose to get a real estate license to gain access to the MLS and save even more on fees.
Many experienced house flippers choose to buy and sell their own properties to save on costs. With an online real estate school, you can easily work toward earning your real estate license on your own time.
For example, Colibri Real Estate provides course packages with easy-to-understand lessons, access to instructors, topical e-books, live question and answer sessions, and exam prep tools with a pass guarantee. It's an accredited real estate education provider that has helped thousands of real estate agents and brokers in every state get their licenses. Learn more about how Colibri Real Estate can help you increase your profits.
Mistakes to Avoid When Starting Your Own House Flipping Business
Every business owner inevitably makes mistakes while they're building their business. For house flippers, there are some inevitable learning curves to the process, and every new project presents unique challenges. However, the more mistakes you can avoid in the beginning, the more efficiently you'll be able to build your flipping business and generate strong ROIs.
Some mistakes to avoid when getting started flipping houses include:
Overestimating your abilities: It's good to save money by doing some work yourself, but remember what you are not qualified for. Attempting to do plumbing or electrical work without any knowledge, experience, or guidance can lead to even bigger problems.
Lacking a team: It is rare that someone possesses all the skills of a real estate agent, home inspector, lender, contractor, and stager. By surrounding yourself with an experienced team, you'll have a better chance of being successful.
Overspending on renovations: Without a clear plan and budget, it's easy to spend excessive money on every property. However, it's important to stick to the bottom line of each project instead of choosing luxury items or adding unnecessary details.
Buying a flip far away: Avoid buying a property more than an hour from where you live because it can prevent you from making the necessary site visits to manage the property.
Not understanding the numbers: Managing finances as an investor can become complicated, but you must feel completely confident in your estimations, expenses, and returns before taking on a project.
Being unprepared for the unexpected: Fix-and-flip investments are notorious for presenting unexpected obstacles and expenses, like water damage or finding asbestos. Deals can quickly go into the negative if you don't leave a profit margin in your calculations.
Bottom Line
Learning how to start a house flipping business begins with a strong business plan. It also starts by establishing the right legal and financial systems to set yourself up for success as the business grows. Successful home flippers also create a network of professionals to get their flips done properly and implement strategic marketing and lead generation systems. After following this step-by-step guide, your house flipping business will be ready to generate strong profits.