How to Start Your Own House Flipping Business in 6 Steps
Getting started in your own house flipping business involves six steps, the first of which begins with a solid business plan. The next steps in the process include finding the right professionals, forming a holding company, obtaining financing and identifying great properties. The final step is marketing and selling your flips for a profit.
Having a great financing partner is important for anyone starting a house flipping business. Kiavi can originate fix and flip loans in 5-15 days or less. Their rates are competitive and they'll lend up to 90% LTV and 75% ARV. Prequalifying online takes just a few minutes.
Here are the six steps on how to start a house flipping business:
1. Create a House Flipping Business Plan
When you're learning how to buy and flip houses, you need a business plan with definable goals, strategies, analyses and funding. This house flipping business plan can help you figure out how many projects you need to complete to achieve your goals. It also encourages lenders to take you more seriously and puts your profit expectations and exit strategies on paper.
To help get your business plan on the page and looking great, check out our complete guide to fix-and-flip business plans. In that article, we walk you through developing an effective business plan for flipping and give you a free template. Download the template so you can see what a fix-and-flip business plan should include.
What House Flipping Business Plans Should Include
Because your house flipping business is intended to make a profit, it's important to know what to include in your business plan. Investors and lenders read your business plan, so you want it to be easy to understand and includes information like a goal summary and lead generation plan.
A good house flipping business plan includes the following six items:
Goal Summary
A house flipping business plan goal summary should include:
Specific goals: Pertaining to flipping houses and how you'll achieve them
Types of properties: Such as single-family home, duplex and so on
Geographic area: Where you purchase and flip the properties
Who'll do the work: Contractor or do-it-yourself
Project timeline: 90 days or less
Number of projects: How many you have at one time and during the course of one year
Expected return on investment (ROI): Aim for 20 percent or more on a typical fix-and-flip project
Lead Generation Plan
Lead generation is a real estate term for how you're going to locate properties that you can fix up and make a profit on. When you're just starting out, it's common to use free resources like Zillow and Realtor.com and have your local real estate agent search for leads that meet your parameters. Another source is FSBO.com, where motivated sellers sell their properties without using a real estate agent.
Once your company gets up and running and is turning a profit, it may be time to implement an actual lead generation plan. These lead generation techniques include sending out flyers and real estate postcards, putting up signs, or buying leads. Lead generation takes many forms and helps to make sure you're never short on potential flip projects.
Market Analysis
A market analysis includes:
Recent comparables — none older than six months
Demographic data (like from the United States Census Bureau)
Real estate price trends in the area
Any planned upcoming development in the area
Number of days a property is on the market for before it sells
Financing Sources
As part of your business plan, you need to decide if you are relying on cash savings or using financing sources. If you opt for financing, your carrying costs increase and so does your timeline. However, financing may enable you to buy and renovate more properties at once.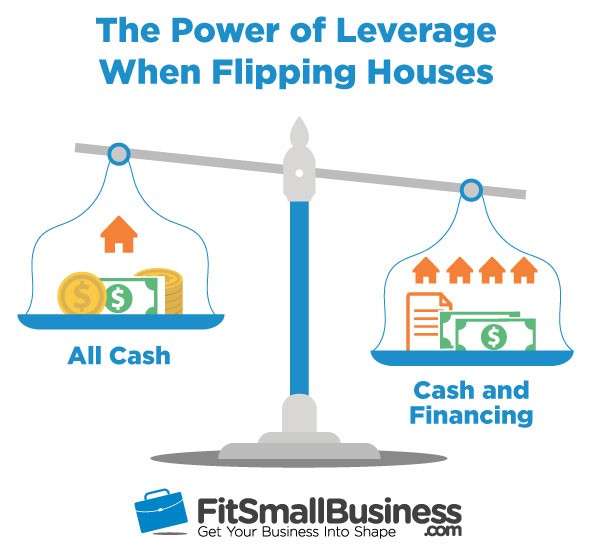 It is important to evaluate the trade-off between the costs of borrowing money and the leverage it provides you. Lenders charge points and interest and take more time to close on a property. However, by using them, it frees up your cash for other projects. It also allows you to purchase projects that you may not have been able to afford solely with cash.
Let's say a flipper has $100,000 in savings. Imagine that the flipper uses those savings to purchase and renovate a single home, and then flips it for $125,000. That person just made $25,000 (25 percent profit) and didn't have any borrowing costs. Not bad right?
Imagine that same flipper now decides to leverage that $100,000. Instead of paying cash for a single project, the flipper uses the savings to cover repairs and a small down payment on multiple properties while financing the rest. He or she does five flips just like the project described above. Each requires $20,000 savings in down payments and repairs, but the rest of the purchase is financed.
The costs of financing are about $6,000 per project ($30,000 total), which is more than the total profit in the example above. However, the profit before financing costs was $125,000. Even after the cost of financing is factored in, the flipper has made $95,000, nearly doubling his or her savings. Leverage allowed the flipper to make almost four times more than what savings alone would have allowed.
If you need financing for any of your fix-and-flip properties, then Kiavi is the place to go. Before your credit is even run, you are able to input your information and the property details online, and it gives you potential lending terms with rates starting as low as 6.99 percent.
Marketing & Sales Plan
The marketing and sales plan covers how to market and sell your rehabbed property, including if you're going to hire a real estate agent or sell on your own. Potential lenders and your partners look at it to see if your exit strategy is in order. Include how you market the property and what steps you take to sell the property to meet your ROI.
Business & Personal Bios
Business and personal biographies are included in a house flipping business plan to provide more insight into your qualifications. It also discusses what your business does. Each bio should consist of one or two well-thought-out paragraphs. It should also mention if your business is involved in any community service. Your personal bio should highlight your qualifications, education and industry expertise.

2. Hire the Right House Flipping Professionals
House flipping professional include attorneys, accountants, real estate agents, and contractors. You can find them through investor referrals, online searches and reviews and investment groups.
The right house flipping professionals help you better understand how to get into house flipping, help prevent mistakes and ensure your business is following legal guidelines.
Not all of these professionals are needed right away and most of them are hired per project, instead of as an added payroll expense. If you have already started on a project, it is fine to hire a general contractor first. If this isn't the case, then it is recommended to make an attorney your first hire. A real estate agent can be hired when you start looking for houses and specialists like an architect only need to be hired when the project requires it.
Some important house flipping pros you may want to hire include:
Attorney: Choose an attorney that specializes in real estate. He or she draws up contracts and makes sure your business is in compliance with local ordinances.
Accountant: Help set up your business structure, file taxes for your fix and flip business, track your expenses and know what items are allowed to be written off.
Real Estate Agent: Gives you accurate market data for the neighborhood you are flipping in. They have industry knowledge and provide more accurate information than a real estate website. In most states, they work on commission and are paid by the seller.
General contractor: Make sure that the GC is licensed in the city you are working in so he or she can oversee your rehabs. Without a GC, you have to oversee the job site yourself. This increases your timeline and allows room for errors; both of which cut into profits.
Landscaper: Hired on an as-needed basis. Without a landscaper, your home may lack curb appeal, which deters buyers, thus increasing the time your home sits on the market. This eats into your carrying costs and lowers your ROI.
Architect: They are only needed for larger projects like adding on rooms or changing the home's structure. If an architect isn't used, the structural integrity of the house could become compromised, which can end up costing you thousands of dollars.
Handyman: Hired for simpler jobs like painting or patching holes. This person doesn't need to be licensed. By using a handyman, you don't have to spend the time and effort on a DIY project.
Assistant: After you have met with the right professionals and have a few rehab projects under your belt, you may want to hire an assistant to help with everyday business activities. An assistant is for the house flipper that is doing five or more fix and flips per year and is truly running a house flipping business.
When hiring professionals, referrals are your best, most trusted source. If someone you know has had success with this person, it's likely that you can as well but it's never a guarantee. Friends and family can offer referrals but the most valuable ones come from other investors and the investment groups that you join.
Make sure that the professional knows how to do the specific job you are hiring for. This saves you money in the long run. You don't want to pay to have the same job done twice if the first time is done poorly.
3. Set Up Your House Flipping Business Operations
House flipping business operations include choosing an entity such as an LLC, registering your business, opening separate bank accounts and getting a business credit card. You can set these business operations up with the help of professionals like an attorney and an accountant. These business operations keep your business organized, efficient and legal.
House flipping business operations include:
Choose an Entity for Your House Flipping Business
As discussed briefly in Step 2, you and your accountant need to decide what type of business to set up. You may choose to form a business DBA, S Corporation, LLC or be a sole proprietor. This is important for tax reasons as well as limiting your liability. If someone slips and falls at your place of business you don't want them to be able to sue you personally, so you want to protect your personal assets separately from your business.
For more on this topic, check out our guide to starting a real estate holding company.
Register Your House Flipping Business
After you have decided how your business is going to be set up, it's time to register your house flipping business with the IRS and get your business an employee identification number (EIN), which identifies it as a business entity. Also, check with your state and local municipality for what other business licenses and permits you may need. These steps need to be followed whether you are running your house flipping business from home or from an office.
Open a Business Bank Account for Your House Flipping Business
Once you've gotten your EIN number, it's time to open a business bank account. This prevents commingling of personal and business money. It's important from day one because you are spending money on gas to look for properties. You also need this separate money to pay your newly hired attorney and accountant. It also helps you to eliminate auditing from the IRS and complications when your accountant does your taxes.
To keep your startup expenses low, check out Novo, a free online business checking account that's great for businesses that do not handle cash. Novo's mobile app allows you to deposit checks, make payments, and schedule transfers. Open a free account online in minutes.
Apply for a Credit Card for Your House Flipping Business
After you have a business bank account, we recommend applying for a business credit card as well. You can use the business credit card to purchase building materials, buy office furniture and appliances. They don't have any upfront points and some of them offer advantages like cash back on select purchases or airline mileage points. Their biggest plus is that they can float expenses for 30 days without paying any interest.
Set Up Marketing Operations for Your House Flipping Business
After you have followed all of these steps, it's time to set up some marketing operations for your house flipping business. Business cards are a good place to start because they're inexpensive. You also need a business website and a business email address. Your website can serve as a portfolio of past projects for investors and lenders and can help with lead generation by stating the area you work in and the type of properties you're interested in. Following this guide of setting up business operations to ensure your business is legal and is presented in a professional manner.
To help you get started registering your business, contact Rocket Lawyer. It's an online legal technology company that can help you with the LLC paperwork, which cuts down on the time and money it would take to hire an attorney. It offers packages that may cost a few hundred dollars depending on the state you're in.
4. Find Financing Sources for Your House Flipping Business
Assuming that you're not using all cash, there are typically three ways you can finance your house flipping business, which are hard money loans, rehab loans and investment group loans. However, you probably want to use a hard money or rehab loan because they're more prevalent and can close quickly.
The three most common ways to finance your house flipping business are:
Hard Money Loans for a House Flipping Business
Hard money loans offer faster approval times and faster funding times than traditional mortgages. You can apply online, and they offer nationwide loans. Their borrower qualifications are more lenient than traditional loans, but their loan terms are for shorter time periods. They also have higher interest rates than traditional loan products.
Rehab Loans for a House Flipping Business
Rehab loans include home equity lines of credit (HELOCs), which are equity lines in your current home. Depending on the lender, they can be used to fix up another project. HomeStyle renovation mortgages are Fannie Mae products used to purchase and renovate a home within one loan. They include 15- and 30-year fixed and adjustable rate mortgages and offer competitive interest rates.
Investment Group Loans for a House Flipping Business
After you join an investment group, you may meet investors willing to put up some cash for your deals. This is especially likely if you have experience in construction or in real estate. These groups are local and can be found via a Google search or on a meetup group for real estate investors.
If you know that you want to use some form of financing, but aren't sure where to look, check out Kiavi. It offers loans specifically for fix-and-flip properties with competitive rates starting for prime borrowers. It funds up to 90 percent LTV and 75 percent ARV. Get prequalified online today.
5. Identify the Right Properties to Fix and Flip
Once you have a business plan, a fix-and-flip team, operations set up and financing in place, it's time to start identifying the right properties to fix and flip for a profit. Keep your budget and timeline in mind and remember that no matter how good your business plan is, you still need to identify the right property to meet your ROI. The neighborhood should be your main focus because you can change the property but not the neighborhood.
The following are the most important factors in identifying houses right for real estate flipping:
Neighborhood location: Choose a neighborhood that is convenient to where you live and work because you may have to make multiple site visits
Well-kept neighborhood: You can change the curb appeal of your house but not of the neighborhood
Nearby amenities: Attract buyers to your home and encourage them to pay a higher price and can include parks, library, schools, restaurants and shopping.
Market statistics: Comparables and how long the properties have been sitting on the market
Homes without structural issues: Avoid issues around the foundation like sinking floors to avoid time and money spent fixing them, which may also include extra permits
Value-add repairs: Add the most value to your fix-and-flip projects like large closets, open floor plans, renovated kitchens and updated bathrooms
Property size: Focus less on the floor plan and more on size; you can remove non-load-bearing walls to open up rooms, but it's expensive to add square footage to a house
Outdoor space: Look for properties with some type of outdoor space that buyers want to see; you can add curb appeal, but you can't add a yard if there isn't available space
6. Buy, Rehab, Market & Sell Properties
You're now ready to buy, rehab, market and sell properties for a profit. Generally, it takes 15 to 30 days to close on a property using all cash or a hard money loan. Then, it may take about 30 to 120 days to rehab the property, depending on its condition. You should start marketing the property when the rehab is complete enough to take photos. The property may sell in a few days or take months, depending on pricing and the local market.
Most house flippers start with free online sites and real estate agents to buy, market and sell their property. A real estate agent is able to assist you with finding a house to buy, negotiating the sales price and helping you sell the house once it's rehabbed. Other ways to find properties to buy include bandit signs and yellow letters.
Now that you know how to find the property, you just need to rehab it, which is where your house flipping professionals can help. Your general contractor rehabs the property, and it is important to work with him or her to stick to a timeline because every day that you haven't sold the property is another day of paying carrying costs. The faster you complete the renovation, the faster you can market and sell the property, which means hopefully making a profit and keep property flipping.
Mistakes to Avoid When Starting Your Own House Flipping Business
Like with any business, there are some inevitable mistakes you make when you're learning how to start a house flipping business. However, the more mistakes you can avoid, the more money you can make so your ROI is higher. The less time you have to deal with correcting the mistakes, the shorter your timeline can be.
Some mistakes to avoid when getting started flipping houses include:
Doing work yourself that you're not qualified for like plumbing or electrical work
Overspending on renovations; remember that you're not going to live at the property
Buying a property that is more than an hour from where you live because it is inconvenient every time you need to meet a contractor at the property
"One mistake is thinking that you can do it all yourself. Having a great team to support you is essential. Most people do not possess the skills of a real estate agent, home inspector, lender, contractor and stager. Surround yourself with an experienced team that has a proven track record doing the type of flips that you're interested in and you have a better chance of being successful."

— Tom Dewell, President, Commercial Bath Refinishing
"Another mistake is not understanding the numbers or accounting for the unexpected. Deals can go into the negative fast especially in a hot market where there isn't a huge profit margin. For example, drastic change orders on the scope of work, labor shortages, holding costs due to the property not selling as fast as expected, and so on."

— Aisha J. Thomas, Principal, The Thomas Agency, LLC
Frequently Asked Questions (FAQs)
Can You Flip Houses With No Money?
Generally, there are three ways to flip houses with no money. You can wholesale the property, finance the property with a lender that doesn't require a down payment or work with an investor that funds the purchase in exchange for some of the equity.
For more specific information related to flipping houses with no money, read our in-depth guide to three ways to flip houses with no money down.
How Much Money Can You Make From Flipping Houses?
One of the reasons investors want to know how to start a house flipping business is so they can make money. How much money you can make from flipping houses has many variables. The amount of money you can make depends on your budget, timeline, geographic location and how much the labor and materials cost. Generally, a good rule of thumb is that you should make a 20 percent or higher ROI on each house flip.
What is the 70 Rule in House Flipping?
The 70 rule in house flipping is considered a barometer for many house flippers. Generally, you shouldn't pay more than 70 percent of a property's ARV plus repair costs. For example, if a property's ARV is $80,000 and your estimated repairs are $20,000, you should pay no more than 70 percent of $100,000, which is $70,000.
How Much Money Do You Need to Flip a House?
How much money you need to flip a house depends on the acquisition cost, rehab costs, carrying costs and marketing and sales costs. The total cost to flip a house is generally equal to around 10 percent of the property's purchase price. The costs vary based on where the home is located, property type and the extent of the renovations needed. Keep in mind that by learning how to start a house flipping business, you know the steps to follow and can save money along the way.
See our in-depth guide on how much it costs to flip a house for more information on the expenses involved in house flipping.
The Bottom Line
After learning how to get started flipping houses, the next step is confirming it offers the best returns on your investments of time and money. After following our step-by-step guide on how to start a house flipping business, you can create a business plan and hire the right professionals. You can also set up the business operations, find financing sources, identify the right properties to fix and flip and learn how to market and sell the fixed-up properties.
Having a great financing partner is important for anyone starting a house flipping business. Kiavi can originate fix-and-flip loans in 15 days or less. Its rates are competitive, and it'll lend up to 90 percent LTV and 75 percent ARV. Prequalifying online takes just a few minutes.