How To Sell on YouTube: 3 Steps for Growing Sales With Video
YouTube is a great place to get the word out about your new or well-established retail business. To get started, you simply need to create your account and determine your strategy (including what you might feature on your channel—product demos, customer reviews, livestreams, etc.). Then, you should optimize your content via website links, playlists, and other methods.
Learn more about each of these steps.
Step 1. Create a YouTube Account
Because YouTube is owned by Google, you need a Google account to get started. If you don't already have one, you'll need to create one. You can do this from YouTube.com or the mobile app.
Click or tap "sign in" and then choose "create account." Add your information, including business name, and a profile picture.
After signing up or logging in, you can start your own channel to which you can publish videos.
Start Your YouTube Channel
To activate your YouTube channel for the first time, try to upload a video, post a comment, or create a playlist. YouTube will prompt you to take the steps to start your channel.
Step 2. Build a Strategy
Before uploading any content to your YouTube channel, you'll want to start with a solid retail marketing strategy which, of course, includes video. Every good strategy outlines specific goals you can work toward and against which you can measure progress and success. Learn more about setting specific, measurable goals.
When it comes to your strategy for marketing and selling on YouTube, consider the following:
Highlight Features & Benefits
Nearly 90% of people have been persuaded to buy a product or service by a brand video. Effective product videos clearly convey an item's features and benefits in a way still images can't. Remember, videos are the closest thing online shoppers can get to actually touching and feeling a product like they can in-store. So it's important to make the most of that opportunity.
You can talk about just one product in a video or you can feature multiple items. Consider product comparison videos to help people choose which version is best for them.
Product Tutorials & Demos
Videos are a great way to show people how to use your product and take advantage of all its features. More than 80% of shoppers think demo videos enable them to make more informed decisions.
In the video below, zero-waste oral care brand Bite shows how to use its toothpaste tablets. People likely need education on the product because it's an innovative and uncommon way to use toothpaste.
Customer Reviews
More than three-quarters of online shoppers have seen a video testimonial to learn about companies and their products, and two-thirds are more likely to convert after doing so. This is because as many as nine out of 10 people trust other people more than they trust brands themselves.
100% Pure, which sells natural skincare products online, has a robust YouTube presence. It includes a variety of content, including customer reviews. Or, in this case, "customer" reviews:
You can post these videos on your own YouTube channel as well as encourage customers to post them on their own.
Unboxing Videos
Unboxing videos essentially show people what it's like to receive and open a package with your products. These videos showcase the shipping packaging as well as the individual product packaging. This is an especially great YouTube marketing for ecommerce strategy if you have beautiful or unique product packaging.
Typically, brands work with influencers to create unboxing videos. Brands might send products for free in exchange for an unboxing video. Some influencers may also require payment.
YouTube Live
YouTube Live is when you broadcast a livestream video for customers to tune into via your YouTube channel. These videos also live on your YouTube channel after the live broadcast has finished.
Livestream shopping is an ecommerce trend that's on the rise, so early adopters stand to see a lot of success via this channel. Livestream shopping statistics show that YouTube is the most popular channel for this method of online sales. More than 30% of businesses used YouTube for livestream shopping in 2021.
Your YouTube Live content could include product demos, expert panels or guests, behind-the-scenes footage, live Q&As, and more. Bésame Cosmetics regularly has live Q&As on its YouTube channel, for example. The videos then live on the brand's channel even after the live broadcast has ended. The schedule also keeps people coming back to their channel.
YouTube Shorts
YouTube Shorts are a relatively new feature for the video-based social platform. They're targeted for mobile users and function similarly to Instagram Stories or TikTok. In fact, many brands repurpose or cross-post these videos across TikTok, Instagram, and YouTube Shorts.
Shot and presented in vertical format, the videos are short and quick-hitting. The Bite toothpaste product tutorial we shared above is an example of a YouTube Short.
You can create all kinds of videos in the Shorts format. Any of the ideas listed in this article could work well if repurposed as a YouTube Short. These are ideal for capturing mobile users, so it's important to make sure your ecommerce site is mobile-responsive and friendly.
Step 3. Optimize Your YouTube Content
Simply having video content likely will not be enough to increase awareness of your company and products and drive sales to the level you desire. You need to optimize the content.
Link to Your Website
You don't want to go through all the effort of creating a great YouTube channel and forget the most important part: a link to your site. Include links to your website from your channel description. You'll also want to link to your website and/or any corresponding product pages in video descriptions.
If you meet YouTube's Partner Program requirements, you can also create in-video links. YouTube mainly checks your business's validity as well as your audience and reach. It takes time to qualify, so you likely won't be able to use this linking feature at first.
Improve Videos With Transcripts & Subtitles
Adding subtitles or closed captions to your YouTube videos is a great way to reach more people, both in terms of accessibility and contextual awareness. For example, if someone is in a public setting but they don't have headphones, they can still follow along with your video on mute.
Upload your own closed captions to avoid errors from YouTube's automatic subtitling feature. To get your subtitles, have your videos transcribed. This is an affordable service to outsource. You can then add the transcription beneath the video in the description. This gives people who prefer to read content the ability to do so. It also boosts your rankings in search since there's more content to give YouTube the cues it needs to associate and index your videos.
Build Playlists
You can organize your YouTube content into different playlists based on whatever category you choose. Playlists make it easier for users to find the content that interests them.
Plus, when someone watches a video in a playlist, YouTube will automatically play the next one, and the next one, and so on and so forth. This encourages users to view more of your content, which hopefully builds more trust and pushes them to purchase.
Cookware brand Made In makes it easy for users to browse and watch different YouTube videos with its playlists.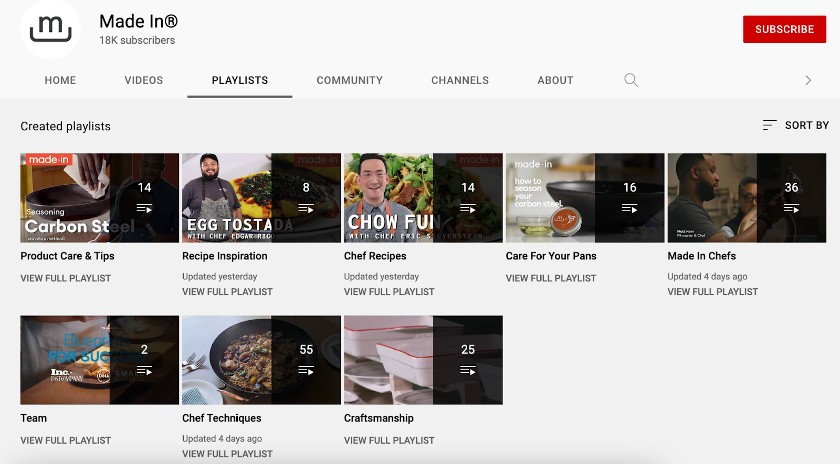 Leverage Videos Elsewhere
Your YouTube videos don't have to live solely on YouTube. In fact, you can and should leverage this content on other platforms and channels. You can embed YouTube videos in blog posts, on your homepage, and on product description pages themselves. It's a great way to add a new content type to the customer experience.
You can also use YouTube videos on other social media channels, like Facebook and Instagram. Consider turning short clips into animated GIFs for use in email campaigns.
Bottom Line
YouTube has been around for a long time but it's remained consistent as a top search engine for digital users. Leveraging YouTube to grow ecommerce sales starts with a well-founded plan with clear goals so you can track your progress over time.
You May Also Like…