10 Best Paid Social Advertising Platforms for Small Businesses
You've probably seen countless paid social media ads on your daily newsfeed scroll, from Facebook ad carousels to pre-roll ads on YouTube. They offer an effective, low-cost, and accessible way for small businesses to produce more leads and sales. Learn more about the best paid social media advertising platforms you can use to grow your business.
Key Paid Social Ad Platform Metrics at a Glance
There are hundreds of social media platforms, and the average person in the U.S. has about six or seven social media accounts. In fact, out of the 4.89 billion social media users worldwide, more than 308 million are in the U.S.
When starting out with social media advertising, many small business owners aim for obvious big players like Facebook, Instagram, and YouTube. But plenty of value can be gained from the slightly smaller ones too. For example, discussion forum websites like Reddit and Quora and niche platforms like Meetup aren't as noisy and crowded as the top players and allow small brands to thrive.
Before you pay for a social media platform, consider using a free alternative. Visit our guide to the best free social media schedulers to find a provider that's right for your small business.
10 Most Popular Paid Social Channels for Small Businesses
Every social media platform has unique audiences, benefits, and use cases. Below, you'll find a rundown of the 10 best social media platforms for advertising, the kind of ads you can create on them, the pros and cons, and who each is best for.
1. Paid Social on Facebook via Meta Ads

Pros
Widest audience reach
Many different demographics well-represented
Advanced audience targeting
Multiple ad types, from image carousels to sponsored posts
Advertise to generate leads, gain new followers, or increase site traffic
Automatically cross-post to Instagram
Low minimums—from $1/day
Instant ad analytics and insights
Cons
Can be difficult to stand out as it is the most crowded social media platform
Not great for business-to-business (B2B) marketing, unlike LinkedIn
Given its size and prominence, nearly any type of company might benefit from marketing on Facebook. However, the nature of the platform makes it best for business-to-consumer (B2C) advertising. In fact, 48% of Facebook users say they purchased something after seeing an ad on the platform.
Facebook advertising is also a smart play for any new company trying to build brand presence with a local audience. As part of its ad targeting, you can select a service area by ZIP code, city names, radius, and more.
Facebook ads are displayed based on audience targeting, so it's also appropriate for businesses that have built sophisticated ideal customer profiles. You can create ads and target them strategically to reach the people most likely to be interested in, ready, and able to purchase what you're offering.
While B2B companies can (and many do) advertise on Facebook, its effectiveness is limited. For example, Facebook users scrolling newsfeeds are likely doing so during leisure time, whereas LinkedIn users are in professional and work mode. YouTube is also better for B2B advertising as your audience may seek out "how to" videos on work topics, such as our Squarespace video tutorial showing how to use Squarespace to build a website.
---
Facebook offers a wide range of ways to advertise, including text, image, and video ads. Boosted posts are shown in the news feed, while paid ads can be displayed in many places, such as the newsfeed, side column, stories, and Facebook Messenger. You can also automatically cross-post campaigns to Instagram and the Facebook Marketplace.
---
Facebook (aka Meta) is the world's largest social network, with nearly 3 billion active users, including over 175 million in the U.S. alone. It has a wide user base covering virtually all demographics, with various advertising opportunities, from sponsored posts that appear in news feeds to Facebook Messenger ads.
Using Facebook Ads via Meta Ads is affordable for small businesses, with ad cost-per-click (CPC) averaging at just over $1 per click and a minimum daily ad spend of $1. Learn more by reading our article on Facebook ad costs by industry.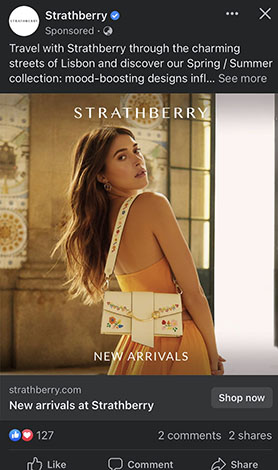 ---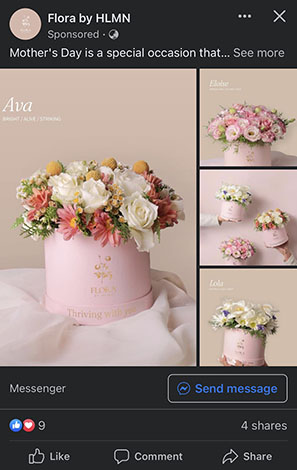 ---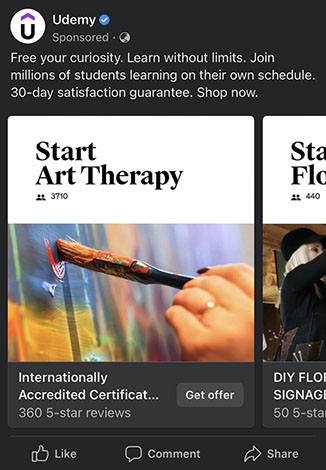 ---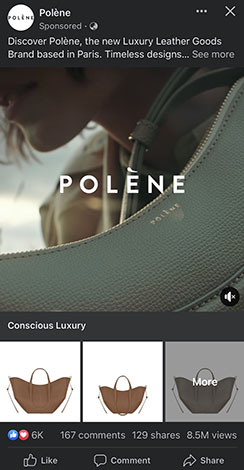 ---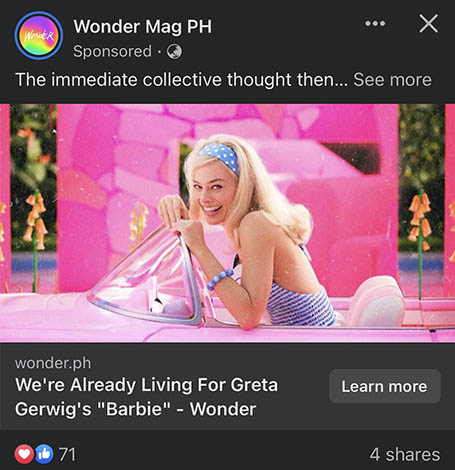 ---
Facebook Ad & Audience Demographics Statistics
Over 2 billion people are active on Facebook every day
56% of Facebook users are male, 44% are female
More than 98% of Facebook users access the platform via mobile device
U.S. users spend an average of 33 minutes on Facebook
Most Facebook users are between 25 and 35 of age
The U.S. is Facebook's second-largest user base (India is number one)
The most popular ad call-to-action (CTA) buttons on Facebook are Learn More, Sign Up, Message Us, and Download
When advertising on Facebook, you're competing with more than 10 million other advertisers
Cost-per-click (CPC) ranges from 45 cents to nearly $4, depending on your industry
Nearly one out of every five U.S. adults made a purchase through Facebook last year
Sources: Omnicoreagency, Databox
Getting started with Facebook's Meta Ads is easy, although it will take time to fully master all the ways you can use the platform's advanced targeting options. Likewise, creating paid social ads may take longer than other platforms depending on the type of ad you want to run. Find out how to advertise on Facebook with our step-by-step instructions on how to create a Facebook ad.
Looking for an alternative to Google ads? See how Facebook Ads vs Google Ads compare to find out which is the better strategy for your small business.
2. YouTube Advertising

Pros
Best platform for video marketing
Wide reach—YouTube is the second-most-used search engine after Google
Precise audience targeting through demographics, interests, target keywords, and more
Ads automatically get impressions and views
Low-cost ads and controlled daily ad spend
Options for pre-video or mid-video and skippable or non-skippable ads
Different ad types and CTAs depending on campaign objective
YouTube metrics can be integrated with Google Ads
Cons
Only video and image ads are available—no articles or text posts
Skippable ads have a high skip rate
No option to choose which videos your ads appear in
Because of its sheer dominance in the world of online video, YouTube can be equally effective for both B2B and B2C advertisers. However, unlike Facebook ads, which can spark instant sales, people visiting YouTube are often there for research or entertainment. This makes it far better for brand awareness and lead generation rather than conversion.
As such, success with paid social advertising on YouTube involves understanding your customer and where they are in the sales pipeline. For example, an ecommerce website builder like Weebly would do well to advertise on videos that teach beginners how to set up an online store or dropshipping business. This way, the viewer has an instant recommendation for where to go to get started.
YouTube videos themselves also act as brand advertisements, making the platform great for any type of business where a prospect or customer would turn for research. This includes B2B as well as B2C audiences.
---
YouTube ads are often displayed before video content as pre-roll ads, requiring viewers to take in a few seconds of the ad before being able to "skip ads" to get to the video. However, unskippable ads are also available, as well as in-stream ads, which appear in the middle of the video. Paid listings also appear in right-hand related content feeds and landing pages. Finally, ads also appear alongside regular videos on users' feeds.
---
Facebook may have the most users, but YouTube has the most traffic of all social media channels and is the second-most visited website in the world. Owned by Google, it's the go-to channel for everything from news to reviews and instructional content, from how to use Squarespace to how to change a car battery.
YouTube advertising offers many benefits, one of which is affordable ad costs—the average cost per view or click for ads on YouTube is 20 cents. YouTube also has no budget minimums for ad campaigns, meaning you can spend as much or as little as you want. You can set an average daily budget cap, then adjust it when necessary depending on which ads are performing well.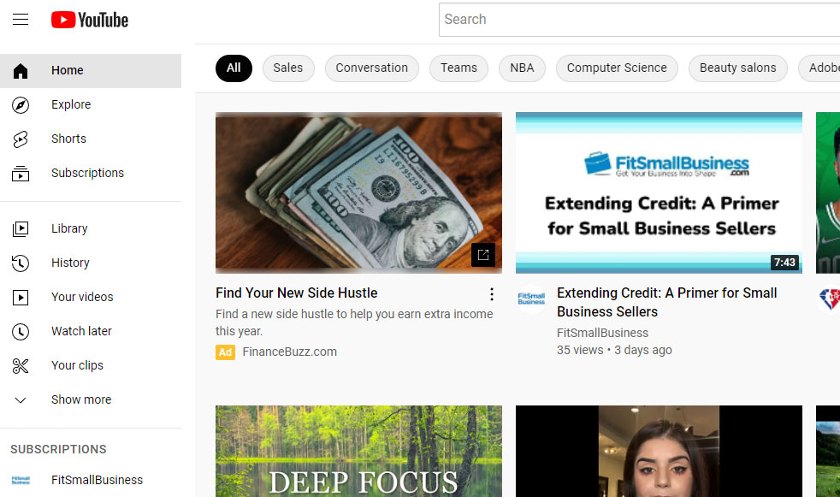 ---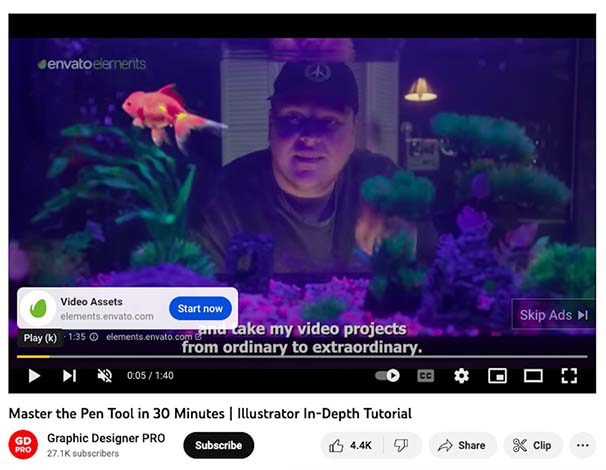 ---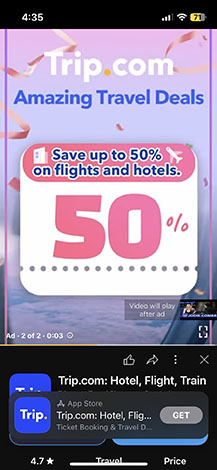 ---
YouTube Ad & Audience Demographics Statistics
YouTubers spend about 19 minutes a day on the platform
A cool 1 billion hours of video is consumed every day on YouTube
500 hours of video are uploaded to YouTube every minute
84% of YouTube viewers bought from a brand after seeing it on YouTube
Among YouTubers worldwide, 54% are male, 46% are female
In the U.S., 81% of adults use YouTube
Users return often—62% say they visit YouTube daily
For sign-ups or sales, Trueview for Action ads are best since they allow for a custom CTA like "shop now" or "book online"
Discovery ads are ideal for promoting your own YouTube channel
For wide reach, YouTube Mastheads get your brand message to a large audience (but also at a high cost)
Sources: Omnicoreagency, Tubics, Merkle
You can get started advertising on YouTube by connecting with your Google Ads account or creating a new one. Visit the YouTube Advertising website, click the "Start Now" button, then follow the prompts to connect your Google Ads account and create your YouTube ad.
3. Paid Social on Instagram via Meta Ads

Pros
Highly visual-centric, great for building visual brand awareness
Wide and varied consumer base, but not as crowded as Facebook
Advanced ad targeting
Multiple ad types including images, Stories, vertical video, and more
Supports a variety of campaign objectives from increasing site traffic to lead generation and sales
Best platform for influencer advertising
Users can make purchases directly through the app
More people visit Instagram with purchase intent vs other networks
Cons
Only supports image and video ads, not article links
Overall not the most click-friendly platform (no links in captions; links are only available on Stories)
Limited audience vs Facebook
Requires strong visual design skills for ads to be successful
Ad success can be susceptible to fast-changing trends
Instagram (also known as IG) is large enough to reach nearly any business' target audience. However, it's the best paid social advertising platform for businesses (B2B and B2C) that can create aesthetically pleasing visual content, since users visit the platform to look at interesting images and short videos.
For example, a real estate photographer may use Instagram to reach local realtors by displaying their high-quality work. Or a handcrafted jewelry maker could advertise on Instagram to build awareness and promote new products. A wedding videographer can share short clips as reels to promote bookings and target ads within a local region.
Due to its visual nature, Instagram is also highly effective for lifestyle marketing. Examples of advertisers who succeed here include clothing and apparel brands, cosmetics and skin care companies, accessories (e.g., handbags or shoes), travel and destination websites, and so on.
---
All Instagram ads are created through the Facebook Ads Manager. Ads can be images or videos, and be displayed in user feeds, stories, reels, and more. IG is also the most popular medium for influencer marketing.
---
The visual media-based Instagram, aka "Insta" or "IG," has more than 1 billion users. Facebook owns Instagram, and to advertise on it, you'll create and deploy your ads from the Facebook Ads Manager (aka Meta Ads).
As with Facebook Ads, Instagram ads are pay-per-click (PPC), so you'll pay based on user interactions. Different ad placement options are also available, including in the newsfeed, stories, and reels.
Similar to Facebook, Instagram ads are budget-friendly for small business owners. They average 60 cents per click, or anywhere between 20 cents and $2, with a minimum ad spend of $1 for impressions.
However, costs for influencers can be higher depending on their following. Most mid-range influencers (with a following of about 50,000 to 500,000) cost an average of $2,750 per Instagram post, or anywhere between $500 and $5,000.
Pro tip: While Instagram influencer costs can seem daunting, not all charge sky-high prices for collaborations. Micro- and nano-influencers, for example, have a much smaller following and usually only charge between $10 and $500. Their smaller follower base also means a much more targeted audience.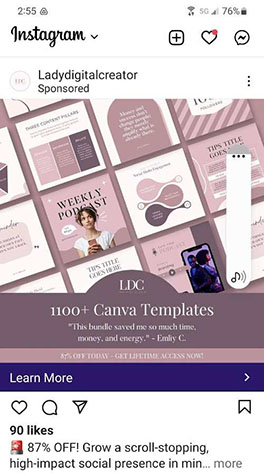 ---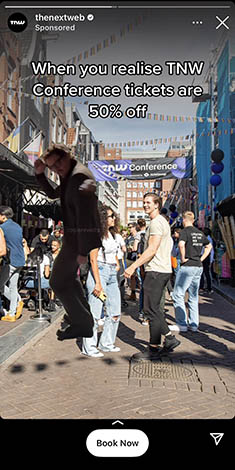 ---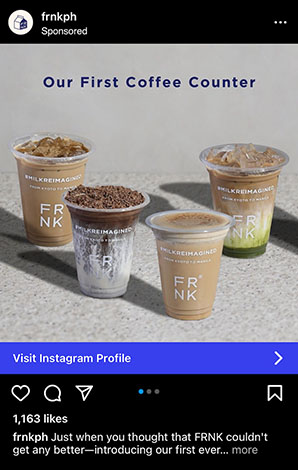 ---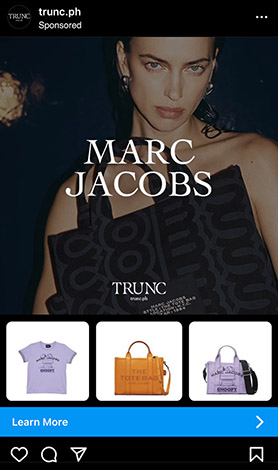 ---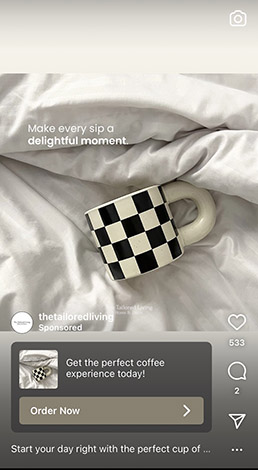 ---
Instagram Ad & Audience Demographics Statistics
Instagram had 2 billion daily active users as of January 2023, making it the fourth-most popular social network in the world
52% of Instagram users are female, 48% are male, and most people are between 18 and 24 years old
Nearly 83% of Instagram users are also for Facebook—meaning cross-posting strategies have good chances at success
IG is the third-most popular platform with U.S. teens, trailing only behind TikTok and YouTube
Instagram Reels have an engagement rate of 1.95%, higher than other media types
Feed ads have a 0.34% higher click-through rate (CTR) than Stories ads
Instagram has higher than average cost per click vs other platforms
70% of people visit Instagram with at least some purchase intent
Brand affinity increased for 50% of Instagram users after seeing an ad on IG
Sources: SproutSocial, Statista, Brafton, WebFX, and Pew Research Center
Instagram is one of the most utilized social media platforms in the world for advertising, and with good reason—it's low-cost, creative, effective, and conducive for ecommerce. Join the millions of advertisers on Instagram today by connecting with your Meta Business Suite. Visit Instagram for Business, then choose "Create an Ad" to connect with Meta and start the ad setup process.
4. LinkedIn Advertising

Pros
Tailor-made for B2B advertising
Great option for educators
Multiple formats, from articles and text posts to messaging and videos
Advertise for awareness, consideration, or conversion
User base is more niche, less crowded than Facebook or Instagram
Lead generation forms for ads
Lead generation tools have high conversion rates (10-15%)
Cons
Limited audience compared to other social media platforms
Higher ad costs than other platforms (~$5 CPC)
Not all generated leads are high quality
More limited audience targeting features
LinkedIn Ads are best for business-to-business (B2B) businesses and those offering products and services targeted toward professionals. For example, a tech company selling military-grade, ruggedized tablets may use LinkedIn ads targeted at decision-makers in public safety and manufacturing companies. Another example could be a digital marketing agency specializing in generating leads for the real estate industry, targeting real estate agents and brokers.
Another excellent use case for LinkedIn advertising is in the realm of education. More than 120,000 schools have profiles on the platform, and many users are interested in topic-based learning. These include courses on social media advertising and continuing education to help them progress in their professional careers.
---
Like Facebook, virtually any content can be advertised on LinkedIn. Sponsored content is among the most popular. Sponsored posts appear on users' feeds and can contain text, images, video, or article links that lead to a landing page or sign-up form. LinkedIn also offers dynamic ads, which appear beside the feed and are personally targeted to each user. Finally, ads can also appear in users' private messages.
---
Millions of users use LinkedIn to develop and maintain professional connections. Since it's a business-focused social network, it's a great platform for B2B advertising. Ads are on a pay-per-click basis.
The average cost-per-click for LinkedIn ads is $5.26, with a minimum daily ad spend of $10 and a minimum per-click cost of $2. You can also choose between setting a daily or lifetime budget. While this is still fairly affordable, it can quickly become costly for small businesses on a budget.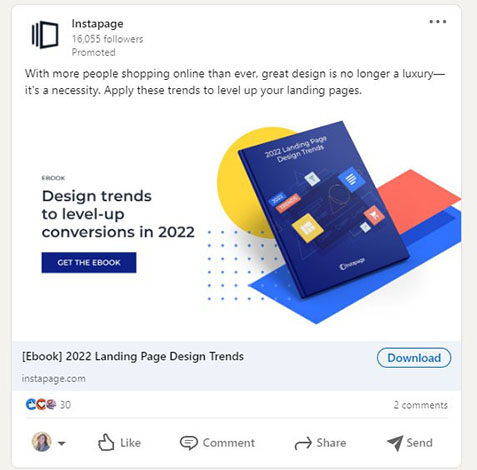 ---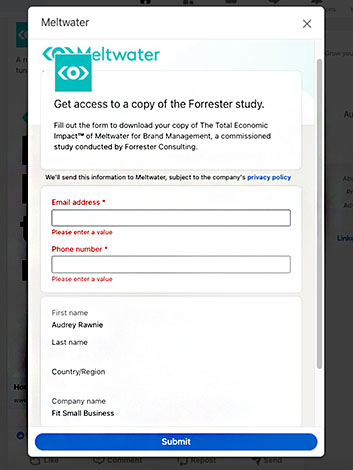 ---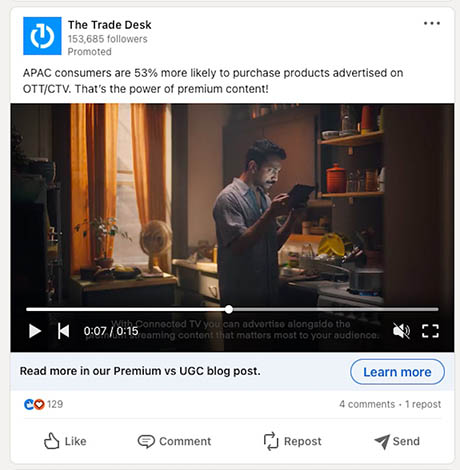 ---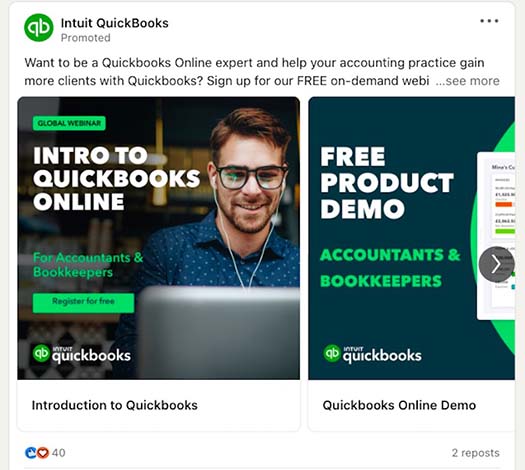 ---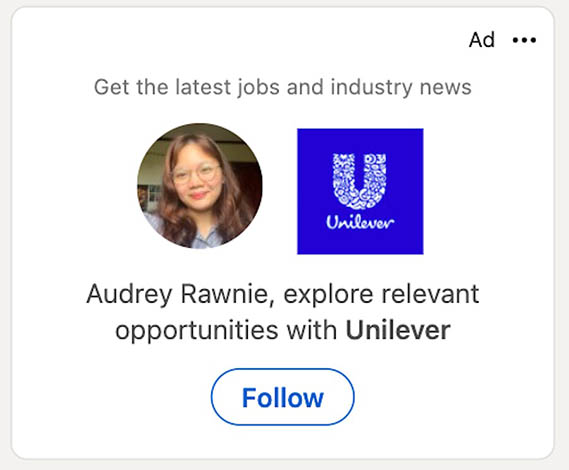 ---
LinkedIn Ad & Audience Demographics Statistics
There are 900 million users on LinkedIn, with nearly 200 million in the U.S.
More users are male (56%) compared to female (44%); 58% of U.S. LinkedIn users are male
There are more than 58 million company profiles on LinkedIn
More than 65 million decision-makers use LinkedIn, as well as over 61 million senior-level influencers
53% of LinkedIn users have household incomes over $75,000, and one in three has at least a bachelor's degree
Nearly 60% of LinkedIn users are between the ages of 25 and 34
While LinkedIn has fairly low average CTRs at 0.44%, it has a high average conversion rate of 12.5%
70% of consumers trust information on LinkedIn
Users spend an average of 7 minutes per session on LinkedIn
Sources: Omnicoreagency, InfluencerMarketingHub, SproutSocial, Statista, and LinkedIn
LinkedIn offers two advertising services: a fully managed service and a self-service ad platform. Businesses looking to create their own ads should choose the self-service ad platform. There, they can build and manage ads in-house.
You can get started advertising on LinkedIn by visiting LinkedIn Marketing Solutions. Choose the "Create Ad" button, then log in or sign up for a LinkedIn account. This will prompt you to set up your Campaign Manager account.
5. Paid Social on TikTok for Business

Pros
Wide and steadily growing user base, surpassing Twitter and Pinterest
Most effective platform for reaching Gen Z audiences
Short-form TikTok-type videos are most likely to go viral
Advanced ad targeting based on demographics, interests, and behavior
TikTok ads have a higher engagement rate than Facebook or Twitter
In-app shopping features
Ads can be as creative as you want
Cons
Only supports video and image ads, no text or link posts
Requires some level of TikTok video skill for ads to be effective
Ad success can be susceptible to fast-changing trends
Not great for communicating complex information
User base are mostly consumers—not great for B2B marketing
TikTok is best for advertisers selling directly to consumers, and especially to consumers around age 35 and under. Businesses are more likely to succeed when they give the app's audience what it wants most in video ads: entertainment.
---
Ads appear in the first spot when a user logs in to TikTok. They also appear in the news feed, in branded hashtag challenges, and with Branded Effects.
---
Just when everyone thought all the social posting format options were well represented, TikTok took the social media world by storm. Its unique algorithm and signature short-form video format quickly exploded in popularity among consumers in nearly every industry. While it's video-based, like YouTube, it's more like a collection of video-based diary entries vs YouTube's knowledge base.
With TikTok skyrocketing in popularity and influence, ads can be a tad higher than other platforms, with an average cost of $1 per click. The minimum budget for an ad campaign is $50, while the minimum for one at the ad group level is $20. TikTok also allows you to choose between a daily or lifetime budget.
Just one clip that goes viral can turn someone into an instant celebrity—for better or worse. TikTok has one of the largest user bases worldwide, although it's still picking up steam with U.S. users.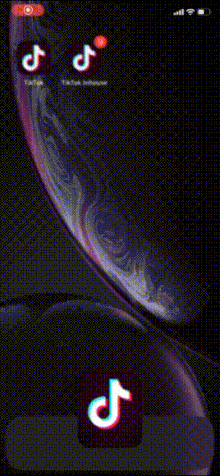 ---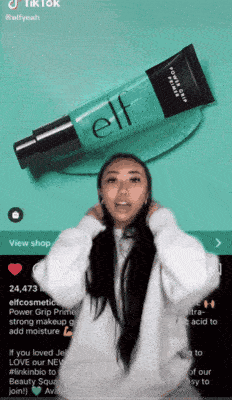 ---
TikTok Ad & Audience Demographics Statistics
TikTok is the number one most downloaded app in over 40 countries, with 150 million monthly active users in the U.S.
Among TikTok users worldwide: 53% are female, 47% male
60% of TikTok users are between 18 and 34 years old
TikTok is used by more members of Gen Z (born 1997-2012) than Instagram
Worldwide, TikTok users spend nearly 30 hours a month on the app—that's 90 minutes every day
Consumer spending on TikTok is over $2.5 billion globally
TikTok LIVE is an effective way for brands to increase awareness; 50% of TikTok users have purchased something after watching a TikTok LIVE
More than six out of 10 TikTok users say they bought from brands advertising on the platform
Influencers charge about $800 per post on TikTok
The most popular TikTok categories have racked up an impressive 1 billion-plus views each; "Entertainment" has over 545 billion
Users spend more time per session on TikTok than any other channel, over 10 minutes each visit
TikToks have an average engagement rate of 10%—higher than Facebook or Instagram
Source: Hootsuite, AdWeek, Business of Apps, TikTok, SocialPilot, and Pew Research Center
You can get started advertising on TikTok by creating your ad, then visiting TikTok for Business. Click the "Get Started" button, then set up your TikTok Business account to access your TikTok Ads Manager, where you can publish and manage your ad.
6. Snapchat Advertising

Pros
Less competitive platform vs TikTok or Facebook
Advertise for awareness, lead generation, sales, or app installs
Unique ad formats like photo filters and augmented reality (AR) for engagement
Low costs per impression—good for brand awareness campaigns
Audience targeting by demographic and location, plus custom audience features
Supports app installs within the platform
Cons
More expensive CPC than Facebook or Instagram
Shares similar demographic as TikTok, but smaller population
Only supports visual ad content
Not great for B2B marketing
Snapchat is a great ad platform for business-to-consumer (B2C) sales and brand awareness, especially among younger consumers. It's also smart to use Snapchat ads in conjunction with ads on other platforms, as virtually all Snapchat users are on other social media sites.
Snapchat supports app installs, so it's also a good option for companies with software as a service (SaaS) type products. Plus, Snapchat's filters and augmented reality (AR) capabilities present a unique social media advertising opportunity for B2C companies marketing to younger consumers.
---
Snapchat ads can make their way into users' Friends Stories as well as on Snapchat's "Discover" landing page, appearing as full-screen images or videos.
---
Snapchat's original format limitations—immediately disappearing content and short-length video—limited its initial advertising appeal. It lost money in 2014, earning just $3.4 million. However, it's since made notable format and content changes, eventually raking in over $4.6 billion in 2022.
As with most social media platforms, Snapchat advertising is auction-based. This means that those willing to pay more will get better placements and see more impressions and, in turn, more clicks or conversions.
However, it has a slightly higher cost-per-click, averaging at $5.53. It's more cost-effective for brand awareness and gaining impressions, averaging at $2.26 per thousand impressions, and a low minimum ad spend of $5 per day.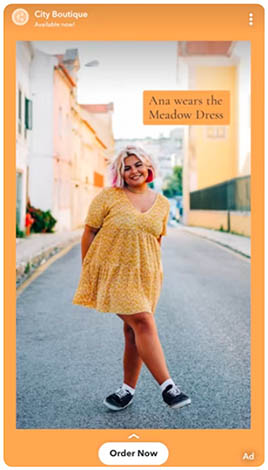 ---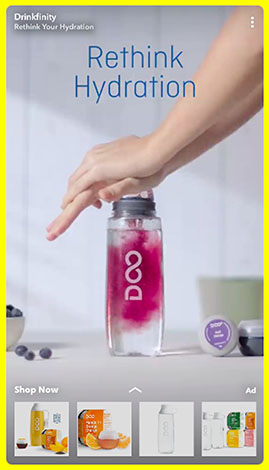 ---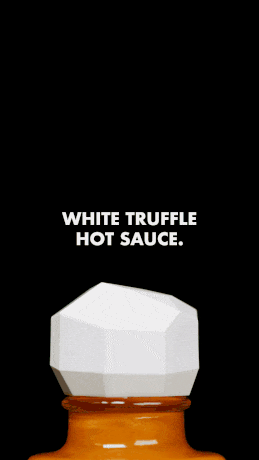 ---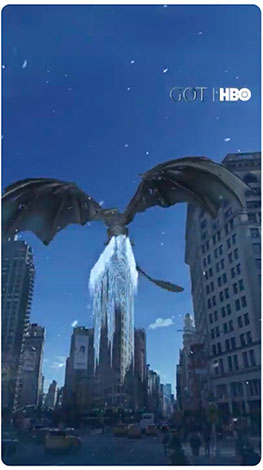 ---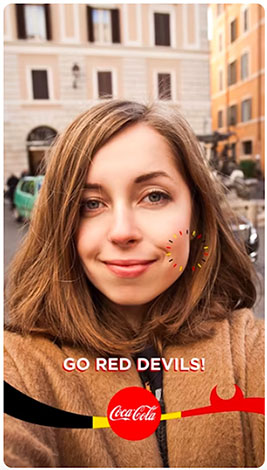 ---
Snapchat Ad & Audience Demographics Statistics
Snapchat Stories was such a great idea that Facebook and Instagram both cloned it as quickly as possible
Snapchat has 576 million total users, with 347 million daily users, including over 117 million in North America
Of these, 53.8% are female vs 45.4% male
Snapchat advertisers have the potential to reach up to 557 million people
107 million of Snapchat's users are in the U.S.
On average, Snapchat users spend 30 minutes on the platform every day
Nearly 60% of Snapchat users are below 24 years old
Snapchat users open the app over 30 times a day
The costs for Snapchat ads averages $5.53 per click, $2.19 per thousand impressions, and 57 cents for each swipe up
The #1 reason people use Snapchat is "to share real-life moments"
Source: BusinessOfApps, Statista, and Hootsuite
Get started on your Snapchat marketing journey by visiting Snapchat for Business and clicking "Create an Ad." Then, log in or create a Snapchat account to access the Snapchat Ads Manager.
7. Pinterest Advertising

Pros
Ads blend in with organic content
Less competition from other advertisers
Supports purchases and app downloads within the app
Your ads won't compete with various other types of content
Multiple ad types (image, carousel, collections, videos, and more)
Great for targeting audiences by interest (as well as keywords, demographics, and behavior)
Advertise for brand awareness, site traffic, leads, or conversions
Most searches are unbranded, which means a more level playing field for small brands
Pinterest users have considerable purchase intent
Cons
Only supports visual ad content (images and video)
Smaller user base than other social media platforms
Content needs to be visually attractive to be effective
Most users have a preference for lifestyle brands over other industries
No control over where your ad appears, even with audience targeting
Not great for B2B advertising
Pinterest users are actively searching for images of specific things, from house plans to house plants, decorating ideas, color schemes, and more. This makes it a good option for B2C sellers looking to place bottom-of-funnel, high-converting advertising, and marketing content. Its user base also makes it a great platform for those wanting to reach U.S. women in general, and moms in particular.
Pinterest is also most effective for B2C businesses that can produce visually interesting, entertaining, or informative content. For example, an RV rental company may use Pinterest ads to promote the idea of road trips by sharing an article about amazing road trips to experience accompanied with high-quality photos. Another example could be a money management app promoting an article about tips on saving money for a house.
---
Businesses can advertise on Pinterest through promoted pins and Pinterest ads. This includes a variety of types, including images, videos, shopping ads, image carousels and collections, and ideas.
To create a Pinterest ad, log in to your Pinterest business account and click the red "+" button in the upper right-hand corner of the screen. Then select "create ad" and follow the prompts to build your Pinterest ad.
---
Like Instagram, Pinterest is a social networking platform based on visual content discovery. However, in addition to having a news feed, Pinterest users can also create their own collections of "pinned" content organized onto boards.
Users visit Pinterest to discover new things, from interior design and home decor to travel tips and fashion trends. It has grown into a stable advertising platform for a low-cost, high-return strategy.
Like other social media ad platforms, Pinterest also promotes your ads on a bidding basis, which means higher chances of impressions or engagement come at a higher cost. You can get started advertising on Pinterest for just 10 cents per click or $2 per 1,000 impressions (CPM), but most ads cost an average of 80 cents per engagement, or $3.50 CPM. Learn more about how to use Pinterest for business.
Pro tip: In addition to advertising, Pinterest is also an effective platform for direct sales. For more information, read our article explaining how to sell on Pinterest.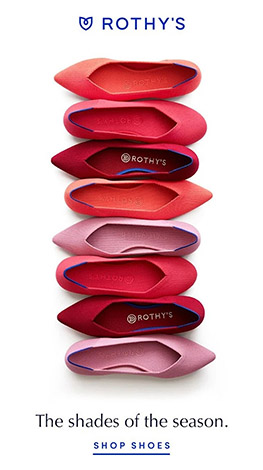 ---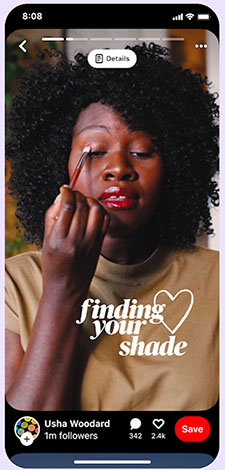 ---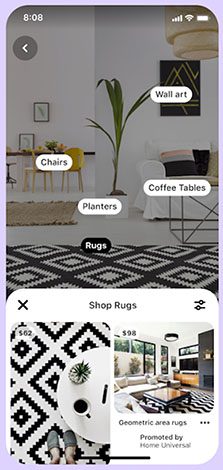 ---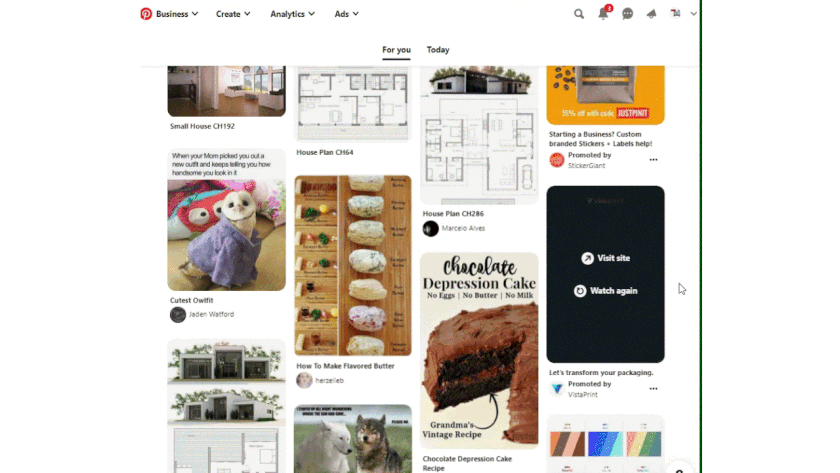 ---
Pinterest Ad & Audience Demographics Statistics
Pinterest reports there are 463 million users every month conducting more than 5 billion searches
50% of active Pinterest users are in the U.S., higher than most other platforms
60% of users are female vs just 40% who are male—the most disparate of any platform
Nearly half of all U.S. adult women are on Pinterest
8 out of 10 weekly Pinners say they've found a new brand or product on Pinterest
45% of U.S. consumers with household income over $100,000 are on Pinterest
85% of female Pinterest users in the U.S. use the platform to plan life moments
98% of users try something new after discovering it on Pinterest
Pinterest ads can deliver up to 32% higher return on ad spend vs other platforms
The average cost of paid social on Pinterest is $2 to $5 per thousand impressions, from 10 cents to $1.50 per click or for web traffic, and from $6 to $10 for each conversion
82% have bought products based on content on Pinterest
Source: Omnicoreagency, Pinterest, MuteSix, and Medium
You can get started finding your audience on Pinterest by visiting Pinterest Business, then setting up your business account for free to access your ad tools.
8. Twitter Advertising

Pros
Supports various ad types, from blog links and images to trending hashtags
Relatively higher CTR than Facebook or Instagram
Wide and diverse user base across demographics and interests
Easy, direct, and instant communication with customers
Target audiences by demographic, interest, location, habits, language, and more
Less competitive ad landscape vs Facebook or Instagram
Most effective platform for word-of-mouth
Suitable for B2B as well as B2C
Cons
Not as visually oriented as other platforms
Ads are intrusive to users' experience (not organic like Pinterest)
Content tends to have short lifespans on the platform
Not all ad engagement is positive or relevant
Steady decline in Twitter's user base since the ownership change in Q4 2022
Twitter is best for businesses sharing newsworthy content via ads for both B2B and B2C companies. For example, an event venue could advertise upcoming events or headlining acts. Another example would be a food truck that frequently changes its location. With Twitter ads, a business could target its ads to display to users within the same city, gaining local brand awareness and driving visits.
Twitter is also well-known as the platform where people can interact with brands and influencers barrier-free and in real time and where people expect brands to respond to issues 24/7/365. For this reason, it's also a good opportunity to turn issue resolutions and brand interactions into word-of-mouth advertising.
---
Businesses can advertise on Twitter using paid ads, promoted tweets and hashtags (Trend Takeovers), or, like Instagram, by working with influencers.
---
Twitter has a relatively low average CPC of $1.35, but this is still slightly higher than paid social platforms like Facebook and Instagram. Meanwhile, its average cost for promoted accounts is anywhere between $2 and $4 per follow, while promoted hashtags can reach up to $200,000 a day. Twitter has no minimum ad budgets, and like many other platforms, its ads operate on a bidding setup.
Twitter content includes text, image, and video media, and it's the social media platform users turn to for news, quick brand interactions, and topic-based discovery and discussions. Advertisers can reach millions of users through Twitter ads in feeds, called "promoted tweets."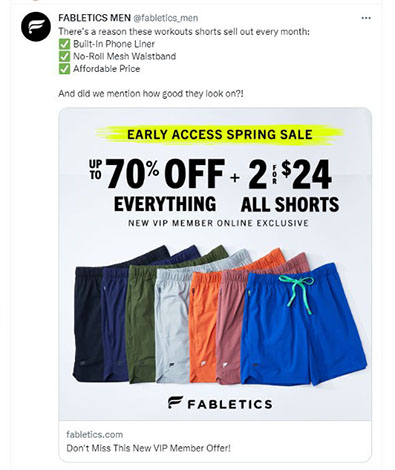 ---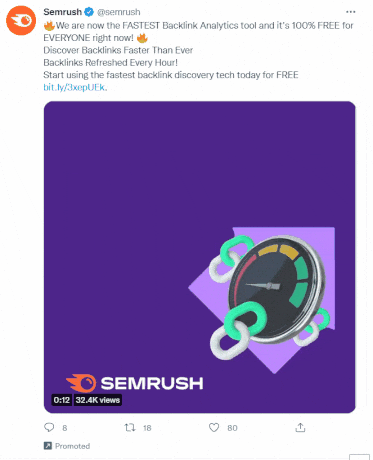 ---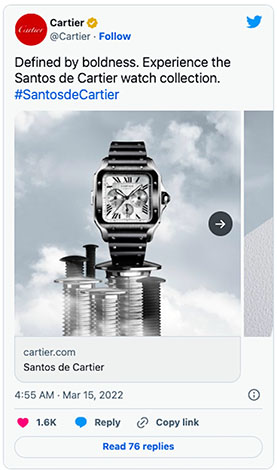 ---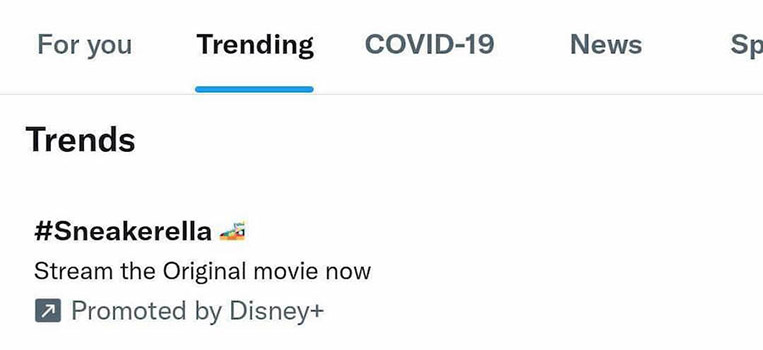 ---
Twitter Ad & Audience Demographics Statistics
Twitter has 237.8 million daily active users, with 76.9 million users in the U.S.
The majority (38%) of Twitter users are between 25 and 34
The breakdown of users is 56% male vs 44% female
16% of people do brand research on Twitter
There's no minimum ad spend to advertise on Twitter
Tweets with even one hashtag can get up to 21% more engagement
Advertisers have the potential to reach 373 million users on Twitter; however, potential ad reach is on the decline
Advertising on Twitter costs from 50 cents to $2 for every first action taken on your ad, falling to around $1.35 afterward for clicks, replies, or retweets of your promoted content
Around 200 billion tweets are sent every year, at the rate of 6,000 tweets per second
80% of Twitter users access the platform via mobile device
Source: SocialPilot, AdsTargets, DataReportal, and Omnicore Agency
To create a Twitter ad, first set up an account on the Twitter ad platform. From there, you can enter your ad's objective, input your budget and targeting, then design and launch your ad.
9. Reddit Advertising

Pros
Large user base with niche audiences (over 130,000 active Reddit communities)
Multiple ad types including image, video, text, and conversation placements
Options to place ads on the front page or inside subreddits
Advertise for site traffic, brand awareness, conversions, and app installs
Tools to control where your ads appear and where they shouldn't
Lower CPC and less ad competition vs top social networks
Cons
Reddit users tend to be distrustful of ads or sales-y content
Not the best for lead generation—mostly for brand awareness or web traffic
User base is interest-specific vs broader reach capabilities of other networks
Reddit ads target users by location, subreddits, interests, and device types. Businesses wanting an affordable way to reach niche audiences, such as an event venue promoting an upcoming local concert or under a subreddit for that band or its genre, would be good candidates for Reddit advertising. It's best for B2C advertising, although B2B advertisers can also use the platform to reach niche or local audiences.
---
Reddit ads appear as promoted posts on Reddit forums and come in the form of text posts, images, image carousels, and videos. Reddit also offers special ad types called "Conversation Placements," which integrate your ad within discussions on the platform in a more organic, non-obtrusive way. These ads are displayed within subreddits or in the right-hand column.
---
Reddit is a community forum made up of millions of users worldwide. It offers businesses the chance to advertise over the platform via sponsored posts and banner ads that display in the right column of the site. It's one of the cheapest social media advertising platforms, with an average cost-per-click of just 44 cents and a minimum daily ad spend of $5, according to Agorapulse.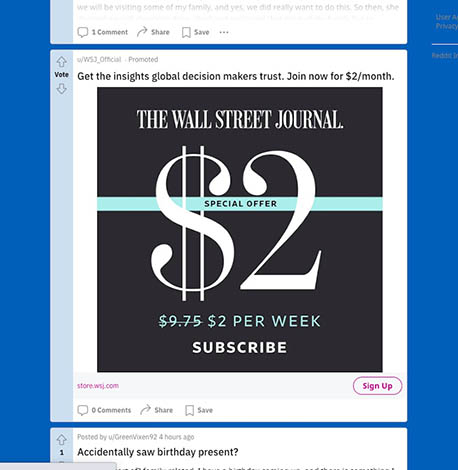 ---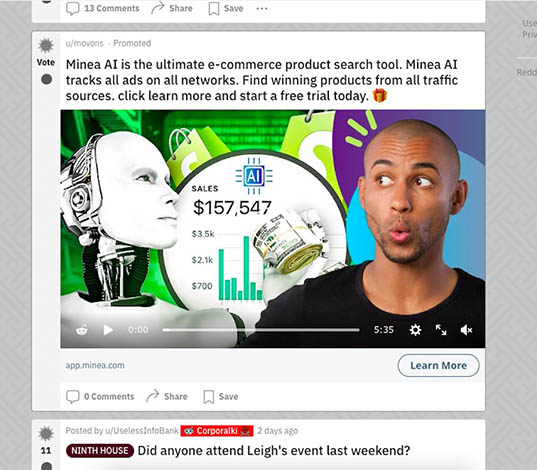 ---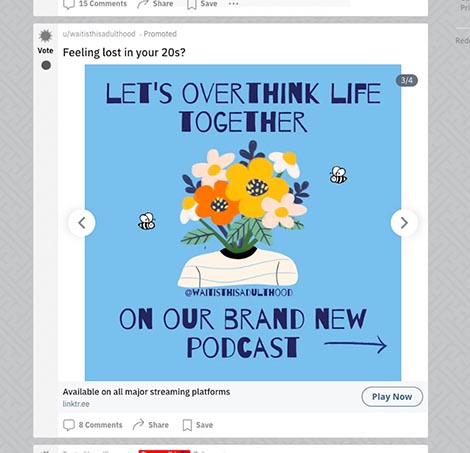 ---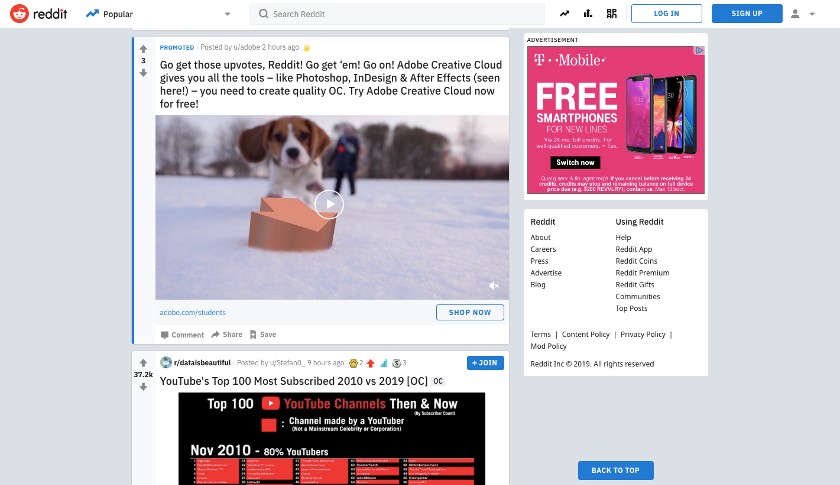 ---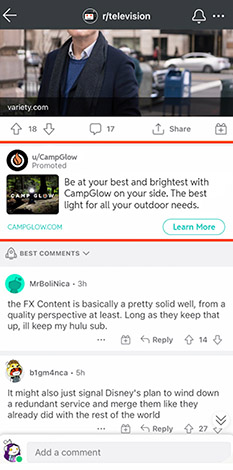 ---
Reddit Ad & Audience Demographics Statistics
There are over 50 million daily active Reddit users, 18% of whom are in the U.S.
63% of Reddit users are male, 37% are female—and 93% are 50 years of age or younger
There are more than 130,000 active communities on Reddit
Reddit has more than 344,000 paid subscribers
Nearly half of all Reddit activity occurs on desktop devices, but 70% of video views on the platform happen on mobile
Posts with questions get the most comments, but statement posts get the most "upvotes"
Reddit expects to rake in over $522 million in ad revenue in 2023
Reddit users are on the site for about 10.5 minutes at a time
Most Reddit users (36%) are between 18 and 29 years old
62% of U.S. internet users say Reddit is their go-to platform to learn about products
The average CPC for Reddit ads is $3.50 in the United States
Reddit is the third-most trusted platform by consumers, trailing only Google and Amazon
Sources: Oberlo, passport-photo.online, Oneupweb, and FoundationInc.co
To advertise on Reddit, first do some research and get to know Reddit and its community to determine if your business is a good fit for the platform. Once you have found your audience on Reddit, set up an advertising account on Reddit for Business. From there, you can create ads to be displayed within subreddits or in the right-hand column.
10. Paid Social on Quora for Business

Pros
Users are actively searching for information and solutions
Advertise via sponsored answers or regular ads (text, image, video, lead gen forms)
Great platform for thought leadership and brand positioning
Sponsored answers often display in search engine results
Reach both B2B and B2C audiences
Advertise for brand awareness, traffic, and conversions
Over 300,000 subject discussions to advertise on
Sponsored answers fit in seamlessly with organic content
Precise audience targeting via interests, demographic, content engagement, etc.
Cons
Much smaller reach than other platforms
Not the best platform if your objective is virality
Ads can sometimes show up in irrelevant topics
Quora is equally appropriate for B2B and B2C sellers. However, we give the edge to business-to-business advertising because of the platform's mostly informative content, which many professionals use to answer business-related questions. Like Pinterest and Reddit, it's also a good option for reaching ready-to-purchase buyers, as people go to Quora searching for answers and solutions.
---
You have two options when advertising on Quora: via sponsored answers, which show up alongside organic answers, or via regular image, text, or video ads, which appear on the feed or on the right-hand column.
Targeting options are sophisticated, including contextual targeting based on interests and content engagement, and audience targeting. There are also lookalike audiences, targeting based on user behavior, and broad targeting to reach the widest audience.
---
Like most paid social ads, Quora ads operate on an auction basis. Average ad costs can vary depending on your ad type and objective (impressions, clicks, or leads). Quora offers separate minimum bid prices: the minimum bid per click is one cent, while for impressions is 20 cents per 1,000 impressions. You can expect to pay anywhere between 25 cents and $7 per click, depending on your ad type and objective, competition, and audience targeting.
As opposed to social platforms that represent the start of a user's journey, Quora is a search results powerhouse—as per 2023 SimilarWeb data, 68% of Quora users come by way of online search. Like Reddit, it's a forum for asking and answering questions, which also works as an effective marketing tactic, especially if you get your reply into early questions.
---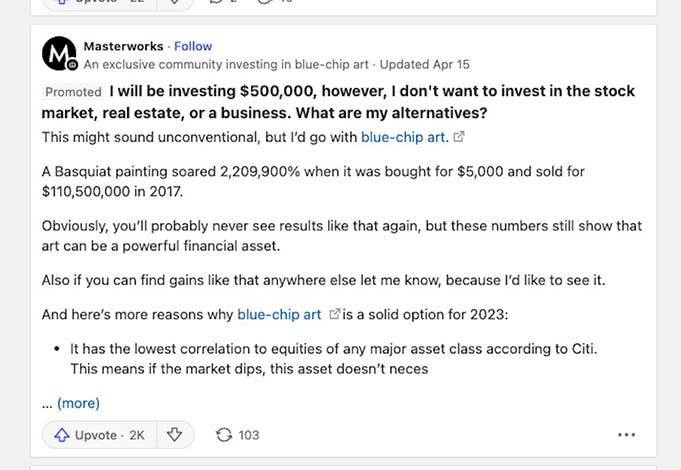 ---

---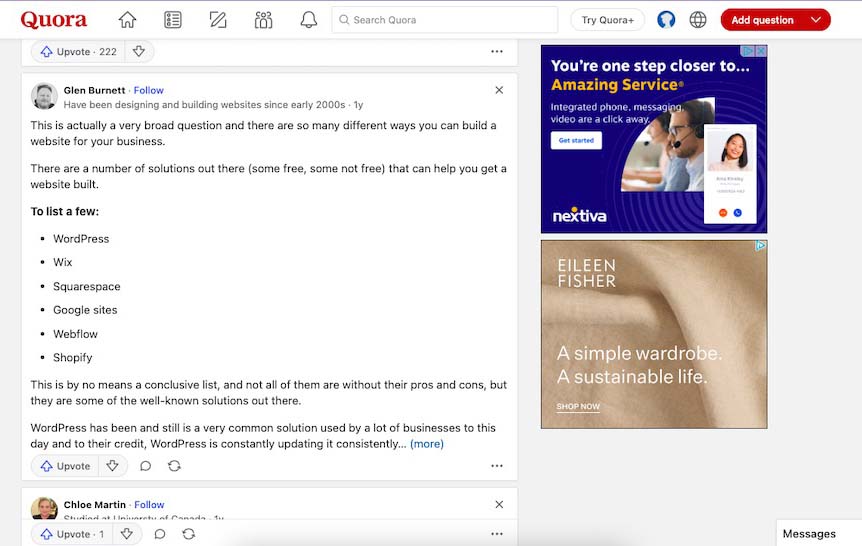 ---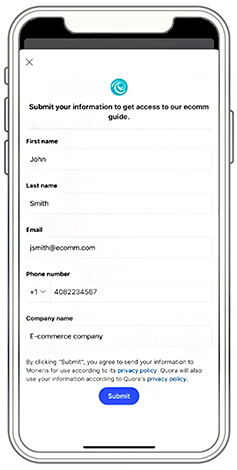 ---
Quora Ad & Audience Demographics Statistics
77% of users find Quora content through online search; 60% via Google or Bing
80% of Quora clicks and impressions come from mobile devices
67,000 questions get asked on Quora every day
Quora ads convert four times more than ads on other platforms
There are over 300,000 unique topics discussed on Quora
On average, Quora advertisers enjoy higher click through rates (91%) and lower costs-per-click (26 cents with a $1,000 ad budget) compared to other platforms
55% users are male and 45% are female, and half have a college education
Getting started with Quora is simple: Visit Quora for Business and log in or create a Quora account. From there, you'll get access to your Quora Ads Manager platform, where you can start exploring your ad options.
What Paid Social Is & How It Works
Paid social is any paid advertising on a social media platform that targets a specific audience and incentivizes them to take a specific action. This can include clicking a link to a landing page, signing up for an event, or purchasing a product, among others.
Social media advertising differs from traditional advertising, like billboards or TV commercials, in that they're interactive by nature instead of one-directional, and they offer far more precise customer targeting. For example, advertising on Facebook or Instagram can target audiences by location and demographics, but they can also target specific details like audiences' specific interests, preferences, and habits.
Difference Between Organic vs Paid Social Media
As you might have guessed, the primary difference between organic posts and paid social media advertising is that paid ads are bought from the platform to meet specific goals. Just like any other form of advertising, paid ads have an allocated budget that ensures your content gets in front of a particular audience set and motivates them to do a specific action, like clicking a link or making a purchase.
While organic social media marketing and paid advertising share many of the same goals, paid ads are likely to produce results faster. Organic marketing efforts like content marketing and search engine optimization (SEO) work best as long-term strategies to build your brand presence. But paid ads achieve a specific goal within a certain time frame—making them best for limited campaigns like sales or events.
Ideally, your social media strategy should have a combination of both methods. Below are some examples of how organic and paid ads differ on two popular social media platforms, Facebook and Instagram.
---
---
Pros & Cons of Paid Social Ads for Small Businesses
Social media has presented multiple benefits to marketers and business owners. From hyper-precise customer targeting to easy community-building and communication—not to mention its cost-effectiveness—there's no shortage of the benefits of paid ads on social media.
Consider the statistics below about social media, its demographics, and the social media advertising landscape:
Social media is the most popular marketing channel for B2B and B2C markets worldwide, with 44% of marketers using it for advertising—more than content and email marketing.
82% of Americans are on social media, which equates to over 220 million people.
40% of U.S. consumers bought a product after seeing it on social media at some point.
The possibilities of social media are nearly endless, and steadily evolving. But, like any other advertising strategy, it has a few drawbacks to take note of too, including those listed below.
PROS

CONS

Multi-layered ad targeting
Learning curve for any platform
Great for reaching niche audiences
Success often requires high design skills
Low cost-per-click and spending minimums
Needs consistency and various strategies for it to be effective
Effective for reaching new audiences beyond your following
Not all customer engagements are positive
Interactive by nature and encourages audience engagement
Landscape is already very crowded
Produces results and analytics almost instantly
Can be affected by shifting trends
More direct contact with customers
Frequently Asked Questions (FAQs)
The most effective platform for advertising depends on your industry, target audience, budget, and ultimate objective. For example, for B2Cs with a strong visual identity looking to boost brand awareness, platforms like Pinterest and Instagram would be a good fit. In contrast, a B2B company targeting decision-makers at companies would benefit more from using LinkedIn.
---
---
---
Bottom Line
There are dozens of paid social platforms for your small business to advertise on to meet any campaign objective, from brand awareness to increasing conversions. Each has its own unique features and benefits—ultimately, it all comes down to finding those that best suit your needs. To maximize your growth, use a good combination of both strategies, and track your progress and results at every turn.