Creating a social media plan is essential for success on social networks as it allows you to save time and avoid mistakes when posting on platforms. To make one, set campaign goals, define your audience, and analyze the competition. Set your campaigns up for success with strong branding and detail the strategies you will use to fuel your campaign. To help you get started, we've included a free template you can customize to make your own plan.
Download our free social media plan template and use it as you follow the steps on how to create a plan for your small business.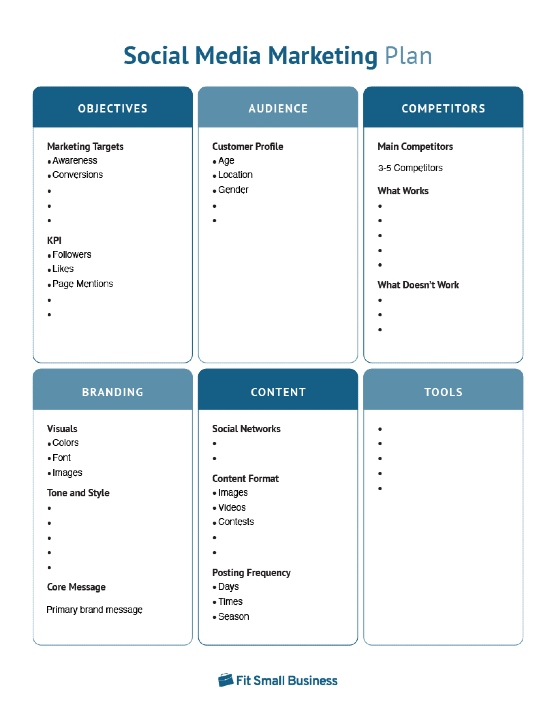 Thank you for downloading!
💡 Quick Tip:
Save time and manage all of your social posting in one place. Plan, analyze, and schedule content in advance affordably with Later!
Visit Later.com
1. Set Your Campaign Goals
Many small businesses make the mistake of launching into social media marketing without a plan. This often results in wasted time and effort, discouragement of not seeing results, and can even damage your brand if done poorly.
As such, the first part of making a social media plan is establishing your marketing goals. You can approach this by thinking about what you want to achieve in your business. For example, do you want to drive sales, build a community of followers, generate leads, or some combination of other goals?
Having detailed goals allows you to create well-structured social media campaigns, measure how well you're doing, and can serve as a benchmark for optimizing future campaigns. There are two components in the social media plan template for goal setting: marketing targets and key performance indicators (KPIs).
The marketing target is simply what the objective aims to improve or establish while the KPIs are measurable indicators of your progress toward these targets. For example, if your marketing target is brand awareness, a good KPI for this is page followers or post reach. Below are some common marketing targets and the KPIs you can use to measure them.
Improving brand awareness requires more people to find out about your business, and you get your message across to potential customers. Key metrics for measuring brand awareness include the number of followers, page mentions, and post reach.
---
A goal appropriate for nearly every social media plan is to increase the number of people who interact with your brand, and the frequency of these interactions. An engaged audience speaks volumes about the quality of your content. Some KPIs to consider are the number of likes, comments, shares, and mentions.
---
One of the fundamental objectives of any form of small business marketing is driving up sales and conversions. More sales mean more revenue from your social media campaign. You can easily track this with conversion rates, which are available on most social media business page dashboards.
---
Generating and nurturing leads are crucial to social media marketing. You can keep note of potential leads and their information to make it easier to interact with them. Lead generation can be measured through the number of emails or information collected from social media, participation in online events, or clicks on lead-generating posts and social media advertisements.
---
Driving traffic to your website is one of the many benefits of social media marketing (SMM), so companies use posts to direct their audience to their website's content. You can track this with clicks on your social media posts or using tools like Google Analytics, which shows how much website traffic your site received from social media platforms.
---
2. Define Your Audience
The next step in making a social media plan is to define your audience. This is crucial; in fact, some of the most infamous brand social media fails happened due to lack of audience awareness. When defining your audience, consider information about your ideal client or customer, such as age, location, gender, language, and interests.
If you have existing campaigns, look into the demographics of people who engage with your content the most. Looking into relevant reports and statistics can also shed light on the target audience of your particular industry or niche. Likewise, any data you can gather about your current customers can help you define your audience (or offer insights as to why your customer base isn't a match for your ideal audience).
Finally, creating a customer persona is one of the best ways to get to know your audience. This is a tool often used by marketers to define a business' ideal buyer for lead generation or conversion. Learn how to create a customer persona and use our free template as your customer profile for your business.
Pro Tip: You can rapidly scale your social media presence online by enlisting the help of social media power users known as influencers. Influencers drive potential customers to your products or services through endorsements and usage. To get an idea of how this powerful method can help you, check out our list of influencer marketing campaigns.
3. Analyze the Competition
Conducting an analysis of how your competitors use social media can show you areas of opportunity and help you avoid mistakes and ineffective social media strategies. Here are the steps to conduct a competitive analysis as part of creating your social media plan:
[fit_accordion id='2168731']
4. Establish Your Branding
Building an effective and cohesive brand for your business signals to people that you are professional and serious about engaging your audience. You can do this by preparing the visuals, tone and voice, and core message that make up your brand identity.
[fit_accordion id='2168733']
5. Build Your Content Strategy
Your content strategy outlines where, when, and what type of content you will post in social media campaigns. If you have already done the previous steps, building a content strategy will be easier since you will be guided with sufficient information. You can even use AI in social media to help craft a strategy.
There are three parts to your social media strategy: social networks, content format, and posting frequency.
[fit_accordion id='2168734']
Optional: Save Time With Social Media Tools & Resources
Having a system in place to ensure your plan is implemented effectively, efficiently, and consistently can help you grow your brand's online presence faster. This is where having the right tools for managing your profiles and automating posting comes in. Having the right tools can make promoting your business on social media easier without compromising quality.
Many social media scheduler tools are available, such as Later and Sprout Social. Both give you the ability to manage your social accounts, get insights to improve campaigns, and save time by putting everything into one dashboard. Sprout Social even has social monitoring tools that will alert you to conversations about your brand. Alternatively, you can hire a freelance expert to manage your social marketing on Fiverr for anywhere from $5 to $500.
[fsb_callout_box style="tips"]
Thinking that achieving success on social media on your own might take too much time? Get an all-in-one solution for social media marketing and advertising from the experts at Lyfe Marketing, which tops our list of the best social media marketing agencies for small businesses.
Frequently Asked Questions
What are good social media goals?
Some good examples of social media goals are improving brand engagement, driving sales and conversions, and boosting website traffic, as these goals are easily measurable, and you can set time-based goals. One way to set good social media goals is to follow the SMART method. SMART is an acronym for Specific, Measurable, Attainable, Realistic, and Time-specific.
What social media marketing is the best?
Facebook is the largest social media platform that offers an array of versatile content that any size of business can benefit from. However, other popular platforms like Instagram, Twitter, Pinterest, YouTube, and TikTok are still worth looking into. Our guide to social media marketing offers an in-depth overview of the 10 most popular social channels, including audience demographics and use cases for each.
What is a successful social media campaign?
A social media campaign doesn't have to go viral to be successful, but ultimately it should influence people to act. This could be to buy something, visit a business' website, sign up for email updates, or simply engage with the post by liking, commenting on it, or sharing it. Social media campaigns have different objectives, so success will be measured in terms of its specific KPIs.
Bottom Line
Promoting your business on social networks is less daunting (and less guesswork) when you have a thoughtful plan in place. Creating a plan starts by understanding your campaign goals, target audience, and competition and is set up for success by implementing strong branding and a content strategy that sets your business apart.
Consistency is a key factor to success on any social media platform, and in most cases, that means posting daily. Take the pain out of getting on all your social channels day in and day out by scheduling your posts in advance using Later for as little as $18 a month. Take advantage of Later's no-risk 14-day free trial to learn more.