10 Invoice Examples: What To Include + Best Practices
This article is part of a larger series on Bookkeeping.

An invoice is a document prepared by a bookkeeper on behalf of a vendor or service provider that shows the details of a transaction and requests payment for the product or service provided. It's an accounts receivable best practice that you design an invoice that is both effective and personalized to your company. Besides being a request for payment, well-crafted invoices can serve as promotional material with a customized look consistent with your business and industry.
Designing invoices is just one step of the invoicing process. What's more important is how you record them in your accounting system. Invoice tracking is necessary to ensure that you're getting paid as early as possible or on time. Need help in invoice accounting? Bench can help you manage invoice records and do catchup bookkeeping for old invoices. Get 2 months free with Bench.
After you create your ideal invoice in Word you can easily import it into QuickBooks Online. After placing "< >" around each variable, Quickbooks will help you map the variables to the correct QBO field to be displayed.
---
1. Minimal, Classy, and Detailed
This invoice, although minimalistic, is highly functional, and includes all of the information necessary in one sheet. It includes the logo, contact information, billing addresses, information table, terms and conditions section, and a small calendar at the bottom. All of these elements add to the sophisticated and trustworthy design.
---
2. Clean, Sharp, and Professional
This invoice design by Aaron Dickey keeps things sleek and professional by using a simple page layout, with a muted, calming block of color. The varying font sizes effectively draw attention to certain points of the design. The title, terms and contact information, and the final thank you note jump out immediately in this invoice example.
---
3. Vintage
If you wish to achieve a more vintage-inspired look, then check out this invoice by Rob Brink's design and printing service. It efficiently incorporates the critical elements of an invoice and brings in some print-inspired textures throughout to evoke that vintage feeling successfully.
---
4. Bold
Do you consider your brand both friendly and bold? This invoice by BGG Design Studio uses elements that may be suitable for you. It evokes friendliness and confidence as it greets you with a big, confident 'hello' and directs you through the document. It plays with scale, color, and font weights effectively to draw all the right kinds of attention.
---
5. Paper-like Look
Have a look at this simple but fun invoice design. This design by Dimitar Stojanov has a paper-like look and feel. Generally, the design is rather simple, but with the added elements of the ruled lines and margins, this invoice is transformed easily from a regular invoice to a fun, memorable one.
---
6. Accent Color
This design is clean, professional, and sharp. It contains all the essential details of a commercial invoice while sporting an interesting color palette. When picking out a color palette, try to choose one accent color so that you can maintain a level of sophistication.
---
7. Friendly and Personal
If you're looking for a warmer, more personal feel, then this design from BGG Design Studio is for you. It uses a catchy heading, interesting font styles and sizes, and complementary colors while still providing all the necessary details. This invoice looks and feels so friendly that it could make your customer happy to pay for it.
---
8. Graphic
Not a fan of minimalism? This invoice design by Evgeni Yordanov will give your invoice a whole lot of character. The geometric and colorful graphics along the side will give your brand a voice of fun, excitement, and confidence.
---
9. Playful and Practical
Do you want to project a playful image in your invoice design? This one features large lines, easy-to-read forms, and complementary colors, which make it fun and practical to use, although it may not be suited for every brand. Always consider tailoring your invoices with your brand's image.
---
10. Assertive
This example uses color, scale, and hierarchy to draw emphasis to the most important parts of the invoice, particularly the total sum. It efficiently incorporates all the critical elements while providing clarity for the reader—something that your client will appreciate.
Bonus Invoice: Payment-friendly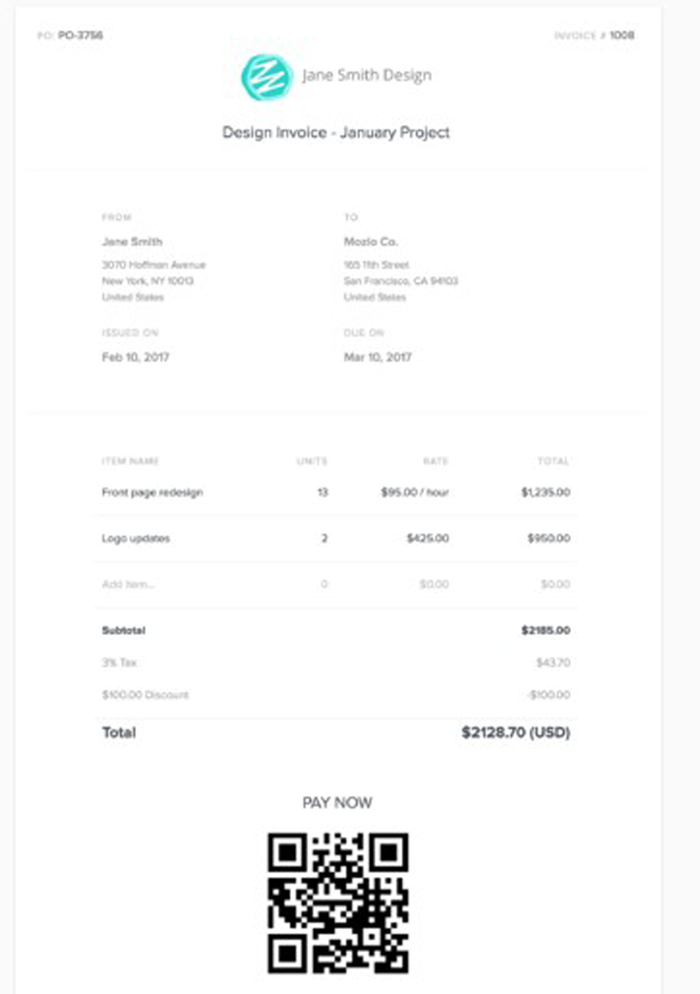 Getting your invoice paid as quickly as possible is probably your priority. This example from Bonsai shows how integrating a quick response (QR) code in your invoice could help you get paid faster. It provides your client with the essential information regarding your invoices and easy access to pay online via their phone or computer.
Invoicing Best Practices
Send Your Invoice as Early as Possible
Sending the invoice early will allow your client to make the necessary arrangements to settle the payment on time. The best time to bill a client is right after the purchase. The longer you wait after providing goods or services to send the invoice, the longer it will take you to get paid. QuickBooks Online is our best overall invoicing software and can make sending timely invoices much easier.
---
Be Polite
When adding a message to your invoice, always be polite. Saying "please pay your invoice" or "thank you for your business" may not only help you get paid faster, but it'll be good for your brand and image. It is recommended that you mention that they can contact you if they have any questions and that you appreciate their present and future business.
---
Disclose Payment Terms Upfront
Before extending credit to customers, you must have them sign an agreement that allows them to purchase goods and services on credit. Don't forget to include payment and penal clauses in the agreement. Specify in the agreement the terms, applicable interest for late payments, and penalties that can arise from violating the provisions of the agreement.
Let the customer sign all pages of the agreement. After that, let a notary public notarize the document to make it admissible in court without question of its authenticity. In case the customer refuses to pay you, the notarized agreement is strong evidence against them.
---
Avoid 'Due Upon Receipt'
"Due upon receipt" is an invoice term popular among small business owners that indicates to the customer they are expected to immediately pay your invoice. From your customer's perspective, this is very inconvenient and sometimes impossible because they only write checks or otherwise issue payments once a week. From the issuer's perspective, "due upon receipt" is a problematic payment term because it fails to define a realistic due date that can be used for late fees, interest, and collection activities.
You'll be much better off choosing a different invoice term, such as Net 10. While Net 10 still requires fast payment by your customer, it establishes a realistic due date that can be used to compute penalties and interest if your customer misses the deadline.
---
Confirm Your Customer's Invoice Preferences
Do your customers prefer electronic invoices or physical invoices? You have to consider that some customers have preferences, and you should not assume which one they prefer.
Before making an invoice, call your customers first. By sorting out customers who prefer physical invoices rather than electronic ones, you can organize your work and send them in a timely manner.
---
Present Invoice Details Clearly
Your invoice needs to be clear to the customer. Remember that your customers are busy people as well. Make it a habit to give detailed explanations of the product or service you provided. Refrain from using product codes or abbreviations in the description because these can cause confusion. Always spell out the details and enumerate relevant information about the transaction, such as add-ons or special requests.
---
Bottom Line
Look good when you're billing your customers. Use the above examples of invoices to make sure you know how to create professional invoices that reflect well on your business. If you want your invoicing process to become easier and faster, then try using QuickBooks Online. QuickBooks Online has different invoice templates that you can use plus an excellent invoice management system that tracks and organizes invoices in one place.