10 Invoice Examples: What to Include + Best Practices
An invoice is a commercial document prepared by the vendor or service provider that indicates a transaction and requests payment for the product or service provided. It serves as a powerful communication tool to ensure proper payment is made in a timely manner.
If you want a quick invoice template to use for your business, click here for a Google Sheet version, or here to access as an Excel Spreadsheet. This template has all of the key elements that should be included on an invoice.
---
10 Well-Crafted Invoice Examples
1. Minimal, Classy, and Detailed
This invoice, though minimalistic, is highly functional, and includes all of the information necessary in one sheet. It includes the logo, contact information, billing addresses, information table, terms and conditions section, and even a small calendar at the bottom. All of these elements add to the sophisticated and trustworthy design.
---
2. Clean, Sharp, and Professional
This invoice design by Aaron Dickey keeps things sleek and professional by using a simple page layout, with a muted, calming block of color. The varying font sizes effectively draw attention to certain points of the design – the title, terms and contact information, and the final thank you note.
---
3. Vintage
If you wish to achieve a more vintage-inspired look then check out this invoice by Rob Brink's design and printing service. It efficiently incorporated the critical elements of an invoice and brings in some print-inspired textures throughout to successfully evoke that vintage feeling.
---
4. Bold
Do you consider your brand both friendly and bold? This invoice by BGG Design Studio uses elements that may be suitable for you. It evokes friendliness and confidence as it greets you with a big, confident 'hello' and directs you through the document. It effectively plays with scale, color and font weights to draw all the right kinds of attention.
---
5. Paper-like Look
Have a look at this simple but fun invoice design. This design by Dimitar Stojanov has a paper-like look and feel. Generally, the design is rather simple, but with the added elements of the ruled lines and margins, this invoice is easily transformed from a regular invoice to a fun, memorable one.
---
6. Accent Color
This design is clean, professional and sharp. It contains all the essential details of a commercial invoice as well as an interesting color palette. When picking out color palette, try to choose just one accent color so you can to maintain a level of sophistication.
---
7. Friendly and Personal
Are you looking for a warmer, more personal feel? Then this design from BGG Design Studio is for you. It uses a catchy heading, interesting font style and sizes, and complementary colors while still providing all the necessary details. This invoice looks and feels so friendly it'll make you happy to pay it!
---
8. Graphic
Not a fan of minimalism? This invoice design by Evgeni Yordanov will give your invoice a whole lot of character. The geometric and colorful graphics along the side will give your brand a voice of fun, excitement, and confidence.
---
9. Playful and Practical
Want to project a playful image in your invoice design? This one features large lines, easy-to-read forms, and complementary colors which make it fun and practical to use. Though it may not be suited for every brand, always consider tailoring your invoices with your brand's image.
---
10. Assertive
This example uses color, scale and hierarchy to draw emphasis to the most important parts of the invoice, particularly the total sum. It efficiently incorporated all the critical elements while providing clarity for the reader – something that your client will appreciate.
Bonus: Payment-friendly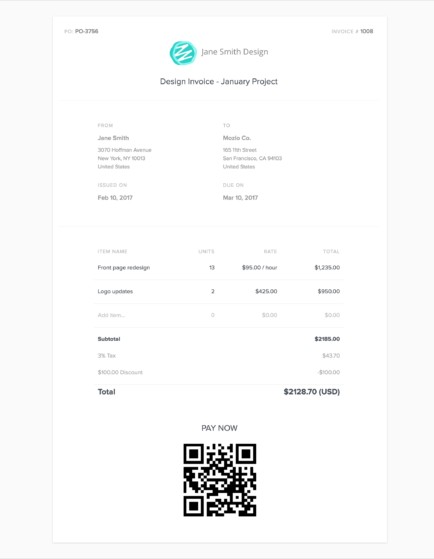 Getting your invoice paid as quickly as possible is probably your first priority. This example from Bonsai shows how integrating a QR code in your invoice could help you get paid faster. It provides your client with the essential information regarding your invoices and easy access to pay online via their phone or computer.

What to Put On Your Business Invoice
Your details
Your invoices should always include your name and/or your company name. Also, don't forget to include your business address, and preferably your business email and phone number. Make it easy for the recipient of the invoice to get in touch with you just in case they have questions or need clarification. Any difficulty in contacting you will most likely result in a delay of payment. Also, some clients may need your contact information on invoices for legal or record-keeping purposes.
Tip: Use your company/brand logo on your invoices to make it look more professional. If you don't have a logo, check out these DIY logo design software.
Recipient's information
As with your own contact information, you should likewise include all the same details of the recipient. Don't forget to include the name of the client's contact person who handles your account. Aside from making communication easier, it can be important for legal purposes if you have issues with receiving payment.
Itemized list of services and costs
People always want to know what they are paying for. Don't use a general description such as "Design." Tell your client exactly what they have received from you. Be as specific as possible. Include a breakdown of the goods or services that you provided and what you charged. Here's a list to help you:
A detailed description of the work or products provided
Date the service was performed or when the product was ordered
Number of products purchased or the number of hours you worked
Product cost or your hourly rate/service charge
The total price including any delivery fees, taxes, etc.
Method of payment
Be explicitly clear on how your customers should pay you. Specify if they can pay by check or credit card or through other methods like PayPal. It is best to discuss with the client beforehand of your preferred method or to come to an agreement about the means of payment you both like. Then provide all the necessary information. For foreign transfers, you will need more than your account number so make sure to include all the required details. Also, specify who will shoulder the transfer charges if ever there'll be any.
Terms
It is also critical to include the payment due date and the terms for late payments. A solid paper trail helps you in sending follow-ups or overdue notices and charge interest if the client has not paid on time. It will also serve as a reminder to your client of when they will need to process the payment.
Reference number
Devise a unique numbering system for every customer and invoice. This will help both you and the customer to track the transactions. For instance, instead of saying "That invoice I sent you last month," you can refer to "invoice #9235." Assign numbers to your invoices systematically just to keep everything in line.
Notes section
It's a good idea to add a message box to your invoice template. You can note important account information, mention seasonal promotion details, or simply thank them for doing business with you.
Invoicing Best Practices
Be polite
When writing your invoice payment terms, always be polite. Saying "please pay your invoice within" or "thank you for your business" may not only help you get paid faster, but it'll be good for your brand and image. It is recommended that you mention that they can contact you if they have any questions and that you appreciate their present (and future) business.
Send your invoice as early as possible
Sending the invoice early will allow your client to make the necessary arrangements in order to settle the payment on time. The best time to bill a client is right after the purchase. The longer you wait after providing goods or services to send the invoice, the longer it will take you to get paid. Using invoicing software make this very easy.
Discuss payment terms up front
Before preparing and sending out invoices, speak with your clients to ensure they agree to your terms. A good way to do this is to send an estimate or contract to the client that includes payment terms and other important details. Then request a signature to indicate agreement.
---
Get It Right!
Look good even when you're billing your customers. Use the invoice examples above to make sure you know how to create professional invoices that reflect well on your business. There are plenty of free invoicing tools available that can help you produce professional and stylish invoices.