When you form a Limited Liability Company, there are two different documents that come into play. One is the Articles of Organization, which is the paperwork that you file with the state when you first form your LLC. The other is the LLC Operating Agreement, which governs how your LLC will be run. While most states don't legally require LLCs to have an operating agreement, you should think of this document as a necessity.
Before we dive into the details on this topic, we also suggest you check out LegalZoom, an online legal service that can help you access quality legal forms. Visit LegalZoom to learn more.
What it does

When you create it

Where to send/keep it

Articles of Organization

Formal document that's necessary to start an LLC

Before creating the LLC

Secretary of State's office (find your state's office

here

)

LLC Operating Agreement

Sets out rules for how your business will be run and how each member will share in the profits & losses

Before or after creating the LLC

Keep a signed updated copy with your business records
In this article, we'll tell you why it's important to create an LLC Operating Agreement and share 5 steps to creating one. You can also click here if you're ready to get started with a free template.
Disclaimer: We strive to provide accurate content, but Fit Small Business is not a law practice or tax professional. We recommend consulting a professional before making decisions that affect you or your business. See our full disclaimer here.
Why Should I Even Bother With an LLC Operating Agreement?
The most common mistake that small business owners make when it comes to creating an LLC operating agreement is not having one! The LLC operating agreement is your opportunity to figure out each owner's share of profits and losses, who's responsible for what, how business decisions will be made, and other important issues. It's also a great way to prevent and resolve conflict among co-owners.
Grant A. Toeppen, a partner at business & family law firm Toeppen & Grevious, says many small business owners wrongly assume that their business will always run smoothly and don't have a plan in place when things go wrong. "A dispute erupts," he explains, "and because of the lack of a useful operating agreement, there is no structured conflict resolution available to fix the issue. The parties end up in court, spending years and massive amounts of money on what could have been prevented with a few simple written words. An ounce of prevention is worth a pound of cure, and a good LLC operating agreement is that ounce of prevention."
Even if you're the sole owner of your LLC, having an operating agreement can be tremendously valuable when you're trying to raise money, or if your business is sued. It shows that your business is an independent entity that you take seriously.
5 Steps to an LLC Operating Agreement
So how do you create this all-important document? Follow our 5 steps below to make sure you address the most important things in your agreement. Click here for a free step-by-step template with as-you-go instructions from our partner Rocket Lawyer.
1. Basic Business Information
The first step to creating your LLC operating agreement is very simple. You'll need to note down basic information about your business, including the following:
Your business' name and address
Registered agent for your business

– Most states require to name a registered agent who will accept service of process on your business' behalf if your business is sued (the rules for registered agents are different in every state–find out more details

here

).

What your business does
Effective date of the agreement

– You can create your LLC operating agreement before you start your LLC or after.

How long will your LLC exist?

You can choose for your LLC to continue indefinitely (more common) or choose to have it dissolve at a specific date (this is primarily for temporary partnerships or business ventures).

Names of members

– A 'member' is anyone who has contributed money to your business in exchange for a portion of ownership in the business.
This basic information will create the skeleton of your operating agreement.
Rocket Lawyer will walk you through the process of creating an LLC Operating Agreement, starting with the basic questions. If you're doubt about a question, you can hover over the question mark symbol to learn more or use the box on the sidebar to ask an attorney (for a fee). The whole thing takes approximately 10-15 minutes as long as you've already made the important management decisions with your co-owners: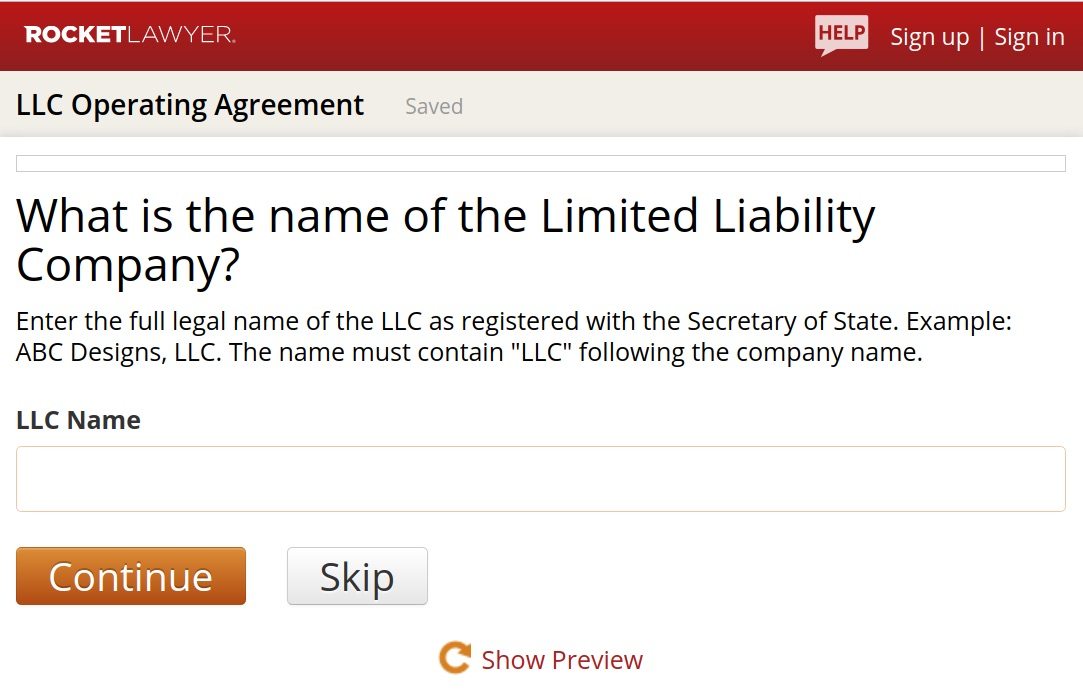 2. Division of Ownership, Authority, and Profits & Losses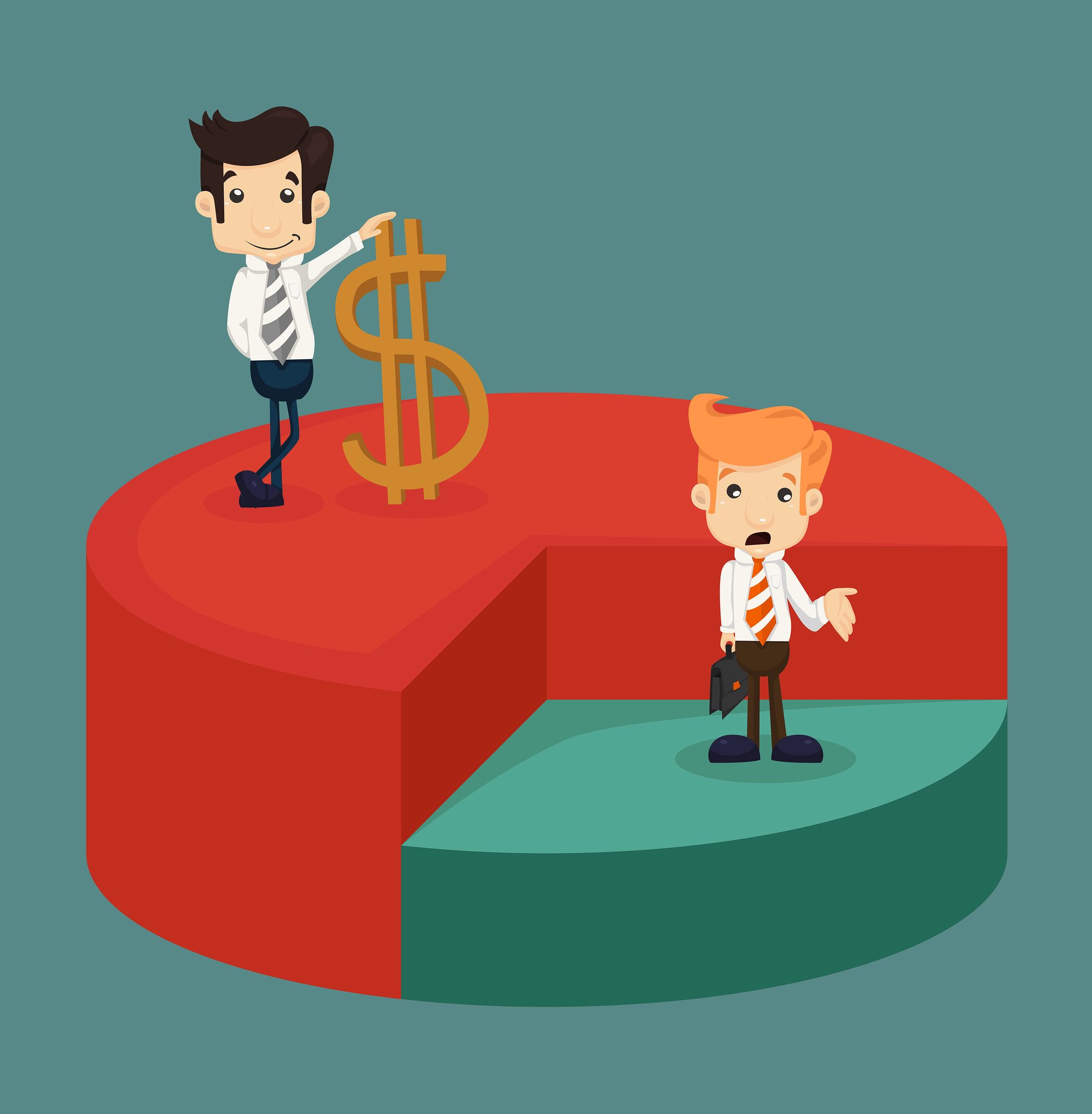 After drafting basic business information, you'll need to provide information about how ownership, authority, and profits & losses will be divided among members. Oversights in this section often give rise to the biggest conflicts.
You'll need to specify the following:
Each member's financial contribution

– This is the amount of cash, real estate, or other property that each member contributed to your business.

Each member's ownership interest in the business and percentage of the profits/losses

– In most cases, a member's ownership interest and share of the profits and losses are proportional to his or her financial contributions. In other words, if a member contributes 50 % of the business' startup capital, he or she will typically own half of the business and receive half of the profits and losses. However, this may not work for your business. For example, a member may only contribute 10 % of the business' capital but may do 60 % of the work, so the owners may determine that that member should have a larger share of ownership and profits.

Effect of additional contributions

– If a member makes additional contributions to the business, will this affect his or her share of ownership or profits and losses? If so, how?

Frequency of distributions

– An LLC's profits can be distributed quarterly, monthly, semi-annually, or annually. LLC members typically

have to pay

self-employment taxes

on their share of the company's profits whether they're distributed or not. However, if tax season comes around, and profits haven't been distributed yet, that might make it difficult for some members to pay their taxes. For this reason, you might prefer monthly or quarterly distributions.

Voting on important decisions

– Most business decisions are made on the fly, but for important decisions, a vote will be needed. You will need to decide if such decisions require unanimous consent of all members or a majority vote. Michael Boutros, an attorney at

Krevolin & Horst

, says that a common mistake with LLCs that have an even number of members is not having a tie breaker. He says, "When partners with equal say inevitably develop diverging views on a major company decision – whether to purchase a new building, or to invest in a new division – the company reaches an impasse that impedes its long-term viability." Make sure you include a tie breaker.
The choices you make about ownership, division of profits, and voting will impact who calls the shots in your business. The wrong choices could cause conflict among co-owners, so make sure you give this section added consideration.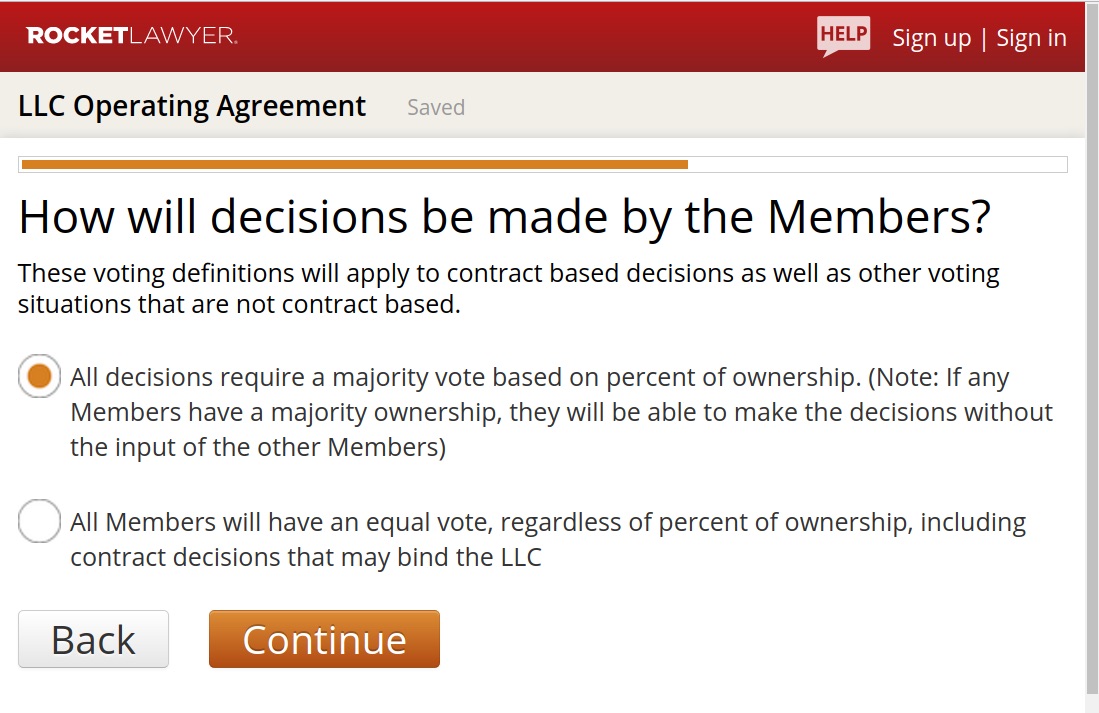 3. Business' Management Structure
An LLC can be managed in one of two ways. It can be member-managed, which means the co-owners run the business on a daily basis. Alternatively, it can manager-managed, which means the LLC owners hire and delegate authority to officers such as a President, Secretary, and Treasurer.
Most small businesses are member-managed, where the members actively take part in accepting orders, making products, and selling goods or services. In most states, if you don't choose your buisness' management structure, it is member-managed by default. Manager-managed LLCs are similar to a corporation with a board of directors. The members focus on growing the company and raising money, and the managers run the business on a daily basis.
Whatever structure you decide, you should know the answers to a few questions:
If member-managed, who is responsible for what?

For example, will one member be in charge of hiring and another in charge of sales, or will members share duties as needed?

If manager-managed, how will managers be selected?
How many managers will there be?
Under what circumstances can managers be fired?
What will be the managers' scope of authority?

(i.e. can they hire and fire employees, sell goods and services, or make purchases on behalf of the business?)
This section is at the heart of your LLC operating agreement because it affects how your business will be managed on a daily basis.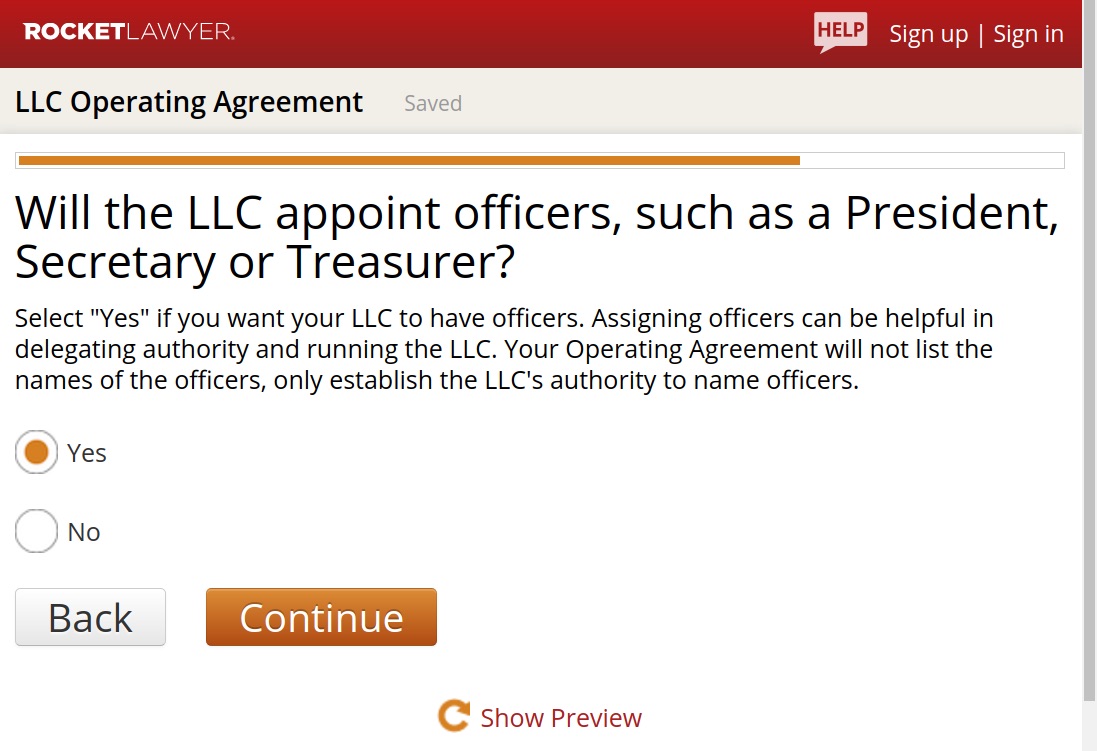 4. Accounting & Tax Provisions
The LLC Operating Agreement includes some provisions that will affect bookkeeping and the amount of taxes that your business has to pay.
On the accounting front, you'll have to choose to operate the business on a fiscal or calendar year. Most small businesses choose to operate on a January 1 – December 31 calendar year, but if you're a seasonal business, a different fiscal year may give you a more representative view of your income and expenses. Also, you'll need to decide your accounting method–in most cases, it is Generally Accepted Accounting Principles (GAAP).
In terms of taxes, an LLC can be taxed in multiple ways. By default, the IRS treats single-member LLCs as sole proprietorships and multi-member LLCs as partnerships. This means that you pay taxes on your share of the business' income on your personal tax return.
You can choose to have your LLC taxed as an S Corporation or a C Corporation instead. This can be beneficial if you're on planning to retain a lot of the company's earnings in the business instead of taking it out as a salary or distribution. The corporate tax for retained earnings is generally lower than what'd you pay in personal income taxes, though this does vary state to state. For more information, we recommend contacting an attorney or a tax professional. You can hire an attorney through Rocket Lawyer at discounted rates.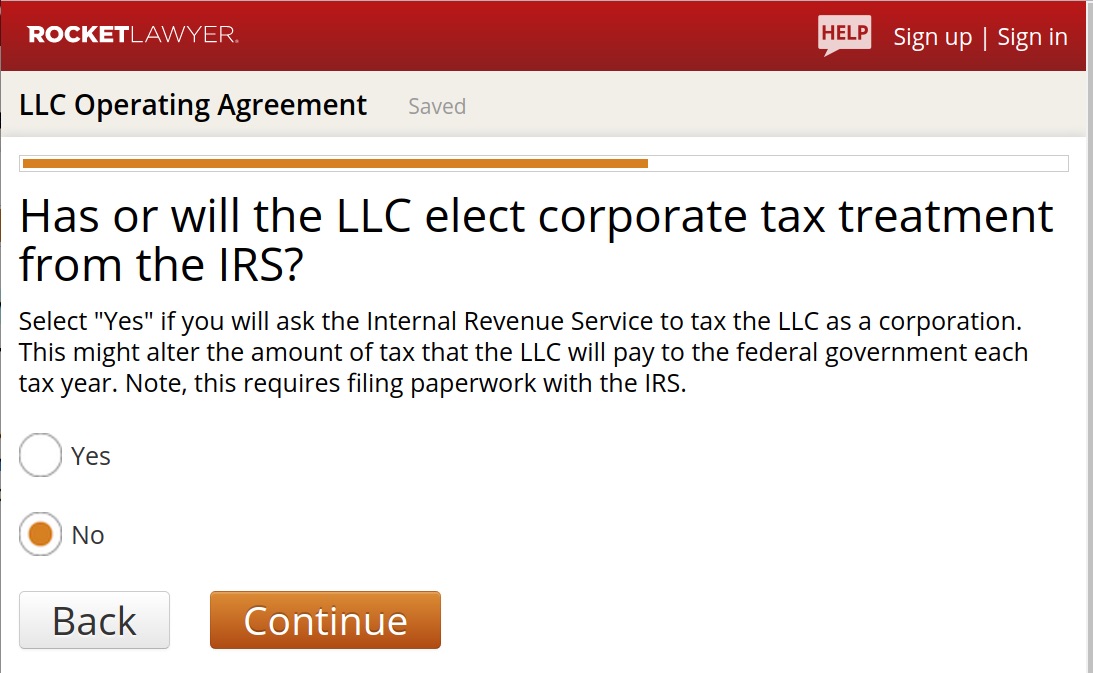 5. Buyout Provisions & Dissolution Procedures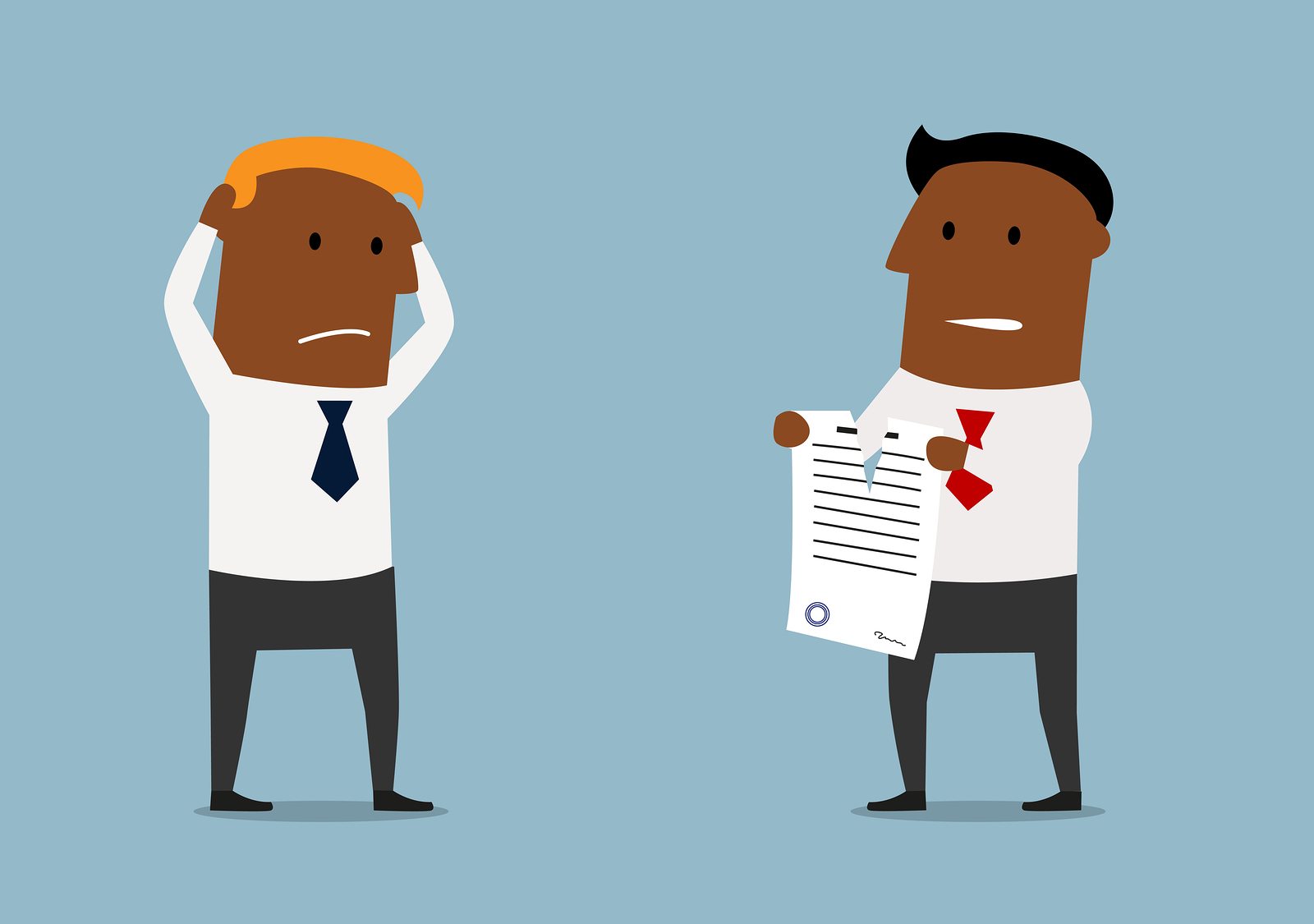 When a member parts ways with the business, remaining members usually have the right to buy the ownership interest of the departing member. This is called a "buyout provision." Members can exit the business for a number of different reasons, and it's important for the LLC Operating Agreement to address what happens in each of the following situations:
Voluntary exit

– The most common case in which a member departs a business is out of personal choice. Most often, existing members are permitted to buyout the departing member's share.

Involuntary exit

– Sometimes, a member can be compelled to exit the business by a vote of the other members. You should specify if this can occur in your business and the conditions required for a forced exit.

Death or disability

– If a member passes away, he or she may have a will that transfers their ownership share to a spouse or other heir. To preserve control over the business, there's usually a provision in the LLC Agreement that prohibits the transfer of a member's interest to a third party without the approval of some percentage of the remaining members. It may also be a good idea to get

key person insurance

to maintain continuity of the business if an owner or key executive can no longer work.

Personal bankruptcy of a member –

Members of an LLC should see to it that a member's personal financial troubles don't affect the business. "

Typically," says Boutros, "LLC Agreements will provide that the bankruptcy of a member constitutes the withdrawal and dissociation of that member from the LLC. Upon a member's declaration of bankruptcy, the member's entire membership interest is purchased by the LLC."

Divorce of a member

– When a member of an LLC gets a divorce, their spouse may be entitled to 50 % of the business. As with death or disability of a member, it's a good idea to have a provision prohibiting the transfer of a member's interest without the approval of other members

.

In addition, Boutros says that operating agreements often contain a provision giving members the right to purchase the membership interest of the divorcing member.
Even if you're a single member LLC, you should include some basic provisions about business transition. You should identify who will take over management if you pass away or become incapacitated.
Everyone hopes that co-owners will work well together and that a business will grow and succeed. However, unexpected or tragic events like the death or a disability of a member  sometimes happen. Addressing these possibilities in an LLC Operating Agreement is a great way to protect your interests and the interests of your co-owners.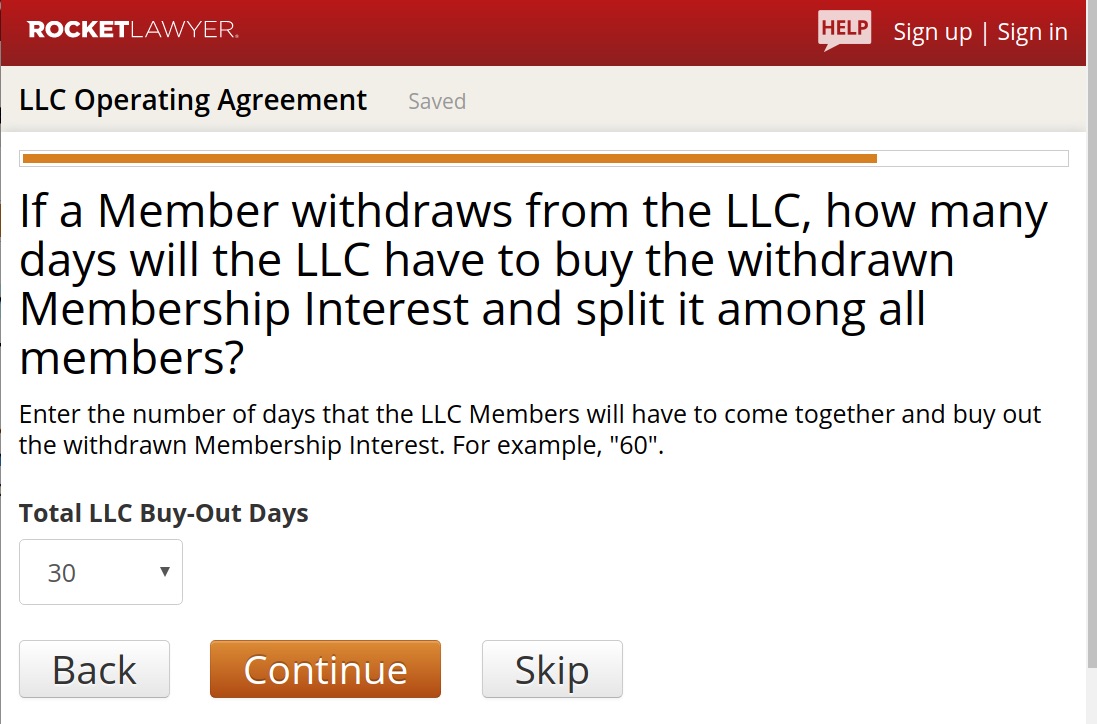 Before you get to work on your LLC operating agreement, you'll need to sit down with your business partners and figure out how you want to run the business. If you're a sole owner, you'll need to think about this on your own. Once you do that, you can use a template or hire a lawyer to draft up an LLC Operating Agreement for you. If you can afford it, it's always a good idea to hire a lawyer.
That being said, most single member LLCs and and LLCs with very simple arrangements can use a template. Nellie Akalp, CEO of online document filing service CorpNet says, "Typically if you are a solo member of an LLC or there are just a few members and the relationship will be straightforward, you can always default to using a template operating agreement or having a reputable online legal document filing service assist you with one. On the other hand, it is recommended that you retain the services of an attorney if you're dealing with complex transactions, mergers & acquisitions, or a large influx of cash within the LLC."
If you are using a template, beware of using just any template off the Internet. You don't know who created those templates and whether the provisions are suitable for your business' needs. This is why we like Rocket Lawyer. All of their templates are attorney-reviewed, and they walk you through creating the agreement with step-by-step questions. If you run into issues while drafting the agreement, you can use the sidebar to email an attorney.
Once you're finished, you can download the agreement, print it, and sign it for free if you sign up for Rocket Lawyer's 7-day free trial. If you want to create multiple agreements or want to be able to go back and edit your agreement later, then you'll have to sign up for the $7/month plan. Visit Rocket Lawyer now to start creating your LLC Operating Agreement.
How to Change Your LLC Agreement
Once an LLC operating agreement is signed by all members, it's a legally binding contract. But businesses change, and when they do, it may be necessary to also change your LLC Agreement. For example, you might want to bring a new member on board, or the business' line of work might change.
In order to change your LLC Operating Agreement, you should consult your state's rules. Some states require all members to agree on a change, others allow a majority vote, and still others allow the owners to set their own rules for changes (see a list of state rules here).  For small revisions, you may be able to simply attach an amendment to the existing agreement. Larger changes may require you to draft a new agreement altogether.
Bottom Line
Creating an LLC Operating Agreement doesn't have to be hard. Although every agreement is different based on the type of business and goals of the business, some basic information is included in every agreement. The 5 steps above will help you include the basics. For more complex agreements or for specific questions, we recommend that you consult an attorney.
Disclaimer: We strive to provide accurate content, but Fit Small Business is not a law practice or tax professional. We recommend consulting a professional before making decisions that affect you or your business. See our full disclaimer here.