New Hire Announcement: Everything You Need to Know (+ Free Template)
A new hire announcement is an internal communication introducing a new employee, typically sent a few days before they join your company. It includes who the new hire is, what role they'll fill, who they'll work with, and when they'll join your team. It may also include some interesting personal details about the new employee, so your existing team gets to know them better.
In today's remote and hybrid work environment, a new hire announcement is best sent via email. It should go to the entire company, so everyone can take a moment to welcome the new hire (don't forget to include the new hire, so they see all the replies).
To help you streamline your new hire announcements, download our free new hire announcement template.
Elements of a New Hire Announcement
While you want to keep it brief, make sure you're including information your existing employees should know. Including key details about the role and individual will make your new hire announcement effective.
Introduction of New Hire
While it can signify closing up the recruitment process of an open role, the main point of a new hire announcement is to introduce an employee who's about to enter the company. As such, it's important to provide a few details, such as:
Their name
Start date
Previous experience (if applicable/relevant)
This helps personalize the announcement and paves the way for your team to give the new hire a warm welcome. You can also add some other facts about the person to make it even more interesting (more on that in a bit).
Position Details
Include position-specific information in your new hire announcement:
Job title
Department and supervisor
Three to six key responsibilities
Other departments or employees the new hire will work with closely
If your company is remote, the new hire's city
This is the drab stuff, but it's important. These details tell your existing team how the new hire fits into the bigger organizational structure and highlights your reasons for hiring the employee.
Interesting Personal Information (Optional)
Here's where you can add some personality to your announcement. Consider sending your new hire a few questions to answer before they onboard. Here are some ideas:
What's the best trip you've been on and why?
What's your favorite meal?
What is your favorite hobby, and what makes it special to you?
Ask the new hire questions to get them to explore their personality—but make sure you don't ask any inappropriate or illegal questions. If your new hire wants to describe their family, they certainly can, but you can't ask them to.
Remember that this part should likewise be brief. You don't need a short story here, just a few sentences on something unique to the new hire. This is a great way for existing employees to bond with their new colleague and promote employee engagement.
Another way to add personality to the new hire announcement is to ask for a fun picture. Make sure it's workplace-friendly, of course. The picture could be a recent trip, a fun night out with friends, or anything the new hire feels comfortable sharing. A picture also helps your existing team recognize the new employee on video calls or when they're on the floor.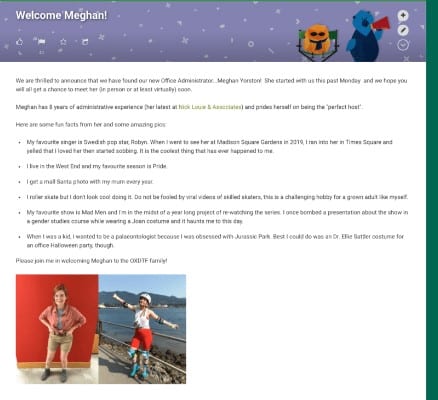 ---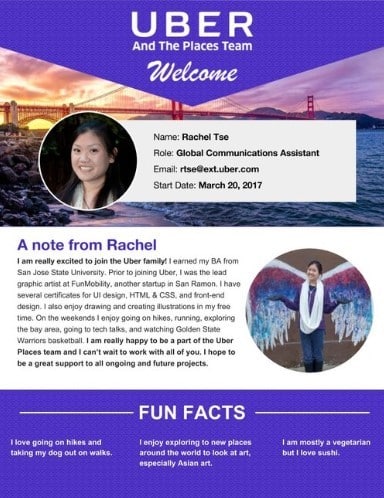 ---
New Hire Announcement Process (When, How & Who)
Send your new hire announcement one to three business days before your new employee starts. This gives your existing employees time to read and review the announcement and for them to send a welcome greeting for the new hire to have in their inbox when the new hire officially starts.
Look at your company's use of communication tools and determine the best way to send it. Consider sending a new hire announcement email—or, if your company uses a dedicated chat software like Slack or Teams, you may also send it through there. Sending it through email is a bit more formal, but through a messaging service, it could be more personal (and eliminate those long reply-all email threads).
Send the announcement to the entire company, including your new hire. This creates an opportunity for existing employees to better understand how the new hire's duties will affect them and how they'll interact together. You also want the new employee to feel part of the team on day one, so including them in this message lets them see all the replies and welcome notes from their colleagues. If you're using a messaging service instead of email, this can be a great way to give your new hire a fun and energetic welcome to the team.
Tips for an Effective New Hire Announcement
Keeping your announcement brief (less than 350 words) helps center your message on what's important: the new hire. By cutting out all the fluff, you can get straight to the introduction and increase the chances of your team remembering the information you've just released.
As stated previously, including position details helps put emphasis on how the new hire fits in the organization. On top of that, it gives your current employees some idea of how your company is running at the moment. This is especially important for filling in newly created job roles.
Including personal facts (with the new hire's permission or in their own words) sheds some light on the personality of the person you're onboarding and gives your current employees some common ground to bond with. However, before releasing any details, make sure to get the permission of the new hire first.
Your company culture will determine the formality of your new hire announcement. For smaller businesses, you can be informal while still being professional. For larger companies—and for leadership positions—it's best to keep the announcement more formal. You can still convey personality, but you're better off setting a more professional tone. Ultimately, the formality of your new hire announcement depends on your company culture and what you think works best.
While not directly related to the new hire announcement, we'd be remiss if we didn't add one more crucial tip. During your new hire's onboarding, especially in a remote environment, schedule a video call with the new hire and their team—or the whole company. This gives everyone a chance to get to know each other a little better and develop stronger relationships across the team.
Why Small Businesses Should Send New Hire Announcements
Regardless of your size, you want to ensure open and effective communication with your team. Sending a new hire announcement helps your existing employees stay in the loop on new colleagues, and it also helps your new hire feel welcome. This helps set the right tone for your organization.
Your notice of a new hire also helps the onboarding process. The new employee will receive welcome messages from the rest of your team, making them feel welcomed and a part of the team from day one. This camaraderie helps with employee engagement and, ultimately, productivity.
Bottom Line
A new hire announcement is your way to welcome the new employee to the team and prepare your existing employees for the new hire's arrival by giving them brief but specific information. This keeps your existing employees in the loop and makes your new hire feel special and important.