A new hire checklist helps to ensure that you don't miss any important steps when you add new employees to your team. If you're adding an employee to your business for the first time, you may be unsure of what's required. To help you, we've provided a free downloadable checklist that includes these important hiring tasks that you can check off as you complete them.
If you want to ensure a smooth onboarding process, use an integrated HR management software like Zenefits. Employees can complete 100% of their onboarding online—including signing offer letters, filling out I-9 and W-4 forms, and enrolling in benefits—all before their first day. Zenefits automatically populates this information to its payroll, benefits, and time-tracking tools so your employees can get set up in minutes. Click here for a free trial.
New Hire Checklist Template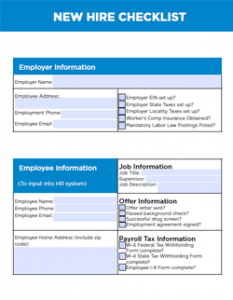 Using the 10 checklist steps we'll describe below, we've created this simple template you can download and customize. Use it to ensure you're prepared for your first employee. If you're hiring a 1099 contractor instead of a W2 employee, read our article on using an employment contract to hire a contractor instead.
Once you've set up your employer identification number (EIN), taxes, and workers compensation' (steps one through five below), you can modify the template above by omitting most of what's in the first section since you'll already have completed those first few steps.
The rest of the template can be used for each additional new hire to make sure you don't miss a critical hiring step.
The 10-step New Hire Checklist
There are five essential things you need to do before you hire your first employee, from obtaining an EIN to setting up taxes and insurance. Then, there are another five tasks like obtaining I-9 forms and other documents that you need to complete with your first and all subsequent new hires.
If you have already started that first new employee, you really need to get these done before your first payroll. We've documented these 10 tasks into a step-by-step checklist template that you can download and customize.
For Your First New Hire
Step 1: Obtain an Employer Identification Number
EINs are used by the IRS for tax administration. Before you hire your first employee, you'll have to apply for an EIN on the IRS website.
Due:
Before you hire your first employee
Step 2: Register for State Taxes
If you haven't already, make sure your business is registered for state and local taxes. Your state will likely provide you with an ID or number that you will need later when submitting payroll taxes.
Due:
Before your first hire (in most states)
Step 3: Obtain Workers' Comp Insurance
Step 4: Post Required Notices and Posters
Depending on the state you're located in and your industry, you'll likely be required to post labor law notices around the workplace. These are called labor law posters and include things like at-will employment, minimum wage rates and anti-discrimination laws. Most federal and state agencies will provide these posters for free (or at least give you PDFs to print out). The United States Department of Labor has an interactive questionnaire that will help you figure out which federal poster you need. You'll also want to check with your state office for other required notices.
Due:
On or before your employee's first day
Step 5: Determine State Unemployment Tax Rate
For All Subsequent New Hires
Step 6: Conduct Any Pre-screening or Background Checks (Optional)
While not required, it's a good practice to ensure the employee you're hiring has been truthful during the application and interview process. Therefore, consider conducting post-offer, pre-hire background tests or drug screening (if legal in your state), so there are no surprises.
Due:
Post-offer and pre-employment
Step 7: Obtain Signed Federal W-4 Form
Have your employee fill out and sign a Federal W-4 form on or before his or her first day of work. The W-4 is where an employee specifies his or her tax withholding preferences. You can find the form here on the IRS website. You do not have to submit this to the IRS but should keep a copy on file.
Due:
On employee's first day
Step 8: Obtain Signed State W-4 Form (If Required in Your State)
Step 9: Have Employee Complete Form I-9
The Form I-9 verifies an employee's eligibility to work in the U.S. You do not have to submit this to the government, although you do have to keep it on file for three years after the date of hire (or one year after an employee's termination, whichever is later).
Due:
Within three days of hiring
Step 10: Register with New Hire Reporting Program
All businesses need to report their new employees to their state's New Hire reporting program. The purpose of this registry is to help the government enforce child support payments, among other purposes. Each state has its own center, which you can find on the U.S. Small Business Administration's (SBA) website.
Due:
Within 20 days of hiring
A Final Step: Document Storage
As a final step in our new hire checklist, you'll also want to designate a safe place to store personnel files. In particular, I-9s and W-4s need to be kept on-hand. We caution against storing paper files in an unsecure location for confidentiality purposes, so we recommend using a secure electronic provider like Zenefits to house all of your employee files.
Other New Employee HR Resources
As your business is starting to grow, you may want to consider looking at a few other employee-oriented resources in our HR section, including:
The Bottom Line
The 10 steps of our new hire checklist with the template above may feel overwhelming for the small business owner who is just beginning to hire staff. However, go through these steps in sequence to ensure you don't violate any state or federal labor laws. Once the employee is hired, you can move forward with onboarding and training your new employee.
Alternatively, consider working with Zenefits to simplify hiring, payroll, and benefits, and onboard new hires online quickly and efficiently. You'll be supporting your new employees with a great hiring experience in the process. Try it free for 14 days.