2023 New Employee Onboarding Best Practices: Steps & Checklist
This article is part of a larger series on Hiring.
Onboarding new employees is the process of integrating a new worker into your company culture, ethos, policies, and teams. The goal is to provide the new hire with the tools and information needed to become productive and to help them feel welcome. Prepare your new employee for success by:
Confirming new hire data prior to the first day
Providing welcome materials
Holding a formal orientation
Defining job responsibilities
Providing company training
Introducing new employees to other team members
Discussing strategic growth
Scheduling regular performance reviews
Our new hire onboarding checklist is designed to provide you with the best practices you should follow when onboarding your new employees. It can be downloaded and customized to fit your business needs.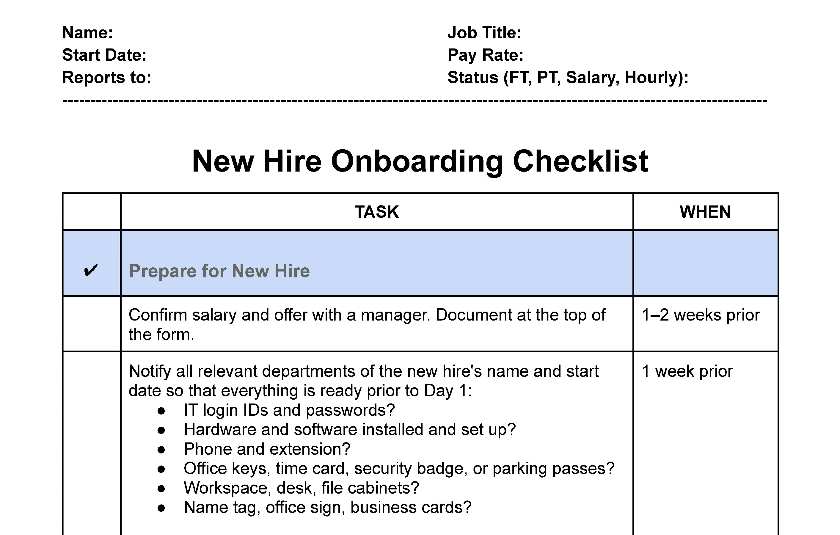 Thank you for downloading!
Rippling can help you with all your onboarding and employee hiring needs.
Step 1: Prepare for Your New Hire
Before your new employee begins their first day with your company, we suggest mapping out your onboarding plan and materials, confirming that pre-hire paperwork has been completed, and working out their schedules.
Start by making sure you have:
Confirmed all documents from the hiring process have been signed and verified, including the offer letter
Verified the salary and start date
Set up all IT systems and equipped the new hire to use office equipment, including computer, printer, building access keys, and company software
Prepared a welcome packet that includes new hire paperwork, payroll information, a summary of benefits, the employee handbook, etc.
Then, prepare the new employee's schedules, especially if they are an hourly employee who may work different shifts throughout the week. Consider using scheduling templates and software—they can help streamline your employee scheduling demands overall. We recommend:
Homebase: Best for brick-and-mortar businesses (such as retail and restaurants); free for one location with up to 20 employees
When I Work: Best for shift-based workplaces (such as medical and professional services); free 14-day trial
Step 2: Provide Onboarding Materials
On the first day on the job, your new hire should receive onboarding materials that include paperwork and a generalized exposure to their new role. Give your new hire time to digest the new employee forms and fill out needed documents.
All of the personnel information that you need should be included in the first section of any packet (even if it is an electronically shared packet). The onboarding materials packet should have:
Use a new hire checklist to ensure you are providing your new hire with all necessary documents.
Step 3: Hold a Formal Company Orientation
The new hire should participate in a new employee orientation, which introduces them to the company culture. While the onboarding process can (and should) last up to a year, overall new hire orientation (including the presentation) should be established within the first week of employment.
New hire orientation should follow the steps below:
Welcome and Introductions: Introduce the new hire to key team members they'll work with and provide them with important policy information. Also, describe the training they will undergo and let them know where they can raise their questions.
New Hire Paperwork: Provide the new employee forms and other required documents, collect their identifying information, and give them time to review the materials.
Orientation Video: Through an orientation video (or a one-on-one with HR), provide the new employee with information on the company culture, history, mission, vision, and values. Also, make sure to highlight the benefits offered by the company.
Training Sessions: Set up one-on-one sessions and provide how-to videos for software, non-discrimination and sexual harassment training videos, and job-specific training videos.
Acclimation to the New Position: Provide the new employee with the tools and software needed for job success, set up job shadowing with a peer, and give them time to digest everything.
Read our article on conducting new employee orientation for a more in-depth guide.
Step 4: Clearly Define Job Responsibilities
Although your new hire may have experience in their assigned role, they may not have experience working in your industry or with your specific product or service. Be sure to sit down with them and discuss the job description and role requirements.
We recommend utilizing both the employee's job description (details of their job) and a company organizational chart (who in the company their role will be impacting) when sharing with the new team member what their role is all about as the organization strives to meet its strategic goals.
Step 5: Discuss Their Strategic Growth Plan
Each employee within your organization should have a clearly defined strategic growth plan that outlines their goals and responsibilities. The growth plan should be specific and focus on the employee's continued improvement within their position.
When developing a growth plan within a specific position, be sure to
Your new employee should clearly understand their role and responsibilities related to the growth plan and have a clear understanding of how to achieve those goals.
Step 6: Introduce the New Team Member
The new team member should be introduced to their immediate team and the entire company within their first week of employment. This helps to acclimate the employee to their environment and allows them to meet the employees they may need to interact with regularly.
If your company has remote employees, consider an all-company meeting where you can introduce new team members to the rest of the company via video conferencing (such as Skype or Zoom).
Step 7: Provide Role-specific Training
Throughout the first months on the job, the new employee should be exposed to education and training sessions specific to their role. This goes beyond the basic training during orientation (where the employee learns their role) and encompasses more detailed training and development sessions.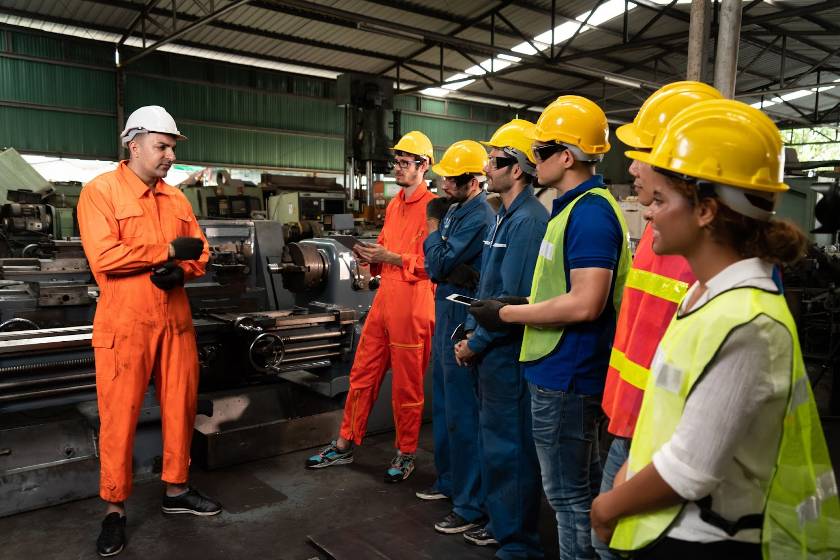 Personalized training provides the necessary education for employees and helps them keep track of their progress. Training management software can be used to deliver courses and track progress in one easy place.
Step 8: Schedule Regular Performance Evaluations
Throughout the first year of employment and as your new employee gets settled into their role, it is important to schedule performance evaluations. This ensures the employee is following their growth plan and meeting metrics set for success with the company.
By the end of the first month on the job, your new employee should be aware of performance expectations. This is the time to check in with them to ensure they have the tools and resources to be successful. Have the supervisor sit down one-on-one with the new hire for an informal conversation and to answer the new hire's questions.
Ask them how training is coming along. What do they need more training on?
Find out how they're getting along with co-workers. Any early issues to address?
Ask about policies, procedures, and work practices. Do they find anything confusing?
Check if they understand and have completed their medical and other benefits enrollments.
Determine if they have the contacts they need. Do you need to make introductions?
Find out what they're struggling with. Who can help them resolve or learn more?
Ask if there are any tools or resources they need to be more productive.
Review the performance management process. If you haven't already done so, it's a good time to set initial performance goals so that they're clear on your expectations.
Consider modifying your expectations during the first few months to focus on learning and mastery rather than on meeting numbers-based performance goals.
The first 90 days on the job (considered the employment probation period) is a time frame when the employee and your business are determining whether the employee will be a good fit. Remember that the employee may receive follow-ups from job applications they made before accepting the position with your firm, so don't stop selling them the benefits of working at your company.
Here are several ways to engage and inspire the employee:
Provide additional training and education: On-the-job training provides the most value to new employees to learn their tasks. Off-site and online training are great ways to develop employee skills. Consider training on software, writing, safety, presentation skills, and leadership.
Conduct performance reviews: A 90-day feedback session is a great way to share what you see that's positive in the employee's performance. Ask them what they need from the company or you. This is a time to establish performance expectations and find out what the employee needs to succeed. What could you or the company do better? How could processes be streamlined?
Offer team building: Great companies provide opportunities for team members to build strong co-worker relationships. Consider ways to help the team build trust and appreciation, like hosting an after-hours event or a team lunch.
Ask them to contribute to other projects: Once your employee has begun to understand their specific job, consider ways that they can contribute to projects. Projects expose them to other employees in the company and help them build relationships.
Onboarding shouldn't end once your new hire passes their first 90 days. If you continue onboarding throughout the employee's first year, you'll have a much better chance of keeping them motivated, engaged, and productive.
Communicate with your employee about the following:
Tasks that are ongoing during your new hire's first year.
Best practice HR activities, such as providing two-way ongoing feedback, giving the employee new training and development opportunities, and scheduling monthly sit-down conversations with their manager or with HR to "check in."
Discuss the employee's job responsibilities. Are they enjoying the job? Are there personality conflicts between the new hire and the supervisor?
Keep the lines of communication open. Schedule monthly conversations as part of onboarding that first year.
At the end of the first year, celebrate your new hire's onboarding success with a company-wide announcement and perhaps a first anniversary gift. The end of the first year marks a transition from a new hire to an experienced employee. That's worth recognizing.
Onboarding for Transitioning or Remote Employees
Although everyone thinks of new employees when discussing employee onboarding best practices, there are a few employee groups that require a renewed introduction to parts (or all) of the company and its processes. Whether an extended period away from work or moving into another company region, large changes can more easily be embraced with onboarding processes.
Employee Group

Description

Returning From Extended Leave

Employees who took unpaid time off (30 days or more) or have been out on medical leave for a long period (including new parents or primary caretakers for elderly parents) should get at least an abridged onboarding experience in the areas that have experienced change or been newly developed since their departure.

Returning Retired (Boomerang) Employees

Employees who have retired from their full-time job only to return to the same company and even their same team in a part-time capacity may need re-onboarding or perhaps to go through an

interview process

.

Temporary Workers or Contractors Hired Into Full-time Positions

Temporary staff typically do not receive full onboarding, but they will need some. Likewise, it is not uncommon for independent contractors to be hired onto the company's payroll; thus, they, too, will need some onboarding.

Global or Cross-country Transfers

When employees are transferred to different states or another country, there may be some differences in the corporate culture between locations. Some work rules, aspects of company culture, and business products or services may look different. These employees may need re-onboarding.

Remote Employees

The uniqueness of onboarding

remote employees

, although similar to in-person employees, lies in teaching them system setups and document sharing. You must keep company documents secure when onboarding remote employees.
Objectives of Great Onboarding
The reason for ensuring that you have a solid onboarding experience for new team members is because of the value it adds to the new hire and the organization, leading to optimal organizational performance. Successful onboarding also:
Ensures legal compliance: A robust onboarding process includes many requirements and legal obligations.
Deploys consistent experience: Maintaining an onboarding program that all new employees receive ensures that everyone gets a thorough welcome and direction.
Makes new hires feel "at home": The purpose of an onboarding program that offers a comprehensive experience is to embrace new employees so that they feel welcome at the earliest stages possible.
Leads to better ROI: When a thorough onboarding process meets talented and ambitious new hires, companies get an incredible ROI.
Improves employee retention: When you hire an employee, you are investing in people. It takes money, people, and time to properly onboard new team members. Safeguarding your investment by retaining your top employees is critical to competing in business.
Using HR Software for Onboarding
HR software can help with the onboarding process by automating many of your HR-related tasks such as creating custom employee profiles and tracking employee progress. With onboarding software, HR professionals can focus on more important tasks such as helping new employees learn the company's culture and policies.
For as low as $8 per employee monthly Rippling's software can handle onboarding for you, leaving you to get back to the heart of your business. Rippling can automatically add employees to the apps they need, internationally onboard contractors in over 100 countries, and prepare your new employees with a laptop that is set up, ready to use, and delivered straight to the employee.
How to Onboard With Rippling
Below are the steps to onboard a new hire with Rippling. Once the new hire has been successfully input into the system, Rippling will reach out to the new hire to complete the final steps of onboarding, which include entering their address information, banking, healthcare options, I-9 form, and more.
On your Rippling dashboard, select New Hire to begin onboarding a new employee. From there, you will follow the prompts to enter specific data, such as whether you are rehiring a previous employee or entering a new candidate manually. Then, enter the new employee's name and email address and click continue.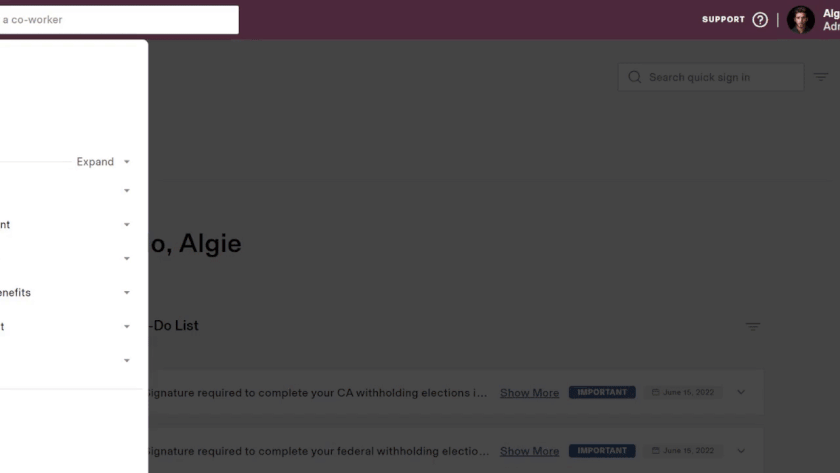 ---
You will be automatically prompted to enter the role details of your new hire, including their employment status (full time, part time, salaried, hourly, exempt, or nonexempt) and how you would like the offer letter to be created and sent. It also lets you select documents to add to the offer letter for signature. Rippling can send the offer letter straight from your dashboard.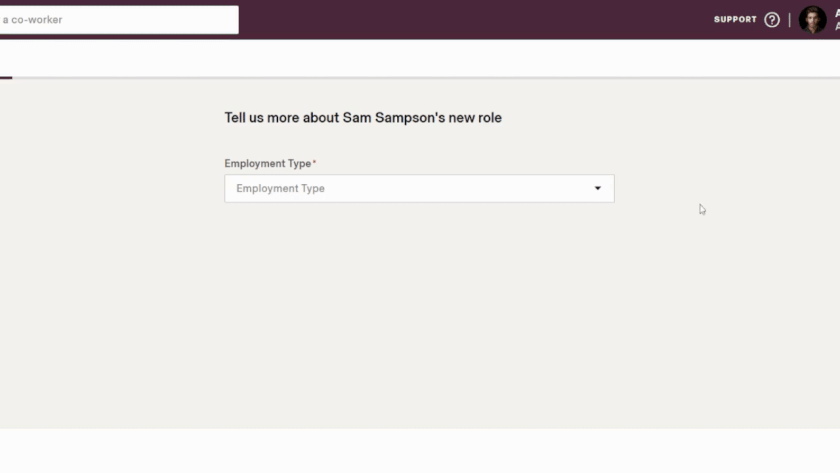 ---
The next screens will ask you for details such as work location, manager name, job title of the candidate, and start date. You can also select which department and teams this employee should be added to and whether this new employee will have any direct reports.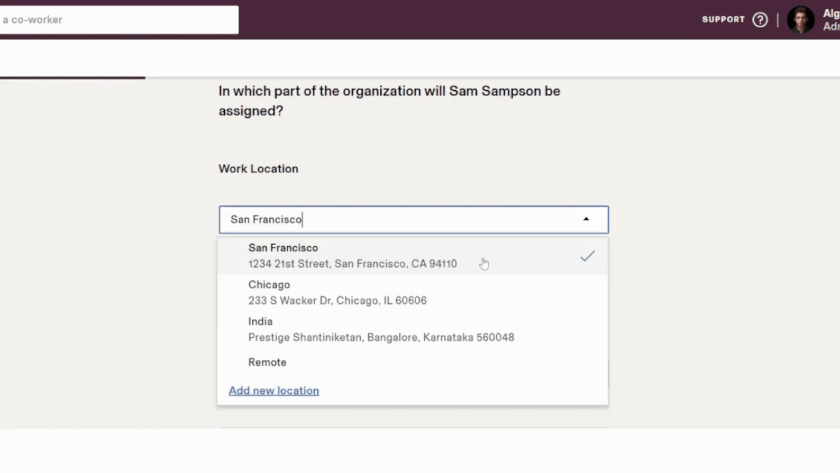 ---
For your employee to be added to payroll, you must enter their salary information, which you can list by year, pay period, or hour. Also, you can note any upfront payments to the new employee (such as a signing bonus). From there, you will be prompted to describe the new hire's job duties. This language will be added to the job offer letter, so be sure to be as specific as possible.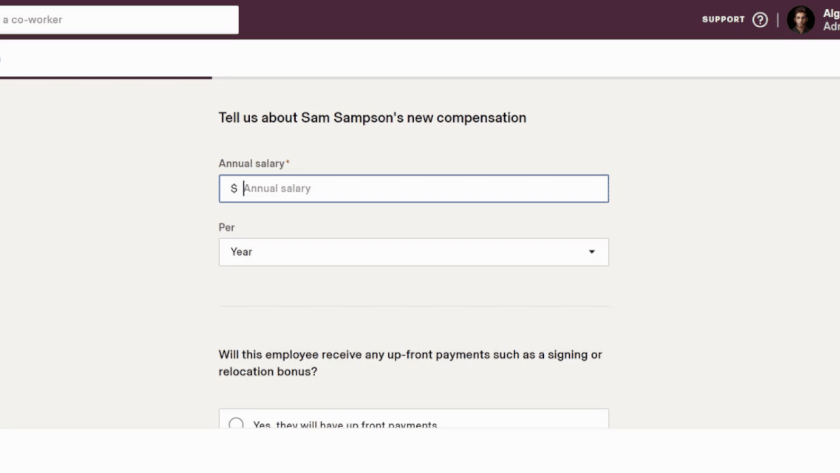 ---
After you enter the job duties information, you will be prompted about the new hire's work email address; click Continue. You will then be able to review the auto-generated job offer letter prior to sending it to the new hire. Should you need to make any changes, you can click the Edit button to be taken back to the previous screens. Once satisfied, click Continue.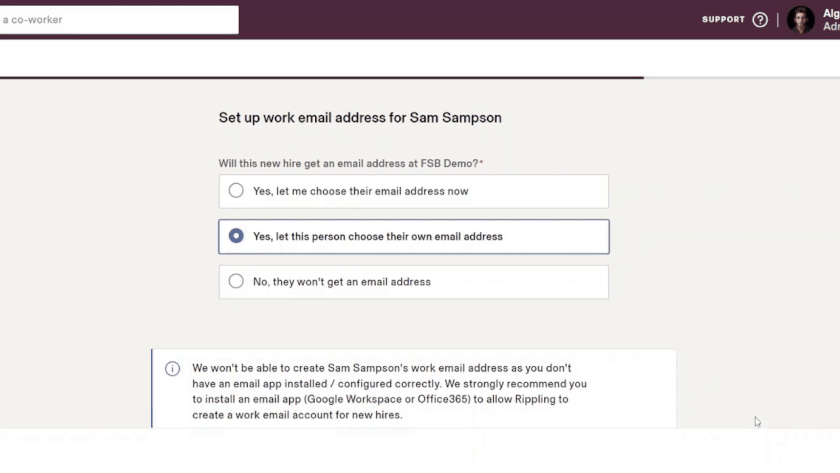 ---
Once you have completed all new hire input screens, Rippling will provide you with an overview of all the information you've submitted, including agreements that will be attached to the job offer letter, and devices and apps the new hire is enrolled in. Each section will show completely.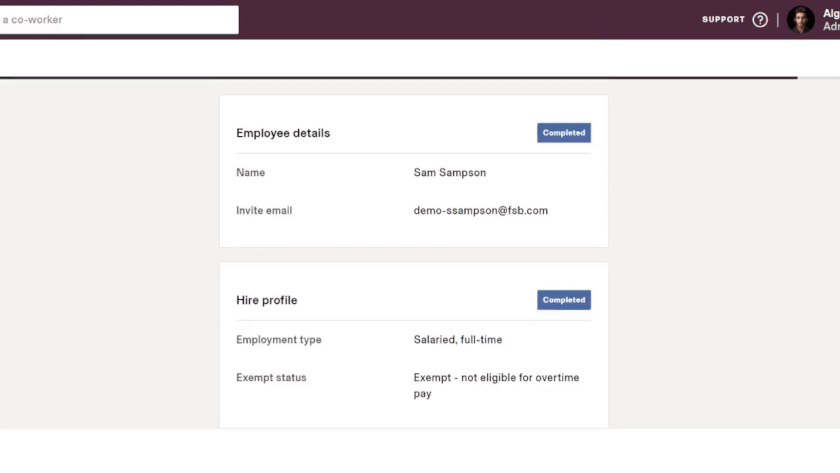 ---
Your final step is to review the onboarding process for the new hire—including the documents the new employee will sign through Rippling and the information that will be collected. Then, select how you would like to send the job offer letter (through Rippling or manually) and click Complete Hiring.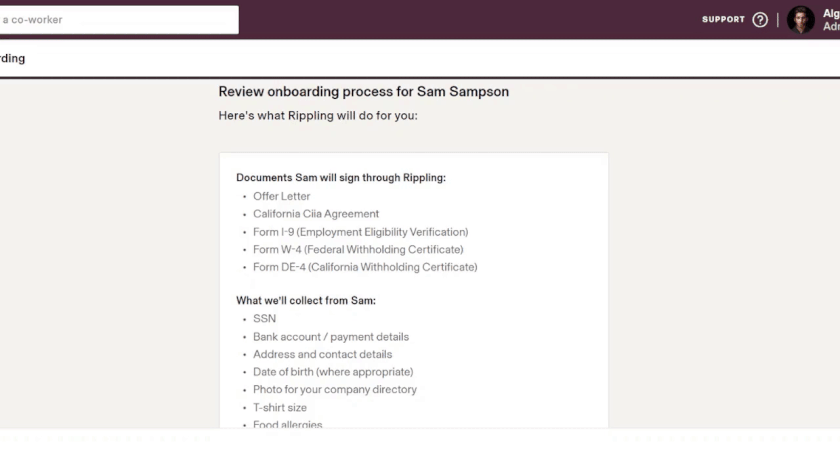 ---
Bottom Line
Onboarding your new team members is one of HR's (or a supervisor's) most critical roles. New team members' first impressions play into how long they remain with your company and how they feel about leadership. Incorporate employee onboarding best practices and you will have an edge on your competition. The good news is that your company does not need to spend a fortune to get a robust, polished onboarding program established and active.
Related Articles
How to Hire Employees
New Employee Forms
How to Conduct New Employee Orientation
How to Create a New Hire Checklist
Virtual Onboarding Ideas
New Hire Announcement