Employee onboarding is the process of integrating a new team member into your company culture, ethos, policies, and teams. The goal is to provide the new hire with the tools and information needed to become a productive employee and to help them feel welcome. Our steps are designed to provide you with the best practices you should follow in setting up your program.
In this article, we also address the best practices for onboarding remote-based employees. We also added steps to this process in light of the COVID-19 pandemic.
1. Create an Outline of Your Onboarding Program
Not everyone bothers to sit down and actually map out their onboarding plan. We suggest that this be your very first step. This ensures that, one, you are not "winging it" and, two, that everyone on your team has the same expectations for each and every onboarding event (save any customizations that you may need to make along the way).
As you research how to best develop your own onboarding program, we have developed a sample onboarding checklist to help. You can customize your new hire checklist so it fits within your specific preference and needs.
Offering a template program also allows you to memorialize the onboarding process so regular updates can be made and that as customizations are made to onboardings in different workplace locations, either across the country or the globe, you will know exactly where one diverges from the next.
2. Align Leadership and Team Expectations
There is nothing more frustrating when executing a new team member's onboarding than having important managers or leaders in the organization that do not believe in, feel that they have no time for, or simply think they are above participating in the onboarding process.
Ensure alignment before attempting to execute this all-important program. If you need to, employ workarounds with supervisors and managers that "don't get it" or seek guidance from their managers to induce change.
You can also reduce or replace the role that a supervisor or manager has with others on your team who are ready to lead (even if they are not a supervisor). If you have employees who know how to lead by example and to place themselves in a teaching role for new team members, then utilize these employees and minimize your vacant supervisors (many of these employees will become your future leaders anyway).
3. Identifying a 'Handler'
Oftentimes, this is someone in human resources, but it doesn't have to be; use the team members that you have to make the best onboarding decisions possible. The "handler" is the caretaker for the new employee for the first couple of weeks. This person maintains the scheduling calendar (and all of its changes), appointments with key people, helps get IT engaged when necessary, approves security clearance or permissions (as needed), and any other conceivable need that crosses the new team member's path.
We also suggest what we refer to as a "relay team" approach. Although you still may have a designated handler, your relay team can be made up of three additional people and, as they do in relay races, the baton is handed off from one person to another until the race is complete. Daily, you will have a number of topics to address with the new hire. Each relay team member will cover a focal point.
For example, one member covers IT and training, the second one addresses the onboardee's job, the third member covers the introduction to the organization-at-large, and the fourth relay member meets any human resources or general needs. The relay takes the new hire through each of these areas with a small group of team members who both partner with and guide the new employee. These "relay" categories can be whatever you want them to be, but if you select this approach, the relay team should meet at the end of each day to debrief and to plan out the next day or two.
4. IT Setup and Organizational Connectivity
Some say this goes without saying, but having your IT systems up and going before the employee arriving on the first day is essential for a smooth first couple of days. Ensuring that all IT hardware is assigned, needed permissions granted for key files, access to databases and internal portals, and the ability to email from a company email address on day #1 is really important. You do not want new employees using their personal email to conduct company business, as you will not have ownership or possession over those emails. Our IT checklist is short, but essential.
A computer and printer (a laptop if you are onboarding a remote employee)
Company email with a pre-populated address book listing all company employees
Internal messaging (such as Slack)
Access to team productivity tools (e.g., Trello, ToDoist, Asana)
Spreadsheets and analytics (these could be locked spreadsheets or reporting software that only certain employees have access to)
If your company has a Human Resources Information System (HRIS), set employees up within the software and provide access
Any company portals that house critical information for work
Office phone (if needed), phone listing and organizational chart
5. Create a Shared Master Schedule
There are many scheduling templates out there that work well. Whatever yours is for your team, make sure you share it with your new employee on day #1. There is no better way to demystify the employee's first day than to show them who they will meet and what they will be doing.
Although you do not need a specialized scheduling software to deliver an onboarding plan to your new team member, both When I Work and Homebase can help you streamline your employee scheduling demands overall. We like When I Work for a solid overall solution to scheduling and employee management.
6. Welcome Materials
You will see this on any Top 10 onboarding list you visit on the internet, but not all will recommend you include the same content within your welcome materials. Feel free to add items and steps to your own, but do not leave these items out.
New Hire Paperwork
All of the personnel information that you need should be included in your first section of any packet (even if it is an electronically shared packet). This information includes a confidentiality or nondisclosure agreement, payroll related forms such as W-4 and a direct deposit form, Form i-9, personal information and contact numbers, employee handbook, job description, background check authorization (if relevant), pre-employment drug screening approval (if relevant), summary of benefits and an organizational chart.
Company History 101
Assume that your new employee knows nothing about your company. Although discussion with several team members over the first couple of months will provide real education for them, including a document that shares the entire history of the company, be it brief or 100 years long, helps endear themselves to their new employer.
If you provide the new employee opportunities to invest in you, they will. Share your story, and they will more quickly understand what is special about your brand and team.
Company Culture
Due to its nature, there is not often a document that explains what a company's culture is all about. Company culture is, much of the time, difficult to explain and although every company should be able to, not many can explain what theirs is in a clear and concise manner. Company culture encompasses all the many values and behaviors that parlay into the unique social and psychological fabric of an organization. It's the ethos of the company, its employees, and its brand.
Taking the time to explain the company's culture thoroughly is a step closer to helping the new team member become more grounded in how their role fits into the larger picture. Too much of the time new hires are forced to put these puzzle pieces together on their own, over an extended period of time.
Facebook offers unique insight to the concept of company culture that can be shared and imbued over the long term and how employees can become an integral part of that story. Although this video clip highlights Facebook's program, any company can have this quality.
Although company culture can be shared with the HR representative or the new employee's supervisor, we suggest that an executive sit down with the new team member one-on-one or during a new employee orientation group talk, to prioritize the importance of culture and what it means to your organization. Having someone in senior leadership talk about culture in a meaningful way, helps new team members understand how you have prioritized it within the team and throughout the brand.
Mission, Vision, and Values
Much like with company culture, new employees need to know and understand what the company's mission, vision, and values are. These can be shared through documents that are concise and clear. The mission statement is the organization's charter and reason for being. Once again, new team members can better and more quickly see their place in the organizational big picture when they have a clear line of sight on how their role fits in with others and how they can contribute to the company's mission.
7. Time With Executive Leadership
The No. 1 purpose for having new employees spend time with at least one person in senior leadership (although more is better) is to deliver the message, "You are important and valuable."
Honoring new employees with executives that can spend time talking about company culture, its mission, and the year's strategic plan offers that newcomer insight into what is happening at the top levels of the organization. This is powerful stuff! Do not underestimate the value of a new employee talking about their job with their supervisor one minute and the company's strategic plan and annual goals with a vice president the next. New team members never forget these discussions.
8. Their Role Within the Corporate Strategic Plan
We recommend utilizing the employee's job description and an expansive organizational chart when sharing with the new team member what their role is all about as the organization strives to meet its strategic goals.
The goal of effectively sharing the employee's role in the broader picture is to first review what the details of their job are (using the job description) and who in the company their role will be impacting (using the organizational chart). The organizational chart shows who all team members are, and it is the supervisor's job to connect the new employee's role to the many other positions throughout the organization. It is important to show how their role will impact others, as well as projects within the company that they may have no direct relation to but indirectly impacts others' ability to do their jobs.
For example, if your new employee works in IT, tying the employee's work to how the IT support they provide (e.g., keeping computers and the network active) impacts people in finance (where people and bills get paid), marketing (where files of images and design work reside) and manufacturing (where logistical management or production scheduling is essential) will give them a solid understanding and appreciation of how critical their role truly is.
9. A Welcome Lunch
This may seem simple, but your new team member will never forget their first lunch with their supervisor or immediate team. When this is not possible, try to schedule a virtual happy hour or a special team session that is more socially focused than work focused.
Although a little old fashion (in ancient Roman times, breaking bread with friends and colleagues was ritual), to this day it signifies a change, from candidate and new employee to becoming a member of the team. During lunch, the focus should be on personal details and not business. Additionally, the new team member should not be the only one sharing during this time; everyone at the table should work on getting to know each other better and how the new team dynamic may evolve for everyone.
10. Be Flexible
Keep in mind that this entire list, as well as any items you add to it, should not be set in stone. Flexibility, we would argue, is the most important attribute to your onboarding program. At times, meetings scheduled will get canceled, documents will be lost, new team members get sick, and executive leadership team members will not be available to pitch in. Do not be afraid to reschedule, replan, and retool your onboarding—either to get through a single onboarding or due to a needed change in the program-at-large.
As you consider the unique challenges of developing a robust onboarding program overall, thinking about how to incorporate additional needs that your remote-based employees will have and dealing with the stressors of COVID-19 while continuing your business operations, we have found that partnering with outside providers, like a Professional Employer Organization (PEO), can greatly help with managing your team members.
An HR service that we have fully vetted is Zenefits; it's a strong contributor to building solid onboarding processes, as its entire software is built to manage all human resource-related needs, including benefits management, time tracking, scheduling, and payroll, for as low as $8 per month, per employee.
Employee Orientation vs Employee Onboarding
It's important that we clarify that orienting an employee to their new job and comprehensively onboarding your new team member into the organization are two very different objectives.
Onboarding speaks to the inclusive, overall exposure and invitation to join the entire organizational team, while orientation does what it suggests: it "orientates" the new employee to their duties and station. While the onboarding process can (and probably should) last up to a year, the new employee orientation (NEO) typically lasts a day or two and includes the basics for new hire paperwork and generalized exposure to the department that their new role resides within.

Objectives of Great Onboarding
The reasons for ensuring that you have a solid onboarding experience for new team members is because of the value additions the organization receives (yes, you can look at this selfishly). Although one of the key objectives is to help your new employee feel comfortable, welcomed and supported, even that is for the greater good. It all leads to optimal organizational performance (which is how you can measure your return on investment (ROI).
Ensures legal compliance: A robust onboarding process includes the many requirements and legal obligations to be fully addressed as employees begin work.
Deploys consistent experience: Maintaining an onboarding program that all new employees receive, ensures that everyone gets a thorough welcome and direction.
Team members feel truly welcomed: The entire purpose of an onboarding program that offers a comprehensive experience is to embrace new employees so they feel "at home" at the earliest stages possible.
Quicker ramp up: When a thorough onboarding process meets talent, ambitious new hires companies get an incredible return on investment.
Improved employee retention: When you hire an employee you are investing in people. It takes money, people, and time to properly onboard new team members. Safeguarding your investment by retaining your top employees is critical to compete in business today.
Many companies will orient their new employees but never truly onboard their employees comprehensively. Research by Glassdoor has discovered that companies with a well-planned and orchestrated onboarding process improve new hire retention by 82% and productivity by over 70%. This points to an incredible opportunity to maximize and leverage your new team members sooner in conjunction with the continued execution of your annual goals.
Onboarding … Not Only for New Hires
Although everyone thinks of new employees when we discuss employee onboarding, there are a few employee groups that also may require reindoctrination or renewed introduction to parts or all of the company or its processes. Whether it is an extended period of time away from work or moving into another region of the company, large changes can more easily be embraced with onboarding for the transitioning employee.
Returning From Extended Leave
Some employees who took unpaid time off 30 days or more or have been out on medical leave for a long period of time (including new parents or primary caretakers for elderly parents), should get at least an abridged (back) on-boarding experience in the areas that have experienced change or been newly developed since their departure. This may involve new executive leadership, teams, or departments; it might even encompass a simple refreshing of key processes that impact all personnel.
Returning "Retired" (or Boomerang") Employees
It is no longer uncommon for Baby Boomers to "retire" from their full-time job only to return to the same company and even their same team to continue in a part-time position. During this transition, you may need to include an interview process if the team member has been away for a lengthy period of time; these Boomerang employees may take several weeks or months off before returning. Much like onboarding employees who have been on extended leave, Boomerang employees will need a refresher.
Temporary Workers or Contractors Hired Into Full-time Positions
Not all temporary staff receive full-fledged onboarding, even within companies who are good at onboarding their team members. Likewise, it is not uncommon for independent contractors to be hired on to the company's payroll, thus they too will need onboarding. Keep in mind that some independent contractors will have never been a W-4 employee before and will need more of an onboarding on how payroll and time tracking work.
Global or Cross-country Transfers
Although not always the case, when employees are transferred to different states, for example, from California to Texas or to Maine, there may be some differences in the corporate ethos that varies from the east to west coast's version.
Some work rules, aspects of company culture, and business products or services may look quite differently. For example, if an employee of Company XYZ moves from the customer service center in Los Angeles, California, to Company XYZ's logistics hub for the Eastern Seaboard, chances are the work culture and many of the processes and procedures will be vastly different.
Onboarding Remote Employees
The uniqueness of onboarding remote employees can be extra challenging. Now more than ever, employers can utilize the benefits of bringing on remote-based employees. Among many attributes, remote employment practices allow companies to compete against much larger organizations for sought-after top talent.
The good news is that every step in this article that points to a best practice for onboarding employees in general, also applies here. However, we need to bring attention to a few critical action items that will make or break a remote employee's first experiences on the job.
IT Set Up and System Connectivity
Yes, this is a must for any new employee, but make no mistake about it, a remote employee only has IT tools and equipment to connect them to the company's platform, allow them to send emails, join team meetings, and conduct work. IT connectivity is your remote employee's lifeblood to all they do on your team, so nothing should precede full system and IT setup (including the employee's start date).
Electronic Document Sharing
In the event that your new employee orientation (NEO) process is not paperless, ensure that you have a version of NEO paperwork, as well as all critical documents that the employee will need for their job, ready to go for your new team member. Examples of this is a digital employee handbook, key policies that employees are responsible for knowing, and, in all honesty, any policy, resource, and companywide document that employees in your main location(s) enjoy having access to.
Emphasize Team Unity
Once again, this is important for all new employees, however for remote employees, team unification and belonging needs to be a company priority. They cannot visit the watercooler in the break room, join after hours get-togethers  Friday afternoons, or share office birthday cake during colleagues' birthdays (sad, we know). Truly, the sense of inclusion and unity is sparked by leadership and sustained by the team. Buffer.com's "State of Remote Work (2019)" shows that remote team members struggle with loneliness more than just about anything else.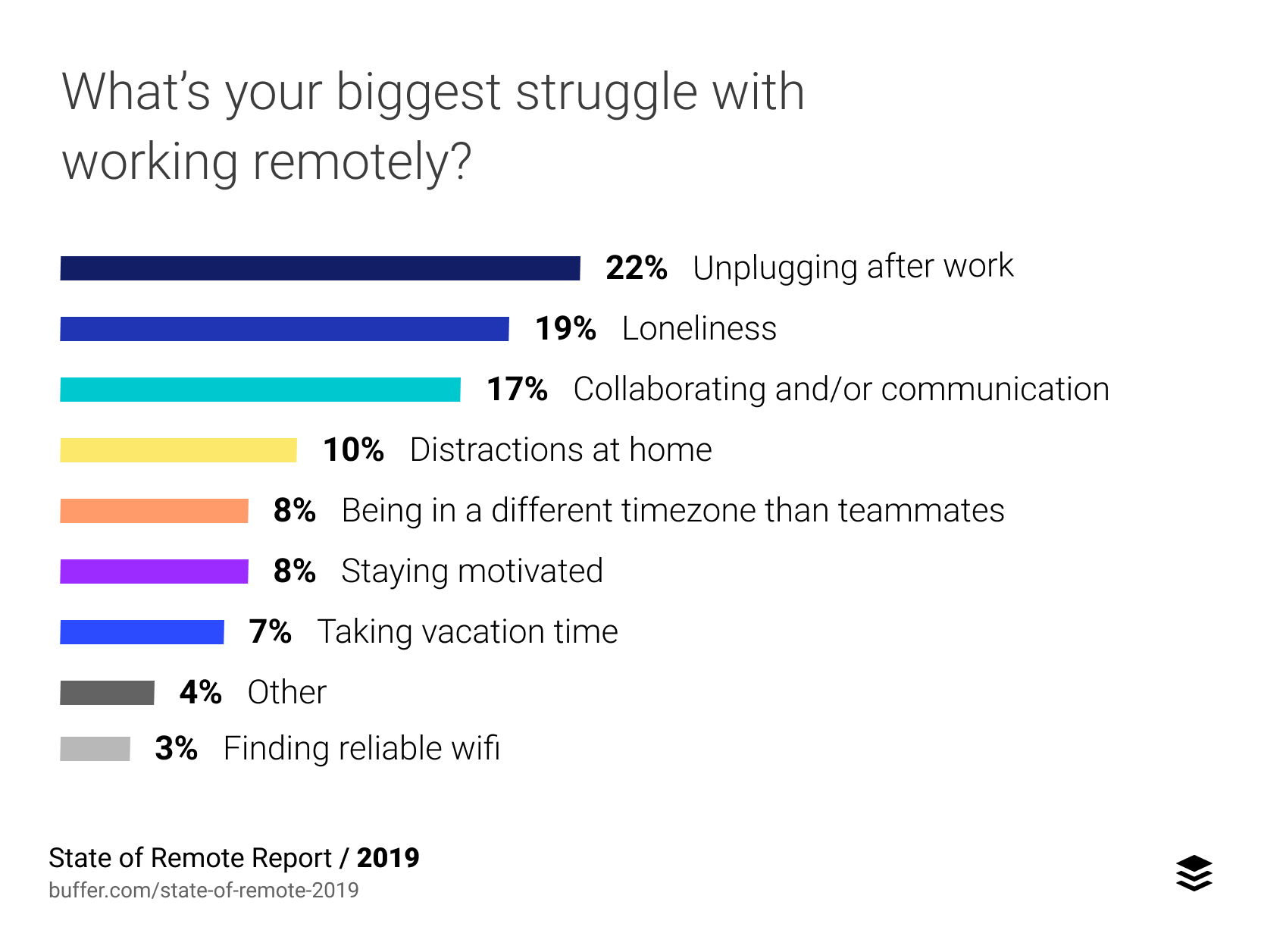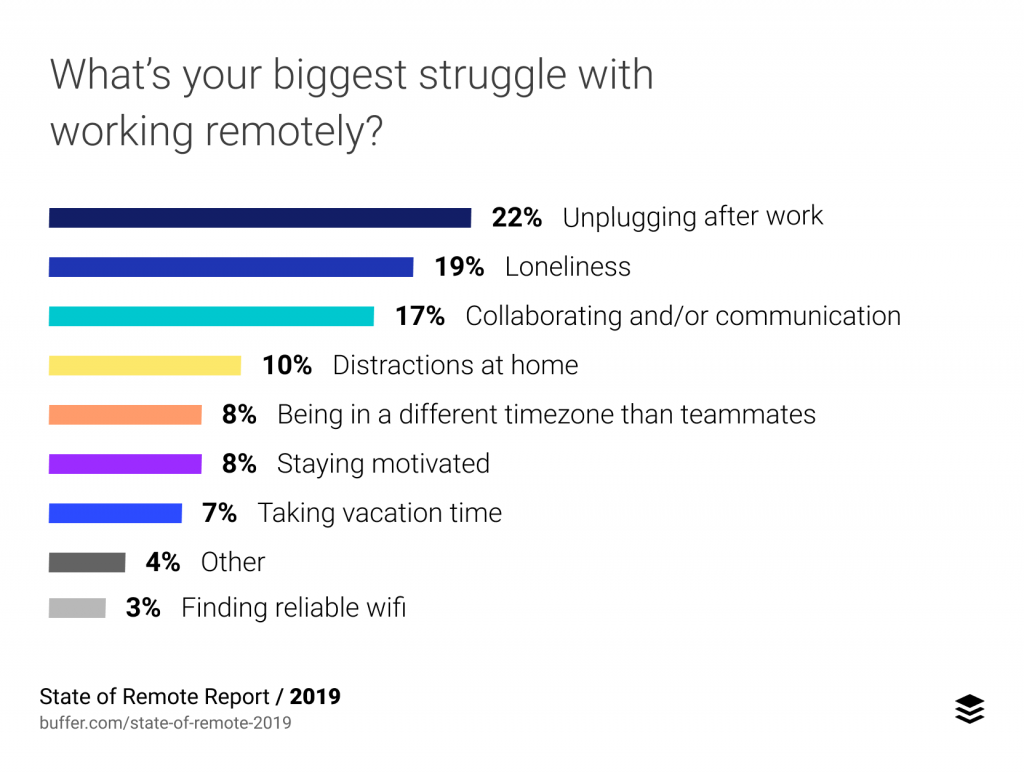 Actively Develop Collaborative Learning
One of the best ways to engineer cross-pollination in learning and unifying team members who work together, but remotely, is to create a program of learning that includes employees teaching other employees in one-on-one sessions and in small groups. This intertwines team members together over time and promotes a healthy dependence on one another. This tip is a secret weapon for you; create learning opportunities that involve multiple team members, and you will find a strong, inclusive work team that builds on its own foundation over time.
Use Video Technology
Insist that when you are meeting with your remote team members, either one-on-one, as a project team, or with your larger department or work team, video sharing is on. This is a helpful habit to get into when managing remote employees long term. Being able to read body language and facial expressions (or knowing when someone sounds serious, but is actually joking) goes a long way to inclusion. Seeing each other also helps connect individuals; there are fewer things more important than to help your remote team members feel connected and part of a larger team.
Without any of the non-verbal cues to discern intent from what we see and hear, challenges with communication can easily arise. Maintaining an active practice of having video on during Zoom, Teams, or WebX calls ensures that each team member is interacting fully in a clear and present manner.
Onboarding During COVID-19
Although onboarding your new hires well is always an essential task, when you are onboarding remote personnel, the importance and challenges of onboarding are enhanced.
Additionally, the world of COVID-19 we are presently living in, further adds to the complexity and obstacles. The Department of Labor (DOL) has two resources: the Preparing Workplaces for Coronavirus and Industry specific guidance. Both are resources that can help you prepare for your new team members, as well safeguard present employees, whether they work from home or if they are preparing to return to their conventional workspace.
It could be that not all positions on your team are remote in nature, however, COVID-19 has a larger percentage of the global workforce presently working from home. Although some states are beginning to loosen restrictions, you may choose to onboard employees a while longer in a remote fashion.
It is due to this reality that we recommend developing an onboarding system for remote employees that you bake into your overall onboarding program. The fact is, and this depends on your industry and the nature of the new team member's role, that more and more employees within the US and around the world are hiring remote based employees.
Flexjobs.com reports that over the last five years, remote employment practices increased 44%, and over the previous 10 years, it grew 91%. What's more is that between 2005 to 2017, there was a 159% increase in remote work positions in the United States. Today, 3.4% of the US population works from a remote location.
Avoiding Common Onboarding Errors
We won't lie to you, there are several opportunities along the way to onboarding new hires that can go astray. The best laid plans can go sideways and, more times than not, employers are simply unprepared for new team members to show up at their doorstep (even though they know they're coming). Spending a little time preparing and taking advantage of tools like this article will help mitigate these concerns and missteps.
Lack of Preparation
First and foremost, be ready to onboard your new team members before they arrive. Push start dates out far enough so you can arrange first-week meetings, IT set up, and other critical tasks or meetings.
Overloading New Hires
It is truly exciting to bring someone brand-new onboard. Each time you add a new team member, the entire team or even company can evolve. A common error in onboarding is loading up the new employee with too much too fast. Give them time to breathe and to absorb their new reality.
A general rule that we like is to fill each day two-thirds full with meetings, training, and with other tasks. This should be the rule for the first two weeks, leaving plenty of open times throughout the day for the new hire to sit and decompress. This will result in the employee enjoying and retaining more of the experience beginning on day No. 1.
Ignoring Diverse or Unique Needs
Whether we are talking about physical needs, alternative work schedules, or a rigid onboarding program that HR insists on completing during the first week at any cost, do not be a victim to the program, insist that it fulfills its concept. Be flexible to the needs of the new team member and the organization; evolve, delay, and alternate different approaches when needed.
Not Planning for Remote Employment Onboarding
As has been mentioned, many employers still do not have a plan within their onboarding program that accounts for onboarding remote employees. The sooner you develop a program for this particular need, the more enhanced your remote team members' experience will be from the first day.
Mistaking Orientation for Onboarding
Orientation is important. New team members need to know where their desk is and they need to complete their new hire paperwork. Do not let it end there; onboarding, as we have covered, envelopes the entire employee experience and the company as a whole. This process should last at least six months and can extend to the entire first year of an employee's journey.
Bottom Line
The concept of onboarding is not only a loud buzz in all industries now, it is a multi-billion dollar industry in and of itself. The good news is that your company does not need to spend a fortune in getting a robust, polished onboarding program established and active.
Welcoming your new team members and onboarding them well, many would argue, is HR's (or a supervisor's) most critical role. New team members' first impressions play into how long employees remain with your company and how they feel about leadership. Get the onboarding game right, and you will have an edge up on your competition, as you retain your top talent over the long haul.