Employers are right to be concerned about how to fire an employee legally due to often confusing federal and state laws. However, most states allow businesses to terminate employees at will. Protect your business from costly wrongful termination and anti-discrimination lawsuits by following important steps like documenting the "why" and sending final paychecks on time.
Here are the steps we recommend you follow to terminate an employee: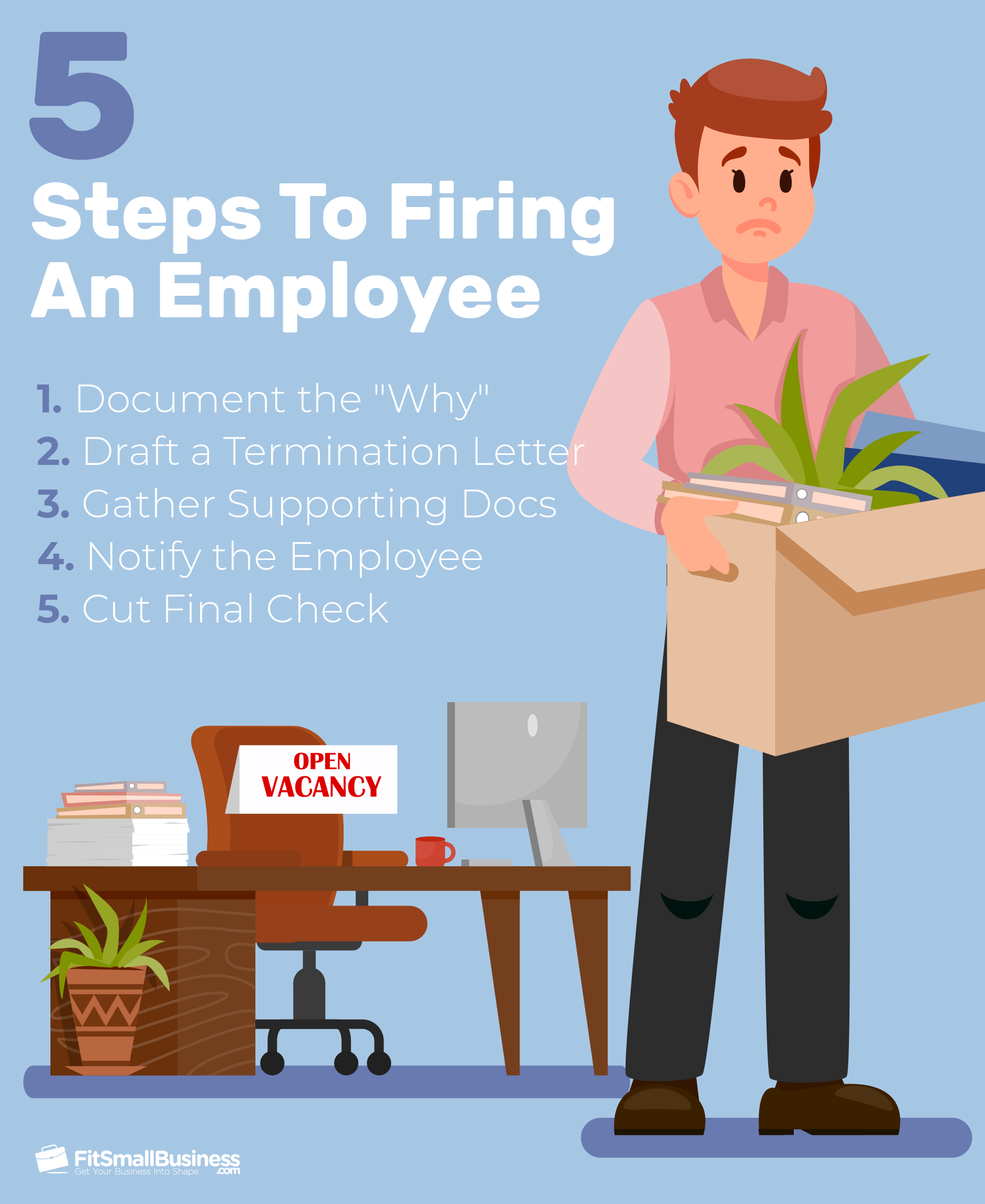 1. Document Why You Are Terminating the Employee
This is both the most crucial and often missed step when firing an employee that can land you in legal hot water should an employee sue you for wrongful termination. That's because without documentation, a court will almost always favor the employee in a he-said/she-said scenario.
Your reason doesn't have to be difficult, complex, or wordy. In fact, it should be concise, business-related, and to the point. Due to the at-will employment doctrine that the majority of U.S. states follow, you can often simply state a business or performance reason in something as simple as an email that you drop into the employee's folder, although larger firms may prefer to use a more formalized termination checklist.
Here are three examples of reasons you can put in termination documentation for common issues:
Performance issue: <Name> is being terminated from employment effective <date> due to less than satisfactory work performance.
Business slowdown: <Name> is being terminated from employment effective <date> due to an unexpected downturn in company business.
Personality conflict: Per the at-will employment doctrine, <Name> is being terminated from employment due to interpersonal conflict with co-workers, affecting morale.
What's important to note, even in states that abide by the at will employment doctrine is that it's helpful to have documentation supporting your termination decision. For performance issues, that may include recent manager feedback or poor performance review forms. Often, it can be as simple as handwritten meeting notes jotted in the employee's file regarding on-the-job issues observed.
Firing an Employee At Will
Every US state except Montana abides in some way by the at-will employment doctrine. That means that either the employee or the company may terminate the employment relationship at any time for any reason—or for no reason at all. However, in real life, the at-will employment doctrine won't prevent you from being sued for wrongful termination, and that's why having documentation to support your termination reason helps.
For example, you cannot terminate an employee for a discriminatory reason such as race, pregnancy, or age. The better documentation you have showing that you didn't fire the employee for illegal reasons, the better off you'll be and the easier it will be to defend yourself if the employee later asks to see their personnel file or hires a lawyer.
Firing an Employee for a Policy Violation
If you are in a situation where an employee should be terminated, you likely have ample evidence of the issue somewhere in your paperwork. Documentation could include surveillance camera video, manager meeting notes, or time cards. You may only need one of these items as evidence that the reason for termination was not discriminatory.
Policy violation documentation might include any or all of the following:
Time cards showing a pattern of late punches, long lunches, or breaks
Hand-written meeting notes regarding conversations about policy issues (these should be signed and dated by the note taker)
Written documentation of verbal warnings for any infractions like rudeness to a customer
Written warning of policy violations such as cashing personal checks in the register
Emails supporting any of these problems (print or store them in a secure location)
Company policies, such as maternity leave, that the employee did not comply with
A timeline of the events showing a pattern of issues like derogatory jokes or actions
A signed employee handbook showing when it was received and reviewed
A signed employee policy statement outlining company rules
The employee's job description
In fact, these documents should be gathered in real time and dropped into the employee's personnel file and discussed with the employee in advance of your decision to terminate; this is because an employee can ask to see documents within their personnel file. Personnel files are usually accessible to employees, although some states require a court order.
Firing an Employee Due to Poor Performance
Poor performance is a common reason that employees are terminated, and good managers are expected to address it. It's also one of the easier termination reasons to defend. That's because you will typically have data to show—such as poor employee performance reviews, customer complaints, co-worker emails, mistakes found, manager notes, damage photos, performance metrics, or other evidence of performance issues.
You should think twice before you decide to terminate an employee; ask yourself these very important questions to be sure the reason you're terminating the employee is work-related and not something else entirely that might be seen by the court as a federal or state labor law violation.
Discrimination: "They were starting to look way older than our other waitstaff and I figured it was time for them to retire." That's age discrimination. If they were forgetting orders and getting too many customer complaints, however, that may be a valid reason for termination. Be sure to document the performance concerns, not their age.
Retaliation: "They came in late on Election Day claiming they had to vote, so I fired them." That could be seen as retaliating against an employee for exercising their civic rights. However, if your policy states they need to call first, and they didn't, you could terminate them for a company policy violation—however, even that is iffy.
Sexual harassment: "The employee kept making complaints against their manager, and it was getting awkward." Firing a person in this scenario may be considered retaliation. Instead, take all complaints of sexual harassment seriously and investigate.
Safety issue: "The employee refused to dig in a trench, so I fired him for insubordination." Perhaps the employee was exercising his OHSA rights. You can't legally fire a worker for abiding by OHSA rules or any labor or safety law. Instead, see it as an opportunity to train managers and employees on safety and work requirements.
Pregnancy: Some employers think it's OK to fire an employee for being pregnant. However, that's strictly forbidden by federal laws like the Americans with Disabilities Act (ADA) and many state laws. Instead, it's best to find a reasonable accommodation if an employee is having trouble doing the job due to her temporary medical condition.
Whistleblower: "The employee said they were going to turn me into the labor board, so I fired them for threatening me." Whistleblowers are protected under the law; don't go there.
2. Draft a Termination Letter
Your termination letter should get right to the point. Ensure that it has the basic information included such as the business name, employee name, and date of termination. It's best to use company letterhead to make it official and avoid listing the termination reason in case the employee wants to dispute it.
Termination Letter Sample Templates
Here are two short example termination letters you could copy, paste, and modify to your business needs. Use these as a starter template, replacing the placeholders with your specific information. It's a best practice not to go into detail on the termination reason but to use a more generic statement instead.
Termination Letter For Firing Employees With Advance Notice
Dear <Employee name>,
Your employment with <Company name> is being terminated effective <date>. You will recall, per the Employee Handbook that you signed upon hire, that your employment with our Company is At Will.
You are to turn in all company property including <list items> on your last day of work which will be <date>. Your final paycheck will be provided to you at the end of the workday.
Before that time, it is expected you will continue to perform your job in a professional manner. You will be invited to participate in an exit interview on your last day of work.
We appreciate your past contributions toward our business success and wish you well in the future.
Termination Letter for Immediate Terminations
Dear <Employee name>,
Your employment with <Company name> is being terminated effective immediately <date> due to company policy violations.
You are to turn in all company property including <list items> before leaving the premises.
Your final check is enclosed for the pay period ending <date>, in the amount of <paycheck amount>.
Termination Letter Clauses You Can Add
Here are sample clauses you may want to add to your termination letter based on the situation such as whether you offer healthcare insurance, severance, or pay out PTO balances upon termination:
For COBRA: Your current healthcare coverage is with <provider name>, and it will remain in effect until <date>. Please find information enclosed regarding your continuation of coverage rights.
For Legal: <Company name> retains the right to take legal action should you violate the terms of our non-compete agreement which you signed upon hire.
For PTO: You have earned unused PTO in the amount of eight days. The dollar amount of this company-paid benefit will be paid to you on your final paycheck dated <date>.
For Paycheck: Per state law, your final paycheck can be picked up in person on the next payday <date> or it will be mailed to you, whichever you prefer.
Also, if the employee is over age 40, your termination agreement will need to have special anti-discrimination clauses and a timeline in order to align with federal law. Due to the risk of a wrongful termination lawsuit and rules that vary by state, it's best to confer with your labor law attorney or work with an online legal firm before finalizing any termination forms.
Some legal services start as low as $89 per month for basic forms and consultations. Or, you may want to sign up for a monthly consulting service with an HR expert like Bambee that tailors its services to small business labor law needs starting at $99 per month.
3. Gather Termination-related Paperwork
Once you've confirmed that your termination reason is valid, non-discriminatory, and documented, it's time to gather some data before you notify the employee. This may be difficult when you want to terminate an employee on the spot such as in a restaurant where they've just gotten into a fight with a co-worker. In that case, it's best to send the employee home (with pay if needed) and give yourself time to gather these documents.
You'll essentially need two kinds of paperwork: documents you need to gather before you actually fire the person (such as their hours worked and paid-time-off balances due), and documents you'll need to bring to the termination meeting itself such as a severance agreement or their final paycheck.
Paperwork to Prepare in Advance of the Termination
Before the termination meeting with the employee, you should gather the following information and paperwork, some of which is mandated by law. We've linked examples for some of these documents as templates below in case you want to download and modify them for your use.
Termination letter: This document will need to be created per state requirements and should include company information, employee name, and the termination date.
Termination or severance agreement: If you are offering to pay an employee severance, this letter will convey the terms and timing of payments. For example, some employees are required to sign a nondisclosure document or return company equipment before getting severance pay.
Benefits information: If you currently provide the employee with health insurance benefits, you will need to prepare Consolidated Omnibus Budget Reconciliation Act (COBRA) documents that provide insurance coverage options to the employee.
Unemployment information: While not required unless you are doing a layoff, you may want to bring documents to help the employee apply for unemployment. Note for mass layoffs (over 50 people) within 30 days, you'll need to abide by the Worker Adjustment Retraining and Notification (WARN) act.
State-required paperwork: For example, California requires an additional Health Insurance Premium Payment (HIPP) notification be provided in companies with 20 or more workers. Your state and locality may have unique requirements.
Final paycheck: In some states, depending on the reason for termination (quit or fired), you must provide the final paycheck the day of termination. Other states allow you to wait until the next business day or next pay period.
For a quick lookup of your state's rules, click on the drop-down below. It will show you when final paychecks are due in your state, as well as provide a link to your state's website for more information.
State-by-state Payroll Laws on Final Paycheck Due Dates
| State | Min. Wage | OT | Pay Period Max | Final Check Due |
| --- | --- | --- | --- | --- |
| Alabama | Same as federal | After 40 hours week | None specified | Next payday. |
| Alaska | $9.85 | After 8 hours in a day | Monthly | In 3 days if fired, next payday if 3 days notice given. |
| Arizona | $10.50 | After 40 hours week | Semi-monthly, no more than 16 days apart | 7 days or next payday (whichever is sooner). |
| Arkansas | $8.50 | After 40 hours week | Semi-monthly | 7 days if fired. |
| California | $11.00 | After 8 hours in a day | Semi-monthly, depends on occupation | Immediately if fired. Immediately if 72 hours notice given on term. Otherwise 72 hours. |
| Colorado | $10.10 | After 40 hours week | Weekly, unless approved by labor commissioner | Next business day if fired. |
| Connecticut | $8.25 | After 40 hours week | Monthly | Next payday. |
| Delaware | $12.50 | After 40 hours week | Semi-monthly | Next day if fired. Within 7 days or next payday (whichever is sooner) if quit. |
| Florida | $8.25 | After 40 hours week | None specified | Next payday. |
| Georgia | $5.15 | After 40 hours week | Semi-monthly | Next payday. |
| Hawaii | $10.10 | After 40 hours week | Semi-monthly, unless employees approve monthly. | Same day if fired. Immediate if notice given, or next pay period when quit. |
| Iowa | $7.25 | After 40 hours week | Monthly, paid within 12 days from end of pay period. | Next scheduled payday. |
| Idaho | $7.25 | After 40 hours week | Monthly | 10 days or next payday (whichever is sooner). |
| Indiana | $7.25 | After 40 hours week | Semi-monthly | Next scheduled payday. |
| Illinois | $8.25 | After 40 hours week | Semi-monthly with some exceptions | Immediate upon separation if possible, but no later than next pay day. |
| Kansas | $7.25 | After 40 hours week | Monthly | Next scheduled payday. |
| Kentucky | $7.25 | After 40 hours week | Semi-monthly | 14 days or next scheduled payday, whichever is later. |
| Louisiana | Same as federal. | After 40 hours week | Semi-monthly, with exceptions | 15 days or next scheduled payday, whichever is sooner. |
| Maine | $10.00 | After 40 hours week | Semi-monthly, not to exceed 16 days | Next scheduled payday or within 2 weeks. |
| Maryland | $9.25 | After 40 hours week | Semi-monthly | Next scheduled payday. |
| Massachusetts | $11.00 | After 40 hours week | Bi-weekly | Day of term if fired. Next payday if quit, or following Saturday if no payday scheduled. |
| Michigan | $9.25 | After 40 hours week | Monthly, depends on occupation | Next payday. |
| Minnesota | $9.65 | After 40 hours week | Monthly | Immediately if employee fired and requests paycheck. Otherwise next payday, but no later than 20 days after termination. |
| Mississippi | Same as federal | After 40 hours week | Semi-monthly | Next payday. |
| Missouri | $7.85 | After 40 hours week | Semi-monthly | Day of term if fired. |
| Montana | $8.30 | After 40 hours week | Wages due within 10 business days | Day of term unless employer has a written policy; no later than 15 days after term. |
| North Carolina | $7.25 | After 40 hours week | None specified | Next payday. |
| Nebraska | $9.00 | After 40 hours week | None specified | Next payday or within 2 weeks, whichever is sooner. |
| New Hampshire | Same as federal | After 40 hours week | Weekly | Within 72 hours if fired or quit, or next payday if lay off or no notice is given. |
| New Jersey | $8.60 | After 40 hours week | Semi-monthly, except executive or supervisors can be paid monthly | Next payday. |
| New Mexico | $7.50 | After 40 hours week | Semi-monthly with some exceptions | Within 5 days if fired |
| New York | $11.10 | After 40 hours week | Weekly for manual workers, otherwise semi-monthly | Next payday. |
| Nevada | $8.25 | After 8 hours in a day | Semi-monthly with some exceptions | Immediately if fired. If quit, next payday or within 7 days, whichever is sooner. |
| North Dakota | $7.25 | After 40 hours week | Monthly | Next payday. |
| Ohio | $8.30 | After 40 hours week | Semi-monthly | Next payday. |
| Oklahoma | $7.25 | After 40 hours week | Semi-monthly | N/A |
| Oregon | $10.25 | After 40 hours week | Monthly | End of next business day if fired; 5 days if employee provided 48 hours notice before quit, otherwise next payday or 5 days whichever is sooner. |
| Pennsylvania | $7.25 | After 40 hours week | None specified | Next payday. |
| Rhode Island | $10.10 | After 40 hours week | Semi-monthly, with restrictions | 24 hours if term due to merger, relocation of business liquidation, otherwise next payday. |
| South Carolina | Same as federal | After 40 hours week | None specified | 48 hours or next payday, but no longer than 30 days. |
| South Dakota | $8.85 | After 40 hours week | Monthly | Next payday if employee returns employer property. |
| Tennessee | Same as federal | After 40 hours week | Semi-monthly | Next payday or 21 days whichever is sooner. |
| Texas | $7.25 | After 40 hours week | | 6 days if fired, next payday if quit. |
| Utah | $7.25 | After 40 hours week | Semi-monthly | 24 hours if fired, next payday if quit. |
| Vermont | $10.50 | After 40 hours week | Semi-monthly if written notice provided | 72 hours if fired, next payday if quit, or if no payday scheduled, the following Friday. |
| Virginia | $7.25 | After 40 hours week | Semi-monthly with some exceptions | Next payday. |
| Washington | $11.50 | After 40 hours week | Monthly | End of next pay period. |
| West Virginia | $8.75 | After 40 hours week | Semi-monthly | N/A |
| Wisconsin | $7.25 | After 40 hours week | Monthly | 24 hours if term due to business relocation or liquidation. Otherwise next payday or within 30 days, whichever is sooner. |
| Wyoming | $5.15 | After 40 hours week | Semi-monthly | Next payday. |
Make a Copy of the Termination Documents
Once you gather the termination documents such as the termination letter, final paycheck, and health insurance notices, you'll want to bring two copies. One copy of these documents you will give to the employee during the meeting and the other copy you'll save for your own termination records stored in the now-terminated employee's file. This set of documents is often referred to as a termination packet.
Below we've provided two tables for more information on what kind of documentation you may want to have on hand (or securely filed) to support your termination should there be a dispute by the employee. We've labeled each as to whether it's required for your protection, recommended, or not required.
The tables below outline the kinds of paperwork by employee type, exempt vs nonexempt. Hourly and shift employees (laborers, waitstaff) are often considered nonexempt. Salaried and professional staff (doctors, lawyers) are typically considered exempt. The documents you need when terminating an employee depends on which category your employees fall within.
Note, the payroll distinction between salary and hourly employees is similar, but not always the same as the employee classification (exempt/nonexempt). Therefore it's best to review your termination procedures with your labor law attorney to prevent unintentional employment law violations.
Recommended Documents to Protect Yourself Legally
(Use When Firing a Nonexempt Employee — hourly / shift worker)
Required: ✅
Recommended: ✓
Not required: ⛔
| Paperwork Type | Termination for Clear Cause | Termination At-Will | Termination with Potential Issues* |
| --- | --- | --- | --- |
| Documentation of Offenses | ✔ | ⛔ | ✅ |
| Timeline of Offenses | ✔ | ⛔ | ✅ |
| Signed Handbook Agreement | ✔ | ✔ | ✔ |
| Termination Letter | ✔ | ✅ | ✅ |
| Termination Agreement | ⛔ | ⛔ | ✅ |
| COBRA (if you provided health insurance) | ✅ | ✅ | ✅ |
| Final Paycheck | Varies by state | Varies by state | Varies by state |
Recommended Documents to Protect Yourself Legally
(Use When Firing an Exempt Employee—salaried staff)
| Paperwork Type | Termination for Clear Cause | Termination At-Will | Termination with Potential Issues* |
| --- | --- | --- | --- |
| Documentation of offenses | ✔ | ⛔ | ✅ |
| Timeline of offenses | ✔ | ⛔ | ✅ |
| Signed handbook agreement | ✔ | ✔ | ✔ |
| Termination letter | ✅ | ✅ | ✅ |
| Termination agreement | ✔ | ✅ | ✅ |
| COBRA (if you provided health insurance) | ✅ | ✅ | ✅ |
*Protected class, incidents where there are two sides to the story, potential lawsuit, etc.
4. Notify the Employee Being Fired
As tempting as it may be to exclaim, "you're fired," notifying the employee is farther down the list than you might think when terminating an employee. Only after you've covered your bases above should you communicate with and notify the employee that they are being let go.
If you fail to document your termination reason, it's likely you'll end up paying unemployment as well as have no defense in case of a lawsuit. Similar issues can occur if you don't provide written notification with a termination date (what used to be referred to as a pink slip). That's because your (former) employee can dispute their term date and rationale.
Further, if you fail to provide a correct final paycheck on time, you could be slapped with a labor law violation, back pay, and fines. Other common mistakes include docking pay from a worker illegally for things like not returning their uniform, or for damaging company equipment. You can't do that.
"No surprises! If you are meeting with an employee in order to terminate him/her, this cannot be the first time you have addressed this performance issue with the employee."

—Cheryl Chester, Practice Leader, Organizational Effectiveness, The Idea Factory, Inc.
In fact, in cases of serious performance or disciplinary issues, a savvy employer will often send the employee home—rather than fire them on the spot—so that they have time to gather final documents (termination letter, final paycheck) and information in advance. This often requires a call to the employee's manager, your payroll processor, or an HR consultant. That can take a few hours.
How to Fire an Employee Legally on Termination Day
Once you arrive at the day you are ready to terminate the worker, it's best to find a trustworthy witness to join in your termination meeting. This is often someone in senior leadership such as an HR manager, the business owner, or another supervisor.
Prepare this person in advance by letting them know what will be happening. For example, will this person walk with you to help the employee pack up their belongings, or escort the terminated employee out? Ensure the person you choose is comfortable being a witness to a termination meeting and that they will keep the details confidential.
Here are some best practices for how to terminate an employee in person:
Use a private office or meeting room: A private conference room protects the individual's dignity as well as prevents distracting other workers on the job.
Provide a termination packet: A prepared package saves you from awkward fumbling around with papers. It also ensures the meeting doesn't drag on.
Grab a box of tissues: This may seem silly, but nothing is more embarrassing to a person being fired than crying and having no tissues at hand. Have a heart.
Don't rush the employee: The worker may have an emotional reaction. It's best to let them compose themselves before gathering their things and leaving.
Bring the final paycheck: Even when not required by state law, that final paycheck ensures a clean ending to the employment relationship. The worker doesn't have to worry about or make a trip back to pick up their check at a later date.
Rehearse your words in advance: Know what you're going to say by jotting down some talking points for yourself. Otherwise, you're likely to ramble.
"If you're nervous about the whole thing, approach someone you can trust and role-play with them. It'll help you understand how to smooth the edges when you breach the topic with the person in question."

—Jagoda Wieczorek, HR Manager, ResumeLab
When you're ready, set yourself up in the private meeting space, have your documents with you (including any forms you need the employee to sign). You may also want to bring your talking points to help you get through it. Consider asking your witness to bring the person to the meeting room. In any case, wait until you're all in a private space before you break the news.
Termination Speech Example
Once the meeting starts, thank the employee for coming in and get to the point. Keep it simple, and avoid using adjectives, apologies, or disclaimers in your wording. It's better to rip the bandage off quickly than to sandwich the bad news between uncomfortable chit chat. The employee may already be aware that something's up.
Here's a sample of a termination speech:
"Thank you for coming in. We are having this meeting to tell you that your employment is being terminated.
I am sure this news is upsetting, however, we need to go over some paperwork with you.
We have your official termination letter and a termination agreement for you to sign. If you sign the agreement, you are entitled to severance. This agreement and letter also clarify your benefits and how you will get the rest of your pay you are owed through today.
Please take the time you need to look it over right now, and you are welcome to take it with you. If you have questions after today you can call or email me (or your HR person if you have one).
The deadline for signing is also in these documents. If you do not sign the paperwork, unfortunately, the severance will be unavailable.
It is now time for you to leave the premises. We'll provide you a box, help you clear your things, and escort you out. We will also be taking your keys and any other company property you have on hand."
When done, it's best to stand up to signal that the meeting is over.
To summarize, your three biggest priorities within the termination meeting are to provide the severed worker with any required paperwork, treat the individual with respect (so things don't escalate), and get the employee off the premises quietly once they've gathered their things.
"Understand that the employee will go into shock the minute you say you are "losing your job." From that point on they will hear your voice but not comprehend a word that you say; especially the important details of what is to come next."

—Damian Birkel, Founder & Executive Director, Professionals In Transition Support Group, Inc., Job Searching University
What Might Happen at the Termination Meeting
Every person reacts differently, so we wanted to share some common examples of what might happen during the termination meeting. That way, you'll be prepared and know what to do.
Interruptions: If the employee interrupts you, ask them to wait until you are finished sharing information. Let them know they'll have time to ask questions at the end.
Anger erupts: If an employee storm outs, have your witness try to calm and bring them back into the room. If they refuse to come back in, hand them (or overnight the termination documents). Then escort them out and remove their access to the building.
Crying: It's not uncommon for a person being fired to cry. Be respectful, and ask if they need a moment. Do not apologize or qualify the termination with hugs or excuses. Stick to the script as best as possible.
Incessant questions: If you have solid documentation of a performance issue or policy violation, you may refer to that. However, if the employee continues to challenge the reason for termination, it's best to ask them to leave.
Refusal to leave: If the terminated employee refuses to leave, or the situation escalates, call 911 or contact your building's security guard.
Per the at-will employment doctrine, you do not owe the employee an explanation in most states. If you would like to have a follow-up conversation or conduct an exit interview in the following days once tempers have cooled and termination papers have been signed, that is up to you; it's advisable to consult your attorney before doing so.
5. Provide a Final Check
It's a best practice to provide the employee with their final paycheck during the termination meeting. That way you can answer any questions they have and they're less likely to worry about it. However, that's not always possible. Perhaps you're terminating a retail employee on a Saturday and your payroll clerk isn't in the office until Monday.
There are options, such as free online payroll calculators for states that require a check be provided immediately. In most cases, you'll have at least a business day to prepare the final paycheck.
Here are questions to ask yourself as you prepare the final paycheck:
Are all hours worked in the pay period accounted for, including overtime?
Does the employee have earned, unpaid PTO due?
Has the employee taken out a loan they need to pay back?
Are there outstanding expense reimbursements pending?
Do you owe the employee earned, unpaid bonus or commissions?
Is anything else owed to the employee such as retro pay?
In the heat of the moment, it's easy to forget these items. If you later determine that you've underpaid the employee, it's crucial you correct that error by issuing a final check immediately.
Other Smart To-dos When Terminating an Employee
With so much emotion, it's easy to forget that your remaining employees will be curious as to what's going on—some may be downright upset. In addition, any vendors, clients, or business partners the staff member interacted with will have to be notified so that they know who their go-forward contact will be. Staff needs to know not to let the former employee back into the building. And if the terminated worker managed others, those employees will need to know who to report to in the interim.
Communicate to the Team
Consider calling your team together in a conference room and telling them that the individual is no longer with the firm. While transparency and candor are laudable, there is no need to explain beyond the fact. You'll want to protect the former worker's reputation so that you're not later accused of slander or malicious behavior.
Yes, the announcement may cause current employees stress and to question their own job security. Most terminations, especially for behavior or performance, though upsetting, are not a surprise to anyone. Try to end on a positive note and assure your team that the company is solid (if that's true). You may also want to ask for their support during the transition.
Determine Who Will Take the Former Employee's Responsibilities
In addition to notifying clients, you'll likely need to assign work to different team managers and employees. You can do this in a meeting or craft a simple email announcing the organizational change in a positive way to employees. This may serve as an opportunity to cross-train, praise, or promote your remaining hard-working team members.
Update the Org Chart
The organizational chart is a document you'll want to update by removing the team members' names and realigning job roles as needed going forward. Check and remove additional items like name plates, locker labels, or other reminders of the employees who are no longer there.
Clean Out Their Work Area
Seeing an employee's things after they've left the company can make current team members uncomfortable. If there are personal items left behind, put them in a box and notify the former employee to come pick them up after hours or from a secure location. If the items are few and small, it may be worth mailing them to be done with it. A clean, restocked workspace will help existing employees move on, instead of feeling the "ghost" of employees past.
Remove All Systems Access
It's helpful to keep an offboarding checklist of company property that employees have so that you can get it all back when they depart. That includes software logins like email accounts and business apps. It also may include key cards, credit cards, passwords and equipment like a company phone or laptop.
You may also want to forward the former employee's incoming phone and email messages to another account. If you have an IT administrator that you can trust for confidentiality, ask them to turn off systems access at the same time as you conduct the termination meeting.
Offer Severance (Optional)
Severance pay is optional. It's a "benefit" that many managers and executives request before accepting a job with your firm. It is essentially the amount of money you want to give someone in thanks for their service. It can ease your mind that this employee will "go away" upon termination, with no lingering problems for your business.
Examples of severance policies may include statements like:
The employee will receive one week's pay for every year with the company
The worker will receive an amount equal to 10% of their salary for every year of service
If you decide to pay severance, the best practice is to make it conditional. For example, you may require them to return the company car, sign a nondisclosure agreement, and state they have been lawfully terminated. An attorney can draft such a document to ease your mind that the entire situation is over.
Here are some common scenarios in which severance pay makes sense:
No fault: A salaried management employee is being let go in a tenuous situation that might not be the worker's fault.
Senior staff: A salaried employee is being let go after many years with your company.
Risky business: An hourly employee is in a protected class and you fear retaliation if you don't compensate them in some way.
Severance Pay Outs
Upon termination, you can pay a lump sum on the employee's final check, wait until they've signed a severance agreement or returned equipment, or—to preserve your cash flow, you can pay it out in pay-period increments.
For example, let's say you offer four weeks of severance and pay your employees weekly. You could pay out that severance amount in a lump sum check made out to the worker or keep them on the payroll four additional weeks, providing severance pay over four pay periods.
Employee Benefits Continuation
Benefits continuation only applies if you provided employer-sponsored health insurance and meet other state requirements such as company size. If your business has under 50 employees and health insurance wasn't provided, you can skip this item.
Those who do provide COBRA typically have 14 days in which the healthcare provider needs to send benefits continuation documents to the employee. That's something you'll want to check to be sure it gets done.
Continue Business as Usual
It shouldn't take more than a few days for your business to get back to normal after an employee is terminated. Use this time to consider the best way to reassure your team that staffing decisions are made based on what's best for the business and the team as a whole. You may want to plan something nice such as a pizza party to remind them you care.
How Terminating an Employee Works
While there's lots to consider, the process of terminating an employee is fairly basic. You make a decision, document it, gather paperwork, inform the employee and take them off your payroll. The individual goes from an "employed" status to an "unemployed" status and you no longer track their hours or pay them. They leave the company and that's about it.
The Decision to Fire an Employee
However, the decision to fire an employee can be a complicated one. Just as you take time to find and train your employees, you don't want to default to terminating staff for minor issues. Often coaching, training, or even moving them to report to another manager are options that can reduce performance or workplace personality conflicts.
In fact, each time you terminate an employee, you risk damage to your employment brand and it's just as likely your unemployment insurance rates will go up. It's best to step back before firing a worker to determine whether there may be underlying issues causing the employee to behave differently than expected. And if the employee is a member of a protected class, be even more cautious before you decide that termination is in order.
Getting Ahead of Your Next Employee Termination
Once an employee has been terminated, you get a chance to reflect. If you didn't have sufficient documentation, now is the time to protect your business from legal action if you ever need to terminate another employee. We've provided best practices documents that every small business should have along with downloadable starter templates below:
These documents can help you manage terminations on solid legal footing:
In addition to having your attorney view these documents for federal, state and local law compliance, it's a good practice to update them annually. Labor laws change often.
Frequently Asked Questions (FAQs) About Firing Employees
With numerous anti-discrimination laws juxtaposed against the at-will doctrine, it's no surprise employers have questions when it comes to how to fire an employee. We've provided answers to common concerns below and invite you to ask your own questions in the comment section below.
Can I Fire An Employee?
The short answer to this question for a small business owner is, yes. However, some employees are protected by collective bargaining units and in that case you may have to follow a progressive discipline plan first or get union approval.
Is it legal to fire someone for no reason?
The at will doctrine gives employers in most states the right to terminate an employee for no reason, as long as there's no discrimination involved.
What is the best day to fire an employee?
Some suggest any day is fine as long as you do it first thing in the morning or do it at the end of the day (to minimize work disruptions and protect the employee's dignity). Most agree with our best practice recommendation not to do it Friday or the end of the employee's workweek.
Are employers required to give a reason for termination?
In most states, no reason need be provided when you terminate a worker's employment. However, if you wish not to have to pay out more in unemployment than required, it's best to state in your own documentation why the employee was terminated—such as "policy violation" or "performance" as documentation of the cause. Most HR software provides a field to store this data.
What should you not say when terminating an employee?
Besides not saying anything that may appear to be discriminatory or retaliatory, it's best never to accuse a worker of a crime. Even if you feel you have proof, the termination meeting is not the time. You may certainly pursue a court case against the employee after termination using your evidence. However, to impune the worker who may later be proven innocent in a courtroom is a can of worms you don't want to open.
Can you fire an employee without a written warning?
Maybe. If you clearly state in your employee handbook that employment is at will, you may be safe firing an employee without any written warning. However, it very much depends on your documented discipline policy. If your company policy guarantees that a worker will receive verbal and written warning before termination, those are the rules you need to abide by.
What should a termination letter include?
At a minimum, it should include your company name, the employee's name, and date of termination. It's best to keep it simple and not go into detail on the "why."
How do you terminate an employee for poor performance?
It's best to document employee performance using hard data such as a decline in work output, increased error rate, more customer complaints, or a documented pattern of negative behavior. Performance reviews help you determine when it's time for termination and provide you a paper trail to defend your termination reason should an employee dispute it.
Does an employer have to give written notice of termination?
In some states, yes, written notice is required. It's also required when mass terminations or layoffs occur (more than 50 people in a month). Otherwise, it's a best practice to document an employee's termination in writing so there's no question on what date they were fired.
What if I have no paperwork on the employee?
If your employee is caught doing something illegal such as bringing illicit drugs into the workplace, attacking another employee, or stealing, you're fairly safe in terminating the worker with no need for paperwork. You'll likely have witnesses and can document the events at the time they happen.
That being said, not having documentation makes it more difficult to defend your position if an employee sues you for discrimination or wrongful termination. If you have no documentation, it may be a good idea to hold off for a few weeks before terminating the employee until you have gathered written facts. For instance, you could place the employee on a probationary period and document any infractions in the meantime.
I don't like my employee, and neither does the team. Isn't that enough reason to fire them?
Technically, yes, you can terminate an employee you don't like thanks to the at-will employment clause present in all states except Montana. However, ensure that your employee is not a victim of discrimination—do you not like them because they are different as in a protected class?
Examples of protected classes include people of a different race, color, religion, national origin, age (over 40), gender, gender preference, sexual orientation, veteran status, family status, citizenship, disability, pregnancy, and genetic information.
Terminating an employee simply because you don't like them could amount to illegal discrimination. If the employee isn't performing well or has behavioral or other problems, do your best to document performance and behavior issues before firing the worker.
My two employees keep fighting. I can't afford to lose both. Is it OK to terminate just one employee and not the other?
Technically, yes, thanks to the at-will law doctrine in all states except Montana. First, ensure that neither employee is a victim of discrimination or retaliation. It is best to terminate the employee who has weaker performance or documented behavioral issues.
Other options aside from termination might include:
Have one person change teams, jobs, locations or shifts
Consult other managers—they may have insights you're unaware of
Consider mediation between the two parties with documentable actions
What if my employee is over age 40?
If your employee is over 40, they're protected by the Age Discrimination in Employment Act (ADEA). Nonetheless, their employment, like any other employee, is subject to the at-will doctrine.
However, it's crucial to make sure you document problems with the employee's performance. If that person is the only member of a protected class at your business, be extra thorough so that the termination rationale is clear to any reasonable person.
Can I fire an employee in a protected class I don't have any documentation to support?
We strongly advise you to consult your attorney in all sticky situations. It is extremely litigious territory and an attorney can best advise you. A best practice is to document all employee performance issues and infractions in their personnel file while simultaneously documenting all reasonable attempts you made to coach the employee to success.
Do I have to provide severance pay to a terminated employee?
No, you are not legally required to provide severance pay to an employee that you terminate—unless you've promised severance in the person's hiring and employment documents.
Bottom Line
Termination is never a pleasant topic. However, how you fire an employee makes a huge difference in whether the termination will go smoothly. Firing an employee legally reduces business disruption, lowers your unemployment rate, and can prevent costly wrongful termination and/or discrimination lawsuits. Remember that most small business owners confront this issue. Follow the steps above to get through it.