Performance management is just as important for small businesses as it is for multi-billion dollar corporations. Employees need feedback, overperformers need to be engaged, and underperformers need a clear improvement plan. In this guide, we will explain performance management from end-to-end for your small business with a focus on the following areas:
Want an easy way to give regular, structured performance reviews? Zoho People is a popular HR software that lets you offer feedback to your employees, track changes in their performance, and set goals. With Zoho People, employees can also review their peers, detail and highlight their own skill sets, and get ratings from their managers about completed goals. Click here for a free 15-day trial.
What is Performance Management?
Performance management is the full spectrum of bringing out the best (or correcting the worst) in your employees from the moment you hire them until they leave (or are fired). It involves more than just doing performance reviews, although those are a part of a performance management system.
Top 7 Reasons You Need a Performance Management System
Performance management keeps your employees motivated to perform year round (not just near review time).
Performance management, when done correctly, builds a supportive company culture where people feel connected to the mission and values of the business.
It aligns your business goals with team goals and employee goals.
It helps new hires, even during probation, understand what the business expects.
It can strengthen the relationship between management and employees, especially for a business like a restaurant or retail store where there is a great divide between those "on the ground" and those in management.
Performance management allows you to track the strengths and weaknesses of individual team members as your business grows. For example, if you won a big new client, having solid performance management will allow you to know right away who should be assigned to the project.
It gives insight into training opportunities for your team.
Performance management, when documented, provides legal protection for promotion/fire actions, just in case you ever need it.
So, what does performance management look like? Here are the 5 steps involved.
The 5 Steps of Performance Management
The traditional performance management loop consists of the following steps: Plan —> Act —> Monitor —> Evaluate —> Recognize.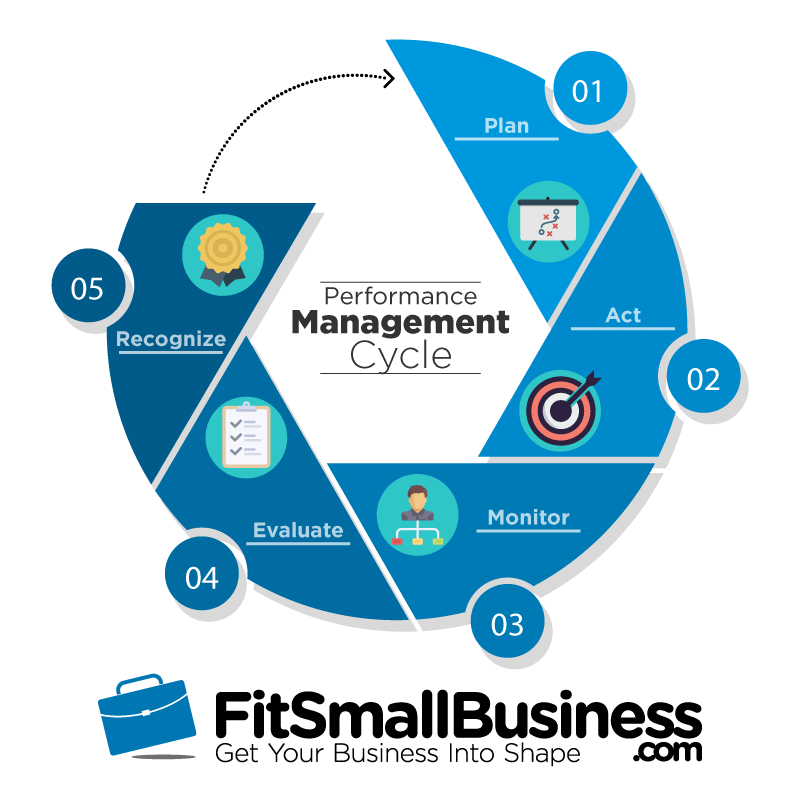 Performance management operates like a continuous feedback loop, and there may be some overlap from step to step.
Now, let's look at each step in detail:
Step 1: Plan
The first step of successful performance management is to plan. Planning consists of coming up with the goals you want to achieve at the company, team, and individual level, and the timeframe for achieving them.
Most businesses set goals on a monthly, quarterly, or biannual time frame and check in on progress weekly or monthly. Team and individuals goals usually are set at the same pace and in alignment with the company goals in order to keep things simple. So, whatever time frame you choose for company goal setting, we recommend that you set team and individual goals at the same intervals.
Your company, team, and individual goals should be Specific, Measurable, Achievable, Realistic, and Time-based (SMART). A good example of a SMART goal is "John will achieve a 3% increase in Facebook advertising click-through traffic by April 1st, 90 days from now." A bad example is "John needs to improve our Facebook advertising campaign."
Company Goals
To make sure that everyone is driving in the same direction, you should come up with the goals you have for the company as a whole first, and then base your team and individual goals off of that.
Goals that are company-wide (aka organization-wide) can be oriented to both business performance and softer skills, like teamwork and communications. To come up with your company wide goals think about where you want your business to be at the end of the goal cycle (as well as what is realistic), what weaknesses your business might have and need to improve upon, and what strengths your company has that you want to keep growing.
Good examples of SMART company goals would be be increasing revenue by 10% over the next 6 months, or perhaps implementing a project management system company-wide to improve communication and accountability on projects that will result in a 1 week faster delivery time to clients.
Bad examples would be to say simply "ABC Company will increase revenues" and "ABC Company will implement a project management system."
Team Goals
Now that you have your company goals, think about how the team(s) will help to achieve those goals. For example, if your company goal is to increase revenue by 10%, then what do your team or teams need to accomplish specifically in order to get there? Keep in mind that there may be an indirect connection here like not working well together or poor communication between teams (or from managers to individuals), so you will to make sure you consider what factors are all involved in reaching a goal.
Examples of SMART team goals would be that the Sales team will target to upsell 10% more customers by changing their follow up time to every 2 weeks (instead of 4 weeks) or that the Accounting team will reduce accounts receivables that are in arrears by 50% within 90 days. Bad examples would be that the Sales team will upsell more customers and that the Accounting team will fix accounts receivable.
Individual Goals
Now that you have your company and team goals, think about what each individual needs to do in order to help achieve those goals at the team and the company level. Connecting individual goals to company goals can be incredibly important to your individual employees happiness at your company. You can read some more about that research here.
Going back to our example of increasing company revenue by 10%, we can then translate specific individual goals to align with that. Think about how someone from your Office Manager (who answers the phones and talks to customers every day) to how someone from the Marketing team can all help to push that company goal forward.
Examples of good SMART individual goals would be for your Office Manager to answer all calls within 3 rings (in order to eliminate missed client calls) or for your Social Media Manager to increase social media interaction results by 30% without increasing spend over the next 6 months.
Examples of bad SMART individual goals would be for your Office Manager to decrease missed client calls and for your Social Media Manager to improve social media results.
Step 2: Act
The second step of successful performance management is to act.
Get to work achieving those goals! But what does that mean? You want your team to start to move towards the goals, and you need to help them get started.
Top 3 Ways You Can Encourage Action
Pick a starting line: Help each department or team member get started on their goals. What should be a first step? Where can they contribute?
Make goals visible: Whether it's on a whiteboard or old school poster board, you'll want your goals visible in the company break room, lunch room, or some other place that gets high visibility to everyone. Some companies make company-wide, team and even individual goals visible; others might just make company-wide goals the visible ones.
Set micro-goals: If you set a big goal, like increasing revenue 10% in 6 months, you might want to set micro-goals for every 30 days to help keep them grounded to the big picture goal. For the revenue example, it could be a 2% increase every month.
Step 3: Monitor
Performance management is not a set it and forget it job. If you want your company, teams, and individuals to meet their goals, you need to have a strategy in place for monitoring progress on an ongoing basis.
You might implement a time frame to help you regularly monitor employees, like a weekly managers' meeting that talks about individuals, team, and company goals and the progress towards them, and then weekly individual meetings for managers with their team members to relay that information.
There are a few different ways you can monitor performance:
Manager monitoring
The manager (or it may be just you) can keep a simple Word or Google document to take notes on or create a special email folder with performance notes for each employee. You could also keep notes in personnel files, like the ones provided by Gusto. Remember to keep the employee in the loop with regular feedback sessions!
Self-monitoring
Have each employee track how they feel they are progressing towards their goals, as well as the team and company goals. Self-monitoring is best used in combination with another method in order for it to be effective.
Team monitoring/peer monitoring
Depending on the structure of your company, you might have teams or peers monitor each other, although this should always be used with another technique. If you have a lot of new hires, this can be really useful since the new hires may be working closely with a seasoned team member already (i.e. like a group of new waiters training at a new restaurant). Some companies have implemented peer monitoring in a positive way, where at staff meetings, people go around and give someone a shout out for their good work.
Performance management software
There are a number of web-based (and some mobile!) products out there where you can monitor your company's performance. From reviews to daily feedback, performance management software can really help your business if you:
Don't think your managers or employees are taking the performance management process seriously
Tend to lose track of documents
Don't know everyone at the company (or don't get to work with them all) – you'll want to see your rising stars and monitor the lagging team members since you own the business
Step 4: Evaluate
Remember, feedback is a continuous process and not just for formal performance evaluation time! There is both informal feedback, like complimenting an employee on a job well done when you hear a great sales call, and formal feedback, like having a closed-door meeting with a team member who you found has gone delinquent in following up on new account leads. Formal feedback is generally documented in an employee's file (both the good and the bad).
Your team members should be getting informal feedback on a near daily basis, and when necessary if a situation like a big win or loss or behavior issue comes up.
Formal performance reviews should be done every 90 days, 6 months, or on an annual basis, depending on your business model and your business needs. Some businesses choose to do what's called a 360 performance review to gather feedback from managers, peers and customers as well as the employee's manager.
To evaluate employees in a fair and even way, you'll need to do the following:
Create a performance review form with a uniform scoring system.
Fill out a review for each employee (or have their manager do one, or both of you) about 2 weeks before you intend to give the reviews. Make sure to use the files or tracking records you have been keeping on everyone's performance, from both formal and informal feedback, to help you fill out the reviews.
Look at the general trend of the reviews and see if there is someone who deserves a promotion or if everyone is getting constructive feedback. The results of reviews should send to you a strong message about whether your prior 3 steps of performance management are failing. If no goals were met, why? Were employees monitored carefully after goals were set? What is happening with the business as a whole?
Step 5 of Performance Management: Recognize
The "Recognize" step means both recognizing the achievements of those who are achieving at a high level, meaning they are meeting their goals, and providing constructive feedback to employees on areas that need to be improved, meaning they are not meeting their goals.
Remember, this step should not involve any surprises. Recognition with promotions or pay raises or performance improvement plans should have been made clear by the continuous feedback you have been giving your employees throughout the performance management steps. People should be informed continuously about their progress towards their goals, by both monitoring and feedback.
We will start with what to do with underperforming employees and then go over what to do with your high achievers.
What Do I Do with Underperforming Employees?
One of the main reasons business owners decide to implement performance management is unfortunately because someone is underperforming. How can you get these underperforming employees to improve? How can performance management help to motivate them?
First, you will want to document the employee's performance against their job description or goals you have set for them. Document both the good and bad things.
Now, examine that list of the good and bad. Is there anything in the list that could be solved by training? Is there anything in that list that is perhaps the fault of the company setup or a lack of resources? Try to see these issues from the employee's standpoint.
Next, you'll want to communicate with the employee on these issues during their review (or prior to their review, depending on how far away review time is).
Now that you are ready to talk to your employee, you will want to make sure to:
Be specific and direct: Use specific statements like, "Mark, you were late 3 times last month. We need you to be on time" versus "Mark, you always come in late." Specificity leaves less room for miscommunication, so the employee understands there is a problem, and it needs to be fixed.
Be actionable: You need to set specific targets for your employee to meet in order to be "out of the doghouse." For example, you could say, "Mark, it's expected that you might be late 1 time per month. If you exceed this, then next month we will need to reconsider your employment/put you on probation." Don't just say, "Mark, don't be late anymore."
Set a follow up date: 30, 60, or 90 days is traditionally the amount of time for performance improvement meetings. If you have a business like a call center or a restaurant, you may visit even weekly. Tell the employee the plan, i.e. "Mark, we will be keeping track of this every month from now on and we will meet again in 30 days to discuss this."
Now, it is up to the employee to make the necessary improvements. You'll want to document your conversations on performance with the employee and their progress against the improvement goals you are setting for them (just to be thorough in case of the worst = firing someone). Hopefully, the employee just needed to be made aware of the issue, and they will improve! If not, here's a guide on how to terminate someone.
What Do I Do with Overperforming Employees?
Overperforming employees don't sound like a problem…until they leave your company because they are bored.
If you have some employees who are performing at a really high level, here are some ideas for how to keep them happy and engaged at your company:
Promote them – It seems obvious, but promoting an internal employee (versus recruiting) for an open position can be a great thing for morale. If you don't have capacity for a new manager or if the employee should not manage people, you could also give them a new title like a "senior" version of their position. For example, an Analyst could become a Senior Analyst or a Lead Analyst (versus an Analytics Manager).
Give them a raise or bonus – Another obvious idea, but even a small amount of extra income and the acknowledgement of the value the employee gives to the team can mean a lot. You could also implement a performance bonus structure for all employees, if one doesn't already exist.
Give them a new responsibility or a special project – Rewarding top performers with a higher level of responsibility or visibility can be very motivating. For example, if you can't promote someone, perhaps they can be invited into management meetings to observe.
Send them to a conference or course – Show your top performer that you are invested in their success by sending them to a conference or a course that will enhance their career.
Treat them – Taking an employee to lunch or dinner to acknowledge their hard work and to say thank you also never gets old. Is your top performer a huge sports fan, or is a popular music act coming to town? Sometimes giving someone tickets and an early night off to go have some fun can also mean a lot!
For more ideas, check out our post on the 31 best employee engagement ideas.
Employee Performance Management Example – Start to Finish
While the performance management 5 step loop makes sense in itself, what does it look like with a real employee?
Let's look at a performance management example for Eleanor Employee, from the time of her hire until her employment with your company is over:
Hired Eleanor Employee (Step 1 – Plan)
After hiring Eleanor, you will want to inform her of your company's performance management system and what she should expect each year and when. You will also want to set goals with her that match this performance management time frame. Since Eleanor probably started during the middle of a cycle for performance management, you may need to adjust her individual goals to be more realistic in a shorter time frame.
Get Eleanor Up and Running (Step 2 – Act and Step 3 – Monitor)
Keep tabs on Eleanor in her first few weeks on the job, and create a performance file for her just like your other employees. If you don't manage her directly, make sure to keep in touch with her manager about her progress. Since Eleanor is new, provide good training and encourage her to ask questions so you can help her make progress towards her goals.
Eleanor's First 90 Days and Beyond (Step 4 – Evaluate and Step 5 – Recognize)
Having a meeting at 90 days to touch base on where Eleanor is with her new hire goals, or having a softer performance review at the same time as the other employees, will help nip any issues with Eleanor in the bud as well as motivate her to keep on the right track for the things she is doing well.
Some employers use the first 90 days as a probationary period, so this review will be crucial if you are disappointed with Eleanor's performance and are planning on taking disciplinary action against her.
After the first 90 days, Eleanor should continue to go through the performance management process along with the other employees. She should be getting regular performance reviews, as well as have a file that is documenting her reviews and notable performance items.
If Eleanor's performance goes down: You will want your system to include probations or consequences for poor performance reviews.
If Eleanor's performance is great: You will want a system for how to reward Eleanor, which you can see in our list above.
Good Performance Management vs Bad Performance Management Examples
Here are some examples of performance management and how to best deal with them (and how not to deal with them). You could also use these scenarios to role play with your current managers and train them in performance management!
| Scenario | Good Performance Management | Bad Performance Management |
| --- | --- | --- |
| A client doesn't renew the contract with your company because of your Account Rep employee (first occurrence) | Have a conversation with your employee where you hash out what happened, why it did, and how they can improve with the next client. | Firing them before even hearing their side. |
| A customer leaves a 1-star Yelp review citing "terrible service" but leaving no details | Have a team meeting to go over what the values of your business are and what to do with difficult customers. | Have a team meeting where you try to figure out who served this customer in front of everyone and yell at them. |
| A customer leaves a 5-star review and cites one employee as being the best | Document the good review in the employee's performance file and congratulate them. If appropriate and part of the culture, give the employee a short shout-out in the next company or team meeting. | Forgetting to tell the employee, forgetting to put the review in their performance file, or not acknowledging their achievement at all. |
| An employee shows up late to work without calling to inform their manager | The manager should have a closed-door meeting with the employee to explain why they should have communicated they were going to be late and explain what consequences will occur if it happens again. | The employee walks in the door and the manager publicly berates them for not telling anyone and threatens to fire them next time. |
| You witness an employee doing exemplary work for the 3rd day in a row (or consistently for a period of time). | The manager should give the employee a compliment the and tell them to keep it up. | The manager does not acknowledge the employee's good performance in any form. |
How to Train Managers on Performance Management
If you have managers, a large part of performance management involves training them in performance management techniques and in the system you want to implement. Even if you design the "perfect" system, if your managers aren't sure how to, for instance, give good feedback to their employees, the system cannot succeed.
You'll want to really focus on initially training them in:
How to set team and individual goals with their employees – You as the business owner might want to lead this process the first time to make sure everyone is on the same page with how to set goals in relation to the company goals.
How to give continuous feedback and how/where to document the feedback.
What kind of timeline you want them to follow for giving formal feedback – Weekly? Bi-weekly? Monthly? Hold your managers accountable to this pattern.
Then, you'll need to create a set of guidelines for your managers on the actual performance reviews and how to score them. This training session can take place closer to the Evaluation step of your performance management process so that it's closer to the first time they will actually be scoring people. We offer a lot more detail on this in our other performance review article.
Training your management is key to a successful performance management process if you have managers and it's not just you! Below are some of our top tips for how to do that.
Top 5 Tips For Training Your Managers in Performance Management
Thoroughly explain the performance management system you want to implement and why – if your managers understand the why, they will be more engaged in the process.
Come prepared to the training meeting with some examples from your business and a draft of scoring guidelines so that your managers can practice performance management.
Role play with fake examples that represent your pain points with your current employee base (using fake situations helps for no one to feel picked on). Create 3-5 situations where your managers and you can role play against each other.
Let them ask questions. It may seem obvious, but create an environment where your managers can ask sensitive questions, or ask them for individual follow up meetings.
Hold them accountable. Now that you are holding your employees to a performance standard, you need to hold your managers up to that standard as well, or even above that standard.
The Bottom Line
Performance management is important at companies of all shapes and sizes. People want to be engaged at their jobs, both with feedback and with the work they are doing. Having a performance management system in place allows you to make the most of the talent on your team.
Remember, keeping all of your notes organized is easy if you use a performance appraisal system like Zoho People. Sign up for a free trial and try out its array of helpful features today.