Performance management software provides tools to assess your employees' on-the-job performance, and suggestions to help them improve. The best performance review systems increase employee engagement and support a culture of improvement. We looked at multiple performance management systems to simplify goal setting, streamline employee feedback, provide peer praise, and track metrics visually.
7 Best Performance Management Software for 2019
| Performance Management System | Best For |
| --- | --- |
| | (Best Overall) Any business due to its balance of price and robust features |
| | Businesses wanting performance management as part of an HR software suite |
| | Businesses needing HR software that includes traditional performance reviews |
| | Companies that want customization options to support their employment brand |
| | Larger, compliance-focused entities desiring legal checks and tools to ensure pay equity |
| | Robust employee engagement tools that interface with popular HR/payroll software |
| | Non-HR experts wanting to integrate with newer business apps like Slack |
How We Evaluated Performance Management Systems
To evaluate performance management systems for small business, we focused on those that were easy to use for businesses that don't have dedicated HR staff. The software we compared can manage employee goals, conduct performance reviews, keep track of manager and peer feedback, and provide actionable reports.
Based on the needs of small businesses, the criteria we used includes:
Price: Software that's affordable for small business owners.
Ease of setup: Software that's easy to set up and configure, with solid customer support options available to assist with your specific forms and review cycles.
Ease of use: Software that's intuitive and easy for your team to adopt.
Goal setting: Ability for employees and managers to set and track progress toward predefined company, departmental, or individual goals
Performance reviews: Forms that allow managers and their staff to provide performance feedback at regular intervals, such as monthly, quarterly, or annually.
360-degree feedback: An option to obtain performance feedback from an employee's peers and others, both informally and formally.
Reports and analytics: Reports that track progress as well as compare performance ratings across teams, and data to keep track of the performance review process.
Software integration: The ability to share employee data with HR and payroll systems.
We liked AssessTEAM as best overall because it provides affordable performance management software on par with corporate and enterprise systems that typically cost tens of thousands of dollars a year. It includes peer feedback and a mobile app so employees can receive praise and check progress real-time—without waiting for an annual review.
AssessTEAM: Best Overall Performance Management Software


We find AssessTEAM is best overall because it can support any small business that wants to conduct employee reviews with a huge range of features for the price. AssessTEAM takes a traditional approach to performance reviews, with a look and feel similar to paper-based employee evaluation forms. However, what makes it so attractive is its price starting of just $1 per employee, per month—with great features and a mobile app included.
AssessTEAM Pricing
At $1 to $3 per person, per month, AssessTEAM has the best pricing of all the performance management tools we reviewed. It includes all the performance management features you'd expect, even at its lowest pricing tier, Basic—costing only $1 per employee, per month.
AssessTEAM Pricing Plans
| | Basic | Premium | Enterprise |
| --- | --- | --- | --- |
| Price | $1/month per employee | $2/month per employee | $3/month per employee* |
| Goal Setting | ✔ | ✔ | ✔ |
| Performance Reviews & 360-Feedback | ✔ | ✔ | ✔ |
| Reports & Integrations | ✔ | ✔ | ✔ |
| Time Sheets | | ✔ | ✔ |
| Project Performance | | ✔ | ✔ |
| Team Profitability | | | ✔ |
| Productivity Analysis | | | ✔ |
*If you have over 500 employees, you can contact AssessTEAM for custom pricing.
By upgrading to the Premium tier for $2 per person, per month, you get time sheet management and additional project team reporting. That may be helpful if you want to track performance by team and by hours worked—in addition to conducting employee reviews.
When you upgrade to the Enterprise tier, you get tools that allow you to track productivity as well as profitability at the individual and team levels. In other words, AssessTEAM lets you manage both individual and team performance, including team productivity and profitability.
AssessTEAM Features
AssessTEAM manages goal setting, performance reviews, 360-degree feedback, reporting, and integrations to other software packages you may be using in your business.
In addition to the standard tools, AssessTEAM is built to support newer performance management needs such as continuous feedback and employee recognition to improve employee engagement and retention. Most small businesses will find the goal library with over 900 job goals helpful. It also has an online dashboard that teams and individuals can use to track performance.
Other features that make AssessTEAM stand out as best for small business are listed below.
Employee Evaluation
The employee evaluation process is so flexible that you can set up evaluations weekly, monthly, after new hire onboarding, after projects, or for any other reason or time frame. AssessTEAM makes clear what employees are required to do by establishing results criteria like key performance indicators (KPIs). In fact, employees can see where they can improve and even compare how they're doing with others.
Continuous Feedback
Like all of the performance review software we evaluated, AccessTEAM provides for 360-degree feedback. But in addition to that, it allows continuous real-time feedback to be scheduled as needed—such as weekly to go over key result areas (KRAs) like office productivity or coding skills. Data is then displayed by person, project, or team.
Employee Engagement
What makes AssessTEAM engaging is its real-time data views, ability for employees to give feedback to their peers, self-evaluations, and mobile access. Workers can actually see how their work contributes to the company, team, and project goals—including profitability.
Project Profitability & Time Sheets
The advanced features of AssessTEAM are what make it so powerful at only $3 per person, per month. It does project-level job costing and provides productivity metrics so you can identify opportunities for recognition or improvement.
Reports & Interfaces
In terms in software interfaces, AssessTEAM integrates with most HR and payroll systems using a simple import feature. You then set up key result areas and performance indicators. AssessTEAM also includes a time sheet option, if you don't already have one. In addition, AssessTEAM has mobile apps for iPhone and Android, and for project management.
Customer Support & Setup
AssessTEAM gives you 24/7 email support by HR professionals. In addition, it offers a concierge service to help guide your rollout of performance management to managers and employees in your business.
What AssessTEAM Is Missing
AssessTEAM doesn't have what traditional HR folks might consider standard in a performance management process—goal setting and goal cascade, where goals start at the top and are passed down to each department, team, and person. Instead, they measure performance by looking at result areas, like targets, budgets, and behaviors. In a sense, this is like using only the M, or measurable part, within SMART goal. That may be exactly what you're looking for.
What Users Think About AssessTEAM
AssessTEAM gets top notch ratings on third-party software review sites. In fact, user feedback indicates that they may have cracked the code on simplifying performance management for small businesses.
Zoho People: Best Performance Management & HR Software in One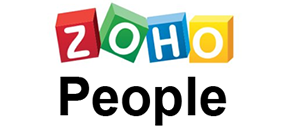 Zoho People is HR software. If you're already using it for employee data, adding performance management is a smart upgrade. If fact, many HR software programs have performance management available. However, Zoho People's performance management price is so competitive, it's worth mentioning them as a great platform for performance management too. It's completely customizable, allowing you to turn features on or off as needed.
Zoho People Pricing
Zoho People provides two tiers of service that include performance management. They range between $3 and $5 per employee, per month. Both include basic HR functions such as employee self-service, time, attendance, and leave management in addition to performance management features. (As an aside, Zoho People's HR software alone is free if you have five or fewer employees.)
Zoho People Pricing Plans
| | Premium | Enterprise |
| --- | --- | --- |
| Price | $3/month per employee | $5/month per employee |
| Essential HR With Employee Self-service | ✔ | ✔ |
| Time, Attendance & Leave Management | ✔ | ✔ |
| Performance Management & Reports | ✔ | ✔ |
| Multi-rater/360-Feedback | | ✔ |
However, for performance management, the only difference between the Premium and the Enterprise package is that the Enterprise package includes multi-rater feedback and 360-degree performance reviews. If you only plan to do standard new hire or quarterly reviews, the Premium package should suffice—and with it, you'll get an entire HR suite of software.
Zoho People Features
As far as performance management goes, Zoho People provides the ability to conduct performance reviews, including 360-degree feedback and ad hoc performance ratings against KRAs and goals.
In addition, Zoho People has an employee self-service function and mobile apps so that employees can sign in and view their performance ratings at any time. That makes it similar to AssessTEAM, albeit at a slightly higher price point. In addition, either employees or managers can set goals and track progress—a feature AssessTEAM lacks.
Below are some features that make Zoho People stand out:
Goal Setting & KRAs
Zoho People allows you to measure performance against goals in reviews that can be conducted online. Goals can be created by employees or managers and tracked by both. It also establishes key result areas (KRAs), which you might think of as the measurable aspect of a goal. For example, a goal might be to improve customer performance, but a KRA might be the metric used, like your net promoter score (NPS).
Performance Reviews & Appraisal Cycles
Performance reviews can be scheduled on an appraisal cycle of your choosing, such as monthly, quarterly, ad hoc, or annually. You can include a rating against goal progress and weight skills. For example, if quality is more important than meeting deadlines, you can assign more weight to the quality rating.
As a more modern performance management tool, Zoho People also allows employees to rate themselves during the performance management process.
Competencies & Skills
A feature that Zoho People offers, that some performance management systems don't, is a way to track your employees' skills and competencies. For example, let's say you launch a project and need a Java expert. You can search your employee database for just the right person with that skill set.
Reports & Interfaces
Zoho People has many different modules and interfaces with CRM systems, billing systems, HR systems, and even G-Suite. In fact, using webhooks, Zoho People can share data with most cloud-based software. They also provide very robust and engaging reports.
Customer Support & Setup
You'll work with the vendor to set up your organization, create (or import) employees, and configure your performance management process. If you use G Suite, you can sync your employees directly through Google to streamline data entry and user access.
Zoho People provides support 24/7 via support tickets submitted online or via email. In addition, you'll find a robust help function with screenshots and online videos that demonstrate features.
What Zoho People Is Missing
If you want multi-rater feedback and 360-degree reviews, you need to upgrade to the Enterprise pricing tier at $5 per user, per month. In addition, Zoho People is modularized, so you must set up the HR modules to get to the performance management piece. That may require you to maintain redundant HR systems or navigate past features you don't use. There's also no phone number to call if you need support.
What Users Think About Zoho People
Zoho People has 4- out of 5-star ratings from reputable sites, including ours. However, their online reviews aren't as stellar as AssessTEAM. Users seem to like the functionality. Negative reviews tend to focus on the modular aspects of the software, its complexity, and having to pay for features they don't yet need. Read what users say in our Zoho People review for more information.

Zenefits: Best for Firms Wanting to Invest in an HRIS


Zenefits is best for businesses that are ready to upgrade to a human resources information system (HRIS) to track their employee HR data online. It offers traditional performance reviews that align the workforce through shared goals, and it adds tools to document one-on-one meetings with managers to improve employee engagement and performance.
Zenefits Pricing
Zenefits starts at $18 per employee, per month if you pay monthly, making it much more costly than the other performance management software we've reviewed. However, that's because it is a complete HR-compliant HRIS software. It allows your business to execute best-in-class HR practices, as well as provide your employees with an HR portal via mobile app.
Zenefits Pricing Plans
| | Growth | Zen |
| --- | --- | --- |
| Price | $18/month per employee* | $27/month per employee* |
| HR Compliance, PTO Tracking, Mobile App & More | ✔ | ✔ |
| Performance Management | ✔ | ✔ |
| Compensation Management | | ✔ |
| Well-being | | ✔ |
*Discounts offered with annual plans.
Zenefits Features
All Zenefits pricing tiers have built-in tools to manage timekeeping and scheduling as well as all the HR features listed above. The performance management tools offer you the ability to launch your review cycles and if you upgrade to the Zen plan, you can tie employee performance to compensation as well.
Performance Reviews
Zenefits offers a more traditional style of performance management, wherein you or your HR team will establish, launch, and track regular review cycles. What's nice is it provides a library of templates to start with, for all kinds of reviews—including 360-degree feedback.
One-on-One Meetings
Zenefits also offers newer style performance management tools to improve employee engagement, such as one-on-one manager meetings. Managers and employees can build and share agendas and track progress that can later be used as input during the performance review cycle.
Compensation Management
If pay for performance and ensuring pay equity are important to your business, you may want to upgrade to get access to Zenefits' compensation options, which come with the Zen plan. It allows you to benchmark your compensation across industries and locations, and identify employees who may be overpaid or underpaid.
Reports & Interfaces
Zenefits offers multiple reporting options that you can view and download, in addition to useful interfaces and an API. For example, you can integrate Zenefits employee and time tracking data with your payroll software, or upload new hires from your applicant tracking system. These are examples in addition to integrations with Slack and other common business apps.
Customer Support & Setup
Zenefits gives all customers unlimited support via phone, email, and chat. Users can reach the Customer Care team—available 5 a.m. to 6 p.m. weekdays—directly from the software's dashboard.
If you lack HR expertise within your organization or want assistance setting up a solid performance management process, you can add an HR Advisor option onto your subscription for an extra cost of $10 per employee, per month.
What Zenefits Is Missing
For small business users, the cost of Zenefits is often a barrier, especially if you are looking solely for a performance management system, and not a full-blown HR software solution. In addition, it doesn't offer some of the newer employee recognition features, but that can be overcome by using their API to integrate tools like Bonusly.
What Users Think About Zenefits
Zenefits earns great reviews online for its HR software. Users like that they can start small and add features as they grow. They like the user interface, but some complain about Zenefits support staff lacking expertise in HR legal or tax issues. Read our Zenefits review.
Small Improvements: Best Performance Management System for Customization


Small Improvements earns our recommendation based on its customization options that let you tailor it to your business in terms of look and feel, which helps it to be seen by employees as an integral part of their day-to-day work. However, it costs significantly more than AssessTEAM or Zoho People. We also like how it allows employees to become involved in the process, which is great for morale and employee engagement. That may be worth the extra few dollars you'll pay for this tool each month.
Small Improvements Pricing
Implementing Small Improvements will cost you $7 per user, per month, with $250 as a monthly minimum (which equates to about 35 employees). Therefore, it's priced twice as high as AssessTEAM's highest tier of $3 per employee, per month. That monthly minimum can be a deal breaker for businesses under 35 employees, as it brings the annual total to no less than $3,000—definitely at the higher end versus other performance management tools reviewed.
The silver lining is they provide a 25% discount if you pay in advance, and they don't require an annual contract, so you're not locked in. You can cancel anytime.
Small Improvements Features
Small Improvements has all the standard performance management system tools built in, including goal setting, performance reviews, 360-degree feedback, and reporting. It promotes frequent employee interaction and engagement. And, you can automate the entire performance management process from goal setting to feedback gathering.
Small Improvements provides you with easy-to-use review forms and scoring systems to give employees their performance reviews. And they are structured so that employees can play a key role in their own review process—either informally, or as part of a structured 360-degree feedback performance review.
Other features that make Small Improvements a great choice are described below:
Continuous Feedback
Small Improvements stands with its modern employee engagement tools. Small Improvements starts with goals (which they refer to as "objectives") and lets users track progress towards these objectives throughout the performance review cycle. For example, employees can respond to manager feedback by adding comments throughout the year.
One-on-One Meetings
One-on-one meetings is a newer feature being offered by performance management systems to address modern research showing that employees crave regular ongoing feedback. Within Small Improvements, you can schedule meetings and take notes that can later be referenced when conducting more formal performance reviews. Those meetings also improve alignment.
Praise, Recognition & Feedback Requests
Small Improvements offers some cool features, like peer praise and badges that help employees recognize one another and improve overall employee engagement. Its Lightweight Continuous Feedback encourages managers to recognize employee contributions and for employees to support their peers with badges and praise on an ad-hoc basis.
Reports & Interfaces
Small Improvements offers several reports such as review cycle data, 360-feedback, and statistics on how much praise is being given. Reports are customizable and can be exported to CSV and PDF files. In addition, it offers single sign-on, and integrates with JIRA, Google Apps, Slack, iCal, and numerous other project management and HR software.
Customer Support & Setup
Customer support is free, and Small Improvements will assist with your setup of the software and on-boarding of your employees to help them embrace the new tool. In addition to that, they offer two annual training sessions to help you and your team be successful.
What Small Improvements Is Missing
Small Improvements appears to be geared toward small businesses that have an HR person on staff to manage the administrative aspects of the software, such as setting up performance review cycles.
In addition, the training provided is meant for HR and not targeted toward managers and employees. Although the software is intuitive, setting it up may take a bit of time, and you'll need to conduct your own manager and employee training once you choose to implement it.
What Users Think About Small Improvements
Small Improvements receives good ratings, albeit slightly less than Zoho People and AssessTEAM. Users like that they can compare employee and manager feedback side by side, and that the application itself is fairly easy for employees to grasp.
Performance Pro: Best Performance Suite for Legal Compliance


Performance Pro made our list of top performance management software as it includes legal checks in addition to performance reviews, 360-degree feedback, and goal setting. Legal checks comb the reviewer's feedback looking for words and phrases to avoid, so that your performance reviews don't land your business in a lawsuit. This feature costs quite a bit more; therefore, this option may be best if risk avoidance is on your mind.
Performance Pro also has a means to tie performance ratings to employee compensation, similar to Zoho People. That simplifies salary increases and managing pay-for-performance bonuses and incentives. Ensuring that your performance management and compensation systems are fair is a great way to avoid discrimination lawsuits.
Performance Pro Pricing
The pricing for Performance Pro ranges between $5 and $7 per employee, per month, based on a custom annualized quote. That's about half the cost of Small Improvements, but more than AssessTEAM, Zoho People, and some of the others that charge per person. What's interesting about Performance Pro's pricing is that they offer to beat any competitor's price by 10%—subject to a minimum of $1,125 per year.
Performance Pro Features
Performance Pro has the ability to manage employee competencies and create individual development plans. In that sense, it's more like a talent management system that allows you to identify and select team members based on their skills. Its legal checks reduce your business liability by flagging words reviewers might use that may be discriminatory or inappropriate.
In addition, it can tie performance to employee compensation, and you can set up weights for each score so that you can ensure employees are paid fairly based on their performance.
Here are additional features that make Performance Pro a solid choice:
Goal Setting & Alignment
Performance Pro sticks to the traditional HR model of performance management that begin by identifying strategic initiatives, setting and weighting goals, and then conducting periodic performance reviews to measure employee progress against those priorities. Similar to Small Improvements, goal setting and the performance review process must be set up by HR as part of the software configuration.
Automated Performance Evaluation
Performance reviews can be automated with Performance Pro, which makes it useful if your business uses standard time frames for reviews, such as monthly, quarterly, or annually. You input the date range for the performance review cycle in order to set it up. Once set up and programmed with names of reviewers, direct reports, and forms, emails and reminders can be generated and sent automatically.
Writing Assistant & Legal Checks
Performance Pro provides a writing assistant tool within the software that gives your managers a start at crafting a written review. It flags words that may be inappropriate, so they can be modified before being made part of the final performance review. This saves your business from the risk of a manager publishing discriminatory remarks in an employee's performance evaluation.
Reports & Interfaces
Performance Pro provides basic reporting and can integrate with most third-party software—however, you have to contact them to configure the integration if they're not already set up to work with that vendor. They currently have interfaces set up with BambooHR, SyncHR (for HR), and PlanSource (for benefits administration).
Customer Support & Setup
Performance Pro requires Adobe Acrobat for documents and Adobe Flash Player for scoring review forms. It takes a bit of time to implement even when you import data from your HR or payroll system. You will need to set up your company information, performance levels, appraisal frequency, goals and factors along with their relevant weights, as well as data for email notifications. A goal library and library of job titles are provided to choose from.
Customer service is provided over the phone by product specialists in the Midwest working Monday through Friday, 9 a.m. to 6 p.m. Eastern Time. You can also request support by email.
What Performance Pro Is Missing
Performance Pro has all the performance management features a more traditional organization may want. However, it doesn't offer employee engagement tools that managers and employees might like, such as real-time feedback or mobile apps. It's more like a paperless version of a standard performance management process—functional, but not necessarily fun.
What Users Think About Performance Pro
Users rate Performance Pro slightly above Small Improvements, but not as high as Zoho People or our top choice, AssessTEAM. What they rave about is the customer support. What they tend not to like as much is the interface itself and lack of robust reporting and analytics. We don't yet have our own review on Performance Pro in our performance management software reviews section.
Engagedly: Best Performance Management for Employee Engagement

Engagedly operates differently than a traditional performance management software. You can create goals and performance reviews. But you can also use its nifty app for employee engagement, collaboration, and communication. They call it ''continuous performance." It provides peer-to-peer feedback, a cool interface, and a mobile app to provide real-time feedback to employees in addition to standard reviews.
Engagedly Pricing
Engagedly claims their pricing is transparent—but sources varied. They suggested Engagedly requires a $200 minimum with monthly fees from $4 to $6 per user plus $2 per user, per month for the employee engagement tools like social rewards, shout-outs, and gamification. So although it's likely priced comparable to Small Improvements, its features are right smack in the middle of more traditional tools like Performance Pro and more innovative tools like Lattice.
Engagedly Features
In addition to standard performance reviews, 360-degree feedback, and goal setting, Engagedly stands out by providing ongoing feedback that's real-time. Employees can ask for commentary on their work, document one-on-one manager check-ins, obtain recognition from their peers, and even ask for help with what's termed ''social learning.'' In other words, they can ask questions of, and learn from, their peers through the system, although that's an additional cost of $2 per user, per month.
Goal Setting
Engagedly lets you set and track employee goals based on the organizations' objectives and then distribute those goals to teams and individuals so that they are aligned with what the business is trying to accomplish. It uses a traditional, top-down approach.
Performance Management
Engagedly provides templates for competencies, performance, and job descriptions. They allow for peer reviews. And managers and employees can add notes at any time, not just during the review cycle. In addition, users can attach documents for reference.
Because of real-time feedback, on-going praise, and peer input, performance reviews are easy for managers to execute. They can choose rating scales, measuring goals, KRAs, and even competencies. Administrators and managers have a dashboard to keep track of their performance review cycles.
Ongoing Feedback
What makes Engagedly engaging is that both employees and managers can provide feedback, employees can ask for feedback, provide peer recognition, and even offer social praise. These tools promote a positive work culture. Employees can award points to one another that can be redeemed through Engagedly's add-on employee engagement software, which lets employees choose gift cards.
Reports & Interfaces
Engagedly makes it easy to measure employee performance and engagement on dashboards. It doesn't have many software interfaces, however, other than to Google and a few payroll vendors like ADP and Paylocity.
Customer Support & Setup
Engagedly setup is so easy it can be done in the same day, and they publish their phone number directly on their website if you need support. In addition, they provide all documentation online, including webinars, service agreements, and step-by-step user instructions with screenshots.
What Engagedly Is Missing
One thing missing from Engagedly is the ability to interface through an API. Instead, you need to engage their software team if you want to share data back and forth with your HR or payroll software. It's also not clear what the software will cost until you schedule a call with a sales person and request a quote.
What Users Think About Engagedly
Engagedly is another of the performance management options that gets top ratings across all the standard reviews sites. In fact, the Society for Human Resource (SHRM) vendor directory rates it 5 stars.
Lattice: Best Performance Management for Non-HR Experts

Lattice falls into the camp of newer, one might say "cooler," performance management tools. It has all the standard performance management features, such as goals and performance reviews. Lattice adds one-on-one meetings like Small Improvements and recognition features similar to Engagedly. It has been designed for the non-HR user and is priced slightly higher than these other tools.
Lattice Pricing
Pricing for performance and engagement with Lattice runs $12 per employee, per month. That includes all the setup and training, as well as all the features. You sign up for an annual contract and they don't auto-renew. With Lattice, you get all the features for a flat per-person rate, unlike Engagedly, which charges you separately for its performance management versus employee engagement modules.
Lattice Pricing Plans
Performance

Performance & Engagement

Enterprise

Price

$9/month per user

$12/month, per user

Call for custom quote*

Features

Manager-led reviews
360-degree feedback
goal management
Meeting agendas
Org chart
Real-time feedback

Plus,


Employee engagement
Employee surveys
Reporting
Benchmarks

Plus,


Onsite training
Implementation plans
Custom solutions
Lattice Features
Lattice has all the same features of the other performance management software we reviewed. But, instead of becoming a quarterly or annual event, Lattice's reviews are baked into how your employees work—by providing ongoing feedback and one-on-one meetings with agendas and documentation that supports work activities.
Goal Setting
Goals can be set up for departments and groups as well as individuals. They can be set up as SMART goals or key result areas (KRAs)—whatever makes sense for your business. That saves time and ensures alignment. Those goals are then tracked real-time with team members being able to view their own and their teams' progress.
Performance Reviews
Lattice provides lots of templates to use as a starting point for performance reviews. They can be customized using whatever format you want, 360-degree feedback, manager reviews, self-reviews, and reviews of direct reports. And the review cycles can be run as often as you like. There's no need to schedule structured review cycles on a quarterly or annual basis. Reviews can be done any time it makes sense, such as after a new hire's first 90 days, or at the end of a major project.
One-on-One Meetings
The one-on-one feature in Lattice allows employees to take control, improving employee engagement. Managers and staff can develop agendas, schedule meetings, take notes, and keep track of accomplishments. At review time, or whenever you want to provide feedback, these notes are available within the system. No more emails back and forth.
Feedback, Praise & More
Lattice provides a ''praise wall'' where feedback can be shared for all employees to view. Feedback can also be published to Slack so that employees receive the benefit of peer accolades. This employee engagement feature is unique to Lattice and is a reason that it's more likely to be used by managers and employees. It's real-time. It's fun.
Reports & Interfaces
Its interface is progressive and modern, and it integrates with G Suite, Slack, BambooHR, and SSO, for example, making it appear seamless to your workforce. These integrations mean that peers can provide feedback and have it published to a Slack channel, while G Suite users can schedule their check-ins and be reminded through their Google calendar. And, SSO ensures that your employees don't need to remember yet another user ID and password.
Customer Support & Setup
To start with Lattice, you upload employee data with a CSV file that requires only eight employee-data fields—like employee name and email address. Then you can verify everyone has been set up by viewing a simple org chart.
Customer support is free, and training and support are targeted to specific audiences—you the administrator, your managers, and employees. That saves you countless hours once you launch. If you have questions, you can use their online chat, which they refer to as their "intercom."
What Lattice Is Missing
Although Lattice has an aggressive roadmap, they're a relatively new player in the performance management arena, having been founded in 2015, so expect upgrades. In addition, they're priced toward the top end and require a $2,000 minimum annual contract.
What Users Think About Lattice
Lattice is right up there with nearly 5-star ratings. Setup takes just a few minutes, and users like how the process is streamlined and the interface is uncluttered. Employees and managers appreciate how intuitive it is and find the customer service team extremely helpful. However, some customers mentioned they would like to see more integrations to other apps.
HR Software & Performance Management
Many HR providers, like Zenefits, and payroll vendors, like ADP, have added performance management tools into their standard HR software suite. In fact, Zoho People, featured above, is designed in just this way. Therefore, you may want to check with your existing HR or payroll provider to see if they offer performance management tools within the software you're already using.
However, you may wonder why some of the performance review tools interface with HR software, if the HR software already contains performance management features. Often, it's because the tools designed specifically for performance management provide more options than their all-in-one HR counterparts. For example, they provide sample goals, legal checks, and employee engagement tools like peer praise, team recognition, badges, points, and bonuses.
Alternatives to Performance Management Systems
Alternative

Best For

Businesses wanting HR software with mobile self-service performance reviews

Affordable mobile and gamified peer recognition software

Alternative employee recognition software similar to Bonusly

PeopleHR

Global businesses wanting HR and performance management tools combined

Firms wanting to partner with a

PEO

offering customizable fields and document storage

Open source HR software with performance management features

Modular HR and performance tracking tools, priced monthly per app

Low-cost, downloadable, Excel-based review spreadsheets and templates
Bottom Line
Performance management is changing, from the ubiquitous annual review to more frequent feedback, such as quarterly or on-going. That's why you'll notice our buyer's guide provides software options that do it both ways—including tools that obtain input from others besides the employee's manager, as well as peer reviews, one-on-one meetings, and options for public praise.
What works best for your company and your culture is a performance management software system that supports how often and who exactly provides employee performance feedback. It's nice to get an all-in-one package like Zoho People that offers both HR software and highly configurable performance management tools at a great price.