In order to generate real estate leads online, you need to show homebuyers and sellers that they can trust you. One of the best ways to display your local real estate expertise and build trust online is by creating real estate community pages. These pages provide details about local neighborhoods, including information about schools, local real estate trends, events, and lifestyles. By strategically creating community pages, you can build brand authority, drive traffic to your website, generate leads, and scale your real estate business.
What Are Real Estate Community Pages?
A real estate community page is an online space where people can learn information about local neighborhoods. They can also be called "area pages," and are typically dedicated pages of a real estate website with information about specific areas and neighborhoods. They can include different types of content, like written blog posts, videos, and real estate listings.
Some real estate community pages can be on different platforms, like Facebook groups or localized online forums like Nextdoor. These platforms allow local residents to post their own questions and engage in discussions with you.
Why Should Real Estate Agents Have Community Pages?
When potential clients in your real estate farm area start thinking about buying or selling a home, they typically have a wide range of questions. Community pages for real estate websites provide hyper-local information to help them understand the area better. It also allows agents to provide in-depth insights into the neighborhoods they serve, including details about amenities, local market trends, and types of properties and prices. This is an ideal way to display your expertise about your city or county, which builds potential clients' trust in you.
Ultimately, having real estate home pages that provide a valuable resource for potential buyers and sellers is an incredible tool to generate real estate leads. Because of their hyper-local nature, they attract a highly specific target audience. For buyers and sellers who are interested in a specific neighborhood, finding a comprehensive community page could be all they need to trust your expertise and reach out to you.
A few additional benefits of creating local area pages include:
Building brand authority: Creating a valuable local resource shows that you are an expert and that you know how to help your clients. Plus, having website visitors helps build recognition of your real estate brand.
Incorporates listings: Area pages can seamlessly integrate real estate listings from the Multiple Listing Service (MLS). This increases the chances of generating buyer leads for specific properties.
Search engine optimization (SEO): Having a community page with local keywords helps optimize your website to rank in search engines. This is key for driving targeted traffic to your website and generating high-quality leads.
Time-efficient: Although creating strong community pages for real estate websites will take time and effort at first, the content can continue to generate leads and build a strong brand for months on end without additional maintenance. When done right, community pages can be a passive lead generation strategy.
How to Create a Real Estate Community Page
Once you've determined that having a community page on your website is a good choice for your audience and marketing strategy, you'll have to create the page or pages. To create a community page that provides value to your audience and generates leads, make sure you plan carefully.
Here are the four steps to plan and execute your community page:
Determine your focus: Choose the specific area you want to cover on your community page. If you want to cover a large region, decide if you should create multiple pages for each neighborhood.
Decide where you will put your community page: Evaluate the benefits and drawbacks of creating a community page on an interactive site or publishing it on your website. Carefully consider your target audience and their online habits to help you determine the most profitable place for your real estate community page.
Gather comprehensive information: Consider what type of information is most useful to your target audience, and choose what you want to include, like the history of your area, types of properties, demographics, location, or school districts.
Create high-quality content: Write informative and engaging content for your area page, incorporating relevant keywords that potential clients might use in their searches. Include visuals, like photos of neighborhoods, area maps, or video tours.
Integrate listings: Depending on your real estate website builder, embedding listings into your community page can be as easy as making a few clicks.
To simplify the process of creating professional real estate area pages, use a lead generation company like Placester. It provides a variety of do-it-yourself website templates designed for real estate professionals. Alternatively, it also provides a full marketplace of professionals to help you with ongoing or on-off marketing tasks, like landing page creation, website design, or blog post writing. Placester also includes built-in search engine optimization (SEO) tools, and contact forms, and all websites include an IDX integration to display listings.
Promote Your Real Estate Community Page
Once you have an area page published, you need to make sure that your target audience finds it. It must be strategically set up to drive traffic, with a plan to consistently promote it through a variety of channels. Here are a few of the most effective strategies to increase visibility and engagement: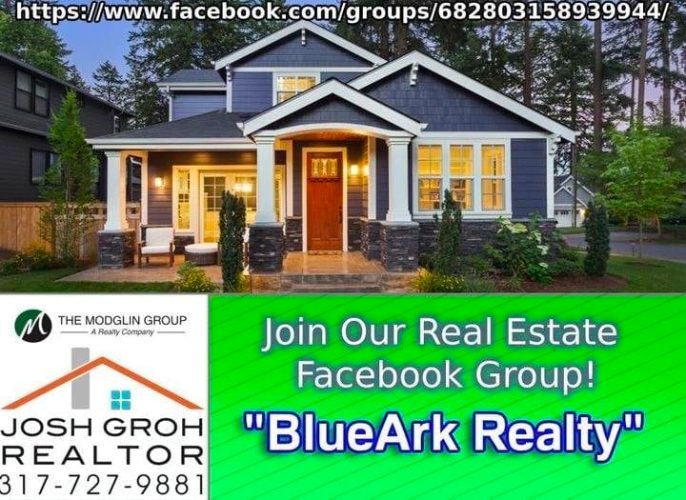 ---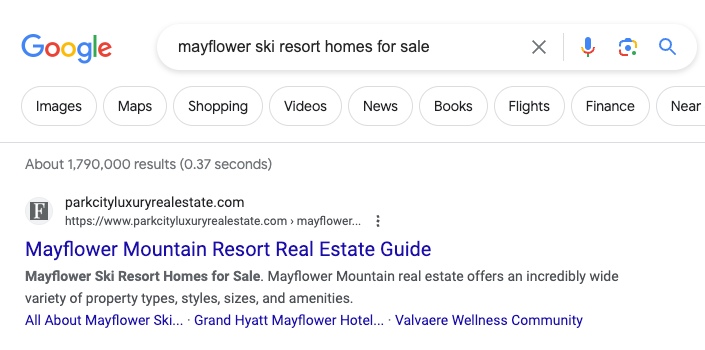 ---
If you want an efficient way to publish your community page, promote it, and keep track of your leads, consider using a tool like Market Leader. It includes a customizable real estate website builder, automated emails and direct mail, and a robust customer relationship manager (CRM) to help you stay in contact with each and every lead. It even includes a built-in marketing suite to easily create cohesive marketing materials. Learn more about how Market Leader can help you grow your business.
7 Effective Community Page Examples
There are many different ways to create strong community pages for your area. To help you determine which type of community page might be the best fit for your audience and your marketing strategy, check out the following examples. You'll see that real estate community pages can be on multiple different platforms, with a variety of designs, branding, and strategies.
1. Rebecca Olson White
California realtor Rebecca Olson White created a strong real estate presence in Palo Alto by publishing eight targeted community pages. Her website has a clear menu with a tab named "cities," where visitors can view the primary communities that she serves. Each page offers valuable insights on places to visit, local activities to do, the population and geography of the area, and local schools.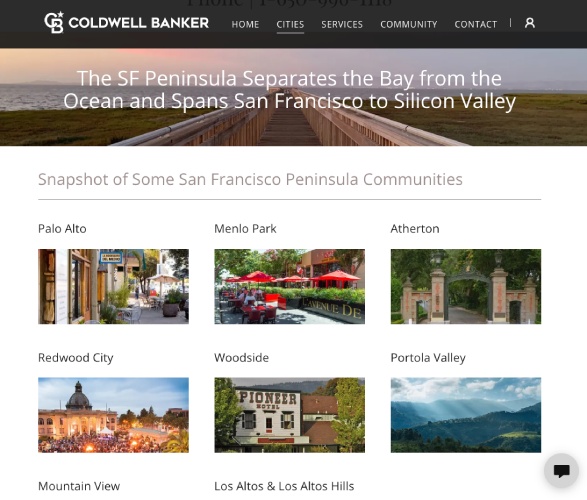 ---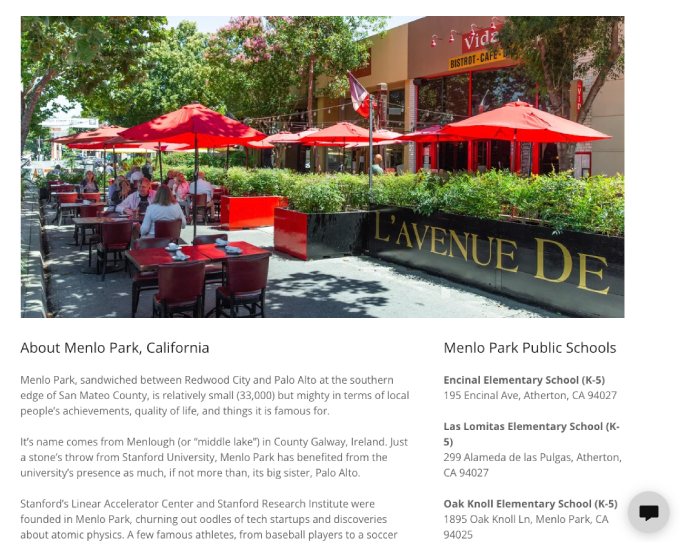 ---
2. Residential Brokers Community Pages & Facebook Group
On the Residential Brokers' website, there are over 700 community page examples for different sub-areas of the Palm Springs region. Each page provides details about the community's characteristics, real estate statistics, and community photos. In addition, this broker has created a Facebook group titled "Palm Springs Region Community Guide" to give local homeowners, buyers, and sellers a place to connect and engage.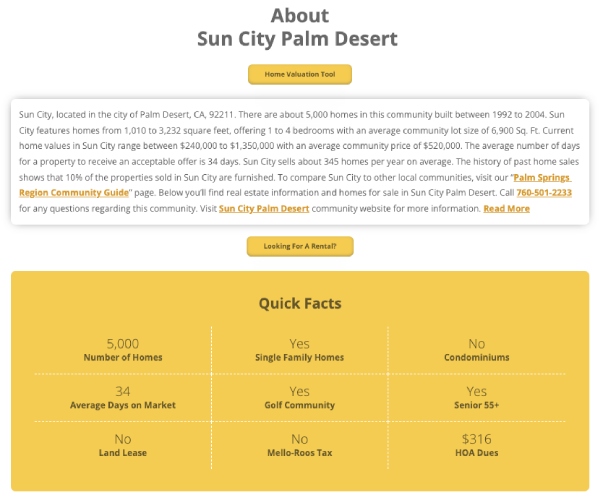 ---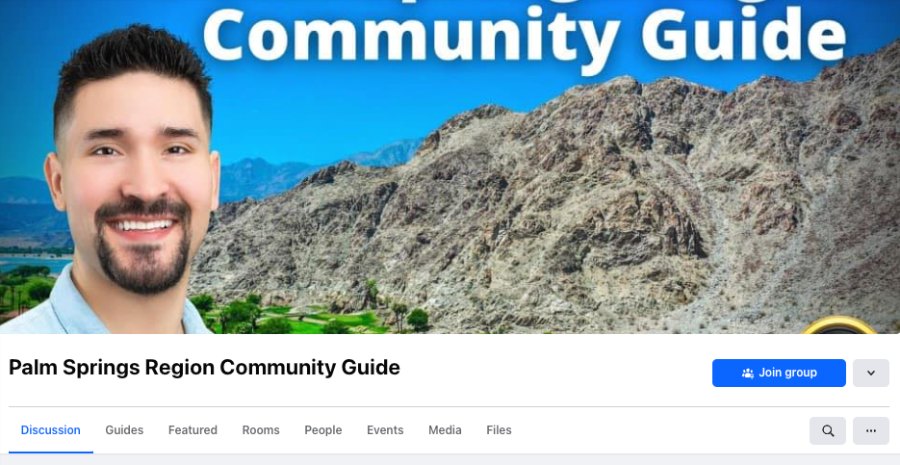 ---
3. Austin TX Realty Community Pages & Listings
Bailey Moran, the COO of Austin TX Realty, says that strong community pages can become the lifeblood of a real estate brand. In fact, when her brokerage created community pages, their website traffic increased by 40% in six months and leads increased by 25%. On this website, the "communities" link takes visitors to a landing page where they can see all of the neighborhood-specific pages available. Each page includes details about the neighborhood's location, recreational activities, types of real estate, and lifestyles.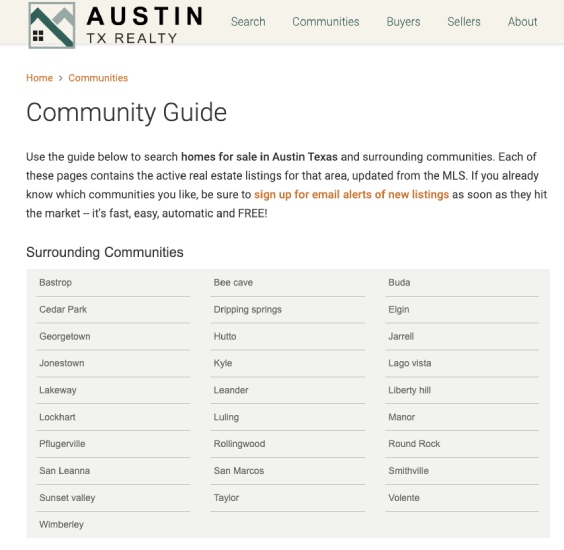 ---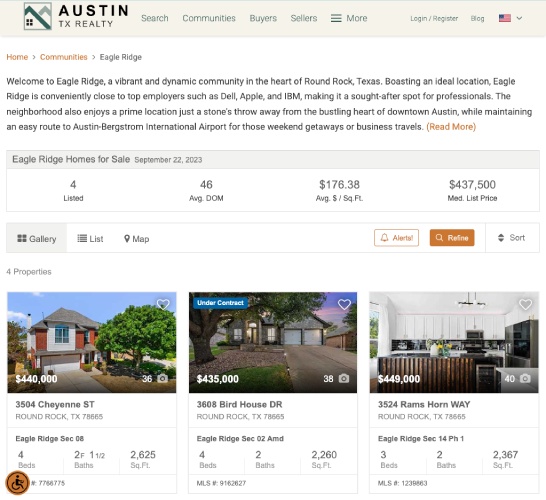 ---
4. Maximum Exposure Real Estate
Massachusetts realtor Bill Gassett includes community pages on his website with extensive details and information. On the area page for Hopkinton, MA, he includes the following sections:
Hopkinton real estate
Housing and population statistics
Climate
Economy and household income
Population by occupation
Hopkinton public schools
Nearby colleges and universities
Educational statistics
Hospitals and medical centers
Parks in Hopkinton
Town utilities
Transportation and commute statistics
Restaurants in Hopkinton
Statistics from a top Hopkinton realtor
Including such in-depth information on his area displays his local expertise. Homebuyers and sellers are likely to reference this page multiple times because it is such a valuable resource.
5. YouTube Community Page
Another unique way to provide local resources without creating written pages or consistently posting on a real estate social networking site is by leveraging video. Ellen Pitts, a Raleigh-area real estate agent, exemplifies this with a YouTube channel that generates the majority of her business. Her videos focus on the local area and the real estate market. Some of her top videos include:
NC Mountain Towns You Can Actually Afford to Live In
Raleigh NC vs Charlotte NC: Which Is Better?
These Are the Best NC Small Towns
Winners and Losers in the Raleigh Real Estate Market
Ellen says that the YouTube channel attracts many people who are relocating to Raleigh because the videos help them learn about the area before they arrive. She also receives a high level of engagement in the positive comments and has been able to connect with leads through this direct interaction.
6. Gabriela A-Team Facebook Group
Other than creating pages on your website, you can create a real estate community on social media. For example, real estate team leader Gabriela Agostinelli runs a Facebook group for her town, Leonardtown, MD. There are currently more than 7,000 members in this group, which is more than 40% of her town's population.
Instead of being focused only on real estate, Gabriela uses it to bring back a sense of community. She shares posts about local events, places, and activities, and consistently references her email newsletter to generate leads. Although the group isn't real estate-focused, there is a high level of engagement, which builds Gabriela's brand and has helped her connect with real estate clients.
7. Interactive & Niche Facebook Group
Real estate broker Vicky Noufal has also seen the power of creating an interactive local community. She manages the Facebook Group Leesburg Moms, which has over 6,000 highly engaged members. Through the group, she hosts monthly in-person meet-ups and community socials, and sends a monthly newsletter to approximately 1,000 email subscribers.
Even though the group is not heavily real estate-focused, Vicky generates between $30 to $40 million in sales volume, and about 30% of her business comes directly from the group. She also says, "The group has exponentially increased my brand and opened up many doors, including many wonderful friendships, and last year, I was featured in a local PBS show called "If You Lived Here," representing our town."
Bottom Line
Community pages can serve as a bridge between real estate professionals and residents who need more information and guidance. By creating, maintaining, and promoting a real estate community page, you can position yourself as a trusted resource and generate quality buyer and seller leads.