11 Top YouTube Real Estate Tips for Agents + Examples
Video is one of the most-consumed types of online content that you can leverage to grow your real estate business and brand. With more than 2.6 billion active users each month, YouTube is the obvious choice to host and promote your content. With the right tools and tips, you can create a YouTube real estate channel that attracts your audience, generates highly targeted real estate leads, and increases your revenue at a high return on investment (ROI).
Here are 11 ways to generate highly targeted YouTube real estate leads:
1. Optimize Your YouTube Real Estate Channel
One of the most important pieces of a strong real estate YouTube strategy is optimizing your channel's design and content. Think of your channel page as a landing page, where you get a valuable opportunity to establish who you are and how you stand out from your competition.
Ultimately, the goal of creating YouTube real estate videos is to attract leads and convert them into clients. To do that, viewers need to have a clear understanding of the value you provide to them. It also needs to be easy for them to continue watching your videos and sign up as one of your leads.
Optimizing your channel means intentionally designing your brand, content, and the organization of your page. The main areas to optimize include the following:
Profile image: Although it's small, your profile image will appear on every real estate video you share. Use your realtor headshot and make sure your face is clear, without distractions or busy backgrounds.
Banner: Your banner is arguably the most valuable space on your YouTube channel page. Include your logo, contact information, and tagline or brief description of what you do. Use our Facebook cover photo tips and simply adjust the image size in Canva.
Channel trailer video: This is a pinned video at the top of your channel page. Take this opportunity to create or choose an engaging video that clearly shows what you offer and the type of content viewers can expect from you.
Trailer description: The trailer video description is the first thing viewers see on your real estate YouTube channel, so it's even more important than your "about" description. Use the opportunity to describe the video and name specific questions and problems you help clients solve.
About section: The "about" page will generally be viewed by people considering whether they should subscribe to your channel or reach out to you for help. Make sure you write a short real estate bio that gets to the point and identifies your niche and standout qualities.
Playlists: Playlists are key for targeting different types of leads. For example, buyers and sellers have different questions and concerns, so create specific playlists for each customer's personas. This will draw them in and increase your conversions.
Here's an example of how one California realtor, Jeb Smith, organized his YouTube playlists: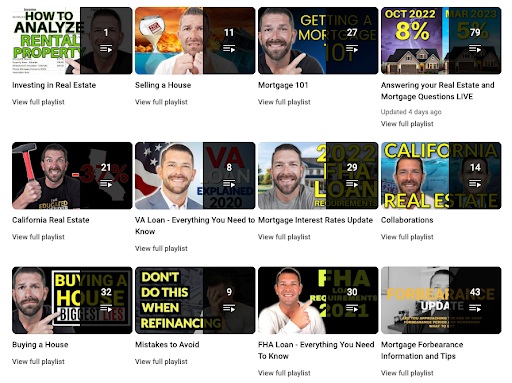 ---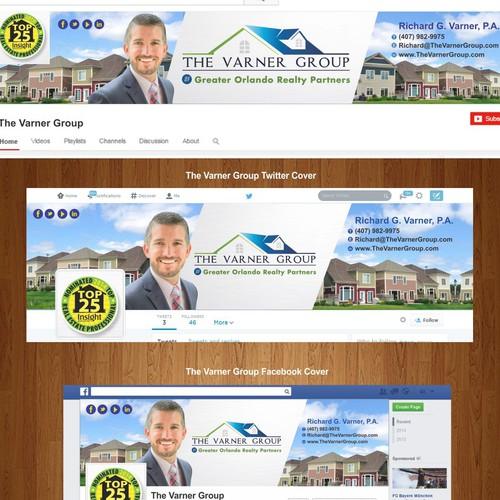 ---
As you optimize your real estate agent YouTube channel, make sure each element is consistent with your real estate branding. This includes designing a logo and choosing brand colors and copy that speaks to your ideal client type and represents your personality.
If you aren't familiar with branding or designing, getting professional assistance is well worth it. With a company like 99designs, write a brief that describes your needs, like a logo, YouTube banner, or a complete brand kit. Then a variety of designers will present their ideas, and you decide on the design that best fits your style and needs. Start building a strong brand with 99designs today!
2. Choose Your Video Editing Tools Strategically
One of the reasons YouTube is so powerful for real estate marketing is that video is more engaging than written text. In fact, real estate listings that have at least one video receive 400% more inquiries. However, your videos must be clear, organized, and engaging to attract and maintain an audience.
To create engaging videos that generate real estate leads effectively, you'll need tools to edit and produce your videos professionally. Remove awkward pauses, mumbling, and fuzzy sections to keep the video flowing steadily and eliminate errors. Make sure there are no unnecessary background noises like beeping, gusting wind, or outside conversation so your viewers can hear you clearly. Consider adding subtitles and background music to make your video more appealing, accessible, and understandable.
Luckily, editing videos for YouTube doesn't require expensive or confusing high-end video equipment, software, or even training. Animoto, an easy-to-use video editing software, can easily upload, trim, customize, edit, and share your videos. It doesn't require hours to learn how to use the tool, and it provides a range of real estate-specific video templates like listing videos, explainers, and agent testimonials. Try Animoto for free and see how it will help you gain success with YouTube for real estate agents.
3. Write Search-optimized Copy
Since YouTube is owned by a search engine (Google), YouTube search engine optimization (SEO) is arguably the most effective way to get views and drive traffic to your YouTube real estate channel. Optimizing your videos for YouTube searches means creating videos based on keywords and covering topics your target audience is searching for.
For instance, if you are looking for first-time homebuyers, use keywords like "affordable homes for sale," "buying your first house," or "how to buy your first home." Since your content will likely be highly localized, your keywords should be used in conjunction with locale, such as "homes for sale in Dallas." Utilize programs like SERanking to determine the best keywords for your content. Real-time tracking of keywords will assist in targeting keywords that bring the most traffic to your YouTube videos.
Once you've determined a few keywords to target, make sure to place the keywords throughout your video and content. This will help YouTube learn the topic and correctly rank it in searches. Places to add keywords include the following:
Title: Include the primary keyword in the video's title and add power words, like "discover," "alluring," or "nostalgic," to communicate the value that the video offers (for example, "Nostalgic New England Colonial Home Tour" or "Discover the Value of a Real Estate for Your Home Search").
Description: Include the primary and any secondary keyword(s) in the video's description, and use short paragraphs for readability. Don't forget to add links to other related videos and a call to action (CTA), like visiting your blog or subscribing to your monthly newsletter.
Subtitles: Adding subtitles to your YouTube real estate videos helps with SEO because Google can crawl all the subtitle text in the video. Even more importantly, it makes your content accessible to all viewers.
Custom thumbnail: YouTube allows you to choose from automatically generated screenshots within your video, but it's important to customize your thumbnail with a high-quality image. Simply choosing a screenshot wastes extremely valuable space since viewers often read the text on this image before the actual title of the video. While your thumbnail may not directly help the Google algorithm, it will help viewers choose to watch your video among a sea of other real estate videos.
Google is an amazing tool you can leverage to help your audience find your videos and increase your success. Keep in mind, however, that search engines should only be used as a tool to reach your audience, not as the sole focus of your videos. If you become too focused on keywords and algorithms, you'll lose your connection with viewers and ultimately won't get new business from your videos. Make sure that your priority is always to provide value to your audience.
4. Post Engaging YouTube Real Estate Videos
The key to gaining success on YouTube is posting interesting videos that actually help your audience. This might mean teaching them new information or even entertaining them at times. Fortunately, creating engaging content that makes you successful in real estate doesn't require reinventing the wheel. You simply need to be authentic, be clear about who you want to serve, and provide value.
There are many different types of YouTube videos you can create. To help you start generating ideas, here are three common and effective types:
Studies show that 96% of people watch explainer videos to learn more about products and services before purchasing. If you choose to invest time and money into a YouTube channel, this is an important type of content to create.
Here are a few examples of educational real estate video content:
Remember to create content specifically for your ideal audience. If you create a video talking about the general process of buying a home somewhere in the U.S., it probably won't provide much value to your audience, and it will end up getting buried in a sea of other videos.
On the other hand, you could create an in-depth video about the real estate market in your city right now and for the next 12 months. Although it won't appeal to millions of viewers, it will strongly appeal to homebuyers in your area―the people who could turn into qualified real estate leads. In the end, you'll get the most powerful results from strategic videos that appeal to a specific audience.
---
Listing videos are one of the most common types of video created by real estate agents. Interested buyers get a much better and more accurate feel of a house by watching a video than looking at pictures, so it's a great way to gain more traction for your listings.
In addition to attracting buyers, you can get more listings with well-designed real estate videos. Highlight the best features of every home by filming walk-through videos, virtual tours, and virtual open houses. Plus, you can show potential listing clients how you successfully market properties.
Repurposing your YouTube listing videos to use on multiple sites not only attracts clients but also drives traffic to your YouTube page. For example, embed listing videos onto your real estate landing pages and single property websites or upload them to listing websites like Zillow, Trulia, and Realtor.com.
As a Zillow Premier Agent (ZPA), you can not only claim your listings but also add photos and videos by uploading them directly to the Zillow site. Receive exclusive placement on your listings as well as others when you join as a ZPA. Try it for free today.
---
Create content specific to your area of interest by filming community events, local establishments, restaurants, and activities to highlight hot spots in the neighborhood. You could even create videos about specific neighborhoods to help buyers decide where they want to buy their next home.
---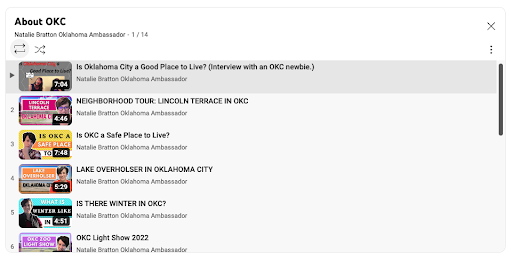 ---
These videos educate potential buyers, helping them make more informed decisions about whether they want to live in a particular neighborhood. However, be careful not to violate fair housing laws when creating videos by mentioning demographics, religious landmarks, reputable schools, and so on. To make sure you are compliant with all rules and regulations, check out our article Fair Housing Act in Real Estate: Protect Your License & Clients.
---
5. Include Calls to Action (CTAs)
A call to action (CTA) is vital to every piece of real estate marketing content, providing a clear next step for the viewer. They should be simple, like asking users to leave a comment, subscribe to your channel, click on a landing page, or sign up for a mailing list. If you create content on other platforms like Instagram or a blog, you might be accustomed to writing CTAs at the bottom of every post.
---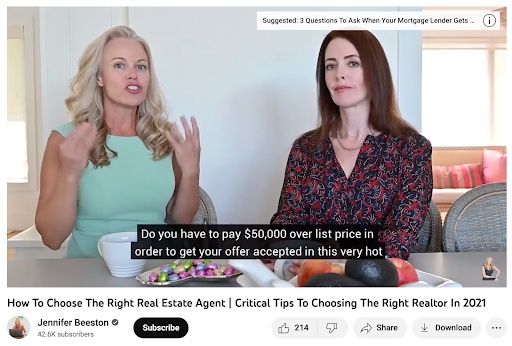 ---
However, YouTube content should present multiple CTAs and be placed at the beginning, throughout, and on the end screen of your real estate videos. YouTube provides a particularly large range of ways to present your CTAs to your audience.
Here are some ways you can and should include the CTAs:
By verbally mentioning them within your video
In cards or annotations that appear during the video
Within the video description
On the beginning and ending screens
CTAs do not need to be complicated. In fact, simple calls to action are more likely to resonate with viewers, and they are easier for you to consistently mention. Choose from a few different phrases like, "Don't forget to subscribe for more information," "Click the link in the description for a free home valuation," or "Follow me on Instagram for updates."
6. Target Your Audience With Relevant Content
Make sure your YouTube channel isn't flooded with overly general content. If you try to appeal to every potential type of real estate client, you'll end up with content that doesn't appeal to anyone. Instead, create specific content to establish yourself as the go-to expert, targeting your niche audience and ideal buyer types.
For example, your real estate niche could be expired listings in and around Madison, Alabama. Instead of creating a general first-time homebuyer video that will get buried among thousands of similar videos, create a video series about the reasons home listings in Madison expire and how you successfully sell homes in that city. You will attract a very targeted audience much more quickly and generate much more qualified leads.
7. Connect YouTube to Your Website & Landing Page
Although video views are important, having people watch your videos alone is not going to grow your business. You must make a natural transition for viewers to become one of your leads, and that is most frequently done with real estate landing pages or websites.
Add links to your website in every video description, in the text on your video, and on your channel's home page to direct traffic to your website and landing pages—capturing as many leads as possible. Consider offering something valuable, like a home valuation or comparative market analysis (CMA), through a sign-up form on your website. Draw attention to this offer in videos, explaining why they are valuable and how your audience can get their own.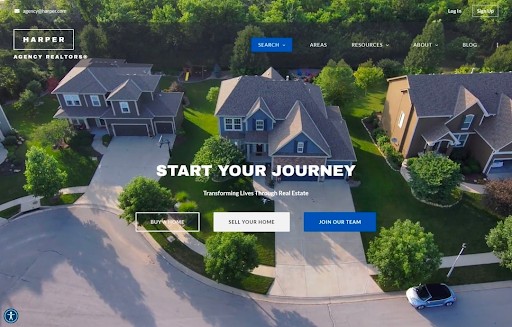 ---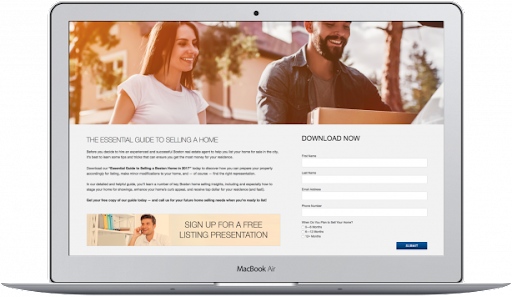 ---
If you don't have a website or landing pages with lead capture forms, you can get one up and running in just a few hours with Placester. With over 30 beautiful real estate IDX website templates, an easy-to-use design platform, and a marketplace of website and marketing services offered by professionals, Placester has everything needed to build a real estate business more effectively.
8. Promote Your YouTube Channel on Other Platforms
As powerful as YouTube for real estate agents can be on its own, there are no marketing methods that will magically grow your business without effort. You need a promotion strategy to get the maximum results out of your YouTube real estate content, especially in the beginning.
Promote your YouTube videos in real estate by:
Cross-posting YouTube real estate videos to your other social profiles
Share short clips of the video on TikTok or Instagram Reels
Embed videos in emails and send them to your lists
Embed YouTube videos on a blog post or landing page
Ask your social media connections to share your videos
Run ads to drive traffic to your YouTube videos
Your promotion strategy can be done manually, but it will likely take hours to complete for every new YouTube video. A much more efficient way to build your success is by using a tool like Sprout Social, which provides publishing and scheduling features, as well as extensive insights into your audience's needs.
Sprout Social integrates directly with YouTube and every other popular social platform, so you can schedule your videos to publish on multiple platforms at once. Learn more about how Sprout Social can massively improve your real estate YouTube channel.
9. Actively Encourage Comments & Subscribers
Every time you post real estate videos on YouTube, ask viewers to like and comment on the video and subscribe to your channel. This should be one of your CTAs, for reasons mentioned above, but these engagement metrics are particularly important for the YouTube algorithm. The more engagement you receive, the more likely YouTube is to show your videos.
Another reason why video engagement is vital to your success on YouTube for real estate agents is that it directly grows your audience. It reveals who your audience members are and allows you to start building relationships with them. They will be able to ask you questions and interact with you, which will showcase your value and expertise to attract clients.
Every time someone comments on your video or subscribes to your channel, add their name as a contact in your customer relationship manager (CRM). Using a CRM with a visual pipeline, like Pipedrive, you can easily track each time a lead interacts with you or your videos. Pipedrive also uses artificial intelligence (AI) to analyze how each audience member interacts and identify which are more likely to respond or convert.
10. Partner With YouTube Influencers
Even though there are many real estate professionals who are already using YouTube to grow their business, you don't have to consider all of them as your competition—especially once you establish your ideal clientele. Instead, you can actually partner with other YouTubers in the real estate space to create something that benefits both professionals and audiences.
Find YouTubers who have an audience similar to your own and who already have a large audience. If you don't have any connections to them, start supporting them by simply liking and commenting on their videos. Then, reach out and offer a way that you can provide value to their audience.
For example, you could collaborate with popular real estate investors and teach their audiences how to successfully choose and work with real estate agents. By working with other YouTube influencers, you'll continue to establish yourself as an expert and get in front of a larger number of potential clients.
11. Advertise on YouTube
If you're serious about growing a substantial audience on YouTube, advertising on the platform is a powerful and relatively accessible way to get results quickly. Since YouTube has advanced targeting data and algorithms, it's one of the best and most cost-effective ways to run highly targeted ads that bring views to your videos from your desired audience.
Plus, real estate ads on YouTube typically have less competition than ads on other platforms. This is partially because most real estate agents don't have YouTube channels, so by having one, you're already a step ahead. There is also no minimum cost for advertising on the platform, but you can expect to pay between 1 cent and 3 cents per click or view.
All YouTube advertisements should clearly display the value that you provide as a real estate agent so that you grab the attention of site users and get them to take immediate action in connecting with you. However, the type of ad you choose is up to your discretion and unique strategy.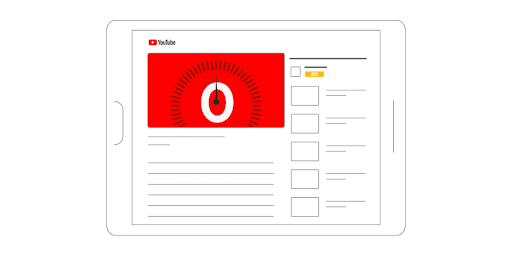 ---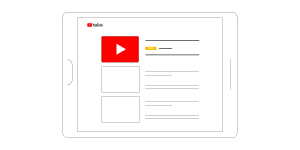 ---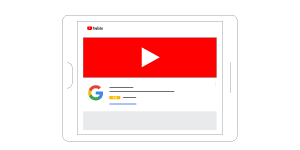 ---
The primary types of YouTube ads include the following:
Skippable in-stream ads: Video ads that appear in the middle of another YouTube video, and can be skipped by the user after a designated period of time
Non-skippable in-stream ads: These ads also play in the middle of another YouTube video, but cannot be skipped by the user. They are a maximum of 15 seconds long.
In-feed video ads: In-feed ads appear similar to a related video on the right-hand side of the user's screen. You are only charged for the ads when viewers click on them.
Bumper ads: Bumper ads are only six seconds or shorter, and play before, during, or after another YouTube video, and are similar to non-skippable in-stream ads.
Outstream ads: These are video ads that appear on websites and apps across the internet.
Masthead ads: Masthead ads are placed at the top of the YouTube home page and autoplay without sound for 30 seconds.
Why Agents Use YouTube for Real Estate Lead Generation
YouTube is one of the most powerful and underutilized platforms for real estate agents to grow their audience and generate leads. Most real estate agents see Instagram and Facebook as simpler and more accessible platforms to build an audience, but 112 million people use YouTube every day. Although it takes more time to create engaging and well-designed videos, this channel can be an incredibly powerful tool to help grow your business.
Here are six reasons why YouTube is effective for real estate professionals:
Video has become the most-viewed type of online content over the last few years, and it consistently generates more engagement on every platform. In fact, videos can attract up to 300% more traffic and leads than all other types of marketing mediums. Plus, 96% of people seek out videos to learn more about a product or service when deciding whether or not to purchase or reach out. Creating real estate videos helps you leverage the existing demand to grow your business.
---
Many real estate agents have never created a video for their business, so it may seem like an overwhelming task at first. However, filming real estate videos can actually be incredibly simple with the right tools and strategy.
In fact, recent studies show that 79% of consumers prefer videos to be one to six minutes long. With an easy-to-use video editing tool like Animoto, you can almost automatically create real estate videos and make valuable edits in just a few minutes.
---
The potential of ranking on YouTube is a massive benefit of publishing real estate videos on the platform. When a potential client searches for an answer to their question and finds one of your videos, you've automatically made yourself a valuable resource to them. Plus, optimizing YouTube videos increases your chances of ranking for the keyword in Google searches—multiplying your traffic potential. Video results are 50 times more likely to rank in Google than text-based results.
Optimizing YouTube videos for search engine optimization (SEO) is fairly simple. With a keyword-targeted title, description, and thumbnail, you're on your way to being found through YouTube searches. Statistics show that simply adding a thumbnail to your YouTube video can double your traffic.
---
When you create a Facebook real estate page, you're one of thousands or even hundreds of thousands of real estate agents within your city. With that kind of competition, it's harder to generate a large number of highly qualified leads from organic posts. However, only a small number of real estate agents have YouTube channels and are actively creating video content.
In fact, studies say that only approximately 9% of small businesses use YouTube to promote their business. At the same time, over 50% of homebuyers use YouTube to search for their next home. By creating and sharing real estate video content on YouTube, you are automatically ahead of your competition and increasing your chances of finding new leads and buyers.
---
Once you create a video, you can share and promote the content within the video on almost every single platform. Video is generally more easily repurposed than written content, and typically gets more engagement. In fact, 61% of marketers say that updating or repurposing content is the most effective strategy for generating organic traffic.
For example, with one YouTube video, you can create multiple short video clips to share on TikTok, Instagram Reels, and Instagram stories, which automatically share on Facebook stories. You can also write a short email or a blog post where you embed the YouTube video. Share the video on all your social media platforms, and use your TikTok videos in your Instagram and Facebook stories to drive people to the full video.
---
One of the benefits of social media is that it allows you to interact with your audience on a personal level. By creating YouTube real estate videos, your leads get to see and hear you talk before they ever reach out. This makes it easy for them to view you as an expert, and watching your videos makes them feel like they already know you. Using YouTube to grow your real estate business is an effective way to build authentic connections and relationships with leads and clients.
---
Bottom Line
Many agents don't even consider using YouTube as a marketing and lead generation strategy for their business. However, it can be a lucrative and incredibly powerful way to attract leads and clients and build a reputation as a local real estate expert. Make sure to establish your brand and YouTube strategy, target the right keywords, and provide value to your audience. With these strategic choices, YouTube could be the source of your real estate success.