A real estate newsletter template gives agents a predesigned document for creating regular email or print publications. Agents waste hours trying to design an attractive, well-organized real estate newsletter without a template, so we gathered a list of the 12 top real estate newsletter templates to help stay connected to buyers through email and print.
Creating and printing a real estate newsletter can cost agents time and money. Fortunately, ProspectsPLUS! offers every door delivery mail (EDDM) and other mailing services that send newsletters directly to your client list. Plus, you can use real estate-specific newsletter templates to quickly design your own publications, then send to potential buyers for as little as 72 cents each. Learn more about ProspectsPLUS! free newsletter templates.
7 Effective Email Real Estate Newsletter Templates
Email newsletters are a wholly digital way of sharing real estate information, new listings, and agent details. With drag-and-drop online editors allowing agents to customize templates, email marketing campaigns can be quickly created by adding text, images, and links. These can then be sent to curated email lists.
These are the seven top email real estate newsletter templates:
1. HomeStyle by Campaign Monitor
Price: Free
Format: HTML
Editor: Online editor
HomeStyle is a great email real estate newsletter template for agents who want to drive traffic to a real estate magazine or long-form newsletter on their website. The HomeStyle template includes a compact preview of what is included in a given month's issue with social media links and a "Subscribe" button to increase click-through rates. This real estate template is best for agents or brokers who create blogs, videos, or large amounts of content throughout the month.
2. Monthly Real Estate Newsletter Template by Template.Net
Price: Free
Format: HTML
Editor: Online editor
The Monthly Real Estate Newsletter template is designed for lead generation with header space for advertising a lead magnet—like market reports. Additionally, the ability to highlight two special properties allows agents to test the click-through of one type of house against another. Given these features, this newsletter is great for agents who want to use their monthly newsletter to test audience listing preferences or engage them with lead magnets.
3. Social Newsletter by GetResponse
Price: Starts at $15 per month
Format: HTML
Editor: Online editor
The Social Newsletter by GetResponse is geared toward those who are highly visual. With images connected to content categories like "kitchen" or "bathroom," this type of email newsletter minimizes text and uses images to create curiosity and promote click-through. The large social media buttons at the bottom drive traffic to social channels for further engagement. This template is best for agents with outstanding photography and an active social presence.
Price: $18
Format: HTML
Editor: Online editor
The GrandPack template newsletter template is designed to feel like a single property website with a description of the property under a large image. It features one main image with a menu bar at the top to increase click-through rate to a website. Further, the location and property details—like size, price, and a "More Details" button—are overlaid on the main image to generate interest. Use this template if you want to showcase a particularly inspiring listing.
Price: $18
Format: HTML
Editor: Online editor
Housing is a great real estate newsletter template designed to highlight a single property with a large header image and quick graphical breakdown of the property details. The display of square footage, bedrooms, and bathrooms with extra amenities like a swimming pool and price quickly capture readers' attention. This template is ideal for agents seeking to prominently highlight a property's primary features.
Price: $20
Format: HTML
Editor: Online editor
The Realist email real estate newsletter template gives agents the ability to show off their top properties with a large header picture. Additionally, each property has a link to find out more information with short descriptions and images to pique interest. This is a great real estate newsletter template for brokers because it ends with an introduction to individual agents on the team, their contract deals, and social media handles for added exposure.
Price: $20
Format: HTML
Editor: Online editor
The Property Sales email newsletter template is most effective for agents showing properties inside of a gated community or condo building. Agents have the ability to spotlight one property and show several other property types—homes, villas, and apartments—underneath. Each one contains images, square footage, and property details. There is a block to show featured benefits of living in this community, like free parking, golf club, and security.
"I recommend utilizing an email platform to create, schedule, send, and report on mass emails. I use Mailchimp. It's free up to 2,000 email addresses and contacts. You can create beautiful layouts using templates or design your own from scratch. I promote my clients' listings, industry information, local market statistics, and area happenings. It's clean, visually appealing, and user-friendly."

— Margaret H. Geiger, Owner, Twelve31 Media, LLC
5 Top Print Real Estate Newsletter Templates
Print real estate newsletter templates allow agents to add content with online editors or specialized graphics programs such as Photoshop. These templates stand out because of their professional appearance and versatility. After each real estate newsletter template is filled out with relevant content, an agent can download the printable file or send to a printer for mail list distribution.
Here are five high-quality real estate newsletter templates for print:
Price: Free template (only pay for stock images—$1 in this example)
Format: JPG, PDF
Editor: Online editor (Canva)
Blue & White Modern by Canva is a printable, direct mail real estate newsletter template designed for agents who publish a lot of content. With a large image on the first page to catch attention, along with details about what is inside the issue, agents are setting clear expectations for the reader. The inside pages deliver the content with large images, quotes, callouts, and neighborhood reports. The back and inside back pages have contact details for agents.
Price: Free template (pay for printing—42 cents to 61 cents each)
Format: JPG, PDF
Editor: Online editor (ProspectsPLUS!)
Millennials real estate newsletter by ProspectsPLUS! is for a statistics-oriented audience. Large graphics deliver important statistics and the text on the side reinforces the details. This type of newsletter shares information for the skimmer who just wants the basics, as well as the reader who will read the whole thing. The contact details with headshot and logo help all readers understand how to find the agent and learn more about what they offer.
Price: Free (only pay for stock images—$2 in this example)
Format: JPG, PDF, PSD
Editor: Adobe InDesign
Corporate Newsletter—which requires InDesign to edit—is designed for agents or brokers selling high-end city properties. This eight-page real estate newsletter template is folded and designed to be printed by a professional. Additionally, the balanced designed gives investors or buyers information about the company with large graphics, agent callouts, and featured properties in brochure layout.
Price: Free (only pay for stock images—$4 in this example)
Format: JPG, PDF
Editor: Online editor (Canva)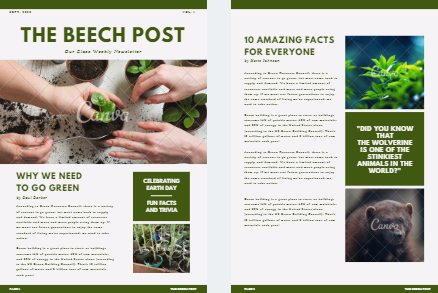 The White Go Green real estate newsletter by Canva is designed to give readers information to help their life. This template has a large header image with alternating smaller boxes for callout text and images to support the theme of the newsletter. This is a less "salesy" approach for a newsletter because it keeps the agent in front of a lead with educational information related to their home—like how to recycle and how to protect your home in the winter.
Price: $39
Format: JPG, PDF, PSD
Editor: Adobe InDesign, Illustrator, Microsoft Word, Publisher, Apple Pages, QuarkXPress, CorelDraw
These Realtor newsletter templates include a mixture of content areas for displaying statistics, images, articles, and design features like angled image overlays. While this makes for a very attractive newsletter, this template requires editing software—like InDesign or Microsoft Publisher—because the professional design of these templates is not as easy to edit as others on our list.
"Many people are visual learners, so the picture will catch their attention. For a mailer, include multiple pictures. This will help keep the reader engaged. Make sure the picture has meaning. Do not just include a random picture, such as the view of the ocean for a coastal property. Make sure that the picture captures the message that you are trying to send to your audience."

— Ashley Baskin, Licensed Real Estate Agent and Advisory Board, Home Life Digest
5 Tools & Resources for Creating Real Estate Newsletters
To help save time and money, real estate agents need to find easy-to-use templates and editors to create and send their newsletters quickly. Depending on agent needs, however, newsletter creation may involve print or email designs; in both cases, the tools used to create the newsletter should be intuitive and offer sufficient flexibility for adding diverse content types.
These are the five tools needed to make the most of real estate newsletter templates:
Bottom Line: Real Newsletter Templates
Real estate newsletters help agents move buyers through the sales cycle with educational and listing information. Starting with a template helps agents design a professional electronic or print mailer without wasting a lot of time or money. The 12 real estate newsletter templates above—designed for both print and email—can help agents share vital, engaging information with potential buyers, moving them closer to a sale.
One of the most effective ways to nurture leads is via print mailers. While this was once an extremely tedious process, agents can now easily use the ProspectsPLUS! real estate newsletter templates to create their design and send a printed version to buyers in their area or on their mailing list. Find out more about how easy the free real estate newsletter templates are to use and start creating your mailer today.