Top 13 Real Estate Newsletter Templates & Tools
Sending newsletters is a common way to stay in touch with prospects and previous clients. Newsletters can be sent by email or direct mail for a variety of purposes, from building your brand and sending detailed market updates to extending some kind of offer. By using predesigned real estate newsletter templates, real estate agents can save hours of time trying to create a visually appealing and organized format. We've compiled 13 effective and easy-to-edit real estate newsletter templates to help you get started.
Whether you use one of these templates or create one of your own, printing and sending real estate newsletters costs agents time and money. Fortunately, ProspectsPLUS! offers Every Door Direct Mail (EDDM) and can send mailings directly to your client list. Plus, they also offer real estate-specific newsletter templates, which you can customize to reach potential buyers for as little as 72 cents each.
13 Newsletter Templates for Real Estate Agents
With drag-and-drop online editors, incorporating your unique newsletter ideas into effective real estate newsletter templates can be a simple and stress-free experience. Real estate agents will be able to customize each template's text, images, links, and colors to fit their real estate branding.
1. Multi-page Real Estate Newsletter Template
Source: Canva
Price: Free or $12.99 per month
Format: PNG, JPG, PDF
Editor: Canva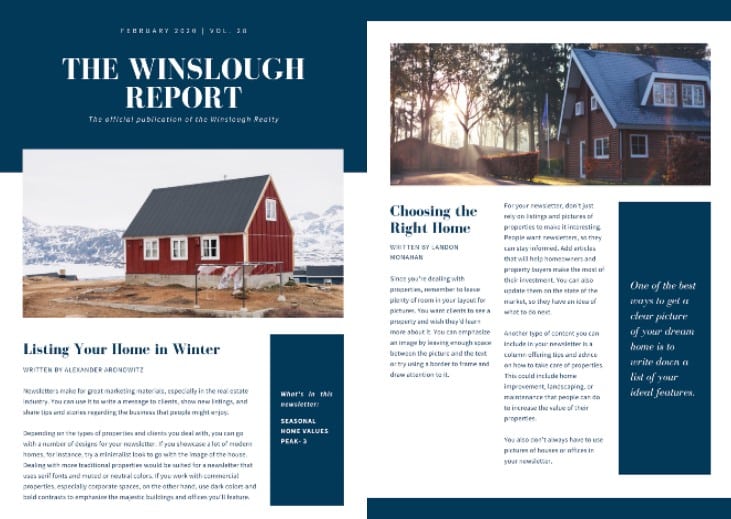 Even though newsletters are a common real estate marketing strategy, they can vary significantly in format. This template shows two pages with two different articles. It's formatted like a magazine and even says it is an "official publication." For agents who use content marketing to grow their audience and generate leads, this real estate newsletter template would be an ideal way to distribute copies of their blog articles via email or print.
Since this template is offered from Canva, it will take only a few clicks to expand this to more pages. Canva is one of the most popular graphic design platforms because of its ease of use and thousands of free templates and design elements. You can easily adjust every element of the template to fit your needs and your brand, or take advantage of the platform's expertise and use their templates without making unnecessary changes.
2. Brand-building Newsletter Templates for Real Estate Agents
Source: Template.net
Price: Free
Format: PSD, HTML5
Editor: Adobe Photoshop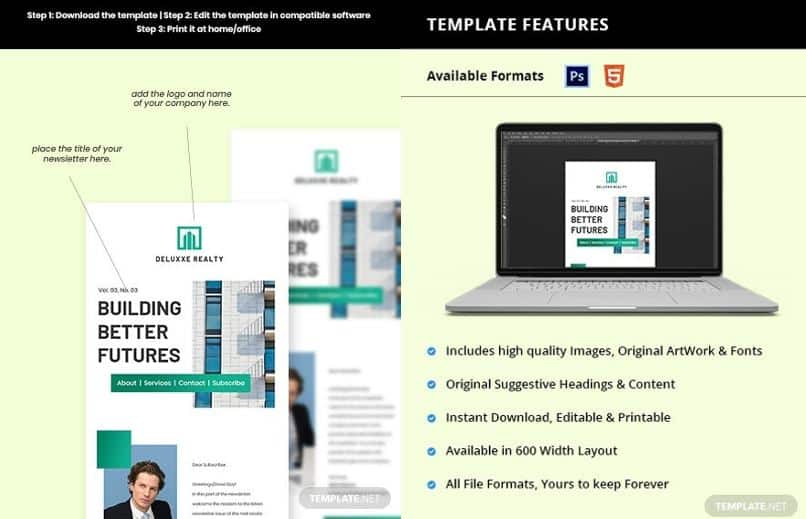 The most noticeable elements about this real estate newsletter template are the large heading, logo, and realtor headshot. The size of these three elements immediately grabs the viewer's attention, which makes it an ideal template for real estate agents whose primary goal is to build a recognizable brand.
Of course, successful real estate agents know you should always include your contact information and a call to action in order to make the most of every marketing effort. However, the layout of this template is best for those who are building their brand.
3. Classic Newspaper Layout
Source: StockLayouts
Price: Starts at $39 per template
Format: All file formats
Editor: Adobe InDesign, Illustrator, Microsoft Word, Publisher, Apple Pages, QuarkXPress, CorelDraw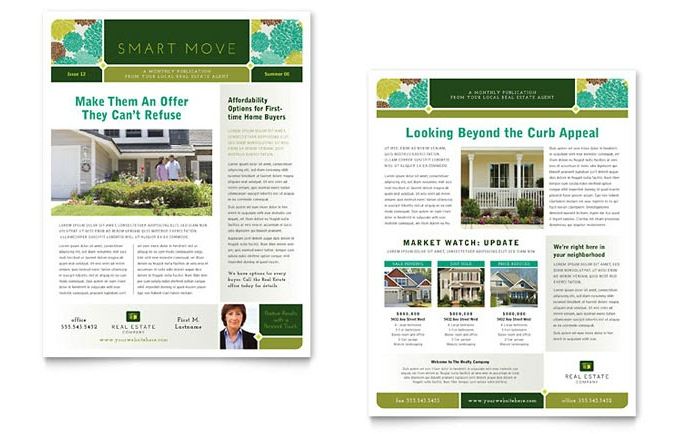 This newsletter template replicates the format of a newspaper. The division of sections makes it easy to cover many different topics, like an update on the real estate market, listings for sale, homebuying tips, and a brief real estate bio about the agent or brokerage. Using this template for your newsletter will keep your marketing options flexible; you can deliver it via email or direct mail, and each month you can easily update the topics and information.
If you choose to send your real estate newsletter through email, don't keep your contacts waiting for the next newsletter. Take advantage of the marketing power of email by creating and implementing a comprehensive email marketing strategy. There are many different email providers, but IXACT Contact is the only one designed for the marketing needs of real estate professionals. Find newsletter templates, customizable email copy, and automate email drip campaigns in a matter of minutes.
4. Interactive Real Estate Newsletter Template
Source: Unlayer
Price: Free
Format: HTML, PDF
Editor: Unlayer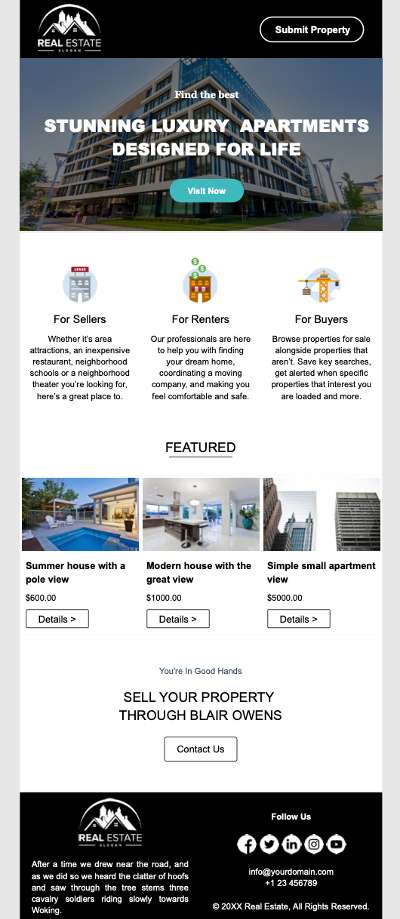 If you plan to deliver your real estate newsletters digitally, you can make them more engaging by making them interactive through web links. When editing this template, you can add links for members of each audience to click and find information relevant to them. Therefore, if you serve a few different types of clients, like renters, buyers, sellers, or niche real estate audiences like for sale by owners (FSBOs), this newsletter can help you create content that applies to each audience.
5. Modern Magazine-style Newsletter
Source: Flipsnack
Price: Starting at $14 per month
Format: PNG, JPG, PDF
Editor: Flipbooks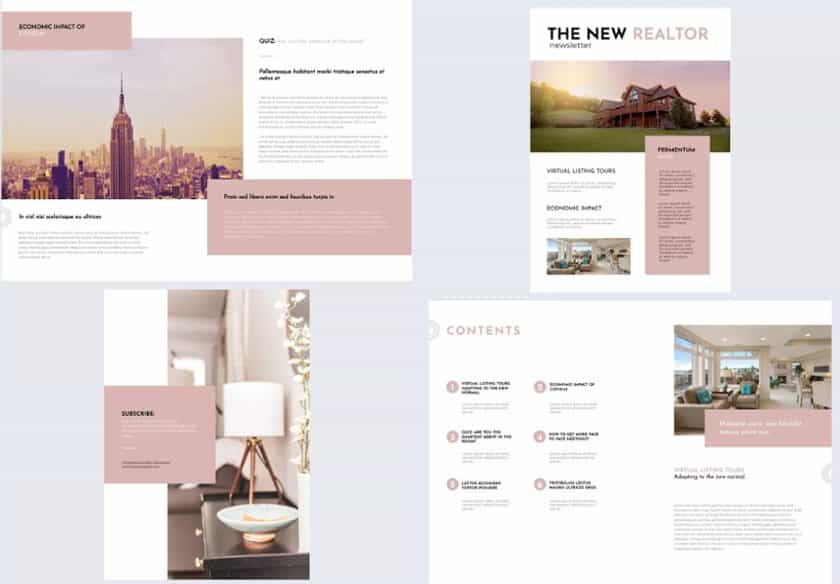 With plenty of white space and minimalistic photos, this template feels extremely modern and high-end. It comes with a cover page and an entire page dedicated to a table of contents, so it would be best for agents, teams, or brokerages that include many elements in their newsletters. For example, you may include an article, tips for homebuying or selling, a mini-quiz on the local market, photos of your listings, and even an entire page dedicated to lead generation.
6. Print Newsletter Templates for Real Estate Agents
Source: DesignToMail
Price: 50 newsletters for $60.99
Format: Print
Editor: DesignToMail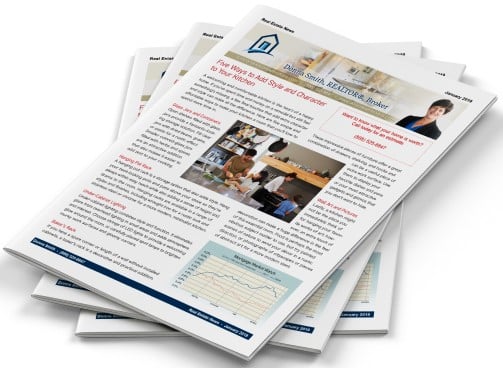 For those who want to send a multi-page newsletter by mail, this template can be designed for a two- or four-page format. It has similarities to a classic newspaper format, but feels more modern and leaves room for a few images or graphs. Although the cost of sending a multi-page real estate mailer will be greater than sending postcards or flyers, it may be a more powerful method of drumming up business.
One of the best tools to send real estate direct mail is VistaPrint due to its large volume of print and delivery options. Not only is it quick and easy to upload or edit your newsletter design, but you can also create and print marketing materials like presentation folders, brochures, door hangers, or promotional products like pens, bags, planners, and water bottles. VistaPrint is a trustworthy source of printing for a wide range of marketing deliverables, including real estate direct mail collateral.
7. Monthly Real Estate Newsletter Templates Bundle
Source: Etsy
Price: $29.97
Format: PNG, JPG, PDF
Editor: Canva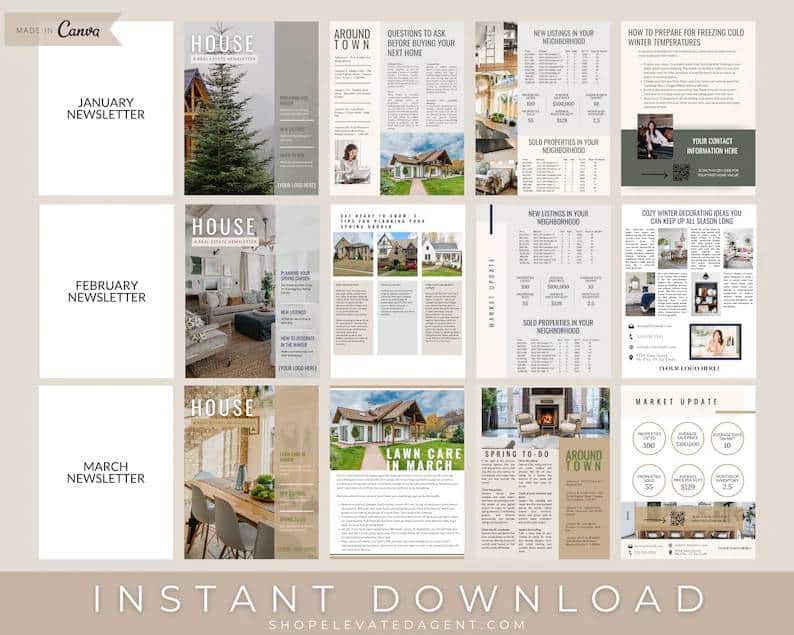 After you start sending real estate newsletters, you may find that you want to send different topics and formats each month without having to find and create a new template each time. Instead of searching for individual templates, purchase a real estate newsletter bundle like this one. The bundle includes 62 pages with varying formats, as well as 12 different articles to use. The templates can be used to fit many different types of content, from home maintenance to local events to market updates.
8. One-page Newsletter Template
Source: Venngage
Price: Free or $16 to $35 per month
Format: PNG, PDF, HTML
Editor: Venngage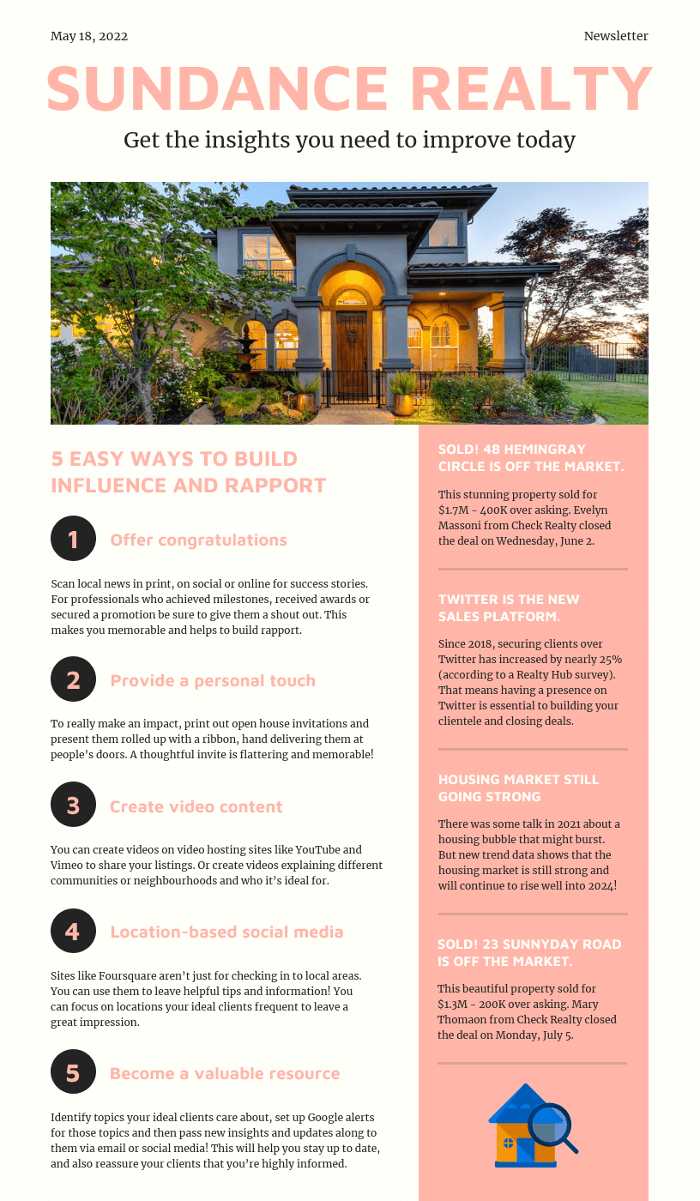 The layout of this template is relatively simple. The majority of the content is used to share tips, with a few brief updates collected in the right column. This newsletter could be used online or in print, and may be a better fit for an individual realtor than a large team or brokerage. It would be easy to update this template each month to keep your branding consistent and share different types of tips and updates on listings, the housing market, and your contact information.
9. Landing Page-style Newsletter
Source: Moosend
Price: Free or $8 per month
Format: HTML
Editor: Moosend

This newsletter template is designed for digital use only, and the format is very similar to a real estate landing page. Since it's created for online use, it can be interactive if you choose to add links within the newsletter to your website or blog. It's also a relatively simple format that you can use from month to month by adding active listings, properties you sold, clients you helped, tips, or information about yourself.
Creating a website to generate leads doesn't have to be a giant undertaking that requires weeks of time and effort to complete—in fact, you could have a website up in a matter of hours by using Placester. Placester is a real estate website creator that allows you to build a custom website without having to touch a piece of code. You could start with a simple, one-page IDX website to generate leads or extend it to include many pages and blog posts to market yourself. Busy agents can also opt to work with a Placester website design expert to create a website draft within 48 hours.
10. Commercial Real Estate Newsletter Template
Source: Xara
Price: Free, or $12.95 to $16.95 per month
Format: JPG, PNG, SVG, PDF
Editor: Xara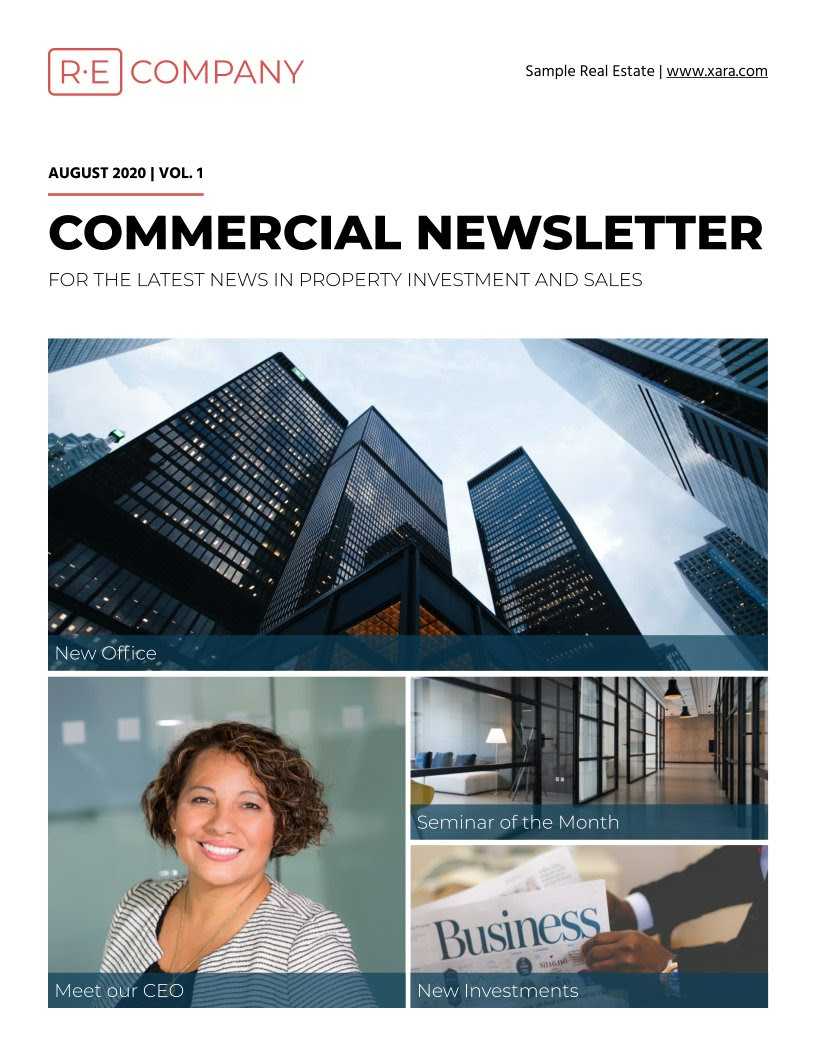 The design of this newsletter is meant to appeal to a corporate audience, which is why it's a great fit for commercial real estate agents and brokerages. It's created with topics more applicable to commercial clients in mind, like investment information, business seminars, and even a photo of a city.
For agents and brokers focused on targeting a specific clientele, like homesellers or commercial listings, finding the right tool will massively impact their results. For instance, SmartZip uses artificial intelligence (AI) and big data sources to accurately predict 72% of listings. Instead of spreading your marketing efforts over a wide area with a small number of conversions, you can now target specific home or business owners at the exact time they need real estate expertise.
11. Real Estate Team Newsletter
Source: 99designs
Price: Starts at $299
Format: PNG, JPG, PSD, PDF, XD
Editor: 99designs Design Contest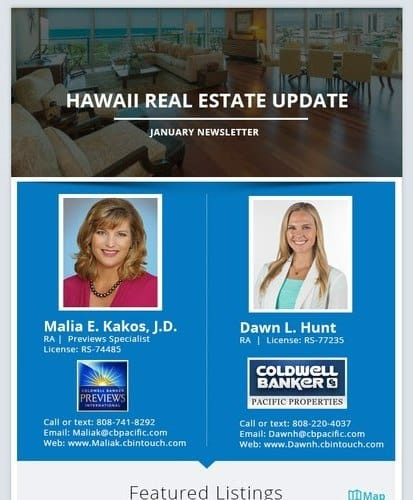 This real estate newsletter template starts by presenting two real estate agents, which is a great way to format a team's newsletter. Instead of focusing on an individual agent, it focuses on the team's listings, sales, and services in order to build recognition and generate leads. It would also be wise to include an offer and a call to action, like a free home valuation or market report.
This template was designed as a custom solution for a team in Hawaii. With 99designs, you have the option to hire a designer for your marketing materials or start a contest to find the right design. When you start a contest, multiple graphic designers pitch their idea for your newsletter, and you can choose the best one. It's one of the most unique and effective ways to create a custom-made template for your business.
12. Time-sensitive Topics
Source: ProspectsPLUS!
Price: Starts at $19.95 for digital download
Format: PNG, JPG, HTML
Editor: ProspectsPLUS!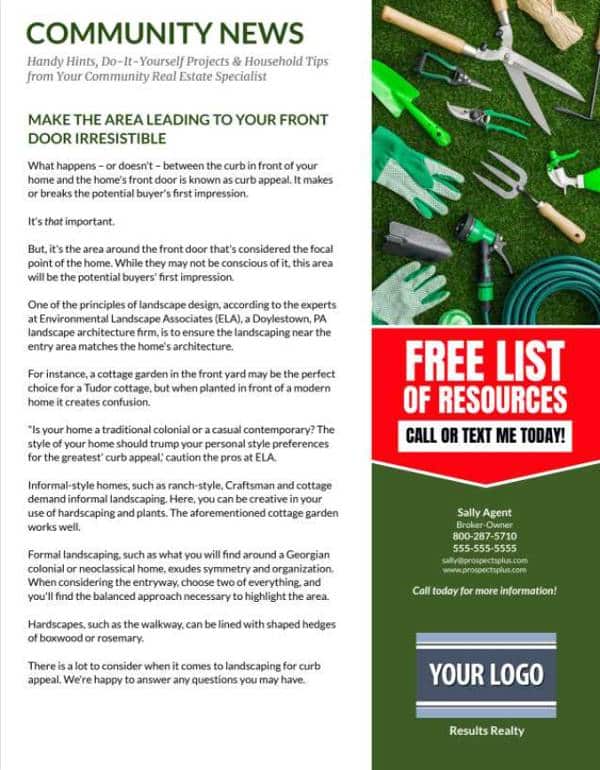 One of the many real estate newsletter templates available from ProspectsPLUS! is based on seasonal topics. Choose a design for the holidays, back-to-school, or common seasonal topics, like landscaping in the spring. This template includes a short article covering many different tips about curb appeal and maintaining your home's exterior. ProspectsPLUS! offers hundreds of real estate-related templates and an easy-to-use editor, so you'll be able to find a newsletter template that fits your specific needs.
13. Call-to-Action Newsletter Template for Real Estate Agents
Source: Canva
Price: $12.99 per month
Format: PNG, JPG, PDF
Editor: Canva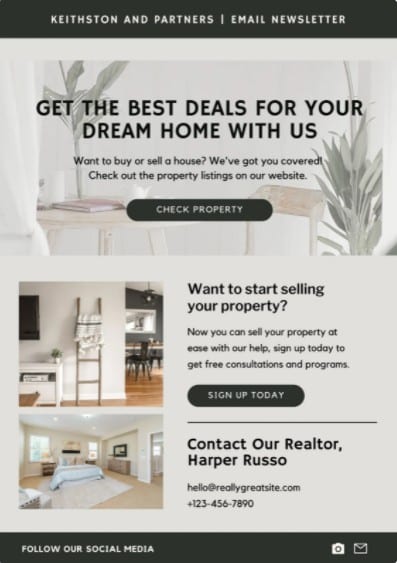 This simple real estate newsletter template has a distinct and clear purpose: to generate buyer and seller leads. Although there is a designated space for the real estate agent's contact information, the template doesn't cover topics like market updates or articles. Instead, there is an offer and a call to action for potential homebuyers and a call to action for potential homesellers. This newsletter template could work well as the first newsletter you send to new contacts in order to bring them further into the sales cycle.
Tools & Resources for Creating Real Estate Newsletter Templates
With modern tools and resources, creating and editing promotional newsletters doesn't need to take extensive time, money, or effort. Real estate agents can find easy-to-use templates and editors to create, edit, and send their newsletters without unnecessary stress. Whether you are aiming to create newsletters for online delivery, print, or both, you'll need to find the right tools.
These are six tools that help you easily create beautiful and effective real estate newsletters:
Canva: Canva is a free design tool with thousands of templates and design elements for a wide variety of real estate marketing materials, like newsletters, social posts, blogs, and brochures. For an upgrade in elements and templates, the paid plan is just $12 per month.
ProspectsPLUS!: ProspectsPLUS! is a print and mailing distribution service with free real estate newsletter templates for easy, professional design. It also provides a wide range of delivery options, from printing and mailing to Every Door Direct Mail (EDDM).
GetResponse: GetResponse is an inbound marketing automation and email newsletter service. Try the free plan to get started and take advantage of the email templates, auto-responders, and detailed analytics.
Fiverr: For agents lacking the skills or time to create their own newsletter, working with a design freelancer is often the most time- and cost-effective solution. Finding someone to edit your template or produce the whole newsletter through Fiverr starts at only $5 per project.
BoldLeads: For agents who need to generate email addresses for their real estate newsletter mailing list, BoldLeads offers exclusive leads—one agent or broker per ZIP code—for $289 per month.
Envato: Envato contains thousands of stock images and templates designed specifically for real estate agents. Purchase items individually or get the images and templates to market your business throughout the year with a monthly Envato Elements subscription.
Bottom Line
Although real estate newsletters vary in style, delivery method, and content, they are an undeniably effective marketing strategy for most agents and brokers. Whether you need a newsletter designed to generate leads, nurture previous clients, or build your brand, there is a template available to help you do so. The real estate newsletter templates above—designed for both print and email—can help agents share vital, engaging information with potential buyers, moving them closer to a sale.