How to Get Expired Listings: Strategies + 10 Conversion Tips
Expired listings are properties that were recently on the market but failed to sell before the listing expiration date. Getting expired listings can be time-consuming, but real estate agents with a powerful marketing strategy, organized customer relationship manager (CRM), and carefully crafted phone, email, and mail outreach can find success in finding, nurturing, and selling expired listings. In this article, learn how to get expired listings leads and nurture clients effectively through lead generation and marketing strategies.
Find expired listing leads before other agents by checking out REDX, a real estate prospecting platform that automates your search. It eliminates the need to spend hours finding your next lead and allows you to start nurturing them before anyone else. Learn more about REDX and see how it will help you build a profitable business on expired listing leads.
Here are the top strategies for how to find expired listings:
Identify Expired Listings With the Multiple Listing Service (MLS)
When considering where to find expired listings, the multiple listing service (MLS) is the first source to check. Many agents manually search the MLS and export or copy and paste each expired listing lead into a contact list or client relationship manager (CRM). Simply search for listings with an expiration date within two to four weeks in each city or town you want to target.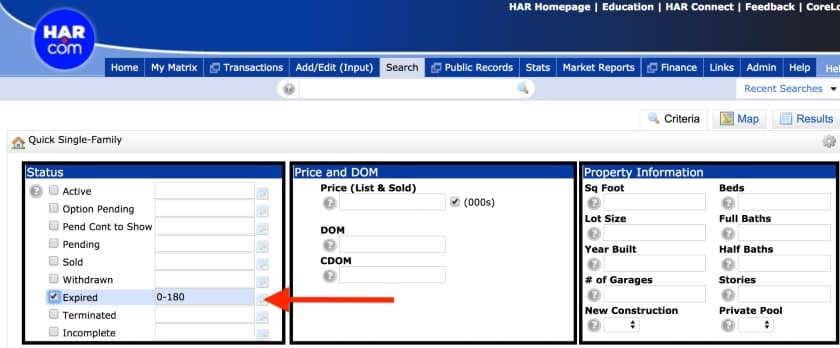 Once you have a contact list, you'll have to periodically follow up with leads using the lead nurturing strategies listed below. While this method requires manual data mining from the MLS and checking back to make sure that the listing has or will expire shortly, the leads you generate are free except for your time. It will, however, be unsuccessful if you don't have a thorough plan to prevent potential leads from falling through the cracks.
Since there are so many moving parts when you're learning how to find expired real estate listings on the MLS, you'll need a real estate CRM like Pipedrive to help you stay on top of all follow-ups and transactions. It is an incredibly effective and affordable tool that automates emails, texts, and direct mailers, and uses artificial intelligence (AI) to give you more insights into each individual contact.
Using Pipedrive, you can sort your leads into categories and specify which messages and campaigns to send in order to nurture and convert leads through targeting.
Ask Other Real Estate Professionals
Develop and foster relationships with real estate agents who are open to exchanging their expired listings with leads of your own through networking, email, and social media. In addition to exchanging leads, some real estate agents will share their expired listings for a real estate referral fee. Because no two agents market a home the same way, it's possible you will be able to sell their listing(s) successfully using a different marketing strategy.
You can also easily find and join national networking groups like Referral Exchange or Agent's Referral Network, or network with other real estate agents in local groups through platforms like Meetup. There are also many local chapters of real estate associations to consider joining, like the following:
Buy Expired Listing Leads
If you want to target expired listings but don't have hours to manually search for them, buying expired listing leads is a great alternative. While some real estate agents might not want to spend the money on buying leads, it eliminates the time needed to scrape what is essentially the same information from public records and the MLS. By using a lead generation platform like REDX, you'll receive a quality list of expired leads and increase your chances of converting each lead to a client.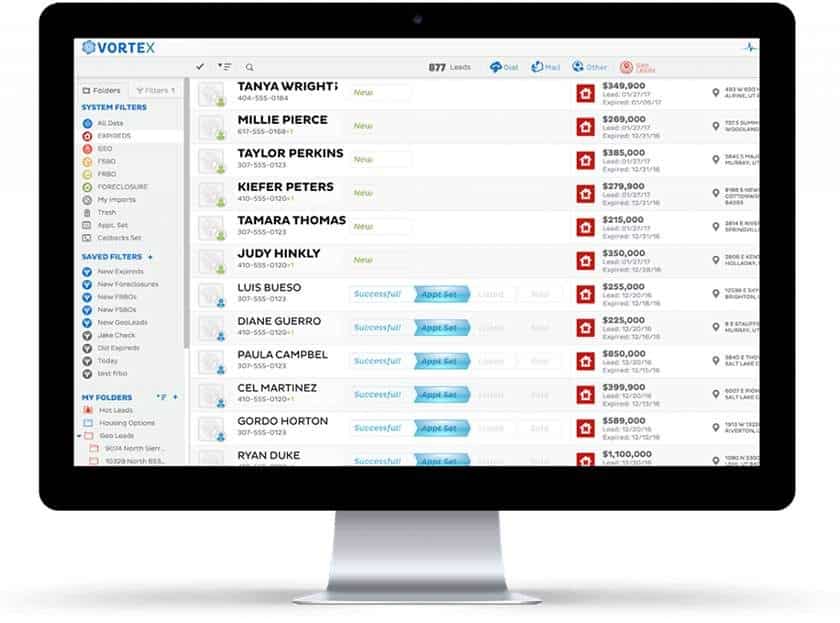 ---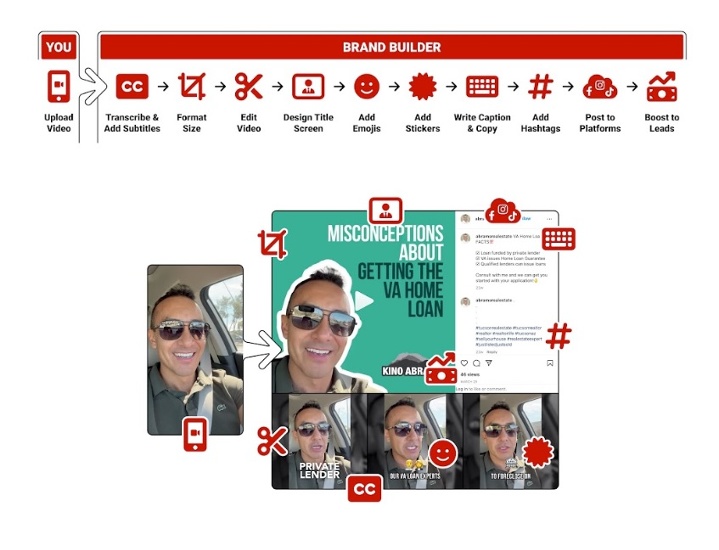 ---
The REDX lead generation platform is an efficient, cost-effective source for purchased leads. By delivering for sale by owner (FSBO) and expired leads into the platform's Vortex CRM, you can view lead contact information, tax information, and listing details with the click of a button. In addition, REDX Brand Builder offers suggestions, topic ideas, and editing tools to help you create content that targets your audience more strategically and captures their attention. Start using REDX to find and attract leads today.
Search Public Records
Searching public records for expired listings is another free method of generating real estate leads, although it is the most time-consuming. To do so, visit your area's public records archive, often at a city hall or county courthouse, to request access to listing records for your area. These records can provide valuable information about a property and the owner, including things like the purchase price history, divorce proceedings, estate references, and time on the market.
It's important to note that real estate agents can spend hours flipping through paper documents or online lists to find accurate contact details for an expired listing. Although this method is free, you need to consider whether the amount of time spent finding one or two leads is costing you too many hours that would be better spent on active sales and lead nurturing.
10 Best Ways to Nurture & Convert Expired Listings
Once you have a reliable method to find expired listings, it's time to create an effective strategy for connecting with homeowners, building rapport, and converting them into listing clients. Some of the best methods include contacting them directly, sending letters, and advertising online. Regardless of which method(s) you implement, make sure you approach them wisely and remain consistent in your message and marketing.
Here are 10 of the best ways to get expired listings:
1. Establish Your Strategy for Approaching Expired Listing Leads
Before you start dialing the first phone number or writing an email, make sure you've taken some time to think about the best way to approach your leads. Keep in mind that expired listing leads typically require more nurturing than other real estate leads, since most of them have just come through a negative experience with another agent. In order for them to trust you enough to work with you, you must be consistent, strategic, and different from your competition.
For example, you shouldn't expect owners of expired listings to agree to be your client after the first phone call. In fact, they're probably receiving similar phone calls from many different agents. In order to stand out from the crowd of agents vying for their business, you will need to contact them multiple times to build a relationship.
You will also need to approach every conversation and connection strategically. Don't focus on simply pushing a sale, or you will get ignored or blocked. Instead, focus on building natural rapport, showing that you care about the owners as people, and showing through your expertise and testimonials that you can truly help them. However, as long as you are prepared to be persistent, patient, and kind in all of your marketing, there are a variety of strategies you may use to successfully nurture expired listings.
2. Call & Email Expired Listing Owners Directly
The most tried-and-true method of reaching expired real estate listings is by contacting them directly. Although it's a straightforward strategy, it is not always easy since owners of expired house listings are typically feeling frustrated and skeptical of real estate agents. To overcome this, develop a script specifically for calls and emails to expired listing leads.
Your expired listing script should build rapport and further the conversation while also being concise, presenting the next step, and offering a solution for the homeowner. Make sure you also do your due diligence so you are prepared to ask or answer specific questions about the property in question. When creating your scripts, keep these noteworthy tips in mind:
Briefly introduce yourself
Be concise—get straight to the point
Be clear about your intent and offer
Focus on the seller
Demonstrate why you're the right person to sell their home
Address common objections and pain points
Ask to schedule a meeting
Here is an example script from our article Top Expired Listing Scripts That Convert that you can use to get started:
Hi there, is this the homeowner? I'm _____ calling with _____.
As I was looking over what's happening in our neighborhood, I noticed that your home is no longer for sale. I was really surprised that it went for _____ days without selling. Any thoughts on why?
(Hear them out—they'll often talk about what they see the problems are, the other agent's shortcomings, and so on.)
I sold a home recently in the neighborhood at _____, so I thought you might still be interested in selling your home. How about I swing by tomorrow at _____ to take a look and give you a second opinion?
(If yes, book it! If not…)
OK, I can just come by to drop off some things for you to look over? I've been selling in the neighborhood, and I'd like to show you what I've been able to do for others. Around _____ tomorrow?
To automate and expand your reach with calls, emails, and even texts, Chime's communication and nurturing tools may be the most powerful and efficient tool. Its power dialer provides built-in but customizable calling scripts, automated responses, and custom call lists based on each lead's status and need. Plus, its automated nurturing tools help you text and email leads quickly and efficiently. Learn more about how Chime can help you get more expired property listings.
3. Send an Expired Listing Letter
While phone calls and emails can be more direct methods of contacting expired listing leads, you may have difficulty getting in touch with the owner. A different way to connect with sellers is to send an expired listing letter. Make sure you use a professional letterhead and personally sign each one. Personalize your letter and focus on the seller rather than yourself.
Close the letter with an invitation to set up an appointment to discuss sales options further. If you've already made multiple attempts to contact a seller, your letter should capture their attention by outlining a clear sales path with fresh marketing ideas.
Dear _______,
Today I noticed your home at _______ (insert address) is no longer listed for sale within the Multiple Listing Service (MLS). My name is _________ (insert your name) and I specialize in helping people who may be frustrated that their home didn't sell the first time around. How? I offer my clients a different, unique approach to getting their home sold despite the market conditions.
Just one example of my marketing plan is the effective use of the internet to maximize exposure for your home. This is absolutely critical as 86% of buyers today use the internet as their primary information resource. In addition, when working with sellers, I offer my clients: Complete Market Overview & Pricing Analysis; Enhanced RMLS listing and a linked virtual tour; a dedicated website, specific to your listing; Online Classified Advertising on Oodle, Craigslist, and Google Base; complete email-ready property information kit for buyers; and Exclusive 25-Point Internet Marketing Strategy – Local and Regional Marketing.
If you are considering re-listing your home, I would welcome the opportunity to interview for the job. Please give me a call or email at your convenience.
Sincerely,
[Insert Your Name]
4. Create & Automate Drip Marketing Campaigns
Drip marketing is an email strategy that describes a series of automated emails sent to your contacts at regular intervals. It's a great way to nurture owners of expired MLS listings because they allow you to consistently reach leads without having to spend any more time dialing the phone or writing individual emails.
However, the emails in your drip campaign must offer value, not just a solicitation. Include information like neighborhood and market reports, seasonal greetings, helpful tips, and "just sold" property announcements. For your expired listings leads in particular, you can send information about what causes listings to expire, simple changes that can prevent it, or case studies on how you've sold previously expired listings.
Use a strong email marketing tool like Constant Contact to easily create a nurture campaign, segment your contacts, and track progress. The email builder makes it extremely easy to create your own email template or use an existing one to simply plug and play. Make sure to schedule an email right after you're introduced to a new lead, then space out subsequent emails between two days and two weeks. Make sure you test out new strategies and use the Constant Contact analytics to form a strong email marketing strategy.
5. Execute SMS Marketing Campaigns
SMS, which stands for "short message service," is a powerful method of communicating and connecting with leads through text messages. With a 94% open rate, text message marketing is the most effective way to reach potential leads. Texting is also personal in nature, so it's ideal for building an authentic relationship with leads and contacts.
However, make sure you are aware of spam laws. A text campaign for expired listings should only be used after initial contact, and you must have permission to send marketing messages via text. Texting someone who has not approved text correspondence might be considered an invasion of their privacy and could be a legal violation. Plus, if recipients report your messages as spam, your phone number could be added to blacklists and online complaint directories.
Consider using automation software from a CRM like LionDesk to continually stay on top of your contacts and text message follow-ups. LionDesk can help you create a strong website to get new listings and easily write and automate text messages. Start using LionDesk today.
6. Build Trust on Social Media
Although social media can be overwhelming for some agents, real estate marketing statistics clearly show that it's an incredibly valuable source of leads. This is especially true as you're learning how to get expired listings because it's a free and reliable way to build trust and an authoritative presence.
For example, someone who has just had a negative expired listing experience with a real estate agent may not be eager to receive a call, email, or letter from another one. Their response probably won't change if they can't find any information about the agents' past experience or success. On the other hand, they might think differently if they see a Facebook or Instagram page where you've consistently shared successful sales, valuable homeselling tips, and positive testimonials.
Using the right tools is key to developing and implementing a strong real estate social media marketing strategy. With Sprout Social, you can create posts for multiple social channels in one centralized location, optimize them to post at the best time of day, and plan out weeks of content at one time. Plus, Sprout Social provides content suggestions to help you maximize engagement with every new post.
7. Create & Share Videos That Speak to Expired Listing Leads
Since owners of expired listings are more likely to be skeptical of agents and frustrated with the process, video is an ideal medium to communicate and build their trust. In fact, 90% of video marketers in Wyzowl's report confirmed its effectiveness in generating leads.
Video marketing can also build trust with new leads more effectively than other communication methods. Videos allow leads to see and listen to you in a pressure-free environment where they don't necessarily need to reciprocate or respond, like on a phone call or in person. For this reason, making simple, short videos where you talk to the camera and don't add any editing features can actually be even more powerful than professionally produced videos. These are common on TikTok or Instagram stories but can be repurposed on any platform. In fact, you can even send them via text or email to form an even more personal connection.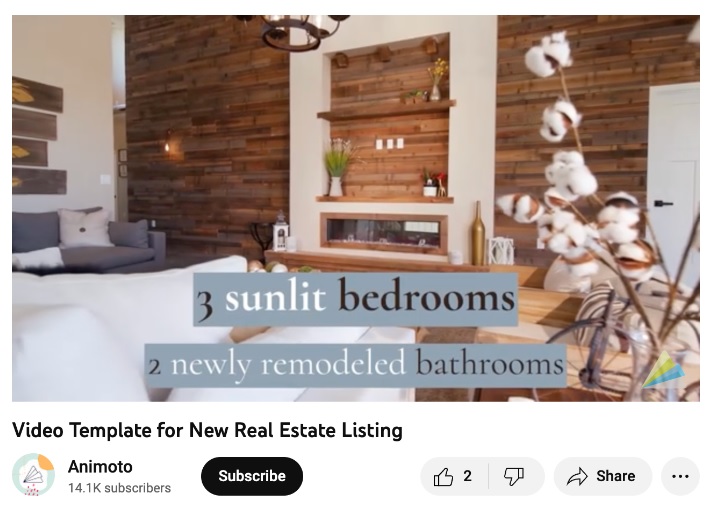 ---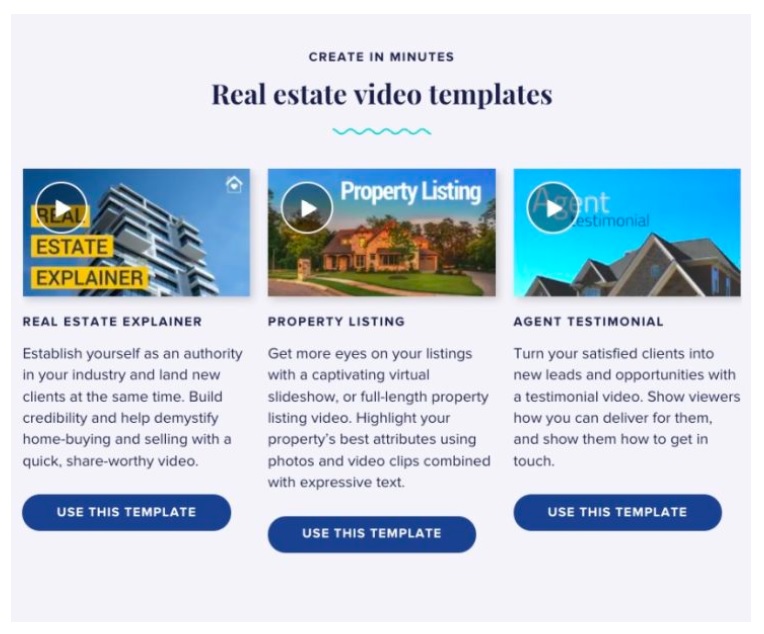 ---
On the other hand, seeing some of your produced videos, like listing walk-throughs or virtual tours, can also show your expertise and ability to sell houses. These can be published on YouTube and shared on social media platforms and via email.
Creating professional-looking videos can be just as simple to create when you use Animoto. Animoto is a video creation and editing tool with real estate-specific video templates, like listing videos and testimonials. Simply use your smartphone to take videos and upload them into Animoto's video templates, and watch how your marketing reach and conversions improve.
8. Run Online Advertising Campaigns
Online advertising can provide incredibly advanced targeting capabilities, allowing you to access a highly specific audience and maximize your return on investment (ROI). Although there can be a learning curve, running real estate ads on Google or social media can be an incredibly effective way to get your name and offer in front of owners of expired or soon-to-expire listings.
Successful real estate ads are specific and speak directly to the pain points of your audience (i.e., owners of expired land listings). Show them that you are an effective, experienced real estate agent who can sell their property and that you actually care about them. Ideally, your ad will take interested sellers to a dedicated real estate landing page where you can offer something of value, such as a common list of reasons homes fail to sell, in exchange for their contact information.
If you want to simplify the process of creating and managing your ads, use Constant Contact. In addition to email marketing, it allows you to create social media and Google ads within the platform and walks you through targeting options step-by-step. Finally, it provides detailed analytics about your ad's performance so you can continually improve your results.
9. Send Attention-getting Mailers to Expired Listing Leads
Direct mail has helped real estate agents become successful for decades, and it's still a powerful marketing strategy today. Brochures and real estate postcards can be a handy way to capture a homeowner's attention. Also, direct mail is relatively affordable, with postcards ranging from 8 to 73 cents each, and there are an unlimited number of designs and messaging strategies you can try to learn what most effectively gets the attention of expired listing owners.
To easily create a multitude of high-quality mailers specifically designed to show you how to get expired listings, check out ProspectsPLUS!. It offers hundreds of ready-to-go templates for expired listings and options to order mail or have it mailed for you. ProspectsPLUS! is the most powerful tool to help you create and send effective mailers to expired listing leads.
Pro tip: Testimonials are particularly important when learning how to find expired listings and nurture them effectively. They naturally need reassurance after a poor agent experience, so make sure to gather testimonials and use them in all of your marketing efforts. Add positive testimonials to your postcards, mailers, social media posts, advertisements, texts, emails, and letters.
10. Offer a Free Marketing Strategy Session
Since homeowners feel frustrated and burnt out when their listing expires, you may be able to set yourself apart with your marketing expertise. Offering them a presentation of an effective marketing strategy for their home can provide them with some clarity about what went wrong during their previous attempt and showcase how you can get the job done successfully.
During your presentation, make sure to clearly describe your strategy in a way that will make sense to homeowners who may not have existing marketing or real estate experience. Highlight effective marketing strategies, home features, or aspects of the property that were ignored during the first attempt, as well as a few options for sales approaches.
Make sure to discuss the marketing tools or strategies you've successfully used in the past, and include specific numbers on previous successful sales whenever possible. Ultimately, your marketing presentation proves your dedication to selling the expired listing, which can inspire the homeowner to relist their property with you.
To make your presentation look professional and win over skeptical clients, use the expertise of a graphic designer on Fiverr. Fiverr is a freelance marketplace with expert marketing consultants and graphic designers who offer services for as little as $5. Choose from a variety of packages and look through each freelancer's previous reviews to find the right fit for your needs and budget. Search on Fiverr right now.
Bottom Line
Real estate agents often relist expired listings with success, which makes it a lucrative opportunity for agents to get more listings and grow their business and income. Targeting expired listing leads requires patience, strategy, and marketing expertise. Use these strategies to ensure you craft a complete plan and develop realistic expectations.