Best Restaurant Inventory Management Software for 2023
This article is part of a larger series on POS Systems.
Restaurant inventory management software helps restaurants manage ingredient stock levels, purchase orders (POs), recipes, and menu costs. The best restaurant inventory management software systems sync with or are built into point-of-sale (POS) systems, saving hours of administrative work. Below we explore the best systems on the market for restauranteurs.
Based on our evaluations, the best restaurant inventory software systems are:
Top Restaurant Inventory Management Software Compared
 

Minimum Monthly Software Fees

Compatible POS Systems

Contract Length

Operating System

Vendor Management EDI

$179

Square, Toast, Lightspeed, MICROS, Aloha, and more

Month-to-Month or 1 year

iOS or Android

✓

Custom quote

Toast

Not disclosed

iOS or Android

✓

Custom quote

MICROS, Aloha, Speedline, SpotOn, Toast, and more

1 year

iOS and Android

✓

Custom Quote

1 year

iOS or Android

✕

Custom quote

Lightspeed, Square, Revel, Rezku, Harbortouch, and more

Month-to-month or 1 year

iOS and Android

✓

$99

Revel Systems

3 years

iOS

✕

Custom quote

Toast, TouchBistro, Revel, Lightspeed, MICROS, and more

Not disclosed

iOS and Android

✕
What is EDI? EDI stands for Electronic Data Interchange, an electronic communication link between two businesses that do frequent business together. An EDI connection transforms paper processes like placing orders, sending invoices, and making payments into digital ones.
Which Inventory System Is Right for You?
Take our quiz to find out.
MarketMan: Best Overall Restaurant Inventory Software
Overview

Pros
Personalized assistance
Robust POS and accounting integrations, such as QuickBooks
Recipes broken down by ingredient cost
Month-to-month or annual memberships
Cons
Mobile in-app orders are email-based, not via EDI
Pricey installation fee
Received invoices must be manually entered by you or the MarketMan team
What We Like
MarketMan is a cloud-based inventory and vendor management system explicitly designed to support restaurants. Its full features include physical counting, budgeting, purchasing, order optimization, food costing, and vendor management. This system also supports streamlined ordering via email or vendor integration and provides administrative support from the MarketMan team to process scanned invoices. Unlike Revel Systems, Lightspeed, and xtraCHEF, MarketMan also integrates with many POS systems, not just one.
MarketMan earned the highest score (4.63 out of 5) out of any restaurant inventory management software we considered. It received perfect scores in all categories except for pricing. Customer reviews for this system are strong (above 4.5 on most review sites) and, according to a representative we spoke with, MarketMan boasts a 97% customer retention rate. The only way the system could have scored higher is if it offered a free subscription tier and a cheaper installation fee was offered.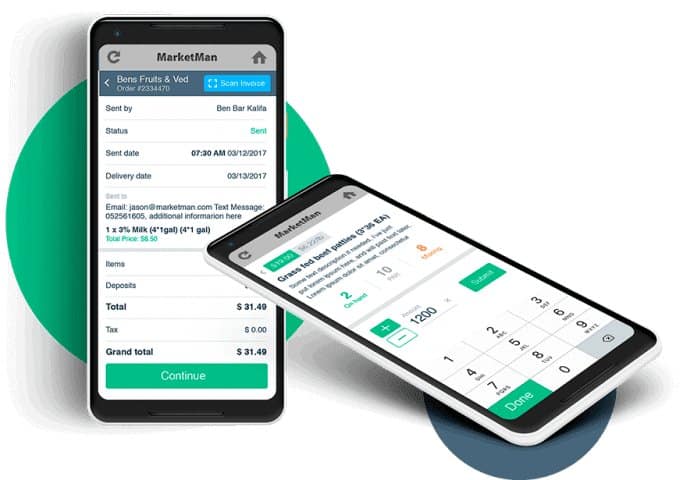 ---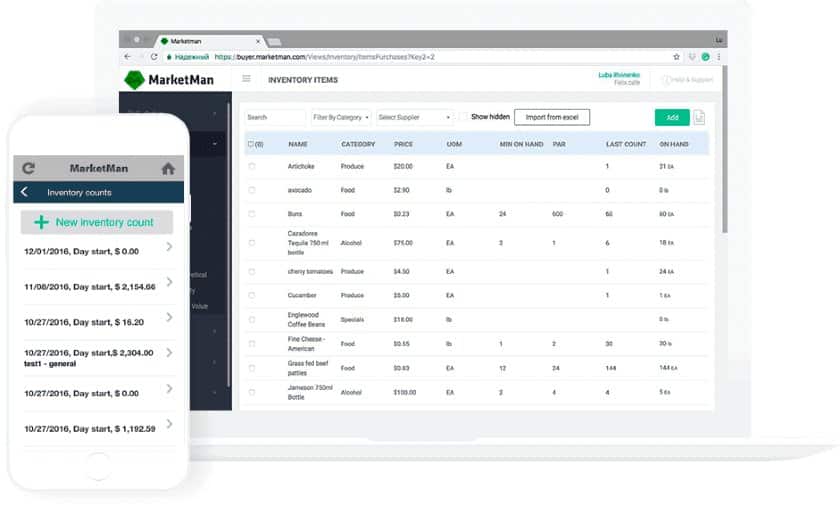 ---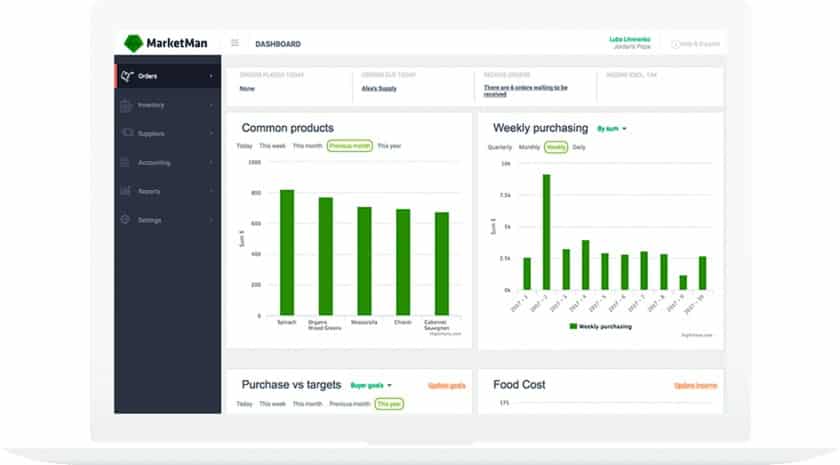 ---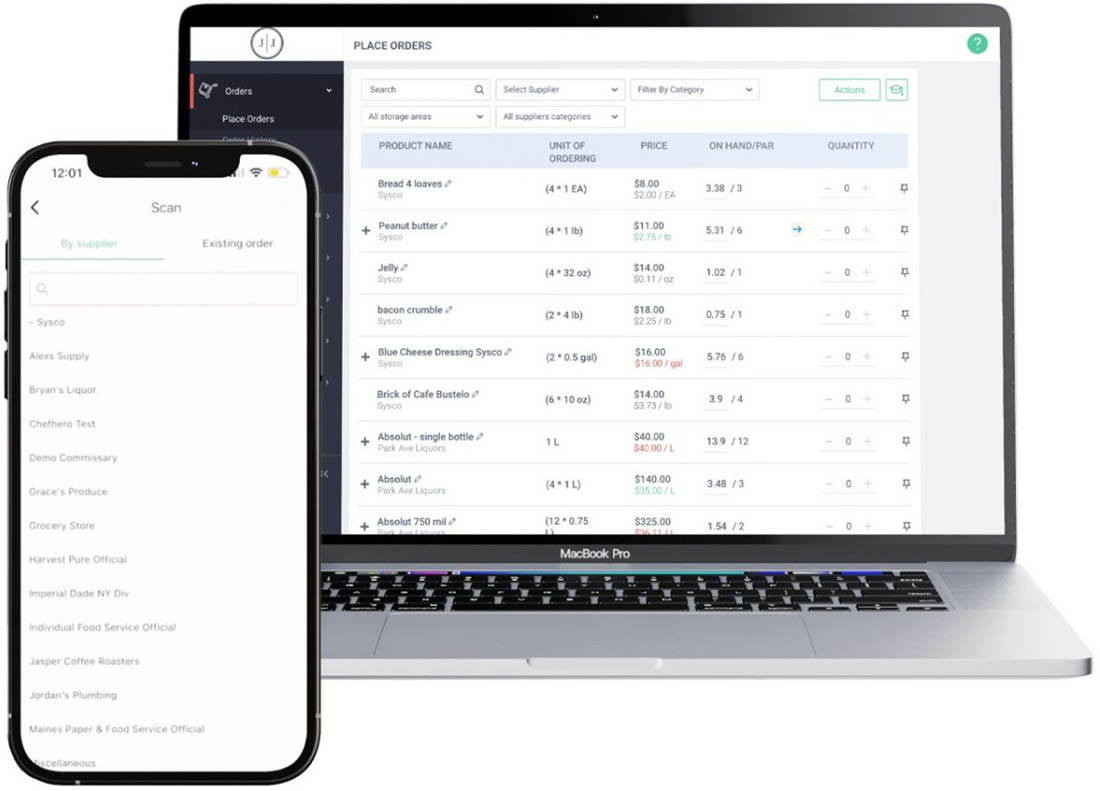 ---
Monthly Software Fee:
Operator (includes 20 invoice scans): $179
Professional (includes 100 invoice scans): $249
Ultimate (includes 300 invoice scans): $399
One-time Installation Fees: For month-to-month users, there is a $500 one-time installation fee. None for annual subscribers.
---
MarketMan integrates with many popular restaurant POS systems, including:
Square
Toast
Lightspeed
Revel
TouchBistro
Clover
Eposability
Redcat
Lolly
Ordyx
TabletPOS
Squirrel
Qu
MobileBytes
Maitre'D
Lavu
Kounta
Gastrofix
EZ Dine
Clover
Aloha
Tray
Micros
POSitouch
iKentoo
---
One-on-one setup: When you sign up for MarketMan, you'll meet your dedicated account representative. Your rep will walk you through your account setup, even assisting with the data entry to get your system running faster. This allows the busiest of restaurant operators to set up the integral software with ease.
Maximum food cost threshold: With MarketMan, you can set a maximum food cost threshold for each recipe. If ingredient costs go up, your MarketMan dashboard will alert you. So, you can either raise your menu price, find another supplier, or adjust your recipe. This, along with ingredient-level costing, also allows you to pinpoint ingredients you can attack for lower pricing when communicating with your vendor.
PO management: MarketMan software sends your orders via email directly to sales reps. You can also require the owner, executive chef, or general manager to be carbon-copied on all new orders. To receive invoices, you can input them manually or scan physical invoices with a smartphone, and the MarketMan team will enter them within 24 hours.
Vendor integrations: MarketMan has prebuilt direct integrations with 10 mainline distributors like US Foods and Sysco. So you can place and track orders and request credits directly from your MarketMan dashboard. An Ultimate level subscription includes two vendor integrations. Otherwise, each vendor integration costs $25 per month. MarketMan will even alert you if you overpaid on a vendor invoice and help you set up a crest request to send to the vendor.
Staff task tracking: In the MarketMan dashboard, you can assign specific access levels to employees, enabling more staff to assist with large tasks like weekly physical counts. Enlist bartenders, line cooks, servers, and supervisors to count various stock areas. The software will prompt them if any numbers appear erroneous and send you an email if they override these prompts, so you can still keep personal tabs on your stock.
Cookbook and recipe management: MarketMan can compile all of your restaurant's recipes into an easy-to-navigate cookbook. You enter ingredients, portion sizes, instructions, and photographs, and MarketMan takes care of the formatting. Your staff can access cookbooks via computers, phones, and internet-connected tablets, or you can print hard copies. The cookbook is an excellent feature for ensuring consistency across multiple locations and creating accurate training materials for your staff.
---
xtraCHEF by Toast: Best for Rebates
Overview

Pros
Integrates with top-ranked Toast POS system
Includes vendor EDI integrations for orders and payments
Integrates with Buyer's Edge platform
Manufacturer's rebate program
Cons
Pricing and contract length not publicly listed
Currently only integrates with Toast POS
What We Like
xtraCHEF by Toast is a user-friendly cloud-based restaurant inventory and vendor management tool. This system integrates directly with the Toast POS, which regularly appears as one of our top restaurant POS recommendations. In addition to EDI connections to vendor ordering and payment portals, integrations with accounting software like QuickBooks, and scan-to-enter invoices, xtraCHEF by Toast also offers automated rebate alerts via an integration with Buyer's Edge. So, the system tells you exactly where and how you can save money on your supply purchases.
xtraCHEF by Toast earned a 4.33 out of 5 on our restaurant inventory ranking system. It earned high marks for its many automated inventory and accounts payable features and EDI vendor integration. However, the lack of non-Toast POS integrations and barcode scan inventory counts lost the system some points. That's not to say that you can't use xtraCHEF without Toast POS. You certainly can. You just won't get the full benefit of xtraCHEF's detailed margin variance and actual vs theoretical inventory reports without POS integration.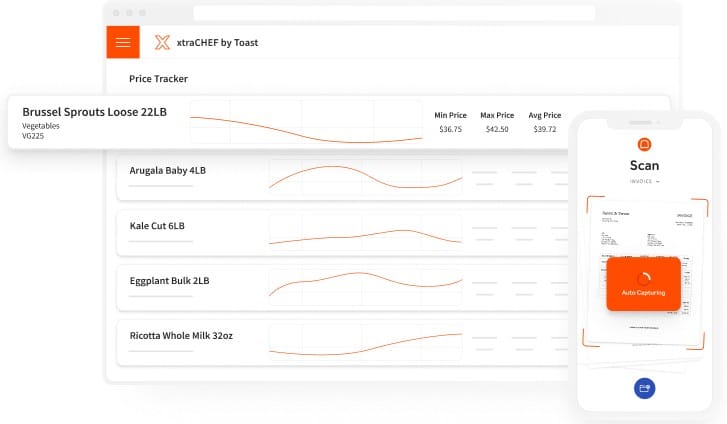 ---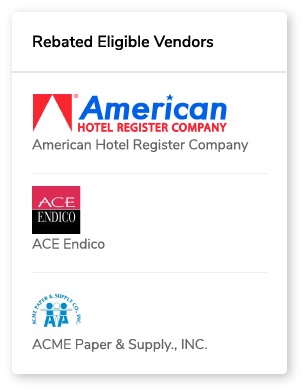 ---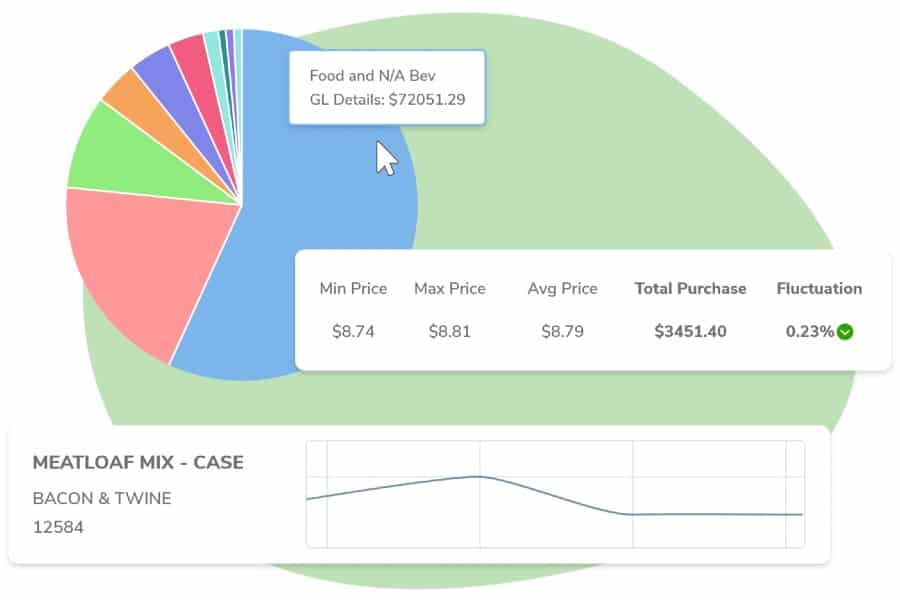 ---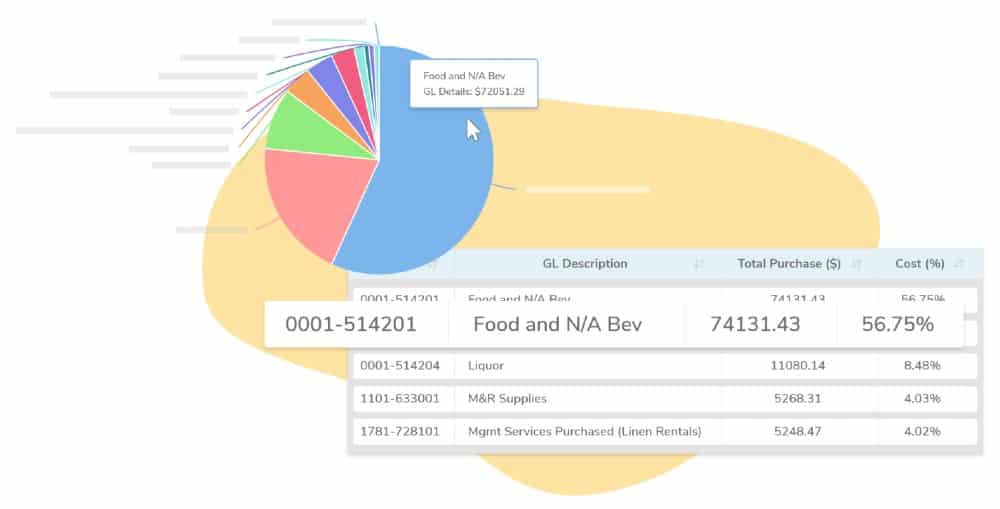 ---
Monthly Software POS Fee:
Quick Start Bundle: $0 (Pay-as-you-go)
Core: $69
Growth: $165
Custom Pricing: Custom quote needed
*The pricing above is for the Toast POS. The xtraCHEF inventory module is offered at custom-quoted rates, so you'll need to contact xtraCHEF for pricing information.
One-time Installation Fees: Optional, custom quote needed
---
The only POS integration that xtraCHEF publicly lists is with the top-ranked restaurant POS Toast. With a free Starter POS subscription and pay-as-you-go hardware available at no upfront cost, it is a low-cost way to add a POS with excellent inventory management tools to your restaurant operation.
---
Rebate program: xtraCHEF includes a unique tool that none of the others on this list offer—a manufacturer's rebate program. Your xtraCHEF system will check your orders against manufacturers' rebates available on the Buyer's Edge platform. These rebates help ensure you've gotten the best price on absolutely everything and earn some cash back whenever possible.
Visual interface: xtraCHEF's dashboard is designed to be visual first. Reports condense complex cost analysis into easy-to-read charts, so there is no chance to misread your metrics. Recipe entry and order count screens are similarly pleasing to the eye and easy to navigate.
Invoice scanning: Like MarketMan, xtraCHEF includes invoice scanning tools for easy invoice entry. Unlike MarketMan, however, with xtraCHEF there is no limit to how many invoices you scan each month. The more you scan, the more intelligent your xtraCHEF system becomes. Scanned invoices also provide the basis for building your ingredient inventory, speeding your setup time.
EDI functions: Like MarketMan, CrunchTime!, and Yellow Dog, xtraCHEF includes a full EDI connection to place orders and place payments with suppliers directly from your xtraCHEF dashboard.
Accounts payable automation: Anyone who has run a restaurant knows the difficulty of finding an old, physical invoice you need. Lost invoices can cost businesses money, and not being able to find one is an anxiety-inducing problem to have. xtraCHEF digitizes invoices in the cloud, where they can be easily searched on desktop and mobile devices.
---
CrunchTime!: Best for Overall Cost Control
Overview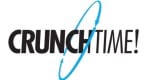 Pros
1,000-plus integrations include popular restaurant POS and accounting software
Syncs with United States Department of Agriculture (USDA) nutritional database to generate recipes' nutritional information
Counter mobile app for extremely accurate inventory tracking
Also offers scheduling and labor cost management
Cons
Prices require a custom quote
Bigger system than small restaurants need
Limited customer service hours
What We Like
CrunchTime! is a comprehensive cost management solution for the restaurant industry. Describing itself as a restaurant operations platform, CrunchTime! includes modules for labor cost management, staff scheduling, and talent development in addition to inventory tools. These inventory tools are best represented in their app, Counter, which allows for detailed inventory analysis and as a result the ability to manage costs on a granular level.CrunchTime! Also offers integrations with tools such as QuickBooks.
This platform earned a 4.3 out of 5 on our restaurant inventory management scoring criteria. The software is popular with companies such as Culver's and Five Guys and we can see why. It scored well for general and advanced inventory functions, scoring a perfect 5 out of 5 in both categories. But this system lost points for not offering a free subscription and requiring a custom quote for pricing. If transparent pricing is important to you, check out Revel Systems or MarketMan.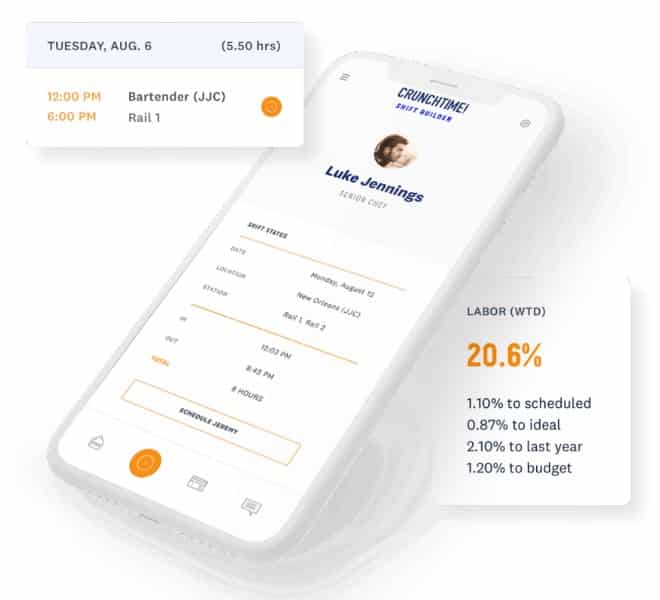 ---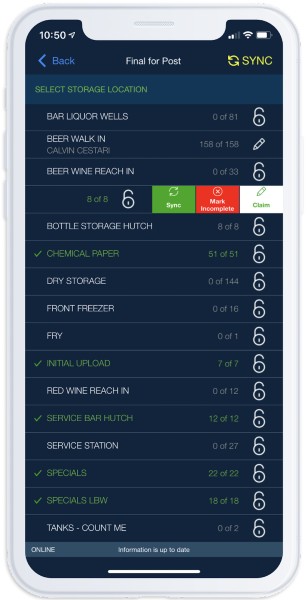 ---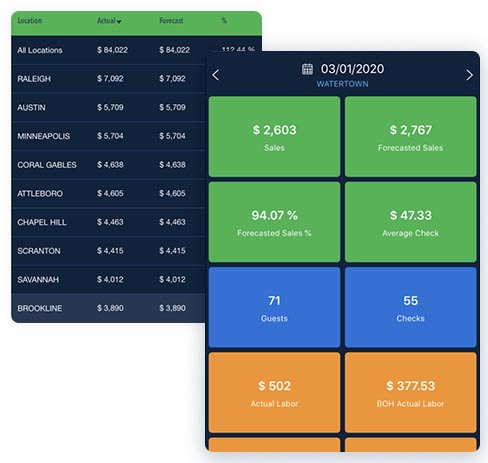 ---
Monthly Software Fee: Custom quote needed
One-time Installation Fees: Custom quote needed
---
CrunchTime! integrates with more than 1,000 different platforms. Currently, it lists the following POS integrations:
Agilysys
Franpos
Heartland XPIENT
Maitre'D
Mashgin
MICROS
Aloha POS
NEXTEP Systems
NorthStar
Par
POSitouch
QuickService
SICOM
SpeedLine
SpotOn
TASK
Toast
Vista
If you don't see your system listed, reach out to CrunchTime!. It may have an integration in development.
---
Detailed analytics: You can customize your CrunchTime! dashboard and alerts to track what data you see. POS integration allows you to track profit and loss (P&L) in real time, so you can make critical business decisions in time to impact your bottom line. This then leads into the detailed inventory CrunchTime! offers, allowing you to attack losses on items in a reliably quick manner.
CrunchTime! Impact: This attached mobile reporting app shows you up to 50 KPI metrics on any mobile device. You can set custom alerts and view data from multiple locations from a single dashboard. Impact works on Android and iOS devices and even integrates with Apple Watches so information can be relayed immediately to those who need it most.
Counter: This app is available on the different app stores for mobile download and is a great tool for in-depth inventory management. You can utilize this app to have multiple users take inventory on the same count sheet, reducing time spent in total. You can sync with all accounts to get real-time data, and a database of named items and UPC make this app very user-friendly.
Task-specific apps for team management: You can extend your restaurant's efficiency with custom-designed smartphone apps for each area of your restaurant. In addition to the traditional counting app, CrunchTime!'s Line Check app helps your kitchen and management team perform quality control checks. Kitchen Sync generates detailed prep lists and syncs with your inventory to track products as they are prepared. This reduces mistakes, which in turn reduces food wasted or sent back.
Order automation and forecasts: Your CrunchTime! system can generate suggested orders based on your par levels and historical use. The system will also use your actual sales data to forecast future needs. Detailed forecasts tell your kitchen team how much food to prepare to meet expected traffic levels, preventing waste and spoilage.
---
Lightspeed Restaurant: Easiest to Use POS-built Inventory
Overview

Pros
Fully integrated into Lightspeed POS
One-click reordering makes resupplies foolproof
Order tracking alerts you when suppliers receive placed orders
Auto-86 feature which makes items unavailable for customer purchase when they are out of stock
Cons
Baseline POS is pricier than competitors
Does not support EDI vendor integrations
Advanced inventory is only available with higher subscription tiers
What We Like
Lightspeed Restaurant U-Series (formerly Upserve) offers the most automation of any built-in POS inventory software we've encountered. You'll get low stock alerts and can reorder supplies from multiple vendors with a single click. Relying on your POS system's built-in inventory tools is a great way to control your restaurant software costs. The U-Series' inventory management features are a great fit for small to midsize restaurants that want to automate administrative tasks like ordering and receiving supplies without springing for the cost of a freestanding inventory app.
The inventory tools described here are only available in the Lightspeed Restaurant U-Series. The baseline Lightspeed Restaurant POS has much simpler inventory tracking tools and a lower monthly cost. The advanced inventory tools we like are included in higher-tier subscriptions ($189 and up) and can be added to lower-tier subscriptions for a custom-quoted fee.
Lightspeed Restaurant U-Series earned an overall rating of 4.28 out of 5 on our restaurant inventory management criteria. It scored well on ease of use and advanced inventory functions. The high-functioning underlying POS also contributed to the U-Series' strong performance. The system could have scored higher if it was less expensive and communicated to suppliers via EDI, as xtraCHEF, CrunchTime!, Yellow Dog, and MarketMan do.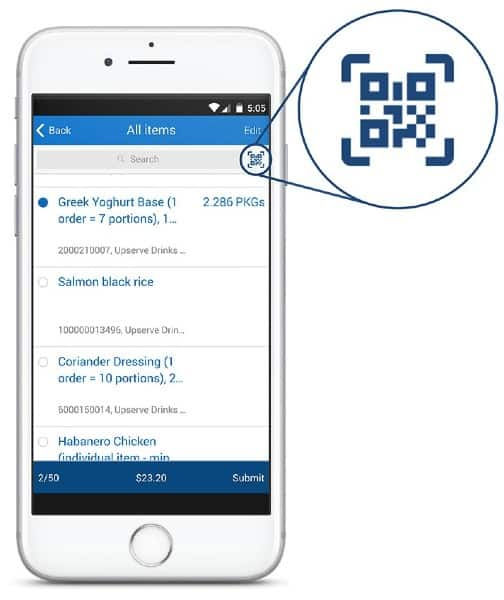 ---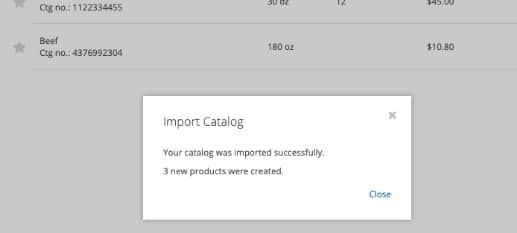 ---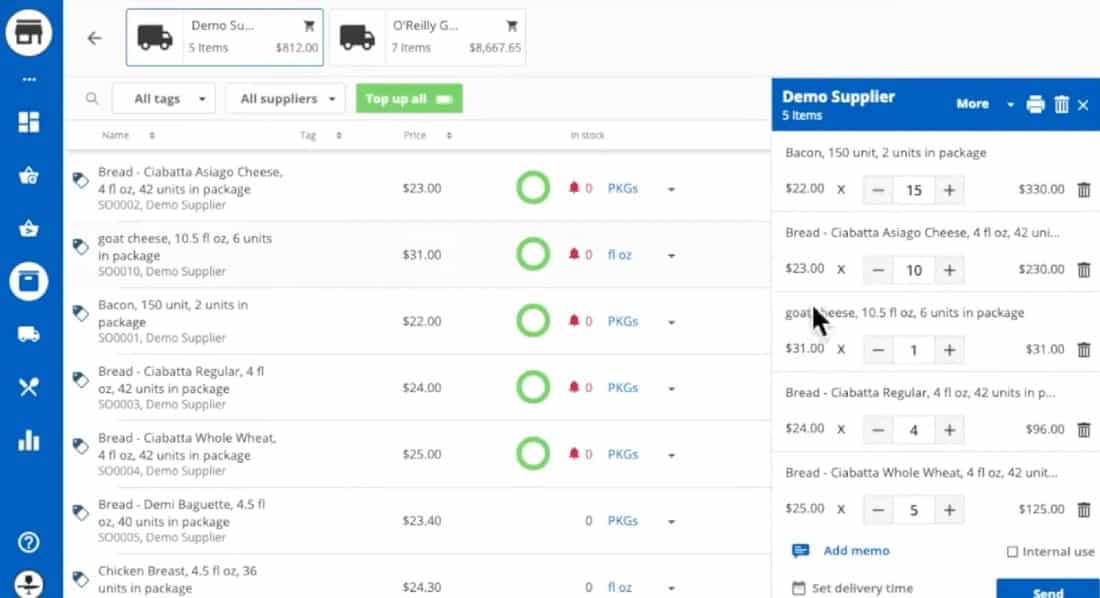 ---
Monthly POS Software Fee:
Starter: $69 a month, inventory extra and custom-quoted
Essential: $189, inventory included
Premium: $399, inventory included
Enterprise: Custom Quoted
One-time Installation Fees: Optional, custom quote needed
---
Lightspeed only integrates with its own Lightspeed U-series POS system. Contact Lightspeed for more information.
---
One-click reordering: As you sell items throughout the day, the Lightspeed Restaurant U-Series depletes your on-hand inventory count. As supplies dwindle, your POS sends low stock alerts and generates suggested orders from your suppliers. You can review these orders and then submit them all with one click in your back-office dashboard. The Lightspeed Restaurant U-Series is the only tool on this list with a one-click reordering feature.
Smartphone scanning: You can download the Upserve Inventory App from the App Store and Google Play and transform your smartphone camera into a barcode scanner to receive and count inventory items.
Color-coded order alerts: Orders change color in your inventory dashboard, so you can see at a glance when a vendor order has been submitted, received by the vendor, delivered, and completed. You'll see your order status change in real time as suppliers open and read your order emails and text messages.
Offline functionality: We all know there is zero internet connection in the walk-in cooler. Lightspeed leverages the POS system's robust offline functionality to support inventory counts on mobile devices. The system saves updated item quantities in your mobile device's local cache when you lose internet connection. When you regain internet access, a simple refresh syncs your changes with the cloud. You'll know your data is updated when the "Changes Saved" banner appears at the top of the screen.
Comprehensive reporting: Since Lightspeed U-Series inventory software directly integrates with the POS, the reporting features are highly detailed. You can see dynamic food cost and usage reports as well as menu optimization reports that draw your attention to high-cost, slow-selling menu items that drag your menu down.
Auto-86'ing: Since the inventory tools are built into the POS, the Lightspeed U-Series can automatically 86 menu items that you sell out of. Many freestanding inventory tools like MarketMan lack this feature. This helps avoid customers who will order items and then be told they are no longer available, a major pain point in restaurant operations.
---
Yellow Dog: Best for Commissary Kitchens & Pour-limited Bars
Overview

Pros
Monthly subscription available
Easy internal transfer of raw ingredients or prepped food items
Integrates with Freepour for scan and scale bar inventory counts
Integrates with accounting software such as QuickBooks
Cons
Pricing is only available with a custom quote
Live customer support is not 24/7
Setup training comes with a fee
What We Like
Yellow Dog's inventory management software is a free-standing inventory software solution similar to MarketMan and CrunchTime!. Yellow Dog's unique functions for labeling and distributing prepped ingredients make it an excellent fit for large-scale catering operations that rely on a central commissary kitchen, especially large food truck fleets. Integrations with pour control apps also make this advanced system a good fit for bars that use controlled pouring tools.
Yellow Dog earned an overall score of 4.26 out of 5 on our restaurant inventory software criteria. Touting 98% customer retention since 2006, it earned points for its massive array of general and advanced inventory tracking functions but lost points for price and customer service hours. While Yellow Dog does provide comprehensive online training tools, its live customer service team is not available 24/7.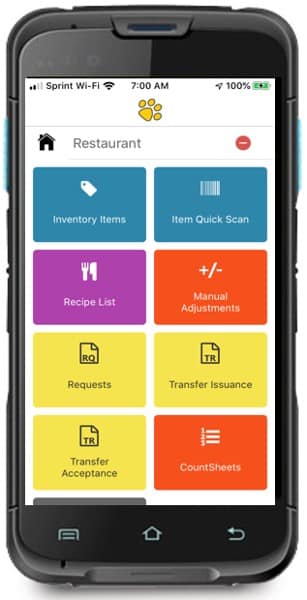 ---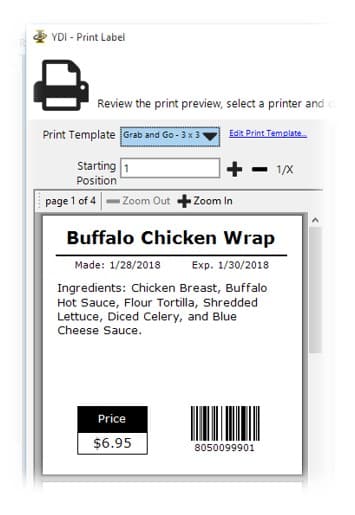 ---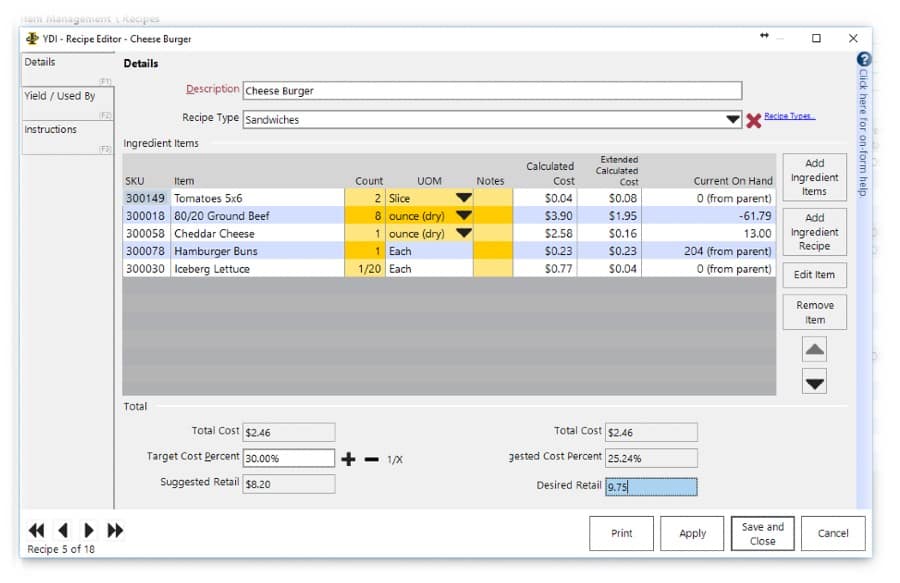 ---
Monthly Software Fee: Custom quote needed
One-time Installation Fees: Custom quote needed
---
Yellow Dog supports two-way interfaces with some POS systems, but only one-way interfaces with others. The main difference is that a two-way interface supports auto-86'ing in your POS, while a one-way interface does not.
Two-way interface integrations
Agilysys
Aireus
Arryved
Book4Time
Clover
Coretech (coming soon)
ForeTees
foreUP
Gateway
Infor POS
Jonas Club Software
KMIT
Maestro POS
NCR Aloha Essentials
NCR Aloha Cloud
Northstar-2 Way (coming soon)
MICROS
POSitouch
ResortSuite
Revel
ROLLER (coming soon)
SalesVU
Shopify
Silverware
SpotOn
Springer Miller
Square
Squirrel
Vivaticket
One-way interface integrations
Brink
Club Caddie
Clubessential
Club Prophet
GoTab (coming soon)
Heartland Restaurant
Jonas Encore
Lightspeed
Mashgin
Ready Theatre Systems
RPOWER
Future POS
POSitouch
Restaurant Manager
SkyTab
Siriusware
SMS Teres
Toast
Truffle
---
Connect to suppliers via EDI: Like xtraCHEF, CrunchTime!, and MarketMan, Yellow Dog Inventory integrates directly with most popular restaurant suppliers via EDI. This integration downloads your vendor invoices automatically and adds them to your inventory system. Set up invoices to be processed automatically or require manager approval before posting. Any new products are added automatically to your Yellow Dog system. It will also send you an email to alert you to cost fluctuations.
Rugged hardware: You don't have to rely on smartphones for mobile inventory counting. Yellow Dog sells inventory counting devices that are as user-friendly as smartphones but much more secure and drop-resistant. If you don't want to spend the money, though, you'll find Yellow Dog's inventory counting and reporting apps available on both iOS and Android devices.
Detailed barcode label printing: Yellow Dog's barcode printing system supports design templates for an unlimited number of barcode label types. You choose what information to include, from ingredients and price to nutrition information, expiration date, and graphics. Print detailed sales labels for grab-and-go items or shelf labels for your storerooms to speed inventory counting.
Commissary kitchen support: If you supply multiple locations with prepped food from a central kitchen—commonly called a commissary kitchen—you have unique product tracking needs. Yellow Dog allows you to create internal transfers of prepared items like fresh juice blends that deplete your commissary inventory based on the attached ingredients. The recipient location, however, will be internally invoiced for the final, prepped item.
Freepour integration: Yellow Dog is the only system on this list that integrates with Freepour, an app that counts liquor with barcode scans and an integrated scale. Because of this, there is no chance that your liquor counts will be off. You can know exactly how much wine, beer, and spirits you have served, down to the last drop. The scan and scale combination also speeds bar inventory counts since your staff won't have to second-guess how many ounces each open bottle contains.
---
Revel: Best POS Inventory for Multi-unit Locations (5+)
Overview

Pros
Customizable user permissions let you delegate inventory tasks
Supports internal supply transfers
Robust reporting
Smartphone counting and receiving app
Cons
Underlying POS requires 3-year contract
Inventory app is only available in iOS
Only suitable for multi-unit businesses (5+)
What We Like
Revel Systems is an iPad POS with built-in inventory tools for restaurants and retailers. Its inventory includes excellent reporting tools, a smartphone counting app, and customizable user permissions with blind inventory counts so you can delegate physical counts confidently to your team and trust their accuracy. Revel has the most sophisticated user permissions of any of the POS-built inventory management tools listed here. Because of the higher upfront costs—with a required installation fee, three-year contract, and two terminal minimum—Revel is recommended for 5+-location restaurant groups with a large POS budget.
Revel Systems earned an overall score of 4.2 out of 5 on our inventory software rating system. This software scored well for ease of use and both general and advanced inventory management functions. However, the lengthy three-year contract, $674 installation fee, and lack of a free subscription tier cost Revel some points. Additionally, the emphasis on multi-unit locations does not make it an ideal fit for smaller restaurant businesses.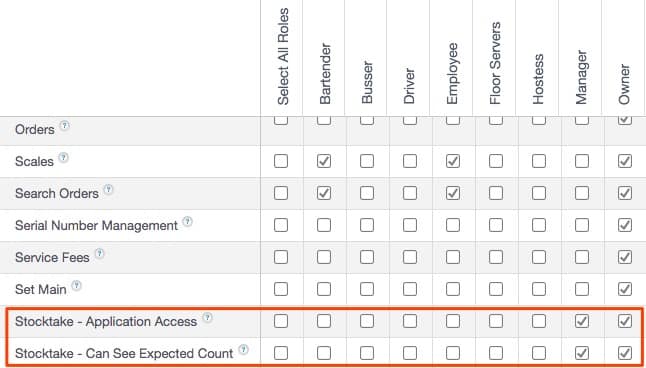 ---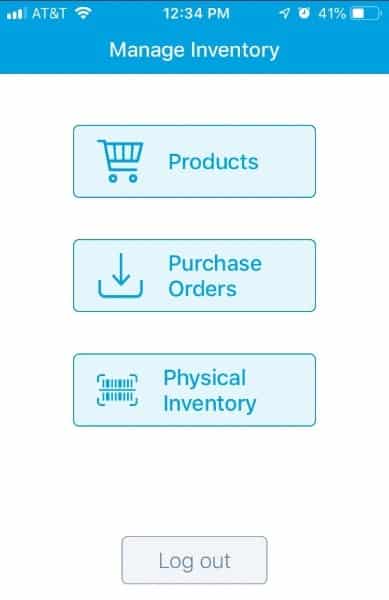 ---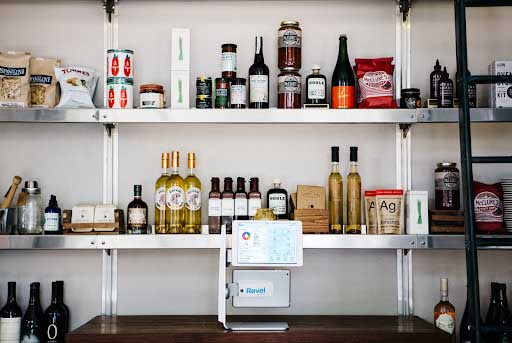 ---
Monthly POS Software Fee: $99
One-time Installation Fees: $674
---
This inventory module only integrates with the Revel Systems POS.
---
Customizable user permissions: Revel Systems supports highly customizable user permissions. You can give individual users access to specific functions like inventory counting without giving them access to every report or managerial function. So, you can assign weekly liquor counts to bartenders and dry goods counts to line cooks without compromising overall information security.
Blind inventory counts: You can choose to block the "expected count" column on inventory counting worksheets to prevent your team from copying and pasting old counts. This function is also a great way to prevent fudging numbers to hide theft and breakage.
PO and vendor management: You can create POs in Revel Systems' management dashboard and email them directly to suppliers. Revel's PO interface is slightly less automated than that of Lightspeed Restaurant U-Series. You can generate POs from low stock alerts in Revel, but the system doesn't do it automatically. But like U-Series, receiving a PO in Revel's back-office dashboard allows you to update your on-hand quantities as you receive new products.
Shelf-to-sheet counts: Revel Systems allows you to create physical count sheets that reflect the layout of your restaurant's storage areas. You can drag-and-drop listed products to arrange them in the same order they appear on your shelves to speed up your physical inventory counts.
Smartphone counting app: Revel's Stocktake smartphone app allows your team to take physical inventory counts on iPhones. Divide your restaurant into manageable, easily counted sections, and assign specific count sheets to any trusted employee. Via the Management Console, you can view counts while they are in progress, so you know when you can begin month-end or other accounting procedures.
---
Craftable: Best Customizable Restaurant Inventory
Overview

Pros
Separate tools for bars and restaurants; you'll pay only for what you need
Payments module supports physical checks, echecks, and automated clearing house (ACH) transfers
Bar count tools include scales and bottle scans to increase accuracy
Snap invoice feature, where you can scan invoices from your phone to be sent to accounting
Cons
Bar and restaurant tools are priced separately, so costs can add up
Full pricing requires a custom quote
No order forecasting tool
What We Like
Craftable is an inventory app built to support bars, nightclubs, restaurants, and hotels. The platform includes two inventory apps—Foodager and Bevager—that include specialty tools for food-focused and beverage-focused businesses, respectively. Users can use both apps or only one, with pricing custom-quoted based on your needs. You can add extras like POS integration for a one-time fee, while others (like invoice processing) are charged per use. Craftable also integrates with popular accounting software, such as QuickBooks. This flexibility ensures that large operations get the tools they need while small operations avoid paying for tools they don't use.
Craftable earned a 3.91 out of 5 on our scoring criteria. It scored well for its general features, including a smartphone counting app that lets you count open bar bottles with a simple drag-and-fill gesture. Craftable would have scored higher if it did not charge for basics like POS integration and live sales tracking and offered a forecast ordering tool.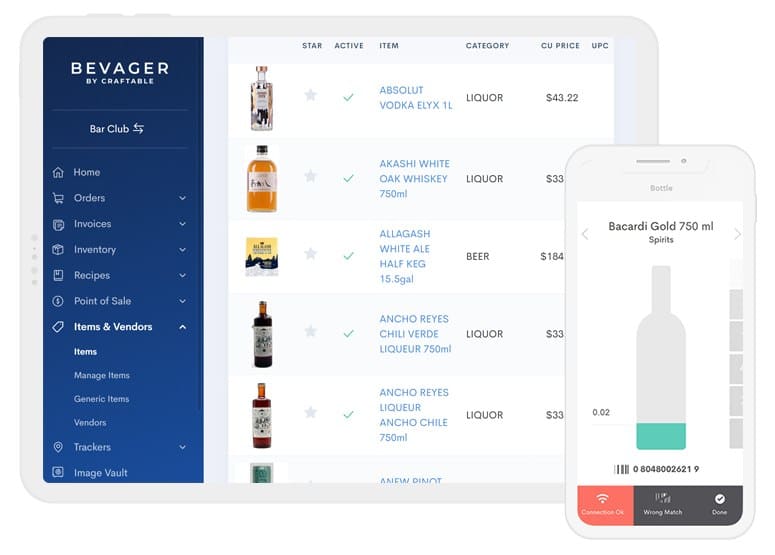 ---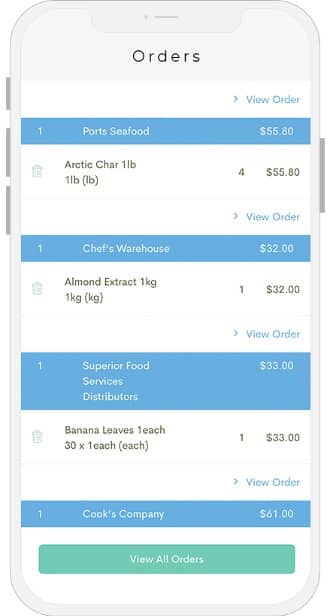 ---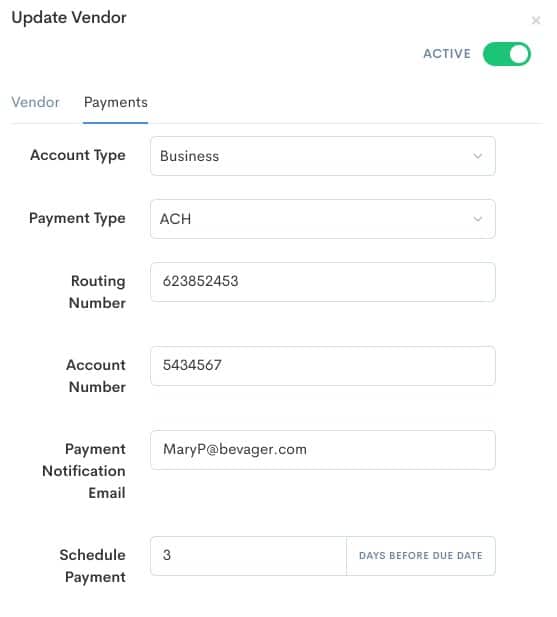 ---

---
Monthly Software Fee: Custom quote needed
One-time Installation Fees: Custom quote needed
---
Square
SpotOn
Lightspeed
Aloha
Cake
Clover
Digital Dining
Dinerware
Heartland
Lavu
2TouchPOS
Maitre'D
MICROS
MobileBytes
Ordyx
PAR
POSitouch
Restaurant Manager
Revel
HungerRush (formerly Revention)
Rezku
Salido
Squirrel Systems
Tevalis
Toast
TouchBistro
Union
WineDirect
Agilysys
Boom
Aireus
Brigade Society
SmartTab POS
Jonas Club Software
Tabit
Shopify
Silverware POS
---
Robust accounting integrations: Craftable integrates with the widest range of accounting software of any system on this list. You can choose from Acumatica, Aptech, Bill, Compeat, CYMA Accounting, Epicor, Sage Intacct, M3, Microsoft Dynamics, QuickBooks, QuickBooks Online, Realtime, Restaurant 365, InfoSync, Oracle NetSuite, Northstar, or Data Plus.
Bar and food inventory tools: Craftable supports two separate—and popular—inventory platforms: Foodager and Bevager. Foodager includes tools for managing food inventory and Bevager has specialized tools for bar operations. You can use both together or only use one, so only pay for the tools you need.
A la carte pricing: With add-in pricing for invoice processing, POS and accounting integration, and digital payments, users can control their subscription costs with Craftable. If you have a tight month, you can save on your subscription fees by inputting your invoices manually and printing your own checks. If you would prefer to automate these tasks in Craftable, you'll only pay for what you use.
Offline functionality: You can take physical inventory counts on any web-enabled device from a tablet to a laptop or smartphone. You can run counts by logging into your account on the Foodager or Bevager websites or using the iOS and Android smartphone apps. If you lose internet connectivity during a count, a "sync" button will appear on your counting screen.
Flexible vendor payments: Craftable's Payments module lets you set up automated payments to your vendors. You connect a bank account and then you can pay your suppliers via ACH payment (which takes three to four business days), paper check (subject to mail delays), or electronic check (which is immediate). With this module, it is virtually impossible to miss a payment.
---
Methodology―How We Evaluated Restaurant Inventory Management Software
We compared 15 popular food inventory software tools based on what's essential to restaurants: ease of use, price, stock tracking, and vendor management. We also considered our retail and restaurant experts' personal evaluations of each software.
Based on the above criteria, MarketMan is the best restaurant inventory management software. MarketMan received the highest overall score according to our grading system for inventory software (4.63 out of 5). Based on our personal experience testing inventory software and working in and with restaurants that manage inventory every day, MarketMan is also one of the top software that we recommend.
Click through the tabs below for our full evaluation criteria:
30%
Advanced Inventory Features
30% of Overall Score
We looked for essential inventory functions, like supply levels that sync with sales in real time. We also looked for customizable inventory tracking sheets that match the layouts of your storerooms. Software that fully integrates with restaurant POS systems, is cloud accessible, and supports detailed reporting earned the highest marks.
30% of Overall Score
To support automated restaurant operations, we looked for inventory software that enables physical counts via barcode scanning and direct vendor ordering via EDI.
15% of Overall Score
Because restaurants typically count inventory in early mornings, late nights, or otherwise outside of regular business hours, we prioritized solutions that offer 24/7 customer support. Any systems that offer one-on-one installation support or training also earned high marks.
*Percentages of overall score
How Do You Choose a Good Option?
A good food inventory management software is one that fits your business needs. You need software that can track your inventory, but more importantly track it in a way that makes sense to YOU. Inventory is essentially dollars on hand, and if you are not able to track it well then it can lead to loss and even negative effects when serving your customers. A system that you can afford while also being able to use seamlessly is your best option.
Restaurant Inventory Management Software Benefits
If you have ever had to manage a restaurant without inventory software, then this question answers itself. This software organizes the products you have in-house and gives you accurate readings on how much they cost. It also lets you know when to order more and what is expiring and offers a high-level view of the food operation.
Beyond that, being able to order and communicate with vendors while integrating accounting tasks make these systems much more efficient. The best software is an amalgamation of tasks essential to your business' financial health. Having an inventory system is standard because it streamlines relevant stock, accounting, and recipe information that can then be easily acted upon.
Restaurant Inventory Management Software Frequently Asked Questions (FAQs)
Restaurant inventory lists are typically based on your restaurant's recipes. So, the best place to start creating a restaurant inventory list is to write out all of your food and beverage recipes. From there, list all the ingredients in each recipe. Forecast how much of each item you think you will sell in a week and use this total to generate your order pars.
You can also use your restaurant inventory list to count your physical inventory. To make your counts faster, list your ingredients in the order they are stocked in your storage rooms and walk-in refrigerators. To make your counts even faster, use an inventory app like the ones ranked in the article above.
---
The best system for measuring your restaurant stock is a weekly physical inventory count combined with real-time inventory tracking in your POS. Weekly physical counts, combined with real-time ingredient-level inventory tracking lets you see discrepancies between what you ordered and what you're selling immediately. By tracking your stock so closely, you'll be able to identify waste, theft, and breakage in enough time to impact your bottom line. For real-time inventory tracking, our top recommendation is MarketMan.
---
Every restaurant needs an inventory management system, whether that system is a monthly count tracked on a spreadsheet, or a full-spectrum inventory management app. You will never be able to control your costs successfully without some type of inventory tracking. You need to know how much of the food and beverage you buy is getting sold before it spoils. The only way to know that is to count it.
---
A restaurant inventory management system tracks incoming and outgoing food, beverage, and paper products in a restaurant. This tracking helps restaurant managers and owners see their actual costs for individual ingredient types and make adjustments to their restaurant operations that can increase profit margins. A restaurant inventory management system can show you how much food is wasted due to spoilage, what ingredients cost you the most money, and where you need to raise prices to cover your costs.
---
Bottom Line
In our guide, the best restaurant inventory management software is MarketMan. Scoring 4.63 out of 5, this software is the best because of its ingredient-level inventory functions, accessibility to POS and accounting software, and general abundance of information it gives to your overall operation. MarketMan received the highest score across our grading system for general inventory features, advanced features, ease of use, and our own expert review. MarketMan has tools for restaurants of all types. To see the system in action, visit MarketMan to schedule a demo.