2023 MarketMan Review: Best Restaurant Inventory Management Software
This article is part of a larger series on POS Systems.
MarketMan is a cloud-based restaurant inventory and vendor management app that regularly ranks as our top choice for restaurant inventory management software. In our 2022 rankings, MarketMan earned a 4.68 out of a possible 5, based on 26 criteria, including price, advanced inventory features, and ease of use. MarketMan scored high marks for its multiple restaurant point-of-sale (POS) integrations and positively massive functionality.

What We Like
Personalized assistance and training
Robust POS and accounting integrations
Monthly and annual membership options
Electronic data interface (EDI) integrates vendor orders and payments
Invoice scanning for easy order receiving
What's Missing
May be more than small operations need
Gets expensive if you need a lot of invoice scans
Cannot auto-86 in POS
When to Use MarketMan:
Restaurants that want POS-integrated inventory: MarketMan integrates with dozens of popular POS systems.
Restaurants with high-volume bars: MarketMan's smartphone counting tools will save you hours every week performing liquor inventory.
Multilocation restaurant groups: It supports centralized reporting and internal product transfers.
Commissaries: MarketMan has a dedicated inventory module designed specifically for food commissaries.
When to use an alternative:
Restaurants that don't need ingredient-level inventory: Marketman will be more than you need if you don't need ingredient-level tracking; if you only need to track completed products, consider Square POS.
Restaurants that use Restaurant365 or Compeat: Currently, MarketMan does not integrate with these accounting programs. You should try xtraChef instead.
Read more about MarketMan alternatives below.
MarketMan is a freestanding inventory solution designed specifically for food service businesses. It includes tools for restaurants, bars, and large-scale operations like commissaries and commercial kitchens, plus a white-labeled ordering app for restaurant suppliers.
After using and evaluating several inventory modules for restaurants, we found that MarketMan offers the greatest restaurant inventory features for the cost. It also supplies the most tools for the most types of food and beverage businesses and integrates with a wide range of other restaurant software.
Did you know?
MarketMan integrates with multiple accounting platforms, including:
QuickBooks Desktop
QuickBooks Online
Xero
Bill.com
MarketMan Deciding Factors
Supported Business Types

Independent restaurants, multilocation restaurants, commissary kitchens, restaurant suppliers

Standout Features

Automated low stock alerts
Digital purchase orders that convert to your vendor's preferred format
Shelf-to-sheet customization for stock counting efficiency
Mobile inventory counting smartphone app
Customizable user permissions
Ingredient-level inventory tracking
Robust budgeting and cost-calculation tools
User-friendly purchase ordering
Easy invoice management
White label ordering app for restaurant suppliers

Compatible POS Systems

Square, Lightspeed, Revel, Upserve by Lightspeed, Toast, TouchBistro,Lavu, Positouch, blinq, Aloha, Tabit, Foodics, POSBee, Clover, MICROS, SwiftPOS, Squirrel, PayPo, Practi, Omnivore, Ordyx, ebriza, Heartland, Xpient, iPractico, MenuSifu, lolly, Redcat, Tray, Qu, Shopwave, invu, Kounta, centegra, tevalis, Vita Mojo, givex, ServedUp

Compatible Accounting Software

QuickBooks (Desktop and Online), Xero, Bill.com,

Compatible Hardware

Internet-connected desktop and laptop computers and iOS and Android devices

Monthly Software Fees

$152–$399 per month (detailed pricing below)

Customer Support

Phone, email, webchat, and WhatsApp from 5 a.m.–6 p.m. Eastern time, every day
MarketMan Alternatives
| | Best For | Software Fees | Compatible POS Systems |
| --- | --- | --- | --- |
| | Independent restaurants that use Restaurant365 or Compeat for accounting | Custom quote | Toast |
| | Restaurants on a budget with simple inventory management needs | Starts at $0 for unlimited terminals (plus processing fees) | Square for Restaurants |
| | Restaurants wanting robust inventory and vendor management built into a POS | Starts at $59 (plus monthly per-terminal charge) | Upserve by Lightspeed |
| | Restaurants that want complex inventory tools with counting apps built into their POS | Starts at $99 per month | Revel |
Since our last update: MarketMan price increase
In January 2023, MarketMan increased its prices by about $30 per month for the Operator plan and about $50 per month for the Professional plan. Previously, the Operator plan was available for as low as $127 when paid annually. Now, the lowest price available is $152. Pricing for the Ultimate plan has not changed. 
MarketMan is available at three pricing tiers: Operator, Professional, and Ultimate. The most significant difference between these options is the monthly number of scannable invoices. MarketMan's pricing starts at $179 per month for users that pay month-to-month, and it's discounted by about 15% for those who pay annually.
| | Operator | Professional | Ultimate |
| --- | --- | --- | --- |
| Monthly Cost (paid monthly) | $179 | $249 | $399 |
| Monthly Cost (paid annually) | $152 | $211 | $339 |
| Invoice Scans per Month | 20 | 50 | 300 |
MarketMan also charges for each vendor that you integrate into your inventory dashboard, though Ultimate subscription includes two vendor integrations. You can also add a commissary module and extra invoice scans for additional monthly fees.
| Add-on | Monthly fee |
| --- | --- |
| Invoice Scanning | $50 (for $50 additional scans) |
| Electronic Data Interface (EDI) Vendor Integrations | $25 per vendor |
| Commissary Module | $50 |
MarketMan is a comprehensive restaurant inventory tool designed by former restaurant workers. This app stores vendor information and recipes, tracks ingredient-level inventory in real time, logs production batches of prepped food, receives invoices, and can even send orders and payment to vendors. It also tracks allergens and supports shelf-to-sheet physical inventory counts—and does it all via smartphone apps for both iOS and Android devices.
All plans support POS integration and one-on-one training with a dedicated MarketMan account manager. The software is cloud-based so that you can operate it on internet-enabled devices, from desktop computers to smartphones. However, you can only unlock API access for custom integrations with a Professional or Ultimate subscription.
Customizable User Permissions
MarketMan includes customizable user permissions, so you can ensure that staff and managers only have access to the information they need. For example, you can give managers access to detailed reports and the ability to export accounting data, while bartenders and line cooks can receive orders and enter inventory counts.
MarketMan Customizable Access Levels
| Function | Control who can |
| --- | --- |
| Recipes | Add to, edit, or view CookBook |
| Inventory Items | Add to, edit, or view |
| Inventory counts | Add to, edit, or view |
| Suppliers/ storage areas | Add to, edit, or view |
| Waste events | Add to, edit, or view |
| Production events | Add to, edit, or view |
| Ordering | Place or edit existing orders |
| Reporting | View or edit |
| Invoices | Add new, scan new, or delete existing |
| Accounting | View or export data |
---
POS Integration
MarketMan integrates with many popular POS systems to track your inventory in real time as items are sold. Though this integration only goes one way, from your POS to MarketMan. So your MarketMan inventory will show that you have run out of certain ingredients, but it cannot update your POS in real time to prevent servers from ordering menu times you've run out of. You'll need to manually 86 items in your POS to block future orders.
Currently, MarketMan supports integrations with:
Square
Lightspeed
Revel
Upserve by Lightspeed
Toast
TouchBistro
Lavu
Positouch
blinq
Aloha
Tabit
Foodics
POSBee
Clover
MICROS
SwiftPOS
Squirrel
PayPo
Practi
Omnivore
Ordyx
ebriza
Heartland
Xpient
iPractico
MenuSifu
lolly
Redcat
Tray
Qu
Shopwave
invu
Kounta
Centegra
tevalis
Vita Mojo
givex
ServedUp
Did you know?
MarketMan currently integrates with dozens of popular POS systems and they add more integrations every day. So, if you don't see your POS on the list, you can reach out to MarketMan to request the integration or use the open application programming interface (API) to build a custom integration.
---
Waste Tracking
MarketMan also includes a food waste log so you can track the actual costs of wasted or spoiled food. Since your MarketMan app updates with real-time pricing, you will always know the true cost of food waste.
When you run low on stock, MarketMan will automatically send text and email updates to remind you (or your managers) to reorder supplies. You can create orders directly in your Marketman dashboard or the app, and either email them to vendors or send them to integrated vendors via an EDI connection.
---
If there is a feature that you think would make managing your restaurant inventory easier, MarketMan likely has it. It's almost easier to detail what MarketMan doesn't do than to list everything that this massively functional inventory tool can do. To that end, you'll want to note that MarketMan cannot currently auto-86 items in your POS. It also does not integrate with Restaurant365 and Compeat, though you can create a workaround by exporting the necessary data into a spreadsheet and uploading it into your non-integrated accounting system.
Marketman's features include:
Smartphone apps for iOS and Android devices
Cost tracking that shows profit and loss in real time
Recipe tracking and inventory counting apps
EDI Vendor integration
Accounting integration
Allergen tracking
Invoice scanning
Detailed reporting
Smartphone Apps
MarketMan includes apps for both iOS and Android devices. These can be downloaded from Google Play or the Apple App Store. With these in hand, your team can create orders, receive deliveries, scan invoices, perform physical counts, and record production and waste events. They can also look up detailed recipes in the cookbook. Keeping all of your orders, deliveries, prep, and waste numbers in one place gives you a true view of your food costs. You can see in real time where to save money.
Your team can download the MarketMan smartphone app from Google Play or the Apple App Store. With the app, they can record physical counts on their smartphones, place and receive orders, schedule production batches of prepped foods, or record waste. This level of accessibility makes it incredibly easy to keep your inventory up to date. Your team can also view your cookbook from the app, so there is never an excuse for an incorrectly prepared dish.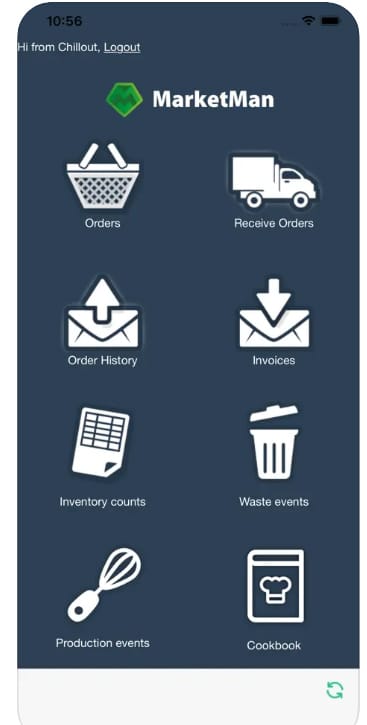 ---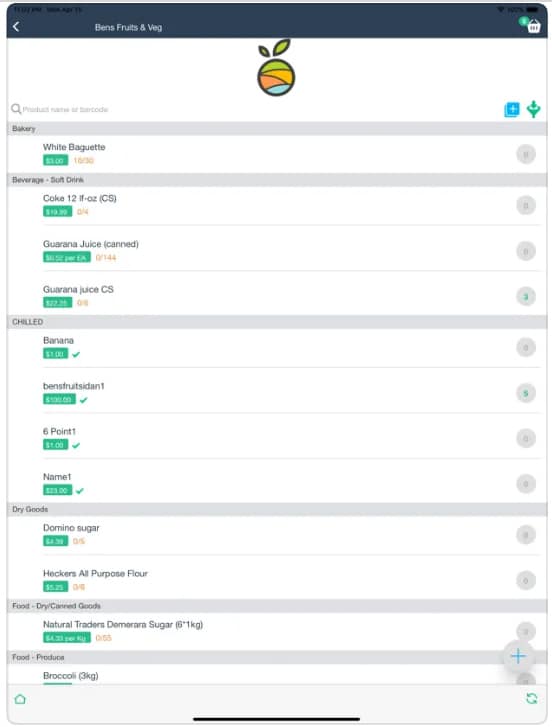 ---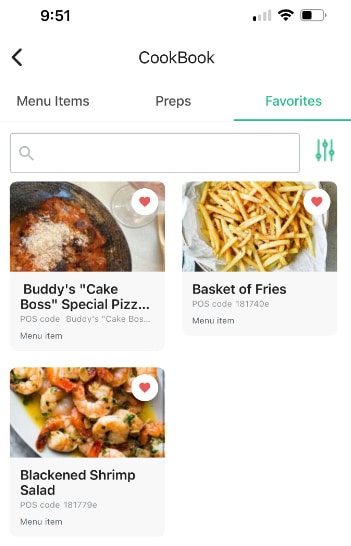 ---
---
EDI Integrated Vendors
MarketMan includes pre-built EDI connections with all the major US mainline distributors like Sysco and US Foods. You can add EDI connections for $25 per vendor, per month. MarketMan can still send orders to non-integrated vendors, using email and text messages.
Electronic Data Interchange (EDI) is the ability to communicate business information with another company electronically. EDI was designed to replace everyday on-paper communications. An EDI integration connects your business system directly with another closely related business, like a supplier, to streamline communication and reduce paperwork.
---
Detailed Reporting
MarketMan includes some of the most detailed reports of any inventory management system available. You can track open orders, see the value of orders as they are received, and get a snapshot of your inventory value at any given moment. You can also view detailed waste reports that show each wasted item, searchable by category and reason.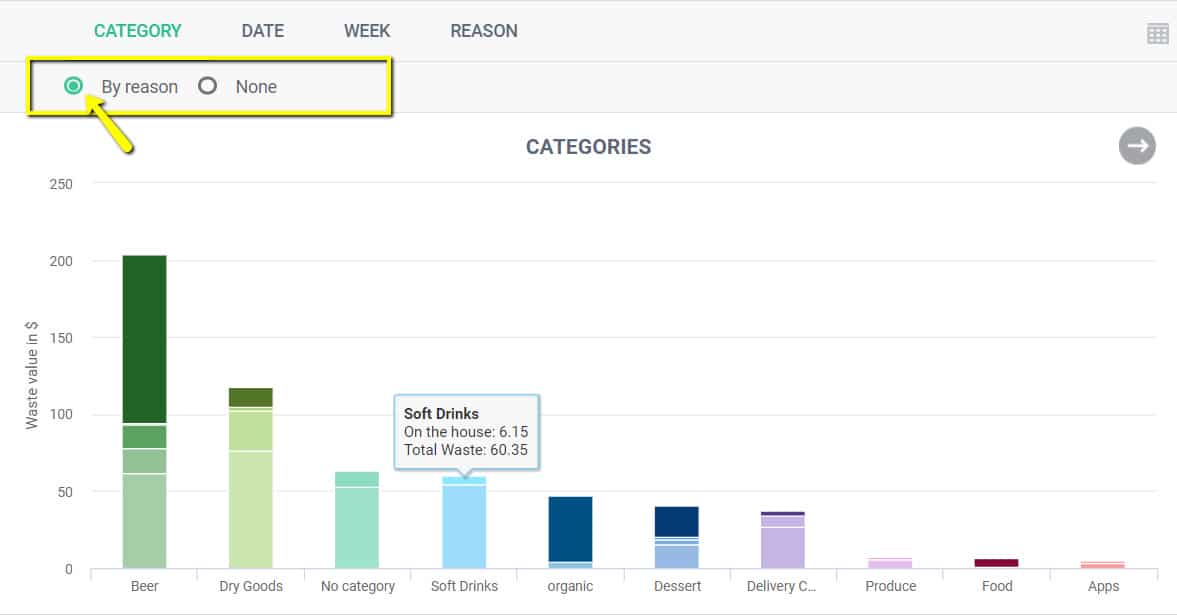 ---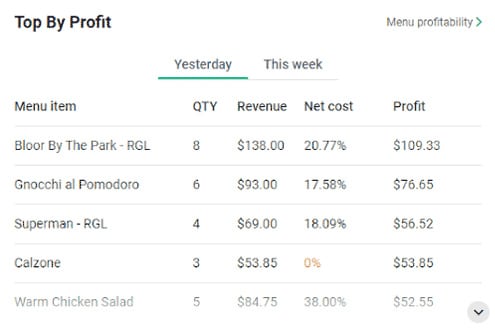 ---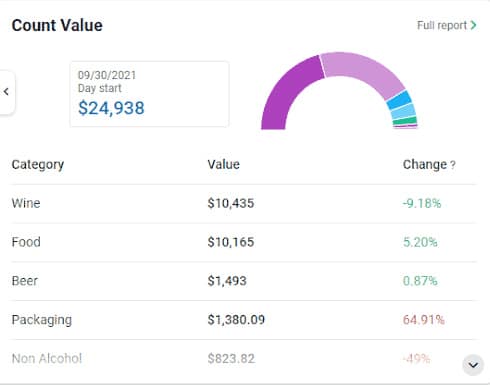 ---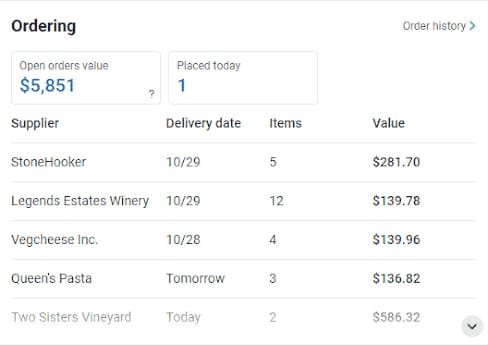 ---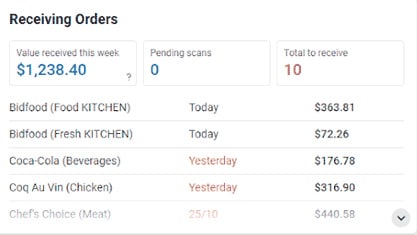 ---
---
Allergen Tracking
MarketMan prompts you to "validate" each recipe by assessing its allergens and noting them in the app. The app will flag recipes that have not been validated, so your cooks and servers can immediately tell if the allergy information is up to date. This feature makes it easy to create allergy-friendly menus or create menu training guides for your staff to help them guide customers to safe dishes.
MarketMan prompts your team to enter allergen information for every dish, which is exportable in reports. So, you never have to wonder if an item contains a potential allergen. (Image from MarketMan)
---
Extended service hours: Customer support is available by phone, email, webchat, and WhatsApp from 5 a.m.–6 p.m. Eastern time, every day.
Guided training: The company assigns a dedicated service representative to all users.
Online resources: MarketMan maintains a detailed support website with step-by-step guides and video tutorials.
Daily webinars: There are training webinars every weekday.
MarketMan is an intuitive system that has a lot of functions. No matter how tech-savvy you are, you'll need to set aside some time to learn all of its niche functions. Once you've walked through the entire program, however, it is very easy to use.
The MarketMan team wants users to get the most out of the software. Each new account receives guided training from a dedicated representative, and during your kickoff call, you will create a training plan for your team to ensure everyone knows how to use the system. MarketMan sends you recordings of these training sessions so you can refer to them later or use them for training new team members.
If you have questions or get new managers, it is easy to get them up to speed by dropping in on MarketMan's frequent training webinars. These sessions focus on the software's core features and answer user questions live.
Should you run into trouble, you can reach a MarketMan representative via phone, email, or in-app chat during extended business hours, seven days a week.
MarketMan specializes in restaurant inventory management. That laser focus is evident in the insightful features and smart integrations this app supports. Typically, we like to see restaurant tools that are built into POS systems since those modules tend to sync more seamlessly with your real-time sales and come with the familiar 24/7 customer support your POS team offers. But, Marketman includes tons of functions that POS-built inventory tools lack.
Since it integrates with so many popular POS systems, MarketMan can move with your business regardless of the POS system you use. MarketMan boasts a customer retention rate of over 95%, so it's clear that users find a lot of value in this user-friendly system.
The only downside to MarketMan is that it currently cannot automatically 86 items when you run out of stock as a POS-built system like Revel or Upserve by Lightspeed can. It also doesn't yet integrate with popular restaurant accounting software Restaurant365 (our top pick for restaurant accounting) or Compeat.
What Users Think of MarketMan
Our staff experts are not the only restaurant industry professionals to reward the strength of this comprehensive restaurant inventory system—MarketMan reviews from its users are consistently positive.
Finances Online: Overall rating of 8.3 out of 10; user-satisfaction rating of 100% based on positive social media mentions
Capterra: 4.7 out of 5 based on more than 80 user reviews
G2: 4.6 out of 5 based on about 40 user reviews
MarketMan users rave about the software's easy-to-navigate dashboard, and many mention how much time they save on weekly and monthly inventory tasks. On the flip side, there are very few critical comments—and those that exist are pretty granular. For example, one user complains that the system requires them to exit one invoice before entering another, adding several extra steps to the process. Also, a few large restaurant group users mentioned that they would like to see even more customizable reporting functions.
PROS

CONS

Intuitive back-office interface
Large multilocation restaurants may want even more detailed reporting
Time-saving inventory counts
Manual invoice entry could be further streamlined
System streamlines month-end inventory and accounting reconciliation
---
Methodology
To review MarketMan, we demoed the system as we do for all restaurant software. We compared it to several other restaurant inventory solutions in our annual review of these tools, where we assessed MarketMan's affordability, core inventory features, advanced inventory functions, and ease of use. Additionally, we looked for POS integrations, vendor management, ingredient-level real-time tracking, and detailed reporting functions.
We use a similar structure to assess POS systems and other types of software across our site. Though, we tailor the criteria for specific use cases—such as for bar POS systems versus food truck POS systems—so you may see multiple scores for the same software depending on what criteria is being rated.
Click through the tabs below for our restaurant inventory evaluation criteria:
30%
Advanced Inventory Features
15% of Overall Score
First, we looked at whether each software offers a free plan, free trial, or a plan option under $100 per month. Then, we looked for plans that include unlimited user logins, product listings, and vendor transactions. Finally, we gave points to systems with installation costs lower than $150 and POS integration; both are more user-friendly for small restaurants.
30% of Overall Score
We looked for essential inventory functions, like supply levels that sync with sales in real time. Also, we looked for customizable inventory tracking sheets that match the layouts of your storerooms. Software that fully integrates with restaurant POS systems, is cloud-accessible, and supports detailed reporting earned the highest marks.
30% of Overall Score
To support automated restaurant operations, we looked for inventory software that enables physical counts via barcode scanning and direct vendor ordering via electronic data interchange (EDI).
15% of Overall Score
Because restaurants typically count inventory in early mornings, late nights, or otherwise outside of regular business hours, we prioritized solutions that offer 24/7 customer support. Any systems that offer one-on-one installation support or training also earned high marks.
10% of Overall Score
Finally, we considered any standout software features and whether or not the system offers an excellent overall value for its price. We also judged how popular each system is with other restaurant owners. Then, we awarded points based on our personal experience interacting with the software and the company's customer support.
*Percentages of overall score
MarketMan Frequently Asked Questions (FAQ)
How much does MarketMan cost?
MarketMan is priced from $127 to $399 per month, depending on your subscription level and whether you pay your fees monthly or annually. Rates are lower for annual subscriptions.
---
What does MarketMan do?
MarketMan is an inventory management app for restaurants and food service businesses. It also has a white labeled app for restaurant suppliers that supports mobile ordering for client restaurants.
---
What is restaurant inventory management?
Restaurant inventory management is the process of tracking the products used in everyday restaurant operation in order to control costs and ensure a steady supply of ingredients. Inventory management also helps you use products before they expire and lets you identify theft and product loss.
---
What is EDI?
EDI stands for Electronic Data Interchange, a connection between two businesses, designed to replace common paperwork processes. An EDI connection in your inventory module allows you to place orders or send payments to your suppliers directly from your accounting dashboard.
---
Bottom Line
MarketMan is a robust, user-friendly inventory and vendor management system that helps restaurants control costs and save administrative time. Users rave about its customizable settings that prevent large, unexpected orders and support detailed physical counts. And, because it's outfitted with POS integration and friendly customer support, it is a valuable addition to all but the smallest restaurants. Schedule a free demo to see if it will work for your restaurant.