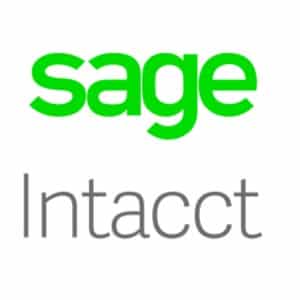 Sage Intacct is a cloud-based financial management and accounting suite that automates complex financial processes, including payroll, tax filings, and inventory management. It caters to a wide range of industries, including construction, real estate, financial services, professional services, and nonprofits. Its core accounting features for nonprofits include grant tracking and billing, fund accounting, and a general ledger. Prices are available upon request.
What We Recommend Sage Intacct For
Sage Intacct is great for midsize nonprofits and multilocation or multi-entity businesses dealing with complex financial and accounting activities. While it serves different industries, it is especially good for nonprofits, including faith-based organizations and charities, as well as educational institutions. It includes advanced accounting features for nonprofits like grant tracking and billing. Multi-entity and global consolidations make it a terrific choice for midsize enterprises operating on a global scale.
Sage Intacct Is Especially Good For
Midsize nonprofits with a team of finance professionals: Sage Intacct is a full-featured and sophisticated accounting program, so it's a great choice if you have professional accountants and finance professionals doing your books and financials. If you need a simpler option, check out our guide to the best nonprofit accounting software.
Healthcare providers needing Health Insurance Portability and Accountability Act (HIPAA)-compliant financials: Intacct has been certified to be HIPAA- and Health Information Technology for Economic and Clinical Health (HITECH)-compliant by Avertium, an independent certification program. It offers tools, security, and agreements to help you stay compliant with strict regulatory requirements.
Venture capitalists: In addition to nonprofits, venture capitalists can do well with Intacct as its global consolidation module can consolidate hundreds of entities in minutes, making it a great choice for companies with multiple locations, currencies, divisions, and subsidiaries.
Sage Intacct Is Not a Good Fit For
Business owners looking to keep their own books: Sage Intacct is too expensive and complicated to use for nonprofit managers, particularly if you don't have accounting experience. If you need an easier-to-use and more affordable alternative, you should consider QuickBooks Online.
Small nonprofits: If you are a startup nonprofit with a tight budget, we recommend the QuickBooks Premier Nonprofit Edition.
Nonprofits that also want member management: If you need nonprofit bookkeeping while also having the ability to manage and track your members, you can use Aplos instead.
Are you looking for something different? To see more simple accounting software for business owners, check out our guide to the best small business accounting software.
Sage Intacct Pros and Cons
PROS

CONS

Tailor-made features for nonprofits
No upfront pricing
Can handle multi-entity transactions
Complicated to use
Multidimensional chart of accounts
Nonprofit modules require additional fees
Drill down capability in financial reports
Expensive technical support
Sage Intacct Pricing
Prices for Sage Intacct are not directly provided on its website, but a third-party website, Cargas, reports a starting annual price of $15,000. The cost will depend on the size of your organization and the products and modules you need. You can register for a free product demo or sign up for a free 30-day trial with no credit card required.
Sage Intacct Features
Sage Intacct has a robust set of features to simplify tedious and repetitive financial tasks, such as grant tracking, budget planning, fund accounting, expense management, and financial reporting. Here's a list of its top features to help you decide whether or not Sage Intacct is for your organization.
General Ledger
Sage Intacct has a sophisticated general ledger (GL) with a multidimensional chart of accounts. The GL manages sophisticated financial tasks across multiple entities, whether locally or globally. You can merge data with the push of a button, manage currency conversions, and generate consolidated reports without having to wait for the end of the month. Transactions are posted in real-time with the ability to configure how transactions are posted in each account. You can also create and organize account groups like checking or cash to help generate reports.
Multidimensional Chart of Accounts for Nonprofits
The multidimensional chart of accounts for nonprofits in the GL includes 10 dimensions, including location, grant, project, department, program, and fundraising. These dimensions can be used to track your revenue, assets, and expenses, making it easier for you to set up your chart of accounts. This feature eliminates the need to set up so many account numbers. For instance, you can set up a single fixed asset account rather than creating separate accounts for each of your locations. You can then use the "location" dimension to filter assets by location when generating reports.
Grant Tracking
The software allows you to manage and track all your grant documents and details in one place, regardless of the funding source or award type. Intacct includes built-in compliance tools, such as review expenditures, to help you ensure that your funds are spent in compliance with each grant's restrictions and provisions. The system can also automate other critical documents, such as generally accepted accounting principles (GAAP) financials, Financial Accounting Standards Board (FASB) compliance reports, and Form 990 submissions.
Revenue Recognition
This add-on module makes it easy for you to process reimbursement requests and bills for funding sources. It helps you track conditions, barriers, and delivery status seamlessly, and it enables you to choose the best revenue recognition method for every revenue stream. Sage has customizable dashboards to give you insights on your revenue and profitability by productions, divisions, contact, and more.
Accounts Payable
The accounts payable (A/P) module lets you track and view invoices, loans, mortgages, payments, vendor-aging reports, and other A/P liabilities. You can automate and configure your account payable processes to improve internal controls. For instance, you can set up the default payment method and currency to control the entering of data in your A/P.
Accounts Receivable
The accounts receivable (A/R) module simplifies invoicing and collection of your nonprofit receivables, such as donations, membership dues, and government grants. Sage Intacct's A/R module integrates with the other Sage products to give you a single view of your invoices, quotes, and sales orders. It automatically posts transactions to your A/R and general ledger to expedite billing and accounting. Intacct accepts multiple types of payments, including cash, credit, debit, check, and electronic funds transactions.
Multi-Entity and Multicurrency Management
If your nonprofit has subsidiaries, you can benefit from the multi-entity management module. This add-on module lets you consolidate hundreds of entities in minutes. With Intacct, you can set up new entities with each entity having its own chart of accounts, enable both entity-specific and global consolidations, and simplify payments and transactions across entities, even in varying currencies. Also, with the help of Sage Intacct's dimensions, you can track your revenue by the entity, which is then displayed in your dashboard with visuals like graphs or charts.
Nonprofit Digital Board Book
Sage Intacct's nonprofit digital board book includes prebuilt dashboards to deliver real-time insights into your programs. It allows you to track expenses to program results and other key balance sheet metrics and stay on top of revenue trends, helping you make informed decisions for your organization.
Dashboard and Reporting
Intacct generates up to 150 built-in reports with visualization features like graphs, charts, and performance cards. It provides a multidimensional view of your balance sheet, income statements, cash flow statements, and other critical reports. You can also create custom reports using the interactive custom report writer. Reports and dashboards can be viewed on your mobile devices, and reports can be exported as CSV, Excel, PDF, and HTML formats.
Customer Service and Ease of Use
Sage Intacct's user interface is not that user-friendly compared to other similar nonprofit accounting software like QuickBooks Online. It uses an advanced user interface called Action UI, which involves new tools for bank reconciliations, paying bills, consolidating entities, and creating custom reports. Customization options for reporting can be overwhelming for beginners. However, this feature can be a great benefit for experienced bookkeepers and seasoned Sage Intacct users.
Sage offers premium support plans at four levels: Essential, Bronze, Silver, and Gold. These plans give you unlimited access to technical support and educational resources. If you need quick information on your software, you can check the Sage online knowledgebase or join the Sage Intacct community.
Sage Intacct Alternatives
| | | |
| --- | --- | --- |
| Best for: Business owners wanting to keep their own books | Best for: Small nonprofits with a limited budget | Best for: Nonprofits that need member management tools |
| Software from: $25 per month | Software from: $499.99 per year | Software from: $59 per month |
Bottom Line
Sage Intacct is sophisticated and expensive accounting software for small to midsize businesses. If you have an accounting department that can take advantage of Sage Intaccts' advanced features, it may be well worth the investment. While it's great for businesses from different industries, we recommend it for medium-size nonprofit organizations with complex financial tasks. It has advanced functions, such as grant billing and tracking and nonprofit revenue recognition, which can bring tremendous value to your organization.
Sign up for a free 30-day Sage Intacct trial today or request a live demo to see if it's right for you.