The 6 Best Nonprofit Accounting Applications in 2023
Nonprofit organizations require dedicated accounting software that takes into account their stringent requirements for financial planning, budgeting, auditing, and reporting. To help you choose a solution that fits your organization's needs, we've picked the six best nonprofit accounting software:
Best Nonprofit Accounting Software Compared
Software

Monthly Pricing

Number of Users

Nonprofit Tools & Features

Nonprofit Financial Statements

Bookkeeping Assistance

Default Nonprofit Chart of Accounts

Accounts Receivable (A/R), Accounts Payable (A/P) & Banking

Budgeting

Track Expenses by Program

$79 to $189-plus

2

✓

✓

✓

✓

✓

✓

✓

$30 to $200

1 to 25

✕

Customization Required

✓

✕

✓

✓

✓

Starts at $799

1 to 5

✓

✓

✓

✓

✓

✓

✓

Free

Unlimited

✕

✕

✕

✕

✓

✕

✕

Contact Sales

Unlimited

✓

✓

✕

✓

✓

✓

✓

Contact Sales

Unlimited

✓

✓

✕

✓

✓

✓

✓
Which Nonprofit Accounting Software is Right for you?
Answer a few simple questions to receive a customized suggestion for the best nonprofit accounting software for your business.
Aplos: Best Overall Accounting Software for Nonprofits With a Website & Donation Form Builder
Aplos

What We Like
Includes a built-in website builder that requires no coding
Provides end-to-end solutions for event and donor management
Creates unlimited donation forms
Bank integrations for easy import of transactions
Accepts donations via text, which requires an additional fee
What's Missing
Requires an additional fee for more than two users
Doesn't include built-in payroll
Cannot be used to manage grants and volunteers
Invoices aren't customizable
No mobile app
Aplos Pricing
All plans include up to two users:
Aplos Lite: $79 per month
Aplos Core: $139 per month
Aplos Core + Advanced Accounting: Starts at $189 per month
You can try Aplos for free for 15 days with no credit card required. New customers get 50% for six months on all subscriptions.
Standout Features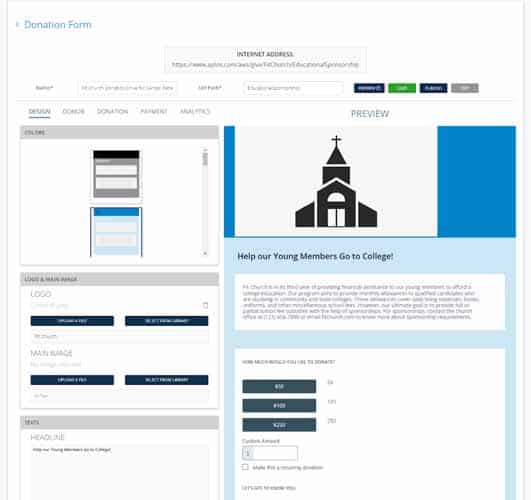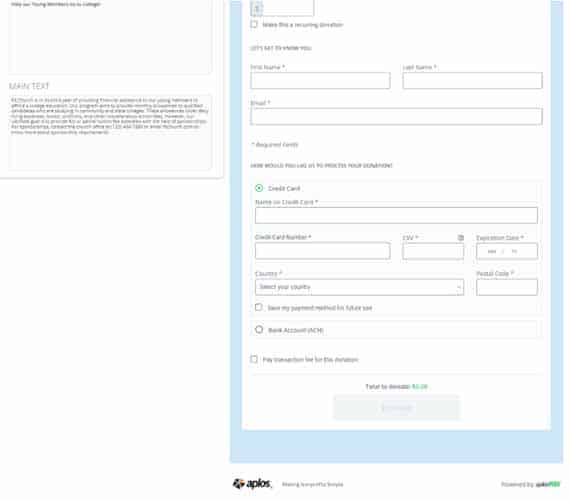 Online donations and fundraisers: Aplos can help you create forms to accept donations online and during fundraising events. It also has a dedicated portal where donors can view and track their donations and update payment details.
Recurring donations: If some of your members donate regularly or through tithes, you can set up recurring donations to make it easy to schedule donations, print out statements, and update payment information.
Website builder: One of the most unique features of Aplos is its website builder, which is best for nonprofits that host fundraising events and use websites for registration and donations.
---
Our Expert Opinion
Aplos is our choice for the best overall accounting software for nonprofits because it has an outstanding set of general accounting features, and its key features are tailored to nonprofit operations. We consider it a powerful accounting application for medium-sized nonprofits because it provides end-to-end solutions for managing donors and members.
We recommend the Advanced Accounting package for its valuable features, such as fixed asset tracking and income and expense allocation. Aplos is also ideal for faith-based organizations with a few employees. See how Aplos benefits churches in our evaluation of the best church accounting software.
---
QuickBooks Online: Best Accounting Software for Nonprofits Seeking Bookkeeping Assistance
QuickBooks Online

What We Like
Share data easily with your accountant
Can customize reports to fit nonprofit operations
Offers bookkeeping assistance via QuickBooks Live
Comprehensive mobile app
What's Missing
No nonprofit-specific tools
Requires additional fee to use payroll
Simple Start is limited to one user
Expensive for nonprofits with multiple entities
QuickBooks Online Pricing
Simple Start: $30 per month with one user included
Essentials: $55 per month with three users included
Plus: $85 per month with five users included
Advanced: $200 per month with 25 users included
QuickBooks currently offers a 50% discount for the first three months or a 30-day free trial with no credit card required.
Standout Features
Assisted bookkeeping option: Through QuickBooks Live, you can access an expert QuickBooks bookkeeper to help you organize your books, classify transactions, and analyze your financial statements. Given that nonprofits follow different accounting standards than for-profit organizations, you'll need someone who understands and practices nonprofit accounting.
ProAdvisors: It is very easy to find a local bookkeeper that can help you with your QuickBooks Online account. They can even log directly into your account to review what you've done and make corrections. Read our guide on how to find a QuickBooks ProAdvisor.
Location and class tracking: Your nonprofit can use location and class tracking to segregate activity by fund and by program service. You can also add customized tags to transactions for further tracking.
Outstanding inventory features: If your nonprofit sells goods, QuickBooks Online can help you keep track of inventory levels efficiently and calculate your cost of goods sold (COGS), so there's no need to get another third-party app just for inventory tracking.
---
Our Expert Opinion
Being our best small business accounting software, QuickBooks Online is a versatile and flexible accounting solution that can adapt to a nonprofit setup. Although it is primarily for for-profit organizations, you can customize it for nonprofit use by updating its chart of accounts. We highly recommend the Plus plan because of the location and class tracking features. However, Advanced is also an excellent choice if you require more than five users.
---
QuickBooks Premier Plus Nonprofit Edition: Best Desktop Accounting Software for Nonprofits
QuickBooks Premier Plus Nonprofit Edition

What We Like
Integrated payroll available for a fee
Unlimited support, features updates, and security patches
Supports Form 990 or Form 990EZ
Creates receipts and tracks pledges
Class tracking by program
What's Missing
Requires installation and setup
Limited to five users
Expensive for small nonprofits
Difficult to share with an external accountant
QuickBooks Premier Nonprofit Edition Pricing
QuickBooks Premier Plus 2023 starts at $799 per year for one user. It can accommodate up to five users for $1,999.
Standout Features
Nonprofit chart of accounts: Unlike QuickBooks Online, QuickBooks Premier Plus Nonprofit gives you, by default, a nonprofit chart of accounts. These accounts are compliant with nonprofit accounting standards for classifying assets, liabilities, revenues, expenses, and equity.
Industry-specific reports: This version of QuickBooks can generate nonprofit reports and financial statements like the statement of activities, statement of financial position, statement of functional expenses, and statement of cash flows. You can also generate special reports like donor list summary, contribution report, and advanced reporting tools.
Unlimited customer support and product updates: With the new subscription-based feature for QuickBooks Premier plans, users can get unlimited support and product updates at zero cost.
---
Our Expert Opinion
QuickBooks Premier Plus Nonprofit is desktop software tailored to nonprofits. It can help users manage donations, grants, and encumbrances and compute the taxes to report on IRS Form 990. Since QuickBooks Desktop is now subscription-based, you can access the newest features while subscribed. In the old license-based version, you couldn't update to the latest version until the license expires. If you're looking for web-based software, we recommend choosing QuickBooks Online for an all-around accounting solution or Aplos for its accounting functions plus nonprofit-specific features.
---
Wave: Best Free Nonprofit Accounting Software for Treasurers of Very Small Nonprofits
Wave

What We Like
Easy to use even for nonaccountants
Completely free forever
Ideal for simple nonprofit organizations
Bookkeeping assistance available via Wave Advisors
What's Missing
Lacks specialized features and reports for nonprofits
Not a good fit for large nonprofits
No tools for managing restricted funds
Can't track expenses by program
Wave Pricing
The accounting and invoicing features are free, while credit card and bank processing are charged per transaction:
2.9% + 60 cents per non-AMEX transaction
3.4% + 60 cents per AMEX transaction
1% fee for bank transactions but minimum of $1
Payroll Assistance:
$35 per month plus $6 per employee or independent contractor for users living in tax service states; fee includes payroll filing and payroll tax calculation
$20 per month plus $6 per employee or independent contractor for users living in the remaining 36 states; fee includes only payroll taxes computation
Standout Features
Free accounting and invoicing: Wave is free forever for accounting and invoicing. You can use it if you're organizing short-term or small nonprofit events and projects needing basic income and expense tracking.
Payroll tax assistance: Wave gives tax filing assistance and calculation for tax service states―Florida, New York, Georgia, Illinois, Arizona, California, Indiana, Virginia, Washington, Minnesota, North Carolina, Texas, Tennessee, and Wisconsin―and payroll tax calculation for the rest of the states, which are self-service states.
---
Our Expert Opinion
Wave has no industry-specific features, but if you're a volunteer treasurer for a small charity with one program service and one fund, it has a good set of features to streamline accounting for donations, tax receipts, and payroll. Nonprofits with multiple locations can even set up each location as a separate entity to segregate information—but it won't be able to help you combine the information when needed. The platform is easy to use, even for novice accountants or treasurers, but you can seek personalized coaching from a Wave Advisor if necessary.
However, unlike QuickBooks Online, it can't separate income and expenses by classes to mimic fund or program service accounting. If you need to track activity for more than one fund or one service program, then you'll be better off spending money on better software like QuickBooks Online.
---
NonProfit+: Best for Nonprofits Relying on Numerous Small Donations for Support
NonProfit+

What We Like
Extensive list of useful modules
Powerful donor management capability
Can add as many users as needed
Offers tools for managing restricted funds
What's Missing
Pricey for small nonprofits
No built-in tools for managing payroll
Steep learning curve
NonProfit+ Pricing
Prices aren't provided on its website. You can sign up for a free product tour to see how it works.
Standout Features
Grant and donation management: Grants and donations often come with conditions as to how they'll be used. NonProfit+ can help you manage these grants and donations based on the donor-imposed conditions, through a dedicated module.
Intercompany accounting: If you have a nonprofit with several organizations, NonProfit+ is great accounting software for consolidating financial statements.
Board management: NonProfit+ administrators can grant board members access to the software. This feature enables board members to view grants and donations in real-time without having to ask for a report.
---
Our Expert Opinion
NonProfit+ by Acumatica is robust accounting software that allows users to manage donor contacts and track donation sources easily. It also lets you track income from donors, generate customized reports by activity, and schedule emails to send out to donors.
It's a terrific choice for nonprofits that receive restricted funds since it has a restricted fund management module that allows you to define and restrict the uses of restricted donations. However, despite having the most comprehensive nonprofit features on our list, it's expensive and complicated, so many small nonprofits may need to consider an alternative like Aplos.
---
Blackbaud Financial Edge NXT: Best for Nonprofits Relying on Large Grants for Support
Blackbaud Financial Edge NXT

What We Like
Can track complicated grant requirements
Robust budgeting capabilities
Unlimited tracking characteristics for in-depth reporting
Integrates with other Blackbaud software packages
What's Missing
No features for managing donors
Steep learning curve
No upfront pricing
Most of the modules are available for an additional fee
Blackbaud Pricing
Prices are unavailable, but you can contact the provider to request pricing information or a customized quote.
Standout Features
Grant management: You can accept and track grants as well as manage grants based on the conditions set by the board or the grantor.
Budgeting: Managing your nonprofit assets starts with budgeting. Financial Edge NXT allows you to create unlimited budgeting scenarios, create department budgets, consolidate department budgets to an operating budget, and implement rollover budgets.
Accounting: Aside from nonprofit features, it offers competent accounting functions like creating purchase orders (POs), invoices, and bills.
---
Our Expert Opinion
If you're currently relying on major foundation or government grants for funding, Blackbaud Financial Edge NXT is comprehensive enough to track both simple and complex grant requirements. With it, you can specify how your financial data looks on reports and break your accounting structure down to a very detailed level if required.
The program is also ideal for organizations that require consolidated reporting, thanks to its consolidation management module, which allows users to merge financial statements across multiple organizations. On the downside, it's expensive and complex and requires a lot of training and support to get up to speed on the basic functionality.
---
How We Evaluated Nonprofit Accounting Software
In evaluating the nonprofit accounting software on this list, we developed five criteria to determine the applicability of the accounting software to nonprofit accounting. Each criterion has an assigned weight and subcriteria to further break down the software's capability to handle the specific accounting and nonprofit features that we like to see.
30%
Nonprofit Accounting Features
20% of Overall Score
Accounting software programs for nonprofits come at different price points. That's why we considered giving price a significant weight to give more credit to account software programs that deliver great nonprofit accounting features at an affordable price.
30% of Overall Score
These features include basic accounting functions that can be found in for-profit accounting software. We considered the software's ability to offer the accounting functions necessary to keep nonprofit books and transactions organized and properly reported. These are:
Online payments
Payroll
Double-entry accounting
A/P and A/R management
Mobile app functionality
30% of Overall Score
We checked for features that help nonprofits manage their activities and comply with nonprofit reporting. Moreover, we looked for specific modules and functions that are present only for the use of nonprofit organizations, like:
Fund accounting
Grant management
Donation tracking and management
Budget management
Volunteer management
10% of Overall Score
The ability to use nonprofit accounting software easily is our key factor here. We gave high scores to accounting software programs that are easy to understand, even for non-bookkeepers or CPAs. Aside from that, we also included access to customer support, assisted bookkeeping options, payroll integration within the app, and online payment integration within the app. Being cloud-based is a big plus in our evaluation.
10% of Overall Score
We looked into the accounting software's overall features and the quality of user experience. We also gave heavy consideration to the popularity of the software among nonprofit organizations, as this will have a large impact on your ability to find assistance when problems arise.
*Percentages of overall score
Bottom Line
Aplos is our pick for overall best nonprofit accounting software because of its versatility and flexibility in offering nonprofit-specific and accounting-specific features. QuickBooks Online is our best Aplos alternative if you want a web-based accounting software that's easy to share with an external bookkeeper. However, QuickBooks Premier Plus 2023 is our recommendation if you prefer desktop-based software with nonprofit accounting features.
For small nonprofits that don't need detailed accounting, we recommended Wave, which is free and the best choice for simple invoicing and accounting. If you're looking for more nonprofit-focused software, go with Blackbaud Financial Edge NXT or NonProfit+.