Sales Commission Structure: The Ultimate Guide
A sales commission structure is the system you set up and use to pay your salespeople a percentage of each sale they make. Since commissions are a common form of compensation for sales reps, it's important to understand the why and how behind creating a commission structure that works for your business.
A customer relationship management (CRM) tool like Salesforce Essentials gives you valuable information about how your team is performing. The Essentials plan is $25 per user, per month, and brings enterprise-level features into a small business package, helping you track performance in order to calculate sales commissions. Visit Salesforce to get started.
Why Sales Commission Plans Matter
Sales commissions are an important part of developing a compensation plan for your sales team. They reward salespeople directly for their efforts by linking their compensation to their performance. Most sales compensation strategies include some form of commission, since it is the lowest risk for the business from a cost standpoint while also providing the highest earning potential for top performers.
The important consideration for you and your business is how the commission structure supports your overall sales goals, and whether or not it is designed in a way that incentivizes your team the way you planned. While paying your salespeople a commission can be an attractive way for a business to save on fixed costs, it won't be effective unless you have clearly thought through the steps and considerations we'll cover in this article.
How Sales Commission Structures Work
Sales commission structures work by defining the method and rates at which you will pay a salesperson for the sales in their portfolio. While there are a variety of commission structures, the type you or sales management team choose should be carefully designed based on attainable goals so that they keep your salesperson's goals aligned with those of the team and business overall.
The commission structure should reflect both the sales revenue goals for your sales reps as well as the earnings target you will establish for various sales roles. This allows you to be sure that you are motivating people to deliver the kind of sales performance you are planning for.
For example, in a business-to-business (B2B) sales organization, your sales commission structure might reward your sales reps based on their total sales. If, however, you decide that you want to emphasize new customer acquisitions, you might pay out a higher commission rate on those sales. Or, you might offer a per signup commission. In that case, you might pay out a 2.5% commission on monthly billing, with a $250 commission for signing up each new customer.
5 Types of Sales Commission Structures
There are a variety of ways to structure a commission plan based on how you want to reward and incentivize individual sales performance. Some sales commission structures can be elaborate and complicated and are based on multiple variables like sign-up bonuses, goal accelerators, or other performance metrics. Don't let the complexity scare you—your commission structure doesn't have to hurt your head. In fact, sometimes simple is better.
While this list is certainly not exhaustive, here are five commission structures to consider:
1. Total Revenue
The simplest sales commission structure is when you pay out a fixed commission rate on the total revenue generated by a salesperson. Determining the commission paid is as simple as multiplying the commission rate by the total amount of sales the individual generated or was responsible for. Typically this is done by using a sales crediting or reporting tool that provides you with an accurate reflection of sales.
For example, let's say we have a salesperson whom we'll call Sally. This month, Sally had $100,000 of sales in her territory, for which she is paid a 2.5% commission on top of her base salary. As a result, Sally made $100,000 x 2.5%, or $100,000 x .025, which is $2,500 in commission this month.
Total Revenue x Commission Rate = Commission Earned
Pro tip: A CRM like Salesforce Essentials can be a useful tool in calculating sales commissions. Salesforce integrates with hundreds of third-party tools that provide you with accurate sales figures and include powerful lead and deal management features, along with advanced reporting and territory assignment features. Salesforce Essentials is $25 per user, per month for up to 10 users, and the company offers a 30-day free trial for you to give it a try.
When to Use a Total Revenue Commission Structure
This is a good commission structure to use if you are just getting started in developing a sales team for your business. It's also appropriate when you are primarily interested in compensating your team for overall sales and aren't as concerned with specific types of deals or different types of customers. Total revenue commission structures are especially common in retail stores or insurance agencies. They are also the standard form of commission for real estate brokers.
2. Net Sales
A net sales structure is similar to a commission structure that pays a set rate on the total revenue generated. The only difference is that you pay the commission on the profit generated instead of the gross sales. As a result, the commission rate is usually far higher, since it multiplies against a far lower number. For example, if our salesperson Sally is paid on the net sales for the same $100,000, we'd first have to determine what the profit mix was for her sales.
For simplicity's sake, we'll assume that her overall profit margin was 35%, or in this case, $35,000. Since she's only paid on the net profit, her commission rate is higher than if it were paid on total revenue. In our example, we'll assume that her commission rate is 7.2%, meaning that to figure her earned commission, we'll multiply $35,000 x 7.2%, or $35,000 x .072, for a commission payment of $2,520.
Net Sales x Commission Rate = Commission Earned
When to Use a Net Sales Structure
Commission structures that pay out on the net sales, or profit, are usually used when a business offers a range of products and services, and often when there is a greater deal of negotiation involved regarding pricing. Paying a commission on the profit of a sale incentivizes the salesperson to keep in mind the difference in costs associated with different types of products, and to focus their efforts on selling higher margin.
For example, this type of commission is common with IT consultants or computer technology service providers. It's also common as a base type of commission with businesses that provide business phone, internet, or office services.
3. Tiered Performance
Another, more complicated, form of sales commission is a tiered performance structure. This commission structure changes based on different levels of performance. Usually, this type of structure has a base commission rate that increases when specific goals are met. This has the effect of incentivizing salespeople to continue to outperform the minimum expectations since they will not only be paid more for higher sales, but will actually be paid a higher rate too.
Normally commission rates are set up in tiers of performance. In some cases, the increased commission rate only applies to the sales generated within that tier. In other cases, it is applied to the entire revenue. For example, you might have a base commission rate for the first $50,000 of sales, with an increase for each $25,000 after that.
In that case, your commission structure might look like this:
Tiered Performance Commission Structure
| Tier | Commission Rate |
| --- | --- |
| $0-$50,000 | 2.5% |
| $50,001-$75,000 | 2.75% |
| $75,001-$100,000 | 3% |
| $100,001+ | 3.25% |
When to Use a Tiered Performance Commission Structure
A tiered performance structure is an effective method for new or growing sales territories since there is a strong incentive for salespeople to go the extra mile to move their final number into the next tier. It's especially motivating for top performers since it encourages them to exceed their quota as they see their commission rate increase. Examples of businesses that frequently use tiered performance structures include business-to-business (B2B) suppliers and contractors.
4. Performance Multipliers
A performance multiplier commission structure is similar to the tiered performance model, except that simply adjusting the commission rate based on tiers of revenue performance, the structure adjusts based on different types of performance. Sometimes this might be increased sales, but it often includes different multipliers for specific results that you want to emphasize.
For example, you might offer a base commission on total sales, but then have a multiplier on any new customer sales or a multiplier on contract renewals. The purpose is to get your salespeople to focus on those activities that most benefit the business, and therefore, result in the best overall sales performance.
In the case of Sally, our fictional salesperson, we'll say that she is paid a 2.5% commission on gross sales. She also earns a 1.5x multiplier on all new customer sales (within the last 90 days), and a 1.25x multiplier on customer contract renewals.
We'll break down those numbers this month as follows:
Base sales: $75,000
New customer sales: $15,000 x 1.5 = $22,500
Contract renewals: $10,000 x 1.25 = $12,500
Based on the example multipliers we gave, the math would look like this:
[(Base Sales) + (New Customer Sales x 1.5) + (Contract Renewals x 1.25)] x 2.5% = Commission Earned
[($75,000) + ($15,000 x 1.5) + ($10,000 x 1.25)] x 2.5% = $2,750
[($75,000) + ($22,500) + ($12,500)] x 2.5% = $2,750
$110,000 x 2.5% = $2,750
When to Use a Performance Multipliers Structure
This commission structure is common in various types of business-to-business (B2B) sales and is frequently used in insurance agencies for different lines of insurance products. Usually, this type of sales commission requires more advanced sales commission tracking software in order to effectively track, measure, and pay accurate commissions. These software tools can be expensive, and as a result, performance multipliers are usually used by larger teams with sales support teams.
5. Blended Compensation
Sometimes a straight commission-based compensation plan is the best choice, but most often it makes more sense to pay some combination of salary and commission. This provides a base that the salesperson can count on while incentivizing them to meet their sales quotas since they have the opportunity to earn additional information.
For example, when I was a sales executive, we were paid a base salary, and then received a commission on every new contract we signed. If we met our quota, we were eligible for a higher commission rate, which almost served as a bonus for top performers. However, as you grew your territory, you at least knew you had a consistent income coming in.
When to Use a Blended Compensation Structure
Blended compensation plans are the most common by far, though in some industries like insurance, the blend shifts over time. New agents often start out with a higher percentage of their income as salary, but as they build their portfolio, they would transition gradually until eventually their entire compensation is based on a commission. For many sales teams, a blend is an effective way to attract quality team members and incentivize their performance.
How to Create a Sales Commission Structure
Deciding which type of sales commission structure is best for your sales organization requires careful consideration of a range of factors. It's important to evaluate your overall company goals, your past performance, and the metrics you'll use to calculate commissions. Each of these contributes to a sales commission structure that rewards your team and motivates them to achieve their sales goals.
Here are six steps to creating a commission structure:
1. Determine Your Compensation Targets
Your compensation target is what you expect to pay a salesperson in some combination of salary and commissions. It is important to decide on the target compensation for each salesperson so you can be sure what you expect to pay is reasonable based on the size of the portfolio as well as the individual's responsibilities. Often, this amount is directly related to the revenue you expect to be produced.
For example, a ratio of 10:1.5 is often applied to compensation models, meaning that a sales rep who manages a $1 million portfolio would be expected to earn $150,000 in some combination of the methods we discussed. However you choose to set your target compensation, it's important to establish it up front and use it as a guide for creating your sales commission structure.
2. Evaluate Past Performance
Since one of the benefits to your business of a commission structure is that it helps to motivate salespeople to reach their quota—or sales goal—you'll want to evaluate how any existing commission and compensation plans have helped you perform. You'll specifically want to look at what aspects have worked well in the past, and where you can adjust your commission structure to better balance the needs of the business and the sales professionals.
Looking at past performance will also help you to determine what commission rate will be necessary in order for your salespeople to reach the compensation target you have defined. Evaluate your previous sales goals and how well you performed against them. This is important since it serves as a check to be sure you're creating a commission structure that helps you reach your goals, and rewards your sales team for their efforts.
3. Establish Your Commission Metrics
There are two aspects of determining how you will measure revenue in order to calculate the commission owed to a sales rep. In order to determine what to pay your salespeople, you have to define the revenue numbers you'll use and where you're going to get them.
Decide to Payout on Revenue or Profit
We have already talked about commission structures based on gross revenue or net profit. While both are commonly used, the one that makes the most sense for your business often depends on what you are selling and how much control your salesperson has over pricing negotiations. If your profit is consistent across products and services, it often will make more sense to use gross revenue since it's to your advantage to incentivize larger deals.
If, however, the margin for different products tends to vary, you can motivate your team to prioritize higher profit items by using net profit as your measurement. The decision for your business should be based on the goals you've set, and how you want to motivate your salespeople to achieve them.
Establish Your Measurement Tool
The second consideration is to establish how revenue will be measured and reported. It's especially important to determine this up front and be clear about what you consider to be the authority, since sometimes different software tools that report revenue can vary slightly based on whether they serve more of a sales or accounting function. Generally, this is a sales crediting tool, a CRM like Salesforce, or an accounting software app, like QuickBooks.
While there are pros and cons to each of these, the most important thing is to determine what you will be using to measure results up front so that there is no confusion. Both you and your sales reps should be able to easily view and validate whatever source you choose to use as your revenue measurement.
4. Choose the Best Structure for Your Team
Once you have determined your overall compensation targets and have considered how a commission structure will help your sales team achieve its goals, you can determine the best structure for your team. Individual goals for salespeople are often referred to as a quota. This is a measure of revenue, new deals, or sales activities, and should be set so that individual goals are directly connected to the larger company goals.
Since each of the sales commission structures discussed previously in this article have different benefits, choose the one that will best help your sales professionals reach their personal goals. That will ensure that your business will reach its overall sales goals if you have properly aligned the two through this process.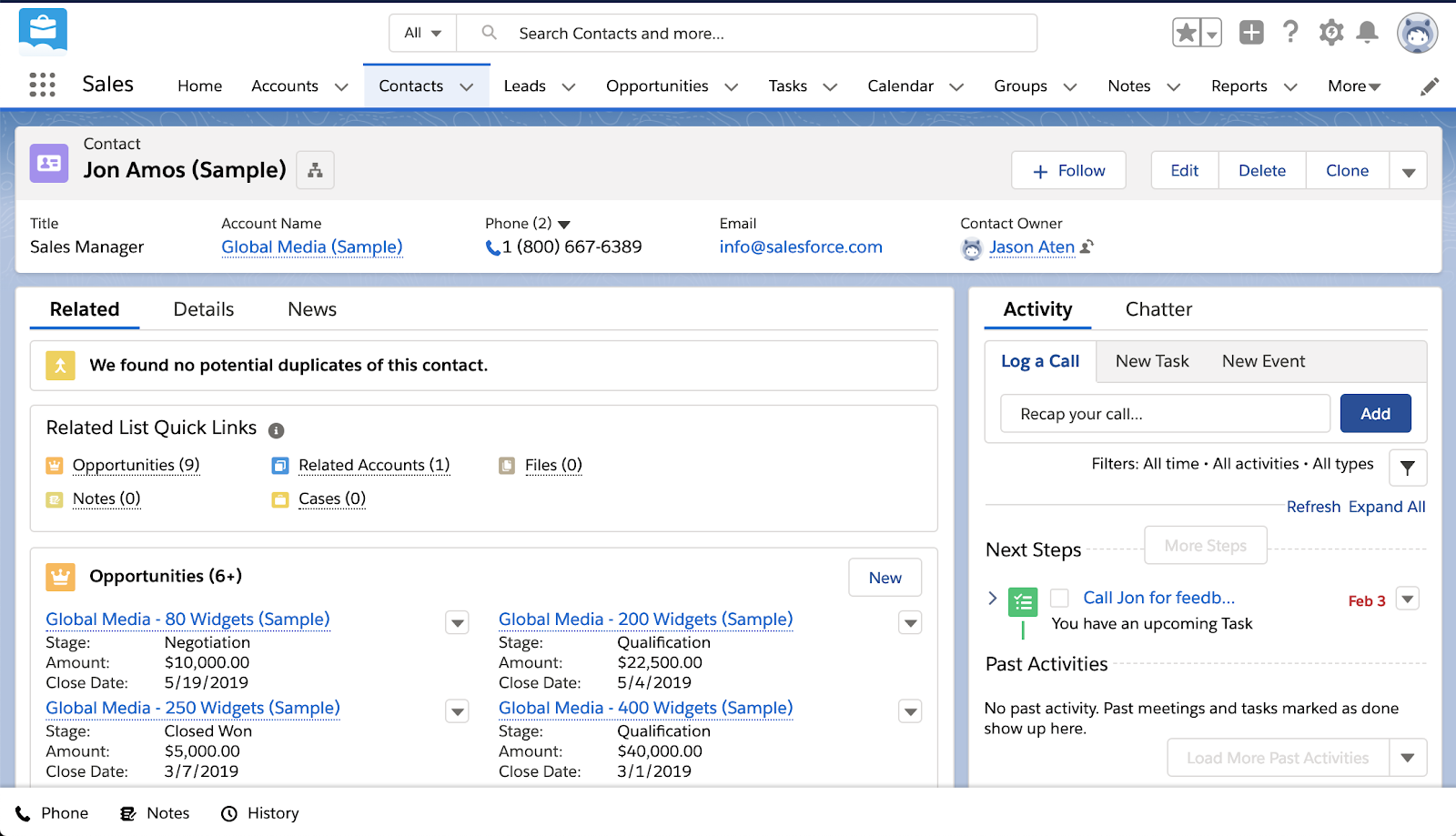 Pro tip: Salesforce Essentials makes it easy for your team to know exactly where they stand. As a highly capable small business CRM, Salesforce allows you to manage deals through the sales operations process and visualize how they are helping you reach your sales goals. The Essentials plan is $25 per user, per month, and a 30-day free trial is also available.
5. Communicate Your Structure
Your commission structure shouldn't be confusing or secret. To be effective, you should clearly communicate both the overall structure as well as where you will pull the data you'll use to calculate commissions. The last thing you want is for your team to feel like their compensation depends on a process that is opaque or confusing. Commission structures are most effective when it's easy for a salesperson to know exactly where they stand.
In addition to being transparent, make sure that you are clear about expectations and what you expect from your team. Not only does your team need to know how you'll measure their performance, but it's also helpful to know exactly what those performance expectations are and how they can meet them.
Pro tip: The best way to be transparent and clear is to put your sales compensation down in writing and make it available to your salespeople. This eliminates any confusion and allows everyone to see exactly what is expected and how they will be compensated. By putting your plan in writing, you can help your team to focus on closing deals instead of worrying about what, how, or when they'll be paid.
6. Evaluate & Adjust
Even though you put your plan in writing doesn't mean it won't ever change. In fact, to the contrary, it should change over time as your business and individual needs change. For example, you may find that as sales reps gain experience or portfolios change, it may make sense to adjust the balance of salary and commission. You may also find that the commission structure isn't motivating the type of performance you expected and make changes accordingly.
One of the most important aspects here is to honor your current plan for any sales or activities that were executed while it is in place. You'll also want to be up front and clearly articulate what changes are being made, and provide the new plan in writing to your team. This will reduce the natural resistance that opposes change, and can help eliminate confusion about what your team can expect in the future.
Commission Structure Best Practices
In addition to the steps we covered previously, there are a few best practices that you should use to ensure that your commission structure will generate the performance results you are looking for. These best practices apply to any compensation plan you might develop, but especially to a commission structure that you design to be effective for your team.
Here are four additional best practices to consider:
Set Compensation Targets That Are Achievable
When you determine your overall compensation targets, make sure to consider whether or not it's realistic for a given sales rep to achieve that goal. No one performs well when the goal set for them seems out of reach or isn't attainable based on their own efforts. A sales commission goal should be something that requires an individual's best effort, but should be something they can expect to accomplish with the resources, training, and effort they have at their disposal.
Align Targets With the Specific Role
Your commission structure should also take into account the variety of sales roles that are often present within a business or organization. In larger teams, you may have layers of sales coverage that all work on a customer account or specific deal. It's important in those cases to be sure that the commission structure, especially the commission rate, is reflective of the responsibilities and effort required by the role.
Measure Against Your Market & Industry
Another important factor is to make sure your commission structure is in line with your vertical industry as well as the individual market that a salesperson covers. If you are paying a commission rate that is far higher than your market or industry, you may be creating excessive costs that prevent your business from being as profitable as it should. If it is lower than what is considered standard, you'll have a hard time attracting high-quality sales professionals.
Motivate Sales Performance
The structure you decide on should also be one that is able to motivate the type of sales performance you desire. This isn't just reflective of the overall sales goals for the company, but also can be impacted by the type of individual you have in a given role. What motivates one sales rep might not necessarily be the best structure for another. Being clear about the commission structure up front and being open to dialogue can make sure you have a good fit.
Bottom Line
Creating the right commission structure for your team is important in order to motivate your salespeople to reach their quota and contribute revenue to your business. While there is a range of sales commission structures and best practices to consider, this ultimate guide gives you the information, steps, and tools you need to create a structure that works for your business.
Motivating your team to reach their goals means giving them the information they need to make the best decisions about how to spend their sales efforts. Salesforce Essentials is designed for small business sales teams to keep track of contacts and deals, as well as powerful dashboards and reporting beginning at $25 per user, month. Visit Salesforce for more information.