Sales Operations: The Complete Guide
Standardized and established sales operations create a repeatable flow of leads through the pipeline. Without properly managing this business component, sales activities become disorganized and opportunities slip through the cracks, diminishing your ability to grow revenue. In this article, we explore what sales operations are, how they should be structured, and the types of software that help manage your sales operations.
What Are Sales Operations?
Sales operations are repeatable processes and systems that enable businesses to consistently generate leads, build relationships, close deals, and drive sales revenue. Therefore, it's essential to practice effective operational sales management to keep your sales ops team organized, achieve sales goals, and follow through on your sales strategy.
Sales operations include day-to-day tasks and activities that need to be completed by a manager or their reps. For sales reps, everything from completing stages on the sales pipeline to recording data entries in your customer relationship management (CRM) software encompasses their role in a sales operation. For managers, it is ensuring their team is motivated, compensated appropriately, and has the resources to fulfill their responsibilities and goals.
Running solid sales operations takes building a positive culture around collaboration, communication, and accountability to ensure all tasks of a full sales cycle are satisfied. A formalized and structured sales operation has defined roles and responsibilities for each team member and clear procedures for how to complete the sales process. This allows you to easily spot and address sales inefficiencies.
Structuring a Sales Operation in 7 Steps
Understanding sales operations can be further addressed by looking at the elements of a structured operation. Creating a structured sales operations program requires you to understand the sales goals you want to accomplish and your unique roadblocks to getting there. Once it's established, you have more consistency in the process and tasks your managers and sales reps need to complete to satisfy a sales goal.
Here's how to structure sales operations in seven steps:
1. Determine Operational Scope
Your operational scope, or how you run your sales operations, corresponds to your sales plan and strategy. For instance, if your sales plan includes utilizing online advertising and content marketing to generate leads, your operation will be structured much differently than one with a straight cold-calling strategy that focuses on pursuing a high number of leads at once.
This operational scope defines the sales process, core metrics, supportive tasks, and roles you will establish later. Ultimately, you are working from the top-down by starting with a strategy, setting up a system (sales operations) that incorporates that strategy, then implementing resources and best practices to optimize that system.
2. Create Your Sales Process
Your sales process includes repeatable steps to get prospects aware, interested, and finally purchasing your product or service—making it your primary sales operations function. It could include activities such as cold calling to introduce your product, conducting a sales call to qualify a lead, or hosting a client meeting to present a quote proposal.
For this step, consider both a sales pipeline and sales funnel as a way to construct your sales process. The funnel represents the lead or prospect's relationship with your business based on where they are in their buying journey—from awareness of your brand, to interest in a specific product or service, to considering an offer, to a purchase decision. The pipeline involves the internal activities you complete to move a lead through the funnel.
As mentioned earlier, your strategy dictates the sales operations and processes involved in it. For instance, we'll say that Company A and Company B are both looking to establish a sales process. Company A decided to pursue a full-scale, high-volume direct sales strategy by keeping the sales team responsible for all sales activities.
On the other hand, Company B will use content marketing such as videos and blog articles to get leads to submit forms on their website. While neither is necessarily a better strategy than the other, their sales processes will look quite different and require a uniquely structured sales operations in terms of personnel and activities:
Company A Potential Sales Process
Inside sales reps research prospects online or on LinkedIn and add information to the customer relationship manager (CRM)
Inside sales reps making cold call introductions to prospects to gauge interest and set up sales presentations
Outside sales reps conduct sales presentation via Zoom with the interested prospects

Alternative 1: Outside sales reps send quote proposal to prospects interested in pricing
Alternative 2: Inside sales reps send monthly follow-up emails to those not interested in pricing to nurture them until they are interested in re-speaking with the outside sales rep

Prospect negotiates with an outside sales rep and company general counsel on pricing, terms, and deliverables
Prospect makes a purchase decision

Alternative 1: Deal won, new customer undergoes client onboarding with the account management team
Alternative 2: Deal lost, the prospect goes to nurturing stage for follow-up emails until interested in re-speaking with the outside sales rep
Company B Potential Sales Process
New lead generated from an online web form, automatically added to the CRM system and assigned to a sales rep
Sales reps reach out via email to schedule a qualification meeting

Alternative 1: Prospect agrees on time for qualification meeting
Alternative 2: Prospect not yet interested in meeting, added to the email list for automated nurturing emails

Sales rep conducts lead qualification meeting

Alternative 1: Sales rep sends proposal to leads determined to be qualified
Alternative 2: Sales rep updates CRM lead profile as non-qualified, automatically removes them from email list

Prospect negotiates with the sales rep and company general counsel on pricing, terms, and deliverables
Prospect makes a purchase decision

Alternative 1: Deal won, new customer undergoes client onboarding with the account management team
Alternative 2: Deal lost, the prospect remains on the email list for email nurturing until a follow-up is done by phone to the sales rep six months later to repeat the process
3. Establish Core Metrics
Once you have designed your sales process, set sales metrics that evaluate your performance for various parts and stages. Metrics and key performance indicators (KPIs) give you an objective look at how well your sales team performs in their roles compared to another team or previous periods, helping you find areas that need improvement later on. Here are some examples of core metrics you can use:
Pipeline conversion rates: To measure pipeline and process efficiency; examples include:
Lead qualification rate: Percent of generated leads who are interested and a good for your products and services
Proposal rate: Percent of leads who received or wish to receive business proposals after a sales presentation or product demo
Total deal closing rate: Percent of generated leads who become customers
Total activity counts: To measure effort and input by sales reps; examples include:
Prospect data entries: Total number of leads, contacts, or prospects added into a CRM database
Calls placed: Total number of cold calls made over a period of time
Emails sent: Total number of introduction emails sent over a period of time
Proposals generated: Total number of quotes, proposals, or contracts sent over a period of time
Phone time: Total amount of minutes or hours spent on a phone call over a period of time
Total sales production metrics: To measure total sales output; examples include:
Leads generated: Total number of leads gained over a period of time
Deals closed: Total number of deals closed or customers generated over a period of time
Revenue generated: Total amount of sales revenue brought in over a period of time
Average duration metrics: To measure average length of time for specific sales events; examples include:
Length of sales cycle: Average time in days that it takes to close a deal after a lead is generated
Lead follow-up time: Average time it takes for a sales rep to reach out to a lead after a lead is generated
You can set your team performance goals after you've figured out all the metrics you want to use for sales operations evaluation. While you'll likely set straightforward input and output goals involving your total revenue generated, deals closed, or calls made, identifying your desired conversion rates at certain stages of the pipeline helps in setting a precedent for keeping your team efficient. For example, you might make having a total deal-closing rate of 10% a team goal.
4. Incorporate Supportive Sales Tasks
This step can take place after your sales process is generated or after establishing your core metrics. Supportive tasks in sales operations connect with the sales process and include administrative activities done either by a manager or other employees on the team to ensure sales process optimization.
For instance, you need to recruit, interview, hire, train, and onboard new team members before they start selling. These are considered supportive tasks in a sales operation since they don't directly involve the sales process, but are still necessary. Often, these tasks work in collaboration with other departments such as marketing, human resources, accounting, or the C-suite. Other examples of supportive tasks include:
Invoicing and billing a customer to collect revenue
Tracking and approving sales commission for the payroll team to compensate sales reps for their performance
Creating a sales forecast for executives to determine future growth strategies
Collaborating with marketing teams to create marketing materials presented to networking events or sent to prospects
Researching market and industry trends to leverage insights in your sales operations
Creating sales contests to keep the team members excited
In addition to outlining the sales process, you should establish steps for how these supportive tasks need to be completed chronologically. For example, if a manager is approving sales commissions, the procedure might look something like this:
Deal finalized

Sales rep submits deal information to manager

Manager reviews deal information and compensation policy to determine total commission

Manager sends a signed commission approval document to the payroll department to include in next pay period
5. Set Team Roles & Quotas
The more clearly defined someone's role is, the easier it is to hold them accountable and pinpoint responsibility. Once you understand the sales process and supportive tasks associated with it, set job roles, expectations, and sales quotas if applicable. To determine what roles you need, ask yourself the following questions:
How many full-time or part-time personnel do I need for my sales operations to fulfill my sales strategy and goals?
How do I adequately divide the tasks and activities of my sales operations into different positions based on skill sets and total workload?
Do I require managers to overlook the entire sales operations or certain components of it?
Make sure there is a sensible reason for a position and that there's specialization in roles. For instance, it makes more sense to have an experienced, outgoing sales rep responsible for handling client-facing activities such as attending trade shows and presenting product demos, and keep those with other skill sets in charge of the other parts of the pipeline, such as prospect research, proposal generation, or additional supportive tasks.
This also helps you set sales quotas for individuals based on what their role involves. For example, an inside sales rep might be responsible for setting up sales presentations for outside reps and have a weekly quota of X number of cold calls made or emails sent. Alternatively, an account executive who handles later stages in the pipeline could have a quarterly quota of X number of deals closed or revenue generated.
Larger sales teams may also consider a dedicated position for operational management such as a sales operations manager, sales operation analyst, or sales operations coordinator. These specialists are responsible for monitoring sales operations, keeping everyone organized, making sure tasks are completed on time, and providing the resources necessary to make the operation run smoothly.
6. Incorporate Sales Enablement Tools
While a sales operation is the set of processes and systems, sales enablement is the act of improving those processes and systems. The idea is that by providing software, sales training, marketing assets, or operational adjustments, you can "enable" a sales team to perform better. Sales enablement starts with assessing your current sales operations to find challenges or process bottlenecks, then implementing relevant solutions.
The core metrics are an excellent way to justify a sales enablement decision quantitatively. For example, suppose you found that a certain sales team has a significantly longer average sales cycle than another team. In that case, you might invest in an automation software tool to automate some of the stages in your sales process and speed everything up.
Alternatively, you may find that a specific stage in the sales process slows down the whole operation. If it's because the rep responsible for that stage is overloaded, your sales enablement initiative will likely be to make an operational adjustment by adding another rep to that stage. If the bottleneck is due to poor performance when talking with prospects, the solution would be to provide training on methods of improving their conversations.
7. Run Your Sales Operation
With your sales operations fully structured, you can run the process and generate sales revenue. Have your sales reps complete the tasks and activities they are responsible for each day and work holistically with the other parts of the operation to make it into one efficient unit.
As you or a sales operation manager set quotas and enforce activity to be completed, use those core metrics to evaluate performance. The insights you find will be used to make operational adjustments, strategic decisions, and allocate new or existing sales resources.
Sales Operations Software
There is no shortage of helpful sales technology products that organize, streamline, evaluate, and manage sales operations. Many of these will also double as sales enablement software if their sole purpose is to enhance proficiency. Here are some examples of useful sales operations software:
Data Management Systems
Database management systems such as CRM software are used to help organize lead and customer information as well as monitor sales pipeline progress. With one centralized CRM system, your entire sales team can collaborate on sales activities using the same, real-time information.
Salesforce is a popular CRM product that offers easy-to-use lead and pipeline management features. Users get a comprehensive view of a lead using the profile view or can generate a full list of accounts or lead contacts. There are also Kanban-view options for viewing the sales pipeline and all of the opportunities that fall under each stage.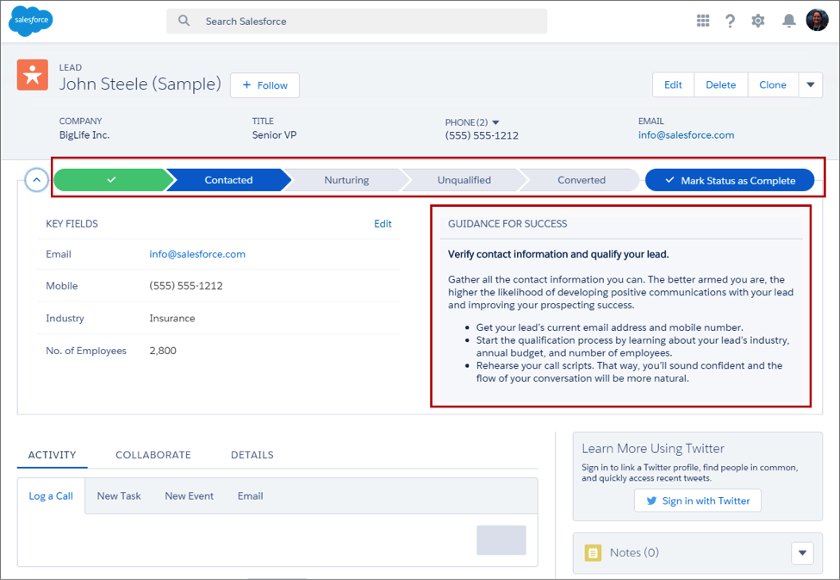 ---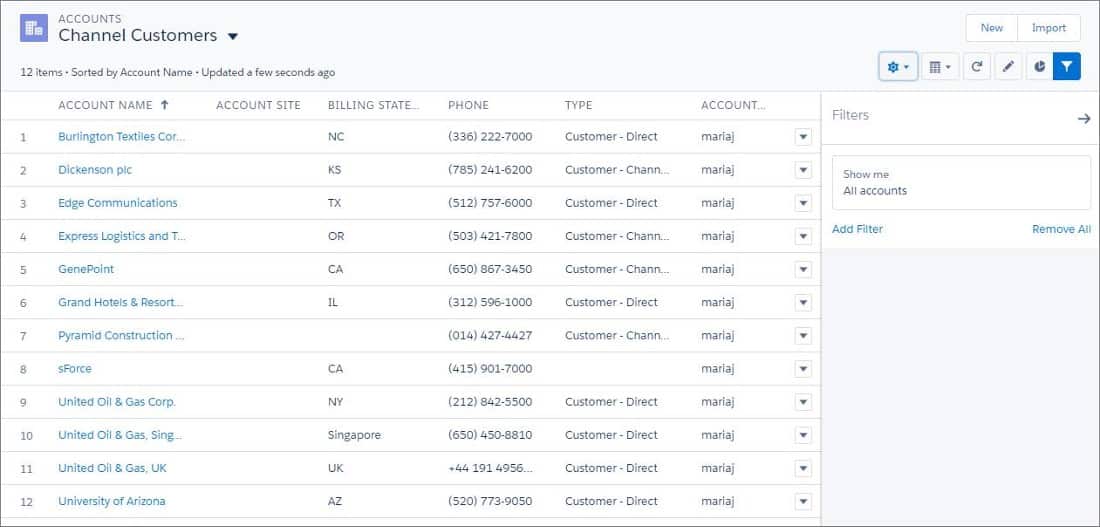 ---
---
See why Salesforce is one of our picks for the top products for operational management in our guide on the best CRMs for sales operations. You'll get detailed and comparative information on various CRMs in terms of price, features, usability, and best-for scenarios.
Sales Automation Tools
Automation tools let teams put specific parts of the sales process or supportive tasks on auto-pilot. Many of these tools are built into CRM systems, but can also be standalone products. HubSpot is a CRM product that incorporates automation in its system for adding lead data into CRMs, sending nurturing emails, or helping users navigate a website's resources with an automated live chat bot addressing their questions.
Additionally, Zapier is an automation platform that lets you combine workflows from external applications like CRMs, project management software, and productivity tools. Users do this by creating "Zaps," where they configure workflows based on events that occur or tasks that are completed. For example, you can link up Trello to create a project for a client deliverable any time a new deal is closed in a CRM system.
For more insights on automation technology, check out our guide for the top 11 sales automation software you can use in your sales operations.
Analytics & Reporting Tools
Nearly all CRMs come with dashboards and report generation tools to evaluate the success and efficiency of your sales operations. Managers can view data on total activity and pipeline conversion success. Pipedrive, for instance, lets you create custom reports for individual, team, and organizational sales activity as well as custom-designed dashboards for insights such as average deal value and pipeline conversion rates.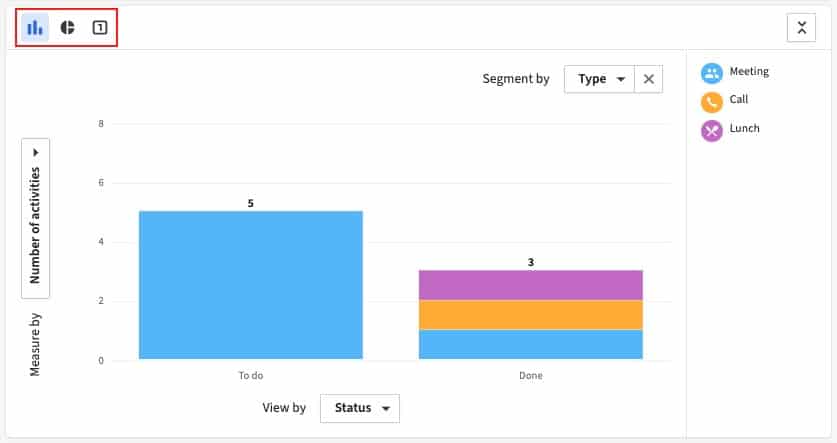 ---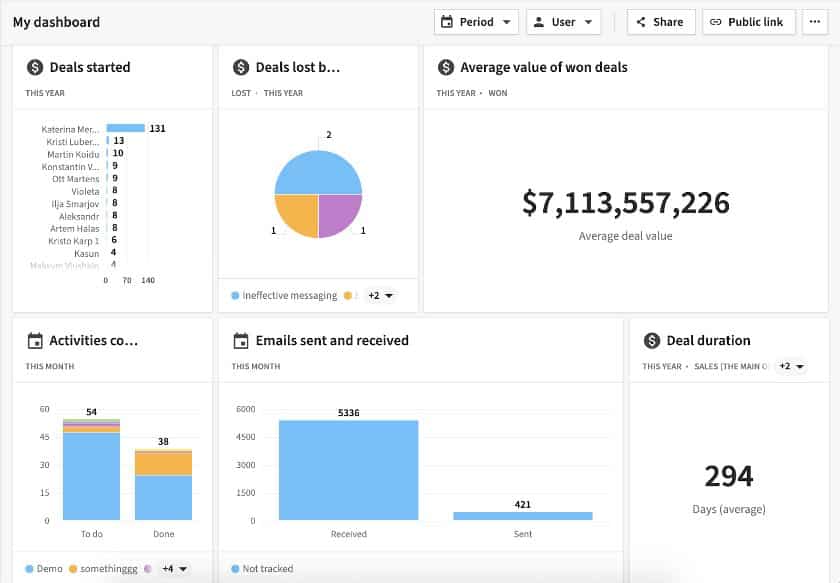 ---
Some CRMs, including Pipedrive, also use artificial intelligence (AI) to provide analytics and suggestions. The Pipedrive AI Sales Assistant uses algorithms that analyze your team's behaviors in relation to sales productivity to find ways to improve your operation through performance-based tips, reminder notifications, and updates on sales events.
Task & Project Management Tools
Tasks associated with a project or sales opportunity can be created, viewed, assigned, and monitored in most CRM systems. Freshsales, for instance, lets each user view the tasks they need to complete on an activity dashboard. Some platforms, like Bitrix24, also have full-scale project management modules for longer-term assignments, campaigns, or initiatives that need hefty team collaboration and different sets of tasks to complete.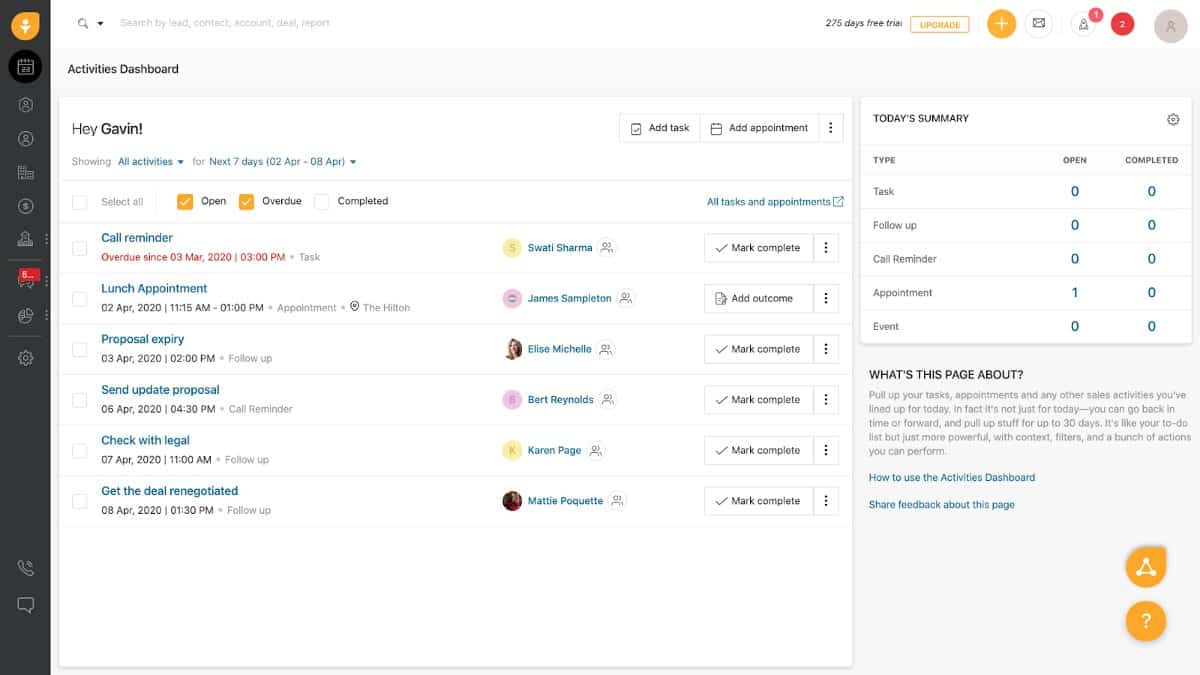 ---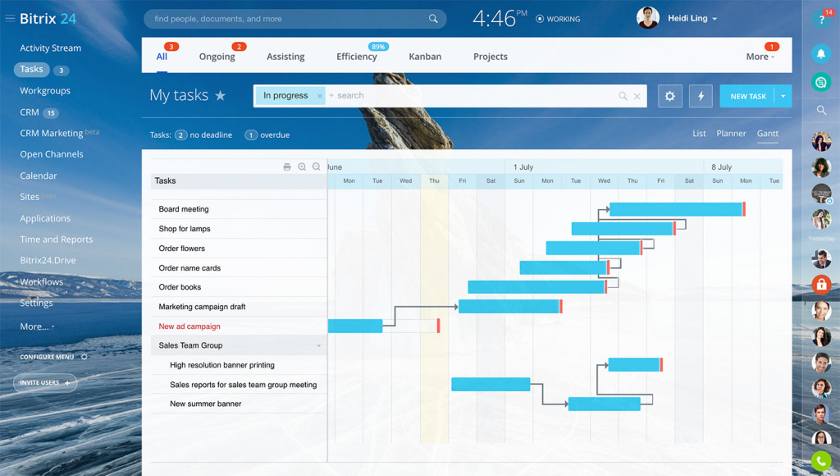 ---
Other sales teams prefer standalone project and task management tools to stay organized. monday.com is an excellent, cost-effective option that is easy to use for teams that prefer a more simplified task management system. This platform also integrates with CRMs such as Pipedrive and Copper.
Sales Gamification Software
To motivate your team to hit new milestones and sales thresholds, you can run various sales contests regularly. These contests can be managed using sales gamification software, which turns everyday sales operations into friendly competitions. Zoho Gamescope is a native software to Zoho CRM, where you can set up and track sales contests for reps to compete with each other or themselves to hit peak performance.
Another great option is Pointagram, which integrates with HubSpot and Pipedrive. This platform allows you to create visual competitions that track each participant's progress in relation to a goal or each other. Competitions can be taken to the next level by broadcasting the visual competitions on a TV or video screen for others to observe.
For more product options to stir up friendly competition in your sales operation, check out our guide on the best sales gamification software.
Bottom Line
Sales operations are everything that goes into generating sales revenue in a business. The system of personnel and their day-to-day activities, processes, and software tools must be effectively managed to generate a continuous flow of opportunities in the pipeline and new customers. Many components of your sales operations, from the sales process to supporting tasks, can be quantitatively observed to make adjustments through sales enablement.