Sales territory management involves managing sales operations based on customer attributes, such as geographic location, industry, product or service needs, or account size. Developing a territory-based sales system requires defining, assigning, and measuring territory performance, as well as making necessary adjustments. In this article, we cover why companies use sales territories and what it takes to implement effective territory management strategies.
Territory management best practices are similar to running a monoline product or service offering or a single-process sales operation. For example, you'll set sales goals, monitor progress, and make adjustments as necessary. The difference, however, is that you first need to create segments before assigning objectives and resources. Here's how to create sales territories in five steps:
1. Define Your Customer Segments
The first step involves territory planning to define customer segments or groupings. These segments dictate how you assign territories and parameters. The best way is to break it down by similar characteristics shared by your current customers and leads. Some of the most common ways to group customer segments include:
Geographic location: Commonly used for field sales, grouped based on the location or headquarters of your customers and leads.
Account or deal size: Divided according to the dollar size of the account or potential size of a sales opportunity.
Industry: Only works for business-to-business (B2B) selling, segmented according to the industry that the business falls in.
Product or service needs: Clustered by the product or service a customer currently uses or is interested in.
Hybrid segmentation: Grouped as a combination of two or more sets of attributes. For instance, you might segment your customers based on geographic location and a specific product or service they use. Customer personas are an excellent method for identifying various segments and attributes and putting them into profiles of ideal buyer types.
During this process, decide which segment(s) are most reasonable to group into territories. If the segments contain outliers, such as a customer located far away or one that falls within an entirely different tier of revenue size than the rest, it's probably best to group in a different way.
For example, if you're a real estate business, it wouldn't make sense to group by geographic location if you have all your customers in New York and just one in Arizona. In this particular situation, you might drop the geographic segmentation and shift to another type, such as based on services like dividing buyers and sellers into two different segments.
2. Create Territories & Parameters
Once you've evaluated your customers' segments, you're ready to create territories. In terms of the number of territories, consider the viability of dedicating resources, such as software or marketing materials.
Factor in human resources like the availability of sales, customer experience, and account management personnel. If you break your operation into a bunch of territories and cannot provide adequate support for some of them, it might be better to consolidate.
For instance, let's say you've decided to group territories by industry and have one for financial, accounting, cybersecurity, insurance, software, and marketing firms. After evaluation, you determine there are plenty of sales reps, but not enough account managers to sustain solid customer service for every segment. Therefore, you can group financial, accounting, and insurance into one territory to ensure adequate resources.
During this step of the process, you'll need to assess some aspects of your business separate from resource capacity. The three considerations to look at during sales team territory planning include:
Current customers and accounts: No matter how it's divided, see to it that your territory has a solid foundation of customers or clients to sustain itself.
Prospective opportunities: Your territories need to have a large market size and supply of leads and prospects that allow your team to grow their books of business and overall revenue.
Operational presence: There needs to be a system that allows you to generate new business and support current customers. For instance, if your sales process requires onsite visits and you don't have a located rep in a certain territory, you may want to remove that territory or redesign how you group your teams.
Pro tip: Customer relationship management (CRM) software is a powerful tool for overseeing a sales operation—even those divided by region, product, or account sizes. Popular products like Salesforce, for instance, let you create specific territories to add leads, deals, and accounts that correspond with the relevant attributes. From there, you can easily distribute opportunities to reps depending on where they are assigned.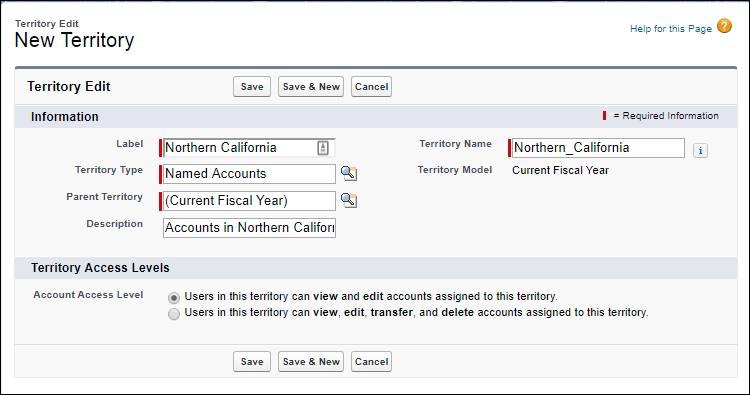 ---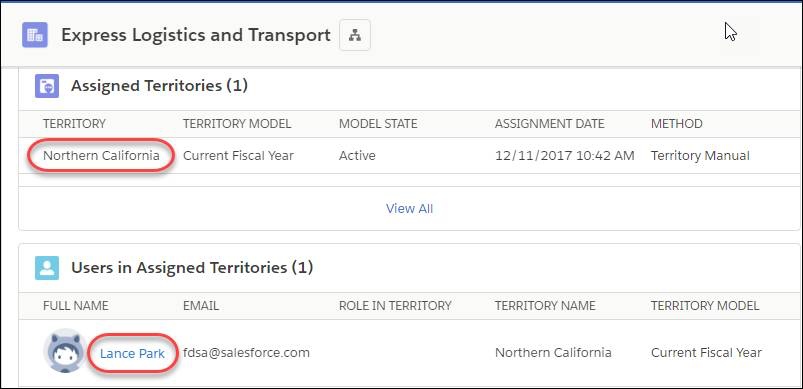 ---
Designing Territory Parameters
As part of creating territories, set clear parameters for which leads and customers fall under each jurisdiction. In other words, define rules for where an opportunity is assigned. While something like geography is clear, thanks to ZIP codes, state lines, and culturally understood regions, others may not be so easy.
For example, it might be tricky to divide by deal size because you have to estimate how much potential revenue could be generated by an incoming deal. In those situations, it's easiest to define categories for small, mid-sized, or enterprise-level accounts determined by their employee or revenue size.
If we were looking at industry groupings, use standard industrial classification (SIC) codes that objectively indicate where a business lead falls. If you create product or service-based territories, establish which solutions fall under which department and what happens if a prospect is interested in multiple offerings.
For instance, it's common for insurance agencies to sell both commercial property and casualty insurance and employee benefits (health, dental, life, etc.) packages simultaneously. However, each requires different licensing and experience, so you'd divide those into separate territories. If a potential client wants both types procured, you need a plan to assign to each department separately or have one rep manage both.
3. Assign Reps to Teams
Once your territories and parameters are created, you're ready to assign teams. Consider the experience of each sales representative, customer success manager, customer service rep, and account manager. If they have expertise in a specific industry, product, or service, they should be assigned to that particular territory.
Additionally, their knowledge and performance history might impact whether you give them smaller or larger account sizes. Obviously, a rep who has been with your firm for a number of years and has consistent revenue generation should take precedence over enterprise-level accounts, while newer sales employees should oversee smaller ones.
Geography is another factor in assigning teams. Assign teams and individuals to sales regions they are already located in to save on travel expenses and enable your team's ability to engage with prospects and customers. If you're doing virtual selling, while the geographic location won't matter as much, it's still smart to keep reps within the same time zone as their leads to create simplicity in the scheduling process.
Pro tip: Virtual selling is necessary for today's sales climate. Invest in a universally accepted and well-understood video conferencing platform like Zoom. Zoom lets you easily schedule and invite other team members, leads, or customers to video meetings. During conferences, users can take full advantage of great video performance, high-quality audio, and screen-sharing functionality to engage with one another and share visual information.
Creating Assignment Rules
If you're using sales territory management software, use your territories to auto-assign leads to reps or customers to account managers based on rules configured in the system. For example, Freshsales is a popular customer relationship manager (CRM) with sophisticated territory management capabilities that enable you to set triggers and conditions for assigning records to specific users. The automation allows you to configure rules based on territories created in the system.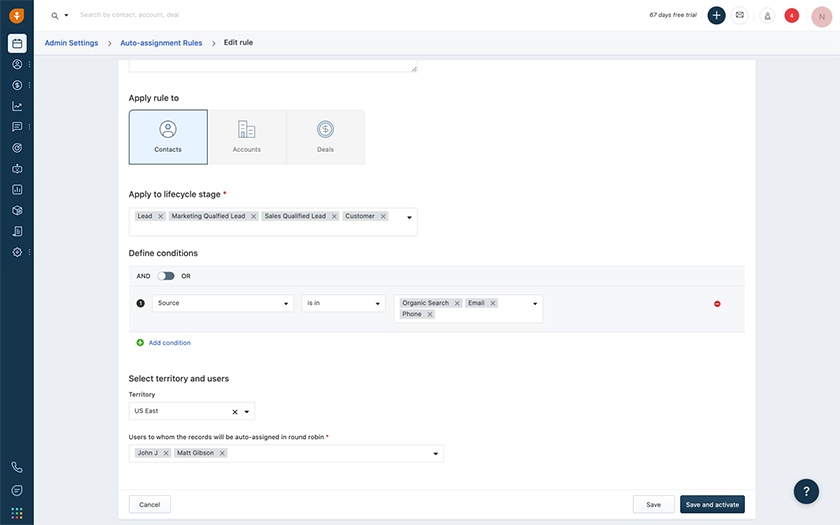 ---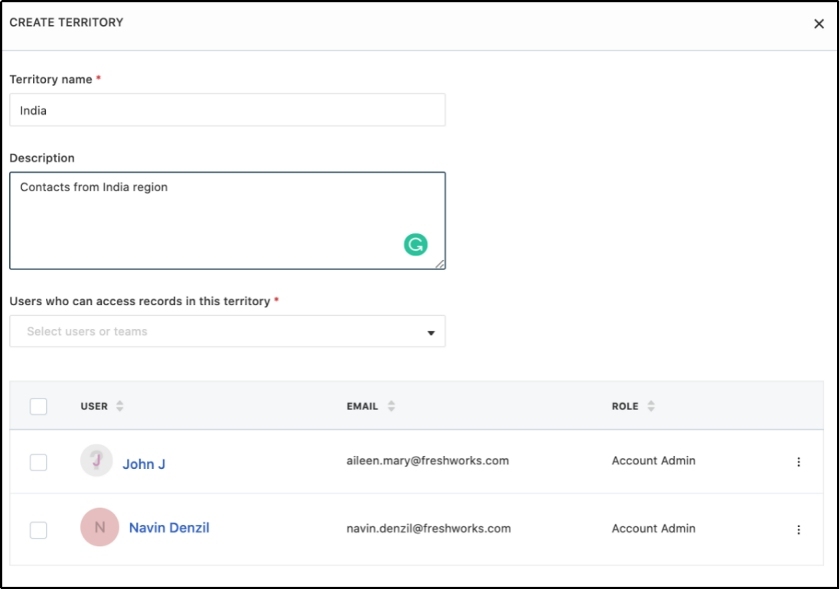 ---
4. Set Territory Goals
Sales goals divided out by regions, industry-specific customers, products, services, or account sizes should be relative to the territory for both activity and production. Each goal should be measurable and realistically set based on the resources, personnel experience, and potential market size for each territory.
Much of goal-setting concerns your revenue growth objectives or sales quotas relative to your sales plan. You can choose one of three options for how you want to set your sales goals and evaluate performance:
Revenue goals: Total amount of revenue generated (or retained) by individuals or teams over a set period
Activity goals: Amount of sales activity, such as calls placed, emails sent, proposals generated, appointments set, or leads generated over a set period
Deal or customer generation goals: Total number of deals closed, new customers created, or clients retained over a set period
It's best to work backward and determine your organizational revenue goals before assigning them to a territory. Once you have a total number set, divide it out to each sales team. Consider giving territories with a stronger market foothold, established book of business, and more experienced reps a large proportion of the revenue goal.
Alternatively, territories or sales groups targeting less established markets or with fewer resources and experience should be assigned smaller yet challenging goals. Additionally, you don't have to use the same goal type for every sales operation. For instance, you could set a revenue goal for the enterprise-level sales teams that are easier to predict and an activity goal for the department targeting small businesses.
Pro tip: Take advantage of CRM goal-setting features to assign and monitor your revenue, deal, or activity goals. HubSpot makes it easy to create an objective you'd like to attain over a month, quarter, or year, assign it to a sales rep, and track it in real time to keep their performance levels consistent.
5. Evaluate Performance
As each sales team is operating in their respective customer segment or region, monitor production and efficiency across the board. Use key performance indicators (KPIs), such as revenue produced, deals closed, or sales pipeline conversion rates, to evaluate each territory's respective performance. There are a few main reasons to consistently monitor KPIs:
Goal management: Ensure that departments, teams, or individuals are on pace to hit their performance targets
Sales enablement: Evaluate whether certain territories or teams need additional resources allocated to them in the form of software tools, personnel, lead lists, marketing materials, or sales training
Sales forecasting: Predict future sales revenue to determine potential growth and spending capabilities
During the evaluation process, if you find one particular territory performed poorly and could not grow or even sustain itself, you may decide to consolidate it with another group. Another route you might take is to restructure all of your territories.
For example, you sell project management software and have sales teams for small, mid-sized, and enterprise businesses. After a year, your product isn't even close to hitting sales goals for mid-sized or larger clients because it doesn't have the integrations and features that customers desire. That said, you decide to restructure based on geography—dividing them into four territories while only selling to small businesses.
Why Should Teams Use Sales Territory Management?
By dividing sales operations into "territories," your sales reps and teams can specialize their skills and narrow their focus on a particular group of leads and customers with similar traits. Allocating specific resources, sales training, and dedicated time based on target markets helps keep teams more productive—ultimately yielding a more efficient sales process.
Territory management responsibilities are a subset of sales management often required to grow your business. For instance, if you sell to many different customer segments, offer a variety of products or services. Put up a large sales department, or have sales teams scattered throughout a country or worldwide. In those scenarios, it's highly recommended to incorporate sales territory management into your business.
Bottom Line
Sales territory planning involves dividing a sales operation into groups based on customer attributes, such as location, size, industry, or needs, enabling higher sales efficiency. The best sales territory management strategies include having well-defined segments, knowing how to assign the right team members to each group, setting realistic goals, and consistently tracking performance for potential operations restructuring.