Security Guard Insurance: Cost, Coverage & Providers for 2023
Security guard insurance covers security companies and sole proprietors for general liability, professional liability, business property, and workers' compensation. Multiple policies form what's called security guard insurance, and the total minimum premium for all core policies can start at $7,300 annually.
When looking for a provider, it's important to find one that has high limits and can offer the policies your business needs. GuardPro can help find the right package for security services, which have appropriate limits and the core coverages you need.
Security Guard Insurance Costs
Being a security guard can be a risky career. For a business owner, the risk means the premium for insurance for your security company can be expensive.
| Insurance Type | Coverage Amount | Deductible | Low-risk Premium |
| --- | --- | --- | --- |
| General Liability | $1 million to $2 million per occurrence, $2 million to $3 million aggregate | None | $2,750 to $3,500 |
| Professional Liability | $1 million to $2 million per occurrence, $2 million to $3 million aggregate | $1,000 per occurrence | $2,500 to $3,000 |
| Commercial Property | $20,000 | $500 | $550 to $800 |
| Commercial Auto | $500,000 combined single limit | none | $1,500 to $2,000 |
These are low-risk premium estimates, meaning security companies that patrol a standard commercial building. Expect premiums to increase dramatically for higher-risk work like at bars, nightclubs, and other high-risk industries. Per GuardPro, the minimum premium for policies in that industry usually starts at $20,000.
Factors that providers will consider when determining your premium include:
Where do you provide security, such as a concert, bank, stadium, or school?
Do you provide emergency response services?
Does your firm participate in bail bond recovery or bodyguard services?
Does your business have a fleet of vehicles for patrol?
Do you offer armed services and, if so, what types of firearms training are required?
Does your firm offer any bodyguard services?
Types of Security Guard Insurance
Through a combination of first and third-party policies, security guard insurance helps protect against financial losses for your business. While a security guard is protecting property against fire, theft, and vandalism, the first-party coverage is doing the same thing. Liability protects your business by handling claims of bodily injury and property damage from third parties and accusations of professional mistakes.
A core policy for nearly every industry, general liability insurance, sometimes referred to as slip and fall insurance, covers accidents and injuries to third parties. It offers protection if, as a result of your negligence, someone is injured, has property damaged, or accuses you of reputational harm.
This need isn't as apparent with a security guard company that doesn't have a location and is constantly mobile—but the risk does exist. For example, a security guard coming around a corner quickly in response to a situation might run into an innocent bystander, accidentally knocking them down and injuring them.
Ensure your policy has a client property endorsement if your firm handles client property. This coverage will help if a client's property is damaged while in your care, custody, or control.
---
This coverage is often included in the general liability policy offered to security guard companies, but if not, then you will want to purchase it. It protects your business from claims that a guard didn't execute job functions professionally, leading to potential injury or death. A common example of this type of loss is when a security guard fails to follow protocol, like seeing to it that all doors are locked, resulting in a loss.
---
All equipment owned by the security company—including furniture, computers, and monitoring equipment—are part of the business' property. Commercial property insurance helps your business if a fire damages your equipment.
Commercial property can be available as a standalone policy but is often bundled with general liability into a business owner's policy (BOP). If you try to get a quote for general liability and property and instead a provider gives you a quote for a BOP, that is why.
---
Commercial auto insurance for security company vehicles covers both the liability incurred if a company vehicle causes an accident and damage to the vehicle itself. It also repairs or replaces the vehicle if lost, damaged, or stolen. Items in the vehicle are covered by commercial property.
Many security companies have vehicles used to patrol a property, and they are usually customized with branded wraps, sirens, lights, and safety features. Safety features might include bulletproof glass, backseat partitions, and installed computer systems for monitoring. These add-ons make insurance for security vehicles more expensive.
---
Nearly every state requires workers' compensation insurance if you have at least one employee. This coverage helps an employee who is injured or becomes ill as a result of their job by paying medical costs and providing wage replacement. The injuries can be directly related or incidental to the job.
---
Cyber liability provides financial protection and data restoration for companies that experience a data breach—and every small business is susceptible to a cyber attack. Security guard companies often have a database of client information that, in the wrong hands, could lead to a large financial loss.
---
Security Guard Insurance Providers
GuardPro: Best Overall for Security Guard Insurance

When you're looking for insurance for your security company, you can't go wrong with a specialty broker who specializes in it, like GuardPro. For more than 20 years, it has been focused on providing security guard companies insurance. Whether you're a startup or an established company, it has a policy for you.
To obtain a quote, simply fill out an application and submit it online. Within 24 to 72 hours, a representative will reach out to you with a quote.
GuardPro offers general liability, workers' compensation, business auto, umbrella, and bonding. It can also help you provide group health and 401(k) benefits for your employees.
When helping you determine your coverage, it'll factor in things such as, are your guards armed or unarmed, and where and how many different locations you patrol.
---
GuardPro is available in all 50 states. Once you purchase a policy, you will have access to an online account where you can manage your policy. One benefit of this is you can request and receive a certificate of liability instantly.
GuardPro is a convenient choice for new security guard companies. Because most providers factor past revenue and claim history into their premium calculation, it can be difficult for startups to find insurance. GuardPro has a special application for new security companies.
It is a part of Venture Pacific Insurance Services, but as neither is a carrier, there are no details on complaints filed with the National Association of Insurance Commissioners (NAIC).
---
As a brokerage, GuardPro is not rated by the financial rating organization AM Best. However, all the carriers it works with are rated A (Excellent) or higher, so you can trust the financial stability of the carrier from whom you purchase the policy.
---
AMIS: Best for Armored Cars

Alliance Marketing & Insurance Services (AMIS) is another specialty broker in the security guard space. It specializes in the niche space of armored car insurance, offering higher limits than other carriers with general and professional liability limits of up to $5 million.
There are two options for a quote: you can apply online for a "quick-quote" or fill out a PDF application and then fax it to AMIS. If you do the former, you can select the priority level of this quote to help AMIS know if it needs to respond quickly to your request.
Armored cars require specialized coverage. AMIS offers an armored car fidelity and crime policy with tailored coverage, including a $10,000 pollution clean-up if your vehicle spills gas, oil, or some other pollutant because of attempted theft. Temporary employees are included in the definition of an employee, and there is coverage for items lost or damaged that are in a locked safe or vault if the damage results from an attempted or actual theft.
---
AMIS provides quotes for all 50 states. The armored car insurance is through the Great American Insurance Group, which has an average level of complaints filed with the NAIC.
The policy is flexible and can be tailored to your business. Small, one-employee operations or very large firms can find insurance through AMIS.
Customers have access to an online client center where they can file a claim, request a COI, and ask for policy changes. Outside of the online portal, AMIS is open Monday through Friday 8:30 a.m. to 5 p.m. Pacific time.
---
One company AMIS works with for armored car insurance is Great American Insurance Group. Great American, which has an A+ (Superior) rating from AM Best.
---
The Hartford: Best for Workers' Compensation

Every state except Texas and South Dakota requires businesses to carry workers' compensation insurance. It should be no surprise that The Hartford, as the best small business insurer, has a great workers' compensation product for security guard companies. Offering a specialized return-to-work program for injured employees, 24/7 customer service, and transitional services for injured employees, it's the best provider of workers' comp for security guard companies.
For a quote, you will need to contact an independent agent who works with The Hartford. While costs vary, it states that customers with less than $300,000 in payroll pay, on average, will pay $70 a month.
It has developed several programs to help injured employees, including a preferred medical provider network with more than 65,000 pharmacies that will usually fill prescriptions with no out-of-pocket expense.
There are nurse case managers available to work with any injured staff. They help you, as well as the employee, coordinate healthcare and treatment.
---
The Hartford offers workers' comp in every state except Hawaii and Alaska and any state with a state-run program. It has these convenient billing options:
Payroll billing, where the premium payment is timed to the company's payroll schedule; this benefit costs nothing extra
Pay-as-you-go billing, where the premium is based on real-time payroll numbers; this option eliminates the need for a large premium downpayment and avoids lessening any surprises during an audit
The Hartford also offers 24/7 customer and claims service, an online account to manage your policy, and the ability to get an instant COI.
---
The Hartford is one of the oldest insurance companies in the United States and has a rating of A+ (Superior) from AM Best.
---
Hiscox: Best for Security Services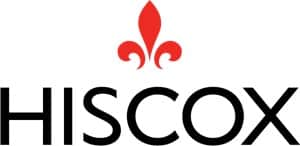 Small businesses insurer Hiscox provides coverage for over 180 different professions—including security services. This offering includes coverage for armed guards and security firms that employ guard dogs.
We received a quote for a security system installation company at $2,038 annually—$509.40 as a down payment and then 10 payments of $152.86.
The quote was for general liability with a total limit of $300,000, and this is a basic liability policy. It also included a quote for cyber liability insurance with a total limit of $250,000 and a deductible of $10,000. The cyber insurance included breach response, lost revenue, and data recovery costs.
---
Hiscox is the only provider on this list that provides any form of an option to get a quote and purchase a policy online.
If you need to obtain a certificate of insurance (COI) and make changes to your policy, such as obtaining documents, changing addresses, and requesting a loss run, you can do so online. For changes to the actual coverage, you will need to call Hiscox. It's available Monday through Friday from 7 a.m. to 10 p.m. Eastern time.
Complaints with the NAIC for Hiscox are slightly higher than the national average.
---
Hiscox has been offering insurance since 1901 and has maintained a healthy financial position. It has a rating of A (Excellent) from AM Best.
---
Tivly: Best for Helping Find Coverage


Tivly is an experienced service that helps small businesses find the right carrier for their needs. Because security guard insurance is a high risk, it can be hard to find a carrier that has the appetite for your business. With over 200 providers in its network, it does that for you by matching you with a provider that fits your security company.
While Tivly doesn't offer online quotes, the process starts online. Answer a few short questions and, in a matter of minutes, a representative from Tivly will call you. It will then review your business needs more in-depth.
Some of the security guard professions it works with are door attendants, bodyguards, armed and unarmed security guards, and patrol agencies.
Professional liability, general liability, business auto, and workers' compensation are some of the coverages that Tivly can help you find a provider for.
---
As a two-sided marketplace, Tivly truly matches you with the provider. It's a convenient and fast process. After you purchase the policy, the services available will be dependent on the provider you choose to go with.
This service is free, and it can provide a quote in minutes.
---
---
Frequently Asked Questions (FAQS)
The use of guard and sniffing dogs is becoming more popular. Security dogs are considered property and not covered by workers' compensation for injuries on the job. Security guard companies should consider purchasing pet "work dog" insurance to cover injuries to animals at work.
---
A security guard with equipment not provided by the security company or employer should obtain a floater policy that covers their employment use. The liability of use is covered by the employer's policy during work, but if the firearm is lost, the floater policy covers that. Some carriers offer optional riders for business owners.
---
If you are working at a nightclub or bar, you'll want to consider assault and battery coverage. Many policies exclude coverage for this type of incident but then give it back in the form of an endorsement. Another coverage is lost key liability coverage. If your firm is in business after hours and has keys, check with your provider to see if this is included in the general liability or if it is available as extra coverage.
---
Bottom Line
Insurance for security companies is a combination of policies that protect your business from financial losses, giving you the freedom to focus on protecting others. Security guard insurance offers protection from injuries, property damage, and financial loss. GuardPro is the best overall provider of security guard insurance and can help new and established companies get the right coverage.