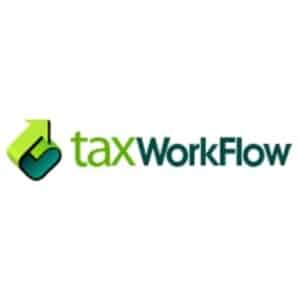 What We Recommend TaxWorkFlow For
TaxWorkFlow is an ideal solution for tax firms looking for features beyond the standard offerings of accounting practice management software, such as the ability to set up email marketing campaigns or collaborate with clients using an integrated Outlook calendar. Its flexible reporting tool allows you to create a variety of reports from scratch and save them as templates. TaxWorkFlow's robust time and project tracking tools allow you to analyze profitability for both employees and clients. We selected it as the best practice management software for tax firms in our review of the best accounting practice management software.
TaxWorkFlow Is Especially Good For
Accounting firms seeking an effective customer relationship management (CRM) system: TaxWorkFlow organizes client contacts, documents, emails, notes, tasks, projects, and billings for each client, providing you with an immediate snapshot of their status, pending tasks or problems, and historical records.
Accounting firms that need assistance with staff management: TaxWorkFlow uses templates to automate the tasks involved in a project and you can assign these tasks to your employees. The software micromanages your workflow by using workflow rules to fill up your team's to-do lists along with deadlines and priorities.
Accounting firms seeking tools to manage their resources more efficiently: TaxWorkFlow will help you balance your resources during your busy season and scale down during your off-time. It also helps you understand how much time you spend on various projects and tasks so that you can adjust your practices to concentrate on the most profitable areas of your business.
TaxWorkFlow Is Not a Good Fit For
Accounting firms that work with QuickBooks Online clients: If any of your clients are using QuickBooks Online, then QuickBooks Online Accountant is necessary to access their files.
Accounting firms offering full-service payroll: Payroll service providers will find that QuickBooks Accountant Desktop is an ideal solution, as it offers the option to provide full-service payroll for up to 50 clients for $700 per year plus $1.75 for direct deposit.
Accounting firms seeking an affordable monthly fee: If you want a budget-friendly monthly plan with similar features, check out Jetpack Workflow, which we ranked as one of the best accounting practice management software. Prices currently start at $45 per user, per month, with unlimited jobs, documents, and clients.
TaxWorkFlow Pros and Cons
PROS

CONS

Collaboration with clients using an integrated Outlook calendar
Bookkeeping software must be purchased separately and then integrated
CRM functionality, including the ability to create email marketing campaigns
No monthly subscription available
Unlimited users
No direct access to your client's books
Client portal
Mobile app
Strong time and project tracking tools
Integrates with several accounting solutions, including QuickBooks
Do you want to learn about other options for your accounting practice? Check out our review of the best small business accounting software.
TaxWorkFlow Pricing
TaxWorkFlow is available at a flat annual fee of $1,500. This includes free support and unlimited access to all features. The annual fee remains the same as long as you are a client and it allows for unlimited users.
The software also includes unlimited storage space, a free client portal, free email and web hosting, and unlimited company offices.
TaxWorkFlow Features
The software incorporates many powerful capabilities, allowing every step of the tax preparation process to be managed and completed in an accurate and efficient manner. Here are some of the highlights.
Client Portal
This gives you access to your client's files, and it integrates with the document management system. Your clients can use the portal to securely upload documents to the TaxWorkFlow database, which you will be able to access. Client appointments, documents that need to be signed, and invoices to be paid can also be viewed here:
Client Records Management
You can look up your clients quickly by a keyword search, and the dashboard itself is customizable. You can add or remove columns or group clients by various criteria―for example, by state or entity type. When you open a client's record, on the left navigation bar you will see all of the relevant information about various aspects of the client record. You can take notes for the client with an embedded timestamp, which can be used as a historical track record for the information you have updated:
Email Management
The ability to store emails inside TaxWorkFlow enhances your productivity because you can assign emails to a task or create projects off the email easily. The built-in email integration feature captures emails from your client so that you can retain correspondence for historical purposes and reply directly within the software. Another feature of the workflow is problem-solving, in which email communications can be used to solve those problems. There are different email templates available for different situations like birthday or holiday greetings. These can be customized to be used for a certain context so that you don't have to repeatedly type the same information:
Document Management
Document management is very similar to email syncing because you can set up TaxWorkFlow to sync a folder or many folders that contain your client's documents. It gives you more syncing options because you can sync multiple locations into one single database. There are many ways that you can put documents into TaxWorkFlow. You can attach these documents to tasks or projects, and they will end up in the document management system. You can drag and drop them or attach files from your local file system. It is flexible enough to accommodate various acquisition and delivery of documents to and from your clients, which are organized into folders:
Workflow Management
The workflow is a combination of the project, task, and problem. It is driven by templates, just like emails or documents. There are templates for your projects, your tasks, and your problems, and they describe how it operates. For example, a sequence of steps created by your staff in a certain order would comprise one workflow. These steps can be customized and you can also define the rules and how you would like to route tasks to different people. Essentially, you can delegate task management to TaxWorkFlow using workflow rules:
Time and Billing Management
You can track time spent on your projects, with the option of using a time clock or entering it manually. This time can be converted into an estimate or invoice, which can be emailed to your clients:
TaxWorkFlow Ease of Use
TaxWorkFlow's intuitive native Windows interface makes it very user-friendly and offers enhanced data storage capacity in the cloud. You'll enjoy the fast processing speed and ease of use that you get from a PC desktop platform, plus the advantages of collaboration, sharing, and productivity that come from working in the cloud. The system helps to streamline all of your tasks and functions and speeds up your processes without compromising accuracy.
The dashboard was created to simplify your workflow. You can find all of the necessary tools in one place, as shown below:
WorkFlow tab: You have the option of switching between the WorkFlow tab, which is shown here, and the Administration tab, which allows you to manage connections and users of the system. On this screen, you'll find all main modules of TaxWorkFlow and see how they are linked to each other, along with their main functionality.
Clients: All of the activities related to your clients are accessed here, which includes adding a client or a referral, viewing your client list, importing data from Excel or QuickBooks, and creating a mail or email campaign.
WorkFlow: Manage all of the different aspects of a project in this section, including creating and viewing projects, viewing project activity, creating and viewing tasks, and viewing problems.
Documents: You can add and view documents or import/export documents here.
Time & Billing: All of the workflows related to time and billing are in this section, which includes adding and viewing work time, creating and viewing invoices, and creating accounts.
Emails: Access all of your emails here, without having to toggle between programs.
TaxWorkFlow Alternatives
| | | | |
| --- | --- | --- | --- |
| Best For | Firms with clients using QuickBooks Online | Firms that provide full-service payroll | Firms seeking an affordable monthly plan |
| Monthly Cost | Free with enrollment in the QuickBooks Online ProAdvisor program, which is also free | Free with enrollment in QuickBooks Desktop ProAdvisor, which is $449 per year | Starting at $45 per user per month |
Bottom Line
TaxWorkFlow is a complete tax and accounting practice management system that allows firms to centralize all of their tax and accounting-related processes to improve profitability and productivity further. Aside from increasing the effectiveness of their operations, TaxWorkFlow is also designed to enhance internal and client-facing communication.