6 Best CRMs for Accountants & Bookkeepers
This article is part of a larger series on CRM.
Customer relationship management (CRM) software for accounting professionals is designed to help accountants, bookkeepers, and finance staff manage invoicing and billing in a centralized platform. Essential features include payment processing, tax computations, access to open balances, subscription management, and financial report generation. We evaluated dozens of CRM systems for accountants and bookkeepers based on pricing, features, and support.
The top six CRMs for accountants and bookkeepers are:
Best CRMs for Bookkeepers & Accountants Compared
Provider

Free Plan

Free Trial for Paid Plans

Starting Price for Paid Plans

Special Features

Help & Support

Yes, up to 3 users

15 days

$14 per user, per month

Integrates with Zoho Finance Suite

24/5 email support, phone support on paid plans

Yes, up to 3 users

21 days

$15 per user, per month

Extensive finance integrations

Tier-based support via email, phone, and live chat

Yes, unlimited users

14 days

$45 per month for 2 users

Free invoice templates and multicurrency support

Tier-based support via email, chat, and phone

Yes, unlimited users

$39, includes 5 user seats

30 days

Built-in quote and invoice generator

Live chat and email support for all paid plans

No free plan

$14.90 per user, per month

14 days

Robust revenue forecast reports

24/7 live chat and email support

Yes, for 2 users

$18 per user, per month

30 days

Premium accounting integrations

Live chat plus ticket submission
Zoho CRM: Best Overall CRM for Accountants & Bookkeepers
What We Like
Simple, intuitive interface
Ability to seamlessly integrate with Zoho's Finance Suite and other Zoho business tools for centralized management of data, as well as other third-party apps
Lets users create invoices, quotes, sales orders, and purchase orders within the app
What's Missing
Lacks 24/7 customer support
Free plan is capped at 3 users and has limited capabilities
Limited storage capacity; requires add-on for additional monthly storage
Zoho CRM Pricing at a Glance*
Free plan: Up to 3 users
Standard: $14 per user, per month
Professional: $23 per user, per month
Enterprise: $40 per user, per month
Ultimate: $52 per user, per month
Free trial: 15 days
*Based on annual billing. Monthly subscriptions are also available at slightly higher rates.
Zoho CRM is a robust CRM that is easy to install and use, and is a part of the Zoho family offering a suite of excellent business tools. It provides essential features for accountants and bookkeepers, such as generating quotes, invoices, and purchase orders, creating product inventories, and managing subscriptions for repeat customers.
While it has the fundamental finance features included, the real power of Zoho lies in its ability to integrate with the Zoho Finance Suite. It works with Zoho Books, Zoho Subscriptions, and Zoho Expense—letting users enter information in a single app and sync it to the rest of the systems. Through these integrations, users can manage quotes and invoicing, generate financial reports, process payments and subscriptions, and compute taxes accurately.
For those who don't use other Zoho products, Zoho CRM offers integrations with other popular accounting apps, including QuickBooks and Xero.
However, Zoho's free plan has limited features and is capped at three seats. Users who want a free CRM with extensive functionalities should consider either HubSpot or Capsule CRM. HubSpot's free plan offers essential lead generation and marketing tools, as well as an invoice template generator. Meanwhile, Capsule CRM offers more robust functionality, including sales tools, opportunity management features, and integrations with over 1,000 apps via Zapier.
Zoho CRM Features
Zoho CRM offers a broad range of features helpful for those in the financial services industry. Here are some of the features we find most useful:
Generate auto-populated invoices with the benefits of CPQ via subforms
Generate an auto-populated invoice with the agreed-upon terms that can be exported as a PDF and sent via email
View order contents, the status of shipments, and outstanding balances
Compare periodic expenses with customizable dashboards
Get stock information that auto-adjusts with every order
Browse records of transaction history and subscription renewal dates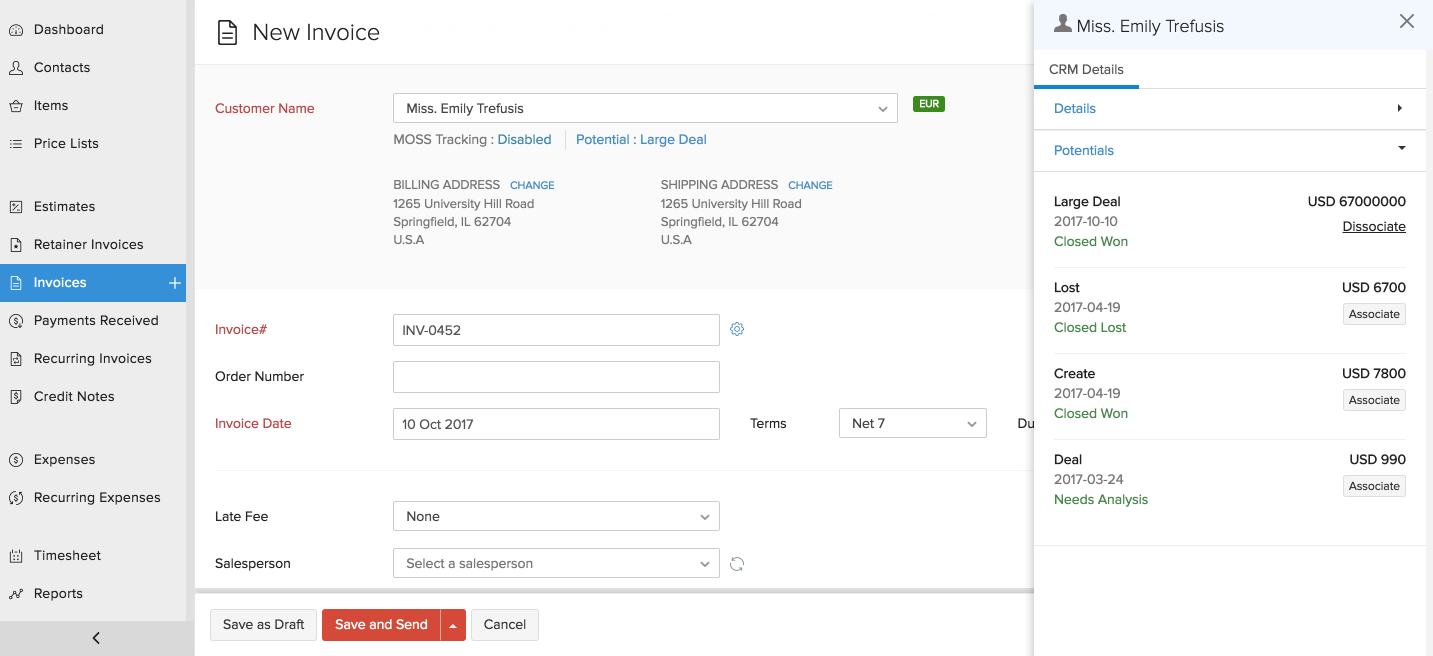 ---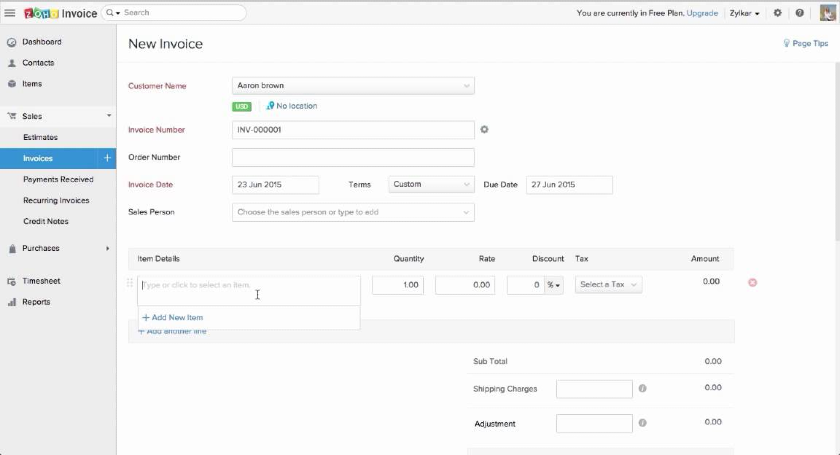 Check out our comprehensive Zoho CRM review to explore this platform's full feature set.
Freshsales: Best for Feature-rich, In-app Calling
What We Like
Extensive integrations with payments, accounting, and billing apps
Feature-rich cloud telephony
Sales forecasting and revenue opportunity prediction
What's Missing
Per-user limit on file storage
No offline data access
Freshsales Pricing at a Glance*
Growth: $15 per user, per month (free for up to 3 users)
Pro: $39 per user, per month
Enterprise: $69 per user, per month
Free trial: 21 days
Add-on:
Configure, Price, Quote (CPQ): $19 per user, per month
*Based on annual billing. Monthly subscriptions are also available at slightly higher rates.
Freshsales is a powerful CRM that integrates well with accounting apps such as QuickBooks, Xero, and Revv—allowing them to bring all their customer and accounting data into a single interface. It offers task workflows that let users automate repetitive tasks, such as updating records, sending emails, and generating recurring invoices.
This CRM system allows users to purchase an add-on configure, price, and quote (CPQ) feature to generate company-branded documents, such as invoices, quotes, onboarding documents, and contracts. It equips users with the correct pricing in real time when sending quotes or invoices. Users can also send documents to customers from the system and log the updates on the activity timeline.
Freshsales' free plan lacks essential functionalities and is mostly limited to contact management and emails. Users who want feature-rich free CRMs should consider HubSpot or Capsule CRM.
Freshsales Features
Freshsales offers an array of features beneficial for accountants and bookkeepers. Here are some of the features we find most helpful:
Auto-converts the exchange rates for over 150 currencies
Allows users to automate complex business processes, including email triggers, instant notifications, and user behavior tracking
Ability to build and share reports on every aspect of your business, including sales metrics, territory reports, and pipeline progress; users can also preview reports before they're run to see how the data is represented
Offers a variety of forms on users' websites so visitors can leave specific requests, such as quote and consultation requests, contact, and subscription forms
Has robust collaboration tools, such as document sharing, team inbox, and instant messaging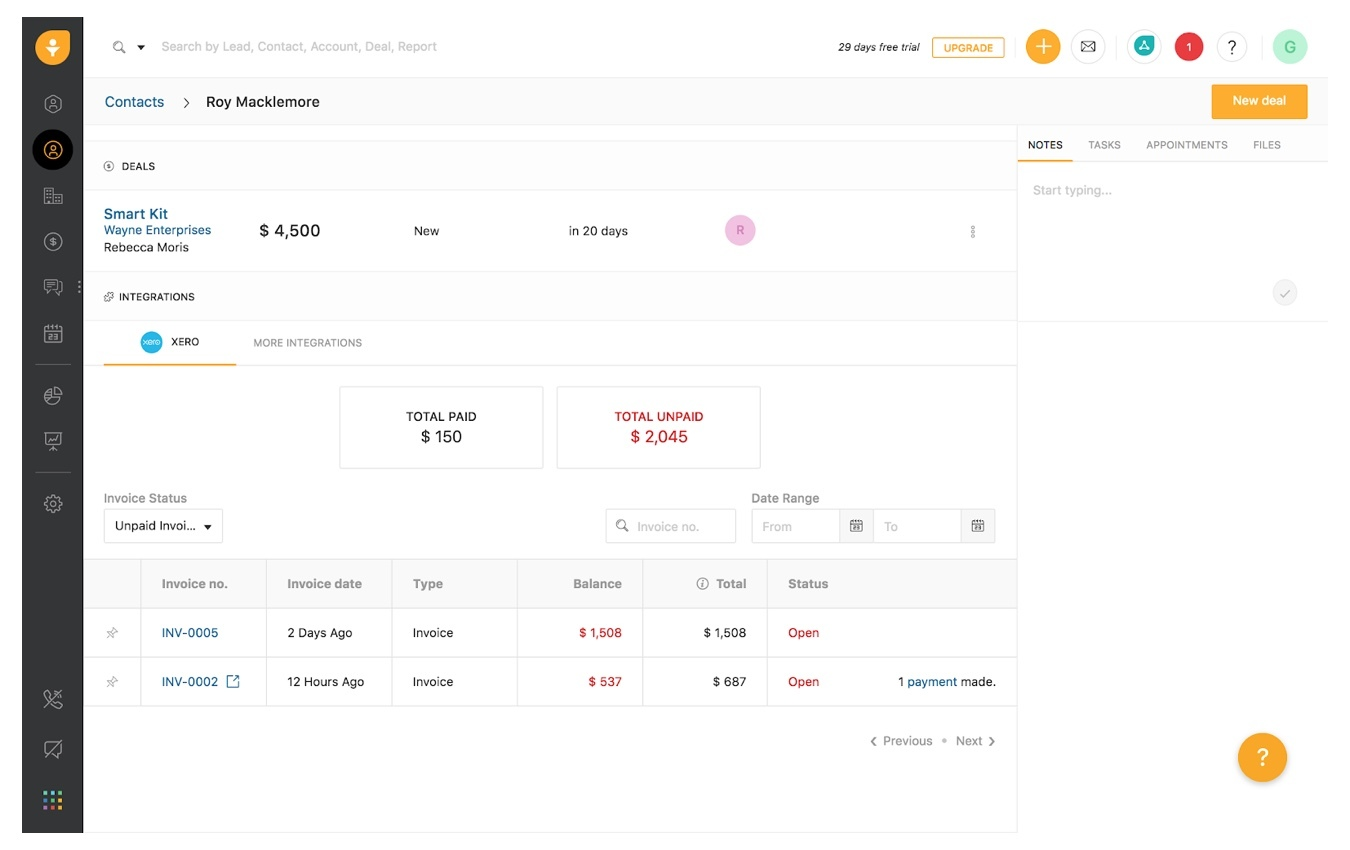 ---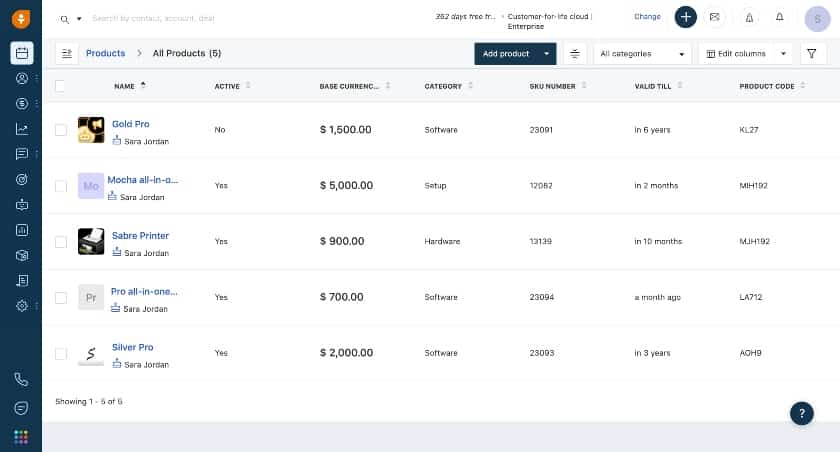 ---
Check out our Freshsales review to learn more about how this CRM platform helps small businesses thrive.
HubSpot CRM: Best Free CRM for Accountants
What We Like
Allocation for unlimited users and plan upgrade fees only apply to users needing access to paid features
Includes a free invoice template generator
Sales tools recognize multiple currencies
What's Missing
Requires an additional cost for added marketing, sales, and customer service tools
Lack of flexibility in pricing scheme, which requires a preset number of users for paid plans—making plan upgrades expensive
Some integrations require additional monthly fees
HubSpot Pricing at a Glance*
Free plan: Supports unlimited users
Starter Sales plan: $45 per month for 2 paid users**
Professional Sales plan: $450 per month for 5 paid users**
Enterprise Sales plan: $1,200 per month for 10 paid users
Add-ons:
Extra paid user: Starts at $23 per user
Starter CRM Suite: $45 per month
*Based on annual billing. Monthly subscriptions are also available at slightly higher rates.
**Paid plan subscribers have access to productivity tools, while unlimited free users can only access databases, view reports, and perform basic administrative tasks.
HubSpot CRM is a free-forever CRM solution that offers a wide range of integrations for popular accounting and bookkeeping applications like Xero, QuickBooks Online, and Sage Accounting. It also integrates with widely used payment platforms such as Stripe and PayPal.
Plus, it offers a native payment processor run by the Stripe infrastructure. There is no fee to add the payment processer built inside HubSpot, but you will pay a flat 2.9% fee for each credit or debit transaction and 0.5% for each ACH transaction.
HubSpot has CPQ features for quickly and accurately generating quotes for orders, as well as identifying the sales performance of different products. Its sales analytics reports also give users helpful insights into the overall health of their sales pipeline.
While HubSpot CRM offers solid features in its free plan, users who need more advanced features need to upgrade. However, its pricing scheme is inflexible and is not the most budget-friendly. Its higher-priced plans range from $450 to $1,200 per month. Users who want more affordable and flexible paid plans can consider Zoho CRM, Capsule CRM, or Bitrix24.
HubSpot CRM Features
HubSpot CRM offers sales tools and features helpful for a range of industries, including the finance sector. Below are some of the features we find most beneficial:
Provides custom form fields for gathering the exact billing information they need
Send invoices or payment reminders in bulk through personalized mass emails
Has a document library that allows users to store contracts and account statements online
Collect and manage customer interactions via email and live chat in a single shared mail through its universal inbox
Lets users build a product library and report on the sales performance of different products, as well as use the data to see which products and services are selling best
Allows e-signatures for quotes, eliminating the need for printing and sending hard copies to customers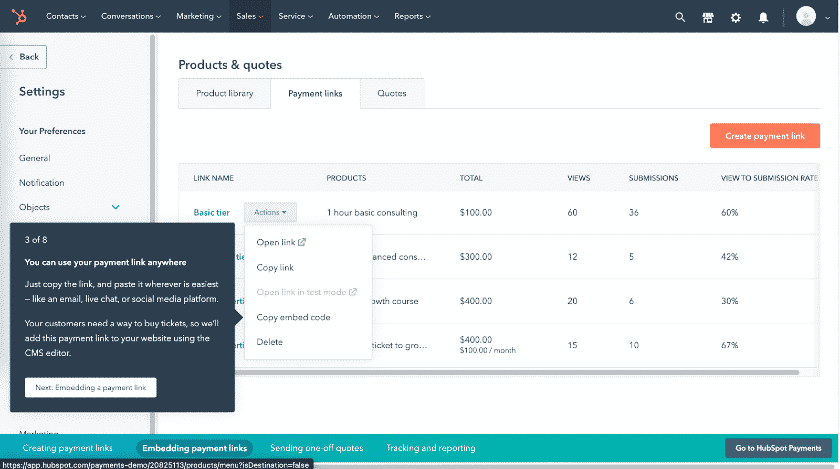 ---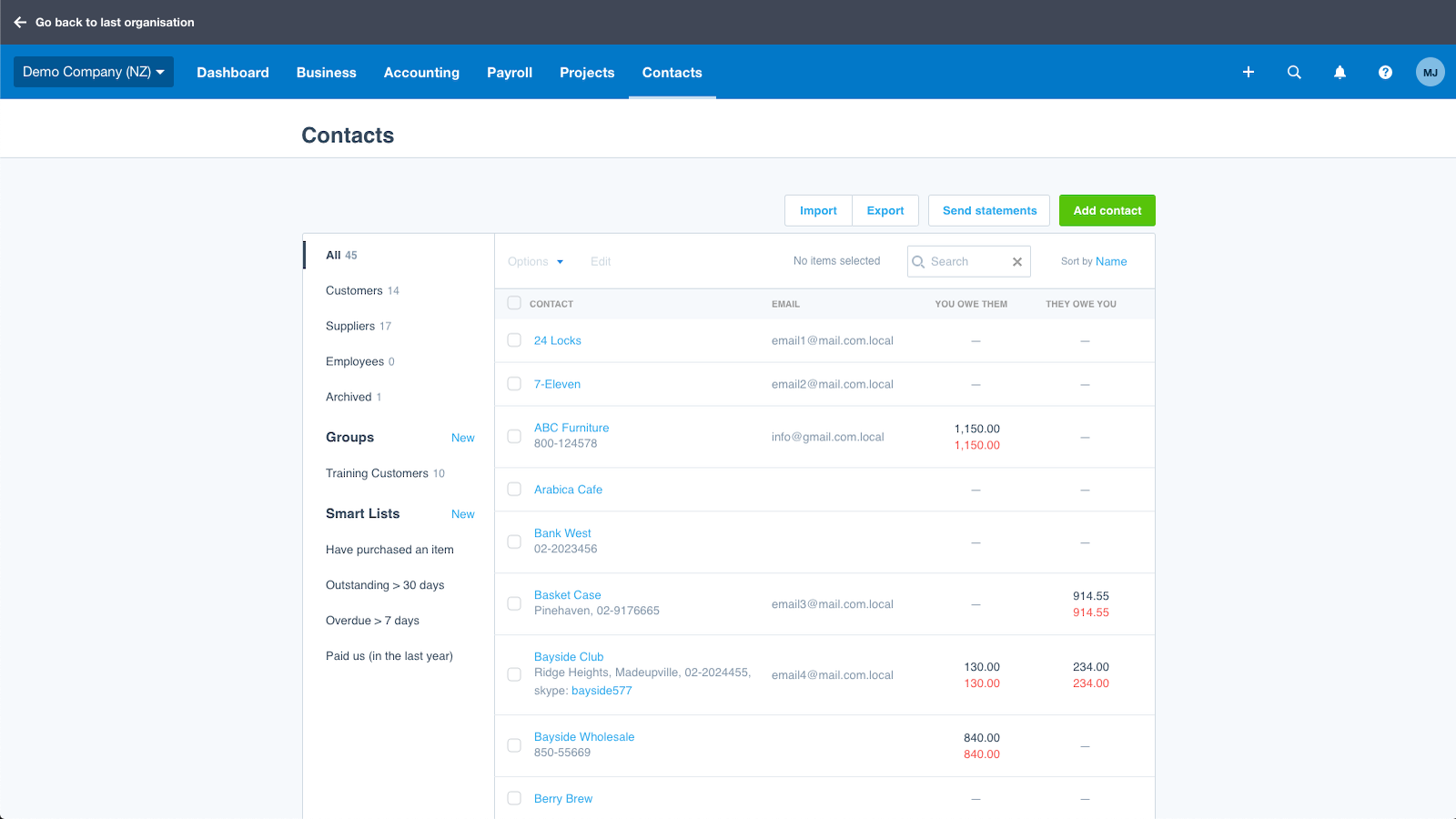 ---
Check out our in-depth HubSpot CRM review to decide if this platform meets your small business needs.
Bitrix24: Best All-in-One CRM for Multidisciplinary Teams
What We Like
Ability to create quotes and invoices in the system
Includes a breadth of features that covers project management, marketing, and sales automation
Has an online store hosting feature that lets users directly process their ecommerce finances
Extensive communication channels within the CRM, including phone, social network messaging apps, and live chat
What's Missing
Paid plans have a limit on the number of users
Requires a learning curve because the interface is more complex than competitors
Limited online storage capacity
Bitrix24 Pricing at a Glance*
Free: Supports unlimited users
Basic: $39 per month for 5 users
Standard: $79 per month for 50 users
Professional: $159 per month for unlimited users
Free trial for paid plans: 30 days
*Pricing plans above are for Bitrix24's cloud-hosted plans, billed annually. Monthly and quarterly subscriptions are also available at slightly higher rates.
Bitrix24 is a comprehensive CRM solution that provides helpful tools for CPAs, accountants, and bookkeeping professionals, including invoice and quote management tools. It also allows users to sync financial data automatically with their existing accounting software, like Xero and QuickBooks.
Unique features it offers usually not found in other CRMs include hosting an online store straight from their Bitrix24 account—allowing users to easily manage finance-related transactions, such as processing payments, managing stock inventory, and stock-keeping unit (SKU) monitoring.
It also offers robust sales management features, such as sales intelligence tools, providing information on customer acquisition costs and marketing return on investment (ROI). Its analytics reports help users visualize sales trends and forecast revenue. Furthermore, its sales reports can identify top client relationships, provide financial period comparisons, and calculate advertising spend and ROI.
Bitrix24 requires a learning curve due to its complex, feature-rich dashboard. Accountants and bookkeepers who prefer a more user-friendly platform can consider Capsule CRM. It is a no-frills CRM that's easy and intuitive to navigate—making it ideal even for novice users.
Bitrix24 Features
Bitrix24 provides a robust feature set that helps small businesses streamline their sales process. Below are some of the features we find most useful:
Calendar syncing with Outlook or Google calendars to remind of recurring invoices or important billing dates, as well as for scheduling tasks
Store payment details like bank accounts, routing numbers, and tax IDs with each contact for easier billing and payment transactions
Allow customers and clients limited access to view or download documents like contracts and invoices stored within the Bitrix24 system
Includes free Xero integration that lets users create invoices without leaving the Bitrix24 environment
Automated workflows come pre-populated with five business processes, including expense reports and purchase requests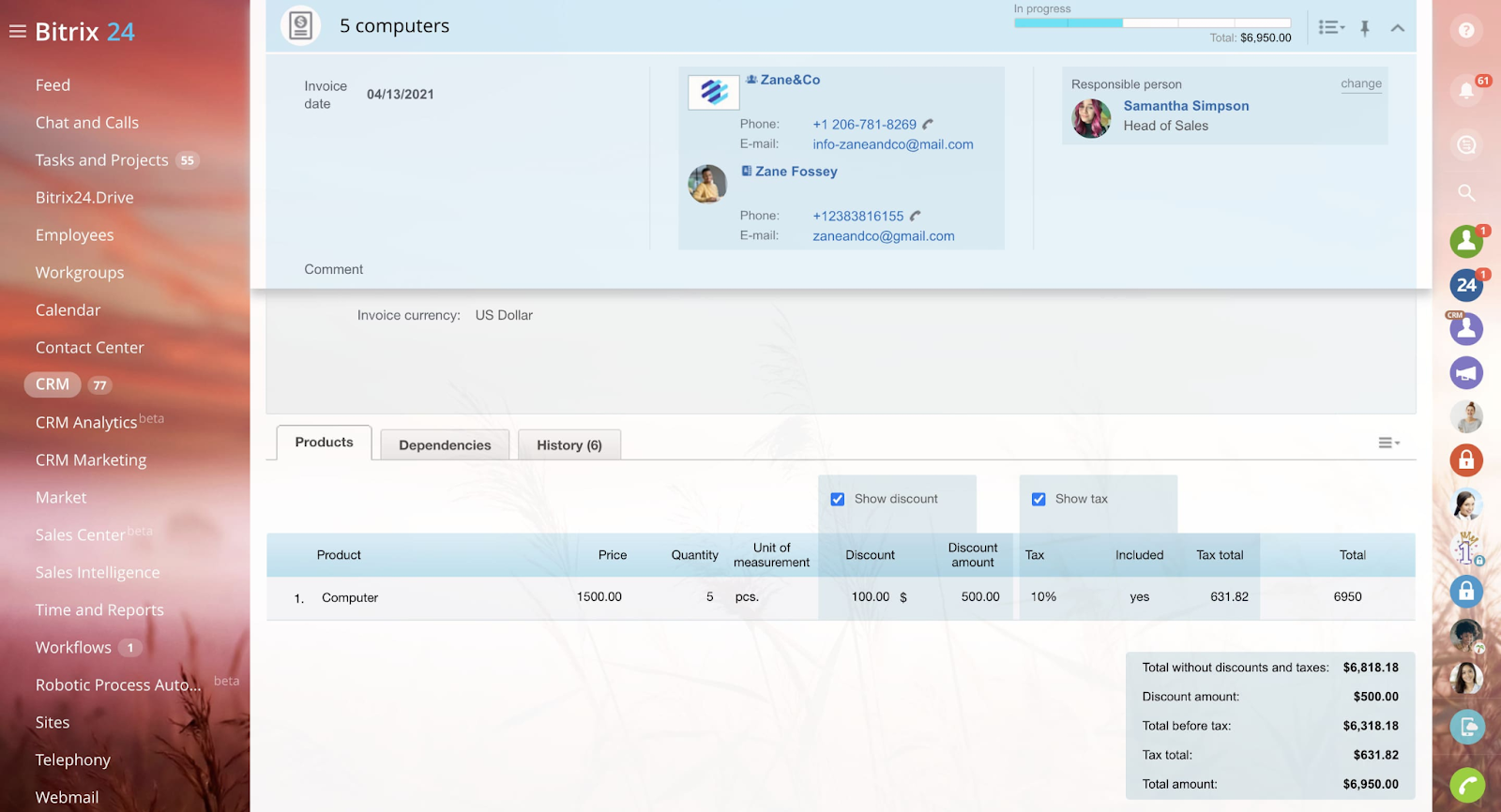 ---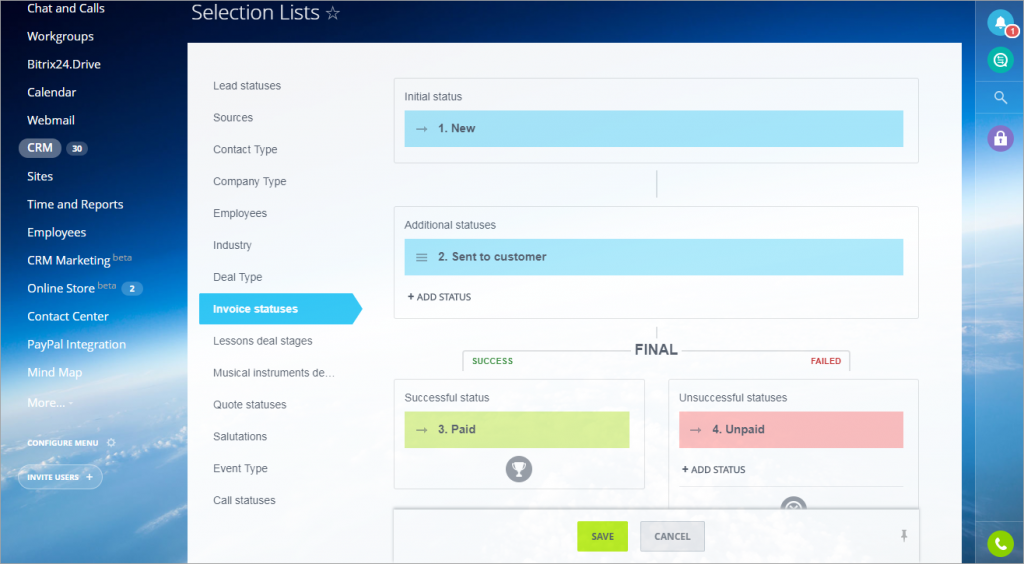 Check out our Bitrix24 review to discover the customizable feature set of this robust CRM software.
Pipedrive CRM: Best for Visual Pipelines & Prioritization Tools
What We Like
Excellent visual representation tools that help users identify priority tasks
Offers revenue forecast reports
24/7 customer support via live chat
What's Missing
No free plan
No built-in invoicing tool, and integrations are limited to Xero and QuickBooks
Limited phone support
Pipedrive Pricing at a Glance*
Essential: $14.90 per user, per month
Advanced: $24.90 per user, per month
Professional: $49.90 per user, per month
Enterprise: $99 per user, per month
Free trial: 14 days
Add-ons:
Lead Booster: $32 per month
Web Visitor Analytics: $41 per month
*Based on annual billing. Monthly subscriptions are also available except for the Enterprise plan.
Pipedrive offers detailed visual pipelines that indicate which stage each deal is in at the moment. This functionality enables teams to see at a glance which accounts to prioritize while simultaneously making sure no leads or prospects slip through the cracks.
It integrates with several popular finance management tools, including QuickBooks and Xero, letting users create and send invoices directly to both invoicing apps without leaving the Pipedrive platform.
Pipedrive's higher-priced service plans include a recurring revenue feature to manage billing plans and payment schedules. It offers revenue forecast reports that let users predict turnover and sales growth. The system also reflects customer payments that come in multiple installments, helping users project revenue accurately.
Pipedrive doesn't offer a free plan and has no built-in invoicing tools. Users who don't have a budget for a paid plan can consider HubSpot CRM or Capsule CRM instead. Those who need built-in invoicing tools should consider Zoho CRM or Bitrix24 as solid alternatives.
Pipedrive Features
Pipedrive offers helpful features that help accountants and bookkeepers collaborate with team members and manage customers. Below are some of its most essential features:
Automatically syncs customers' contact information when integrated with either Xero or QuickBooks to eliminate duplicates
Create custom fields and filters for detailed reports on revenue, deals, activities, and leads through customizable reports
Design custom product catalogs to house pricing information, product duration, and notes
Has workflow automation tools to send Slack notifications, trigger emails, and create templated workflows for reuse
Has excellent email tracking features, allowing users to be notified when an email has been received, opened, and read
Check out our Pipedrive review to learn more about how this CRM system helps small businesses collaborate and close more deals.
Capsule CRM: Best Basic CRM for Accountants & Bookkeepers
What We Like
Free plan is feature-rich and includes free integrations with 1,000+ apps and unlimited sales opportunities
Paid plans include premium accounting integrations
Strict user permissions to protect accounts
Simple and intuitive interface
What's Missing
Free plan is limited to 2 users
User restrictions not available with the basic paid plan
No in-app invoicing and quote generation feature
Capsule CRM Pricing at a Glance*
Free plan: Supports 2 users and up to 250 contacts
Professional: $18 per user, per month
Teams: $36 per user, per month
Enterprise: $54 per user, per month
Free trial: 30 days
*Pricing is based on a pay-as-you-go basis with no contracts attached.
Capsule CRM is a no-frills CRM that's simple, easy to use, and integrates well with popular accounting software such as Xero and QuickBooks. Its integration with accounting software automatically adds all paying contacts to the Capsule CRM dashboard. It displays all pertinent information, including payment due dates, invoice status, and overdue amounts.
Capsule CRM enables users to gather existing client information from spreadsheets or apps into a centralized system to reduce manual entry. Connecting other popular business tools, like Gmail and Outlook, gives users a complete view of all their client interactions.
This software has excellent reporting capabilities that include a sales pipeline dashboard for tracking conversion rates, sales pipeline milestones, and forecasts. Its advanced sales reporting tool provides visibility on won and lost opportunities, pipeline growth, and sales forecasts.
While Capsule CRM's free plan has many helpful features, its allocation is limited to two users. It also doesn't have an invoice and quote generator within the app and requires third-party integrations. Users who need a free plan with unlimited users can consider signing up for HubSpot CRM, while users who want in-app finance features should look into either Zoho CRM or Bitrix24 as alternatives.
Capsule CRM Features
Capsule CRM offers user-friendly features for financial service teams. Below are some of the essential features it provides:
Track conversion rates, sales pipeline milestones, and forecasts in one view
Automatically syncs all pertinent contact information in accounting and booking app integrations
Invoice and payment history data is available in the contact card when Capsule CRM is integrated with your accounting system
How We Evaluated the Best CRM Systems for Accountants & Bookkeepers
CRM providers should offer solutions addressing unique industry-specific and user needs, such as those of accounting and finance professionals. To determine the best options, we evaluated costs and capabilities that are particularly helpful to these users, including invoicing, generating quotes, and managing financial statements. In addition, we considered other factors associated with product usability and customer support.
Based on our evaluation, Zoho CRM is the best overall CRM for accountants and bookkeepers due to its overall broad range of finance-related capabilities. These features include creating invoices, quotes, sales orders, and purchase orders within the app. It also has CPQ functionality and seamlessly integrates with other popular accounting and bookkeeping apps.
The tabs below provide insights into our evaluation process for choosing the best CRM systems for accountants and bookkeepers:
40% of Overall Score
Total costs and various pricing options are typically the most important criteria for any small business decision, so it was the most heavily weighed when reviewing the CRM providers most suitable for accountants and bookkeepers. We considered the availability of a free plan, varying subscription options, and whether or not there are monthly billing plans available.
20% of Overall Score
The purpose of any CRM is to provide functional solutions associated with sales, marketing, customer service, and project management. Specifically, we looked at features we consider necessary in a CRM that can be used by finance professionals, including invoicing, billing, and payment processing.
15% of Overall Score
User-friendliness and intuitiveness are two of our key considerations when looking into a software's ease of use. We evaluated whether the software is beginner-friendly or if it requires some level of experience to get users up to speed with using the system.
15% of Overall Score
Support is a critical part of running a CRM, especially for small businesses that don't have in-house technical support. We analyzed the types of support offered by these providers via live chat, email, and phone.
10% of Overall Score
We looked through existing customer reviews on credible sites to measure the level of satisfaction current users have, as well as any problems that they typically encounter. We also added our thoughts and expert opinion on key features, value for money, and popularity.
*Percentages of overall score