Track-POD Review: Features, Pricing & Alternatives in 2023
Track-POD is a cloud-based delivery management software designed to streamline last-mile logistics operations for those focused on delivering goods to customers' doorsteps. It provides specialized features for tracking orders and deliveries and capturing and managing proof of delivery (POD) information—hence its name. When integrated with QuickBooks, you can use it to create and send invoices with attached PODs.
In our Track-POD review, we'll explain its key features, such as order management, real-time tracking, and electronic PODs (ePODs). We'll also go over its end-use feedback, pricing, top alternatives, and pros and cons, among others.

Pros
Can handle multiple deliveries at the same location
Offers more features than most other similar software
Has a flexible pricing structure
Provides customizable PODs
Integrates with third-party accounting software including QuickBooks Online
Includes a mobile app for managers and drivers
Cons
Can't be used for long-haul and interstate trucking operations
Lacks built-in invoicing features
Doesn't offer live traffic data
Lacks a straightforward order assignment
Supported Users

Trucking and delivery companies focused on last-mile logistics

Pricing

Per driver: $35 to $79 monthly or custom quote
Per order: From $285 monthly for up to 1,500 orders (19 cents per order) to $1,440 monthly for up to 12,000 orders (12 cents per order)

Free Trial

Seven days; no credit card required

Standout Features

Allows you to create orders and track them once planned and assigned to routes and drivers
Lets you create and send ePODs to your customers once an order is completed
Includes a mobile app that allows you to track orders and contact drivers on the go
Integrates with QuickBooks Online to simplify the invoicing process
Provides standard and customized reports to track your company's performance

Ease of Use

Moderate; load planning module is unintuitive

Customer Support

Free onboarding session, email support, blog page, and paid customized support services
Ecommerce fulfillment centers: Companies transporting goods from fulfillment centers to customers' homes can use Track-POD's geofencing feature to manage delivery routes effectively.
Local parcel and package couriers: Track-POD's real-time order tracking can be beneficial for businesses that deliver parcels, packages, and small shipments to individuals or businesses in local regions.
Third-party logistics providers (3PLs) that deal with a large volume of orders: Track POD can accommodate up to 12,000 orders a month, making it a great option for 3PLS that handle significant order loads.
Long-haul and interstate trucking companies: Track-POD is designed primarily for companies focused on last-mile delivery services. If your operations involve long-distance transportation and interstate routes, consider Rigbooks. It has advanced features for long-haul trucking, such as fuel and purchase tracking and international fuel tax (IFTA) reporting. For more information, read our Rigbooks review.
Companies seeking order management software with built-in accounting features: If you don't want to use separate systems for managing your operations and accounting tasks, Q7 is a good alternative. It's an all-in-one trucking management system (TMS) and bookkeeping solution—meaning there's no need for third-party accounting integration like QuickBooks Online. Check out our review of Q7 to see if it fits the bill.
Companies that require enhanced accounts payable (A/P) and accounts receivable (A/R) features: Track-POD requires the QuickBooks integration to enable billing and invoicing features. We recommend Tailwind TMS for its comprehensive built-in bill management and invoicing features, such as the ability to track bills and payments and create and send invoices. Our Tailwind TMS review explains these features and other functionalities of the platform in greater detail.
If you want to see more options, head to our guide to the best trucking accounting software.
Track-POD Alternatives
| | | |
| --- | --- | --- |
| | | |
| Best for: Long-haul and interstate trucking companies | Best for: Companies that want an all-in-one TMS and accounting solution | Best for: Trucking companies that need enhanced accounts payable (A/P) and accounts receivable (A/R) features |
| Cost: From $19 per user monthly | Cost: Quote based | Cost: From $117 per user monthly |
| | | |
Track-POD Pricing
Track-POD has a flexible pricing structure; you can choose from two options:
Per driver: Comes in four plans with prices ranging from $35 to $79 monthly or a custom quote
This pricing option is suitable for trucking businesses with a limited number of drivers and vehicles. When you choose this option, we recommend carefully evaluating the exact features you need. The higher-tier plans come with higher prices per driver and vehicle, but they include advanced features that are not available in the lower-tier plans (see feature comparison table below).
2. Per order: Available in four plans running from $285 monthly for up to 1,500 orders to $1,440 for up to 12,000 orders. The cost per order decreases as you move to higher tiers, such as 19 cents per order for the entry-level plan and 12 cents per order in the highest plan (see table below).
Choose this pricing model if your order volume is relatively predictable. If you find that your order volume will exceed the limit of your current plan, then consider upgrading to the subsequent plan to take advantage of the reduced cost per order.
Here's a detailed breakdown of the Track-POD pricing information and each option's main inclusions:
| | Standard | Advanced | Advanced Plus | Enterprise |
| --- | --- | --- | --- | --- |
| Monthly Billing (Cost per Month, per Driver, per Vehicle) | $35 | $59 | $79 | Custom |
| Annual Billing (Cost per Month, per Driver, per Vehicle) | $29 | $49 | $69 | Custom |
| Dashboard Users | 3 | 7 | 50 | Unlimited |
| Number of Orders Allowed | 3,000 | 6,000 | Unlimited | Unlimited |
| Free Trial | ✓ | ✓ | ✓ | ✕ |
| | S Plan | M Plan | L Plan | XL Plan |
| --- | --- | --- | --- | --- |
| Pricing (Cost per Month) | $285 | $510 | $900 | $1,440 |
| Estimated Cost per Order | 19 cents | 17 cents | 15 cents | 12 cents |
| Number of Orders Allowed | 1,500 | 3,000 | 6,000 | 12,000 |
| Number of Vehicles & Drivers Allowed | Unlimited | Unlimited | Unlimited | Unlimited |
| Dashboard Users | 50 | 50 | 50 | 50 |
| Free Trial | ✓ | ✓ | ✓ | ✕ |
| | Standard | Advanced | Advanced Plus | Enterprise |
| --- | --- | --- | --- | --- |
| iPhone & Android Driver App | ✓ | ✓ | ✓ | ✓ |
| Notification With Live Tracking Link & Estimated Time of Arrival (ETA) | ✓ | ✓ | ✓ | ✓ |
| Android Route Manager App | ✓ | ✓ | ✓ | ✓ |
| Route Planning With ETA | ✓ | ✓ | ✓ | ✓ |
| Geofencing | ✓ | ✓ | ✓ | ✓ |
| Developer Application Programming Interface (API) Support | ✓ | ✓ | ✕ | ✓ |
| Customized Support Plan | ✓ | ✕ | ✕ | ✓ |
| | | | | |
| --- | --- | --- | --- | --- |
| iPhone & Android Driver App | ✓ | ✓ | ✓ | ✓ |
| Notification With Live Tracking Link & ETA | ✓ | ✓ | ✓ | ✓ |
| Android Route Manager App | ✓ | ✓ | ✓ | ✓ |
| Route Planning With ETA | ✓ | ✓ | ✓ | ✓ |
| Geofencing | ✓ | ✓ | ✓ | ✓ |
| Developer API Support | ✕ | ✕ | Additional fee | Additional fee |
| Customized Support Plan | ✕ | ✕ | Additional fee | Additional fee |
All plans under both packages include core features, such as load management, live vehicle tracking, route planning, QuickBooks Online integration, and free onboarding sessions.
---
Track-POD Features
Track-POD provides all the tools you need to manage orders—from order creation to delivery completion. The order entry form, found under the Orders tab in the left-hand navigation menu, captures essential information for creating new orders, including the order number, order type, such as delivery or collection, and delivery date.
You can provide specific information about the goods being transferred by completing the Add goods section. Here, you can specify the name or description of each individual item included in the order and the quantity and cost of each item. Track-POD will automatically calculate the total amount based on the information you entered.
Once an order is completed, it appears on the order list, where you can track its progress. However, before you can track your order, you first need to plan the load. To do this, you must click on the Plan & Track tab, where you can create a route and assign the load to a driver.
We found this process inconvenient, especially for new users. We were expecting that we could directly assign the order to an available driver right during the order creation process—which is the case in most TMSes we reviewed, like Q7.
However, we also found some timesaving features, including the ability to duplicate orders. This is useful if you have recurring deliveries to the same customer or location or need to replicate an existing order with minor adjustments.
Once an order is assigned to a driver, you can track the status and location from the order screen by clicking on the mapping icon on the far right side of the order entry.
---
When a driver arrives at the delivery location and completes the delivery, they can use the Track-POD mobile app to update the delivery status. Then, the customer can electronically sign, confirming that the delivery has been completed successfully. Track-POD will automatically capture this information and create a POD, which can be accessed later for verification or any possible dispute.
The completed POD includes all relevant details, including the recipient's signature, shipper, and specific details about the items delivered. The sample POD below doesn't contain complete tracking information, but it can give you an idea of how PODs look in Track-POD.
---
Track-POD provides real-time GPS tracking through the mobile app installed on smartphones or tablets carried by drivers. The driver app continuously tracks its precise location in real-time, while managers use the route manager app to track the live location of their trucks. The data tracked includes the historical path taken by each vehicle, allowing managers to track the efficiency of their delivery routes and driver performance.
Your customers can see their orders in real-time through email notifications. Once an order is completed, the system will send an email notification to the customer, which includes a live tracking link and the updated ETA. You may also pay an additional fee to activate notifications through short message service (SMS).
---
Track-POD lets you create efficient and optimized routes to minimize wait times and delays. The system provides the best routing solution based on several factors, such as the service time and driver's breaks for multi-stop routes.
To accommodate your unique delivery needs, Track-POD supports various routing strategies, including round trips, outbound, and inbound routes. If you have frequent and predictable delivery schedules to the same destinations, you can set up recurring routes to automate the route planning process.
Moreover, when planning the best route, Track-POD also considers your load, volume, and palette capacities. This helps fleet managers ensure their vehicles are efficiently utilized and not overloaded.
---
Unlike other trucking and delivery management tools, you won't see the usual "arrive" and "departed" buttons on your Track-POD dashboard. Instead, it uses geofencing technology to automate the "arrive" and "depart" processes as soon as a driver enters or exits a predefined geofence zone. Once Track-POD detects a geofence event, the app will automatically send a notification, confirming the departure or arrival of the delivery.
---
The Android route manager app is a mobile application that allows managers and dispatchers to track orders and routes from their smartphones or tablets. From here, managers and dispatchers can see a detailed breakdown of orders on a live map categorized by their current status—helping them quickly evaluate their drivers' delivery performance.
The app also allows users to coordinate with drivers; users can call them directly via the integrated real-time map. This enables users to contact them easily in case they need to provide timely updates, urgent additional instructions, or unforeseen challenges.
Moreover, the app's analytics feature lets users compare the planned distance and time with the actual figures recorded by the system. This helps determine whether the drivers adhere to the planned schedules or if there are some deviations, like inefficient routes or extended stops.
---
This allows drivers to communicate with staff in real time through live chat. They can also use the app to add new delivery and collection drivers to currently active routes and collect cash from customers and enter the details into the system. What's more, various mapping tools, including Google Maps, Waze, Here Maps, and TomTom, can be integrated with the app.
---
The main analytics dashboard displays critical information, including the orders that were successfully delivered and those that are partially fulfilled. Additionally, it also shows the average service duration or the average time it takes to complete a delivery.
When you click on the reports tab, you'll be able to access standard reports, like driver statistics, an overview of items, and a trip summary by routes.
One of the best things we like about the analytics dashboard is that you can generate reports on actual vs. planned distance and time. You can use this data to assess whether your delivery operations are going smoothly as planned or if some issues need to be addressed.
---
Track-POD offers direct integration with QuickBooks Online, meaning you don't need to use a third-party connector. From the integration page, you can connect QuickBooks Online easily.
One of the best things about the integration process is that the setup window allows you to customize the integration based on your preferences. For instance, you can adjust the app to generate orders from QuickBooks estimates or invoices or import historical transactions from QuickBooks during initial integration.
Additionally, you can automatically upload PDF copies of your PODs to your QuickBooks invoices. When an order is completed successfully and the corresponding POD is generated in Track-POD, the system can automatically link this document to the relevant QuickBooks invoice. This way, you don't have to manually add PODs to each invoice.
---
Track-POD Ease of Use & Customer Service
Track-POD is not as intuitive as the other delivery and trucking management software we reviewed, such as Rigbooks. While the load entry form is very straightforward, it took us some time to figure out how the load planning module works. In similar software, you can instantly assign the load to a driver while setting up the load. Meanwhile, in Track-POD, you have to navigate to a different section to complete the process.
In the current version of Track-POD, you have the option to stick to the old version or switch to the new one. Track-POD uses the old version by default, but you can switch to the new layout by clicking the New version button on the top portion of your dashboard.
Below is a comparison of the old and new versions in terms of appearance.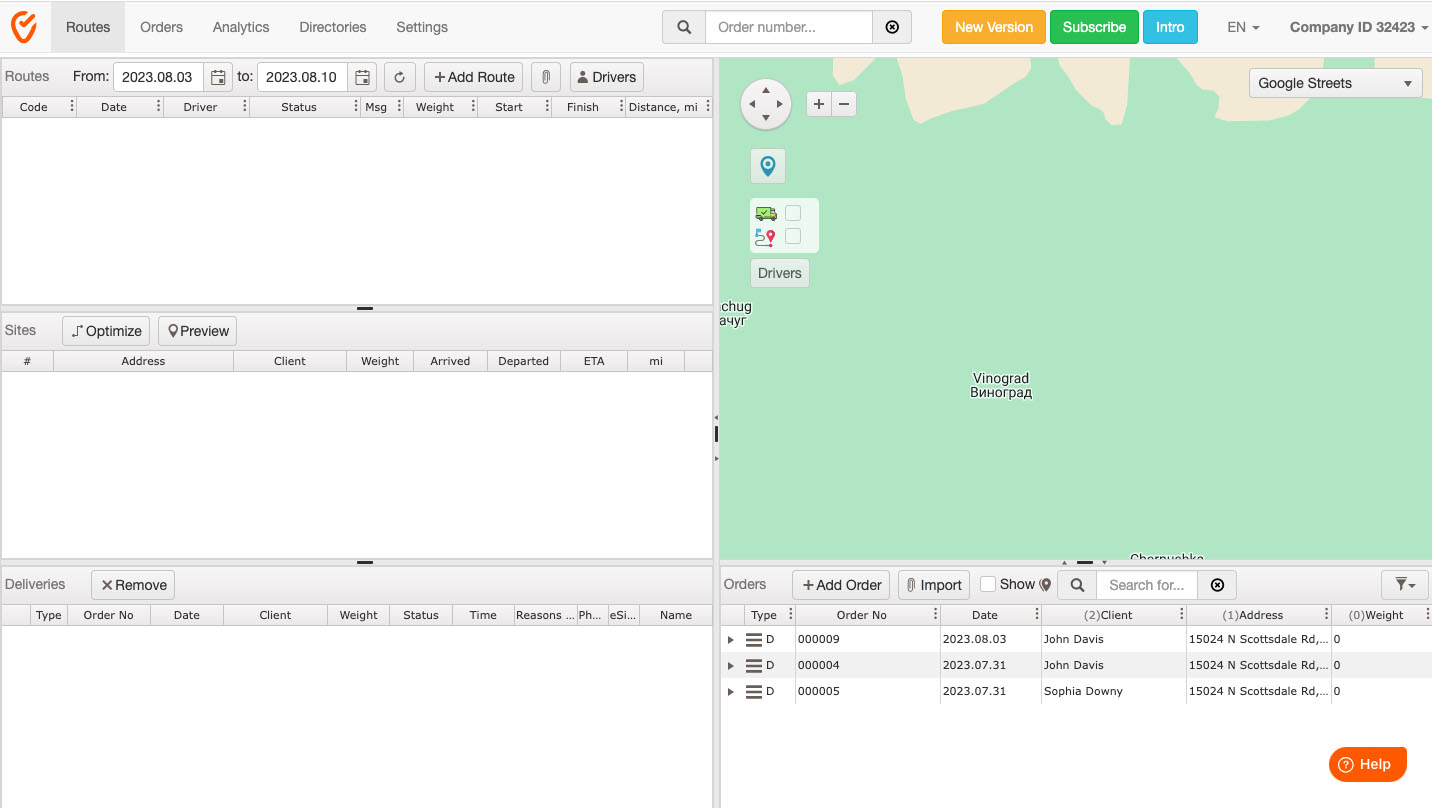 ---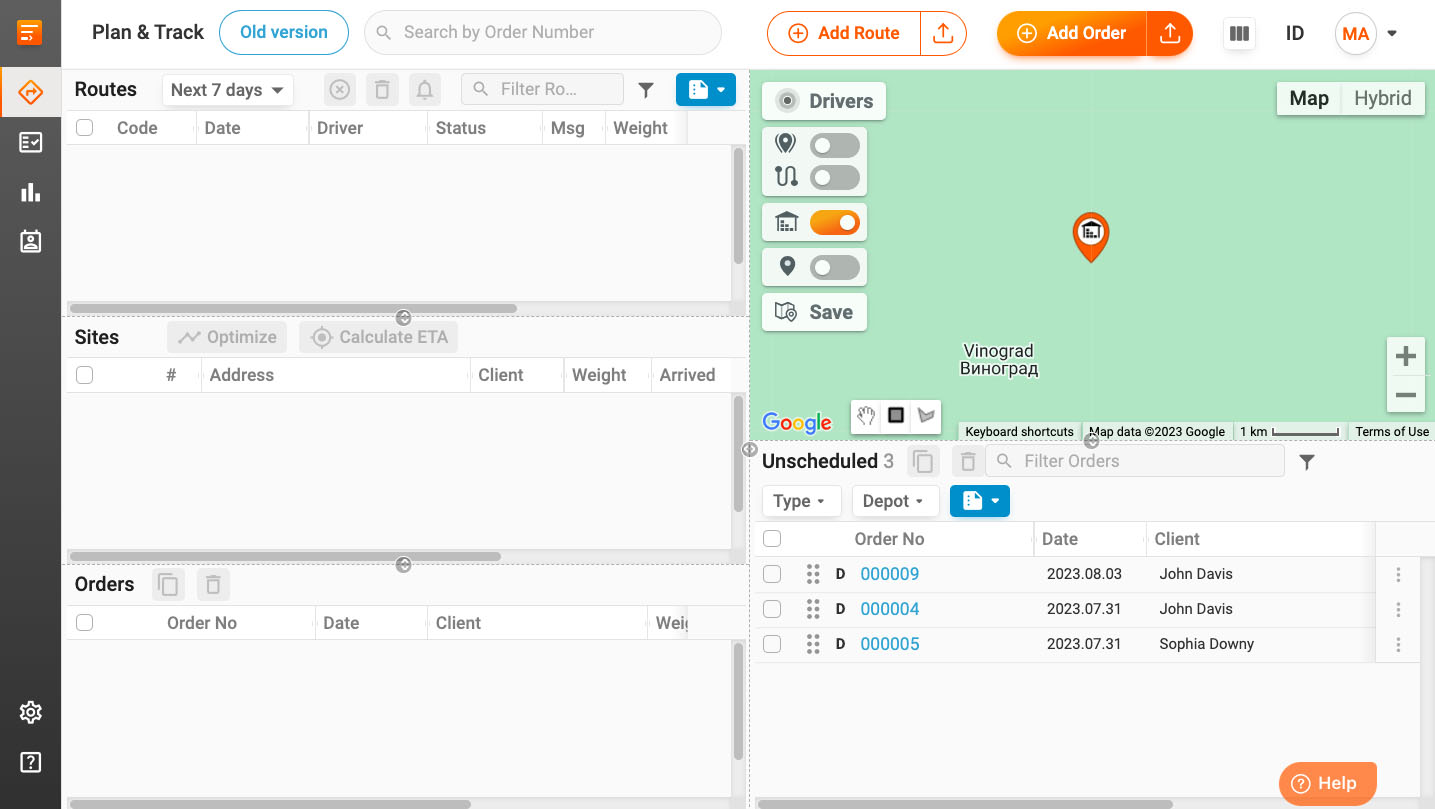 ---
We recommend using the new version, as the module dashboards of the old version are a bit confusing, such as route management and order management dashboards having different layouts.
If you have questions about the software or need help learning how to use it, you can send a support ticket or contact the provider through email. You can also check out its blog page for feature discussions and tips on how to better use Track-POD. Meanwhile, we didn't see any option to contact the provider by phone.
Track-POD Reviews From Users
We checked out several review websites and found that most Track-POD reviews are generally positive. Many users commented that the system is easy to set up and use, while others like that it has more robust features than other similar programs. The availability of mobile apps for managers and drivers was also highlighted.
Meanwhile, one user who left a negative review complained that they couldn't use custom fields in PODs. Another user also wished that it had features for long-haul transport and not just for last-mile delivery services.
As of this writing, here are Track-POD's ratings on popular review websites:
G21: 4.5 out 5 of based on around 40 reviews
Capterra2: 4.6 out of 5 based on more than 100 reviews
Frequently Asked Questions (FAQs)
Track-POD is a delivery management software solution that helps businesses optimize last-mile delivery operations. It includes features such as route optimization, real-time tracking, ePODs, driver communication, and analytics.
---
Yes, Track-POD is suitable for any size of business, from small companies to large corporations.
---
Yes, you can. It has a built-in integration that allows you to easily set up QuickBooks without leaving the Track-POD system.
---
Bottom Line
Track-POD is great for businesses that heavily rely on efficient and effective last-mile deliveries. Whether you are an ecommerce retailer or a 3PL company, Track-POD has the features you need to ensure successful deliveries. Furthermore, you can integrate it with QuickBooks Online to enable billing and invoicing.
---