5 Best Trucking Accounting Software for 2023
The best trucking accounting software can be a general-use bookkeeping solution or a specialized trucking software, depending on your needs. We evaluated the leading solutions based on price, ease of use, and whether they have essential accounting and trucking-specific features—such as invoicing, bill management, load and dispatch management, equipment tracking, and International Fuel Tax Agreement (IFTA) reporting.
Here are our five best trucker accounting software:
Best Trucking Accounting Software: Quick Comparison
Software

Pricing (Cost per Month)

Users Included

Banking

Load Tracking

Equipment Management

Fuel & Mileage Tracking

Payroll & Driver Settlements

IFTA Tax Reporting

 

$30 to $200

1 to 25

✓

✓

✓

✓

✓

✓

Custom

Undisclosed

✓

✓

✓

✓

Driver settlements only

✓

$117 to $235

1

✕

✓

✓

✓

✕

✓

$19 to $149

Unlimited

✕

✓

✓

✓

Driver settlements only

✓

$0 to $249

1 to 15 ($3 per additional user)

✓

✕

✕

Mileage tracking only

✕

✕
*All include invoicing and bill management features.
Trucking Accounting Software Quiz
Which trucking accounting software is best for you?
QuickBooks Online: Best Overall Trucking Accounting Software When Integrated With TruckingOffice

Pros
More affordable than most complete bookkeeping software
Integrates with TruckingOffice to develop a powerful accounting and trucking solution combined
Strong accounting features like bank reconciliation
Track mileage from your smartphone
Plenty of QuickBooks ProAdvisors nationwide for assistance
Cons
Requires separate subscription to trucking management software
Cannot directly call customer support either with QuickBooks Online or TruckingOffice
Users may need time to learn how to use the integrated system
Pricing & Plans
Simple Start: $30 per month for one user
Essentials: $55 per month for three users
Plus: $85 per month for five users (our recommendation for truckers)
Advanced: $200 per month for 25 users
New users have the choice of 50% off for three months or a free 30-day trial with no credit card required.
You can integrate QuickBooks Online with TruckingOffice for as little as $20 per month.
QuickBooks Online has enhanced standard accounting features that can be easily customized to nearly any type of business, making it our overall best small business accounting software. It has no trucking-specific features, but when you add TruckingOffice, it becomes a powerful trucking management system (TMS) and accounting software combined.
While QuickBooks Online handles all your accounting processes, TruckingOffice helps you accomplish trucking-related tasks. For instance, you can use TruckingOffice to manage your loads, dispatch orders, and track delivery status. You can then transfer the load information to QuickBooks to create invoices, track expenses, and generate reports.
If you can afford the two solutions, then QuickBooks Online integrated with TruckingOffice provides value to your business.
Tip:
QuickBooks Online now offers a free meeting with a QuickBooks ProAdvisor to help new users set up their accounts and provide guidance on how to get the most out of the software. This offer is only available when you sign up right away without the 30-day free trial.
We recommend trucking companies using QuickBooks Online to also purchase the TruckingOffice integration. Some of TruckingOffice's most notable features include:
Premium routing: The integrated premium routing add-on with PC*MILER (the industry-standard routing solution) allows drivers to better plan their routes by analyzing important factors, like traffic conditions, loads, routes, and scheduling changes.
Invoicing: With TruckingOffice, you can create personalized invoices and email or print them in a PDF format. You can track all unpaid invoices and receive alerts for invoicing that are 30 days past due so that you can remind your clients to pay.
Dispatching: TruckingOffice allows you to create and assign trips, including the driver, accessory driver, and truck. Pro users also have the option to track LTL hauls.
Fleet maintenance: You can set up a maintenance plan by mileage or calendar and track the work done on each truck.
IFTA tax reporting: TruckingOffice generates IFTA reports for tax filing. You can select which trucks to include, and the report breaks the miles and gallons down by state.
TruckingOffice offers two packages: Basic and Pro. Basic costs as little as $20 per month, while Pro starts at $30 per month. Read our detailed review of TruckingOffice for more information.
---
---
QuickBooks Overview
| | |
| --- | --- |
| Supported Users | Small and medium-sized trucking companies needing a complete bookkeeping solution (and trucking features when integrated with TruckingOffice) |
| Free Trial | 30 days, or sign up right away and get 50% off for three months |
| Accessibility | Cloud |
| Customer Support | Phone and email support, live chat, chatbot, and online resources like blogs and setup guides |
| Accessibility | |
Income and expense tracking: If you only need basic tracking of your trucking business' income and expenses, then QuickBooks alone should be enough.
Bank reconciliation: Unlike the other trucking accounting software on the list, QuickBooks Online allows you to connect your banks and reconcile your bank accounts.
Payroll: Integrate with QuickBooks Payroll to pay drivers and contractors, track workloads across multiple worksites, and monitor contractor payments.
Accounting: TruckingOffice can create and send invoices to customers, pay and track bills, and charge customers based on a variety of fees, including flat, per mile, per ton, or per weight. However, we recommend integrating it with QuickBooks Online to track assets and liabilities and produce a wide range of business reports.
Trucking companies prioritizing general accounting features: Whether you are an independent trucking business owner or a small fleet using an existing trucking tool and need integrated accounting features, QuickBooks Online is right for you.
Trucking companies operating across multiple locations: QuickBooks Online has a class and location tracking feature that helps you monitor the expenses of each location and identify areas where expenses may be higher than expected. This can help companies reduce unnecessary costs and make better decisions about spending and budget allocation.
Trucking companies that need extensive bookkeeping support. QuickBooks Online is a very popular accounting software used by many small businesses, and there are plenty of QuickBooks ProAdvisors to provide expert assistance with using the software. If you need one to help you with your bookkeeping needs, read our guide on how to find a QuickBooks ProAdvisor.
Q7: Best Standalone Trucking-specific Software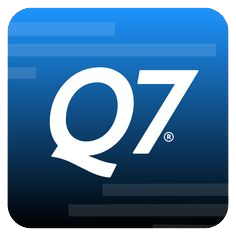 Pros
Full-fledged bookkeeping solution
Choice of desktop or cloud-based program
Has a built-in trucking payroll management system
Extensive list of trucking management features
Custom features, such as the mileage interface, can be added for an additional fee
Cons
No upfront pricing
Desktop version is incompatible with Mac
Complex system requires training and dedication
Pricing & Plans
You need to contact Q7 directly for a free demo and a customized price quote.
Q7 by Frontline Software Technology is an all-in-one solution that offers a comprehensive set of features tailored specifically to the needs of the trucking industry. It allows you to manage bookkeeping tasks, such as paying bills, sending invoices, and reconciling bank accounts. It also has a powerful fleet maintenance program that will track your fixed assets and help you schedule routine maintenance, whether it's based on months or miles driven.
Unlike other trucking-specific management software, Q7 does not require integration with accounting systems, as it already has built-in accounting capabilities. This means that you can manage all aspects of your trucking business—from load management to invoicing and financial reporting, within a single platform—without having to purchase and integrate external accounting software like QuickBooks.
---
Q7 Overview
| | |
| --- | --- |
| Supported Users | Trucking companies seeking a full-fledged bookkeeping solution with built-in trucking management features |
| Free Trial | N/A |
| Accessibility | Cloud |
| Customer Support | Phone support, online contact form, tip articles, and free training and installation setup assistance and support |
| Accessibility | N/A |
Accounts payable (A/P) management: Q7 allows you to pay vendor bills, create purchase orders, track vendor invoices, and set up recurring expenses, such as loan payments.
Accounts receivable (A/R) management: You can create, send, and track customer invoices and payments. Invoices are tied to a dispatch to ensure that loads are only invoiced when complete.
Banking: You can write and void checks, create deposits and transfer funds, and reconcile bank accounts.
Financial scoreboard: The Financial Scoreboard provides a complete view of your financial data, and you can create a customized report based on your needs.
Dispatch management: Q7 provides the tools to manage dispatch operations, including truckload and brokerage dispatch, less-than-truckload (LTL) dispatch, and order management.
Payroll: Q7 includes a payroll module that lets you pay employees and contractors by checks or direct deposit and in any method, such as hourly, fixed salary, mile, or revenue percentage.
Trucking companies that need a full-fledged bookkeeping solution: You can use Q7 to manage both the accounting and trucking operation management sides of your business instead of using two separate programs.
Trucking businesses that want a hybrid solution: Q7 gives you the flexibility to store your data on the internet or physical hard drives or local computers.
Delivery drivers: Q7 has recently developed a mobile app that helps drivers track the status of their load assignments, plan their trips, and collaborate with their managers in real time.
Trucking companies with many employees: Q7 has a customized trucking payroll module that lets you pay your employees and contractors.
Tailwind TMS: Best Invoicing & Billing Software With Built-in Trucking Features

Pros
Comprehensive bill payment and invoicing features
Integrates with QuickBooks Online and Desktop (depending on subscription)
Includes customer and carrier self-service portals
GPS-confirmed shipment and event tracking
Multiple branch or division management capability
Cons
More expensive than similar software
Not a complete bookkeeping system
No integrated payroll
No bank reconciliation feature
Pricing & Plans
Pro: $117 per user, per month
Enterprise: $176 per user, per month
Unlimited: $235 per user, per month
Most freight brokers will be well served by choosing the Pro plan. The Pro and Enterprise plans have a free trial available with no credit card required
While Tailwind TMS isn't a complete bookkeeping solution, it's great for invoicing and bill payment, which are two major needs of a trucking company. It has comprehensive A/P and A/R features that let you track bills and payments from different personnel involved in your operations, such as vendors, employees, carriers, and customers. The Invoice List and Bill Posting modules are intuitive and comprehensive, and they help you review and track bills and invoices easily.
Additionally, Tailwind's TMS billing and invoicing modules provide greater flexibility than those in other trucking-specific software. For instance, trucking companies have the flexibility to post related bills together with the invoice or post the expenses and bills separately. This allows you to customize your billing workflows based on your specific requirements.
You might consider upgrading to the Enterprise plan to offer customer and carrier self-service portals. Customers can log in to view their account information, shipments, and invoices, whereas carriers can access available loads, shipments you have dispatched with them, and amounts you owe them.
---
Tailwind TMS Overview
| | |
| --- | --- |
| Supported Users | Small and medium-sized trucking companies requiring invoicing and bill management in addition to trucking features |
| Free Trial | 30 days |
| Accessibility | Cloud |
| Customer Support | Phone and email support, implementation packages, and online resources, such as blogs and training videos |
| Accessibility | |
Carrier management: Tailwind TMS helps you easily manage and track dispatch details, such as the number of loads available and dispatched shipments.
Order management: This feature lets you create orders for customers, set up basic freight charges or fuel surcharges, and track commission sales, carrier partner pay, and company driver pay by the mile or by the hour.
Self-service portals: Included in the Enterprise and Unlimited plans, you can set up a self-service portal for your customers and carriers. The Customer portal gives your customers access to information about their accounts, shipments, and invoices.
Dispatch and shipment tracking management: Track and manage shipper and shipment details easily, such as appointment times and pick-up and delivery windows.
Trucking companies working with many customers and vendors: All Tailwind TMS plans allow you to create and send unlimited bills and invoices.
Trucking businesses with multiple branches: Tailwind TMS allows you to set up and manage more than one branch and manage the transactions and records for each branch separately.
QuickBooks Online users who need integrated trucking features: QuickBooks Online Plus integrates with any plan, while QuickBooks Desktop syncs with the Enterprise and Unlimited plans. Learn more about these solutions' features and pricing by reading our detailed QuickBooks Online review and QuickBooks Desktop review.
Rigbooks: Most Affordable & Easy-to-Use Trucking Management Solution for Small Fleets

Pros
Unlimited users
Offers a free trial with all core features
Affordable option for detailed load tracking
Track miles per jurisdiction for easy IFTA reporting
Cons
Expensive for businesses with more than five trucks
Not a complete bookkeeping system
Lower plans do not include invoicing
No mobile app
Pricing & Plans
Basic Entry: $19 per month; $19 per additional truck
Leased O/O: $29 per month; 24 per additional truck
Independent O/O: $49 per month; $29 per additional truck
Small Fleet: $149 per month for up to five trucks; $29 per additional truck
You can try Rigbooks for free for 30 days.
Rigbooks is ideal for small fleets with one or two trucks. For as low as $19 per month, you can track business expenses, fuel mileage, trips, and orders for a single truck. It's an affordable option for small trucking companies that need to track cost per mile and understand which of their loads are the most profitable.
Also, we believe that it has the simplest user interface (UI) among all the software listed here, making it a great option for trucking owners with no accounting background. If your trucking company doesn't require accounting features and solely focuses on trucking management, then Rigbooks is a cost-effective solution.
---
Rigbooks Overview
| | |
| --- | --- |
| Supported Users | Small fleets, especially those operating up to five trucks |
| Free Trial | 30 days |
| Accessibility | Cloud |
| Customer Support | Phone and email support, online contact form, and self-help resources like blogs |
| Accessibility | |
Expense tracking: Rigbooks tracks fixed and variable costs. You can add loads and trips and attach revenue and expenses to better understand the profitability of your loads.
Order tracking: You can monitor loads based on status, and each status has a separate tab for easy tracking.
Invoicing: Rigbooks lets you create an invoice from existing trip records, including instant billing, partial payments, and private notes.
Fuel purchase recording: Record your fuel purchases for each truck to help you track oil and gasoline costs and keep detailed records of truck mileage for tax reimbursement.
Trucking owners without accounting experience: With a neat and simple interface, Rigbooks is very easy to learn and use. It won't take a while to fully understand the features.
Owner-operators with a single truck: Rigbooks is the most affordable trucking solution for trucking businesses with a single truck at only $19 per month.
Growing trucking companies with an expanding team: As your company hires new employees, you can add them as users to the system easily without any additional cost.
Zoho Books: Best Mobile Accounting App for Independent Truckers

Pros
Has a feature-packed accounting mobile app
Can call customer support directly
Free plan doesn't skimp on features
Has many accounting features and more affordable than other software like QuickBooks
Cons
Free plan limited to companies with less than $50,000 in annual revenue
Additional seat requires extra fee if user limit is reached
Has no trucking-specific features
Doesn't integrate with trucking management software
Plans & Pricing
Free: $0 for businesses that make $50,000 or less in annual revenue
Standard: $12 per organization, per month; up to three users
Professional: $24 per organization, per month; up to five users
Premium: $36 per organization, per month; up to 10 users
Elite: $129 per organization, per month; up to 10 users
Ultimate: $249 per organization, per month; up to 15 users
If needed, you can pay $3 per every additional user. You may also purchase the following add-ons:
Advanced auto-scans: $10 for 50 scans per month in all plans
Snail mails: $2 per credit in all plans
Company branches (from Premium): $12 per branch per month
Just like QuickBooks Online, Zoho Books isn't custom-tailored for trucking businesses. However, it has a powerful mobile accounting app that can help independent truckers in many ways.
For instance, they can capture receipts, record expenses related to fuel, tolls, maintenance, and other business costs, and then categorize them for reporting and tax purposes. They can also create professional invoices on the go and send them to clients or brokers directly from their mobile devices. Self-employed truck drivers who need basic tracking of their income and expenses can even save money with Zoho Books' free plan.
---
Zoho Books Overview
| | |
| --- | --- |
| Supported Users | Independent trucking owners needing a powerful mobile accounting app |
| Free Trial | 14 days for all paid plans |
| Accessibility | Cloud |
| Customer Support | Phone and email support, live chat, self-help guides |
| Accessibility | |
Competitive free plan: The free plan includes almost all the core features of Zoho Books, including income and expense management, invoicing, and tax management.
Expense management: Zoho Books provides the tools you need to easily manage your expenses, including the ability to attach bills and receipts to transactions from your smartphone. You can also set up recurring expenses if needed.
Invoicing: You can create and customize invoices in Zoho Books and send them in different languages and currencies depending on your customer location. You may also create recurring invoices if you have customers you pay regularly and schedule them to send in advance for easy payment collection.
Mobile accounting: From your smartphone, you can use the Zoho Books app to create and send invoices, accept payments, track billable time, and capture expense receipts.
Independent trucking business owners: Independent truckers that don't need trucking management features can use the app to stay on top of their income and expenses and get paid by their clients.
Self-employed drivers: You can use the app to track business mileage automatically.
How We Evaluated the Best Trucking Accounting Software
We ranked trucking accounting software based on pricing, ease of use, and how it performed across the general accounting and trucking-specific features we look for. To ensure the accuracy and integrity of our list, we evaluated all applications using an internal rubric scoring system with five categories, each with a calculated weighted score.
25%
General Accounting Features
25%
Trucking-specific Features
30%
Ease of Use & Customer Support
10% of Overall Score
We ranked each accounting software based on its affordability, considering the number of users included in each plan and the costs to add an extra seat.
25% of Overall Score
Regardless of the industry, specialized accounting software should include general bookkeeping features like A/P, A/R, and bank account reconciliation.
25% of Overall Score
The best trucking accounting software should be able to manage and track dispatches, orders, fuel and mileage, driver settlements, and IFTA reporting.
30% of Overall Score
We signed up for a free trial and tried the software ourselves to determine how easy it is to use. We also considered the available customer service options and how quickly the provider responds to a concern.
10% of Overall Score
We gathered unbiased user reviews from several review websites like G2 and Software Advice.
*Percentages of overall score
Frequently Asked Questions (FAQs)
Trucking accounting software has unique features, such as the ability to dispatch drivers, plan trucking routes, and generate and file quarterly IFTA reports. Meanwhile, general-purpose bookkeeping software lets you perform common accounting tasks, such as invoicing, billing, and expense tracking.
---
Trucking companies that need to track income and expenses and manage trucking operations in one platform should use trucking accounting software.
---
If you need specialized tools like order management and IFTA tracking, then consider integrating TruckingOffice with QuickBooks Online, which has excellent general accounting features. However, Q7 is a great standalone trucking-specific accounting solution, while Rigbooks is ideal if you have a small fleet and want an affordable platform.
---
Yes, you can use free general bookkeeping software like Wave for your trucking business. However, a free solution might not be enough if you have complex trucking management needs. This is where we recommend premium software like Q7 or even an integration between QuickBooks Online and TruckingOffice.
---
Bottom Line
Overall, there's no single accounting or trucking management software that can cover all the various needs of truck drivers and fleet managers. To determine the right fit for your company, you have to assess your budget and needs and know what particular features you require.