TripLog Review: Features, Pricing & Alternatives 2023
TripLog is a cloud-based mileage tracking app with integrated expense and time tracking tools. It tracks your mileage automatically, and you can then categorize your drive as personal or business with a single swipe. It provides various ways to track your mileage, including manual, Bluetooth-enabled, and automatic tracking, and allows you to track up to 40 trips per month for free. You can sign up for a free trial of the Premium plan of TripLog for 15 days with no credit card required.

Pros
Offers six different ways to automatically track mileage
Includes route planning features for more efficient drives
IRS-compliant reports for claiming allowable expenses
Automatic tax deduction computation
Cons
Automatic mileage tracking is not available in the free plan
Pricing plans below Enterprise are up to 10 users only
High upfront costs for device add-ons
Courier companies: TripLog is suitable for courier and delivery services. Since the app will give the driver the optimal route, they can avoid traffic jams and save on fuel expenses.
Companies with many employees: TripLog logs your employees' mileage and captures and stores receipt photos, allowing you to reconcile expenses and receipts easily for accurate payouts.
Companies that need a single solution for mileage tracking, expense tracking, and scheduling: Along with TripLog Mileage, TripLog offers other software solutions: TripLog Expense, TripLog Timesheets, and TripLog Scheduling. It also offers TripLog for Accountants, which can integrate with QuickBooks for easier accounting of mileage expenses.
---
Self-employed or rideshare drivers: If TripLog's 40 free trips aren't enough, Hurdlr is the best alternative for ride-share drivers who go beyond 40 trips per month. The app tracks mileage and creates reports for tax purposes, and it can help you track estimated quarterly federal, state, and self-employment taxes in real time.
Small companies looking for an affordable mileage tracker plan for businesses: TripLog's business plans start at $10 per user monthly. If your company wants a more affordable alternative, MileIQ Business plans start at $5 per user per month.
QuickBooks users: If you're already using QuickBooks Online, you don't have to find separate mileage tracking software. QuickBooks Online, our pick for best small business accounting software, has a built-in mileage tracking app that automatically tracks your drive via GPS and then classifies it as business or personal with a swipe.
---
TripLog Deciding Factors
Supported Business Types

Best for businesses that deliver goods to customers

Pricing

Individuals

Lite: Free for 40 trips per month
Premium: $5.99 per user, per month, for unlimited trips

Business


Teams: $10 per user, per month, for unlimited trips
Enterprise: Custom priced

Add-on: Time & Scheduling for an additional $4 per user, per month, for Individual and Business plans

Free Trial

15 days for Individual Plans only

Standout Features

Web or app accessibility
Multiple tracking options like MagicTripTM, TripLog DriveTM, TripLog Beacon, Car Bluetooth, Plug-N-Go, or Gig Apps
Customizable idle time prevents the app from stopping tracking when stuck in traffic
Fuel economy calculator

Customer Support

Self-help library, knowledge base, and contact form
TripLog New Features for 2023
TripLog Card: TripLog now offers a reloadable company debit card service to improve user experience in expense tracking and reimbursements. With this program, users can charge company expenses using TripLog and reconcile all TripLog card transactions automatically.
TripLog ACH: The new automated clearing house (ACH) feature enables users to reimburse employees for mileage within the TripLog dashboard. All ACH reimbursements will also appear as separate within your accounting software for faster categorization.
TripLog Alternatives
| | | |
| --- | --- | --- |
| | | |
| Best for: Self-employed individuals and rideshare drivers | Best for: Small companies looking for an affordable and simple mileage tracker | Best for: QuickBooks users |
| Starting at: $0 | Starting at: $0 | Starting at: $30 per month |
| | | |
TripLog vs Competitors
We compare TripLog with other leading mileage tracker apps to help you decide whether it's right for you or if you need to look elsewhere.
TripLog vs Competitors FSB Case Study
Touch the graph above to interact Click on the graphs above to interact
TripLog $5.99 per user per month

Hurdlr $10 per month

MileIQ $5.99 per user per month
In our evaluation of the mileage trackers above, each software has individual advantages and disadvantages. MileIQ leads in pricing because it offers three pricing tiers for business plans, whereas TripLog only offers two. MileIQ takes the lead because of its flexibility in packages.
However, TripLog gets a perfect score in mileage tracking features because it allows users to track mileage in different ways. It offers devices that track mileage if you don't want to use your smartphone. Meanwhile, Hurdlr takes the lead in related app features because it also offers accounting and tax calculations.
Overall, TripLog deserves to be our best mileage tracker app because of its flexibility and affordable price point. On the contrary, we still recommend MileIQ for smaller companies needing more affordable business plans, while Hurdlr is best for rideshare drivers.
TripLog Pricing
TripLog offers a free plan and three paid subscriptions with prices that start at $5.99 per user monthly. The free option supports a single user and lets you log up to 40 trips per month manually, while the Premium package supports unlimited tracking. A custom plan, Enterprise, is also available for advanced mileage tracking features like multi-level approval hierarchy and custom tags. A Time and Scheduling add-on is also available for users at $4 per user, per month.
| Pricing & Features | Lite | Premium |
| --- | --- | --- |
| Price per User per Month (When Billed Monthly) | $0 | $5.99 |
| Price per User per Month (When Billed Annually) | $0 | $4.99 |
| Time & Scheduling Add-on per user | $4 per month | $4 per month |
| Maximum Trips per Month | 40 | Unlimited |
| Fuel Economy Calculation | ✓ | ✓ |
| Automatic Tracking With GPS | ✕ | ✓ |
| Route Planning | ✕ | ✓ |
| Expense Tracking With Receipt Capture | ✕ | ✓ |
| Bank & Credit Card Integration | ✕ | ✓ |
| Admin Console & Mileage Policies | ✕ | ✕ |
| Xero & QuickBooks Integration | ✕ | ✕ |
| Teams Dashboard | ✕ | ✕ |
| Real-time Fleet Tracking | ✕ | ✕ |
| Driver Profiles | ✕ | ✕ |
| Multi-level Approval Hierarchy | ✕ | ✕ |
| Commute Mileage Exemption | ✕ | ✕ |
| Custom Tags & Fields | ✕ | ✕ |
| ADP/Paychex/Emburse Integration | ✕ | ✕ |
| Pricing & Features | Teams | Enterprise |
| --- | --- | --- |
| Price per User per Month (Monthly Billing) | $10 | Custom pricing |
| Maximum Trips per Month | Unlimited | Unlimited |
| Time & Scheduling Add-on per user | $4 per month | $4 per month |
| Fuel Economy Calculation | ✓ | ✓ |
| Automatic Tracking With GPS | ✓ | ✓ |
| Route Planning | ✓ | ✓ |
| Expense Tracking With Receipt Capture | ✓ | ✓ |
| Bank & Credit Card Integration | ✓ | ✓ |
| Admin Console & Mileage Policies | ✓ | ✓ |
| Xero & QuickBooks Integration | ✓ | ✓ |
| Teams Dashboard | ✓ | ✓ |
| Real-time Fleet Tracking | ✓ | ✓ |
| Driver Profiles | ✓ | ✓ |
| Multi-level Approval Hierarchy | ✕ | ✓ |
| Commute Mileage Exemption | ✕ | ✓ |
| Custom Tags & Fields | ✕ | ✓ |
| ADP/Paychex/Emburse Integration | ✕ | ✓ |
TripLog offers two optional devices that you can use for tracking your mileage. You need to subscribe to a paid plan to purchase these devices.
1. TripLog Drive ($79.99): This device is powered by your car's USB port and uses very little battery and data. TripLog Drive connects to your phone automatically and then transfers the GPS data for processing.
Powered by your vehicle's USB port
Bluetooth 4.0 Low Energy (BLE) technology
Built-in GPS
Storage for offline recording
Start and stop tracking with the push of a button on the device
2. TripLog Beacon ($19.99): This is a USB device that complements the mobile app for more accurate tracking. Simply download the app, activate the iBeacon auto-start option, and plug the device into your car's USB port. Tracking starts when it detects that you've started your car.
Powered by your vehicle's USB port
Autostart with Bluetooth iBeacon
TripLog offers a 30-day return policy on its devices from the day the item is delivered.
Time & Scheduling (Add-on): For an additional $4 per user, per month, you'll get
Clock-in and out features
Timesheets
Project tracking
Leaves and paid time off (PTO) management
Scheduling
---
TripLog Features
TripLog offers features that can help your company efficiently track mileage and related costs such as parking, tolls, and fuel expenses. Let's check out TripLog's core features below.
The TripLog mobile app lets you track your mileage and expenses from your smartphone. When you open the mobile app, you will notice that it's set to MagicTrip tracking by default.
Slide through the images below to see the mobile app interface of TripLog: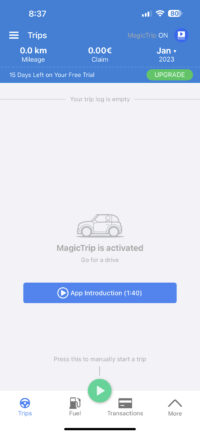 ---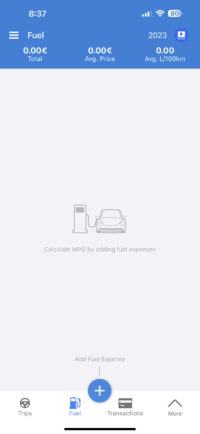 ---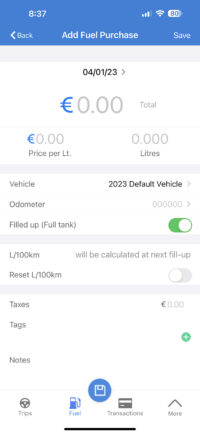 ---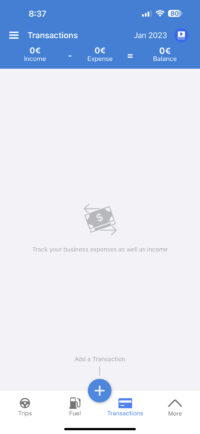 ---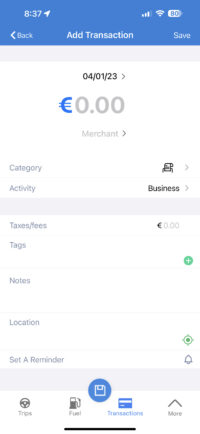 ---
When you click on Compare Auto Start Options from the Setup menu, you can take the virtual quiz to help you decide which option is best suited to your needs. Based on your answer, TripLog will recommend a tracking option for you.
---
Employers and administrators can manage their company's trips, vehicles, and app users from the web dashboard. The TripLog dashboard gives you access to all the app's features, including mileage tracking, expense tracking, reports, credit card integration, and timesheets. You can add trips and users, view maps, and adjust settings. The web dashboard also provides you with an option to download the mobile app:
---
TripLog offers six different options for automatic mileage tracking:
MagicTrip: With MagicTrip, TripLog can track your driving in the background automatically. It starts tracking automatically within the first two minutes of driving and stops automatically if you've been idle for five minutes, or whatever time period you specify. MagicTrip also responds with your Speed Threshold and automatically tracks if you're reaching these thresholds. The advantages of this method are that it's easy to set up, and it tracks in the background. MagicTrip is available only in the paid plans.
Vehicle Bluetooth: With this option, you only need to connect your smartphone to the vehicle's Bluetooth. Tracking starts if you drive over the speed threshold while connected. An advantage of this method is that it only tracks when connected to Bluetooth.
TripLog Drive: This device is a dedicated device from TripLog. It has built-in GPS, and tracking doesn't involve smartphone use. An advantage of this method is that it doesn't use your phone's battery and data resources.
TripLog Beacon: This device uses Bluetooth technology but boasts of its moderate battery consumption. Beacon starts tracking when driving over the speed threshold and while connected to the smartphone Bluetooth. An advantage of this method is that it doesn't use your car's Bluetooth, so you can connect your vehicle's Bluetooth to other devices without interrupting tracking.
Plug-n-Go: If you're in the habit of plugging in your smartphone while driving, the Plug-n-Go feature will also allow you to track while your device is charging. Unplug your phone, and the tracking stops. An advantage of this method is its minimal battery consumption.
OBD-II Scanners: This is a device that connects to your vehicle's onboard diagnostics scanner (OBD) connector and transfers data via Bluetooth.
In addition to setting your preferred tracking method, there are other important adjustments you need to make:
---
Timeout and Speed Threshold: The Speed Threshold feature dictates when the app should start tracking. By default, it's set at 5 mph or 8 km/h. It means that the app will start tracking automatically if you reach a minimum speed of 5 mph. The Timeout feature dictates when the app should stop tracking. For example, say you stop at a Starbucks on the way to work. If your Timeout is set at 15 minutes, the tracking won't stop unless the car is idle for more than 15 minutes. If you expect heavy traffic, it's best to set Timeout at a higher duration so that the app keeps on tracking even if you're stuck in traffic:
Responsiveness: MagicTrip utilizes GPS to track your driving distance. To improve the accuracy of tracking, you can choose More Responsive. It means that the app will have to use GPS more often to track your location. As a result, it'll use more battery and data. The opposite is true for Less Responsive. Adjusting responsiveness can help you accurately track nearby drives. For example, there's a delivery that's only two blocks away. Due to the relatively short distance, more responsive tracking yields more accurate tracking information:
---
TripLog also allows you to add vehicles for efficient tracking. You can also set a default vehicle so that you don't always have to choose when recording a trip.
---
In manual tracking, you'll need to enter the starting point and endpoint of your journey. For Lite plan subscribers, manual tracking is the only option available. TripLog will compute the distance automatically. You'll also need to input the time. We don't recommend using manual tracking because accuracy will always be an issue here.
---
TripLog calculates fuel economy based on the fuel transaction information that you enter into the app. It calculates the total, average price, and fuel economy to help you reduce fuel consumption.
---
One of the reasons TripLog is our overall best mileage tracker app is because of its added expense tracking feature. You can add different kinds of expenses associated with your miles. We like this feature because it's easier to relate and pinpoint expenses. For example, you can add a Meals and Entertainment expense if you meet with a client. To record tolls and parking, click on the trip and edit it.
---
TripLog classifies a trip as business or personal in a single swipe. Swipe right to classify the trip as business and left as personal. Alternatively, you can click on the item and choose the appropriate category.
---
Through the app, drivers can submit mileage and other expenses to be processed. Approving expenses happens on the Web Dashboard. Only account administrators and approvers can access this dashboard. This feature is available starting with the Premium plan.
To approve expenses, go to the Mileage tab to see the list of submitted expense reports from drivers. The approver can either approve or reject an expense. Either way, the approver will have to leave a comment for the submitter:
Once approved, TripLog can generate a report for payroll. This report will be used as reimbursement documentation to be included in the submitter's next paycheck. By clicking Schedule Pay All, reimbursements will be scheduled, and the submitter will be notified.
---
Another great feature of TripLog is route planning. This feature enables you or your company drivers to plan trips using the shortest routes. The route planning feature is integrated with Google Maps. With this feature, you can establish an optimal route that incorporates up to eight destinations. When planning routes, the app starts with your current location. You can then add up to eight stops. The app will create a round trip that brings you back to your point of origin automatically.
---
TripLog generates reports on vehicle tax deductions, nonvehicle-related tax deductions, profit and loss, and time spent on each location. TripLog has a default report template—but in any of the paid plans, you can modify the template by removing or adding elements. Reports from TripLog are IRS-compliant, and you can submit them as supporting documents for your allowable deductions. You have the option to download or email reports in HTML, CSV, or PDF format.
Users of both the mobile app and the web dashboard can enjoy reporting features for mileage expense tracking. TripLog's reporting feature can help with tax filing, especially if you're claiming allowable expenses.
---
TripLog User Reviews
Users like TripLog because it's easy and convenient to use, especially the mobile app. However, some reviewers shared problems with the app and occasional bugs in the system.
G2: 4.7 out of 5 stars based on around 40 reviews
Software Advice: 4.08 out of 5 stars based on around 70 reviews
How We Evaluated Mileage Tracking Software
We evaluated TripLog based on six major categories that should be present in mileage tracker apps.
30%
Mileage Tracking Features
20% of Overall Score
Affordability is a primary concern for small businesses. Hence, we're giving pricing a significant percentage to give more points to mileage tracker apps with a more affordable price point.
30% of Overall Score
In this area, we'd like to see basic mileage tracking features including income and expense tracking and trip categorization. Aside from these major features, it would be a plus to see features like receipt capturing, route planning, scheduling, and other minor features.
20% of Overall Score
The ease of use score measures how easy and convenient it is for users to use the web or mobile app. Part of this is customer service, in case customers want technical assistance.
10% of Overall Score
We considered the ratings of actual users from review websites. This score helped us gauge feedback from current users of the software.
10% of Overall Score
Our expert score is a summative measure of all app features as a whole. We look at the harmony of its features, accessibility, ease of use, reporting, and popularity.
*Percentages of overall score
Frequently Asked Questions (FAQs)
Does TripLog use mobile data?
It will consume mobile data if you use smartphone GPS to track mileage.
How is the battery usage of TripLog?
If you're using smartphone GPS, expect heavy battery usage. We recommend plugging your phone into a power source to keep battery levels high.
Bottom Line
TripLog is a great mileage-tracking solution for businesses that need a single solution for tracking mileage, time worked by employees, and vehicle-related expenses like parking, fuel, and meals. It offers six different ways of tracking mileage, so you'll certainly find one that meets your exact tracking needs. Additionally, it has a useful route planning feature that you won't find in most other mileage tracking software on the market. Instead of having to get three separate apps for tracking mileage, expenses, and time, TripLog gives you an all-in-one solution.