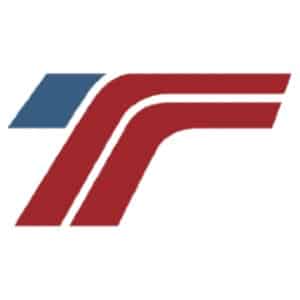 TruckingOffice is a cloud-based software that handles dispatch and administrative needs, from assigning trips and logging miles to paying your truckers. With an interface that's easy to work with, it tracks the vital details needed for billing and staying in compliance with government regulations. Plans start at $20 per month, with add-ons for route planning and mileage tracking.
What We Recommend TruckingOffice For
We've reviewed TruckingOffice many times, and it always earns a spot in our top trucking payroll services; it's also one of our top trucking accounting system picks. In addition to our in-house experts, trucking companies like it, because it covers all the important tasks of dispatch, invoicing, expense tracking, and maintenance, plus it is easy to learn.
In short, TruckingOffice is best for:
Trucking companies needing to upgrade from a manual dispatching system: With TruckingOffice, you or your dispatcher can add and track all the information you need for dispatching a haul and invoicing a customer, including multiple drivers, stops, fuel expenses, and additional charges.
Carriers with vehicles operating in different states: The software collects all the information needed for filing IFTA taxes, i.e., miles driven in each state, amount of fuel used, etc.
Small trucking operations planning to expand to multiple trucks: TruckingOffice is easy to use and has many features that will keep you on target. It lets you know when each truck needs an inspection, tags, and even maintenance. It also helps you track revenue and expenses, which is vital to knowing the growth that your business can support.
Trucking businesses that work with contractors: When working with contractors, you don't have to manage payroll taxes, so TruckingOffice's basic payroll features will work well. It helps calculate earnings, whether by mileage traveled or some other metric.
When TruckingOffice Is Not a Good Fit
Trucking companies with employees vs contractors: If you have employees, you'll be responsible for payroll taxes, including accurate calculations and timely payments and filing; independent contractors are responsible for filing their own. TruckingOffice doesn't file taxes at all. If you need to pay employees, check out our best payroll software picks for more options.
Owner-operators that need a way to pay drivers electronically: This software does not have a built-in direct deposit or electronic payment feature. For solutions that do, check out our guide to the best trucking payroll services.
Looking for something different? Check out our best payroll services guide.
TruckingOffice Overview
PROS

CONS

Payroll includes pay on demand, by mile, percentage, or custom designation
No HR tools
IFTA, FTL, and LTL tools
No automatic pay runs
Logistics management tools
No tax filing
TruckingOffice Pricing and Features
TruckingOffice has two monthly plans that are priced by the size of your fleet. It doesn't have any contracts and offers a 30-day free trial for both options.
Basic: For Full Truckload (FTL) hauling, you enter the load and trip at the same time.
1–2 trucks: $20 per month
3–7 trucks: $45 per month
8+ trucks: $75 per month
Unlimited dispatches: $45 per month
Premium: For FTL and Less than Truckload (LTL) hauling, you add loads individually into the load planner and create a dispatch by assigned planned loads to create a trip.
1–2 trucks: $30 per month
3–7 trucks: $65 per month
8+ trucks: $110 per month
In addition, you can get these add-ons:
PC*MIller Premium Routing/Mileage Add-On: Get smart route planning incorporated into your software, with realistic ETAs, stops that matter to drivers (like truck stops with showers), and more.
1–2 trucks: $5 per month
3–7 trucks: $15 per month
8–15 trucks: $25 per month
$5/month for up to 2 trucks, $15/month 3-7 trucks, and $25/month 8-15 trucks with $2/truck per month after 15
Electronic Logging Device (ELD): The ELD reads the truck's engine control module (ECM) and sends the information to the driver's smartphone or tablet. It includes a company control panel to manage driver logbook records. $20 per month + $89.95 per device, or $240 per year with the device included.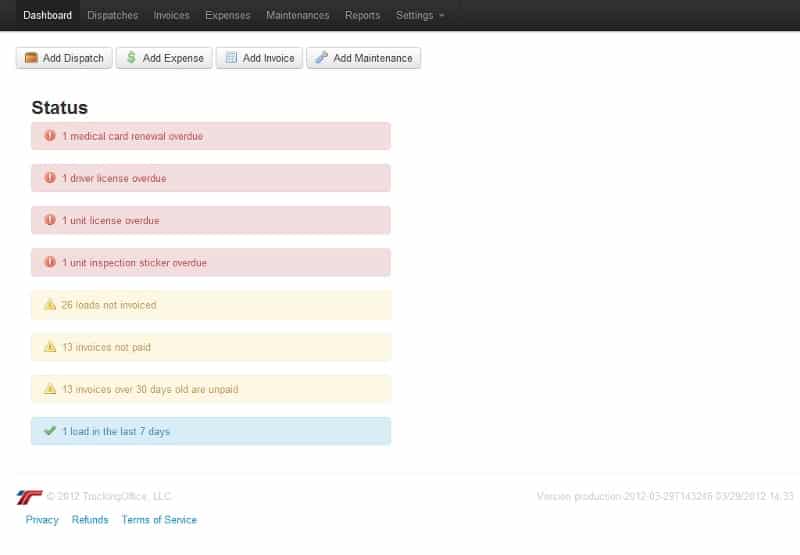 The easiest way to get started is to sign up for a free trial. You can enter your information or sign up with Google. It only takes minutes before you can start putting in dispatches.
The interface is basic and easy to follow so that it doesn't take a lot of training to get the job done. TruckingOffice has four main functions: dispatches, invoices, expenses tracking, and maintenance tracking. In addition, it has a basic reports section.
Dispatching
Dispatch is TruckingOffice's first pillar. You can set up and assign trips, including the driver, accessory driver, and truck. With the Premium plan, you have the option to track LTL hauls as well. You can create and track customers and shippers, drop-offs, fees, fuel charges and vendors, and more. You can also look up dispatches to get a quick look at loads for the day and near future. It lets you search to get to the details you need fast.
Accounting
It's easy to create and send invoices with standard expenses and custom expense categories for easy tracking. You can keep a database of repeat customers to make it easy to build new dispatches and invoices. TruckingOffice has alerts for past-due invoices so you can follow up. It lets you charge based on a variety of fees, including flat, per mile, per ton, or per weight. You can also monitor additional fees, such as for delays, labor to load or unload the truck, charges for pickups or drop-offs, even for covering the load.
The expense tracking handles pay, fuel, maintenance, advances, and more. You can track fuel by vendor and state. It integrates with QuickBooks, our best overall small business accounting software, to export addresses, customers, vendors, loads, invoices, and expenses.
IFTA Tax Report
One tool that users especially appreciate is the IFTA tax report. TruckingOffice pulls the information from the system to create the quarterly report. You can select which trucks to include, and the report breaks the miles and gallons down by state. The Premium version also breaks down the taxes by state and lets you know the total amount owed and received. There are tax forms available for certain states as well.
Payroll
The payroll software is limited, particularly since it does not include tax filing. However, it does calculate pay the way truckers need, such as by mileage. It also keeps excellent records for IFTA tax filing, something users especially praised in reviews. Pay runs need to be done manually, but you can do as many as you like, even one-off payments and advances. It does not have onboarding, so you'll need to manually add tax information for your employees.
Maintenance
The Department of Transportation requires regular maintenance of trucks, and with TruckingOffice, you can easily set up a maintenance plan by mileage or calendar and track the work done on each truck. You receive dashboard alerts on the software when a maintenance date is reached or a truck is within 300 miles of needing maintenance. This section has tools for tracking vendors such as the companies where you have your trucks repaired. You can create reports to ensure all trucks are in compliance as well.
ELD
The ELD is your online logbook. Truckers use the app to declare themselves on or off duty, and the vehicle interface device will track their mileage and feed it to the app. They can change their status with the tap of a button and make changes in the event that they miss a log. By certifying their log at the end of the day, output is as good as with paper logs. For roadside inspections, truckers can send the last seven days of logs via email or text, or display them on the phone. It includes a company interface so that the company can manage all the records in its fleet.
TruckingOffice Ease of Use
Easy to understand
Training videos online
Online guides and help center
Forums
Good customer support
No live phone or chat help
TruckingOffice is a simple software to use, with a straightforward interface. It covers the most important functions of managing a trucking office without a lot of extra features to complicate the task flow. There's an online help guide with instructions (mostly text-only) and a community forum for asking questions. There's no support phone number listed, but you can submit a request online.
Top TruckingOffice Alternatives
| | | |
| --- | --- | --- |
| Best for: Owner-operators using QuickBooks for accounting & wantings to add payroll | Best for: Carriers looking for a trucking management system with the option to add payroll later | Best for: Independent truckers that are budget-conscious but need a full system |
| Base monthly fee from: $40 | Base monthly fee from: $50 + $10 per truck, per month | Base monthly fee from: $29.95 per month |
| Integrates with other trucking management software while providing complete bookkeeping and payroll | Great driver's app, full trucking management; payroll costs extra | Includes driver-specific payroll, IFTA, FTL, & LTL tools, accounting, and more |
Narrowed it down to a few providers but still can't decide? Follow our step-by-step guide on choosing the right payroll solution for help.
What Users Think About TruckingOffice
Independent truckers and trucking companies overall praise this software for its ease of use. Many said the IFTA tracking was especially useful, and that the program overall saved them hours of work and headaches. Some had issues with QuickBooks integrations, and a few wanted additional features. Nonetheless, the consensus was that the software is a good value.
When reading through user reviews, I noticed some trends.
| Users Like | Users Don't Like |
| --- | --- |
| Affordable | Missing features |
| Easy to use | Inputting multiple stops could be streamlined |
| Simplifies IFTA Taxes | |
Bottom Line
TruckingOffice is a simple, easy-to-use software to keep your trucking business organized. Its tools let you keep up with dispatches, invoices, expenses, simple payroll, and vehicle maintenance, as well as stay compliant with government regulations. Sign up for a free 30-day trial of TruckingOffice today.