How to Set Up a PayPal Business Account in 3 Steps
This article is part of a larger series on Payments.
PayPal is a widely recognized and trusted online payment platform that allows businesses to securely send and receive money worldwide. It is suitable for small businesses looking for a quick and easy way to start receiving payments for occasional sales. Setting up a PayPal Business account is a straightforward process that involves signing up on the PayPal website, providing your personal and business details, and setting up the different ways you can receive payments with PayPal.
For this article, I walk you through the setup process by signing up for a PayPal Business account myself.
Step 1: Sign Up for a PayPal Business Account
The first step to setting up your PayPal Business account is to go to the PayPal website and click sign up. If you already have a Personal account and want to keep it, you will need a different email address for your PayPal Business account.
Keep in mind that if you choose to use the same email address by upgrading your PayPal Personal account to a Business account, downgrading back to a PayPal Personal account can only be done upon approval through customer support.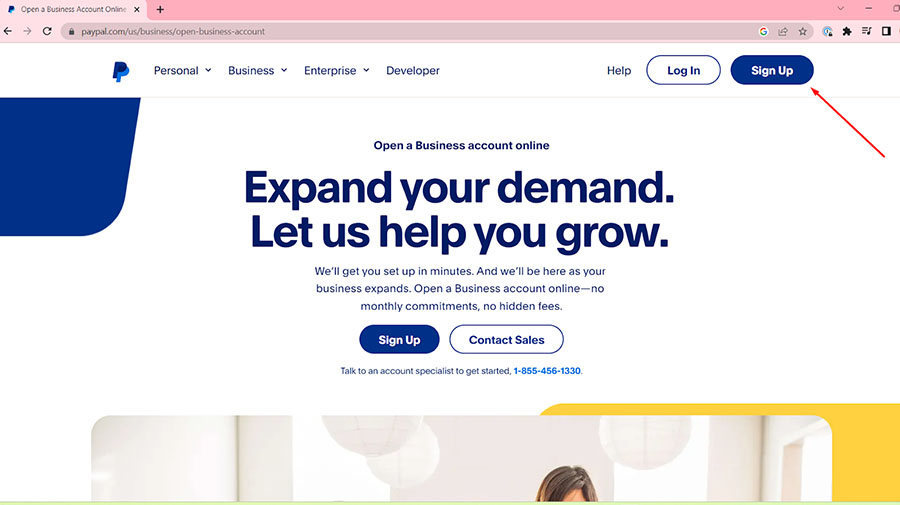 ---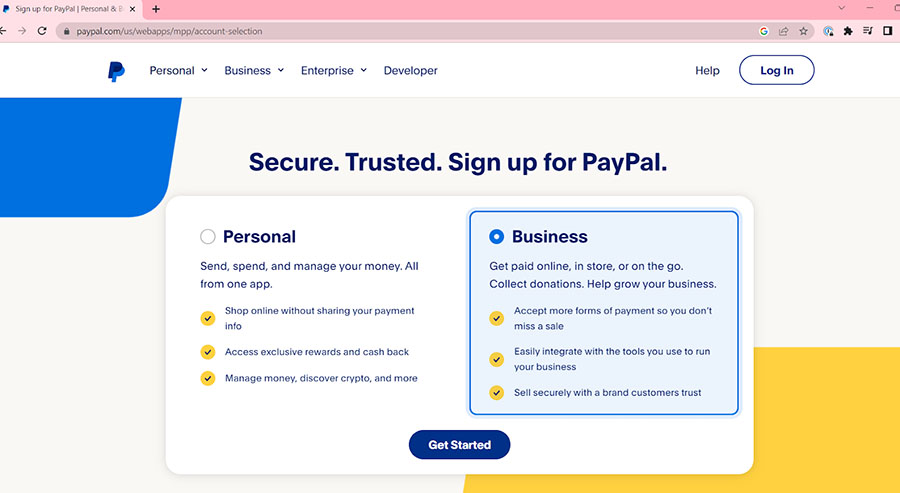 ---
Upon clicking the Sign Up button, you will be asked to choose whether you want to sign up for a Personal or a Business account. Read our guide on PayPal Business vs Personal to help you decide on the right PayPal account for you.
Personal and Business Information
During the signup process, you will be asked to provide personal and business information. Make sure to have the following information ready:
Business name
Business type
Residential and business address
Business phone number
Tax ID number
Products or services you offer
Monthly sales
Customer support email and phone number
Photo ID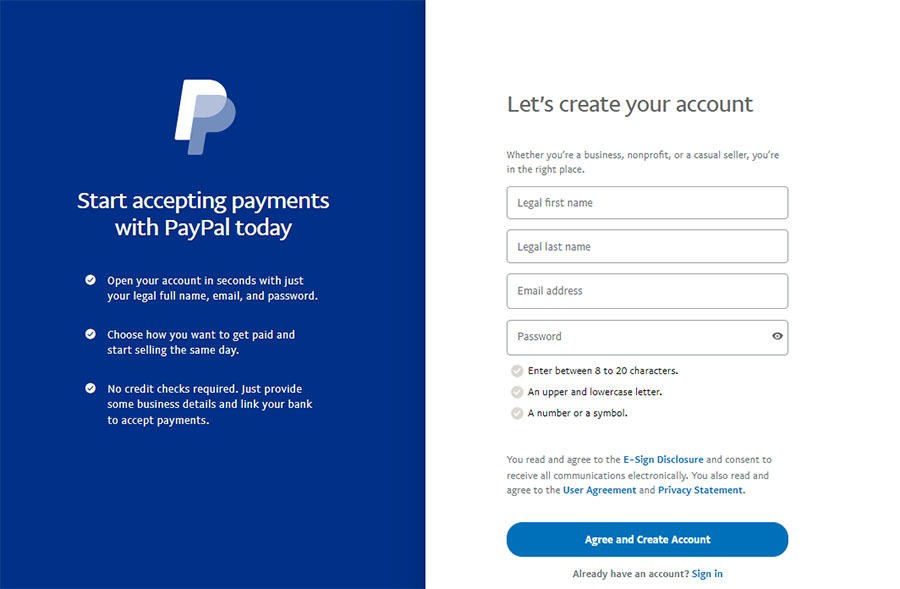 ---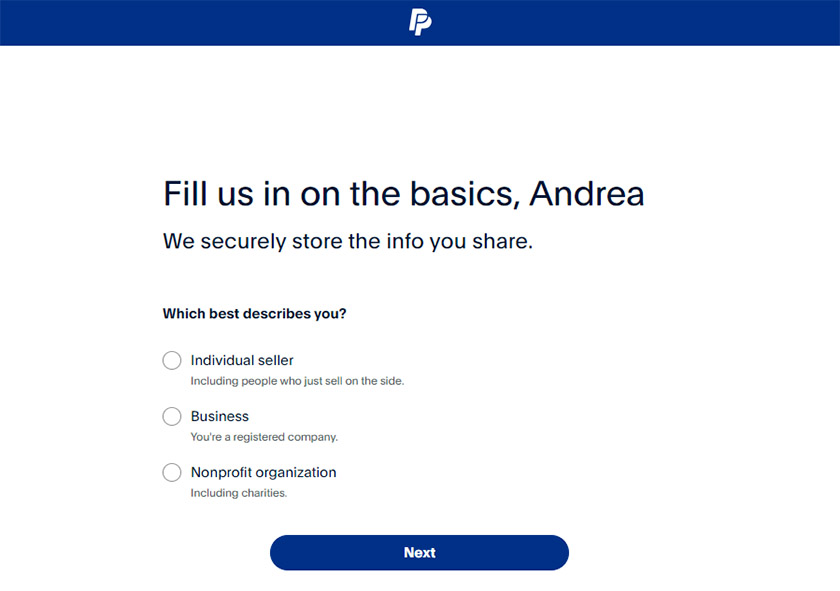 ---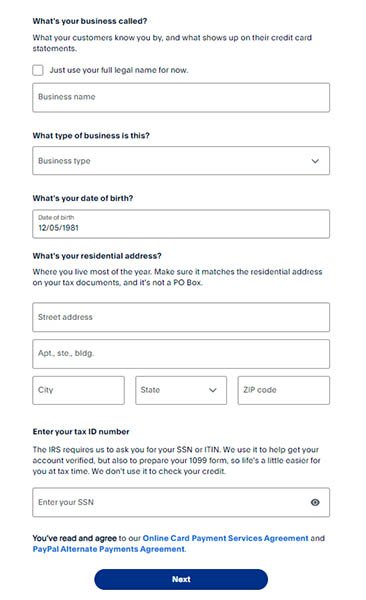 ---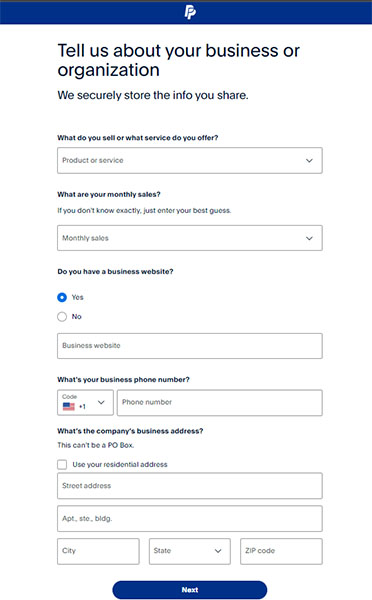 ---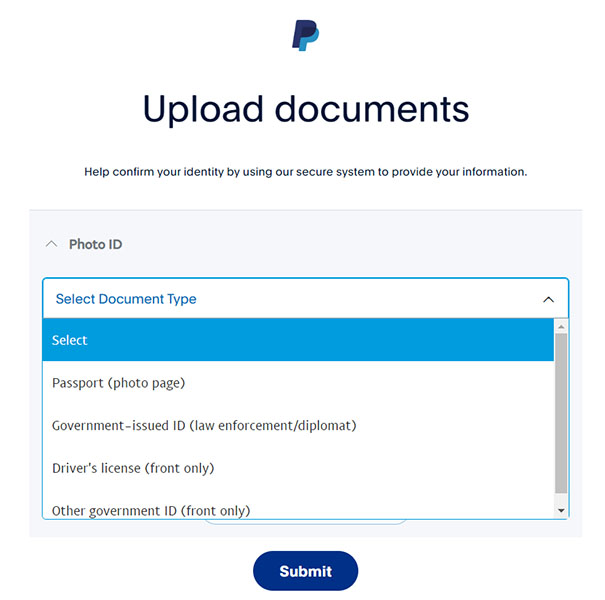 ---
During the sign-up process, you will be asked to agree to the PayPal Online Card Payment Services Agreement, which details the terms for using the Online Card Payment Services, and the PayPal Alternative Payment Methods Agreement, which details the different alternative payment methods and the terms for their use. You may download the agreements below:
Want more in-depth information on PayPal Business? Read our full PayPal Business review.
Step 2: Activate Your PayPal Business Account
After the signup process, you will have access to your PayPal Business dashboard. However, it will have limited functionality until your account is verified. The requirements for account verification are:
Tax ID number/Social Security number (if you haven't provided it yet during sign up)
Email address confirmation
Bank account
You will need to link your bank account to your PayPal Business account so you can withdraw your funds. The bank information you will need are your account number, bank name, bank code, and branch code. Keep in mind that the name in your bank account should match the name in your PayPal Business account.
To verify your bank account, PayPal will make two small deposits which you will need to enter in the verification center of your PayPal account. This process usually takes three to five business days.
A PayPal Business account comes with an optional PayPal Business Debit Mastercard after accepting $250 in payments. The card has no annual fee, offers 1% cashback on eligible purchases, and uses your PayPal balance when you use it.
Step 3: Set Up Your Payment Tools
After verifying your information, your account will be activated, and you can set up your payment tools. The dashboard has a section that takes you through the steps of setting up your payment tools.
Ways to Accept Payments Using PayPal Business
There are different ways you can accept payments with your PayPal Business account, and you can set these up from your PayPal Business dashboard. Some of these methods may incur additional fees so make sure to check the updated fees.
PayPal Business allows you to create an invoice to send to your customers. Creating one involves entering customer information, listing the items and prices for each, and setting the payment due date.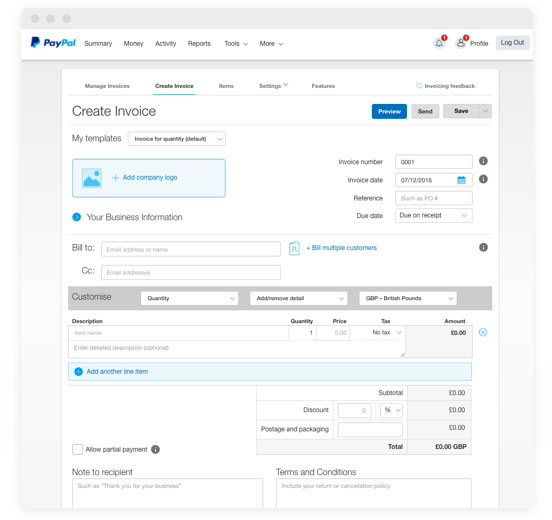 ---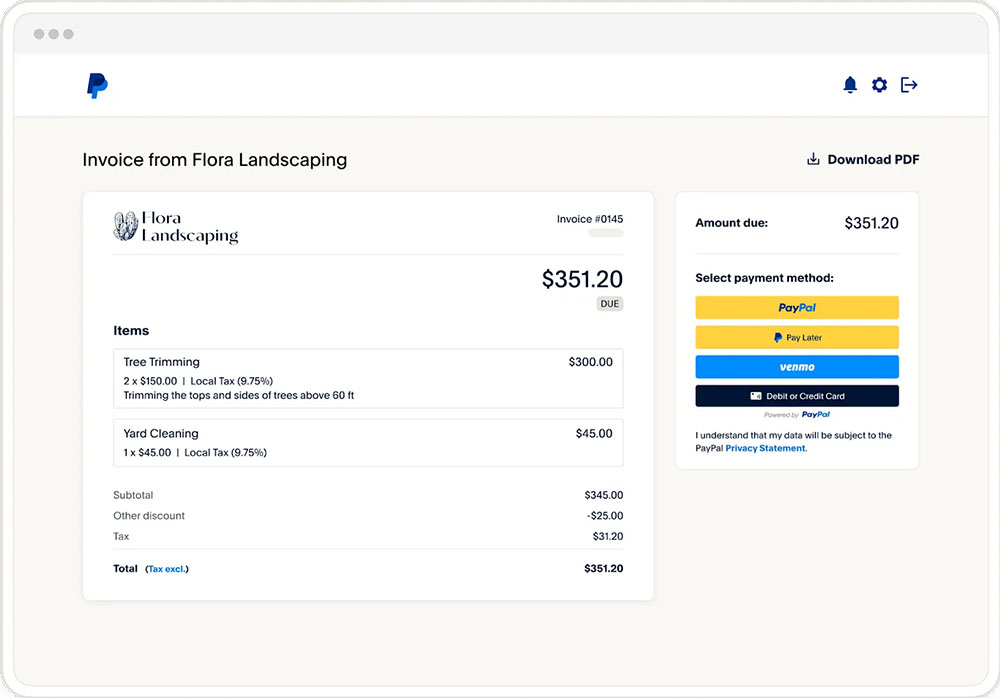 ---
When you send an invoice, you and your customer will receive a notification email, and your customer can choose from different payment methods. Plus, you can send reminders periodically.
---
You can also send a payment request to your customer's email address or phone number. This method does not require you to create an invoice or enter any item details; you only need to indicate the amount, add a message if you'd like, and then send it to your customer.
---
One of the unique business tools offered by PayPal Business is the ability to create an inventory of items you can post on Facebook or anywhere else you can post a link. Here are the quick steps to do this:
Go to PayPal Buttons
Choose Sell on Social
Add products
Upload images and fill out product details, then click Create
Share it on Facebook by clicking the Facebook icon or get the link and paste it into your posts on any social media platform
---
PayPal Business also lets you create QR codes for payments. You may print it and post it in your establishment, or you may show it on your phone when it's time for your customers to pay.
---
PayPal Business lets you accept payments on your website. You can do this by integrating your PayPal Business account with your ecommerce platform or via application programming interface (API) integration on your own custom-built website.
---
PayPal Business also allows you to receive payments in person through its point-of-sale (POS) system PayPal Zettle. Read our full PayPal Zettle review for more information.
---
PayPal Business also allows you to process payments for orders placed by phone or mail using the virtual terminal. With a virtual terminal, you don't need a website or point-of-sale system. You may access it through your dashboard, and you only need to enter the card information to process the payment.
---
Withdrawing From PayPal
All payments you receive from customers will go to your PayPal balance. You will need to withdraw it from your PayPal account to your bank account or a linked card. If you availed of the free PayPal Business Debit Mastercard, you may directly spend your PayPal balance using the card.
If you prefer to withdraw your funds to your linked bank account or card, here are the options available:
Instant: Fee is 1.50% of amount withdrawn, minimum of 50 cents
Standard (one to three business days): Free
Benefits of PayPal Business
We generally recommend PayPal Business as a payment processor for small businesses. Even if you have a different merchant service or payment service provider, there are no additional fixed costs to using many of PayPal Business' features. Here are some of the benefits of having a PayPal Business account:
Easy and quick way to get paid
Well-known and trusted by consumers
Multiple payment methods offered
Accepts international currencies and cryptocurrencies
Includes PayPal Seller Protection
Read our article on the pros and cons of PayPal Business to learn more.
How to Avoid Frozen PayPal Accounts
Many PayPal users complain of having their PayPal accounts frozen. This can happen even for PayPal Business accounts. PayPal provides aggregated merchant accounts, which means like most payment aggregators, they observe extreme caution and put accounts on hold if there's a hint of irregular activity.
A frozen PayPal account is restricted from sending or withdrawing money, which can be a huge setback for small businesses relying solely on their PayPal Business accounts for accepting payments.
The main reason a PayPal account may be frozen is because of a higher fraud risk. Aside from having an unverified account, some of the possible reasons are an unusual increase in your transaction volume, higher customer complaints or refund requests against your business, logging into your account from multiple locations, or any violation of PayPal's user agreement.
Here are some tips to help avoid having your PayPal account frozen:
Check your account's transaction limits and make sure to stay within those limits
Give PayPal advance notice if you are expecting to receive a large amount of money
Keep all the information in your PayPal account updated
If you ship physical items, use a shipping method that offers tracking
Submit all necessary documents that PayPal requires
Communicate with your customers and provide good customer service
Improve your credit score
Avoid selling high-risk products
Low credit scores or selling high-risk products or services can also impact your PayPal account. If these apply to your business, check our complete guide on high-risk merchant accounts.
In the unfortunate event that your PayPal account is frozen, you will receive an email notification about it. You will also see a notification when you log in to your PayPal account. The notification you see when you log in should give you instructions on what to do to resolve the issue.
Most of the time, PayPal will request additional documentation, depending on the reason for the account freeze. If the reason only requires additional information and documentation, you should get back full access to your account as soon as PayPal reviews your submission.
In some cases, PayPal may permanently suspend your account if there is no resolution to the issue, such as if you violated any of the terms in the PayPal's user agreement. Keep in mind that you may not be able to retrieve any funds remaining in your frozen account in cases like this.
Bottom Line
Learning how to set up a PayPal Business account is quick and easy. You only need to sign up for an account, verify your account by providing the necessary business information, and set up your payment methods. You can easily access the features of your PayPal Business account right from your dashboard.
PayPal Business makes it quick and easy for small businesses to start accepting payments online, in person, via an invoice, with a payment link, or through the virtual terminal. Visit PayPal Business to sign up and set up your account.