Zoho Expense Review: Pricing, Features & Alternatives 2023
Zoho Expense is one of the cloud-based applications in the Zoho software-as-a-service (SaaS) environment. It is an expense tracking app aimed at streamlining travel and expense management for growing businesses, works seamlessly with Zoho Books, one of our best small business accounting software, and also integrates with QuickBooks Online and Xero. It has a free plan for up to three users, and paid plans start at $5 per active user, per month. You can use Zoho Expense for free for 14 days to test the paid plans.

Pros
Great for existing Zoho users
Useful for employee travel expense tracking
Ideal for approval of expenses
Integrates with other top accounting software namely, QuickBooks, Xero, and Sage Accounting
Cons
The standard plan has very limited features
Has a steep learning curve
First-time users may feel overwhelmed with the user interface
Free expense tracking: Zoho Expense offers a free plan intended for freelancers and small businesses on a limited budget. The free plan is for up to three users and is ideal for simple expense tracking. It has 5 GB of receipt storage, which is more than enough for freelancers or small businesses without a lot of expenses to track.
Expense approval for employees on trips or fieldwork: Employees only need an internet connection and the Zoho App to record and submit an expense on the go, meaning managers need not wait for their staff to come back to the office to submit their expenses.
Companies already using Zoho apps: You only need to have a Zoho account to use Zoho Expense—log in with one account to get access to all the Zoho apps you've subscribed to. So, companies using Zoho CRM or Zoho Books won't have a hard time integrating with Zoho Expense.
Companies with employees working remotely or in different branches, cost centers, or departments: Zoho Expense can group expense reports based on the source of the expense. If your company has different working groups or departments, the app can classify expenses on specific reports that belong to the group. In return, it's easier to review, approve, and reimburse expenses.
Those looking for an easy-to-learn interface: Zoho Expense isn't an app that you can learn in one day; it'll take several days to a week to master its flow and functions. If you're looking for something more straightforward and less complex, FreshBooks is the app for you.
Businesses with fewer than 500 users needing Enterprise features: Zoho Expense's Enterprise plan requires a minimum of 500 users, so companies with fewer than that'll be required to pay for seats they don't need if they want the Enterprise plan benefits, such as multilocation management, multibranch management, and a travel manager. A great alternative would be Emburse Spend, one of our best business expense trackers, because it has no platform fee.
Companies with minor expense sources: Zoho Expense isn't a good fit if your company only has basic expenses like salaries and wages, utilities, and office expenses. Although you can still track your expenses with Zoho, you won't need its more advanced features, such as travel expense management for employees in fieldwork. Instead, QuickBooks Online is a practical alternative, and its built-in expense tracker would be enough for your needs.
Zoho Expense Deciding Factors
Supported Business Types

Businesses looking for an affordable expense tracker

Pricing

Free: $0 up to three users
Standard: $5 per active user, per month
Premium: $8 per active user, per month
Enterprise: $12 per active user, per month

Free Trial

14 days

Accounting Software Integration

QuickBooks Online and Desktop
Zoho Books
Xero
Sage Accounting

Standout Features

Multicurrency support
Mileage tracking
Corporate card reconciliation
Multilevel workflow approvals
Audit trail reports
Travel and purchase requests
Enterprise resource planning (ERP) integration
Single sign-on (SSO)

Customer Support

Email, phone, self-help library, and paid support
Zoho Expense Alternatives
| | | |
| --- | --- | --- |
| | | |
| Best for: Companies looking for an easy-to-use expense tracking app | Best for: Small and medium-sized teams looking for an expense tracker without platform fees | Best for: Companies that want basic expense tracking coupled with accounting and invoicing capabilities |
| Starts at: $17 per month for one user | Free | Starts at: $30 per month for one user |
| | | |
Zoho Expense Pricing
You can choose among four plans, but the free version is always the best tier to start if you're new to expense trackers. Get the 14-day free trial to discover the features of paid plans.
| | Free | Standard | Premium | Enterprise |
| --- | --- | --- | --- | --- |
| Monthly Price | $0 | $5 per active user | $8 per active user | $12 per active user |
| Maximum Users | Up to 3 | Unlimited | Unlimited | Unlimited |
| Minimum Users | N/A | 3 | 3 | 500 |
| Receipt Storage |  5GB | Unlimited | Unlimited | Unlimited |
| Multicurrency Expenses | ✓ | ✓ | ✓ | ✓ |
| Customer or Project Tracking | ✓ | ✓ | ✓ | ✓ |
| Accounting Integration | ✓ | ✓ | ✓ | ✓ |
| Receipt Autoscan | N/A | ✓ | ✓ | ✓ |
| Travel Requests | N/A | ✓ | ✓ | ✓ |
| Advanced Approval | N/A | ✓ | ✓ | ✓ |
| Per Diem Automation | N/A | ✓ | ✓ | ✓ |
| Advanced Customization | N/A | ✓ | ✓ | ✓ |
| Travel Management Company (TMC)/Online Travel Agency (OTA) integration | N/A | ✓ | N/A | ✓ |
| ERP Integration | N/A | ✓ | N/A | ✓ |
| Security Assertion Markup Language (SAML) SSO | N/A | ✓ | N/A | ✓ |
| Dedicated Account Manager | N/A | ✓ | N/A | ✓ |
| Advanced Audit Trail | N/A | ✓ | N/A | ✓ |
Zoho Expense Features
Zoho Expense is devoted to expense tracking, especially for travel-related expenses. It puts you at an advantage compared to other expense trackers because it works and integrates with Zoho Books, the company's dedicated accounting software. However, QuickBooks Online and Xero users can integrate Zoho Expense as well.
The dashboard is available in the Admin view. Companies can delegate certain employees with the Admin role so that they can oversee everything in the expense reporting and reimbursement process. Only users with the Admin role can add Submitters, Approvers, or other Admins.
On the dashboard, you can see an overview of everything that's happening, from pending trips to top violators. Overall, it provides managers with useful information about the business.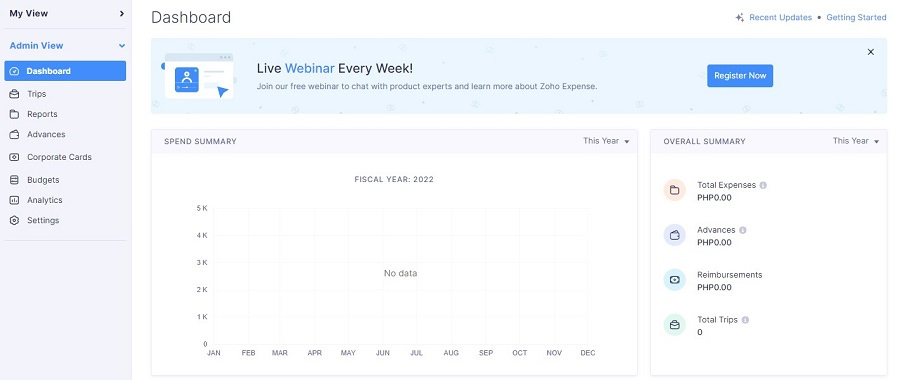 ---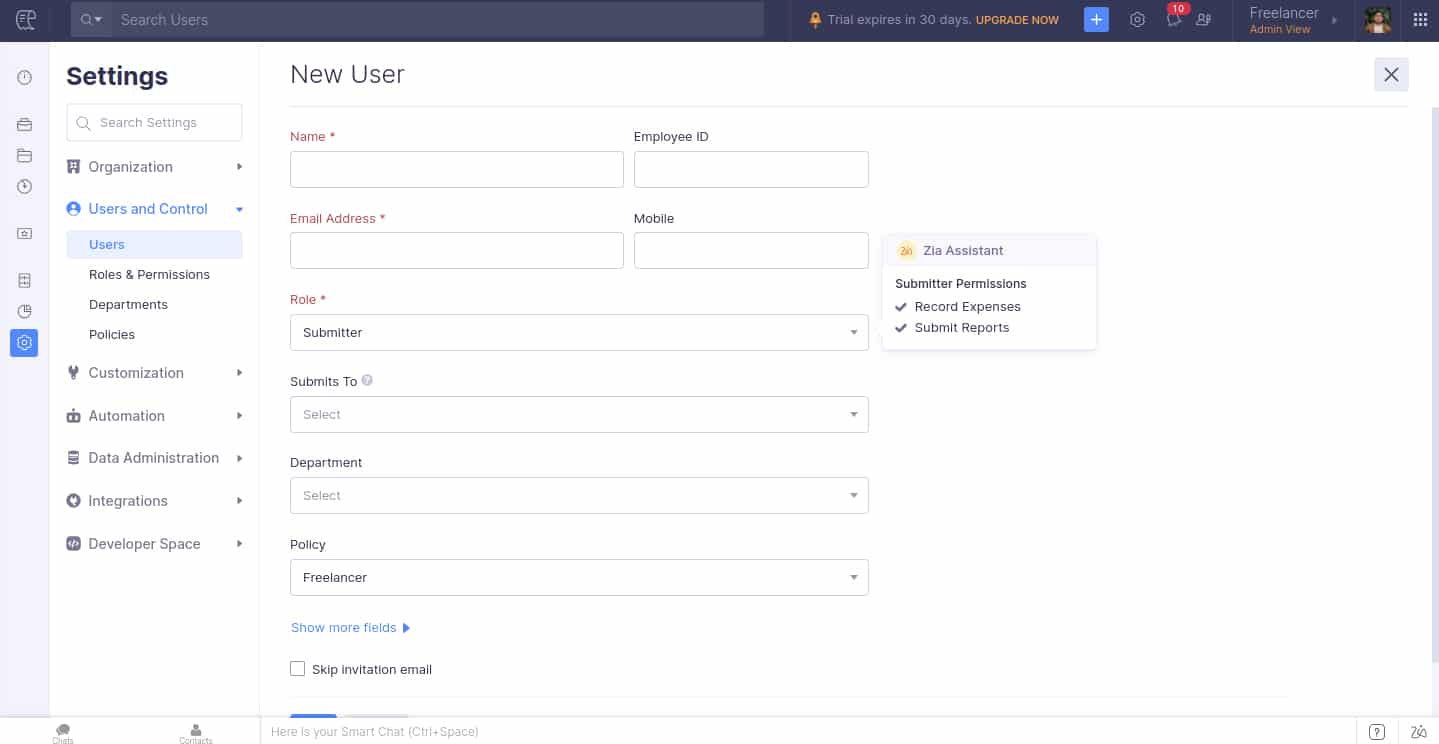 ---
---
The home screen welcomes users with a Drag & Drop Receipts feature. You can autoscan receipts, upload them from your computer or the cloud, or enter them manually. This screen will appear only to employees with a Submitter role. Being one of the best receipt scanner apps available today, Zoho Expense makes documentation easier and faster.
When manually entering expenses, you can click New Expense, and a pop-up window will appear. You can attach receipts here as well. When enumerating expenses, you can either choose a single-expense mode or an itemized-expense mode. After filling up the fields, you can either click Save and Close or Save and New.
---
When you visit the Expense tab, you'll see all your expenses categorized as Unreported. To report expenses, click Add to Report, and a pop-up window will appear. If you want to add it to existing reports, click the report's name from the dropbox.
If you want to see all your expenses, click All Expenses to view all unreported and reported expenses.
---
If you want to add a new type of expense, you can create a new category by clicking the + button in the category dropbox. You can set the category name and make it a subcategory of an existing category. You can also add an account code and a description.
---
After creating a report, all reports will be categorized as Unsubmitted. By clicking the Submit button, a pop-up window will appear, prompting you to enter the approver's name. Once submitted for approval, the approver will see the report on their end.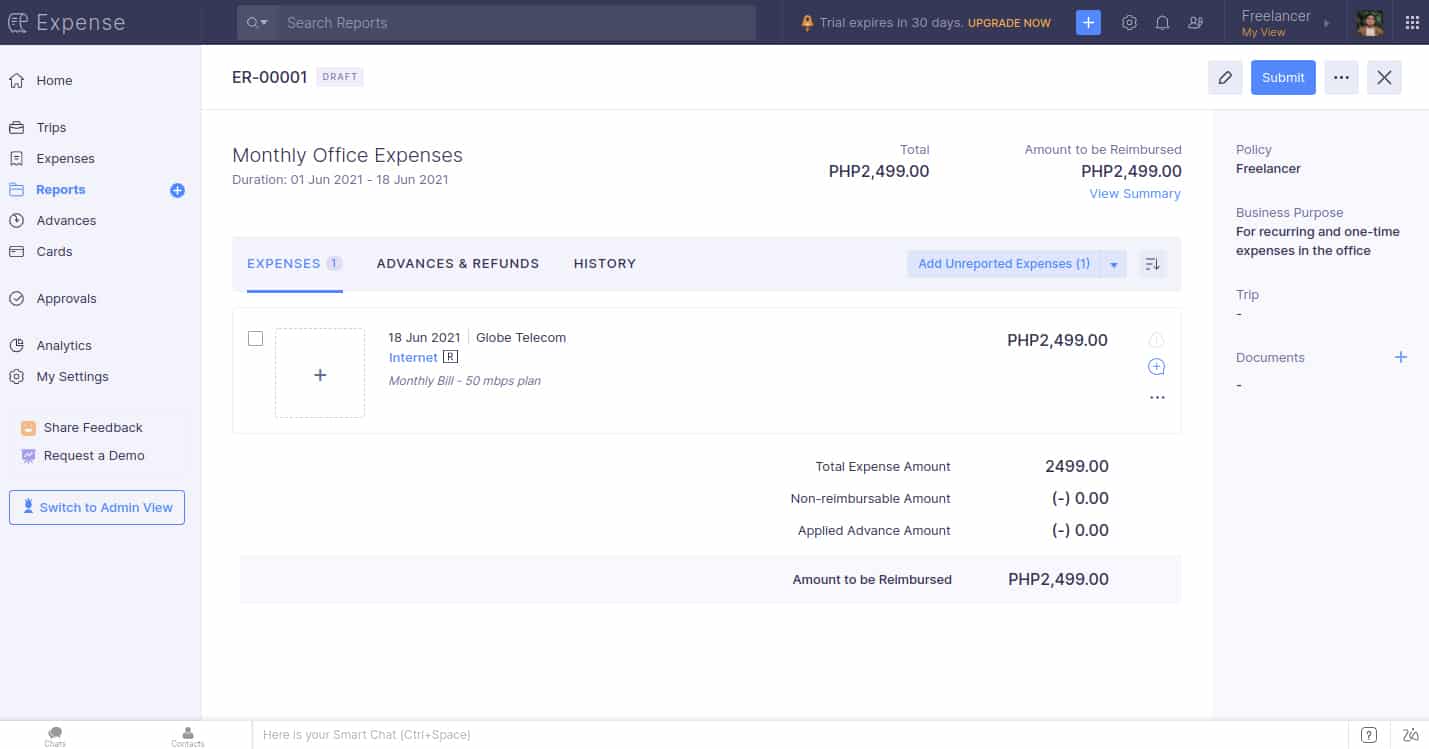 ---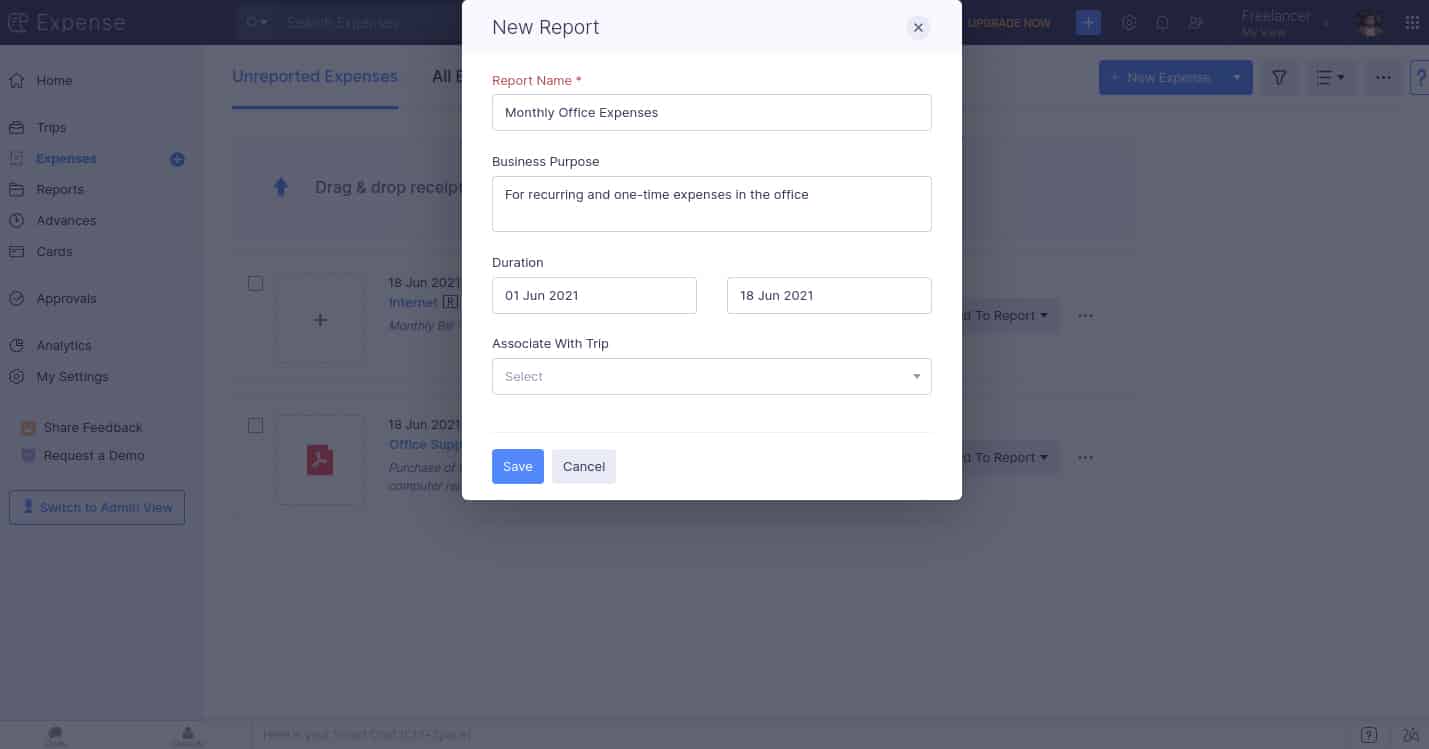 ---
After viewing the report, the approver may reject the report and enter the reason for rejection in the pop-up textbox window. Once rejected, the report will be categorized as Rejected. The accountable person may re-submit the report after addressing the reason for rejection.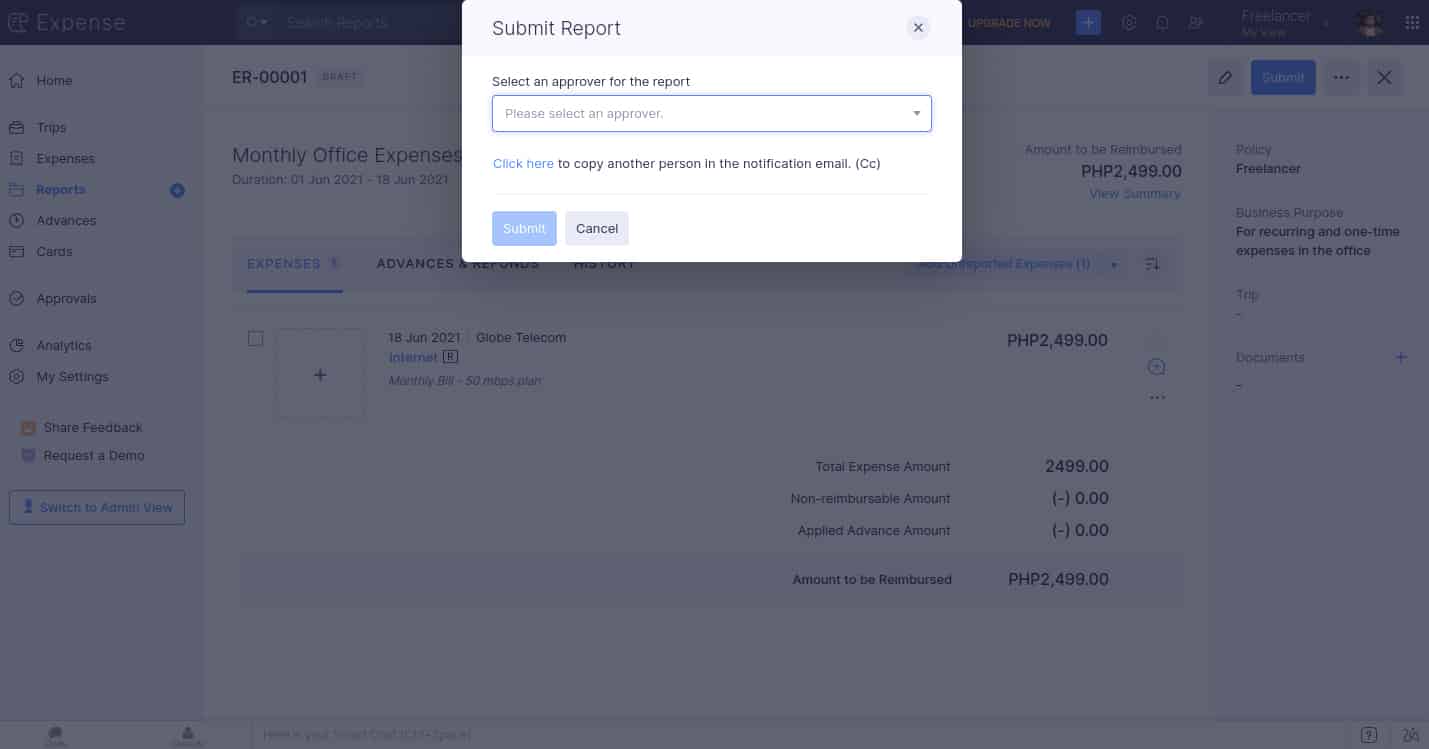 ---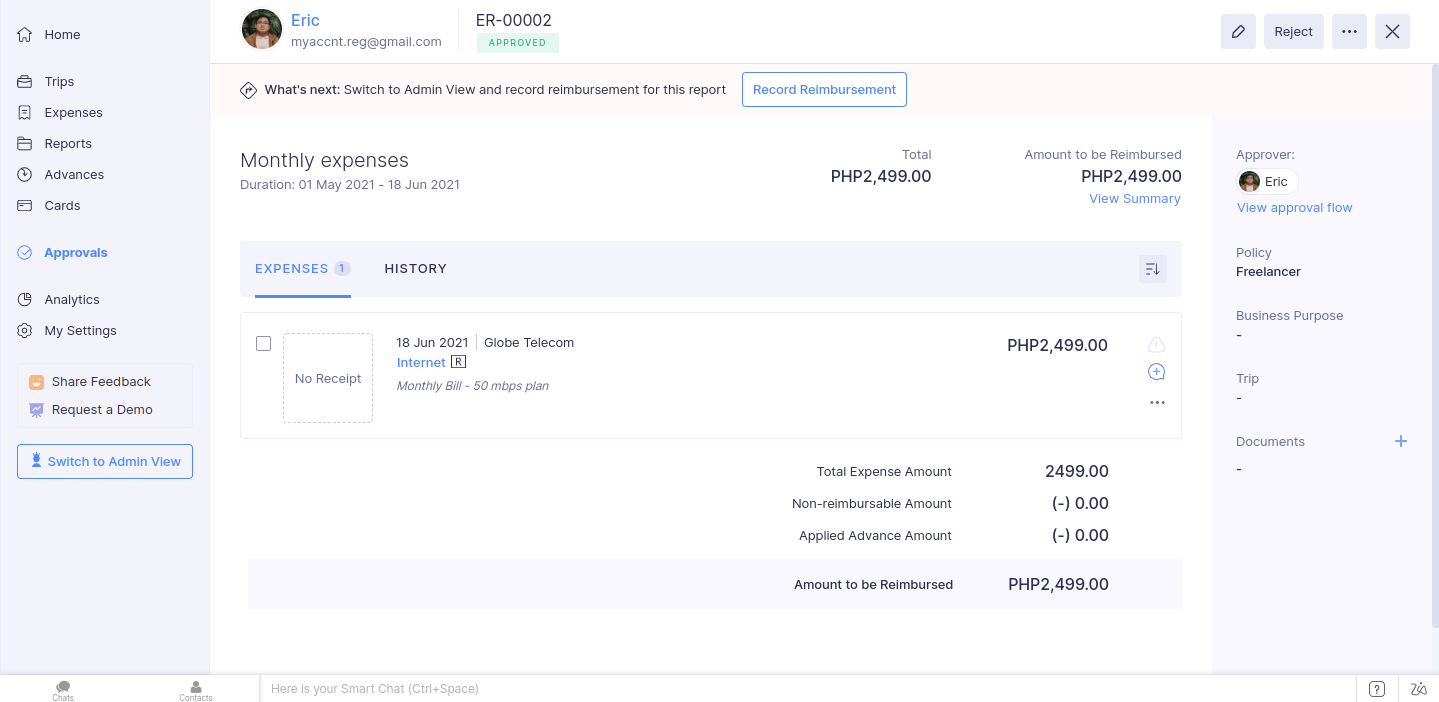 ---
If the user doesn't have a corporate card, the reimbursement will have to be made manually. Otherwise, all expenses charged to the corporate card will feed into Zoho Expense's approval and reimbursements automatically.
Once the report is good to go, it can now be reimbursed by clicking Record Reimbursement. After clicking, the report's status will be marked Reimbursed.
---
Zoho Expense also lets you create budgets for your expenses. Click the Budgets tab in the admin view of the dashboard, and it'll show you how to create a new budget.
---
Apart from expenses, you can insert advances from employees. Advances use the same process as Expenses. After adding an Advance entry, it'll appear in the Advances tab. You can then click Submit. If the user has existing unreported expenses, Zoho will ask to include unreported expenses automatically in a new report.
Once submitted and approved, the advance will offset the expense when the expense is incurred and submitted. After submitting, the report will be marked as Reimbursed.
---
Zoho Expense can integrate with third-party software. It works well with accounting software and ERP software like Oracle, Sage, SAP, and Xero. However, it works best if you use it alongside Zoho Books. For travel, you can use ITILITE or GetThere for bookings and reservations. You can also integrate it with Uber and Lyft for ride-hailing apps. Other integrations include Google Workspace, Microsoft 365, and Slack.
---
Zoho Expense has a mobile app that can be downloaded from App Store or Google Play. The app contains the same features as the web version. Through the app, submitters can use mileage tracking to monitor travel expenses and submit payments and reports for faster reporting of expenses.
---
Zoho Expense includes secure sockets layer (SSL) encryption and multifactor authentication (MFA) to prevent unauthorized access. Additionally, you can set up permission access to control what employees within your organization can see and do. If your company is already using other Zoho apps, Zoho has an SSO feature. You only need to sign in to your Zoho account, and you will be logged in to all Zoho apps you're subscribed to automatically.
---
Zoho Expense User Reviews
Zoho Expense reviews consist of many high praises for expense tracking. Some users found it as a great expense management tool for staying on top of expense receipts and reimbursements. However, other users pointed out that the tool could use upgrades in user experience (UX) like simplifying receipt submissions.
GetApp: 4.6 out of 5 stars based on nearly 800 reviews
G2: 4.5 out of 5 stars based on nearly 900 reviews
Frequently Asked Questions (FAQs)
What is the difference between Zoho Expense and Zoho Books?
Zoho Expense and Zoho Books are both apps within the Zoho environment. Zoho Expense is focused on tracking, approving, and reimbursing employee expenses, while Zoho Books is bookkeeping software.
Is there a limit to the free plan of Zoho Expense?
Aside from the 5 GB receipt storage and maximum limit of three users, features like travel requests, approval flows, and budgeting are unavailable in the free plan. You may check this comparison table from Zoho to see the complete inclusions and exclusions per tier. The free plan is suitable for mom-and-pop shops, freelancers, solopreneurs, and startups.
Bottom Line
Zoho Expense is a great auxiliary app to supplement your dedicated accounting software. It helps speed up expense recording, approval, and reimbursement processing. Moreover, users of Zoho apps only need one account to integrate with Zoho Expense easily. Overall, Zoho Expense is an excellent app for tracking and managing expenses.
However, small businesses with fewer than 500 employees needing features like multilocation or multibranch management may find that Emburse Abacus is a better option. Aside from this limitation, Zoho Expense is still worth considering if you're planning to expand to other Zoho apps like Zoho Books or Zoho CRM.