A cash register combines a secure cash box, advanced adding machine, and receipt printer into one operating unit. Many connect to credit card terminals and barcode scanners, and some incorporate inventory and point-of-sale (POS) software for added functionality.
The best cash registers for small businesses are:
Small business owners have two overall choices when selecting a cash register. You can use a register-based system or opt for registers that operate using point-of-sale (POS) software. Cash registers work well for businesses that need a simple machine to tally sales, complete customer payments, print receipts, and store cash. POS systems do all of this plus offer a complete suite of business management tools, some at a surprisingly low cost.
Since price no longer separates POS systems from basic cash registers, we explore both options in this guide.
Square: Best Overall POS Cash Register for Small Businesses
Square

What We Like
Free cloud-based software
Affordable hardware with payment plan options
Offers more features than a traditional cash register
Fast and immediate setup - payment processing built-in
What's Missing
Need to purchase cash drawer separately
Built-in payment processing means you can't shop around for lower rates
Square POS Cash Register Pricing
Square Stand: $169 or $16 per month for 12 months. Stand and card reader for iPad (iPad sold separately).
Square Register: $799 or $39 for 24 months (Fully integrated POS register with touch-screen monitor, customer-facing display, and card processing terminal).
Square Terminal: $299 or $27 per month for 12 months (All-in-one portable credit card machine with POS software and receipt printer built-in).
Mobile device registers: Use your own smartphone or tablet, and connect a contactless, chip, and swipe card reader for $49.
Payment processing: 2.6% + 10 cents per chip, tap, and swipe payment or 3.5% + 15 cents for manually keyed-in transactions. Ecommerce and invoice payments are 2.9% + 30 cents.
We recommend Square as the best POS-driven cash register for small businesses because it delivers a complete suite of sales, payment, inventory, and business management tools for free. Plus, it also gives you several low-cost register options. Unlike traditional cash registers, with Square, you can process sales and run your entire business from your smartphone or tablet. Or, you can use one or more countertop registers to meet any in-store selling need.
Square is what's called an all-in-one solution that combines a credit card processing service, software, and cash register POS hardware in one system. Unlike the other register picks on our list, if you use Square's POS register, you can't rate-shop merchant account providers. But Square's payment processing is very small business-friendly, with simple flat-rate fees and no startup or monthly account fees.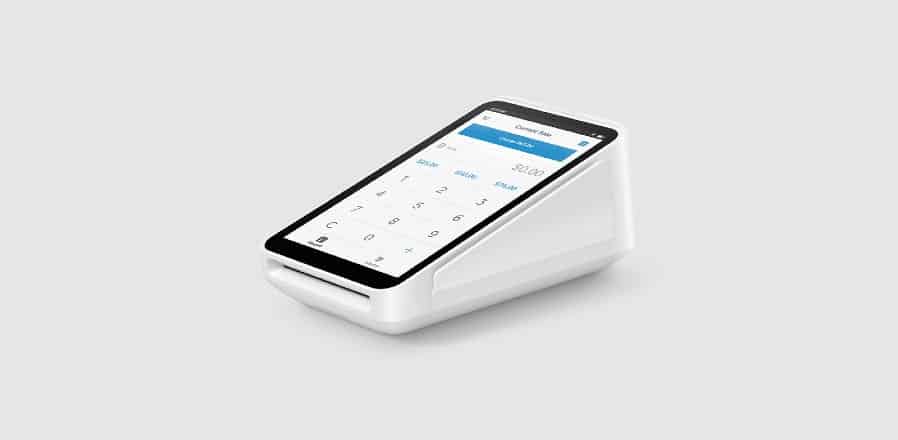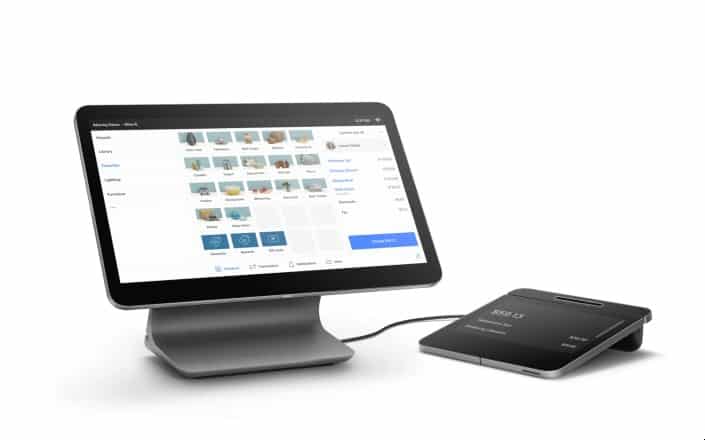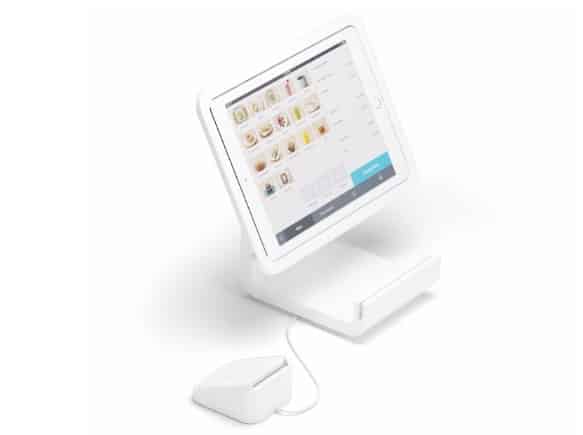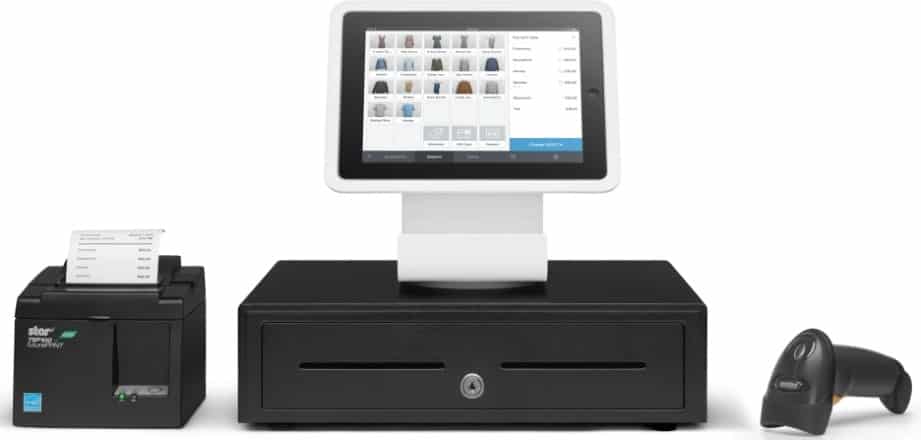 Square POS Cash Register Features
Sales and checkout: Registers support touch-screen and barcode entry, accept credit card and contactless payments, record cash and checks, add discounts and coupons, open tabs, split payments, add tips, and view real-time sales reports on any device.
Mobile sales: Add Square POS to multiple smartphones and tablets to complete transactions on the sales floor, tableside, at events, or curbside.
Taxes and reporting: Taxes automatically tally per set rules.
Interconnectivity: Record sales and process credit card payments without an internet or cellular connection. Connect unlimited registers and store locations on any device. Cloud-based software offers real-time data synchronization and reporting.
Receipts: Connect a receipt printer or send a digital email or SMS receipts that also include options for collecting customer feedback.
Inventory management: Store detailed product lists, add items to sales, auto inventory adjustments, sync inventory with an online store.
Employee management: Unlimited staff logins and track sales by staff for commissions. Options for adding payroll processing.
Customer management: Save customer contact information and track sales by customer.
Casio PCR-T280: Best Portable, Low-Cost Cash Register
Casio PCR-T280

What We Like
Affordable and portable
Built-in cash drawer and receipt printer
Reliable performance reputation
Simple, easy to use cash register system
What's Missing
No integrated card payment processing
No internet or mobile connectivity
No customer data management
No tab or tip functions
Casio PCR-T280 Cash Register Pricing
If you just need a simple cash register to complete payments wherever you sell, the Casio PCR-T280 electronic cash register offers a good set of sales features for under $100. Plus, it weighs in at 11 pounds for portability. Available on Amazon and through most office and retail supply companies, this compact Casio cash register has a proven track record of reliable performance for temporary market sellers and small retailers alike.
As an all-in-one cash register unit, you don't need to purchase a separate cash drawer and receipt printer—unlike the build-your-own cash registers from the POS systems on our list. However, to process credit cards, you'll have to add a standalone terminal from your merchant account provider. This model does not have a connection for an integrated credit card terminal.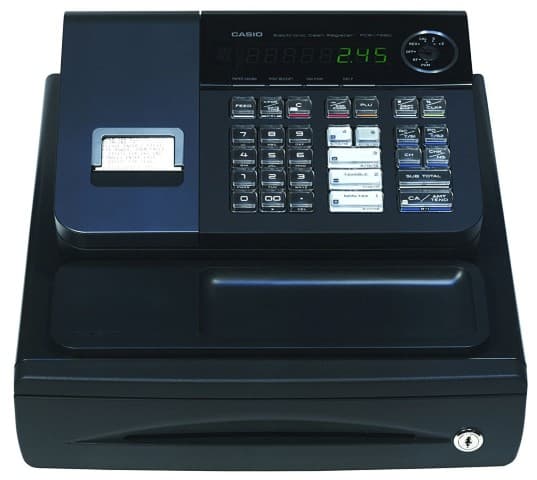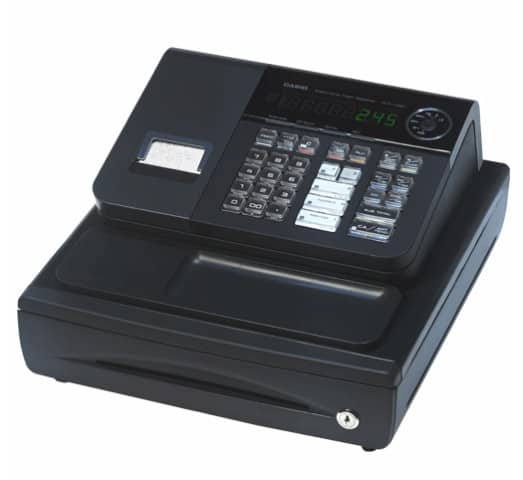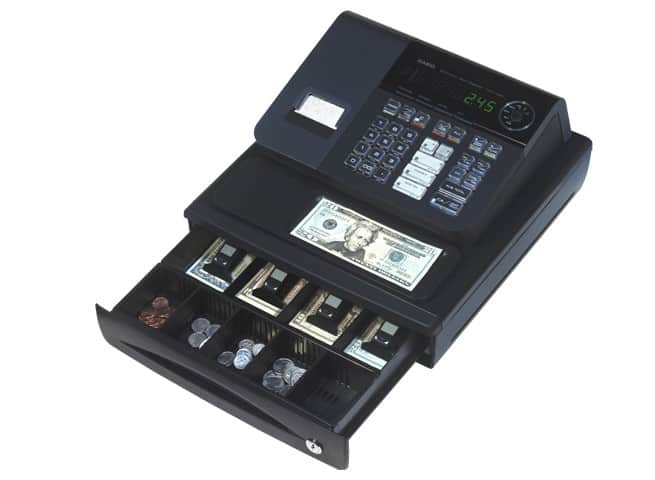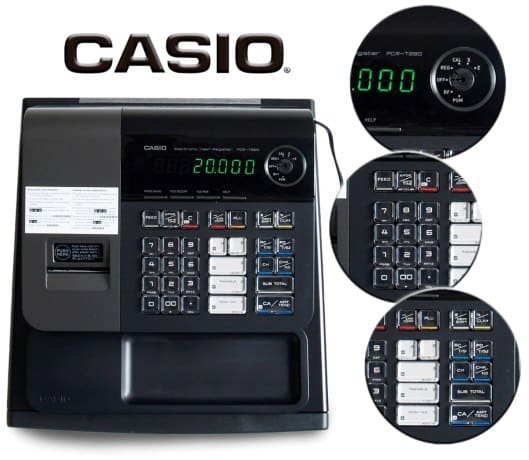 Casio PCR-T280 Cash Register Features
Sales and checkout: Quick and easy with a convenient change tray on top, rear customer display shows the total, coupons, and discounts can be manually entered. Record cash and check payments and split transactions. Manually process returns and exchanges.
Taxes and reporting: Four tax rates can be pre-set. Print daily sales totals throughout the day.
Offline mode: No internet connection required. No options to network with other registers or store locations.
Inventory management: Enter up to 1,200 products and prices, though there are no stock tracking features.
Employees: Eight user logins, track sales by the user.
This cash register is a basic unit that's designed to add items and calculate sales, add taxes, complete and record cash and check payments, print receipts, track user logins, and print daily sales totals. If you need a compact, portable cash register that does this, the Casio PCR-T280 delivers. Compared to the full set of options that more advanced cash registers on our list provide, and especially the POS options, this cash register is bare-bones. But what it does, it does well.
Casio SR-C4500: Best Cash Register for Businesses With Large Product Lists
Casio SR-C4500

What We Like
Wi-Fi technology and cloud reporting (Android and iOS compatible)
Up to 7,000 products/PLUs and 200 departments
Track up to 50 guest checks
Training mode
What's Missing
Pricey
No mix and match pricing (BOGO, etc.)
No bottle deposit
No tax-exempt key
Casio SR-C4500 Cash Register Pricing
Casio SR-C4500: $479
Barcode scanner: $199
Laser barcode scanner: $207
Credit card terminal: $495, compatible with PAX S300 integrated EMV terminal. Processing rates vary depending on your individual merchant account.
The Casio SR-C4500 offers a big step up in functionality from the bare-bones PCR-T280 covered above. Ringing in at just under $500, the SR-C4500 is a fair jump in price, but for that, you gain many added capabilities. Most notably, the SR-C4500 stores up to 7,000 item prices, compared to the PCR-T280's 1,200, making it ideal for shops with large product lists.
Plus, it supports an integrated barcode scanner and credit card terminal, has a user-friendly, spill-resistant keyboard with programmable quick keys, tracks commissions for up to 50 users, and tracks guest checks for hospitality businesses.
The Casio SR-C4500 is sold as an all-in-one cash register unit that includes a connected cash drawer and two built-in receipt printers. It also has two ports for connecting a barcode scanner (sold separately) and a credit card terminal, which you typically get through your credit card processing service.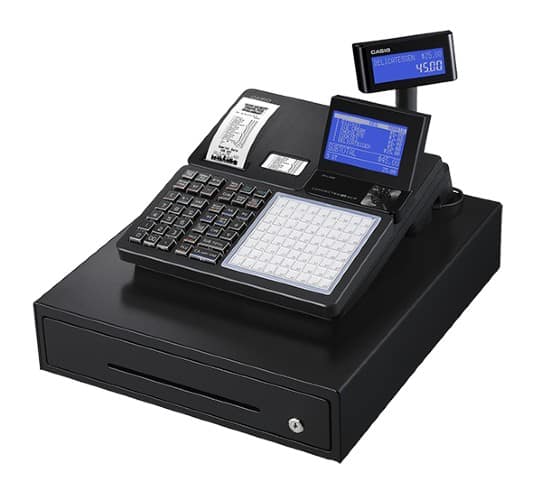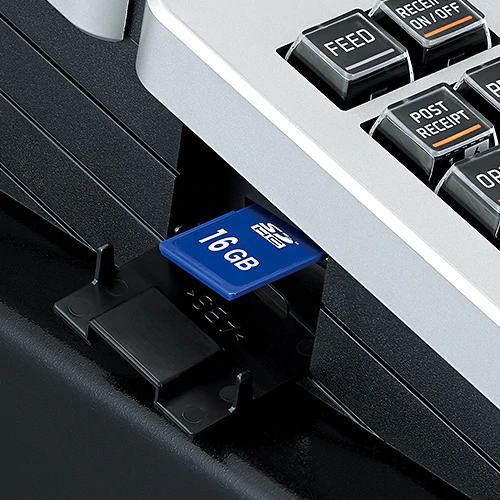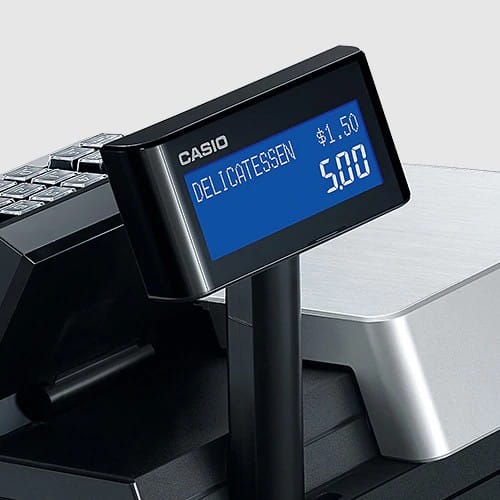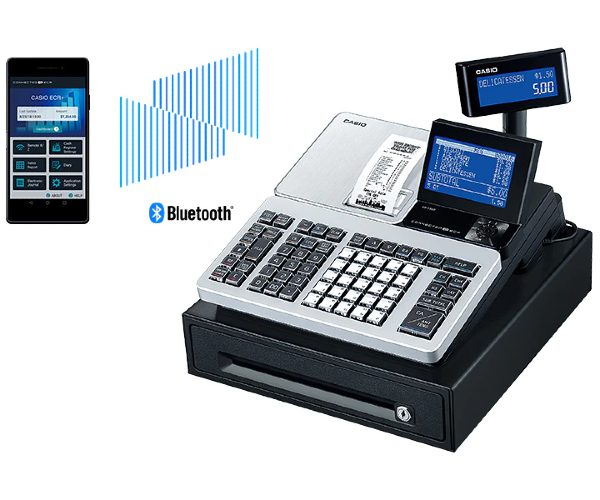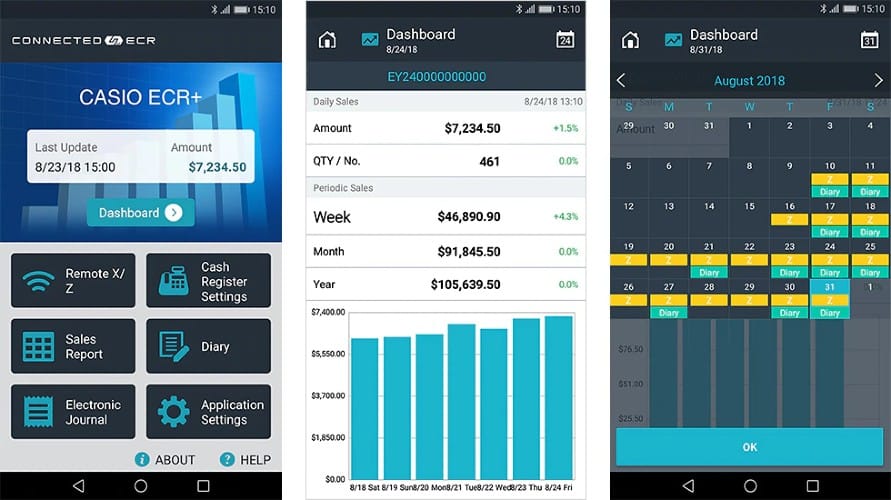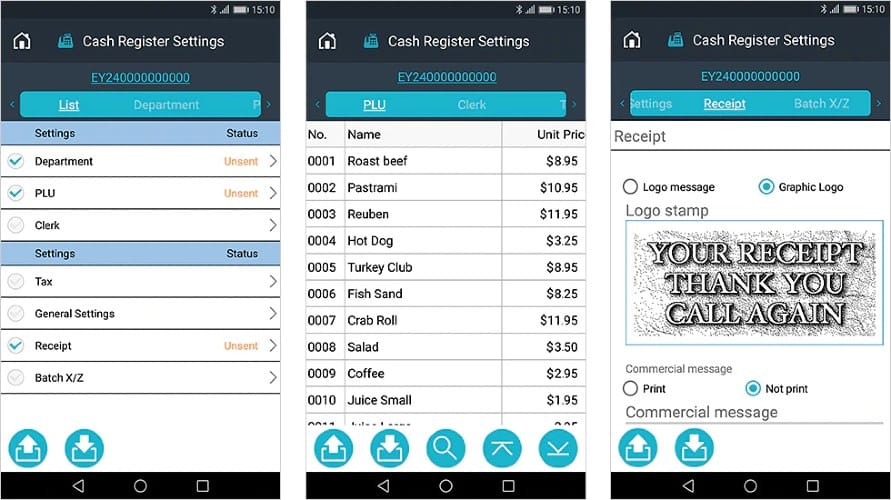 Casio SR-C4500 Cash Register Features
Sales and checkout: 72-key flat programmable keyboard enables fast transactions. Connect a serial scanner to scan and record up to 3,000 pre-programmed items. Save up to 50 guest checks with details (for restaurant and hospitality businesses), print thermal or journal receipts, process refunds, and execute age verification for restricted products like alcohol.
Taxes and reporting: Set up to four tax rates. View sales activity, sales by employee, and hourly sales, and automatically save reports when you initiate daily close operations. Save reports to an SD card in CSV format or download Casio's Connect ECR+ free mobile app to view and save sales reports.
Interconnectivity: Internet not required to operate the cash register but is necessary for credit card transactions and connecting to mobile reporting app. No options for multi-register or multi-location setups.
Casio Mobile App: Download Casio ECR+ on your smartphone and connect your cash register via Bluetooth. Gives you remote access to your cash register records saved on Casio's cloud database.
Inventory management: Program up to 7,000 products or PLUs, including condiment and hash item programmability.
Employees: Add up to 50 clerks, track commissions, and run a training mode.
This model packs a lot of features into a reasonably priced cash register for small businesses (though the compatible card terminal can be pricey). It offers far more than the basic Casio register above in terms of checkout efficiency, internet connectivity, accessory integrations, stored items, staff commissions, and even food service features. But, when compared to the POS-driven cash registers on our list, it still falls short of their far more complete inventory tracking and overall business management features.
Overall, the Casio SR-C4500 is a great middle-ground between the entry-level cash register models and a full POS software system. It has a large product database and options for mobile app reporting—but still in a traditional cash register hardware setup.
Sharp XE-A207: Best Cash Register That Connects With QuickBooks
Sharp XE-A207

What We Like
QuickBooks upload
Integrated payment processing
Up to 2,500 products
What's Missing
No barcode scanner connectivity
No programmed discount codes
No customer data entry
Sharp XE-A207 Cash Register Pricing
In terms of features and price, the Sharp XE-A207 falls between the two Casio registers discussed in this guide. However, it delivers something that these, and many other budget-friendly cash registers on the market don't—a link to your QuickBooks Pro software. With this, you can directly import your sales data into QuickBooks to streamline your bookkeeping and use QuickBooks to manage business tasks such as inventory tracking, purchase orders, and business reporting.
It's important to note that most POS-based cash registers also support QuickBooks imports and integrations. For example, Square and Lightspeed both have a direct QuickBooks integration. Since a QuickBooks data download isn't common in a budget-friendly cash register for small business, the Sharp XE-A207 stands out.
Like the Casio models on our list, Sharp's XE-A207 includes a locking cash drawer and receipt printer in one complete unit. This cash register doesn't support a barcode scanner, but it does connect to a credit card terminal that you get from your merchant services provider to fully integrate credit and debit card payments into your usual checkout flow.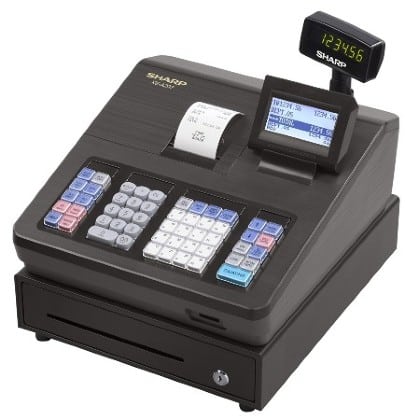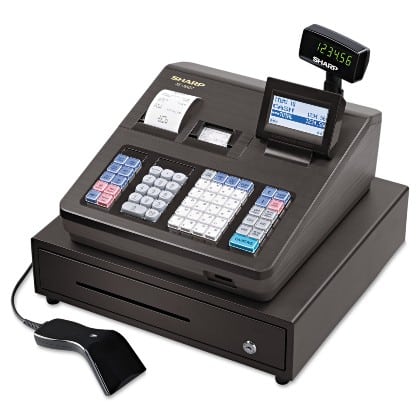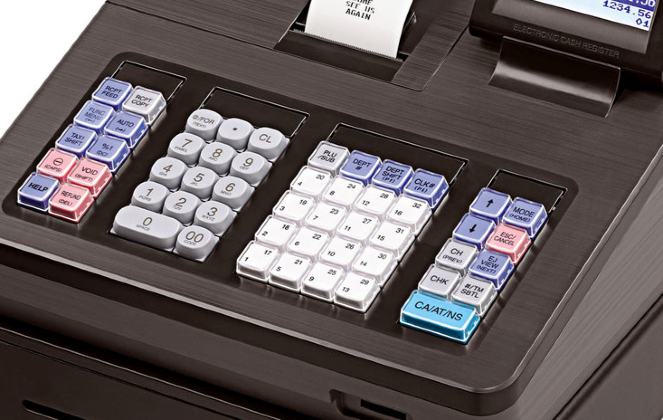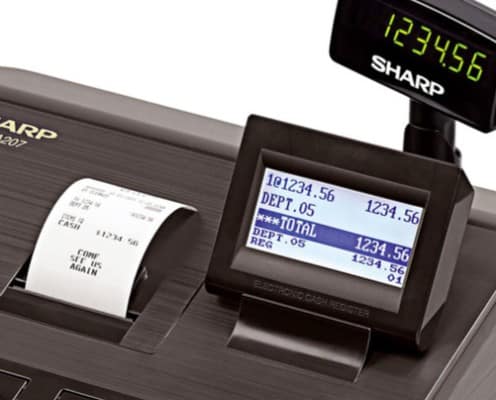 Sharp XE-A207 Cash Register Features
Sales and checkout: Integrated credit card terminal, large clerk screen, and customer display. Manually enter discounts and coupons; however, there is a quick return button. Record cash and check payments. Built-in thermal printer for receipts.
Taxes and reporting: Four tax rates can be pre-set. Run daily sales totals.
Interconnectivity: No internet connection required to use the cash register. An integrated credit card terminal would likely require a connection.
Inventory management: Enter up to 2,500 products and prices; however, there's no stock tracking.
Employees: 25 user logins; track sales by staff. No built-in commission features.
Since the Sharp register connects to a credit card terminal to integrate payments into your checkout, it beats the basic Casio out of the gate since that register has no terminal connections. It also supports a larger product list than the budget unit, with 2,500 stored products, but falls short of the Casio that holds 7,000 products.
Like the Casios, the Sharp doesn't match the power of POS-driven registers, which deliver an array of built-in inventory, customer, staff, and business management features. However, its QuickBooks data transfer via its PC Link software helps fill the gap. This lets you save transaction data to an SD card in a QuickBooks-friendly format. From there, you can also manage inventory, purchasing, accounts payable, customers, and staff. This solution isn't quite as streamlined as a complete POS system, but it's a good middle ground.
Lightspeed: Best POS Cash Register for Multi-Location Retailers and Restaurants
Lightspeed

What We Like
Robust feature set w/ advanced inventory and reporting tools
Connect multiple registers and locations
Cloud-based system with real-time data sync
What's Missing
Only for retail, specialty and restaurant businesses
Priciest option - ongoing monthly fees
Lightspeed POS Cash Register Pricing
Lightspeed cash register bundles: Quote-based pricing available for hardware bundles. Lightspeed can run on desktop computers, laptops, and iPads. Connect any mix of printers, cash drawers, barcode scanners, and card readers.
POS software monthly fees: $69 to $229 + $29 for additional registers for retail businesses. Restaurant software is available from $59 + $34 for additional registers with options for add-ons.
Payment processing: Lightspeed comes with built-in credit card processing with Lightspeed Payments. Rates are 2.6% + 10 cents for swipe, chip, and tap payments, 2.6% + 30 cents for manually keyed-in payments. Volume discounts are available.
The Lightspeed POS-based cash register delivers a very comprehensive set of multi-store management tools capable of tying inventory, purchasing, staff, and business management tasks across multiple locations—it even connects online sales. As a POS-based register system, Lightspeed lets you set up several registers in one or many locations and connect all data within one centralized, cloud-based software system.
The traditional cash registers on this list don't have capabilities to connect multiple registers or locations. So, if you have a high-volume store or multi-location business, you need something more robust that can be networked. Lightspeed is one of the best options for businesses of that size and offers great value for its price point.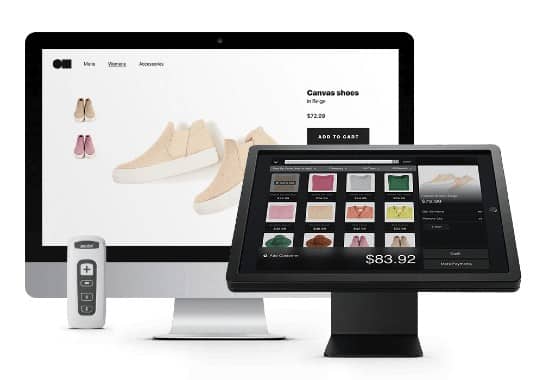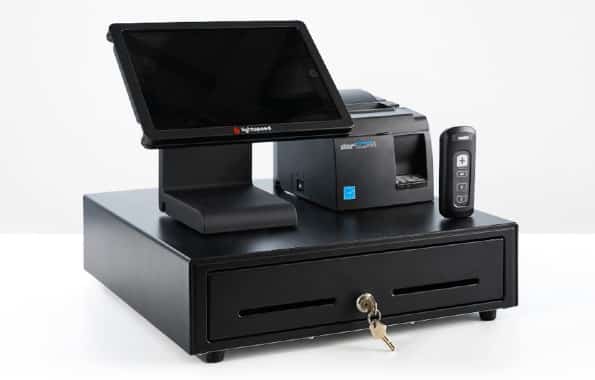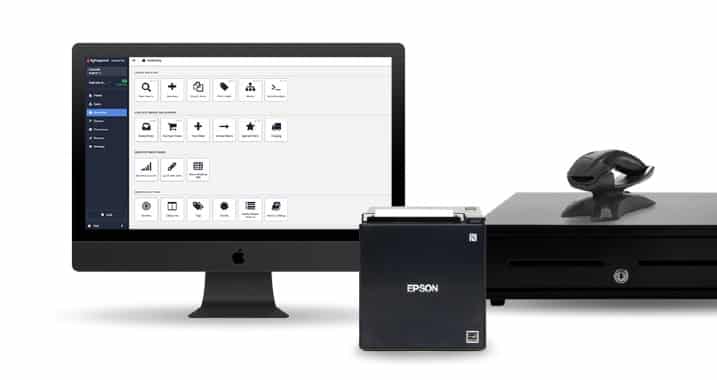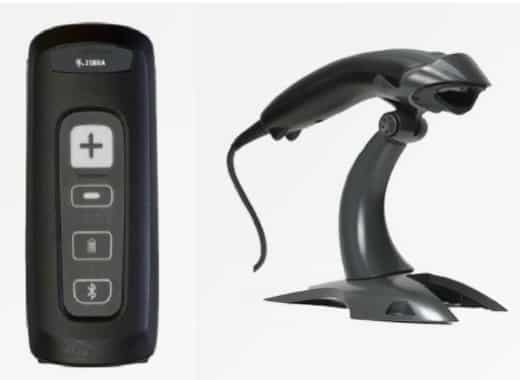 Lightspeed POS Cash Register Features
Sales and checkout: Touch-screen or computer-controlled checkout screen, barcode scanning, and entry. Add Lightspeed mobile POS app to multiple iPhones, iPads, and Android tablets for floor and tableside sales. Program discount codes and coupons that can be applied via code entry or barcode scan. Handle open tickets and tabs for restaurant sales. Saves customer data and transaction history for quick returns. Print receipts or send via email and SMS.
Taxes and reporting: Taxes automatically tally per set rules. Very sophisticated and customizable real-time analytics for sales and inventory. Hundreds of preset reports. Accounting integrations available.
Interconnectivity: Lightspeed has an "offline mode" to continue operating even if the internet connection is interrupted.
Inventory management: Store detailed inventory lists, add items to sales, auto inventory adjustments, track parts and ingredients, sync inventory with an online store and between multiple locations. Lightspeed also has granular ingredient-level stock tracking, features to manage product variants and custom orders, and sophisticated inventory reporting.
Employees: Create different logins with permission settings and track sales by employee.
Like Square, Lightspeed's POS-driven cash registers deliver far more sales and operational features than standard cash registers. Like Square, you can build a cash register solution to meet your exact needs using Lightspeed, but it offers more register options than Square's iPad-based system. You can build a cash register around an iPad tablet, or a Mac or PC computer, plus you can use Android tablets and iPhones as mobile registers. All of these connect to the shining star of Lightspeed's feature set—advanced inventory management.
A top reason that small businesses choose a POS register over a standard register is its ability to track stock counts, pricing options, and customer data in real time. Here, Lightspeed truly delivers. Its advanced inventory management tools are top-notch, plus it has a robust purchase order system. For sellers managing large inventories and multiple vendors, Lightspeed's fully integrated system takes the place of making daily updates on inventory spreadsheets and sales journals. Plus, you can oversee stock across store locations, in backroom or warehouse storage, and more.
Bottom Line
Many retailers and small businesses are making the move to POS-driven cash registers because they open doors to the many ways and places that customers shop and buy. Standard registers are inexpensive and make the checkout process faster and more accurate than hand-tallying sales on a calculator. However, their connectivity to mobile devices, online sales channels, and even to other registers within the sales store is nonexistent. To get a complete handle on your checkout functions, business operation, and customer-focused sales and marketing, a POS cash register for small businesses is the best solution.
You May Also Like …