8×8 Contact Center Review: Is It Right for Your Business?
This article is part of a larger series on VoIP.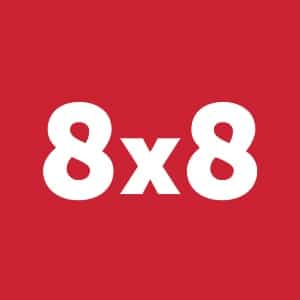 8×8 Contact Center Overview
8×8 is a cloud-based solution that combines contact center capabilities with workforce optimization solutions and unified communications. With its multiple interaction channels and CRM integration, 8×8 provides a centralized communication hub where agents correspond with customers. It is scalable and flexible enough to grow with your business, providing automation, sophisticated call routing, and performance analytics.
PROS

CONS

Omnichannel voice and digital routing with self-service options
No free trial for contact center services
Enterprise-level security with multiple certifications
Quality management features are only available in the top-tier plan
Intelligent agent and contact center analytics
Alternatives offer more app integrations
What We Recommend 8×8 Contact Center For
8×8's contact center enhances customer engagement through artificial intelligence (AI)-powered self-service menus, fostering better customer experience across multiple touchpoints. It also improves agent operational efficiency by providing insights that lead to timely coaching and feedback.
Businesses with data privacy concerns will benefit from 8×8's compliance standards and initiatives, which include being Health Insurance Portability and Accountability Act (HIPAA) and Federal Information Security Management Act (FISMA)-compliant.
Are you looking for a business phone system? Perhaps one that doesn't focus on contact centers yet has excellent international calling options? Consider 8×8's three standard plans – find out more about this provider as a VoIP/UCaaS system in our 8×8 review.
When to Use 8×8 Contact Center
When 8×8 Contact Center Might Not Be a Good Fit
Businesses needing broader third-party application integrations: 8×8 has 59 third-party app integrations, allowing support teams to stay organized and informed. However, alternatives like Freshdesk Contact Center offer more than 1,000 third-party apps for businesses needing wider contact center integrations.
Businesses looking for pay-as-you-go service options: Businesses with a limited budget needing a communications platform may look at CallHub, which offers a la carte pricing. CallHub is a cloud-based voice and text messaging solution with a virtual call center that allows businesses to reach audiences en masse. Read our CallHub review to learn more about its audience engagement features.
Businesses requiring unlimited cloud data storage: 8×8 plans provide media storage for 30 days, with long-term storage requiring feature upgrades. As an alternative, consider RingCentral, which automatically saves calls into call logs for a maximum of 90 days. This RingCentral review breaks down everything, from pricing to features of this business phone solution. Or read our RingCentral vs 8×8 article to see how these two providers perform against each other for VoIP telephony services.
8×8 Contact Center Pricing
8×8 has three contact center pricing options that start at $85 per user on a monthly basis. The X6 plan offers basic features and analytics, while the X7 tier streamlines voice and digital interactions. Its highest plan, X8, offers quality management and advanced analytics and monitoring functions.
Users may also mix and match features and plans to customize solutions based on business needs. Quotes are requested from the 8×8 sales team.
| 8x8 Contact Center Plans | X6 | X7 | X8 |
| --- | --- | --- | --- |
| Best For | Small businesses primarily using voice channels | Mid-sized businesses with growing sales teams | Large companies and enterprises |
| Monthly Pricing* | $85 per user | $110 per user | $140 per user |
| No. of Countries | 48 | 48 | 48 |
| Skills-based Routing | ✓ | ✓ | ✓ |
| Interactive Voice Response (IVR) | ✓ | ✓ | ✓ |
| Omnichannel Routing of Voice, Chat, SMS, Social Media & Messaging Apps | ✕ | ✓ | ✓ |
| Co-browsing (Shared Browsing) | ✕ | ✓ | ✓ |
| Quality Management | ✕ | ✕ | ✓ |
| Speech Analytics | ✕ | ✕ | ✓ |
*Plans are paid on a monthly basis. Users may mix and match plans and save up to 25% with annual billing.
Click on the drop-down menu below to learn about each 8×8 Contact Center plan:
X6
The X6 plan offers basic voice-based contact center functionality with advanced reporting capabilities. It includes managed and self-service number porting, a multilevel auto-attendant, call handling, contact center reporting, and analytics. Users will need to upgrade for premium features, such as intelligent interactive voice response (IVR), 8×8 secure pay, and quality management. These call center software features are included in the top-tier X8 plan that starts at $140 per user (paid monthly).
---
X7
The X7 plan comes with all the features in X6 plus additional interaction channels, including social media, chat, email, and SMS. It also enables your customer support team to assist customers remotely via a shared browser called co-browsing. This facilitates live, hands-on assistance to a customer in need, who must initiate the remote session, generate a unique session code, and communicate it to an agent via phone or chat.
---
X8
The X8 plan has advanced call capabilities, including auto-dialer, quality management, and interaction analysis. Quality management and interaction analysis features equip managers with reporting dashboards that synthesize customer data and speech analytics, quickly identifying areas of improvement.
---
8×8 Contact Center Features
8×8 is a comprehensive and highly scalable customer engagement and internal collaboration solution that makes it easier for small businesses to connect with customers and each other. It combines collaboration tools (e.g., a unified inbox for all channels) with customer engagement functions like customer surveys and experience analytics.
It is recommended for businesses looking for comprehensive real-time statistics reporting of data about agents and queues. With access to data on all or particular agents and queues, 8×8 provides insights into center performance toward data-driven decisions.
General Features
8×8's primary call center features include omnichannel routing, intelligent IVR, speech and text management, customer analytics, and reporting. Each plan contains enterprise-grade security, including HIPAA and FISMA certifications. 8×8 is a secure platform for companies in industries that handle sensitive information, such as health and finance.
Other 8×8 Contact Center features include:
Payment processing
Native customer relationship management
Team messaging
Surveys
Quality management and coaching
Omnichannel Inbound Routing
8×8 offers multiple digital channels that give customers the freedom to interact with your business through their channel of choice. Coupled with omnichannel routing and customizable self-service options, streamline the process and match customers with the right agent to address their concerns. Omnichannel routing is available in higher-tiered plans starting at $110 per user.
---
Call Analytics
Equip your call center managers with the correct information to identify interaction trends and team behavior and act on findings to optimize the customer experience. With 8×8's speech analytics and automated transcripts, businesses will gain insights into conversations for timely feedback to team members.
---
Customer Surveys
Supplemental to internal analytics and performance reports, 8×8 users gather feedback directly from customers following an interaction. Such feedback is critical to improving the customer experience and recognizing team members and agents who consistently provide excellent customer service. Information is presented through the dashboard for effortless data visualization and action.
---
Virtual Agent
8×8 has a conversational virtual assistant that provides personalized self-service to customers. The benefits of this feature are two-fold: it keeps agents focused on more engaging work, while at the same time, customers seek solutions independently, minimizing customer wait time and the need for agent intervention. Deploying AI agents ensure consistent and constant availability and customer service delivery.
---
8×8 Contact Center Alternatives
8×8 contact center solutions enable businesses to connect with their customers through call management tools and customer engagement services that improve the quality of interactions. However, for those that need more third-party integrations or are looking to have social media chat channels available in entry plans, below are some alternative business phone systems to consider:
| | | |
| --- | --- | --- |
| Best for: Small to medium enterprises that want advanced AI functionality | Best for: Small to medium-sized enterprises in need of an integrated communications system with customer support | Best for: Small businesses interested in consolidating customer and team communications on one platform |
| Starting monthly price: $75 per user for the CS Cloud Essentials Plan | Starting monthly price: $23 for the Standard Plan | Starting monthly price: $50 for the Pro Call Center Plan |
| or | or | or |
Do you want to see how the best call center phone systems compare to one another? Check out our best call center phone systems guide and find the right business solution for your needs.
8×8 Reviews: What Users Think
8×8 Contact Center reviews indicate that the platform is ideal for simultaneously communicating with co-workers and customers. Its call queue distribution is efficient and allows for great system administrative control through the back-end dashboard.
Several users have raised issues with the layout and recommended software updates to improve the interface for optimal user experience. Other concerns include more manual overrides for agents, such as muting and changing ringtone options and controlling the time between calls. There have likewise been multiple reports of call drops, call disconnections, and sudden loss of audio or microphone.
As of publication, 8×8 Contact Center has been rated the following scores on popular user review sites:
Overall, users have chosen and continue to use 8×8 Contact Center because of its wide product range and business communications services. There is a mix of reviews, but generally, the response to the platform has been positive.
Bottom Line
8×8 Contact Center allows businesses to deliver personalized customer service to their customers across a variety of channels. 8×8 is reliable and offers competitive prices for omnichannel contact center solutions. We recommend this as a cloud-based communications solution for small businesses needing comprehensive internal and external collaboration functions.