Freshdesk Contact Center Review: Is It Right for Your Business?
This article is part of a larger series on VoIP.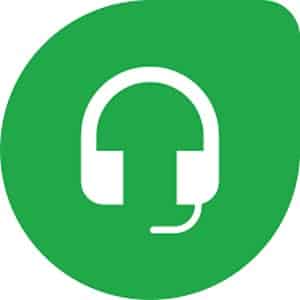 Visit Freshdesk Contact Center
Freshdesk Contact Center Overview
PROS

CONS

Simple and easy to use and set up
Per-minute pricing can get expensive with high call volumes
Support tickets may include call recordings
Lacks built-in screen sharing tool
International phone number options
Its mobile app has fewer capabilities than its web version
A free version is available with basic features, like inbound caller ID and call metrics
Its call center-focused features may be overkill for small businesses
Offers a 21-day free trial
What We Recommend Freshdesk Contact Center For
Freshdesk Contact Center is a VoIP platform built for handling large call volumes. It also allows users to opt in for omnichannel capabilities, letting them manage other channels, such as email tickets and social media messages. Its allowed access across devices, like computers and smartphones, makes it great for businesses with remote agents.
When to Use Freshdesk Contact Center
Small businesses looking for a budget-friendly platform with customized reports and advanced call routing tools: Freshdesk Contact Center is a cloud-based phone system that offers call center features, such as call queues, smart escalations, and routing escalations. It also lets supervisors monitor team performance through customized reports with information like metrics and activity. Unlike RingCentral, it provides a free option and low-cost paid plans with straightforward pricing. It is one of the best call center systems on our list for the balance between its affordability and available features.
Teams looking for a platform with intuitive call monitoring features: Freshdesk Contact Center is known for its ease of setup and use. It is part of our best call monitoring software, thanks to its easy-to-deploy and user-friendly system. It also comes with a variety of tools, like call barging and service-level monitoring.
Companies looking for a customer relationship management (CRM) call center: Freshdesk Contact Center is a platform offered within the Freshsales CRM platform—enabling calling capabilities for sales enablement needs. Both products offer free versions, and the combination of the two enables users to measure sales of individuals based on customer interactions, pipeline process, and outbound calls. It is one of the best customer relationship management (CRM) call center software in our list for allowing users to utilize a customizable CRM and calling tool in one space.
When Freshdesk Contact Center Might Not Be a Good Fit
Businesses that prioritizes employee efficiency and productivity: If you are looking for a scalable platform with workforce optimization (WFO) tools, RingCentral is for you. It lets you gamify your employee experience through badges, points, and challenges. You can also optimize team performance through its skills-based scheduling feature. Other capabilities include quality and performance management and interaction analytics.
Call centers with an international presence: If your business has a wide global reach, try CloudTalk. It provides international phone numbers to over 140 countries, while to Freshdesk Contact Center supports over 90. CloudTalk also has affordable plans that come with routing and productivity tools, API access, and unlimited agent-to-agent calling.
Companies—such as those in the medical or financial industries—handling highly sensitive data: If your business' priority is keeping your customers' information secure, 8×8 is worth considering. While its prices are higher than Freshdesk Contact Center, 8×8 has comprehensive security measures in place. It is known for its compliance certifications, including Health Insurance Portability and Accountability Act (HIPAA), Federal Information Security Management Act (FISMA), and Customer Proprietary Network Information (CPNI).
Looking for other options? Check out our list of the best business phone systems to determine which of the products worth considering align with your needs.
Freshdesk Contact Center Pricing
Freshdesk Contact Center offers a free plan for an unlimited number of agents and basic features, such as call notes, customized greetings and messages, and call metrics. Paid subscription tiers start at $15 per agent, per month when billed annually. Users can purchase unlimited toll-free, vanity, or local phone numbers for $1 to $2 per number, per month.
Freshdesk Contact Center Plans

Free

Growth

Pro

Enterprise

Best For

Small teams with low call volume and basic call management needs

Businesses that need basic call center features, like transfer to teams and call queuing

Teams calling numerous phone number lists

Companies with high call volumes and advanced routing and analytics needs

Monthly Pricing

($/Agent/Month)

$0

$18/agent/month

$47/agent/month

$83/agent/month

Annual Pricing*

($/Agent/Month)

$0

$15/agent/month

$39/agent/month

$69/agent/month

Free Incoming Call Minute Allocation (Minutes/Month)

0

2,000

3,000

5,000

Answer in Browser

✓

✓

✓

✓

Inbound Caller ID

✓

✓

✓

✓

Number Porting

✕

✓

✓

✓

Call Hold (With or Without Music)

✕

✓

✓

✓

Power Dialer

✕

✕

✓

✓

Call Transcriptions

✕

✕

✕

✓
*Annual plans are paid in full at the beginning of the billing cycle.
Apart from the phone number monthly costs, Freshdesk Contact Center charges per-minute usage fees for incoming and outgoing calls, which depend on the customer's location. Rates are as follows:
Calls to U.S.-based numbers start at $0.022 per minute
Incoming calls attended on a browser when an agent's location is in the U.S. start at $0.016 per minute
Incoming calls attended on a phone when an agent's location is in the U.S. start at $0.028 per minute
Voicemails cost $0.014 per minute when an agent's location is in the U.S.
Call recording costs $0.003 per minute
Call monitoring or barging costs $0.005 per minute
Call transcriptions cost $0.004 per minute
Calls attended on an agent's session initiation protocol (SIP) has an added $0.005 per minute fee
Excess minutes, once a plan's free local incoming minutes are completely consumed, cost $0.013 per minute
Conference calls cost $0.005 per minute
Total billing is rounded off to the next minute. For instance, if a call lasts three minutes and 35 seconds, then four minutes will be charged. Paid plans include incoming call minutes, and fees will apply once these credits are fully consumed.
Freshdesk Contact Center's plans are packaged with premium features and inclusions—such as omnichannel routing and service level monitoring—locked in higher tiers. However, it provides users with a free plan that allows them to utilize some of its basic features, such as call blocking and call metrics. Additionally, all plans allow access to its iOS and Android mobile app.
Freshdesk Omnichannel Pricing
Apart from its contact center plans, Freshdesk also offers its Omnichannel plans, which range from $29 to $99 per agent, per month, when billed annually. It comes with added features, such as a wide range of ticketing, messaging, knowledgebase and community forum, help widget, and customer portal tools.
Need a basic and budget-friendly VoIP system instead? Check out our top cheap VoIP services list to determine which of the best platforms work best for you.
Freshdesk Contact Center Features
Freshdesk Contact Center is a cloud-based platform packed with call management tools, great for teams with remote agents. It lets users make and receive calls from anywhere, from any device—such as desktop computers or Android or iOS devices.
Freshdesk Contact Center lets users buy local phone numbers in over 90 countries—great for those with a global presence. However, other providers, like CloudTalk, have a wider reach of over 140 countries—better for those who find Freshdesk Contact Center's offering lacking. Agents can also purchase toll-free or vanity numbers or port their existing phone numbers from their current providers to its system.
Freshdesk Contact Center has unlimited concurrent calls and basic call management capabilities, like outbound calling from any number and answering calls from a browser. All agents subscribed to a paid plan can access its call masking feature that allows agents to set the caller ID to conceal their actual number or extension.
Freshdesk Contact Center helps agents handle huge call volumes through various tools and features, like agent productivity tools. It comes with inbound caller ID, desktop notifications, call notes, call notes transfer, click-to-call, after-call work, call tagging, call transcriptions, voicemail drop, and a voice bot.
Those who aim to reduce agent downtime may consider Freshdesk Contact Center as it has a power dialer. This functionality lets you automate your outbound calling by dialing numbers from your preconfigured customer list.
---
Aside from agent productivity tools, Freshdesk Contact Center also provides queue management features to help improve customer experience. Agents can customize greetings and messages and set up basic call queues and wait queues. They can also transfer calls to other agents or teams to ensure issues are addressed by those with relevant expertise.
Additionally, agents can initiate conference calls with another teammate to resolve customer inquiries without the need to transfer the line. You can also allow your callers to opt for a callback instead of waiting in a queue. These capabilities are beneficial for those with high inbound call volumes.
---
While Freshdesk Contact Center comes with the basics—such as call routing to external numbers, interactive voice response (IVR), and business hours—it provides a lot of advanced routing capabilities too. For instance, it allows users to set up routing automation. This functionality lets the platform automatically redirect calls based on real-time inputs from your business' external systems, like help desks.
Another Freshdesk Contact Center feature that can help ensure your customers' needs are met is smart escalation. This tool routes calls to another queue when the current team is unable to take the calls. Configuring this capability is helpful when you determine that your business has many voicemails or missed calls and there's no one available to pick up your customers' calls.
---
Know your teams' strengths and weaknesses to meet ideal customer experiences through actual performance and activity data. Freshdesk Contact Center generates data on your platform history, including call logs, metrics, and recordings, and voicemail transcriptions. It also displays advanced information, such as call summary, queue visibility, and agent activity in real time.
Supervisors can monitor their agents' conversations through advanced tools, like call barging. They can also review reports, such as call or agent summaries, call center health, and call volume analysis. Reports are scheduled or customized according to the business need.
---
Freshdesk Contact Center Alternatives
| | | |
| --- | --- | --- |
| | | |
| Best for: Teams looking for a platform with workplace optimization capabilities | Best for: Businesses in industries with strict data security requirements, like health or finance | Best for: Companies that need a platform that supports omnichannel customer service |
| Starting price: Pricing for contact center solutions available upon request | Starting price: $87 per user, per month | Starting price: $49 per user, per month |
What Users Think of Freshdesk Contact Center
There are very few Freshdesk Contact Center reviews online. Many Freshdesk Contact Center users shared that it's a budget-friendly solution with advanced features, like custom reports and warm transfer.
At the time of publication, Freshdesk Contact Center has earned the following scores on popular user review sites:
The majority of users like that Freshdesk Contact Center is easy to implement, set up, and use. While there are mixed experiences on its customer service, most users commended its support team for being responsive and helpful in addressing their issues. Others had problems with the call quality's dependency on the internet connection; however, note that this is how VoIP software works.
Bottom Line
Freshdesk Contact Center is an excellent option for those looking for a budget-friendly platform for their call management and campaign monitoring needs. It provides a free version and plans with credits for call minutes that start at 2,000.
There are more robust options, like RingCentral, which provides open APIs for customized integrations and advanced tools like workforce optimization. However, if your business doesn't need these complex features, Freshdesk Contact Center is worth considering. You can try its free version or its 21-day trial to determine if its software is the right one for you.