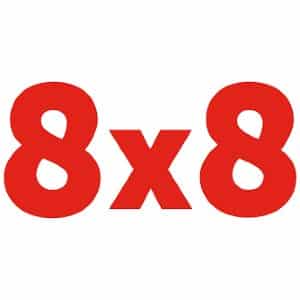 What We Recommend 8×8 For
8×8 is a comprehensive cloud-based platform for managing communications across channels, such as voice, voicemail, chat, and video. It offers a low-cost, entry-level plan that works best for those looking for an affordable small business phone system with video conferencing features. Contact center plans are also available for those with advanced needs.
Who 8×8 Is Good For
8×8 provides unlimited local and international calls, which some of its competitors charge at per-minute fees. Specifically, 8×8 is best for:
When 8×8 Would Not Be a Good Fit
Businesses looking for a scalable platform with open API: Organizations with growing needs may find 8×8 lacking in terms of scalability due to fewer third-party integrations than its competitors. If you aren't conscious about the monthly fees and are focused on the capabilities that a provider offers, check out RingCentral instead. It is known for its intuitive interface for both customers and users, its vast range of integrations with other applications, and its support for open API that unlocks limitless functional possibilities. Check out our analysis between RingCentral and 8×8 if you want to determine how each weighs in being the best for small businesses.
Companies willing to spend more for a higher number of maximum video participants but don't necessarily need international calls: Businesses that do not have an international presence but have more advanced needs may still look into more expensive solutions that provide value for their money. 8×8 may not be sufficient for you if you need more video conferencing participants and broad third-party app integrations. If this is the case, look into Nextiva. Check out our detailed comparison between Nextiva and 8×8 for more information.
Solopreneurs, freelancers, and individuals who only need a free and basic VoIP platform: If you are looking to separate your business and personal calls and only need basic VoIP functionalities, then 8×8's comprehensive set of features may not be for you. Look into Google Voice's free version to obtain a virtual phone number, as well as a web and mobile app that lets you manage texts, calls, and voicemails at no cost.
Looking for other cloud-based options for your communications needs? Check out our guide to the best VoIP apps for business to determine the best product that matches your needs.
8×8 Overview
PROS

CONS

Offers a free trial
Fees can get expensive in top-tier plans
Low-cost starting plans
Mobile app has fewer features than its desktop version
Unifies various channels into one platform, including messaging, chat, voice, video, contact center, APIs, and analytics
Entry-level plan has a limited set of capabilities
Unlimited international calls to 47 countries
Most countries included in the unlimited telephony calling zones are locked behind premium plans
Advanced call management features
Less integration options than its competitors and lacks an open API
Simple and intuitive interface
Security compliance options available, such as BAA, Privacy Shield, Cyber Essentials, FISMA 140-2, and FIPS
8×8 Pricing
8×8 has three all-in-one-communications plans that start at $12 per user, per month. All plans include team messaging, advanced call management, and audio and video conferencing for up to 100 participants. The main differences between the plans are the number of countries eligible for its unlimited call offer and access to premium features like skills-based routing and co-browsing.
Express

X2

X4

Best For

Businesses needing a small business phone system

Teams looking for an all-in-one platform for voice, video, and chat

Companies with a wide overseas presence and those needing admin and supervisor analytics features

Monthly Pricing
($/User/Month)




$12

$32

$57

Annual Pricing*
($/User/Month)




$12

$24

$44

No. of Countries Eligible for Unlimited Calls

2
(U.S. and Canada)

14

47

Team Messaging

✔

✔

✔

Compliance and Certifications (GDPR, HIPAA, ISO27001, 9001, and so on)

✔

✔

✔

Supervisor Analytics

✕

✕

✔

Switchboard Pro

✕

✕

✔
*Annual plans are paid in full at the beginning of the billing cycle.
8×8 Contact Center
X6: This plan works best for users looking for a voice-centric contact center with advanced reporting features. It costs $144 per user, per month or $112 per user, per month when billed annually.
X7: This option provides a multichannel contact center with advanced reporting capabilities. It has a per-user monthly fee of $169, or $131 for annual subscriptions.
X8: Those looking for a multichannel contact center with advanced analytics and a predictive dialer may consider this package. Its per-user fees cost $219 per month, or $170 monthly when billed yearly.
8×8 allows users to add contact center plans that are tiered based on their needs. It offers a basic contact center with collaboration and analytics functions and an advanced version with quality management and auto-dialing features. These no-contract call center solutions are perfect for growing businesses that want to upgrade when the need arises.
8×8 lets you create a customized bundle with mixed-and-matched numbers of licenses for each product. Additional plans are available, such as the X3 plan, which features the X2 plan's inclusions. However, it has more countries in its unlimited telephony calling zone—a total of 32 instead of X2's 14. It also has a longer media storage duration, which lasts for 130 days.
8×8 Hardware
8×8 allows users to purchase or lease VoIP hardware, such as phones, headsets, and accessories, from its wide range of options. Or you can also use your own third-party phones. You may visit 8×8's website and read its guide on device compatibility to determine if you can use your existing phones with its services.
8×8 offers the following hardware:
Headsets: 8×8 provides various Jabra and Poly headsets. Standard features include noise cancellation microphones, wireless or USB connectivity, and adjustable design. These devices range from $39 to $330.
Desk phones: You may choose from 8×8's Yealink, Cisco, and Poly desk phones depending on your needs. Whether you are looking for a phone for light to heavy use or a phone for your multitasking team, 8×8 has an ideal device that they can suggest for you. Purchases prices range from $64 to $365.
Cordless phones: Poly VVX D230 is available for those who prefer to use a cordless phone. It has workplace mobility of up to 50 meters (indoors) or 300 meters (outdoors from the base). Its capabilities include local three-way audio conferencing and do not disturb, among others. It costs $160.
Conference phones: Select from 8×8's range of Yealink, Cisco, and Poly conference phones designed for different room sizes. Most devices feature HD audio, multicast paging, and a seven- to 20-foot range. Prices range from $379 to $1,150.
Adapters: Check out AudioCodes, Poly, and Obihai adapters that provide analog phone ports that can support fax, paging, or voice plans. Prices range from $33 to $685.
Accessories: 8×8 offers Poly accessories, such as cables and expansion modules. Prices range from $32 to $239.
8×8 Hardware Payment Plans
Device-as-a-Service (DaaS): This 8×8 Flex Program allows users to purchase equipment with low-cost monthly payments and no upfront fees. It also features a seven-year warranty and lets users upgrade their devices or cancel at any time.
Financing program: This 8×8 Extended Payment Plan offers 24- to 60-month options that include a one-year warranty. You may choose any brand and model device, and you will gain ownership of the equipment at the contract's end.
One-time payment: If you have the budget for your needed hardware and want an easy way to purchase them, then you may choose to be invoiced one time. This option lets you own the equipment—with a 90-day warranty—immediately with your one-time payment.
8×8 Features
8×8 is a cloud-based platform that lets you unify your communications into a single solution. It features a small business phone system, an all-in-one communications software, a contact center, and APIs. It works best for teams needing to communicate with clients from various countries, as it provides unlimited international calling at no added cost.
Unlike some of its alternatives in the market, it provides a robust set of features even on its base plan, including voice, video, messaging, auto-attendant, voice mail, intelligent call routing, and unlimited calls within the U.S. and Canada.
Apart from 8×8's core capabilities, it also features the following:
Video conferencing: With today's current work setup, its secure video conferencing feature—offered at its core plan—is one of its strengths. At a very low fee, you also get to host video meetings for up to 100 participants. This function also includes YouTube Live streaming, audio sharing, branding, and analytics, among others.
Contact center: Ensure better customer experiences with 8×8's contact center. It features omnichannel routing, customer engagement, workforce engagement management, and analytics.
APIs and embeddable apps: Expand 8×8's functionalities and maximize its full potential with APIs and embeddable apps. Available apps involve SMS, chat, meetings as a service, voice, and call stats.
Third-party integrations: Bring in your preferred existing software into your 8×8 platform for a seamless workflow. It integrates well with numerous third-party apps, such as Microsoft Teams, Salesforce, HubSpot, Freshdesk, Zoho, and Skype.
8×8 Call Handling & Management
Caller ID, blocking, and do not disturb
Call forwarding and transfers
Call waiting and parking
Three-way calling
Ring groups
Call monitoring
Call queues
8×8 provides users with a comprehensive set of call handling and management features that help increase productivity. Moreover, these features ensure that your callers receive the excellent service they deserve. It also lets you decrease non-productive calls, such as spam, through automated blocking within its desktop app, account manager, and admin console.
You may also set up three-way calls with no required bridges, special equipment, or minute restrictions. Users with an X2 subscription plan or higher may also initiate three-way calls that can be converted into a video call with one click.
Those with higher call volumes may utilize its call management features, such as ring groups and call queues, to reduce caller wait times. Additionally, managers and supervisors may monitor agents' conversations for training and quality control.
8×8 Team Collaboration
One-on-one messaging
Team messaging
File sharing
Group chat rooms
8×8 allows you to communicate with your teammates in real time through your mobile or desktop apps. All users are automatically added from their company directory. You may also integrate other well-used team chat software like Slack and launch video or audio calls with just a single click within the chat thread.
Those who need to chat with their colleagues privately may send direct messages and share files with their preferred individual user. Additionally, file sharing can also be done in group chat rooms. You may assign chat rooms as invite-only, private, or public and limit access to specific users.
8×8 Analytics
Key trends across employees, teams, and customer behavior
Customizable data from all communication channels
Accurate and readily available data
Company data access
Opportunity discovery
Customer frustration point identification
Customer feedback opportunity
Targeted data search
8×8 offers business phone and customer experience analytics, providing insights for critical business decision-making and problem-solving. Speech and sentiment analytics, call quality and device reporting, and real-time custom dashboards are available—giving you access to data quickly.
Meanwhile, 8×8 CX Analytics—part of its contact center suite—displays data that aid users in identifying opportunities for customer experience improvement. You may do advanced searches, determine causes of customer frustrations, and analyze customer feedback.
8×8 Desktop & Mobile Apps
Chat, call, and video meet from anywhere
Transfer calls and meetings between devices
Compatible with iOS, Android, and Windows devices
Downloadable from various secure sources
8×8 Work Apps enables you to communicate with your teammates and customers from anywhere with an internet connection. You may access its functionalities through your mobile phone, computers, or VoIP phones—enabling you to receive and respond to all important calls and messages.
Whether you need to hop on a video meeting, chat with your colleagues, share files, or collaborate with your partners, 8×8 Work Apps let you quickly accomplish your tasks even while you are in transit.
You may download its applications from the App Store, Google Play, Amazon Appstore, and its website.
8×8 Ease of Use
24/7 support
Web case, chat, and phone channels
Quick and easy setup
User-friendly and intuitive interface
Compatible with desktop, mobile, and VoIP devices
Knowledge base with manuals, guides, FAQs, and articles
Professional services, including training and courses available
8×8 has a straightforward user interface that allows users to set up and utilize its platform quickly. It also offers professional services that help you maximize its platform, including training and courses on its products and services.
You may also read through its knowledge base with a library of articles and manuals on its capabilities. However, most pages don't feature images or screenshots, which may be overwhelming for visual learners who prefer to follow instructions with graphical guides. Its knowledge base looks modern, but the actual articles look outdated.
8×8 Alternatives
| | | |
| --- | --- | --- |
| Best for: Solopreneurs and freelancers requiring a free, no-frills option or low-cost plans | Best for: Companies wanting a solid package with a free, professionally recorded voice greeting | Best for: Teams looking for an exceptional overall package of features, usability, and affordability |
| Starting price: Free or $10 per user, per month | Starting price: $21.95 per user, per month on a 36-month term | Starting price: $19.99 per user, per month for two to 20 users on an annual basis |
| | | |
Want to know if 8×8 is the perfect match for your business? See how it performs with other widely used small business phone systems.
What Users Think of 8×8
Most users and industry experts agree that 8×8 is an excellent business VoIP service for teams wanting to make unlimited calls to various countries at no extra cost. At the time of publication, 8×8 has earned the following scores on other popular user review websites:
GetVoIP.com presents a customer satisfaction score analyzed and calculated based on user reviews, comments, and opinions collected on its website. According to its algorithm, 8×8 has an overall 4.2 out of 5 rating based on 356 reviews, and 83% of users recommend it.
Here are some noticeable trends when reading through user reviews:
| Users Like | Users Don't Like |
| --- | --- |
| User-friendly interface | Poor customer service |
| Cross-platform capability, making it accessible across devices | Occasional software glitches and issues |
| Wide range of features | Experiencing dropped calls at times |
| Stable and reliable service | |
Bottom Line
8×8 offers a robust communications platform that helps users unify their messages across various channels, including voice, chat, voicemail, and a contact center. Its base plan may be attractive for those with smaller budgets as it is packaged with impressive features, like video conferencing and unlimited local calls, unlike some of its alternatives.
Visit 8×8 and sign up for a free trial to experience its platform first hand and determine if it is the ideal solution for your business needs.