8×8 Review: Is It the Right VoIP System for Your Business?
This article is part of a larger series on VoIP.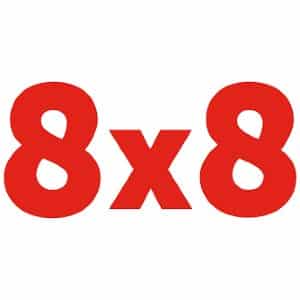 8×8 Overview
8×8 recently rolled out the 8×8 eXperience communications as a service (XCaaS) platform, which provides contact center solutions and an open integration framework. Plus, it's one of the best business phone systems for companies with an international customer base. If your business doesn't need all of those features, 8×8 offers the very affordable 8×8 Express base plan with advanced call management and video conferencing tools.
PROS

CONS

30-day free trial of 8x8 Express
No fax capability in the 8x8 Express plan
Integrates with customer relationship management (CRM) and help desk software
Upper-tier plans are pricier than some 8x8 alternatives
Mix and match plans for different users to save money
No free trial for X Series plans
Video conferencing services support up to 500 participants
Fewer integrations than some other voice-over-internet-protocol (VoIP) providers, such as RingCentral
Unmetered international calling to 14 or 48 countries on X series plans
Doesn't come with toll-free minutes
Content and file sharing in and outside of meetings
Speech and text analytics are only available on the highest plan tier
Upper tiers include a predictive, preview, or progressive auto-dialer
Globally distributed data centers improve security and reduce disruptions
Desktop and mobile apps can serve as a virtual office
Visual voicemail is a standard feature
What We Recommend 8×8 For
8×8 offers subscriptions suitable for small and midsize businesses as well as large enterprises. This allows companies to start with lower-priced packages for business calling and unified communications and then seamlessly scale up to a full call center solution.
8×8's voice-over-internet-protocol (VoIP) mobile and desktop apps let teams work from any internet-connected device, making it an excellent platform for a distributed workforce. Likewise, 8×8 supports employees and customers worldwide with unlimited international calling plans and phone number support in more than 120 countries.
When to Use 8×8
For budget-friendly VoIP services: 8×8 is one of our top picks for cheap VoIP services thanks to its budget-friendly 8×8 Express plan. It doesn't skimp on features and costs less than comparable plans from RingCentral or Nextiva.
To meet medical provider compliance requirements: 8×8 offers Health Insurance Portability and Accountability Act (HIPAA)-compliant texting, video, live chat, document sharing, and voice calling. Business associate agreements (BAA) are available for covered entities and business associates. These features are a top reason why it made our list of the best call center phone systems.
If you need tools to manage sales or support agents: 8×8's contact center software lets you monitor and record calls and whisper or coach your technical support, customer support, or sales team. In-depth supervisor analytics deliver insights into your agents' performance and customer experiences. Plus, since these tools are cloud-based, they are equally effective for managing on-site employees as well as remote workers.
If your company has a global customer base: If your clients reside overseas, placing and returning calls can get expensive. 8×8 is one of the best services for VoIP international calls. X series plans include unmetered calling to 14 or 48 countries, and 8×8 pricing for these plans starts at $24 per user, per month with annual billing.
If your business needs software for receptionists: If your company uses a live operator to greet and transfer some or all calls, 8×8's Frontdesk app streamlines the workflow by showing which agents are active on a call or on hold. 8×8 also includes an auto-attendant with its base plan—see why it made our list of the best auto-attendant phone systems.
To host video meetings with hundreds of participants: 8×8 Express supports up to 100 video or audio conference attendees, and X series plans allow for 500 participants. You can share screens or presentations and create breakout sessions. In fact, its video calling features make it one of the best GoToMeeting alternatives.
If your business has international locations: 8×8 has a local carrier interconnection in 46 countries, enabling you to replace your existing phone system with a cloud phone system in those regions.
When your organization has government contracts: 8×8 complies with Federal Information Security Modernization Act (FISMA) standards. Since it meets advanced encryption requirements, your company can securely provide services to the government.
If your team wants a virtual workspace: If your employees need a space to collaborate in real time, the 8×8 Work app lets them chat or share documents. They can hop on a video or audio call with one click.
8×8 Might Not Be a Good Fit For
8×8 Pricing
8×8 pricing includes six package options starting at $15 per user, per month, and plans can be mixed and matched based on the needs of your users. All plans include unlimited domestic calling and texting within the U.S. and Canada, voicemail, team messaging, and 8×8 video conferencing.
The tiered pricing model provides additional features as the plans increase in price. Lower tiers are suitable for small business VoIP services, while higher-priced subscriptions support larger operations and contact centers.
Here are the first four 8×8 pricing and plan tiers:
8x8 Plans

8x8 Express

X2

X4

X6

Best For

Small teams wanting voice, video, and messaging capabilities

Businesses looking for unmetered international calling to 14 countries

Supervisors and receptionists needing advanced call handling and analytics tools

Organizations adding a contact center for local and international customers

Monthly Pricing

($/User/Month)

$15

$32

$57

$125

Annual Pricing*

($/User/Month)

$15

$24

$44

$95

International Calling

Per-minute fees

Unlimited to 14 countries

Unlimited to 48 countries

Unlimited to 48 countries

Video Meeting Participants

100

500

500

500

Call recording

Only video meetings

Voice and video

Voice and video

Voice and video

Voicemail

✓

✓

✓

✓

Calendar Integrations

✓

✓

✓

✓

CRM Integrations

✕

✓

✓

✓

Unlimited Internet Faxing

✕

✓

✓

✓

Multi-level Auto-attendant

✕

✓

✓

✓

Monitor, Barge, and Whisper

✕

✕

✓

✓

Supervisor Analytics

✕

✕

✓

✓

Skills-based Routing

✕

✕

✕

✓
*Annual plans require prepayment
8×8's X6, X7, and X8 plans include contact center services with advanced features. While X6 is for voice-based call centers, X7 is an omnichannel platform supporting email and social media channels. It comes with advanced analytics, an auto-dialer, and allows co-browsing. X7 costs $105 per user, per month with annual billing or $138 when paid monthly.
If you have an advanced contact center requiring quality management services and speech analytics, check out the X8 package. It analyzes text and voice communications to help you improve customer experiences. 8×8 pricing per user for X8 is $133 a month with yearly prepayment or $175 when billed monthly.
8×8 Features
8×8 reviews show that it's one of the best low-cost unified communications as a service (UCaaS) platforms for teams needing to seamlessly communicate and collaborate on multiple channels. Consequently, it comes with many phone features that support a remote workforce and improve customer experiences. Plus, you can scale to higher tiers for premium features like skills-based or omnichannel routing.
General Features
Whether you choose the least expensive or the highest-priced 8×8 plan, you get the standard VoIP features necessary for business communications. You can access these tools using any internet-connected device with the 8×8 app installed, including cell phones, softphones, and desk phones.
All 8×8 subscriptions come with:
A business phone number
Unlimited domestic calling and texting within the U.S. and Canada
Caller ID
Do not disturb
Call blocking
Auto-attendant
On-hold music
Call forwarding
Custom greetings
Visual voicemail
---
Team Collaboration
8×8 keeps your team connected through multiple channels, making it easier for remote workers to feel like part of your team. Presence data shows who is available, so if a co-worker has a question, they know who they can ask. They can also join live collaboration sessions and share screens, documents, and other content.
Integrate your Microsoft Teams or Google Workspace account with your phone system to reduce task switching and increase team productivity. Plus, if instant messaging doesn't resolve an issue, you can quickly jump on an audio or video call to figure it out.
8×8 collaboration tools include:
Team and one-to-one messaging
File sharing in group chat rooms
Unlimited media storage
Presence detection
Click-to-call from a chat session
Three-way calling
Send documents to an individual
---
Call Management
Call handling and management tools help you deliver consistent customer support, regardless of the current call volume, and 8×8 is in the top three for best call management solutions. Incoming callers hear a prerecorded greeting and can access your company directory. Efficiently route calls to the appropriate agents to reduce average resolution and call handle times.
If you're off work, simply redirect calls using call forwarding rules. 8×8 even lets you handle two calls simultaneously. Put one person on hold while answering the second call, then alternate between the callers or combine them into a three-party conference call.
8×8's call management features for incoming calls include:
Schedule-based call routing
Ring groups
Call queues
Skills-based routing
Call park
Single and multi-level auto-attendants
Omnichannel routing
Call transfer
---
Video & Audio Conferencing
8×8 provides excellent conference call solutions. Meet with up to 500 people in a video or audio conference with no time limits or restrictions. 8×8 provides dial-in numbers for more than 50 countries, including 11 toll-free phone numbers. High-definition (HD) video and audio ensure voices and images aren't garbled. Plus, your teams can join from their mobile devices and enjoy similar functionality as desktop users.
Video and audio conferencing features include:
Meeting recordings and transcription
Content sharing
Custom backgrounds and logos
YouTube live streaming
Support for 46 languages
Mobile and desktop screen sharing
Vanity meeting links
---
Analytics & Reporting
8×8 offers a variety of summaries, detailed reports, and dashboards. Each delivers insights critical to maintaining consistent service, predicting call volumes, and improving agent performance. An online portal helps administrators oversee the entire system, including multiple users and devices.
However, 8×8 locks some reporting tools behind higher-plan tiers. For instance, only X8 provides speech analytics and you need at least an X4 subscription to get supervisor reports. If you want specific reports at a potentially lower price point, consider a small business phone system like RingCentral MVP.
There are dozens of reports that you can have sent to your email regularly, including:
Extension summaries of call activity
Active phone calls
Call queues
Device status
Time-specific inbound and outbound calls
Ring groups
Employee activity
Unreturned calls
Video meetings
Call quality per line
---
Mobile & Desktop Apps
8×8 has apps for iOS, Android, Windows, and Mac devices. You can download these directly from 8×8, Google Play, or the Apple App Store. The 8×8 Work app serves as a virtual office and unifies your communication and collaboration channels. If you have an X4 or higher-plan tier, your receptionists and operators can use the 8×8 Frontdesk app to improve call management and routing.
Once you've installed the mobile app you can call, chat, share your screen, or join a video meeting from any device and location (as long as you have an internet connection). 8×8 also supports call flip, allowing you to seamlessly transfer calls or meetings between mobile devices and desktop computers.
---
Integrations
8×8 integrates with dozens of customer relationship management (CRM), service desk, and customer support software. Unfortunately, 8×8 Express only connects to Google and Microsoft calendars in order to set up and invite participants from your calendar. Plus, you'll need an X series subscription for out-of-the-box integrations with other platforms.
Some popular business integrations include Salesforce, Freshdesk, Microsoft Teams, ServiceNow, and Zoho. With integrated services, you can view a caller's CRM information via a pop-up on the screen before answering a call or update the contact's record afterward without switching apps.
---
Ease of Use
According to 8×8, you can start receiving calls or sending messages with only five minutes of setup time for 8×8 Express. The mobile and desktop apps have a simple user interface, and it's relatively easy to perform quick tasks like parking or forwarding a call. However, complex call flows and user access permissions require additional configuration.
8×8 provides a searchable knowledge base and 24/7 support for customers in need of assistance. You can sign up for free or paid training courses or request support from a technical installation specialist for a fee. While the guides are thorough, they're generally less visually appealing than competitors' tutorials, and lack images and screenshots.
8×8 Alternatives
Although 8×8 reviews show that it meets a wide variety of business communication needs, subscriptions don't come with toll-free minutes, and upper-tier plans could be too expensive for small teams. In these cases, other business phone systems may work better. Consider the providers below, or read our full list of the best 8×8 alternatives.
| | | |
| --- | --- | --- |
| | | |
| Best for: Solopreneurs wanting a free solution or small teams needing a reliable, user-friendly business phone system | Best for: Businesses looking for a scalable UCaaS solution with international phone numbers, hundreds of integrations, and toll-free minutes | Best for: Companies needing U.S.-based phone numbers, toll-free minutes, and professionally recorded voice greetings |
| *Starting price: $19.95 per user, per month | **Starting price: $19.99 per user, per month | **Starting price: $18.95 per user, per month |
| | | |
*Discounts for 6+ users
**Pricing based on 20 users
What Users Think
8×8 reviews show that it consistently ranks as one of the best phone systems for small and midsize businesses as well as large enterprises. Its mobile apps earn 4.1 and 3.7 out of 5 on Google Play and the App Store, respectively, whereas other review sites rate 8×8's X series plans and contact center solutions separately.
Here are links to a handful of average user ratings with online 8×8 reviews:
Overall, users appreciate the available customer relationship management (CRM) integrations, which support efficient workflows. The company directory makes it easy to find co-workers, and the call recording feature improves quality management efforts. Mobile users and those working from home enjoy the flexibility provided by 8×8's VoIP phone system.
However, several users express concern about 8×8's customer support. They say the knowledge base articles are poorly written and hard to understand. Others say 8×8 takes too long to reply to support tickets. Plus, calling 8×8's customer service team can be frustrating as the agents work worldwide, and sometimes language differences sometimes make it hard to convey information or understand solutions.
Bottom Line
8×8 provides unified communication services and is scalable to a full-fledged contact center. Voice, video, and chat tools keep teams and customers connected, while call management features and integrations improve workflows. Plus, the unlimited international calling in X series plans makes it one of the best providers for businesses with international customers. Although this feature doesn't come in its base plan, you can try 8×8 Express free for 30 days to see if it's a good fit for your business.