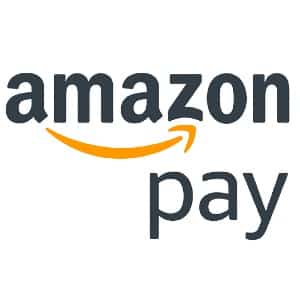 Amazon Pay is a highly secure online payment processing platform. With an Amazon Pay checkout, shoppers can pay for orders using the information stored in their Amazon account. For businesses, you'll pay flat-rate transaction fees with no startup or monthly fees. Amazon Pay has features specifically designed for online, mobile, and voice (Alexa devices) payments. Other tools include analytics reporting, recurring payments, pre-orders, and fraud prevention.
When to Use Amazon Pay
Amazon Pay offers one of the most popular, easiest, and most effective ecommerce credit card processing options. However, because only shoppers that have Amazon accounts can checkout using Amazon Pay, it's best as a supplemental payment option and not as your sole merchant account.
In particular, Amazon Pay is best for:
Reducing cart abandonment: If ecommerce and processing online payments are important for your business, Amazon Pay is a great addition to your checkout, as it offers Amazon shoppers an easy way to pay without having to enter all their payment details.
Managing international payments: Amazon is a global payment processor, and it's also widely used worldwide. Note additional fees and taxes may apply for international payments.
Nonprofit organizations: If you're a qualified nonprofit organization, Amazon Pay offers discounted rates. This can be a great way to accept donations without losing too much capital to processing fees. However, due to high demand, this program is currently available by invitation only.
Voice payments: Amazon Pay can be used to enable voice payments, so shoppers can buy from your website through their Alexa devices.
When to Use an Alternative
Retail credit card processing: If you need to process in-person transactions at your store or anywhere else, Amazon doesn't offer the tools necessary to make those sales. Instead, check our guide to the best retail credit card processors.
All-in-one merchant services: Amazon Pay is strictly a payments solution, so if you need a comprehensive merchant account provider, you may look elsewhere. We put together a guide on the best merchant services for small businesses.
High-risk businesses: Amazon Pay does not support high-risk businesses and is quick to hold or freeze funds. If you have a high-risk business, you'll need to apply for a specialized high-risk merchant account.
Amazon Pay Overview
PROS

CONS

Discounted rates for nonprofits
Tightly integrated with the Amazon platform
Secure and trusted platform
Delayed funds transfer for new merchants
Streamlined online checkout is optimized for mobile and helps reduce cart abandonment rates
Customer support is lacking
Accept voice payments through Alexa devices
Charitable organization program available by invite-only
Amazon Pay Pricing
Web and mobile

Alexa (real-world goods and services)

Transaction fee

2.9% + 30 cents

4% + 30 cents

Cross-border
processing fee

3.9% + 30 cents

5% + 30 cents
Amazon Pay also has a chargeback fee of $20, which is on the higher-end of the industry average. Also note, Amazon does not offer volume discounts or custom rates, so these transaction fees are pricey for high-volume businesses.
Also note, all new Amazon Pay merchants will need to wait 14 days before receiving the funds from initial transactions. After this initial hold, deposits are faster.
Amazon Pay Alternatives and Fees Comparison
| | PaymentCloud | Stax by Fattmerchant | Square |
| --- | --- | --- | --- |
| Best for | Merchants in high-risk industries | Growing businesses | Small businesses just starting out |
| Monthly fee | Starts at $15/month | starts at $99/month | starts at $0/month |
| Card-present transaction fee | 3%–6.5% | Interchange + 8 cents | 2.6% + 10 cents |
| Keyed transaction fee | 3%–6.5% | Interchange + 15 cents | 3.5% + 15 cents |
| Ecommerce transaction fee | 2.9% + 30 cents | Interchange + 15 cents | 2.9% + 30 cents |
| | | | |
Looking for the lowest rates? The payment processing rates you will pay can vary based on your business's size, type, and average order value. To find the most affordable option and compare multiple processing rates, read our guide on the cheapest credit card processing.
Amazon Pay Features
Payment methods: Amazon Pay supports most of the common payment methods like credit/debit cards and mobile wallets. You can also accept international payments and set up pre-orders and recurring payments. However, Amazon Pay is surprisingly incompatible with Amazon gift cards.
Ecommerce: One of the standout features is Amazon Pay's streamlined online checkout which helps reduce cart abandonment rates. Shoppers don't need their credit card information to pay when logged in.
Mobile: Much like Amazon Pay optimizes online checkout, it also offers a simple platform for mobile payments. Shoppers can pay right from their phones.
Voice commerce: A unique feature when compared with other payment options, Amazon Pay works with voice search and voice commerce via Alexa devices. Shoppers can add to their Amazon wish lists, re-order products, and check orders with voice commands.
Security: Amazon Pay has a super secure platform and fraud detection technology. The platform verifies customer information before processing transactions.
Analytics reporting: Amazon's Seller Central has performance reports including transaction and settlement reports for reconciliation. You can also go here to manage claims and disputes and check customer feedback.
Amazon Pay Ease of Use
Amazon Pay is simple to set up and use, making it a no-fuss platform for merchants with limited technical resources. The dashboard is relatively easy to get used to, and you can use it to set up notifications, check high-level analytics, and manage integrations. You can also store and update customer payment information. That being said, it's a bit limited in terms of in-person payments.
Amazon Pay Hardware
Amazon Pay actually doesn't have any hardware available. Because it's purely for online commerce, there's no need for hardware to administer in-person transactions—like card readers and cash drawers, for example.
Amazon Pay Customer Support
For troubleshooting, Amazon Pay has an extensive online support center. Merchants who need additional support can log in for more personalized assistance via accessing live chat or submitting an online form. Users have noted the team is usually responsive, though the user-friendly format minimizes the need for support.
What Users Think of Amazon Pay
Overall, Amazon Pay users are happy with the platform. Reviewers enjoy the simplicity of the program and the convenience for both merchants and customers. However, some reviews noted that fund transfers can be delayed for new clients and accounts can be suspended with little to no warning.
G2: On G2, 125 reviews earn Amazon Pay 4.2 out of 5 stars. Users mostly comment on the security of the transactions and really like the cashback options. However, there are some complaints about fees.
FinancesOnline: While there are only 17 reviews on FinancesOnline, Amazon Pay received a 98% user satisfaction rating. Reviewers comment on the secure and convenient checkout, but one user notes the limit should be higher than $10,000.
Trustpilot: Reviewers were mostly negative on Trustpilot, and Amazon Pay earned 1.7 out of 5 stars based on 45 reviews. Merchants are disappointed with account suspensions that come with no explanation and the withholding of funds. However, one shopper reviewing Amazon Pay praised the cashback perks.
Reviews of Amazon Pay are a mix of merchants and shoppers. However, when reading through the reviews, we noticed the following trends from merchants:
| Users Like | Users Don't Like |
| --- | --- |
| Trusted, secure platform | Unpredictable freezing of account and/or funds |
| Easy to use | High fees |
Bottom Line
Overall, Amazon Pay is a quick and easy solution if you need a foolproof and trusted way to set up online payments. However, if you're looking for something long term and one that can provide many business tools, you may want to opt for something more flexible. Plus, Amazon Pay's frequent account and fund freezes make it a risky choice.
You May Also Like …