Amazon Pay Review: Is It Right for Your Business?
This article is part of a larger series on Payments.
Amazon Pay is a highly secure online payment processing platform. With an Amazon Pay checkout, shoppers can pay for orders using the information stored in their Amazon account. Businesses pay flat-rate transaction fees with no startup or monthly fees. Amazon Pay has features specifically designed for online, mobile, and voice (Alexa devices) payments. Other tools include analytics reporting, recurring payments, pre-orders, and fraud prevention.
In our review, Amazon Pay earned an overall score of 3.53 out of 5. Although it is an easy and effective ecommerce payment option, it didn't make our list of the best online payment processors because of its limited payment types and slow deposit times.

Pros
Discounted rates for nonprofits
Secure and trusted platform
Streamlined online checkout is optimized for mobile and can help reduce cart abandonment rates
Accept voice payments through Alexa devices
Cons
Long merchant account approval time
Delayed funds transfer for new merchants
Customer support is lacking
Mandatory tiered reserves
When to Use Amazon Pay
Reducing cart abandonment
Online international payments
Nonprofit organizations
Enabling voice payments
When to Use an Alternative
In our Amazon Pay review, we found it to be a worthy addition for businesses that focus on online sales. It integrates easily with ecommerce providers like Shopify and BigCommerce and is good for accepting and managing international payments.
Amazon Pay is a quick and convenient payment option for Amazon shoppers, which number 300 million. Since Amazon Pay uses the Amazon payment details of your customers, it results in faster checkouts and, thus, reduced cart abandonment rates. It also provides advanced fraud protection. Amazon Pay is extremely easy to use and allows customers to purchase from your website using their Alexa devices.
It also offers discounted rates for qualified nonprofit organizations. This can be a great way to accept donations without losing too much capital to processing fees. However, due to high demand, this program is currently available by invitation only.
Despite its ease of use, it's best as a supplemental payment option and not as your sole merchant account. Merchants who would like to use it will still need to go through the Amazon Seller identification verification, which could take several weeks and then only shoppers that have Amazon accounts can check out using Amazon Pay.
Amazon Pay doesn't offer tools for in-person transactions so if you have a physical store, look at our list of the best retail credit card processors for other options. If you need a comprehensive merchant account provider, check our guide on the best merchant services for small businesses.
Also, Amazon Pay does not support high-risk businesses and is quick to hold or freeze funds. If you have a high-risk business, you'll need to apply for a specialized high-risk merchant account.
Amazon Pay Deciding Factors
Supported Business Types

Limited

Ecommerce, nonprofit

Standout Features

Quick and easy checkout
Easy to integrate with ecommerce platforms
Fraud protection
Voice payments
International payments

Monthly Fees

$0

Setup and Installation Fees

$0

Contract Length

None; cancel anytime

Ecommerce Integrations

Shopify, BigCommerce, Magento, and Zuora

Payment Processing Fees

Local online transaction fee: 2.9% plus 30 cents
Local Alexa purchases transaction fee: 4% plus 30 cents
Cross-border transaction fee: 3.9%–5% plus 30 cents
Chargeback fee: $0–$20 plus tax
Nonprofit processing fee: 2.2%–3.2% plus 30 cents

Customer Support

Extensive online support center
Live chat
Online form
Top Amazon Pay Alternatives
| | | | | |
| --- | --- | --- | --- | --- |
| | | | | |
| Best for | Online businesses selling domestically | Growing businesses | Small businesses | Infrequent and online businesses |
| Monthly fee | Starts at $25/month | Starts at $99/month | Starts at $0/month | Starts at $0/month |
| Card-present transaction fee | 2.9% + 30 cents |  Interchange + 8 cents | 2.6% + 10 cents | 2.29% + 9 cents |
| Keyed transaction fee | 2.9% + 30 cents |  Interchange + 18 cents | 3.5% + 15 cents | 3.5% + 49 cents |
| Ecommerce transaction fee | 2.9% + 30 cents |  Interchange + 18 cents | 2.9% + 30 cents | Starts at 2.59% + 49 cents |
|   | | | | |
Looking for the lowest rates?
The payment processing rates you will pay can vary based on your business' size, type, and average order value. To find the most affordable option and compare multiple processing rates, read our guide on the cheapest credit card processing.
Amazon Pay charges a flat-rate processing fee plus a standard authorization fee of 30 cents per transaction. The processing fee depends on whether you are accepting cross-border or local payments. It has discounted rates for qualified nonprofits.
Additionally, the provider offers a pay-as-you-go subscription and does not charge any monthly or cancellation fees. However, it does not offer volume discounts or custom rates, so these transaction fees are pricey for high-volume businesses. Another drawback is its mandatory tiered reserves, where a portion of your processing funds will be set aside and held by Amazon.
Fees
| | Web and mobile | Alexa (real-world goods and services) | Nonprofits |
| --- | --- | --- | --- |
| Transaction fee | 2.9% + 30 cents | 4% + 30 cents | 2.2% + 30 cents |
| Cross-border processing fee | 3.9% + 30 cents | 5% + 30 cents | 3.2% + 30 cents |
Amazon Pay does not impose a chargeback fee if you want to contest a chargeback over goods that are covered in Amazon's Payment Protection Policy. Otherwise, requesting to challenge a claim will cost you $20, which is about the industry average ($15–$25).
Reserve Policy
It is important to know that all Amazon Pay merchant accounts are subject to reserve requirements. This is done to minimize the risk brought about by transaction disputes and claims. Generally, reserves can be frustrating for businesses because they eat into your cash flow, especially if you are not expecting them.
The required reserve amount is tiered based on a percentage of payments processed over a period or the value of all unresolved transaction disputes for the same period.
Tier Level

Reserve Amount

Merchant Account Included

1

100% of payments processed over the past 7 days,

AND

Value of all unresolved disputed transactions

New Amazon Pay merchants (less than a year)

2

Higher than:

3% of average daily payments processed over the past 28 days,

OR

 

Value of all unresolved disputed transactions

Amazon Pay merchants of more than 1 year, minimum of 100 completed orders, OR

 

Amazon Pay merchants for at least 6 months, minimum of 100 completed orders, have maintained an ODR* below 1%

2 Plus

Value of all unresolved disputed transactions

Amazon Pay merchants in Reserve Tier 2, maintained an average ODR* less than 1% over the past 60 days
*Order Defect Rate: percentage of orders that have received negative feedback
While low-risk merchants typically won't have reserves when working with a traditional merchant account, reserves are common for high-risk businesses and businesses working with aggregate or online processors such as Amazon and PayPal.
New Amazon Pay merchants will need to wait 14 days before receiving the funds from initial transactions. After this initial hold, deposits will take three to five business days for funds to reach your bank account.
Since our last update:
Amazon introduced Express Payout in September 2022 for Amazon Sellers. Eligible businesses can receive deposits in their bank accounts within 24 hours. This service is free until September 2023.
Hardware
Amazon Pay doesn't have any hardware. Because it's purely for online commerce, there's no need for hardware to administer in-person transactions—like card readers and cash drawers. You can use Amazon Pay via desktop, mobile, and browser.
Technical Requirements
Operating System

Browser

Desktop/Laptop

Windows 10

Google Chrome (78 and later)
Mozilla Firefox (70 and later) Internet Explorer (11 and later) Microsoft Edge (18.18362 and later)

Mac OS X

Apple Safari (13.0.1 and later)

Mobile/Tablet

Android 9 and later

Google Chrome 78 and later

iOS 12.3.1 and later

Safari Mobile 12 and later
Setup & Application
Signing up for a merchant account with Amazon Pay starts with completing an online form on the website. To set up an account, local businesses will need a US-based phone number, credit card issued by a US-based bank, checking account with a US-based bank, and a business taxpayer ID, EIN, or personal Social Security number.
A couple of things you need to note, however, is that it can take 20 to 30 days for merchant application approval, and all accounts are subjected to the tiered reserve. Be sure to read the policy in Amazon Pay's Merchant FAQs and ask all your questions.
Once you have your business account, the dashboard is relatively easy to get used to, and you can use it to set up notifications, check high-level analytics, and manage integrations. You can also store and update customer payment information.
Contract & Merchant Agreement Terms
Customer agreement and policies are available on Amazon's help center. You'll find both general merchant terms of service and specific policies on the use of the different Amazon products. The customer agreement, in particular, is the general terms and conditions for any Amazon user (both buyer and seller), so make sure to read the document thoroughly before signing up for an account.
The sections relevant to your merchant account are:
General terms: Covers stipulations on establishing your account, which may include undergoing a credit investigation, establishing a reserve, receiving payments and chargebacks, Amazon fees and taxes, contract terms and termination, and confidentiality
Seller accounts: Details the terms and conditions for creating and maintaining a merchant account, accepting payments, depositing funds, and chargeback protection
Marketplace Web service (MWS): Now referred to as Selling Partner API (SP-API); for sellers who want MWS, terms and conditions cover the use and access to APIs and tools specific for this service
Credit Card Association agreement: Highlights the terms associated with accepting payments through card networks (Visa, MasterCard, AMEX, etc.) on Amazon Pay
Amazon Pay supports most of the common payment methods, like credit/debit cards and mobile wallets. You can also accept international payments and set up pre-orders and recurring payments. There are also Amazon store cards that may be used by selected merchants. However, Amazon Pay is surprisingly incompatible with Amazon gift cards and does not offer any tools for in-person transactions.
Although Amazon Pay gets relatively low scores for its lack of diversity in accepted payment types, we gave extra points for its ability to accept voice payments via Alexa devices—there is no other payment processor that offers this feature.
As an online payment processor, Amazon Pay supports a wide range of ecommerce integrations. These include website builders, shopping carts, and marketplaces. Note that some of these third-party integrations may require additional fees.
3dcart
BigCommerce
FoxyCart
Magento
Miva
OpenCart
Recurly
Shopify
ShopSite
Volusion
WooCommerce
X-Cart
---
Amazon provides an API that allows you to develop a checkout page for accepting recurring payments. You can set rules for managing subscriptions, including actions for requesting payment pre-authorization, triggering automatic card charging, and managing cancellations. You also can charge a flat or fluctuating amount (for usage-based billing) and communicate with your customer this information ahead of time via email.
Note, however, that Amazon Pay limits the total amount of recurring payment transactions you can accept from each of your customers per month. The limit is usually based on your business type, but in most cases, it's capped at $500/month. So, if you run a big-ticket subscription business, you'll need to contact your account manager to request approval for a higher limit.
---
A unique feature when compared with other payment options is that Amazon Pay works with voice search and voice commerce via Alexa devices. Shoppers can add to their Amazon wish lists, reorder products, and check orders with voice commands.
To get started, attend Amazon Pay's webinar for Voice Commerce, and contact one of Amazon's skill builder experts. They will guide you in navigating Amazon Pay's flexible APIs and SDKs, which you need to create a customized, secure voice checkout experience.
---
Amazon Pay's strengths are in its easy ecommerce integration and extensive developer resources. Most ecommerce platforms allow users to add Amazon Pay to their websites by simply adding their Amazon Pay account information and turning the feature on. It is simple to set up and use, making it a no-fuss platform for merchants with limited technical resources.
It is also backed by the same security and fraud protection technology on Amazon.com, making it a safe and secure online payment service.
One of the standout features is Amazon Pay's streamlined online checkout, which helps reduce cart abandonment rates. Shoppers don't need their credit card information to pay when logged in. It also offers a simple platform for mobile payments so customers can pay right from their phones. Amazon's most recent update is Checkout V2, which features tools replacing its traditional payment and address widgets for a more seamless checkout experience.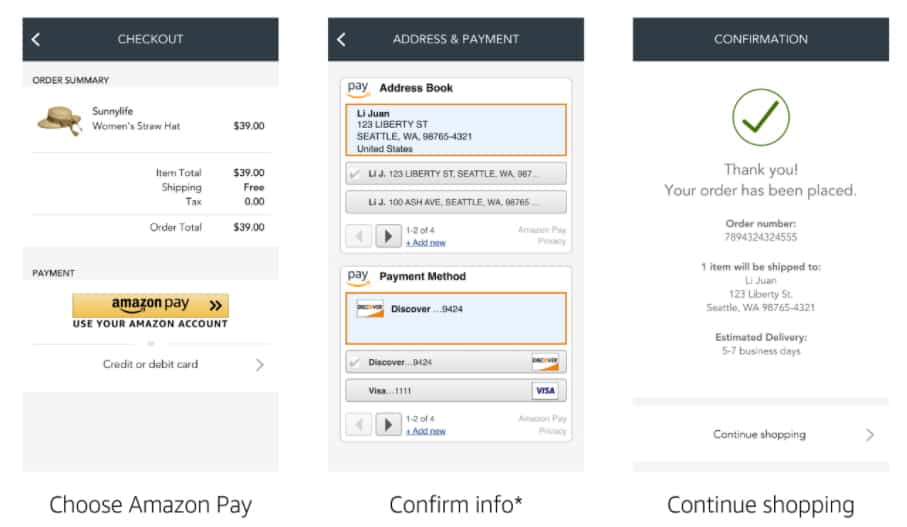 ---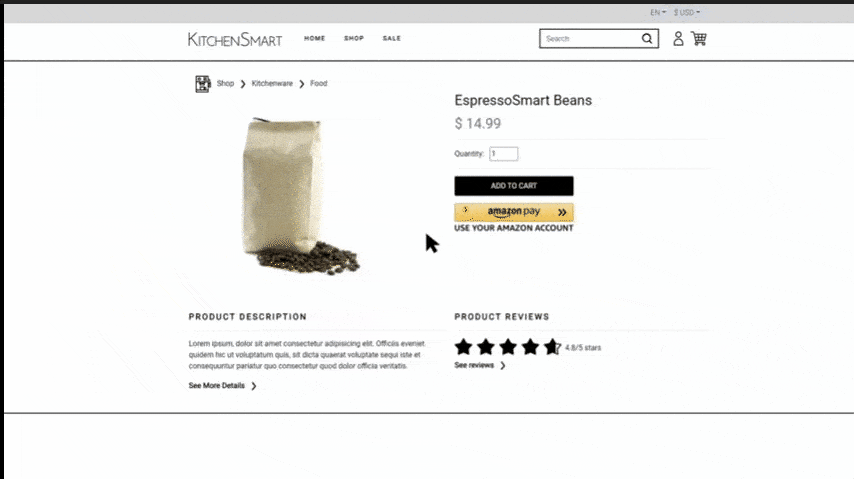 ---
---
Developer integrations can be intimidating, but Amazon Pay provides the necessary tools for developing a highly customized checkout experience for your customers. These tools allow you to visualize the look and feel of your checkout function, try a variety of options, and minimize the need for coding with its built-in code generators:
Amazon Pay Demo site
Amazon Pay SDKs
MWS Scratchpad
Widget Code generator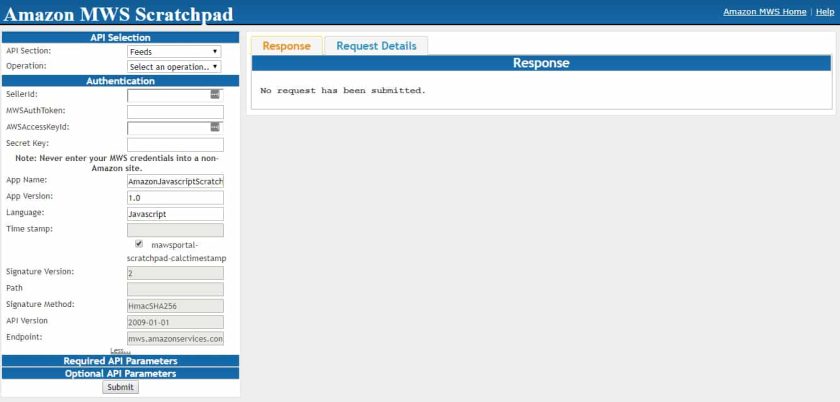 ---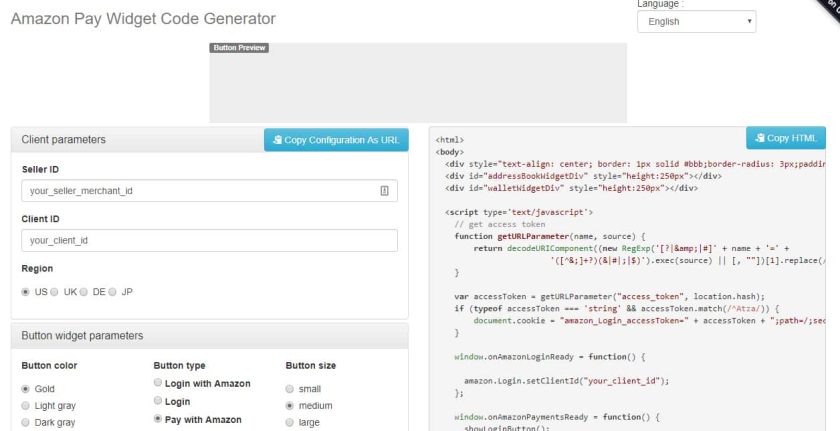 ---
---
Amazon Pay's seller platform is backed by secure fraud detection technology. It verifies customer information before processing payments and gives you the option to process them asynchronously, increasing the chance of detecting fraudulent transactions.
It also provides chargeback controls and risk management tools at no extra cost. Amazon's Payment Protection Policy waives chargeback fees for qualified transactions if you send in the requested supporting information within 11 calendar days after getting notified of the dispute.
There are different Amazon Pay merchant protection pay policies depending on where the purchases are made. For purchases made on the Amazon.com website, head on to your Seller Central account to learn how to represent your side in a buyer claim. If your customer purchased your product with their Amazon account on a third-party website, refer to the Amazon Pay A-to-z Guarantee for Merchants below.
---
Amazon provides settlement reports in lieu of a billing statement, which you can find in Seller Central under Reports > Payments > Statement View tab. You then have the option to generate all statements or specify the date range and then either view or download the report as a CSV file.
Aside from settlements, Amazon's Seller Central has performance reports, including transaction and settlement reports for reconciliation. Here, you can also manage claims and disputes and check customer feedback.
---
For troubleshooting, Amazon Pay has an extensive online support center. Merchants needing additional support can log in for more personalized assistance via accessing live chat or submitting an online form. Users have noted the team is usually responsive, though the user-friendly format minimizes the need for support.
---
We gave Amazon Pay perfect scores for its ease of use, user reviews, and integrations. It lost points for pricing because of its lack of discounts for high-volume merchants. At zero monthly fees, Amazon Pay is an easy addition for small businesses that accept online payments. It is easy to integrate with most ecommerce platforms where you simply need to turn the feature on and enter your Amazon Pay merchant account details.
For more customized websites, there are extensive developer resources and built-in code generators that make it easy to use with minimal coding.
Aside from its ease of use and developer support, another notable feature of Amazon Pay is its integration with Alexa that lets users pay with voice commands. It will be a huge step forward if Amazon Pay also offers tools for in-person transactions in the future.
What Users Say in Amazon Pay Reviews
Overall, Amazon Pay users are happy with the platform. Reviewers enjoy the simplicity of the program and the convenience for both merchants and customers. However, some reviews noted that fund transfers can be delayed for new clients and accounts can be suspended with little to no warning.
Reviews of Amazon Pay are a mix of merchants and shoppers. However, when reading through the reviews, we noticed the following trends from merchants:
PROS

CONS

Trusted, secure platform
Unpredictable freezing of account and/or funds
Easy to use
High fees
Cashback options
Methodology: How We Reviewed Amazon Pay
We test each online payment processor ourselves to ensure an extensive review of the products. We then compare pricing methods and identify providers that offer zero monthly fees, pay-as-you-go terms, and low transaction rates. Finally, we evaluate each according to a range of payment processing features, scalability, and ease of use.
The result is our list of the best online payment processors. However, we adjust the criteria when looking at specific use cases, such as for different business types and merchant categories. This is why every online payment processor has multiple scores across our site depending on the use case you are looking for.
Click through the tabs below for our overall online payment processor evaluation criteria:
20% of Overall Score
We awarded points to online payment processors that don't require contracts and offer month-to-month or pay-as-you-go billing. Additionally, we prioritized providers that don't charge hefty monthly fees, cancellation fees, or chargeback fees and only included providers that offer competitive and predictable flat-rate or interchange-plus pricing. We also awarded points to processors that offer volume discounts, and extra points if those discounts are transparent or automated.
The main factor that pulled down Amazon Pay's score in this category is the lack of volume discounts. Since its transaction fees are at par with the fees of other popular payment processors, the lack of discount for volume transactions make it pricier for busy merchants.
30% of Overall Score
The best online payment processors can accept various payment types—including POS and card-present transactions, mobile payments, contactless payments, ecommerce transactions, and ACH and e-check payments—and offer free virtual terminal and invoicing solutions for phone orders, recurring billing, and card-on-file payments.
Amazon Pay received less than average scores for this criteria because of the lack of diversity in the payment types it accepts.
25% of Overall Score
We prioritized online payment processors with free 24/7 phone and email support. Small businesses also need fast deposits, so payment processors offering free same- or next-day funding earned bonus points. Finally, we considered whether each system has affordable and flexible hardware options and offers any business management tools, like dispute and chargeback management, reporting, or customer management.
Despite Amazon Pay's excellent developer resources and ecommerce integration, it only received average scores for this category. The lack of a mobile app and slow payout times prevented it from scoring higher.
25% of Overall Score
We judged each system based on its overall pricing and advertising transparency, ease of use (including account stability), popularity, and reputation among business owners and sites like Better Business Bureau. Finally, we considered how well each system works with other popular small business software, like accounting, point-of-sale, and ecommerce solutions.
We gave Amazon Pay perfect scores in the different sub-criteria in this category except for pricing, mainly due to its lack of volume discounts.
*Percentages of overall score
Amazon Pay Frequently Asked Questions (FAQs)
Amazon Pay is extremely easy to use, convenient, and offers extensive ecommerce integration. It is also highly secure and offers fraud protection.
---
Amazon is one of the largest online retailers and cloud service providers that offers a wide range of services. Amazon Pay is one of the services available to Amazon users. This free online payment service allows users to purchase items using the payment methods they stored in their Amazon accounts.
---
You will need to register as a business with Amazon. Once you have your Amazon business account details, you can simply turn on Amazon Pay as a payment method from your ecommerce platform. If you require more custom integration, check the developer resources for more information.
---
Yes. Amazon Pay is backed by the same secure and fraud protection technology used by Amazon.
---
Bottom Line
Amazon Pay is a quick and easy solution if you need an easy, foolproof, and trusted way to set up online payments. However, if you're looking for something long term and can provide many business tools, you may want to opt for something more flexible.