5 Best Online Payment & Credit Card Processors for 2023
This article is part of a larger series on Payments.
Ecommerce growth is expected to be 10.4% worldwide in 2023, according to Oberlo. To take advantage of this growing market, you need to be able to accept credit cards online. The best online payment processors handle popular payments like ACH transfers, offer buy now, pay later (BNPL) integrations, and provide online payment pages for your website and tools for invoicing and social selling.
We've reviewed dozens of payment processors over the years and found the best five for small businesses.
Online Payment & Credit Card Processors Compared
Monthly fee

Online payment fee

Chargeback fee

Invoices

Virtual terminal

Integrations

$0

2.9% + 30 cents

$15

Costs extra

✓

Excellent

$0

Interchange ++

$0–$15

Single and recurring

✓

Good

$0

2.9% + 30 cents

Waived up to $250 per month

Single and recurring

✓

Some

$25

2.9% + 30 cents

Varies

Single and recurring

✓

Excellent

$0

2.59% + 49 cents

$0–$20

Single and recurring

Costs extra

Some
Because we selected the best, you can expect all of the services listed to have PCI compliance and bank-level data encryption. They also offer excellent fraud control for free, and some even have advanced fraud prevention tools for an extra cost. Other common shared features include:
No contracts
No hidden fees
Deposit speeds of at least two days
Some customer information storage
Access to BNPL (sometimes through a third party)
Integrations with common ecommerce websites
Looking for something different? Check out our best merchant accounts for more options that consider in-person tools as well.
Stripe: Best Overall Online Payment & Credit Card Processors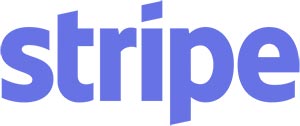 Pros
Extremely flexible
Hundreds of of integrations, great API
24/7 support
135+ currencies, local payment methods
Cons
Service fee for invoicing and recurring billing payments
Requires some technical expertise and resources
Many small additional fees for features
Deciding Factors
Monthly fee: $0
Online processing fee: 2.9% + 30 cents per transaction
ACH fees: 0.8% ($5 cap)
Keyed-in processing fee: 3.4% + 30 cents
In-person processing fee: 2.7% + 5 cents (card-present), 2.9% + 30 cents (touchless)
Invoicing service fee: 0.4% with 25 free invoice processing per month or 0.5% per invoice, depending on plan
Recurring billing service fee: 0.5% per month or 0.8% per invoice, depending on plan
Chargeback fee: $15
Virtual terminal: $0
Discounts for volume sales, multi-products
Stripe is a highly popular credit card processor that often makes our lists for the best merchant services and payment gateways, specifically for its online payment processing tools. Its invoicing and inexpensive ACH transaction fees also make it a good choice for B2B payment processing. Stripe has the most integrations of any software on our list, and its detailed help sections make it a favorite for websites and other software developers.
Stripe earned 4.39 out of 5 on our rubric. It lost points in pricing because some of its excellent tools come with additional fees. Nonetheless, it had top scores for payment and sales tools and is the most versatile (for more free tools and interchange-plus pricing, check Helcim).
Stripe's online processing fee is in the median with the others on our list: 2.9% + 30 cents. This includes basic fraud control, a payments page, a virtual terminal, an account updater, and 25 invoices per month.
However, it charges extra for some of its services. Most on our list either provide these free or have a monthly rate. Here are some examples:
Invoicing and recurring payments: 0.4%-0.5% per transaction fee. Your first 25 invoices are free, so if you don't often charge this way, it's a good deal.
Radar for fraud teams: 7 cents per screened transaction
Chargeback protection: 0.4% per transaction
Instant payouts: Access your funds in minutes for 1% of the payout volume, minimum 50 cents
Stripe can do custom pricing for high-volume sales or if you purchase multiple products or have a unique business model. However, in those cases, you may be charged separately for some items, like fraud protection, that Stripe otherwise provides free.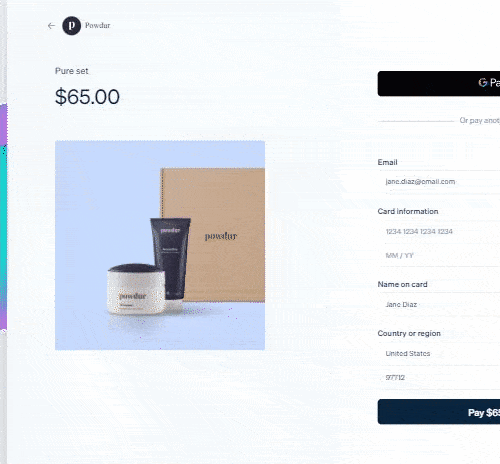 ---
Integrations: Here is where Stripe shines. It was made for easy integrations and has integrations with nearly 700 software partners in accounting, marketing, sales, operations, payments, and (of course) ecommerce. With its wide range of plug-and-play integrations, it takes mere minutes to set up Stripe as your checkout option. In addition, it has excellent SDK and API functions, with thorough documentation for creating your own integrations. Experienced coders can utilize comprehensive testing tools, over 450 platforms and extensions, and a dedicated developer dashboard.
Stripe Checkout: Stripe provides a customizable checkout page where you can accept one-time or subscription purchases. You can save information so that forms auto-complete for return customers. If you use Link with Stripe, customers can pay with a single click. There are also card identification and validation tools and descriptive error messages to ensure information is quickly and accurately reported.
Billing and subscriptions: Stripe's billing system allows for flat rates, multiple pricing, and usage rates (such as for electricity) and integrates with websites, mobile apps, and CRM systems. It's a good choice for subscriptions, except that it charges an additional 5% per transaction. Helcim offers subscription and recurring billing free.
Account updater: Especially important for recurring payments, Stripe's account updater automatically updates expired or renewed card information. While Helcim can store customer information in its card vault, we did not find automated update tools.
International sales: With Stripe, you can accept payments in over 135 currencies. It works in 30 languages and can offer local payment options. Stripe says early adopters saw a 46% increase in sales after enabling local payment methods. Like most on our list, it charges extra for processing international credit cards.
Continue reading about Stripe:
---
Helcim: Best for High-volume Online Credit Card Processing

Pros
No monthly fee or long-term contracts
Interchange + pricing, with automatic volume discounts
Free access to payment processing tools and customer self-service portal
24/7 customer support
Cons
Not compatible with high-risk merchants
Limited business integrations
Deciding Factors
Monthly fee: $0
In-person processing fee: Interchange plus 0.1% + 5 cents to 0.3% + 8 cents
Online processing fee: Interchange plus 0.2% + 10 cents to 0.5% + 25 cents
Chargeback fee: $0–$15
ACH payments: 0.5% + 25 cents, $5 per return
Virtual terminal: Included
Discounts for volume pricing (automatically calculated)
If you don't need all the versatility and integrations Stripe can provide, Helcim is a cheaper alternative while still offering a high-quality credit card processing service. Helcim offers interchange-plus pricing, which is generally cheaper. In addition, it offers free tools for invoicing, recurring payments, ecommerce, and a virtual terminal. It works for international credit card processing and has Level 2 or Level 3 processing capability for B2B/B2G sales.
Helcim came in second with a 4.28 out of 5 on our rubric. We were impressed with the wide range of tools for the price. It lost some points here and there, but the biggest hit was for its real-world user review score. Actual customers rate it 3.96 out of 5 stars averaged over multiple sites—still a good score, but the rest on our list rated over 4 stars.
Helcim recently removed its monthly fees, but still offers interchange-plus pricing. This makes it the cheapest payment processor on our list, and one reason why it's a strong second to Stripe.
What is interchange-plus pricing? All credit card companies charge for use of their cards. This rate, called the interchange rate, varies by the type of card and how it is used. That means the rate varies from transaction to transaction. Most payment processors don't worry about that but charge you, the merchant, a flat rate regardless. Interchange-plus credit card processors, however, add a small fee to whatever the current interchange rate is and charge that instead. Learn more in our interchange fees article.
Other than the reasonable rates, Helcim has few additional charges. Even the chargeback fees are refunded to you if you win the dispute. ACH pricing is 0.5% + 25 cents, also the cheapest on our list. It does not charge for currency conversion on international transactions, as these are subject to your customer's card network rates.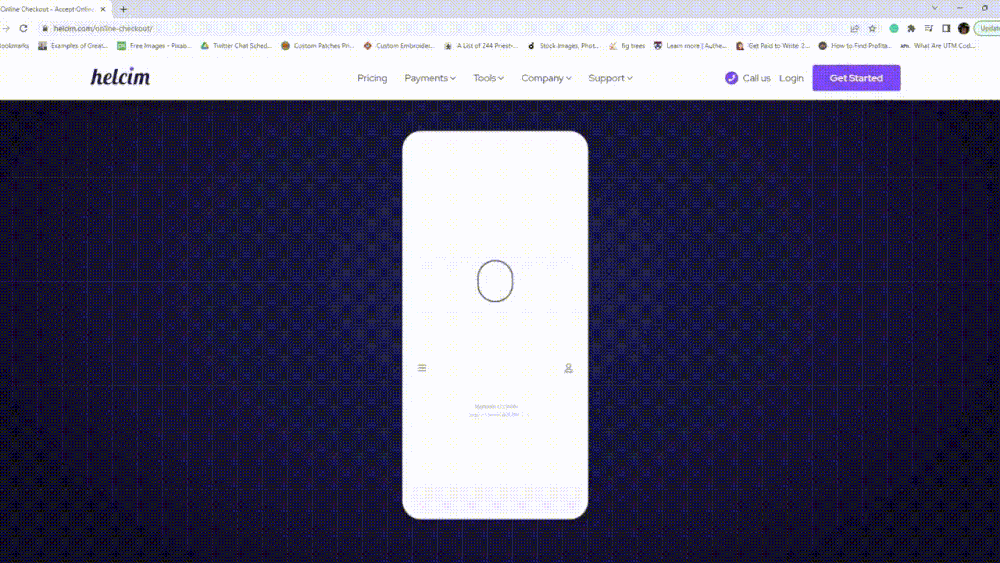 ---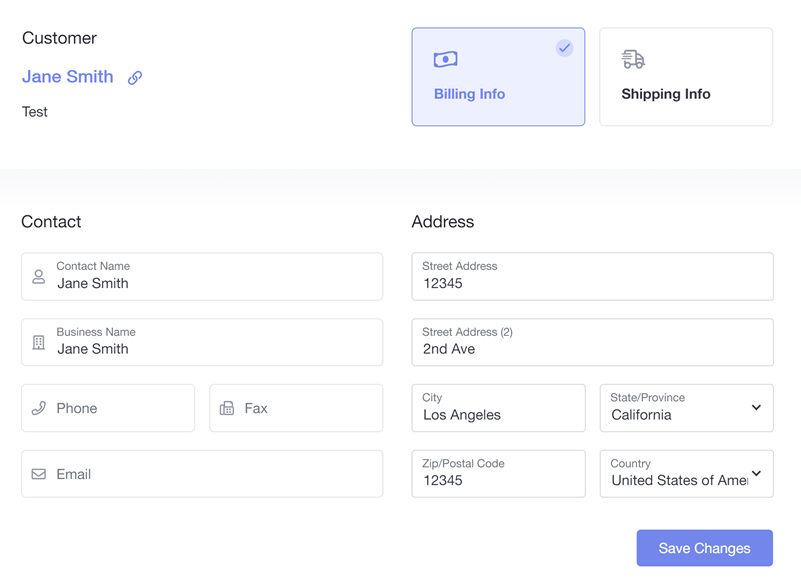 ---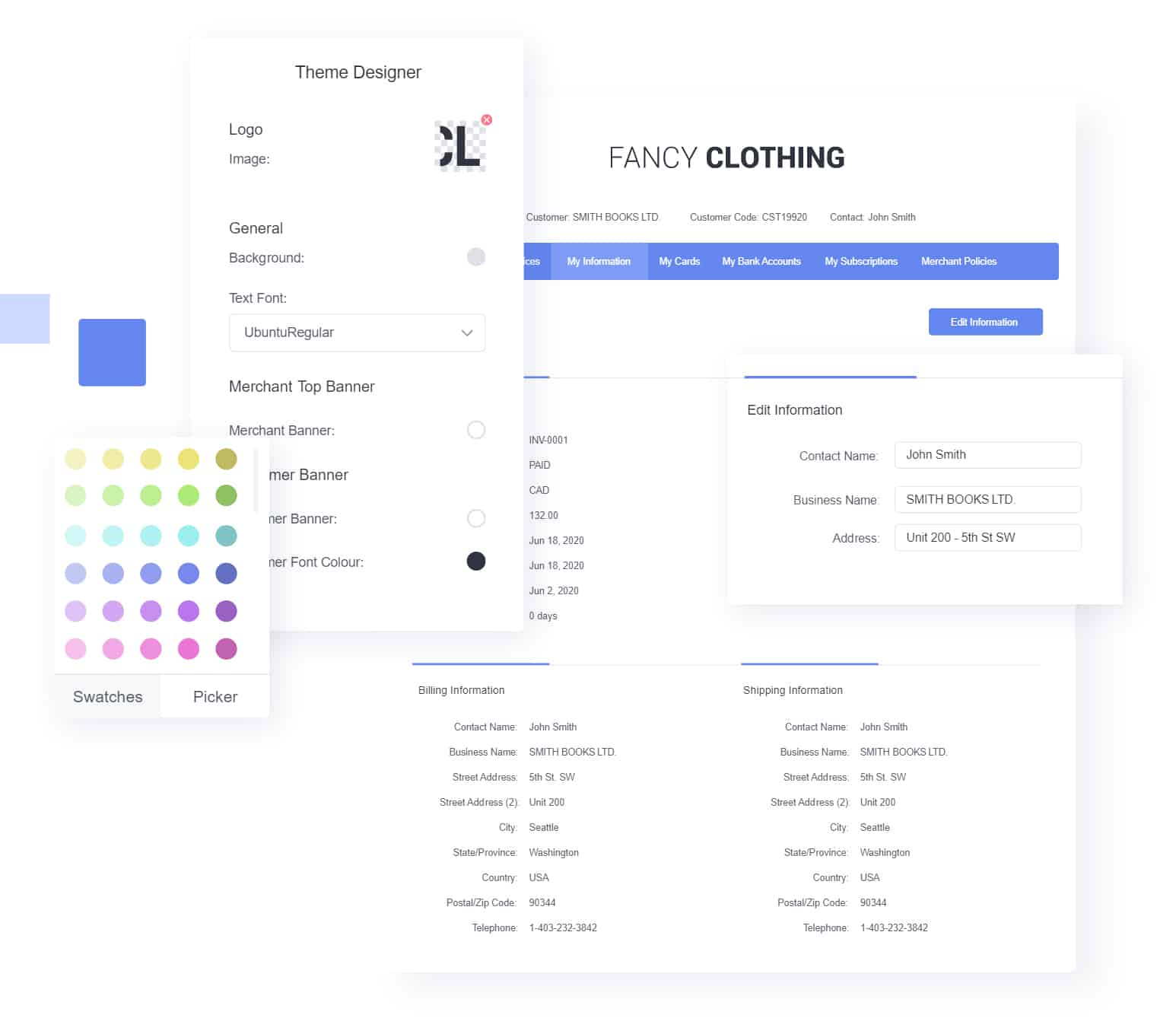 ---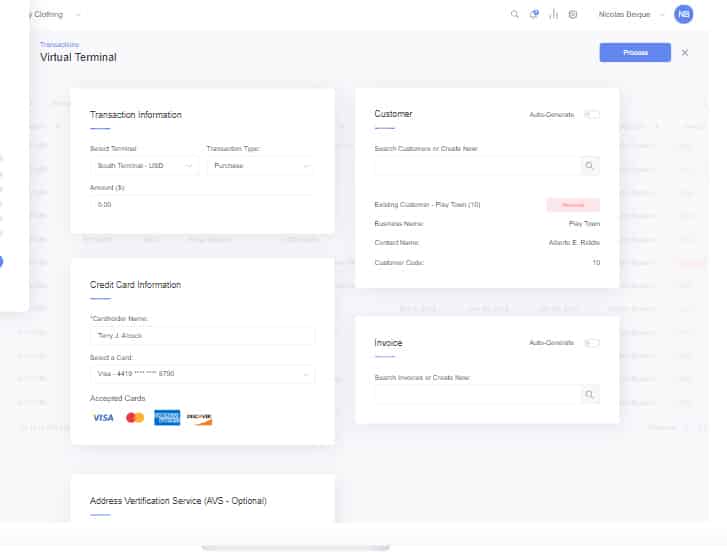 ---
---
Customizable invoices: Like most of the providers on our list, Helcim provides free invoicing (Stripe charges after 25/month). Its invoicing is integrated into your account, so you can easily track invoices. These are customizable, with templates and multiple payment options, and can even include alerts for reminders when payments are due or overdue. You can even request payment through text messages. Invoicing includes automatic tax calculations—something Stripe charges extra for.
Free recurring billing: With Helcim, you can set up an unlimited number of subscription plans and customize your pricing with add-ons and free trials. Like Stripe, it has a customer portal feature for subscribers to manage their own subscriptions. Stripe, however, charges 0.5%–0.8% per paid invoice for its subscription billing and payment services. On the other side, Square offers a free invoicing tool with recurring options, but no subscription management or customer-facing portal.
B2B Payment Processing: Helcim is our current leader for the best B2B payment processing solutions. It offers Level 2 processing for all merchant account holders and Level 3 for merchants that accept Corporate, Purchasing, and Government credit cards. Even more, Helcim trains you on accepting these cards and its virtual terminal automates most of the data entry steps for completing these types of transactions. It also provides training and detailed instruction for subscribers.
Virtual terminal: If you have a mail order company or just want to give customers the option of calling in a payment, Helcim lets you accept payments over the phone through your virtual terminal. You can manually key in your customer's card information, accept multiple currencies, and store customer information for future reference. Most processors charge extra for keyed-in transactions, but the Helcim markup stays the same.
---
Square: Best for Retailers Also Needing Online Payment Processing

Pros
No monthly processing fees
Free POS software
Easy to use
Multiple add-on tools to grow your business
Cons
Complaints about payments on hold
Not for high-risk markets
Higher fees for CBD sales
Deciding Factors
Monthly fee: $0–$60
Online/ecommerce rate: 2.9% + 30 cents
Card-present processing fee: 2.6% + 10 cents per transaction
Keyed-in processing fee: 3.5% + 15 cents per transaction
ACH processing fee: 1% with $1 minimum
Rapid Pay fee: 1.5%
Chargeback fee: Waived up to $250
Virtual terminal: $0
30-day free trial
Discounts for high-volume processing ($250,000+ per year)
Square often tops our lists for credit card processors for retail, mobile, and more. Here, we find it the best for retailers that may have a physical store but are expanding online, or are looking to start an online store with the option of selling at physical locations as well. Its online and physical systems sync, making bookkeeping a breeze, and it offers excellent tools that can grow with your business.
Square earned 4.07 out of 5. Its rates are average compared to the others on our list, and you cannot process payments outside the country where you set the account—go to Stripe if you sell internationally. You should also look to Helcim if you want B2B sales. Square has some good integrations but primarily works within the Square ecosystem. However, it provides excellent invoicing, subscription, ecommerce, and virtual terminal tools. Plus, it has a CRM and is very easy to use.
Square's online transaction fees are the same as those from Stripe and Authorize.net: 2.9% + 30 cents. Its ACH processing fee is 1% with a $1 minimum, which is the highest on our list. If you process more than $250,000 a year and have an average transaction of over $15, you may qualify for custom rates. Call Square to discuss this.
While it pays out in two days, you can arrange an instant transfer for 1.5% of the transaction amount. Square's basic tools are all free, but this service offers an excellent number of upgrades and add-ons to help you as your business grows. These include advanced POS, payroll, and even banking.
---
Invoicing: You can create, send, and track invoices online or via Square Payments' iOS and Android apps. Square's invoicing can also be used to generate estimates and contracts that can be e-signed. It will handle partial payments as well. With Invoices Plus, you can add customizations, batch invoicing and multipackage estimates, and milestone-based payment schedules. While Helcim offers excellent invoicing tools, Square stands out with its estimate and contract functions.
Ecommerce: Sell your products via web stores or social media and ecommerce stores, manage shipping and delivery, offer curbside pickup, and set up discounts and gift cards. Square has a drag-and-drop website builder that's easy to use, but it also integrates with popular web builders, such as WordPress and Wix.
CRM Management: Square's built-in CRM management holds all the customer information you need for marketing, analytics, and repeat sales. It even holds credit card details for customers who opt in for automatic payments, like subscriptions. You can also receive customer feedback on its platform.
CBD Sales: Square recently started allowing payment processing for CBD sales, something the others on our list do not allow, as it is a higher-risk transaction. Square's fees are higher—3.8% + 30 cents for online transactions, but it comes with all the same features Square offers, including bank loans.
Free POS with inventory management: Square has great online tools, but it is an in-person payment processor first. It ranks No. 1 for best POS systems, with inventory, reports, and some customer management functions (PayPal Zettle is simpler, but also well-rated). The mobile POS also ranks No. 1 on our list, making Square an excellent choice if you want to sell at a flea market, trade show, or other occasional event.
---
Authorize.net: Best Online Credit Card Processing Payment Gateway

Pros
Reliable and popular
Easy to use
Pays out in 1 day
Can work as a payment gateway or a full payment processing solution
Cons
Does not sell terminals, POS hardware
Monthly fee
Lacks some reporting and in-person payment features
Deciding Factors
Monthly fee: $25
Card processing fee: 2.9% + 30 cents per transaction or 10 cents per transaction and 10 cents batch fee
ACH/echeck processing fee: 0.75% per transaction
Chargeback fee: From $0
POS system: $0
Virtual Terminal: $0
Discounted rates available for nonprofits, high-volume sales ($500,000+ per year)
Authorize.net is an extremely popular payment processing system. You can use it as a full payment processor or find a different merchant account with better rates and use Authorize.net as the payment gateway to take advantage of its integrations and tools. Regardless, you do pay a $25 fee and have access to its free invoicing, POS, checkout tools, and customer information management system. Autorize.net ranks No. 1 on our list of the best payment gateways.
Authorize.net earned 3.91 out of 5 in our evaluation. Its integrations, pricing, and ease of use gave it a top-place expert score, while the monthly fee brought its pricing score to 2.5, the lowest on our list. It does well with payment and sales features, with the most notable drawback being the lack of an ecommerce site or checkout pages. However, it does have easy-to-make buy buttons.
---
---
PayPal: Best for Selling on Social Media & as an Additional Payment Option

Pros
Supports international payments
Free invoicing and POS software
Known and trusted platform by consumers
Seamless online checkout integration
Cons
Monthly fee required for virtual terminal and recurring bills
High e-check processing fees
Deciding Factors
Online card processing fees: 2.59% + 49 cents
In-person processing fees: 2.29% + 9 cents
Keyed-in processing: 3.49% + 49 cents
ACH/e-check fees: Varies by method; capped at $300
Recurring billing: $10 per month
Virtual terminal: $30/month
Chargeback fee: $0–$20
Discounts for nonprofits
PayPal is one of the most popular payment methods today, often used in conjunction with other payment types. In fact, studies have shown that offering PayPal as an option can increase the number of completed sales online by an average of 28%. PayPal also offers easy-to-use "buy now" buttons for social media and hosting for product information, so you can sell on social media without an ecommerce platform.
As a payment processor itself, it offers excellent online rates and its own BNPL tool. It can also accept cryptocurrency, something we did not find in Helcim or Authorize.net. We don't recommend it for virtual terminals or invoicing, however, because of the extra fees attached and the high cap on e-check processing.
PayPal earned 3.84 out of 5. It was reasonably strong in all areas, but the extra charges for some tools brought down the scores. It had the highest real-world user score, however: 4.67 out of 5 stars, averaged over multiple sites. Stripe was just behind it with 4.64 out of 5 stars.
PayPal's pricing is complex, with different rates for everything from in-person transactions to QR codes, plus different flat rates depending on your country. Online rates for the US are reasonably competitive: 2.59% + 49 cents. Comparing this to the average (2.9% + 30 cents), you're better off with PayPal if your average ticket is more than $61.30.
However, if you take ACH payments, any of the others are better. PayPal does not accept ACH, but does take echecks—charging you according to payment venue. So, for online sales, you could be charged 2.59% + 49 cents, as opposed to 1%, which is Square's rate. Further, while others cap ACH payments at $5 (except Square), PayPal caps it at $300.
PayPal also charges $30 per month for virtual terminals and $10 per month for recurring payments.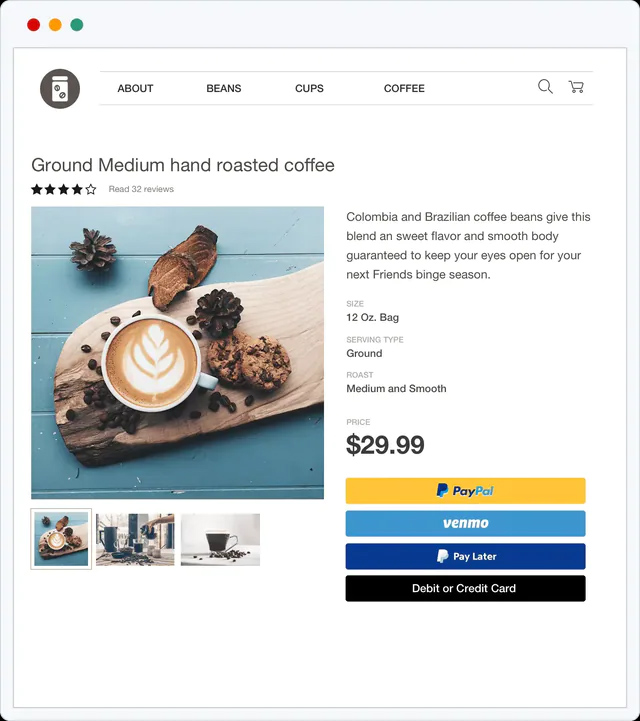 ---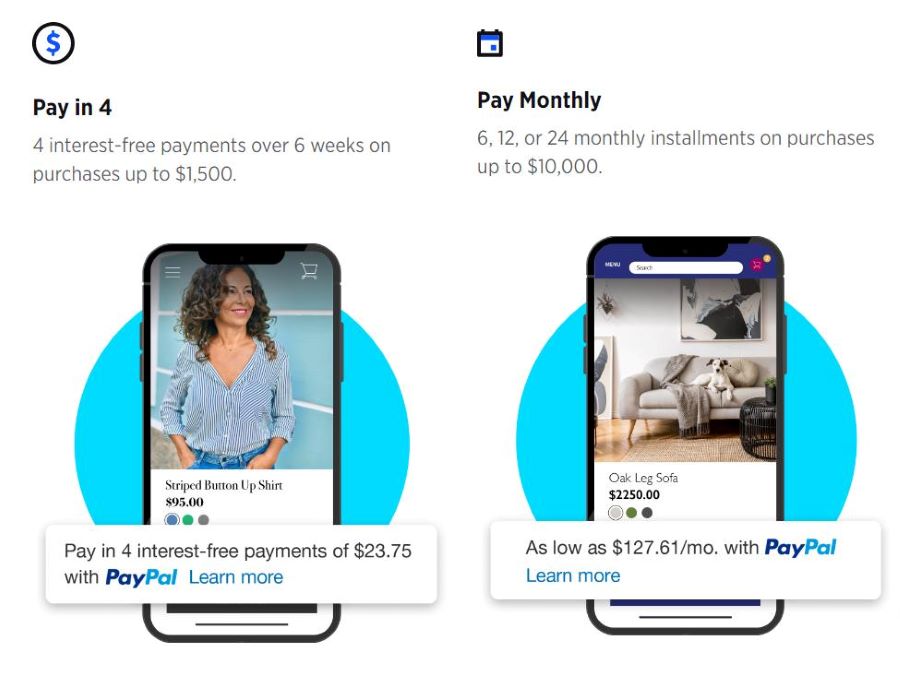 ---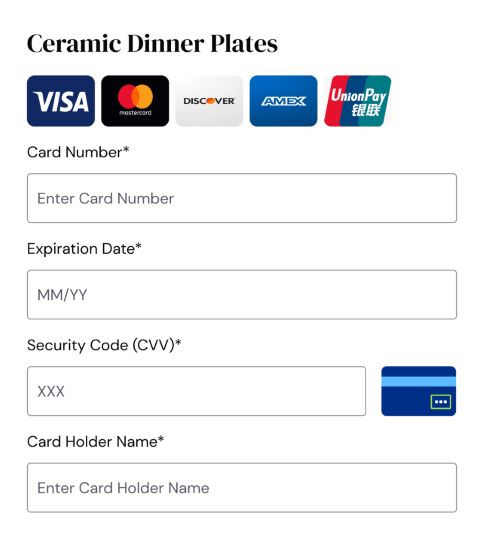 ---
---
Social media selling: Like others on our list, PayPal has a payment button generator that lets you post links on Facebook, Twitter, and most online marketplaces. However, you can also connect PayPal Business to Facebook and Instagram; PayPal hosts your listings, so you can create and share this on social media using a shareable link, without the need for an ecommerce platform.
Buy Now, Pay Later Options: While the other processors on our list have BNPL options for four payments, PayPal gives your customers more choices. They can choose four interest-free installments or use PayPal Credit. Both options appear on your checkout page and you get paid upfront even though your customers pay over time.
Hosted checkout: PayPal's hosted prebuilt and highly customized checkout pages are easy to integrate into your product, cart, and payment pages. Choose an integration format that presents the most relevant payment type to your customers, depending on your business needs. Checkout pages can also include Venmo and PayPal's Pay Later tool.
International payments processing: PayPal is available in over 200 countries and supports 100+ currencies. It's a strong second to Stripe, which works with 135 currencies and 30 languages.
Integrations: PayPal offers a wide range of integrations for ecommerce, accounting, customer management, and more. In addition, it has developer tools, including a new interactive Integration Builder for developing different buttons to use on your website. For sheer number and versatility, Stripe is best—but PayPal makes a good showing.
---
How We Evaluated Online Payment Processors
We began with the dozens of credit card processors and merchant services that we've reviewed for various lists. Then we considered those that were especially suited for online sales. Most provide in-person and mobile payment processing, too, but for this list, we looked specifically at online features like checkout pages, invoices, and online rates.
It's no surprise, then, that Stripe, which usually gets a callout for its online solutions, placed first on this list. Its programmability, tools, and plethora of integrations make it the top choice.
Click through to see the scoring criteria:
25%
Sales & Account Management Features
20% of Overall Score
We graded based on monthly fees, online rates, chargebacks, and whether or not you could get volume discounts. Helcim had the highest score at 4.5 out of 5, partly because as sales volume increases, rates decrease; for the others, you have to ask to be considered for discounts.
30% of Overall Score
Online payments are more than website checkouts. We looked for invoices, recurring billing, and virtual terminals. We also gave points for stored payments and Level 2 and 3 processing for B2B sales. Stripe had a clear lead with 4.63, followed by Helcim at 4.5.
25% of Overall Score
This score took into account sales tools like customer management features, BNPL, fraud prevention, and developer tools for customizations. We also considered deposit speed, giving the most points for same-day processing, and customer service. Stripe again took the lead with 4.63 out of 5.
*Percentages of overall score
Online Payment & Credit Card Processors Frequently Asked Questions (FAQs)
Online credit card processing is simply the ability to accept credit card payments online—on your website, through an invoice sent by email, or even via social media sites like Instagram. Most merchant services can process credit cards online as well as in person.
---
In general, the steps are the same—submission, authorization, and funding. However, the main difference is that you never see the actual credit card. Also, there is a higher risk of credit card fraud (because you are not able to verify the user in person) and of friendly fraud, where someone may forget an online purchase or not recognize your business name on their bill. Thus, it's important to look for strong fraud prevention tools and low chargeback rates.
Rates for in-person payment transactions are usually cheaper than online or keyed-in rates, as well.
---
You need a credit card processor that handles online payments. Then you need the tools for accepting payments online, such as an ecommerce site or digital invoicing. Most online payment processors offer such tools, but their exact offerings vary widely.
Most provide the basics: a payment button you can code onto your website or ecommerce platform or an actual checkout page. Nearly all have invoice software that lets you send an invoice with a link or button to pay online; a few charge for this, however. The best also have tools for recurring billing, website or web page creation, and of course, integrating into other software that take payments online.
---
The price varies by processor, but in our research, we've seen prices from around 2.4% + 8 cents to 3.49% + 49 cents. Some payment processors charge monthly fees in return for lower rates, while others have fees for specific services like invoicing or virtual terminals.
When considering price, do your research. Those that charge fees, like Stax (not on our list), offer lower rates that save you more than the fee. Others, like Square, offer an excellent range of free tools that can make the slightly higher rate worthwhile. Regardless, always check the fine print for contract obligations and "hidden fees" like cancellation fees, batch processing, and the like. The services on our list do not have these.
Learn more about credit card processing fees.
---
Bottom Line
When choosing the best online payment processor for your business, price is the first consideration, but it's not the only one. You should consider how easy it is to incorporate the credit card processor into your website and whether you need additional tools like payment buttons, social selling, or more. Fortunately, nearly all payment processors have online tools, and some are especially adept at ecommerce.
Stripe was designed for online environments, with great rates and amazing integration capabilities. If you just need simple checkout and invoicing tools, it has those too. Stripe only charges by transaction, so sign up for an account and get started accepting credit cards online today.